New Age Islam News Bureau
2 May 2013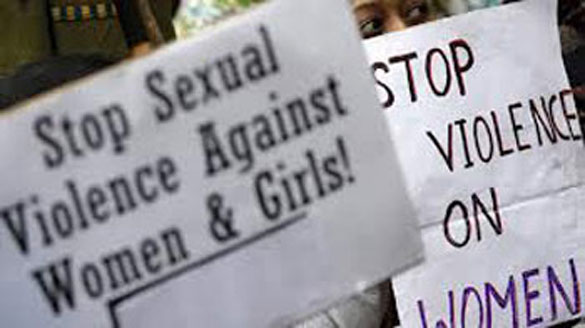 India sex crime laws not tough enough: UN Rapporteur, Photo Reuters
-----------
• India's Laws Not Tough Enough on Violence against Women: UN Rapporteur
• Shahina: The Tragic 'Last Survivor' In Bangladesh Building Disaster
• Syrian Mufti Blasts Abuse of Women, Blames Foreign States for Crisis
• Why U.S. Can't Deliver Women's Rights to Afghanistan
• Rihanna to 'Shine Bright like A Diamond' In Abu Dhabi
• Roadside school student becomes ambitious politician in Pakistan
• A Divided Household: Daughter in PTI, Father In PPP
• 'Battered' Wife Jailed For Leaving Husband
• Tanzania: Why Zanzibar Leadership Still Has Few Women
• Women Should Be Held In Great Esteem in The Society: Khamenei
Compiled by New Age Islam News Bureau
URL: https://newageislam.com/islam-women-feminism/talaq-text-message,-muslim-women/d/11382
----------------
Talaq by Text Message, Muslim Women Cry Foul
By Udayan Namboodiri
May 02, 2013
Shamina Abubecker never expected her marriage would end this way.
One afternoon, the Kerala woman received a short text message on her mobile phone. It was from her husband. The message contained one word repeated three times: Talaq, Talaq, Talaq
Under Sharia law, a husband can divorce his wife simply by uttering the "three T's", although Shia and Sunni Muslims differ on whether this can be done at one go, and interpretations vary even among Sunni jurists.
Now, internet, social media and mobile phones have added a digital-era twist to the practice, leading to complaints from those affected. The message delivered to his daughter was "totally unacceptable," Shamina's father, Reshid, told Khabar South Asia.
"We complained to the imam of the local mosque who took it up with higher authorities. After a few weeks we got the fellow to apologize and re-deliver the Talaq in the formally prescribed way."
Besides being divorced via text message, some Muslim wives are now encountering "Facebook Talaq" -- the practice of writing the words on the woman's Facebook page.
"This is a global phenomenon seen all over the Islamic world. It came to the fore in India last December through a case in Bhopal," reputed Islamic scholar Mushtaq Ali Nadvi told Khabar.
In that case, the wife was an educated woman who knew her legal rights. The husband faces a lawsuit and has been arrested on charges of dowry harassment.
Besides text messaging and social media, some men have sent notification to their wives by e-mail. That is what allegedly happened to Majidi Begum, a Delhi resident whose husband worked in the United Arab Emirates (UAE).
"Not being very net-savvy, my sister did not operate her email account much," her brother Imtiaz told Khabar. "When [her husband] came on leave in 2012 she confronted him and he coolly told her that he had divorced her two years earlier."
When challenged by Majidi's family, the husband produced a document that showed he had two witnesses with him while typing the three T's.
Divorce and marriage issues among Muslims are normally handled by the All India Muslim Personal Law Board (AIMPLB), founded in 1973. The country's single largest Islamic body, its membership consists of scholars representing different schools of thought.
In 2005, Shiites and advocates for women seceded to form their own separate Boards, the All India Shiite Personal Law Board & the All India Muslim Women's Personal Law Board.
Neither board has come out with clear positions on the validity of electronic divorcing. "In many cases local imams and muftis support this practice out of sheer ignorance or lack of understanding of the Qur'anic injunctions," Bharatiya Muslim Mahila Andolan (Muslim Women's Movement of India) convenor Saifia Akhtar told Khabar.
Some scholars insist the Talaq rule predates Islam, and has its origin in ancient Arabian societies, in which a husband had the power to divorce a wife for any reason, and at any time he wished.
"This practice of the Jahiliya (Days of Ignorance) is still followed among the Muslims of South Asia who divorce their wives by pronouncing triple Talaq in one sitting, often on flimsy grounds," Indian Islamic scholar Sohail Arshad of New Age Islam magazine told Khabar. "Recently I saw a case where a woman was given Talaq because she suffered from poor eyesight."
http://khabarsouthasia.com/en_GB/articles/apwi/articles/features/2013/05/02/feature-01
----------------
India's Laws Not Tough Enough on Violence against Women: UN Rapporteur
May 1, 2013
India's new sex crime laws do not go far enough to protect women or tackle gender inequality, the UN Special Rapporteur on violence against women said on Wednesday.
The legislation was passed following the fatal gang rape of a student on a Delhi bus in mid-December that sparked nationwide demonstrations over the lack of safety for women.
New measures passed by Indian lawmakers in March increased punishments for sex offenders to include the death penalty if a victim dies, and broadened the definition of sexual assault.
But Rashida Manjoo, the UN Special Rapporteur on Violence against women, said the laws were still not tough enough.
She told a news conference it was unfortunate that the opportunity to establish a substantive framework "to protect and prevent against all forms of violence against women, was lost".
Her comments echoed those of other Indian women's activists who praised the intent of the legislation but said it still had huge holes.
Campaigners are unhappy about lawmakers' refusal to criminalise marital rape or increase the punishment for acid attacks on women from a minimum seven-year jail term.
The UN official, who toured several Indian states to obtain first-hand reports about violence against women, said she would release her findings to the world body next year.
She said she had heard on her 10-day visit about "sexual violence, domestic violence, cast-based discrimination and violence, dowry related deaths, crimes in the name of honour" and other offences.
She quoted one person on her trip as describing violence against women as spanning the "life cycle from womb to the tomb".
Her trip came in the wake of a call in December by UN rights chief Navi Pillay for India to help rid itself of the "scourge" of rape after the 23-year-old bus victim died of injuries inflicted by six drunken men.
Manjoo said demonstrations in the wake of her death seemed not to have had any effect in curbing sex crimes.
"Sexual violence and harassment in India is (still) widespread, and is perpetuated in public spaces, in the family or in the workplace," she said.
"There is a generalised sense of insecurity in public spaces, amenities, transport facilities in particular, and women are often victims of different forms of sexual harassment and assault."
A total of 228,650 incidents of crime against women were reported in India during 2011 as compared to 213,585 the previous year, according to the latest figures of the government's National Crime Records Bureau.
Manjoo said women belonging to minority Muslim and Christian communities are also subjected to "indiscriminate attacks" during religious rioting in India.
"This issue is of particular concern to many as the wounds of the past are still fresh for women who were beaten, stripped naked, burnt, raped and killed because of their religious identity in the Gujarat riots of 2002," she said.
The anti-Muslim riots in the western state left more than 2,000 mainly Muslim people dead in an orgy of violence and arson, according to rights groups. The Gujarat government puts the death toll at about 1,000.
http://www.rawstory.com/rs/2013/05/01/un-rapporteur-indias-laws-not-tough-enough-on-violence-against-women/
------------
Shahina: The Tragic 'Last Survivor' In Bangladesh Building Disaster
May 02, 2013
SAVAR — Widow Shahina Akter's vain 110-hour struggle to survive in the collapsed Bangladesh factory block has made her one of the tragic public faces of the nation's worst industrial disaster.
Rescuers said the 30-year-old never abandoned hope of getting out alive so she could be reunited with her toddler son, clinging on despite the sweltering heat and surrounding stench of corpses trapped in their concrete tomb.
But her five-day resistance from Wednesday morning to Sunday night came to an end in flames when a worker using a mechanical cutter started a fire that engulfed the wreckage.
On a day of intolerable strain as the death toll continued to climb towards 400, many rescuers were left inconsolable as the last known survivor slipped from their grasp.
"I've never seen anyone so brave in my life," Abul Khayer told AFP, weeping, as he and other fire-fighters pulled her dead body from the pan caked rubble on Monday.
Akter's battle to live had gripped the nation which had been watching live television pictures as rescuers squeezed themselves into narrow tunnels and jagged concrete in a race against time to save her. It was a tragic end to a story that began with Akter's migration from rural Bangladesh to a Dhaka suburb to work in a squalid, congested garment-making district.
Her journey — like that of so many other Bangladesh workers making garments for Western labels — was prompted by financial need — and usurious moneylenders.
"Our mother had a gallstone operation 20 years ago and we took a 5,000 taka ($60) loan from the money lender. It became 70,000 taka with the huge interest. She and I had to migrate to repay it," her brother, Jahirul Islam, told AFP:
Akter, the fourth child of a landless farming family from a coastal district, started working when she was only 13 and she was "hard worker", he said.
"There are days she would work from 8 am in the morning to 10 pm in the night. Some days she would work through the night," he recalled.
She earned a paltry 4,200 taka ($53) a month but with overtime she could make a couple of thousand more that she would send to her parents, he recounted. "She also was a very beautiful woman – and the most stubborn," Islam said. "She fell in love with another garment worker and married him without our consent. We heard he died in an accident, leaving her three months pregnant," he said.
Islam said his sister's son became "the centre of her life" and she would pick him up after returning from the factory late in the evening.
"She told us that she wouldn't marry again. Her dream was to ensure a higher education for Robin. She dreamt of making him a doctor or an engineer," her brother said.
The boy has no idea what happened to his mother. "He plays all day long. But in the night he asks her aunt Jasmine, 'When will mother come?'" Islam said.
Her heartbroken father, Motaleb Goldar, said the family only learnt on the fourth day after the disaster that Akter was trapped alive under the rubble.
"We prayed. But Allah took her to heaven," he said.
An unknown number of dead still lie under the wreckage — over 3,000 workers were in the eight-story complex when it collapsed — while hundreds more are in hospital with horrific injuries from severed limbs to fractured skulls. — AFP
http://www.saudigazette.com.sa/index.cfm?method=home.regcon&contentid=20130502163895
----------------
Syrian Mufti Blasts Abuse of Women, Blames Foreign States for Crisis
May 2, 2013
TEHRAN (FNA)- A senior Syrian religious leader strongly condemned the abuse of the Syrian women in Turkey, and blamed foreign states for ongoing crimes against the Syrian people.
"Unfortunately, innocent Syrian girls are being abused in Turkey due to the crisis created by some countries (in Syria)," Prominent Syrian Mufti Sheikh Zakaria Saraya said at 'Muslim Ulema (religious scholars) and Islamic Awakening' conference here in Tehran on Wednesday.
He said that enemies are trying to undermine Syria because the country is part of the axis of resistance against the Zionist regime.
The Syrian Mufti further called on Muslim religious scholars to help find a diplomatic solution to the current crisis in his country.
Local media had earlier reported that Syrian women who are living in refugee camps in the neighboring countries are facing sexual abuse and are being sold to rich men from the Persian Gulf Arab littoral states.
Full report at:
http://english.farsnews.com/newstext.php?nn=9107166332
----------------
Why U.S. can't deliver women's rights to Afghanistan
By Malou Innocent, Special to CNN
April 2nd, 2013
During his recent unannounced visit to Afghanistan, U.S. Secretary of State John Kerry met with prominent female entrepreneurs and the captain of the women's soccer team to discuss the hard-won progress of Afghan women and their uncertain future. Like his predecessor, Secretary Kerry has admirably pledged to prioritize women's rights in his foreign policy agenda. But the underpinnings of this pledge – the entrenchment of women's rights across Afghanistan – are beyond the ability of the United States to uphold. It is time to stop making promises we cannot keep.
If the past 12 years in Afghanistan (and Iraq) has taught us anything, it's that we are not very good at spreading Western-style, Jeffersonian democracy – and all the attendant rights – to foreign cultures. In the end, our military and diplomacy cannot transform deep-rooted societal norms. The future of Afghan women deserves U.S. support, but not a false promise tied to the open-ended presence of U.S. troops.
Undoubtedly, since the overthrow of the Taliban regime, the quality of life for many Afghan women has undergone extraordinary transformations. But the progress may be illusionary. As Reuter's senior correspondent in Afghanistan Amie Ferris-Rotman argued in Foreign Policy last month, President Hamid Karzai has been "increasingly ambivalent on women's rights," and the local government has failed to motivate Afghan society at large to adopt new habits to accept gender equality.
Misogynistic warlords and conservative Afghan traditionalists still wield considerable influence over traditions and customs that govern property rights, marriage and divorce, inheritance, and custody. Despite women's constitutionally guaranteed rights, fundamentalists in parliament and government ministries continue indigenous cultural prohibitions that discriminate against women.
Full report at:
http://globalpublicsquare.blogs.cnn.com/2013/04/02/why-u-s-cant-deliver-womens-rights-to-afghanistan/
----------------
Rihanna to 'shine bright like a diamond' in Abu Dhabi
The National staff
May 2, 2013
Global superstar Rihanna is bringing her Diamonds World Tour to Abu Dhabi, concert organisers Flash revealed today.
The singer, who has sold 41 million albums and won six Grammys and seven Billboard Music Awards, will roll into the UAE on Saturday, October 19.
Born Robyn Rihanna Fenty, the star from Saint Michael in Barbados, will be performing songs from her seven albums, including her recent hit Diamonds, at the du Arena on Yas Island.
Tickets go on sale midday Thursday May 9th at www.ticketmaster.ae. The concert will be an all-standing event.
Full report at:
http://www.thenational.ae/arts-culture/music/rihanna-to-shine-bright-like-a-diamond-in-abu-dhabi#ixzz2S7Dv0bMM
----------------
Roadside school student becomes ambitious politician in Pakistan
May 2, 2013
KARACHI: The relentless heat, heavy downpours and the thick smog that Saniya Naz braved to study at a roadside school eventually helped her in the long run.
"I feel the pain of the poor. I understand what poverty is. I will help those in need," says the 26-year-old Pakistan Peoples Party (PPP) candidate for a general seat in violence-prone Lyari. Saniya, who is one of the youngest candidates running for elections, faced hard times as a child. She says this gave her the heart and spirit to work for others. With no political experience, she likes to be called a social worker rather than a politician.
"When I was younger, there were times when we would eat only once a day. There would be no food in the house and my mother would go to a nearby dargah to get dates and rotis for us." To support the family, her mother worked as a maid and her father was as a carpenter who made carom boards.
Despite such conditions, Saniya remained firm in her resolve to study, even if it was in a roadside school in Moosa Lane. With no roof over their heads, a curtain veiled the students from passersby and vehicles. The children had to sit on muddy rugs.
Full report at:
http://tribune.com.pk/story/543265/the-journey-of-saniya-naz-roadside-school-student-becomes-ambitious-politician/
----------------
A Divided Household: Daughter In PTI, Father In PPP
May 2, 2013
KARACHI: Naz Baloch first became interested in joining Pakistan Tehreek-e-Insaf (PTI) after the party's chief, Imran Khan, paid a visit to Mama Parsi Girl's High School where she studied.
He had come to collect funds for his Shaukat Khanum Memorial Cancer Hospital. "We [students] saw him sticking to his words and building the hospital. I started idolising him since then." Soon after graduating from St Joseph's college with a degree in economics, she married a staunch PTI supporter who encouraged her to join the party.
PTI leader Fauzia Kasuri, who approached educated people to come out from the confines of their houses and play their part, also motivated her to join the party. And so two years ago she did exactly that, despite the fact that her father is a staunch Pakistan People's Party (PPP) supporter who has been awarded the party's ticket for a provincial assembly seat. At her father's house in Pak Colony, huge PPP banners adorn the walls and nearby pillars while Naz's posters can be seen some distance away.
Full report at:
http://tribune.com.pk/story/543264/a-divided-household-daughter-in-pti-father-in-ppp/
----------------
'Battered' Wife Jailed For Leaving Husband
2 May 2013
The plight of a Saudi woman imprisoned for refusing to return home to her allegedly abusive husband has gained the attention of social media users and prompted calls for stronger laws to protect women.
The incident involves 51-year-old Mariam Manalo, a Saudi citizen of Filipino origin, and the mother of three women aged 22, 21 and 15.
Manalo's case raised the ire of social media users after police jailed her when her husband filed charges against her for absenteeism from their home. Manalo refused to return home, preferring to remain in prison.
However, a police official told Arab News that Manalo was released without conditions since the case was considered a family dispute. Late last night, Manalo was awaiting her release papers from police.
Nawaf Albouq, a family friend, said in a telephone interview that Manalo was at odds with her husband and had been absent from her home for three months.
Her absence prompted her husband to file an "absenteeism from home" complaint against her with the police. Such reports can be filed by the male guardian in the event any female dependent leaves from home without permission. Manalo was taken into custody at her place of employment in a Jeddah's commercial center.
"At the police station, she was asked whether she intended to return to her husband and put an end to accountability, but she refused," Albouq said. "This, in turn, led them to charge her with 'rebellion.'"
Manalo was not available for comment since she was not permitted to speak to anyone while in custody. The husband could not be reached for comment.
Manalo was taken to the Bureau of Investigation and Public Prosecution where she was scheduled to be released late last night without bail because it proved to be a family dispute. However, since the couple are still married, the matter is now in the hands of the husband.
He is responsible for the handling of the case on whether to refer their case for consideration by a judge. The judge may order the couple to either reconcile or separate.
Full report at:
http://www.arabnews.com/news/450162
----------------
Tanzania: Why Zanzibar Leadership Still Has Few Women
BY ISSA YUSSUF, 1 MAY 2013
THE number of women in leadership worldwide has gradually been increasing, but in some communities like Zanzibar more efforts are required to increase the representation of women in decision-making groups.
Pressure groups and women rights activists have been pushing policy makers and the government to make sure that factors contributing to low representations of women in leadership at all levels are removed.
However, it has been noted that some of the barriers to women leadership and participation in decision making groups like jealousy, division and hat among women, lie within the reach of women themselves.
Prof Elias R. Mathipa and E. M. Tsoka from Vista University, South Africa say in their article published in South African Journal of Education that possible barriers to the advancement of women to leadership positions are poor self-image, which is a factor attributed more to women than to men and lack of assertiveness - as a habit associated more with women than men.
Less career orientation - as a sign of less interest in women as leaders; less confidence - as an argument that women, unlike men, generally lack the will to achieve; poor performance - a myth used as an excuse for employing less women in demanding occupations and discrimination as a sign of low interest in the recruitment of women into leadership positions.
The scholars also mention demotion as a form of punishment thought to suit women better as they are perceived to be lazy and arrogant. Mr Khatib Suleiman, a senior journalist in Zanzibar says that change should begin from women should they need to get more opportunity in leadership roles.
"Women are failing to use their advantage of being many. They easily get divided, resulting in hard time for female candidates in elections. Our work of activism becomes difficult when women get divided," said Suleiman at a training workshop for journalists on "Journalists role in promoting women's leadership."
Other journalists at the workshop organised by the Tanzania Media Women Association (TAMWA) in the implementation of 'Support Women in Accessing Leadership Positions (SWALP)' project also were of the opinion that "women should support initiatives to fight for women rights by minimising hatred among themselves."
Ms Salma Said from Mwananchi, Ms Rahma Suleiman of Chuchu FM, Ms Khamisu Ali of ZBC-tv, Mr Juma Abdallah from Zenji- FM and Mr Ramadhani Himid- Freelance, admit that they (journalists) have not done enough in promoting women leadership, but argued that lack of unity among women frustrates the campaign for the rights of women.
Full report at:
http://allafrica.com/stories/201305010324.html?viewall=1
----------------
Women Should Be Held In Great Esteem In The Society: Khamenei
May 2, 2013
TEHRAN – Supreme Leader of the Islamic Revolution Ayatollah Seyyed Ali Khamenei has said that women should be held in great esteem and respect by members of the society.
The Leader made the remarks during a meeting with a large crowd of eulogists in Tehran on Wednesday on the auspicious birth anniversary of Hazrat Fatima (SA), the daughter of Prophet Muhammad (S), which is both Women's Day and Mother's Day in Iran.
In his speech, Ayatollah Khamenei said that the Holy Quran had adopted a "logical" attitude toward the status of women, adding that men and women were equal before God and enjoyed equal social and individual rights.
Full report at:
http://tehrantimes.com/politics/107318-women-should-be-held-ingreat-esteem-in-the-society-leader-
----------------
URL: https://newageislam.com/islam-women-feminism/talaq-text-message,-muslim-women/d/11382