New Age Islam News Bureau
1 March 2014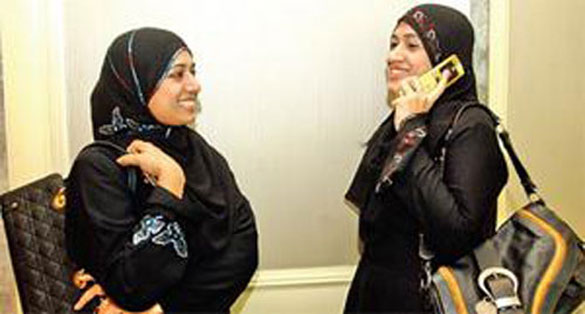 Muslim women in Aligarh, India, are increasingly using the traditional Burqa as a fashion statement
--------------
• Panel to Set Criteria for Women's Vote in Saudi Arabia
• Women Are Still Allowed To Drive in Brunei, Non-Muslims Can Wear Religious Symbols
• It's Time For Saudi Women To Prove Themselves: Princess Adelah
• Conservative MP Calls for Public Veil Ban
• Muslim Marriages in Ghana Are Illegal
• Designer Burqas Are In Fashion among Muslim Girls
• Gambia: Sub-Regional Dialogue to End FGM Opens in Banjul
• First Saudi Woman to Participate In the Environment and Petroleum Forum 2014
• Louise Mensch Thinks the Real Face of British Islam Is a Man of Sikh Heritage
• Sharmeen Obaid-Chinoy: Pakistan's Most Daring Documentarian
Compiled by New Age Islam News Bureau
URL: https://www.newageislam.com/islam,-women-and-feminism/new-age-islam-news-bureau/tajik-women-fight-mosque-exclusion/d/45975
--------------
Tajik Women Fight Mosque Exclusion
Institute for War and Peace Reporting
Mar 1, 2014
The Tajik government's decision to pay wages to Muslim clerics has been criticised by women who resent having to subsidise imams when they themselves are banned from attending mosques.
From February this year, prayer leaders or "Imam-Khatibs" will receive monthly salaries ranging from the equivalent of 160 to 300 US dollars, depending on the importance of the mosque.
Abdurrahim Kholikov, the head of the government's religious affairs committee, said the money should be seen as a way of incentivising clerics to do a better job.
Others view the move with scepticism, since it appears to contradict the principle of separating faith from the secular state. It has been interpreted as the latest move to co-opt and control clerics by a government ever watchful of radical Islamic groups.
Criticism of a different kind has come from observant Muslim women, who question why their taxes should be used to pay a clergy that will not let them attend mosques.
The Council of Ulema, the country's highest Muslim body, introduced a ban on women attending services in 2005. This was ostensibly due to a lack of space for men and women to pray separately, although some argued it was really about government fears that women were taking a more active role in banned Islamic groups like Hizb-ut Tahrir.
Anora Sarkorova, a prominent journalist, reignited the debate this year in the context of the new payments to clerics. In a statement on her Facebook page which was widely republished in the Tajik media, she wrote that as a female taxpayer, she was furious to be subsidising mosque leaders who continued to prevent women from attending prayers.
"I am not only a dutiful taxpayer, but also a Tajik woman who is deprived from visiting mosques and attending religious worship by a decision taken by Tajikistan's Muftiate," Sarkorova wrote.
The religious establishment did not deserve financial aid, she added, arguing that under-funded areas such as pensions and help for low-income families should be prioritised in government spending.
She told IWPR that her letter had struck a chord with others who were annoyed with the initiative.
"Many people have written to me expressing solidarity, not just women but men as well," she said.
Parvina, a 39-year-old woman from Dushanbe, said she too was angry that she was unable to pray in a mosque.
"Why can adherents of other faiths visit their places of worship and churches, but we Muslim women cannot?" Parvina asked, pointing out that she had not experienced this problem in other Muslim-majority countries that she had visited.
Tojimiddin Asomuddinov, deputy head of the government's religious affairs committee, told IWPR that his organisation lacked the authority to involve itself in the question of female attendance in mosques.
Saidmukarram Abdulqodirzoda, head of the Council of Ulema, reiterated that the main reason for the ban was the lack of suitable facilities to separate men and women.
"The majority of mosques in Tajikistan are located in one-storey buildings and have only one entrance. When all the conditions are in place to enable women to be present, the ban will be lifted," Abdulqodirzoda told IWPR.
Tajikistan is the only Central Asian country where an Islamic party participates in mainstream politics. Saidumar Hussaini, a member of parliament from the Islamic Rebirth Party, told IWPR that the real reason behind the prohibition was the government's concern that women were becoming too drawn to religion.
"The authorities saw that more women were starting to attend mosques and show an interest in religion…. They therefore made haste to head off this trend," Hussaini said.
He disputed Abdulqodirzoda's account of the technical obstacles, insisting that most mosques in Tajikistan were in two-storey buildings with more than one entrance and exit to avoid the mingling of the sexes.
Zarafo Rahmoni, a legal adviser with the Islamic Rebirth Party, complained that mosque leaders had always failed to defend the religious rights of Muslim women.
"Now that the state is going to pay them salaries – which is against the law [in a secular country] anyway – they will be focused directly on carrying out the government's orders. Nothing good for women will come out of placing imams on the government payroll," she said. "A lot of devout women are telling us how indignant they are about this."
Muslim women in Tajikistan are unable to wear Islamic dress or Hijab if they work in government offices and public institutions such as banks, and discouraged from doing so in schools.
"Why should the state pay wages to the Imam-Khatibs? They have never expressed concern or defended our rights when we have encountered difficulties that banned us from studying and working. They keep silent about that," Rahmoni said. "Now that they're going to get money from the state, they will keep their mouths shut even tighter."
Khumairo Bakhtior is an IWPR contributor in Dushanbe
http://iwpr.net/report-news/tajik-women-fight-mosque-exclusion
--------------
Panel to Set Criteria for Women's Vote in Saudi Arabia
Mar 1, 2014
RIYADH — Minister of Municipal and Rural Affairs Prince Mansour Bin Miteb has disclosed that a committee has been formed to study criteria for nominating and electing women as members of municipal councils. Prince Mansour said these controls emanate from the teachings of Islam and the customs and traditions of Saudi society that are based on the Shariah. He expressed hope that the elected or appointed women will help improve the performance of municipal councils. Women are expected to play a role in improving the quality of municipal services.
http://www.saudigazette.com.sa/index.cfm?method=home.regcon&contentid=20140301197207
--------------
Women Are Still Allowed To Drive in Brunei, Non-Muslims Can Wear Religious Symbols
Mar 1, 2014
Bandar Seri Begawan: Non-Muslims in the Sultanate are allowed to wear their respective symbols of faith such as the crucifix, rosary or other religious paraphernalia in their vehicles or homes, said the Deputy Syariah Prosecutor yesterday during a special briefing on the Syariah Penal Code Order 2013 that was held at the Philippine Embassy in Jln Kebangsaan, ©BRUDIRECT.COM reported.
"It is stated in the constitution that we give freedom for non-Muslims to practice their faith among themselves, in the allocated premises without being threatened by authorities" added Hjh Fatimah Awg Hj Ahmad, Deputy Syariah Prosecutor from the Islamic Law Unit, Ministry of Religious Affairs (MoRA).
This was one of many questions raised by Filipino community members living in the Sultanate since they are the biggest non-Muslim expatriates in the country that actively practicing their faith.
Hjh Fatimah however reminded that spreading any religion other than Islam in Brunei is considered as a propagation of religion other than Islam to a Muslim or person without beliefs or in similar context. A hefty fine of BND$20,000 will be imposed together with a jail sentence of not less than five years on those found guilty.
Another question raised was on the issue of whether women will be prohibited from driving under the new Order, to which the Deputy Syariah Prosecutor replied "No". She proceeds to explain that the authorities understand women in the Sultanate drive for a valid reason, saying that "we are not going that far, we understand that women (in Brunei) must drive whether to go to work, to pick up their children and other things. We are not going to say women should not drive, we are not that extreme. Women will continue to drive in Brunei".
The idea that women should not be allowed to drive was first suggested by a person named "Jaya" (assumed to be a pseudonym) who wrote a letter to Saturday 22 2014 edition of Borneo Bulletin for the Opinion section. In the letter, he asserted that women must not drive alone and that our youths are going wet and wild listening to Western music. When his suggestion first surfaced on the social media, it was negatively received by many people, with a few individuals pointing out that such prohibition does not exist anywhere in Al-Quran, Hadith, and Islam in general.
Another key topic discussed was segregation between non-Muslims men and women in places such as staff living quarters; a common practice by employers as well as at public establishments such as cinemas, restaurants and even public transportation.
"As of now there is no prohibition", said Hjh Fatimah, adding that in cases where there is a Muslim living together with the opposite sex (Muslims or non-Muslims) in the same house, then the law applies as it can lead to suspicion that they are committing an immoral act of 'Khalwat' (close proximity) which comes under Section 196 of the Syariah Penal Code Order 2013.
Under Section 196, if a man and woman (one or more) who is not Mahram (referring to individuals that cannot be married due to family relationship) live under the same roof, a fine of BND$4,000 or imprisonment of not less than one year or both will be imposed.
To clear the air of any obfuscation, Ustaz Hj Ali Hassan Md Yassin, Education Officer from Islamic Da'awah Centre, stated that there are no cases in the world where a government of a country condemns other religions or beliefs as all religions practice kindness to all mankind.
"There have been many negative comments on the introduction of the Syariah Law in Brunei, but remember that not all comments are true and we all should educate ourselves before jumping to negative conclusions" said Ustaz Hj Ali, adding that people should not view Syariah Law as a threat to humanity in the Sultanate as Islam is a safe religion, similar to any other religion that eschews the need to condemn other faith and beliefs.
http://www.theborneopost.com/2014/02/28/non-muslims-can-wear-religious-symbols-women-are-still-allowed-to-drive/#ixzz2ukRdMc5i
--------------
It's Time For Saudi Women To Prove Themselves: Princess Adelah
Mar 1, 2014
MADINAH — The chairwoman of the Saudi Heritage Preservation Society has called on women to prove their abilities in the job market, Al-Madinah daily reported.
Princess Adelah Bint Abdullah said women should develop themselves through training and exchanging expertise at meetings, festivals and events.
She called for festivals to be held in all cities of the Kingdom with appropriate media coverage.
The princess also hoped for a "Souk Al-Madinah" event to be organized in Madinah, similar to the "Souk Okaz" event in Taif.
She thanked Madinah residents for their hospitality and organization of the event that was held in her honor during her second long visit to Madinah's heritage sites.
On personal social media accounts, the princess reiterated the aims of Custodian of the Two Holy Mosques King Abdullah for providing women with a dignified life.
She added that she is paying great attention to the development of the handicraft skills of women.
During a private event attended by a number of princesses and other prominent women, Dr. Iman Azzam reviewed the status of Madinah.
This was followed by an exhibition of traditional clothing, folk songs and traditional customs.
The event also included an exhibition of many traditional handicrafts that ended with a souvenir being presented by the event organizer to the princess.
Odah Al-Bluwi, a participant in the event, said she begun her handicrafts profession when she was 15.
She is now 57 and has since taken up sewing and embroidery and participated in a number of other similar events.
http://www.saudigazette.com.sa/index.cfm?method=home.regcon&contentid=20140227197032
--------------
Conservative MP calls for public veil ban
Mar 1, 2014
Muslim women should not be allowed to cover their faces in public as there is no formal requirement in their religion, a Conservative MP suggested today.
Philip Hollobone was putting forward a Bill seeking to prohibit the wearing of face coverings, in particular the Muslim veil and balaclavas.
Presenting his Face Coverings (Prohibition) Bill, the Kettering MP expressed regret that his campaign had "come to this".
Speaking during the Bill's Second Reading, he said: "But there's growing concern amongst my constituents and across the country about the increasing number of people who are going about in public places covering their faces and this is causing alarm and distress to many people in our country."
Mr Hollobone told the Commons that he had received correspondence from alarmed Britons from across the country, "who are concerned that in this respect we are heading in the wrong direction as a nation".
He said that his Bill would prevent the use of balaclavas, favoured by some demonstrators, as well as full-face Islamic veils, such as burkas and niqabs.
He said: "Law-abiding citizens, who cover their face for supposedly religious reasons, are by their actions alienating so many of our other citizens in this country. And it does cause alarm and distress to many of our citizens who aren't part of those religious groups to see Britain's High Streets increasingly dominated, especially by Islamic women, who are covering their faces in full."
Mr Hollobone repeated on two occasions that Muslim women who chose to wear the veil did so out of "supposed religious requirements".
"I can find absolutely nowhere at all anywhere in the world, any prescription that women are required by Islam to cover their face," he told MPs.
"As far as I can understand it, the Koran - the holy book to Muslims - requires women to dress modestly."
According to Mr Hollobone "because of political correctness, because of sensitivities about unintentionally causing harm to religious minorities the Government is frightened to take action on this issue".
When asked if he had consulted the 723 Muslims in his own constituency for an exchange of views by the Labour chair of the Home Affairs Select Committee Keith Vaz, Mr Hollobone replied: "I have got no idea whether there are 723 Muslims in my constituency or 7,230. The faith of my constituents is irrelevant to me."
He revealed that he had been in talks with some of his community's Muslim representatives, but that the "dialogue has ended", after they declined an invitation to meet with him to discuss the details of his Bill.
The Tory member for Shipley, Philip Davies, who in many debates is often in agreement with Mr Hollobone expressed reservations about the Bill. He said while he suspected that many of his constituents would agree with Mr Hollobone, he wasn't sure he could.
He asked: "Do you really want to live in a country where we have the Government telling people what they can wear and what they can't wear, because that's the bit that I'm very nervous that we have that kind of authoritarian state."
Similarly, backbencher David Nuttall said: "One of the reasons why this Bill is seen as particularly sensitive is that the two groups that you have referred to are, of course, very separate. One is maybe out to break the law and they are covering their face because they intend to break the law and not be seen, the others are law-abiding and are covering their face because of their religion. And it's that conflict between those two groups that cause the difficulty with the Bill."
But Mr Hollobone insisted that his intentions were "100% honourable" and had no desire to stoke xenophobic sentiment.
"I don't want to live in a country where people are increasingly going around with their faces covered," he said.
"It's not about clothing, it's about concealing someone's identity." He said it "alienates the British way of life".
Rushanara Ali, the Labour member for Bethnal Green and Bow, a London Borough with a large Muslim population, said: "As someone of Muslim background, I believe passionately in the right of any minority group, including Muslim women, to choose how they dress. And the best of British is our diversity and our inclusiveness."
She described Mr Hollobone's Bill as "narrow-minded and intolerant".
However, Mr Hollobone said that his Bill would remove the current ambiguity in public places, such as garages, courts of law, police stations and schools on how to deal with face coverings.
He said: "Most people in this country would say that it would be entirely wrong for a teacher to be able to teach a class whilst wearing a full-face veil."
The Government had been "reluctant to spell this out in black and white".
He added: "Likewise, I think it is increasingly abhorrent as I understand has happened in a number of places where schools, as part of their uniform code, are requiring really very young girls to wear full-face veils."
http://www.asianimage.co.uk/news/11045282.Conservative_MP_calls_for_public_veil_ban/?ref=var_0
--------------
Muslim marriages in Ghana are illegal
Mar 1, 2014
The Ghana Chapter of the United Muslim-Christian Forum (UMCF) has described Muslim marriages in Ghana as illegal since there was currently no legal recognition and licensing of any Islamic marriage.
Alhaji Ahmed Nii Nortey, Executive Director of the UMCF in Ghana, who described the situation as unacceptable, explained that the anomaly had resulted in legal actions against some Muslim groups who had decided to issue marriage certificates to Muslims to acquire Visas and other travelling documents.
He stressed the need for the state to intervene as a matter of urgency to remedy the anomaly to give Islamic marriages legal backing, saying, "The state must take steps to legalize Islamic marriages in the country and expand the scope of registration of Islamic marriages in compliance with the tenets of Mohammedan Ordinance (CAP 129)".
Alhaji Nortey, who was addressing a day's forum in Tamale on Thursday attended by many Muslim women, said CAP 129, which was enacted in 1884 though obsolete, was not being complied with by the state through the Registrar Generals Department.
The British High Commission in Ghana funded UMCF to undertake activities aimed at giving legal backing to Islamic marriages.
Alhaji Nortey explained that customary and ordinance marriages were the only two forms of marriages recognized in Ghana that had forms or documents available at the Registrar General's Department and described the situation as "Discriminatory".
"It is therefore paramount to work towards the regulation of Islamic marriages in the country to avoid future conflicts and litigation in the distributions of estates as a result of the death of a family member or a spouse," he said.
He said the project sought to create awareness about the lapses and also called on duty bearers to ensure the strict compliance of CAP 129, like all other laws on marriages in Ghana or enact other legislation to give legal backing to Muslim marriages and fully complied with by the Attorney General's Department.
Alhaji Mohammed Ghazzali Yakubu, Northern Regional Coordinator of the UMCF said due to the legal constraints, most marriages in the Muslim communities in Ghana were not registered, noting that, a few of them who had registered their marriages did so using the ordinance form, which was more of a Christian marriage than Islamic.
He expressed worry that such laws did not give Muslims the opportunity to marry more than one wife as pertained in the Islamic custom; stressing that a litigant wife could take legal action against a husband who marries more than one wife under the ordinance system of marriage, since that law recognized only monogamous marriages.
http://www.spyghana.com/muslim-marriages-in-ghana-are-illegal/
--------------
Designer burqas are in fashion among Muslim girls
ERAM AGHA,TNN | Mar 1, 2014
ALIGARH: Muslim women in Aligarh are increasingly using the traditional burqa as a fashion statement, embellishing it with designer touches. Burqas inspired by English gowns or those with Chinese collars, are doing brisk business. So are the modern abayas from Dubai beautified by laces, pipings and pintex design.
These changes may be redefining the garment - observers say some two-piece burqas have the chutzpah of cholis and the flirty feel of frocks - but the makeover, expectedly, hasn't gone down well with the city's maulanas. "Women are precious in Islam and the purdah was introduced to protect them. The new style of wearing fitting burqas, and adding studs and stones to them attracts attention and emboldens rapists," says Mufti Shamun Qasmi, vice president, All India Imaam Council.
Asjad, a mufti from a madarssa adds, "This is a disturbing trend. Women should avoid wearing garments like these if they want to keep themselves safe."
Such views are vehemently opposed by many of the city's women who find nothing wrong in the desire to look good despite being covered from head to toe. "In today's world, when everyone is trying out new things, what is wrong if burqas, too, are becoming fashionable?" says Zainab, a college going girl, who often wears a trendy umbrella-style abaya on campus.
Shopkeepers in the city say that demand of the garments is high, despite what the orthodox voices may say. "Around 60% of my customers come looking for designer burqas," says Rehaan, a burqa-seller at the city's Amir Nisha market. "They are also viewed as a status symbol since many of the pieces feature intricate zarkan embroidery. Today, many women are working and they want to assert their empowerment through these designer abayas."
http://timesofindia.indiatimes.com/city/lucknow/Designer-burqas-are-in-fashion-among-Muslim-girls/articleshow/31190480.cms
--------------
Gambia: Sub-Regional Dialogue to End FGM Opens in Banjul
Mar 1, 2014
A two-day sub-regional Islamic scholars dialogue to end female genital mutilation, FGM, organised and hosted by Gamcotrap in collaboration with Save the Children is under way in Banjul.
The forum is geared towards engaging religious leaders in the struggle to end FGM, drew participants from various countries.
Held at the Paradise Suites Hotel, the forum was designed to provide the participants the opportunity to sit and discuss, and share their experiences on issues affecting the girl-child, in order to come to a consensus. It also gave the organisers the chance to clarify misconceptions about FGM and Islam in The Gambia.
Dr Isatou Touray, executive director of Gamcotrap, said the event was sponsored by Save The Children, one of Gamcotrap's longstanding partners in the fight against harmful traditional practices, such as FGM and early marriage.
Save The Children has been involved in the protection of children for many years, Dr. Touray added, and thanked it's partner for creating a protective environment for the children of The Gambia.
Dr Touray noted that the funding of the event was in response to recommendations and suggestions made by people to work towards a final decision regarding FGM and Islam.
"We are here because of the popular demand of the polity in addressing the misconceptions on the relationship between FGM and Islam, and to put the protracted debate on this subject matter to end in an attempt to facilitate legislation against its practices," she said.
According to the executive director, the overall goal of this regional dialogue was to put an end to the misconception about FGM and Islam.
This interface with scholars from the different regions namely, Guinea, Mauritania and The Gambia, aims to exhaust the various religious arguments while shedding light on common misconceptions, she stated.
At the same time, she went on, they would also learn about the effects of FGM on women and children's sexual and reproductive health rights.
She said that based on this, and in order to gain knowledge and strategies from other Muslim majority countries that have legislated against FGM, they must create a dialogue that would dissociate FGM from Islam.
Dr Touray further said that a lot had been achieved in the Gambia with regard to advocacy to end FGM.
"I am happy to inform the participants that since 2007 to date 128 circumcisers and 900 communities have abandoned the knife and are protecting their girl-child," she disclosed.
Speakers at the ceremony included Fatou Kinteh of UNFPA, Neneh Touray representing the executive director of the Women's Bureau, the director of Save the Children West and Central Africa, the governor of West Coast Region, and Mauritania's ambassador to The Gambia.
Gambia
The Gambia Ranks 29th in Africa
For the first time a global ranking measures the "search engine" appeal of countries in the fields of Tourism and … see more »
http://allafrica.com/stories/201402281188.html
--------------
First Saudi Woman to Participate In the Environment and Petroleum Forum 2014
Mar 1, 2014
Hiba Hisham Al-Habboubi, the first Saudi woman to participate in the Environment and Petroleum Forum 2014 has set a record in the history of the industry representing Saudi women who aim to protect the environment through engineering projects.
The 7th symposium on environmental progress in the petroleum and petrochemical industry — Petro Environment 2014 was held at the Seef Centre, Alkhobar under the auspices of the Environmental Technology and Management Association (ETMA) last week.
The three-day forum opened with the participation of 70 international speakers with the participation of more than 600 participants in order to provide solutions and new technologies to protect the environment.
Al-Habboubi is the first woman from Saudi Arabia with a Master's degree from the University of the Arabian Gulf, who participated in this forum with the aim of helping protect the environment and society.
Al-Habboubi is working with an engineering company, where she coordinates between environmental design and solutions companies and firms that provide environmental solutions and technologies for the establishment of both offshore and onshore industrial facilities.
Al-Habboubi said that working in the field of environment means taking special responsibility for the preservation of the nation's wealth and resources. She feels she has a personal duty toward her country and the environment.
She thanked and appreciated Saudi Aramco for organizing the forum to achieve communication between world scientists for a clean environment and to protect future generations from the effects of environment pollution both in the Gulf and globally.
She said that the forum was an excellent opportunity to work for the environment and hoped that she would be invited to more such events which would add a new dimension to the environmental culture for both herself and other Saudi women.
Petro Environment 2014 provided the scientific community in the region with high quality presentations and posters.
This symposium afforded a great opportunity to share experience, innovations and best practices with the regional and global petro-environmental community, as well as to meet like-minded industry professionals.
http://www.arabnews.com/news/533016
--------------
Louise Mensch Thinks the Real Face of British Islam Is a Man of Sikh Heritage
Mar 1, 2014
Former Conservative MP Louise Mensch scored a Twitter own goal whilst trying to convince her followers she was in touch with British Muslims, citing a political commentator who was actually of Sikh heritage.
In the wake of the sentencing of Lee Rigby's killers, Mensch tweeted: "One of the aims of #LeeRigby's murderers was to stir up religious hatred and we must not allow them to succeed in their aim. #Islam #Peace"
"When I think of British Muslims I think of @Mo_Farah @SayeedaWarsi @RaheemJKassam @SunnyHundal @YasminQureshiMP &c not these fools #LeeRigby"
Sunny Hundal was born to Sikh parents of Indian origin and despite having a beard, is not Muslim. He tweeted back at her "Erm, I'm not Muslim Louise. Parents are Sikh".
After Twitter users criticised her for her mistake, Mensch argued: "I've thought he was Muslim for ages. Based on his politics, tweets."
However this only served to spawn the hashtag #tweetlikeamuslim with users tweeting things like "Crikey that's a nice minaret", whilst others tweeted "I'm not Muslim Louise."
Sunny Hundal told The Independent that he is not a Muslim. He also said he plans to tweet like a Sikh from now on.
http://www.independent.co.uk/news/uk/louise-mensch-thinks-the-real-face-of-british-islam-is-a-man-of-sikh-heritage-9156788.html
--------------
Sharmeen Obaid-Chinoy: Pakistan's Most Daring Documentarian
Mar 1, 2014
For Sharmeen Obaid-Chinoy, a camera reveals not only the soul of each carefully chosen character, but also the heart of a phenomenon that might otherwise exist as a series of headlines or statistics.
The acclaimed filmmaker, who has tackled the issues of educating girls in Pakistan and the horrors of acid violence, now has an even sharper focus: profiling those who are agents of change on the ground. "After winning the Academy Award [in 2012], I wanted to find people who are creating change from the ground up in Pakistan," Obaid-Chinoy says, "and to talk about those people, rather than the issues."
Obaid-Chinoy's next film, Seeds of Change, will be released in about two months. Its subject is Khalida Brohi, whose crusade against so-called "honor killings" led to fierce opposition that caused her to flee her home in Balochistan and, later, to establish the Sughar Empowerment Society, which provides women with the training and resources to launch their own businesses. Brohi provided one of the most powerful moments at last year's Women in the World Summit. Speaking at a session entitled "The Next Generation of Malalas" with Obaid-Chinoy and activist Humaira Bachal, Brohi remembered her father's warning that doing this work would kill her. Her response? "Doing this work will keep me alive."
After bringing Brohi's story to the masses, Obaid-Chinoy is venturing a bit further afield to film Peacekeepers, about an all-female Bangladeshi UN peacekeeping troop that has been deployed to Haiti. The project, which received a $100,000 grant from the MacArthur Foundation in January, will focus on the role women play in conflict resolutions and peace building. Obaid-Chinoy is in production on the film now with co-director Geeta Gandbhir.
"Documentary films are not something that everyone thinks about as entertainment," says Obaid Chinoy, "But what I'm hoping to do is cast a wide net. Stories that have some good news have become quite important to me. I want them to be told."
She's witnessed what happens when covering subjects with a positive angle. Her recent short documentary Humaira: The Dream Catcher, profiling activist Humaira Bachal, offers a rare perspective on the struggle for girls' education in their native Pakistan: a hopeful one.
Bachal, now 26, began her fight for an education at age 12 when, after she'd finished primary school, her father decided he'd rather marry her off than send her to class. Her mother helped her continue her schooling in secret, sending her to another part of Karachi, far away from their village of Moach Goth. Realizing just how lucky she was—and how rare her experience—she started a door-to-door campaign to get parents to send their kids to study with her for the nominal fee of one rupee per day. By the time Obaid-Chinoy began work on the documentary, Bachal had singlehandedly educated 1,200 children in a small, three-room school.
"Pakistan has massive education issues," says Obaid-Chinoy, "but when you see Humaira, you see someone who is battling it on the ground every single day. You see her struggles and her victories, and you will her to win."
The two women first shared a stage in London this past June, when an exclusive one-minute clip of Humaira screened for audiences at the Gucci-founded Chime for Change benefit concert in London. Since then the film has been shown both in the U.S. and around the world—including at home in Pakistan, where the filmmaker's Oscar-winning Saving Face, about female victims of acid violence, stirred up shame and controversy.
The response to Humaira, says Obaid-Chinoy, has been different—and overwhelmingly positive. The exposure has also generated support for Bachal's Dream Model Street School , which is funding a massive renovation of the school as well as training for its 22 young teachers.
"People want to give their time and money and network support," she says. "They want to believe that it's not just people outside Pakistan who want them to succeed."
Watch Sharmeen Obaid-Chiony and Humaira Bachal speak with Andrea Mitchell during the Women in the World in Washington D.C. on March 3 at 8:15 AM, live on The Daily Beast.
http://www.thedailybeast.com/witw/articles/2014/02/28/sharmeen-obaid-chinoy-pakistan-s-most-daring-documentarian.html
--------------
URL: https://www.newageislam.com/islam,-women-and-feminism/new-age-islam-news-bureau/tajik-women-fight-mosque-exclusion/d/45975