New Age Islam News Bureau
23 March 2015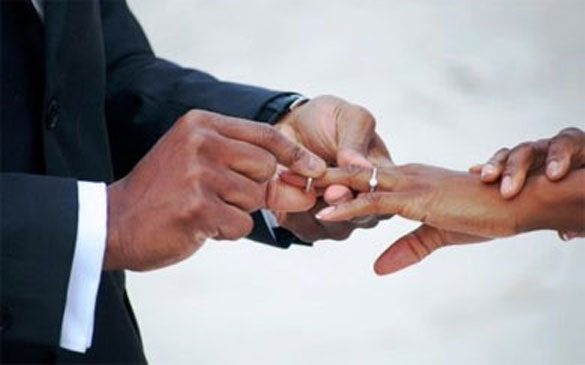 The Open Mosque hosted its first interfaith marriage between a Muslim woman and Christian man. Picture: Freeimages.com
---------
• 60% of Divorces Take Place during First Year of Marriage in Saudi Kingdom
• Saudi Women Express Reluctance to Marry Men in Blue-Collar Jobs
• Displaced Women and Girls Trapped in Afghanistan's Cities
• Controversies Put Lots On Plate for Canadian Muslim Women Lawyers
• When Muslim Women Held Town Hall Meeting In Abuja for Violence-Free Election
• Confronting Sexism As India Grapples With Abuse of Women
• Malaysia Exceeds Female Leaders Target
• Modon Plans Industrial City for Women in Jeddah
• Bangladesh Gets Award for Women Empowerment
Compiled by New Age Islam News Bureau
URL: https://www.newageislam.com/islam,-women-and-feminism/new-age-islam-news-bureau/taj-hargey-challenges-muslim-clergy-over-interfaith-marriage/d/102074
----------
Taj Hargey Challenges Muslim Clergy over Interfaith Marriage
23 MARCH 2015
CAPE TOWN - Founder of Cape Town's first Open Mosque, Taj Hargey, on Monday openly challenged Muslim clergy to prove that interfaith marriage is not permissible in Islam in accordance with the Quran.
The Open Mosque hosted its first interfaith marriage between a Muslim woman and Christian man at the weekend.
The couple, Saieda Osman and Siegfried Milbert, finally joined hands in matrimony in the presence of their loved ones after several failed attempts in the past.
Hargey said on a religion based on the scriptures of the Quran, there was no proof that interfaith marriage was not permissible.
He mentioned that Muslim clergy made it acceptable for a male to marry a female from a different religion, but not the other way around.
"The reason why the Open Mosque allowed the historic occasion to occur is because in Islam, we either have gender equality or we don't. Muslim clergy says that Muslim men can marry outside of the faith, but it's not permitted for Muslim women to do so."
Referring to the Quran, Hargey said Muslims base everything on the "transcendent scripture" of Islam and not on the "patriarchal perspectives of bigoted clergy".
"We marry these couples because in Islam they are required to have a prenuptial contract. Hollywood, by the way, has copied this prenuptial contract from Islam. Islam inquired it nearly 400 years ago. In this prenuptial contract, there are four things that make it valuable for the woman concerned."
He said the confines of a marriage would make sure that a woman's faith was secure but also allow a man to maintain his own faith.
"The household that they establish is a Halal household meaning no alcohol, no pork. If he wants to drink, he can go to a local pub or bar."
He mentions that the confines of a marriage will make sure that a Muslim woman will be allowed a Muslim funeral service when she passes on.
"The children will be reared Muslim but has respect and familiarity for their father's faith."
The Muslim Judicial Council (MJC) was unavailable for comment at the time of publication.
http://ewn.co.za/2015/03/23/Taj-Hargey-challenges-Muslim-clergy-over-interfaith-marriage
----------
60% of Divorces Take Place during First Year of Marriage in Saudi Kingdom
23 March 2015
Sixty percent of divorce cases in the Kingdom take place in the first year of marriage, said a judge.
Official data reveals that divorce rates have reached 35 percent "which is considered higher than the global average of between 18 and 22 percent."
Divorce rate in Jeddah was the highest (60 percent), followed by Riyadh (39 percent), Ahsa (20 percent) and the Eastern Province (18 percent), according to data released by the Family Development Centre (FDC), an affiliate of the Al-Bir Charitable Society in Al-Ahsa.
Sheikh Mohammed Al-Jirani, the judge at the endowments and inheritances department in the Ministry of Justice in Qatif, attributed divorce occurrences to many reasons, including the lack of Shariah awareness (25 percent), presence of organic and sexual diseases (5 percent), frequent travel and absence from home (5 percent), financial inadequacy and failure to meet the wife's needs and leading luxurious life (20 percent), technological progress and social networking issues (20 percent), marital infidelity (15 percent), polygamy (10 percent) and absence of equity and justice between wives.
Last December, the Justice Ministry said it would conduct a study aimed at determining reasons of the spiralling divorce rates in the Kingdom.
A ministry official said they want to gather accurate information on divorce rates and their impact on society and the judiciary. The ministry wants to publish a guidebook to warn couples on potential problems to their marriages, he said.
http://www.arabnews.com/saudi-arabia/news/722051
----------
Saudi women express reluctance to marry men in blue-collar jobs
23 March 2015
Some Saudi women look down at the idea of marrying a man practicing trades such as mechanic or electrician, but others believe that anyone earning money in an honourable work is good enough.
A photographer, Mansurah, claims that while she does not object to the idea of marrying a man practicing some trade aside of his primary job, she states she wouldn't want her husband's main profession to be that of a blue-collar one. The reason is mainly financial, she states, since she fears that such men would not be able to provide her with a comfortable lifestyle. She also wants her groom to be a university graduate like her.
Medical student Nadiah Jowhar has no objection in making a man with a blue-collar job her life's partner provided he is making a decent earning. However, she added he hopes his projects may grow as time passes on and he will be able to provide for the family.
Photographer Abeer Bajanduh said some women are not keen on marrying men who work on certain trades because of material considerations and because of the poor social status associated with such jobs.
Painter Taghrid Wazna is not willing to marry an electrician or plumber because these days material needs are expensive.
"I would consider marrying a interior decorator or dress designer because he will be working for a company unlike an electrician or trader who will be on his own," she said.
According to Wazna it is not the trade that matters but the money a man earns. Ghadah Shatibi, who works in Public Relations, said she did not mind marrying a mechanical engineer if he can set up a home for her and raise a family.
Wafa Mokhtar concurred with her, arguing that any man with an honest job and a decent income is good enough for a husband. She preferred a man with a freelance job, rather than an office employee because she believes that such a man can reach the top if he likes his job.
She added that one of her friends refused to marry a man working in a restaurant with a good pay and who had a promising future in his job, out of fear of what others would say.
http://www.arabnews.com/saudi-arabia/news/722021
----------
Displaced Women and Girls Trapped in Afghanistan's Cities
"Far more attention must be expended towards better identifying and responding to the displacement related protection needs of women and girls displaced in urban Afghanistan," says Secretary General, Jan Egeland.
A new report launched today by NRC and The Liaison Office (TLO), an Afghan non-governmental organization, presents evidence and testimony from women and girls in urban IDP informal settlements across Afghanistan and highlights worrying conditions experienced by displaced females.
The testimony of women and girls presented in the report paint a grim picture of the dire conditions facing women and girls displaced to Afghanistan's cities and sheds new light on the disproportionate risks they face being increasingly marginalised and isolated. Many of them find themselves kept in 'prison-like' seclusion, and are not permitted to venture outside their homes and unable to seek much needed assistance.
"We are imprisoned in our tents and we don't have permission to go out. What is this sort of life worth?" says a 24 year-old woman from the Helmand province, internally displaced in Kabul and one of the respondents in the report.
Displaced women and girls across Afghanistan's cities are also at increased risk of forced and early marriage. Representing a form of income, they are increasingly married off to older men who are able to pay bride wealth/dowry.
"We are being sold in exchange for money like animals. Our rights are ignored; we are often sold to widowers, blind men, disabled or old men and we have no choice to refuse marrying them", says a 23 year-old woman from the Muhammad Aghai district in the Logar province, now living in a camp for internally displaced in Kabul.
"This report provides a voice for some of the most marginalised and vulnerable groups of IDPs and should act as a sober reminder of the need to go further in order to meet the needs of women and girls living in appalling conditions in Afghanistan's cities", says Prasant Naik, NRC Afghanistan Country Director.
http://www.nrc.no/?did=9194479
----------
Controversies Put Lots On Plate for Canadian Muslim Women Lawyers
23 March 2015
When Legal Aid Alberta lawyer Amna Qureshi walks into court, the Hijab on her head is the last thing on her mind. There are clients to fight for who may be homeless or suffer from mental illnesses and can't afford a lawyer.
But when a Quebec judge recently cited the requirement for suitable dress in court as she told a Muslim woman she wouldn't hear her case unless she took off her Hijab, Qureshi felt a need to comment on the issue.
"I am a Hijab-wearing Muslim woman in court every single day," says Qureshi, adding her head covering has never been a problem for her on the job. "I felt I was in a unique position because I did know the law around freedom of religion in the courts and I felt what had happened in that Quebec court was an infringement on our law in Canada."
Qureshi is one of many Muslim women who have taken to Twitter to push back against the judge's remarks and post pictures of themselves in their Hijabs while holding signs that declare they are indeed suitably dressed.
"It's extremely troubling that such basic civil liberties have to be continuously defended," says Qureshi.
"I have more important things to spend my time on than this issue, but that doesn't mean I'll stop talking about it."
Between controversy over the Hijab in court and the debate on wearing the niqab during Canadian citizenship ceremonies, the Canadian Association of Muslim Women in Law has had much to respond to lately.
But Fathima Cader, a founding member of the association, says it's "a waste of time" for the government to appeal a Federal Court ruling that found it's against the law to ban the niqab during the citizenship ceremony.
Cader, a lecturer at the University of Windsor, scoffs at the government's argument that it wants to ban the Niqab at the oath-swearing portion of the ceremony in order to protect women.
"What does it mean for a government that has explicitly refused to investigate the murders and disappearances of thousands, literally thousands, of aboriginal women in Canada . . . to now say we are so concerned about violence against Muslim women?" she asks.
"These claims are being used to actually obscure violence against indigenous women," says Cader.
"So as a Muslim woman and as someone who is deeply committed to social justice across communities, I will not stand for the use of my body or my community to negate the violence that is actually happening in this country."
The association has formally existed since the fall of 2013. Many of its members are young with the majority of them just a few years out of law school. For an association with such a specific membership — Canadian Muslim women lawyers — it has had a lot on its plate.
The association's members help each other with things like job searches and they also do external work that has included making submissions to the Law Society of Upper Canada on issues that are relevant to them and other equity-seeking groups.
One of those submissions was about the need for the law society to reconsider its own rules for law students taking the licensing exams. Previously, students wearing hijabs or "religious attire of any kind" couldn't take the exam without some type of exemption under the same rules that prohibit personal items like hats and winter coats. The law society has since changed the rules to provide for a general exception for religious attire.
Some Muslim students opposed the previous requirement for an exemption because it was onerous or potentially humiliating to ask for one. But Cader says the barrier was more psychological.
"You're reminded going into this space that you are different and there is this whole structure that has to be created around you even for practices that are very much a part of your daily life," she says.
Another of the association's submissions to the law society dealt with the regulator's report on issues faced by racialised licensees. Articling student Sofia Ijaz, who spearheaded that submission, says the association's membership includes women of various ethnic and linguistic backgrounds. In the submission, the group advocated for mandatory collection of law firm diversity data that shows not just the composition of employees but their positions as well.
In addition to breaking barriers to access to justice for individual Muslim women, Toronto lawyer Imtenan Abd-El-Razik says the association is also a vehicle for people to speak for themselves. It's about "being in a conversation where we're always the topic but we're never a part of the conversation," says Abd-El-Razik.
http://www.lawtimesnews.com/201503234556/headline-news/controversies-put-lots-on-plate-for-muslim-women-lawyers
----------
When Muslim women held town hall meeting in Abuja for violence-free election
By Peoples Daily
By Stanley Onyekwere
As the clarion call for peaceful 2015 general elections keeps growing, Muslim women have been warned against sitting on the fence, as they ought to always stand for peace, as women and children are the most vulnerable group whenever there is violence in the society.
This was the position of some stakeholders, who spoke yesterday, during a National Muslim Women Town Hall meeting, with the theme "Violence-Free Election: The Role of Muslim Women, " held at the National Women Development Centre, in Abuja.
The event was well attended by over one 1,500 Muslim women from Islamic organisations in the North West geopolitical zone of the country, including the Federal Capital Territory (FCT), was graced by renown Islamic preachers and teachers, wives of President Goodluck Jonathan, Vice President, Namadi Sambo, FCT minister, and some other top government officials, including those of some Service Chiefs.
Others stakeholders include Minister of Women Affairs, Hajiya Zainab Maina, Special Adviser to the President, Dr. Asmau Abdulkadir and amongst other women related government agencies and NGOs.
In their separate remarks, at the event organized by the Office of the Senior Special Assistant to the President (SSAP) on Islamic Affairs and State House Mosque, the stakeholders, who reminded them of their critical role as bridge builders in the society, urged them to collaborate with others, in the quest towards peace.
While most of the stakeholders (largely Islamic preachers and teachers) stressed that Islam abhors violence of any kind, others noted that without peace, no society would record any meaningful development of any kind.
According to the First Lady, Dame Patience Jonathan, Muslim women, and women generally, it was high time for them to unite and speak with one voice towards promoting peace in their communities, especially during and after the elections.
Mrs. Jonathan, who was the special guest of hounour of the occassion, described women as peace makers and bridge builders in the society, adding that it is important they start from their respective homes before going out into the larger society.
She says: "the need to properly enlighten women "who are most vulnerable members of the society, towards promoting enduring peace, cannot be overemphasized."
"We need peace in our homes, working environment, rural communities and the country at large; and this peace we are preaching is for us, the women, and not for others.
"Politics come and go, but we remain one people (Nigerians), so let us all unite irrespective of our difference, because without peace there can't be any meaningful development in the country."
Similarly, Wife of the Federal Capital Territory (FCT), Aisha Bala Mohammed, called on Muslim women to extend the hand of fellowship with their counterparts in the FCT and country at large, so as to boost the peaceful co-existence among all and sundry in the nation.
She however identified unnecessary envy, greediness and hatred as what fuel violence and other social vices in the society, but said women can play a very significant role to eliminate or at least minimize the menace, for there to be any progress.
"If we must progress as a people, we must eschew hatred, envy and greediness, as these things promote violence and other social vices in our society, so we must eschew selfishness from our lives, in order for us to move forward," she stressed.
Also, she encouraged Muslim women to always promote the quest for the girl-child education in their respective communities, as it would prepare "the future women" to become better empowered to positively influence their society.
On her part, the chairperson of the town hall meeting occasion, Hajiya Salamatu Ibrahim, who thanked the organisers for their foresight in bringing women from various Islamic organization in the country to deliberate on peace, said it couldn't be more 'timely' than the time in which it held, given the need to promote peace during the forthcoming elections.
Ibrahim, who is the national
http://news.nigeriannation.com/when-muslim-women-held-town-hall-meeting-in-abuja-for-violence-free-election/
----------
Confronting Sexism As India Grapples With Abuse of Women
March 23, 2015
MUMBAI: Standing before a classroom packed with teenagers, Yojana Salunke begins her weekly one-hour lesson on a subject which many experts say is crucial to helping India address one of its biggest challenges – gender inequality.
"Hands up all those girls who have to do housework before or after school?" Salunke asks, as every pig-tailed girl in the dilapidated state-run school classroom raises their hands.
"And how many boys help their mothers with the chores?" she continues, looking around the room trying to spot the few boys who have lifted their hands.
The girls laugh and accuse the boys of being lazy, while the boys retort that there is no need to do domestic work as their mothers and sisters do it all. A heated debate ensues.
As India grapples to stem rising violence against women, activists say classes like these – which confront traditional gender roles and challenge sexism amongst the youth – are key to changing attitudes and curbing widespread gender abuse.
"The lessons are interesting. We talk about how boys and girls are equal as human beings, but how we treat girls differently," said Shakir Parvez Shaikh, 15, a student at the Shahaji Nagar Municipal Hindi School in Mumbai's Cheeta Camp area.
"For example, girls are not allowed to play cricket or watch as much television as boys because they have to do housework or because it is not safe outside for them. I didn't realize before … I think it's unfair."
Barrage of threats
From female feticide, child marriage and dowry killings to rape and domestic violence, Indian girls and women face a barrage of threats, say experts, largely because of age-old patriarchal attitudes that view them as inferior to men.
A massive wave of public protests after the fatal gang rape of a woman on a Delhi bus in December 2012 jolted many in the world's second most populous country out of apathy and forced the government to enact stiffer penalties on gender crimes.
Since then, voracious reporting by the media, campaigns by the government and programs by civil society groups have brought greater public awareness of women's rights and emboldened victims to come forward and register abuses.
There were 309,546 reports of crimes against women in India in 2013, a 26.7 percent jump from 2012, according to the National Crime Records Bureau, including rape, kidnap, sexual harassment, trafficking, and cruelty by husbands and relatives.
But violence is not the only problem. Women also face less visible forms of discrimination with little say over their lives and lacking access to finance, land, inheritance, education, employment, healthcare and nutrition.
The World Economic Forum 2014 Global Gender Gap Index ranked India as 114 out of 142 countries – based on how women fared against men when it came to economic participation and opportunities, educational attainment and health and survival.
India had the biggest difference between women and men in average minutes spent per day on unpaid work – a gap of 300 minutes, said the report – while working women earned on average $1,980 annually compared to men earning $8,087.
During to a visit to India this month, International Monetary Fund (IMF) chief Christine Lagarde said the gender disparity in the labor sector was a "huge missed opportunity".
She cited a study putting India's female participation at 33 percent of the workforce against a global average of 50 percent.
The mindset challenge
While activists have welcomed harsher punishments for gender crimes and moves to improve security, they stress authorities and society must address inequality at a deeper level with adult attitudes and behaviour often shaped by childhood experiences.
"If today's boys are taught to question gender abuse now, they are less likely to be violent when they become men tomorrow," said Ravi Verma, Asia director at the International Center for Research on Women (ICRW).
"And if girls are taught to speak out now, they will be less likely to endure it as adults."
A survey by the U.N. Population Fund and the ICRW last November found that six out of 10 Indian men admitted violence against their partners, with men who experienced or witnessed discrimination as children more likely to be abusive.
Although not part of India's formal education curriculum, organizations such as the ICRW have been working with government schools in states such as Maharashtra and Jharkhand to introduce gender classes like those at the Shahaji Nagar Municipal School.
Working with 12- to 14-year-olds in over 12,000 schools, teachers use a range of activities from role play, games and group assignments to spark discussions about discrimination.
For example, the teens act out and discuss familiar scenes in their lives, such as when a daughter is given less food than her brother, or a husband beats his wife for not cooking his dinner, or a girl is harassed by boys in the street.
In the cramped one-roomed homes lining the narrow lanes of Cheeta Camp's slums where many of the students live, girls say the classes have boosted their confidence to speak out.
"Before I never used to say anything when a boy in the neighbourhood used to make negative comments as I walked past on my way to and from school. But after the classes, I confronted him and told my mother and she went and spoke to him," said 15-year-old Princy Dhananjay Gupta, who wants to become a teacher.
Researchers admit the two-year program may not be enough to turnaround deep-rooted views over the lower status of women, but say it may plant the seeds of change in the next generation.
Many students seem to agree.
"If you look at my grandfather and great grandfather, they never thought men and women were equal," said aspiring cricketer Shaikh Mohsin Mohammad Anis, 15, who also lives in Cheeta Camp.
"But I have learnt this and now I will teach my children about equality and that's how things will change."
http://www.freemalaysiatoday.com/category/world/2015/03/23/slum-kids-confront-sexism-as-india-grapples-with-abuse-of-women/
----------
Malaysia Exceeds Female Leaders Target
Mar 23, 2015
The Women, Family and Community Development Ministry is confident the percentage of women holding management positions in the country will continue to increase.
Its minister Datuk Seri Rohani Abdul Karim said the confidence coincides with the 2015 Hays Asia Salary Guide report that women managers in the country stand at 34%.
She noted that the government had targeted at least 30% of the decision-making positions in the public and private sectors to be filled by women.
"Based on the Hays Asia report we have exceeded the target, so now we must strive to record a higher percentage," she said after launching the International Women's Day 2015 yesterday.
When asked the percentage rate that can be achieved, Rohani said with the performance indicated, the percentage rate can reach 40-50%.
Malaysia's figure, which increased from 29% last year, is followed by Hong Kong (31%) and Singapore (27%).
http://www.therakyatpost.com/business/2015/03/23/malaysia-exceeds-female-leaders-target/
----------
Modon plans industrial city for women in Jeddah
23 March 2015
The Saudi Industrial Property Authority (Modon) announced plans to establish an all-women industrial city in Usfan near Jeddah.
The city will be operated and managed by trained female cadre.
Local media reported that the first phase, which involved building of roads, sewage, rainwater disposal and power networks, is already complete. The project is located only 25 km from King Abdul Aziz International Airport.
Modon announced earlier that the project aims to create job opportunities for women in all economic fields.
A source said the city will be designed to facilitate the employment of women. It will have all supporting services and facilities creating a suitable environment for the women work force.
The project provides sizable incentives to investors, such as long-term leasing rates for industrial land. The authority's website facilitates applications, and expedites the procedure of acquiring space. Investors can also get customs exemptions for tools, machinery and raw materials used by the industry.
http://www.arabnews.com/saudi-arabia/news/722061
----------
Bangladesh gets award for women empowerment
March 23, 2015
Bangladesh has won the Women in Parliaments Global Forum award, known as WIP award, as a pioneering country in reducing gender discrimination.
The WIP awards are presented to those countries, which are recognised for their political empowerment of women, and to countries that show regional leadership in closing the gender gap in politics.
The awards are based on the rankings of the World Economic Forum's "Global Gender Gap Report", which are compiled in collaboration with the Harvard University and University of California, Berkeley.
State Minister for Foreign Affairs Shahriar Alam will receive the prestigious award on behalf of Prime Minister Sheikh Hasina today at the annual summit 2015 of WIP to be held in Ethiopia, said a ministry press release yesterday.
Shahriar left Dhaka for Ethiopia on Saturday night for a three-day official visit to attend the event. He is leading a three-member delegation.
"New Leadership for Global Challenges" is the theme of the WIP summit 2015, co-hosted by the African Union and co-financed by the European Commission.
It focuses on new leadership for change; on the need for variety of different leaders, men and women, that are willing to work together, and share insights and innovations on how best to deal with the global challenges of today and navigate the future.
Female parliamentarians from around the world are attending the WIP annual summit at the headquarters of the African Union in Addis Ababa.
http://www.thedailystar.net/backpage/bangladesh-gets-award-women-empowerment-73210
----------
URL: https://www.newageislam.com/islam,-women-and-feminism/new-age-islam-news-bureau/taj-hargey-challenges-muslim-clergy-over-interfaith-marriage/d/102074