New Age Islam News Bureau
22 Dec 2013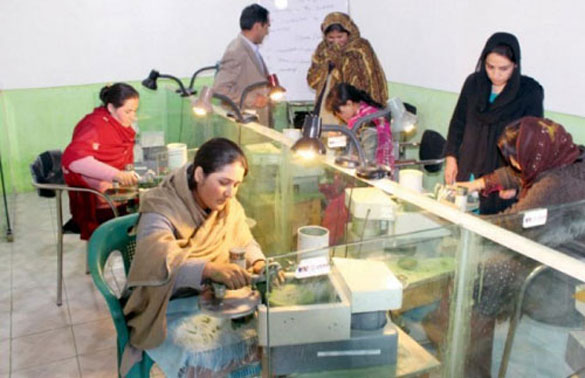 Under Meher Parwar's supervision, at least 50 individuals are currently undergoing a three-month training programme at the centre in Hunza. PHOTO: SHABBIR MIR/EXPRESS
--------------
• Saudi Women Are Fettered By the Chains of Guardianship
• Saudi Women Plan New Driving Protest
• Saudi women strive to overcome obstacles as PR professionals
• Women Empowerment in Pakistan: Changing lives, one polished rock at a time
• Liberia Female Journalists Group Threatens Boycott over All-Male Leadership
• Afghan men now see women as a challenge, says Farkhunda Zahra Naderi
• The Mother Who Trumped Israel's Draconian Orthodox Conversion Process
• Jamia: The Brave New Face of Muslim Girls (Special Feature)
• British Muslim bus driver saves pregnant woman's life
Compiled by New Age Islam News Bureau
URL: https://newageislam.com/islam-women-feminism/'tainted-honour'-pakistani-teen-tortured/d/34954
---------------
'Tainted Honour': Pakistani Teen Tortured For Alleged Affair, Father Humiliated
December 22, 2013
MULTAN: A twelfth grade student was tortured and beaten with an axe and shovel allegedly by two men who had suspected him of having an affair with their cousin. The assailants also humiliated the man's father.
The injured was taken to a hospital, where doctors said that he was in a critical condition.
Lohari Gate police have registered an FIR with the boy's father as the complainant. No one has been arrested yet.
Ghulam Mustafa, a school teacher and a resident of Munirabad, told police that Muhammad Saleem and Muhammad Waseem, both residents of Hussainagahi, had suspected that his son Muhammad Jameel had had an illicit relationship with their cousin.
He said his son had earlier got into an argument with Saleem and Waseem several times when they accused him of pursuing their cousin to ask her out.
On Saturday, Mustafa said, the two men visited his house and took Jameel with them saying they wanted to settle the dispute.
He said Jameel did not return. A few hours later, he said, they called him and asked him to take his son back.
He said they had locked him in the basement of their house. When he reached there, he discovered that Jameel was lying unconscious covered in blood. He said they had hit on his head with an axe and had cut him all over his body with blades.
He said when he tried to take his son, Waseem and Saleem told him to lick their feet and apologise for "his son's mistake". He said he did as he was told to save his son.
They finally let him take his son, but threatened to kill him if police were informed. Sarwar said he took his son to Nishtar Hospital, where doctors said he would likely survive.
He then informed the Lohari Gate police and filed a complaint.
Police said they were looking for the suspects.
http://tribune.com.pk/story/648878/tainted-honour-teen-tortured-for-alleged-affair-father-humiliated/
---------
Saudi Women Are Fettered By the Chains of Guardianship
December 22, 2013
I cannot believe that a Saudi female cardiac consultant, a PhD holder in nanotechnology or a researcher in at international center can be prevented from traveling just because her male guardian has not given her permission to do so. This guardian may be her own son who still receives pocket money from his mother.
A high-positioned Saudi female doctor missed an international conference where she was supposed to give a lecture because her male guardian was unconcerned about her participation and was not in the country to give his consent for her to travel.
A Saudi woman may be over 40 years of age with advanced certificates in knowledge economy or any other rare specialization and yet, she will be fettered by the chains of her male guardian whether it is her husband, father, brother or son. For many guardians, women are idle human beings who should not work or produce without their consent.
How can we leave the fate of women in the hands of these male guardians who may be completely illiterate and irresponsible, while these women could be highly educated and productive? Why do we open wide the gates for air, land and sea travel for Saudi males to go wherever they want without asking them what they will do there? Why do we close the doors of travel for women who may be prominent scientists or researchers in various branches of knowledge? This, of course, is a paradox which does not exist anywhere else in the world. Even if a woman in our country excels all the women in other countries of the world in education and knowledge, she will still be a "hurma" who is fragile and must be looked after as if she were a child.
Women in our society are courageously fighting to obtain their rights, but until this happens, they will remain under the custody of their male guardians.
http://www.saudigazette.com.sa/index.cfm?method=home.regcon&contentid=20131221190121
---------------
Saudi Women Plan New Driving Protest
December 22, 2013
Dubai/Riyadh: The campaign against Saudi Arabia's ban on women driving has shifted tactics to increasingly challenge the law ahead of a new nationwide day of defiance on December 28.
Women activists are now driving weekly and documenting their confrontations with law enforcement on social media to increase pressure on the conservative country and keep the issue in the public eye.
The campaigners are also trying to discern subtle but mixed signals from the secretive government for encouragement that change may be afoot.
They said authorities have used different tactics with different drivers, creating some uncertainty over where the government stands.
"I kind of feel that the government wants us to drive, but at the same time it doesn't want to make it official yet because it doesn't want to face the religious establishment," said Tamador Alyami.
She spoke by phone after riding in the passenger seat with another woman driving in the coastal city of Jeddah on December 12. Alyami said she planned to drive on December 28 and does not think the government will take drastic measures to stop her.
"I think they got the message," she said.
In a video of her December 12 drive posted on YouTube, the two women chatted nervously, scanning for police cars that soon converged upon them. The sound of Talal Maddah, a late Saudi singer, came from the car stereo: "My beloved country, you are the land of pride and a beacon of shining light." Seven police patrols surrounded the car, stopped it, then towed it away. Authorities had the women sign a pledge not to drive again and released them.
A day earlier, two other women drove for half an hour in the capital Riyadh, before police stopped them. They were held in the police station for 10 hours until they and their male guardians signed similar pledges. But their car was not towed.
While Saudi police continue to stop those who defy the ban, no woman has been jailed for driving since 2011.
When activists announced a first driving day on October 26 in the revived campaign, the Interior Ministry came out with a strongly worded statement saying women aren't allowed to drive in Saudi Arabia.
Authorities detained a man who wrote in support of women driving, but have stopped short of more politically sensitive arrests of female drivers.
With no hint of a change, women drivers and their supporters make weekly visits to the Shoura advisory council, the royal court, and cabinet ministers with petitions and reports.
In one key meeting, women's rights activist Hala al Dosari and another activist managed to book a meeting with powerful Interior Minister Prince Mohammad Bin Nayef. They were in the same complex, but met by video conference - standard practice for ministry meetings with females.
The prince told the women that a decision was not in his hands - something they had heard before from other Saudi officials, Dosari said.
The prince assured them the driving ban "was on the table" with the proper authorities, she said, adding this was the same answer Saudis pushing for change always get.
"Just a vague response to keep us satisfied," she said.
The ministry didn't respond to requests to comment.
But even the religious establishment appears split. Shaikh Abdul Latif Al Shaikh, head of the feared religious police, said in September that Islamic law doesn't have a text forbidding women from driving. The country's grand mufti, Shaikh Abdul Aziz Al Shaikh, said last month, however, that the ban protects society from "evil".
More than 22 years have passed since Saudi women first demanded the right to drive. Nevertheless, some remain upbeat that change could come soon. But change in the kingdom comes from the top down.
King Abdullah bin Abdul Aziz Al Saud, often seen as a cautious reformer, announced in 2011 that women will be allowed to vote and run in local elections, and this past February, he appointed the first 30 women to the advisory Shoura Council. The nonagenarian monarch told American journalist Barbara Walters in 2005 that it will be possible to lift the ban on women driving.
But he said the "issue will require patience".
http://gulfnews.com/news/gulf/saudi-arabia/saudi-women-plan-new-diving-protest-1.1269667
---------------
Saudi women strive to overcome obstacles as PR professionals
December 22, 2013
As Saudi women strive to excel in the field of public relations/communications, society's norms and traditions put obstacles in their way.
Many Saudi women entered the field driven by the successful experiences of professional women in the PR field recently. However, most haven't ventured into the private sector yet as they prefer to work with government and charity organizations.
Media and PR specialists see a need in developing the PR field in government organizations, particularly women sections. Dr. Hamad Al-Mousa, a media professor and head of the Department of Higher Education and Scientific Research at Imam Mohammad bin Saud Islamic University, said PR departments do not follow a clear plan.
"Many establishments don't even allocate a budget for the PR department," he said.
Some see traditional work approach as an added difficulty for women as employers adhere to gender-based division of work.
Dr. Mohammad Al-Hizan, president of the Saudi Association for Public Relations and Advertisements, says female government PR departments are marginalized. "Employers ask women to deal with hospitality and meeting hall arrangements," Al-Hizan said. "The real PR tasks are assigned to other departments."
Al-Mousa said that lack of media exposure among women decreases the efficiency of PR work. "Most PR women avoid media despite its vital need in their work. Media skills are diminished as a result," he said.
Only 10 percent of Saudi women working in PR utilize modern technology, such as social media websites, to communicate with their target audience. The remaining 90 percent of the female administrations use traditional communication means, such as faxes and telephones."
Salma Al-Motairi, a lecturer in the Media Department at King Saud University in Riyadh, criticized the lack of modern technology use in PR departments during the First Workshop for PR Officials held at the Riyadh Chamber of Commerce and Industry recently.
Rania Al-Sharif, a Saudi academic specializing in information management, said: "The technology revolution advanced services in all sectors, particularly communications and PR departments, and women and their employers should have adopted it to their benefit."
Al-Sharif said departments that allocated pages for social media networks in Saudi Arabia have not achieved the desired goals, because they were not inviting. "They are pages only used for answering questions, just like Twitter accounts for some Saudi universities," she said.
While social media is developing as a tool for PR in Saudi organizations, the new field has a potential of becoming a women's field of choice as it requires less media exposure.
http://www.arabnews.com/news/496636
-----------
Women Empowerment in Pakistan: Changing lives, one polished rock at a time
December 22, 2013
GILGIT: The last seven years have been life-changing for Meher Parwar, a resident of Gilgit-Baltistan's (G-B) scenic Hunza Valley. From being dependent on men in a patriarchal society, she has become a skilled trainer who imparts vocational training to other women. The 30-year-old master trains, and so helps empower, the region's women at a gemstone cutting and polishing centre in Hunza.
The venture is one of two well-equipped centres established under a USAID-funded programme titled 'Technology Transfer and Skill Development in Gems Sector'. The project is being executed in Hunza and Chitral by Rupani Foundation, an NGO working to alleviate poverty by enhancing marketable skills of women.
A girl's best friend
G-B is rich in rubies, emeralds, sapphires and topaz, to name a few. According to experts, more than 60 types of precious and semi-precious stones are found in the region.
"I got interested in gemstones nearly seven years ago," said Parwar, who completed a four-month extensive training course on gemstone cutting and polishing in 2013 under the supervision of a Sri Lankan expert in Hunza. Nine other women also completed the master trainers course, which enables them to further train a workforce of around 100 people in the science of gemstone cutting and polishing.
"This is not just a mere training course; it is much more. It gives one a feeling of inner satisfaction," said one recently trained woman.
"Helping out so many families by passing on skills we learn is a great feeling," she added. After becoming a master trainer, she earns a salary of Rs20,000 per month.
photo 9_zps021ba893.jpg
Under her supervision, at least 50 individuals are currently undergoing a three-month training programme at the centre in Hunza. Of them, 45 are learning modern techniques to convert raw material into a finished product, something which will enable them to earn a decent living in the long run.
Blinging local economy
"This initiative can significantly change the lives of people who reside in the mountainous region. They live in extreme poverty, especially women," shared Jalaluddin Hunzai, the chief executive officer of Rupani Foundation. "In absence of technical knowledge, institutional support, reliable data of deposits, and a proper legal framework, the potential of this sector is far from its best."
However, Hunzai added, the project will increase margin for workers at all levels of the value chain and produce high-quality products for the end clientele. It is said more than 8,000 locals are involved in small-scale mining and nearly 70% of all gems in Pakistan are sourced from G-B, making stone finishing skills an invaluable asset.
At present, middlemen sell these precious stones raw, mostly in markets in Peshawar. From there, the stones are exported to India, Sri Lanka, Thailand and Europe. At times, the same stones are imported back to Pakistan after value additions, resulting in a trade deficit.
Amin Jan, a project manager at the centre, is hopeful of a positive outcome from the training programme. "People have been unable to benefit locally from treasures found in their backyard because earlier they lacked the skill. But now we hope to overcome this impediment," shared Jan. With value additions like skilled stone cutting and polishing, and a more open and competitive marketing mechanism, the gem sector has unlimited potential for economic transformation of the area.
http://tribune.com.pk/story/648820/empowerment-changing-lives-one-polished-rock-at-a-time/
-----------
Liberia Female Journalists Group Threatens Boycott Over All-Male Leadership
December 22, 2013
Monrovia — Women participation and inclusion in politics and public offices have been the leading controversy for the decades. Liberia has been no exception to this global phenomenon. The country to some considerable degree has subscribed to women inclusion in major decision making processes in various national institutions. For instance even before Liberia voted Africa's female president, Ellen Johnson Sirleaf in 2005 the Press Union of Liberia (PUL) in 2004 voted Elizabeth Hoof as president. Since then the PUL has always had at least one female occupying one of its top positions. Malisa Chea Annan was voted Assistant secretary and Vice president in two successive elections defeating an incumbent with wide margin in the latter.
But this year's election has proven to be a different story. The Female Journalists Association of Liberia, (FeJAL) presented two candidates Ade Wade Kerkuleh for Secretary General and Siatta Scott Johnson for Vice President. Ade was disqualified by the Election Commission in the early stages but when the Union's leadership rescinded its disqualification decision, Ade was unwilling to pursue her ambition thus making Siatta the lone female candidate in the entire election.
At the end of the day Siatta Scott was defeated by Jallah Grayfield with 40-vote's difference creating an all-male leadership. Siatta acknowledged after the election result was released that there is much more to be done by females. "I am not disappointed that I did not win but this proves that we the women (FeJAL) have more work to do."
The action to vote an all-male leadership confirms the view of women's right advocates that all though the country is headed by a woman, Liberian women have little say on how the country is governed or how decisions that affect them are made.
For example, Liberia ranks 90 in the world in female representation in the legislature, with only 13.5 percent of women occupying seats in the lawmaking body following the last election in 2011.
The number of female media executives is also very low. Fewer than five percent of media bosses are women, a situation that is largely attributed to the unequal opportunities as can be seen in the last election results, and the low level of women participation. Women account for only 35 of the 270 registered members of the PUL. However international best practice indicates that editorial ascendency is based on merit and not gender.
FEJAL ISSUES BOYCOTT STATEMENT
FeJAL, in a release Tuesday, says it will boycott the upcoming induction ceremony of the newly elected officers of the Press Union of Liberia which is slated for December 27, 2013.
The Group says it is disappointed with the outcome of the just ended PUL elections, where no female was elected. The group observed that the defeat of its lone female candidate, Mrs. Siatta Scott-Johnson was not based on competence but rather gender and sex.
The women group says it had always supported male counterparts and strongly thinks that the gesture should be reciprocated, considering the global acclamation of inclusivity.
"When FeJAL decided to field a candidate for the presidency, she was told to go for the Vice President position because the Union was not ready for a female president because the two former females who were elected in previous leadership posts left unceremoniously,"
REACTIONS TO FEJAL
The statement drew the action of many top professional media practitioners in Liberia. Phillip Wesseh Managing Editor of the Inquirer Newspaper told FPA that he is not in favor of what the group says it wants to do.
"I don't favor that. I don't think they need to boycott the induction. The PUL election is not held based on sex or gender. It was unfortunate that she did not win. But the men voted for her, look at the votes how many women registered? Less than 30, she had more than that. How sure are we that all the women voted for her? Election is very deceptive. Fejal should respect the results because it is the decision of the majority".
But his own employee Winnie Saywah holds strongly that Fejal should go ahead with its planed boycott action. " FeJAL was not supposed to even issue a statement once you announce a boycott it means that you are opening up for negotiation. What you want to do is stay away don't waste your voice. If the males wanted a female to be in that position you would have seen competition in the election result. The presidential result, the man win by 8 points but look at how Mrs. Johnson was defeated."
Frank Sainworla Station Manager of radio Veritas says FeJal is giving the wrong impression about the abilities of females to stand up to PUL politics.
"I urge my wonderful female journalists in FeJAL not to carry out their threat to boycott the upcoming PUL induction for their reason slated. Let me caution them that such a move for such a reason would not send a good signal about the preparedness of female journalists to stand up to internal PUL political contest. I admire and respect the defeated female candidate Siatta Scott -Johnson but the past PUL women officials had toll on her candidacy. In the past recent years women were elected to government union in two of top most posts but their tenures were short landed by political appointment personal adventure."
But Sainworla's caution was met with unbending resistance as the Secretary General of FeJAL says they are only open to negotiations after the induction ceremony.
"This is about the men standing with us the women. And I can assure you that we the leaders of FeJAL will not attend that program. And we are open for any negotiation whatsoever only after their all- male program."
One of those who is directly affected by FeJAL's statement is President Elect Abdullai Kamara." I can't be sure why people voted the way they did. But I can say for the record that the situation in the press union of Liberia is a reflection of the situation in the greater Liberian Society. A lot of people don't think women have come of age. FeJAL has become a very dependable auxiliary of the PUL and I am very proud of that. They need to do the right thing by strengthening their responsibility by participating in administration and holding the men accountable. Staying away will not solve this problem.
http://allafrica.com/stories/201312201075.html?viewall=1
---------------
Afghan men now see women as a challenge, says Farkhunda Zahra Naderi
December 22, 2013
Farkhunda Naderi, member of the Afghanistan National Assembly, breaks a few myths about the 'oppressed Afghan woman'.
She doesn't wear a Burqua, but successfully contested the 2010 Afghan Parliamentary elections on the symbol of the blue Burqua identified with Afghanistan.
Farkhunda Naderi, 32, explained the rationale behind her choice: "Whenever men saw photographs of female candidates, they would talk only about their eyes and eyebrows instead of discussing their manifestos or chances. I thought, excuse me, we are fighting an election, respect us. So I decided I won't put a picture of myself, but my symbol would be the Burqua."
She said that women did get alarmed, wondering whether she was promoting the Burqua.
"I explained its meaning... It was imposed on us to make us weak. But under it, we have become tough. The small window behind which we are confined, we can convert that into a window of power," said the Parliamentarian.
Naderi broke a few myths about the 'oppressed Afghan woman' in her talk in the city this week, organised by the Asia Society. Despite being in war, women were venturing out of the house. In fact, the focus on women's rights had changed the Afghan women to the extent that men, used to decades of superiority, were seeing them as a challenge.
Earlier, they wouldn't take women seriously. Now, they feared women's empowerment so much that they got together in July to decrease the 25 per cent quota for women in Parliament, guaranteed by the 2004 Constitution, she said.
"We forgot that the struggle for empowerment has to be done with men. Otherwise there won't be any common language in families between men and women. Creating borders between the sexes results in more violence in the family and in the community. We have to get more men in our fight. In Parliament too, we have to get them to raise women's issues," Naderi said.
There was a need to have school students learn about women's rights, so that boys wouldn't grow up to feel superior, to keep a watch on their sisters and then to kill them for 'honour', she said.
Naderi said that real power for women would come when a woman is appointed to the Supreme Court.
"If a woman got in - and there are qualified and experienced women - she could interpret every law from her perspective. Currently, male jurists can deem any law on women's rights unIslamic," she said.
But right now, per se, the presence of girls in school and of women in politics was very important to encourage others.
Afghan parents wanted to educate their daughters, but they needed to know it's safe to do so. That was one reason why the elections scheduled for May 2014 were so important, she said.
"There is no substitute for an election. Only an election will give hope and power to our people. There is fear, but if we make security an excuse, it only helps those who have wielded power so far," she said.
Fear and a lack of interest may prevent people from voting, Naderi said.
"Our democracy is very fresh and fragile and people are critical of it. But I tell them, you have the power to change the status quo. If you don't, you will be giving power to those who will take you 12 years back. I especially tell the women they must come out and vote so that their children don't suffer like they did."
She described the euphoria after the Afghan football team won the South Asian Football Federation Championship in September.
"People had never felt as much joy. Looking at the crowds, I felt we as politicians had failed. This young football team had done what we could not. You could see women on the street celebrating. It was like Independence Day.
"That day, all boundaries were destroyed. Normally in a crowd, you fear the inevitable suicide bomber. But that day even women became part of the crowd without fear, they were so happy. That's how it should be on an election day," Naderi said.
http://www.mumbaimirror.com/mumbai/others/Afghan-men-now-see-women-as-a-challenge/articleshow/27697140.cms
---------------
The mother who trumped Israel's draconian Orthodox conversion process
December 22, 2013
The Chief Rabbinate generally refuses to convert adopted children to Judaism unless they attend a religious school. What are secular parents to do?
When Hagit Bartov sat before the three rabbinical court judges hearing her case, she had already decided that, if the court persisted in demanding that she send her son to a religious preschool as a prerequisite for completing his conversion, she would refuse.
Bartov, who was raised in a religious kibbutz and defines herself as "modern religious", is raising her son 22-month-old son Hillel alone, since adopting him from a Russian orphanage about six months ago. When the time came for preschool, she sent him to the public preschool in the southern moshav in which they live, without even considering the Shas alternative. But when she decided to have him circumcised and converted, it was clear to her it would be according to Jewish law.
The rabbinic judges, however, in keeping with Chief Rabbinate policy, told her that transferring the child to an Orthodox preschool was a condition of his conversion. Bartov refused, saying it conflicted with her worldview. She then made an appointment with the Conservative Movement rabbinic court to have Hillel converted according to Jewish law. At the last minute, however, she decided to give the Orthodox court, another chance.
"I don't really understand the logic, either in terms of Jewish law or humanity, of your choice to require me to move him to a preschool that goes against my worldview," Bartov told the judges. "This child came to me as a miracle. I couldn't give birth. I wanted to, and if had given birth to a child, I would have sent him to that same school. That didn't work out and God gave me a better miracle… and he is mine. He is the son of a Jewish mother. How can you tell me what to do and doubt his Judaism? He is the son of a Jewish mother! Forgive me but I don't understand. I think it's cruel."
Bartov sensed that the judges were unexpectedly softening. Two of them shed a tear, she said. One judge, who turned out to be Rabbi Israel Weiss, the former military chief rabbi, said, after Bartov told them that the Shas school did not suit her, "me neither."
After a brief consultation they told her they had decided to allow the child to be immersed in the ritual bath, the mikveh, as a Jew. "We have heard your cry," they said.
Thursday, at the Be'er Sheva mikveh, Hillel Bartov was immersed and completed his conversion.
This story is of course the exception to the rule. In principle, adoptive parents who refuse to send their child to a religious school cannot obtain an Orthodox conversion in Israel.
That is the case, even though the requirement is controversial in halakhic circles. The religious courts are only willing to deal with children who live in Israel by virtue of the law of return, but who are not halakhically Jewish, if the parents undertake to adopt an Orthodox lifestyle and send their children to Orthodox schools.
Haaretz has learned of cases in which rabbinical judges supplemented the policy with other conditions, such as requiring that the woman attend "faith classes" with a rabbi from the messianic sector of the Habad movement. The parents in that case chose not to go public.
While one state religious court wants to force a secular mother to circumcise her son, who is Jewish by birth (an issue that reached the High Court of Justice this week,) other religious courts refuse even to discuss the Jewishness of babies and children, even though their parents want desperately to have them circumcised and to raise them as Jews in Israel.
Regulations formulated years ago by the Chief Rabbinate, and those formulated by the special rabbinical conversion courts, state that parents must give a converted child a religious education. However, Jewish law does not require this. There is disagreement in the Halakha over whether a baby or a child should be converted when it is likely that he or she will not lead an Orthodox life. American Rabbi Moshe Feinstein, one of the leading contemporary authorities on Jewish law, has ruled it sufficient that a child receive a Jewish education.
In Israel, the child is required to receive an Orthodox education. But now, for the first time, a number of yeshiva heads, rabbis of the relatively liberal Orthodox Tzohar association and others are seeking to change things. The issue is likely to become a political hot potato. Behind the conversion bill initiated by MK Elazar Stern (Hatnuah), which passed its preliminary reading in November, is the dispute over the conversion of children. The chief rabbis currently oppose the bill, which would allow municipal rabbis to establish conversion courts, and the Habayit Hayehudi faction has pledged not to go against the chief rabbis' wishes.
There are more than 300,000 Israeli citizens who are considered of undefined religion; fewer every year are seeking to convert, apparently as a result of the slowdown of immigration from Ethiopia and lack of faith in the state conversion system.
The Conservative and Reform movements operate their own conversion courts, converting dozens of children and babies at their parents' request every year. They can then register them as Jews in the population registry, but the children will not receive state services, such as marriage, as Jews.
Muli Yeselson, head of the Chief Rabbinate's conversion department says: "The matter must be dealt with at the national level, and the consideration should be the good of the child." According to Yeselson, there are 80,000 children of undefined religion in Israel.
In contrast to the Chief Rabbinate, Rabbi David Stav, chairman of Tzohar and rabbi of the town of Shoham, is willing to convert a child whose mother does not convert. According to Stav, many immigrant children already attend Orthodox schools and can easily be converted in the schools, if Stern's bill passes.
But the bill is far from crossing the legislative finishing line. The issue is now before Sephardic Chief Rabbi Yitzhak Yosef, who, his office said, has not yet formulated a position on the matter. The good of the child should prevail, rather than "external matters, whatever their importance," the office said. While conversion "should be with an open heart, it is not proper to force it on a child when his family does not act in the same way."
http://www.haaretz.com/news/national/.premium-1.564523
---------------
Jamia: The Brave New Face of Muslim Girls (Special Feature)
December 22, 2013
New Delhi (IANS) Asma Naseem began her primary education in 1990 in a small village in Baghpat district of Uttar Pradesh. Six months after she started going to her two-room school, her family decided that she deserved a better education. Her father then shifted, with four-year-old Asma, to Delhi. The little girl was admitted to the primary school in Jamia Millia Islamia, and her father found work in the city. The girl's mother joined them four years later. Asma finished school, then graduated in biotechnology from Jamia's Faculty of Natural Sciences, and won the gold medal in the post-graduation class of biosciences at Jamia. She then researched protein conformational diseases at Jamia, and is now pursuing post-doctoral studies at the International Centre for Genetic Engineering and Biotechnology (ICGEB) in Italy. Just like Asma, Samreen Jahaan joined the mechanical engineering course at Jamia Polytechnic after school. She is the only woman student in the first-year batch of the course. But being the lone girl in her class is not something Samreen makes much of: "If boys can, why can't girls?" she asks. "Initially I hesitated in sitting in an all-boys' class, but now I don't mind. The boys help me in all the subjects," Asma told IANS, expressing happiness that her parents support her in her career decision. Zainab Zafar, a first-year student of the Bachelor of Physiotherapy course at Jamia, has joined this paramedical field with the aim of treating patients. In a course where numerous girl students had withdrawn their names in the initial batches because lab work requires physical touch with "models" of the other sex, Zainab and her fellow girl students are confident that they are doing noble work. "Our parents are today comfortable with what we are learning. After all, it's a noble job. I will be treating someone," says Zainab. Nor does she feel that the burqa that she wears could prove a hindrance at the time of recruitment. "Recruiters will see my potential," Zainab told IANS, exuding confidence. Asma, Samreen and Zainab represent the brave new face of Muslim girls, confident of their skills, competitive in spirit and hungry for success. Irrespective of their geographical distance or social situation, Muslim girls are converging at Jamia Millia Islamia, the 92-year-old central university in New Delhi, because of its stimulating academic environment, the safety if offers women, and the religious and cultural ethos at this central university. Shaila Naaz, a student of architecture from Daltonganj in Jharkhand, says: "Getting admission in a central university is an achievement. And Jamia provides an ideal atmosphere for studies. It's safe too, there's abundant security." Polytechnic student Ayesha Ghayas says she chose Jamia for a degree in computer engineering because it's a Muslim university, with no ragging. Jamia, on its part, follows a proactive policy to promote girls' education. The 10 percent reservation for women at the university is showing results. In Jamia Polytechnic, for example, of 900 students, 92 are women. While women students traditionally chose courses in humanities, languages and education, today there is enough competition even in courses like physiotherapy. Ejaz Hussain, director of the Centre for Physiotherapy and Rehabilitation Sciences at Jamia, says that in the first two years of its existence since 2007, the centre had to counsel parents to admit their daughters to the course. These days, the men:women ratio is 70:30. Jamia is also building more women's hostels. A new hostel for women was recently inaugurated by Lok Sabha Speaker Meira Kumar, taking the capacity to have women living on campus from 500 to 750. With the University Grants Commission grant of Rs.26 crore at the behest of United Progressive Alliance chairperson Sonia Gandhi, the university is set to add 400 more hostel seats for girls. A zero-tolerance policy on sexual harassment helps too. The earlier University Complaints Committee has been replaced with an Internal Committee to Deal with Sexual Harassment of Women at Workplace. While women staff and the administration are covered under the Sexual Harassment of Women at Workplace (Prevention, Prohibition and Redressal) Act, 2013, for students the university has its own ordinance. There are complaint boxes at different points on campus, and any complaint dropped into the box is taken up for action. Bulbul Dhar James, director of Sarojini Naidu Centre for Women's Studies at Jamia, is a member of the committee and says women are now picking up courage to lodge complaints. Sarojini Naidu Centre also teaches men students the right conduct in a multi-cultural milieu. This is especially important because students come from villages, where codes of conduct may be vastly different, and their backgrounds may also create inhibitions and diffidence. Sabiha Hussain, faculty member at the Centre for Dalit and Minorities Studies in the university, says a sea change has occurred in the attitude of students in the last few years. "Parents are now open to sending their daughter to Delhi for courses like computer science, biotechnology, physiotherapy and polytechnic. They have high aspirations for daughters, and hope their daughters will get better exposure here," Hussain told IANS. (Meha Mathur can be contacted at mehamathur@gmail.com) This story has not been edited by Firstpost staff and is generated by auto-feed.
http://www.firstpost.com/fwire/jamia-the-brave-new-face-of-muslim-girls-special-feature-1299869.html?utm_source=ref_article
---------------
British Muslim bus driver saves pregnant woman's life
World Bulletin / News Desk
December 22, 2013
Sajjad Shariff, a Muslim bus driver in the UK's capital city London, made headlines this week after his quick-thinking helped save a pregnant woman's life.
Shariff was driving his bus through the town of Leytonstone in the borough of Waltham Forest late at night when a pregnant woman suffering from labor pains boarded the bus. She had taken it upon herself to go to the hospital on her own after an ambulance failed to show up.
Bus driver Shariff immediately got passengers to evacuate the bus as he made an emergency call for an ambulance, but after 30 minutes of waiting the ambulance again had not shown up.
Having given up on the ambulance, Shariff drove the woman in his bus to the hospital himself. Two to three hours later, the woman gave birth to a perfectly healthy baby.
Whipps Cross Hospital apologized for the delay, claiming that they had no available ambulances at the time the emergency call was made.
http://www.worldbulletin.net/?aType=haber&ArticleID=125433
------------
URL: https://newageislam.com/islam-women-feminism/'tainted-honour'-pakistani-teen-tortured/d/34954