New Age Islam News Bureau
2 Jun 2019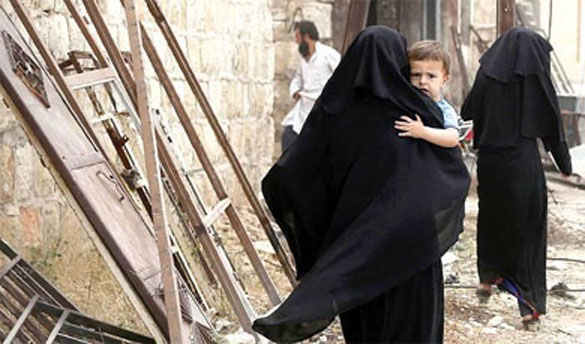 Rena Hanif, a mother of two, has been forced to take up the bread-winner role for her family after her husband was picked up by the Syrian regime.
-----
• Some 1,600 Marriages of Girls U15 Registered In Hamedan over A Year
• Women across World Wear Hijab to Fight Islamophobia
• Muslim Siblings Promote Diversity with Fashion and Flowers
• Sisi: Egypt to host OIC Ministerial Conference on Women in 2020
• Arab Israeli Women Joining the Labour Force In Large Numbers
• I Read Quran to Learn About Terrorist Beliefs, Ended Up Becoming Muslim Myself: Jennifer Williams
Compiled by New Age Islam News Bureau
URL: https://www.newageislam.com/islam-women-feminism/syrian-women-take-up-bread/d/118775
--------
Syrian Women Take Up Bread-Winner Role As War Lingers On
May 31 2019
Rena Hanif, a mother of two, has been forced to take up the bread-winner role for her family after her husband was picked up by the Syrian regime.
Hanif lives in Syria's northwestern city of Azaz where she struggles to provide a bright future for her children.
"I never heard anything from him after they took him. No news. It has been eight years," she told Anadolu Agency.
The conflict in Syria which has entered its ninth year continues to increase the burden of Syrian women with a fundamental shift in their traditional gender roles.
The husbands, fathers and brothers of thousands of these women have either been killed, captured or gone missing since the start of conflict in 2011.
Before the war Hanif would stay at home, looking after her children, while her husband went to work as a mechanic.
The exact number of civilians detained in Assad regime prisons is unknown. However, in its March report, the Syrian Human Rights Network (SNHR) said that more than 127,000 people – mainly men – have been held in Bashar al-Assad regime jails, where more than 13,000 people have died due to torture.
Women bear brunt of war
"In Syria, a woman was a woman before the revolution [Arab Spring uprising in 2011], then she became a man. Unlike those who have husbands to share their burden with, widows are left alone; they have to be a mother and father," 30-year-old Hanif said.
Speaking about her struggles, she says, her main goal is to provide for her children. They are her lifeline.
She says single-parenting is a tough job and she is able to spend only one day a week with her children.
"In the bid to become mother and father for them, I spend lesser time with them," she adds, referring to her work-related responsibilities.
Her 11-year-old son wants to become an engineer; her 10-year-old daughter wants to be a teacher.
She managed to open a children's clothing shop in March with the support of Turkish NGO Humanitarian Relief Foundation (IHH) in Azaz.
The foundation provides vocational training and financial assistance to Syrian women to help them re-integrate into society.
Toll on mental health
Speaking to Anadolu Agency, psychologist Humeyra Kutluoglu Karayel who works with Syrian women, said that these kinds of opportunities can also be "a form of therapy for their psychological problems".
"The pleasure of being able to provide for their family, children can operate like a therapy for those women," she said.
"Providing for their children and supporting their livelihoods also increases their self-confidence," she added.
Karayel, who is also a researcher at the Istanbul-based Humanitarian and Social Research Center (INSAMER), said not all women are able to cope up with this life-changing event.
"[This can lead] to different psychological problems such as burnout syndrome, depression, anxiety, stress disorder and many more," she added.
Therefore, she said, giving them respectable means to earn a livelihood is important.
Life before war
Recounting her life before the war, Hanif said she prays for immediate peace in the country.
"If I have to compare, my life before was more beautiful. At least we were safe," she said.
Syria has been locked in a vicious civil war since early 2011, when the Bashar al-Assad regime cracked down on protests with unexpected ferocity.
Since then, hundreds of thousands of people have been killed and millions others displaced, according to the UN.
"This revolution [war] has opened up such wounds in our hearts, they will bleed until we die," she said with tears in her eyes.
http://www.hurriyetdailynews.com/syrian-women-take-up-bread-winner-role-as-war-lingers-on-143855
--------
Some 1,600 Marriages of Girls U15 Registered In Hamedan over A Year
Jun 1, 2019
1,596 marriages of girls under 15 years of age were registered in the city of Hamedan during the Persian year 1397 (March 2018 – March 2019). Sixty of these marriages ended up in divorce.
The data was announced by Saeed Golestani, deputy for prevention of crimes in the Justice Department of Hamedan.
While the misogynous laws of the clerical regime sets 13 as the legal age of marriage for girls, Saeed Golestani admitted, "12 years is the age of childish play not an age for having a husband and raising children. Family traditions, however, have made such marriages a common practice, creating problems for children." (The official IRNA news agency – May 29, 2019)
It should be noted that the proposal for increasing the minimum age of marriage for girls was voted down by the clerical regime's parliament last November.
3-year-old toddler victim of child abuse
A three-year-old girl child went into coma after being beaten by her addicted father. The little girl was taken to a medical center by residents of the village near Marand, in East Azerbaijan Province. (The state-run ISNA news agency – May 27, 2019)
The three-year-old girl has regained her consciousness in the medical center, but is still terrified and prefers to be away from people. Her addicted father is being pursued by police.
Domestic violence against women
761 cases of domestic violence and 3 cases of child abuse have been registered in the Boyer Ahmad and Kohgiluyeh Province in the Persian year 1397 (March 2018 – March 2019). Of these cases, 721 were against women. The figure announced by the general director of the Coroner's Office in this province, shows 7.64% increase compared to last year. (The state-run ISNA news agency – May 15, 2019)
Honor killing
A young woman was murdered by her brother. Maryam Bakhtiari, 29, was hanged and subsequently beheaded by her brother in Pahleh, a town near Dehloran, in the western Iranian Province of Lorestan. This incident took place on the night of May 4, 2019.
https://women.ncr-iran.org/2019/06/01/some-1600-marriages-of-girls-u15-registered-in-hamedan-over-a-year/
--------
Women across World Wear Hijab to Fight Islamophobia
June 02, 2019
Thousands of women are wearing a hijab during the Muslim's holy month of Ramadan to raise awareness about the head covering and educate people on fighting Islamophobia, according to the founder of the World Hijab Day Organization.
From Belarus, Brazil, Canada, Germany Malaysia, New Zealand, U.K. the U.S. and all over the world, women are participating in the group's Ramadan Challenge for the second straight year, Nazma Khan told Anadolu Agency.
"By inviting women of different faiths and backgrounds to wear the hijab, it normalizes the hijab," she said. "Thus, it no longer stays something 'unknown' which some might ignorantly fear or see it as a threat."
But some women have been so inspired they have taken it upon themselves to take the challenge a step further and decided to fast for 29 or 30 days as required by the Islamic faith.
"For me, participating in the 30-day hijab challenge and fasting is taking a walk in someone else shoes," World Hijab Day Ambassador Ashley Pearson told Anadolu Agency. "I wanted to learn what's is like to for others and understand what they may go through," said Pearson who lives in Arkansas.
Pearson even visited a local mosque and made friends. She joins them during the celebratory iftar, or fast-breaking meal every night of Ramadan and enjoys getting to know and learn the Muslim culture.
"I am fasting during the Ramadan Challenge and so far I think it has been good for me," she said on day 15 of the fast. "It can be a bit difficult at times, but it can truly teach you self-discipline."
One adherent of the Kemetic Orthodox religion sees the hijab as giving her control as to how she is perceived by the outside world.
"Many women complain that it is oppressive, but I disagree wholeheartedly. I see hijab as freeing, liberating," said Siobhan Welch. "I have control over who sees me, how much of me they see. I have power over my body, no one else."
"Stop and think a moment before you judge me," the 47-year-old told Anadolu Agency. "I've been wearing hijab daily for over [four] years now. It is not just religious, as it is not required in my religion. But I feel that doing so shows respect, love, and humility before God."
Sania Rukhsar Zaheeruddin, a 25-year-old Muslim Indian medical student who does not normally wear the hijab, is taking part in the challenge and sees it pretty much the same way.
"In a world where Islamophobia exists this is like a power tool to Muslim women. It helps us to be more confident, gives us an opinion globally, low key takes away the fear of not being socially accepted," she said.
For Zaheeruddin, the importance of the challenge is to show the "veil does not change the fact that we are all humans."
"Muslim women are projected as suppressed, oppressed and low forms at times by the modern-day world. And since the conceptual Islamophobia is spreading like wild fire it's important for us Muslim women to feel the same as others," she added.
World Hijab Day was created in 2013 to encourage women of all faiths and backgrounds to wear the hijab in support of Muslim women. It is celebrated annually Feb. 1.
In 2017, World Hijab Day became a nonprofit organization with a mission to fight discrimination against Muslim women through awareness and education, according to the group's website.
https://www.yenisafak.com/en/news/women-across-world-wear-hijab-to-fight-islamophobia-3482461
--------
Muslim Siblings Promote Diversity with Fashion and Flowers
JUN 2, 2019
Raised by Indonesian Muslim parents in Tokyo, Aufa Yazid and Ghufron Yazid, two siblings in their 20s, bring a cross-cultural perspective to fashion and art while adhering to their faith.
Wearing a hijab sets Aufa apart from the crowd in Japan, where Muslims are a minority, but what makes the 24-year-old freelance fashion creator really stand out is her style.
Aufa is part of a growing modest fashion movement in which Muslim women seek to express themselves stylishly while still adhering to Islamic requirements to cover up.
"Although not talked about much, modest fashion is spreading in Japan," Aufa says. She adds that Japan has a tradition of modest female attire in the form of the kimono, and also points to current fashion trends that focus on stylish loose-fitting garments. Regarding her own style, she says, "I want my work to be seen as art and to inspire others."
Around the world, more high-end brands are entering the modest fashion sector. They include Dolce & Gabbana, which launched a collection of hijabs and abayas in 2016, and Burberry, which released its Ramadan collection the same year. In Japan, casual fashion chain Uniqlo now sells hijabs and a range of modest clothing.
Muslim women were estimated to have spent $44 billion on modest fashion in 2015, according to a Thomson Reuters economic report. Revenues are expected to reach $368 billion by 2021, the report says.
Aufa has around 69,700 Instagram followers. She posts editorial-style selfies, showcasing varying styles, from edgy street to kimono fashions, all the while giving her take on Muslim attire. Instagram featured her as one of the women around the globe making an impact in its community.
Many of the photos have Tokyo landscapes as the backdrop. One of her more popular images was taken on a station platform and featured her wearing jeans and a black cap over a long, loose-fitting hijab.
Most of Aufa's outfits, she says, are from Japan because she believes brands from Muslim countries are not the only options for a modest look. While many women in Indonesia wear hijabs with bright colors, she mainly chooses monochrome beige and khaki colors to blend in with everyday life in Tokyo.
She takes particular care to achieve balance in her outfits, as she says covering up can make her appear "flat or heavy." Also, by varying her hijab arrangements — sometimes tight, other times loose, and often worn with hats and berets — she can achieve as much impact as a change in hairstyle.
Although some consider Islamic teachings to be repressive toward women, Aufa doesn't think this is the case. She sees her faith as uplifting and liberating, not confining.
While not all Muslim women might think the same way, she says if they do choose to wear a hijab, they can find value in doing so.
"Choosing what to wear means it's beautiful for the person," Aufa said. "The hijab is a tool to live beautifully."
Aufa's brother Ghufron, 28, also adheres to his Muslim faith and, like his sister, he doesn't feel restricted by boundaries.
"Our parents taught us the basics of Islam but never forced us to follow the religion," he says. "Instead, we were always told to think about what we should live for."
Both Aufa and Ghufron went through struggles in their teens regarding relationships, their plans and identity, before choosing to live as Muslims.
As a graduate student of art in the United States and Britain, Ghufron was influenced by how open his friends were about their religion and culture.
"There was an environment where everyone could feel accepted," he says.
Last year, while working as a curator at Tokyo Camii, one of the biggest mosques in Japan, which also serves as a culture center, Ghufron started a new career as a freelance flower arrangement artist. Now he holds workshops and takes orders for bouquets and decorations for special occasions, such as weddings. Recently he decorated the Osaka branch of a major jewelry retailer and prepared bouquets for customers as gifts in an event on Mother's Day.
Ghufron was inspired to pursue this new path when he purchased a bouquet of roses for his parents' wedding anniversary and was moved by the vibrant yet fragile nature of the flowers.
"In the Quran, it says to observe the world and search for the signs that God has placed around. So for me, appreciating the beauty of flowers is part of my religion," he says. "Flowers are a gift from God."
Although it is not entirely his intention, Ghufron feels his flower arrangements — both those he creates for events and his artwork on Instagram — also reflect the Japanese traditional aesthetics of wabi-sabi and mono no aware.
Wabi-sabi is often explained as a quiet, simple and austere type of beauty based on transience, while mono no aware is an aesthetic ideal, involving a deep, empathetic appreciation of the ephemeral beauty manifest in nature and human life, and hence usually tinged with a hint of sadness.
An upbringing in Japan led Ghufron to develop an admiration of these aesthetics.
"I think flowers have been a way for me to express these feelings, which are also related to my religion," he says.
The Yazid siblings say their activities are also aimed to inspire young Muslims growing up in Japan, which is still a mostly homogenous country coming to terms with the concept of diversity.
"For young Muslims born and raised in Japan, Islam is their parents' culture, which is foreign to them," says Ghufron, who also holds monthly events at Tokyo Camii as a way to bring young Muslims living in Japan together. "We hope our activities encourage these young Muslims and help Japanese to become familiar with Islamic culture. I believe showing who we are and how we live could enrich Japanese society as well."
Aufa believes that rather than trying to change the narrow view of Islamic culture that people in Japan may have, showcasing the "beauty found in diversity" will ultimately lead to a more cosmopolitan society.
"Every one of us lives with different thoughts," she says. "I think the world can be enriched if we each recognize (that in) one another."
https://www.japantimes.co.jp/life/2019/06/02/style/muslim-siblings-promote-diversity-fashion-flowers/#.XPOU9NIzZ1s
--------
Sisi: Egypt to host OIC Ministerial Conference on Women in 2020
Jun. 1, 2019
CAIRO – 1 June 2019: President Abdel Fatah al-Sisi announced that Egypt will host the Organization of Islamic Conference (OIC) Ministerial Conference on Women in 2020.
"I would also like to announce that Egypt will host the Islamic Ministerial Conference for Women in 2020," President Sisi said in his speech at the 14th summit of the Organization of Islamic Cooperation (OIC) in Mecca on Friday evening.
"We are looking forward to seeing this organization [Women's Development Organization in Cairo] as an important gate to the Islamic world to enhance women's role and to support and build the capacities of the member states in this field," Sisi added.
In his speech, President Sisi affirmed Egypt' full support to enhance the OIC, which will celebrate its golden Jubilee in September 2019.
"Egypt is keen to continue its active participation in various initiatives launched by the organization [OIC] and in its various activities, as responsibilities and challenges that face our Islamic world require the unity," he said.
President Sisi added that all forms of terrorism, religious extremism, and the spread of the hatred speeches are at the forefront of the challenges facing the Islamic world and humanity as a whole. He added that Egypt has asked for many years to unite against these phenomena.
President Sisi added that the OIC has a doubled effort to root out terrorism phenomenon and combat the Islamophobia, saying "It is not accepted anymore to stand silent on discrimination and hatred speech against Arabs and Muslims."
He also said people should not be silent on accusing Islam of terrorism and extremism as Justice and preserving peace and stability are main principles of Islam.
As for the Middle East issues, President Sisi called for resuming the installed Palestinian-Israeli negotiations to end the Israeli occupation to the Palestinian territories, adding that Palestinian people have the right to have their own independent statehood with East Jerusalem as its capital.
Sisi said that conflict-stricken countries of Syria, Libya, and Yemen, beside Algeria and Sudan which suffer political turmoil need for political support and cooperation from all OIC member states to stop any international interference in their domestic affairs.
http://www.egypttoday.com/Article/1/71089/Sisi-Egypt-to-host-OIC-Ministerial-Conference-on-Women-in
--------
Arab Israeli Women Joining the Labour Force In Large Numbers
By Linda Gradstein
JUNE 1, 2019
Economists agree that there are two groups who are under-represented in the Israeli labor force and are dragging down the economy, namely Arab women and ultra-Orthodox men. In both cases there are educational, cultural and systemic barriers to their employment. The Israeli government is working hard to make the changes that will encourage more women to join the labor force.
A decade ago, only about 22% of Arab women were working outside the home. Today over 40% of them are part of the labor force.
"The major reason is the increase in the educational level of Arab women and internal changes within Arab society," says Aiman Saif, director of the Authority for the Economic Development of the Minorities Sector and Senior Advisor at Portland Trust, in an interview. "There are more workplaces and more opportunities for women – therefore we see an increase."
Lack of education remains an obstacle
One of the primary obstacles to more women entering the labor market is lack of education. Nasreen Hadad Haj Yahya, director of the Arab-Jewish Relations Program at the Israel Democracy Institute and Project Manager at Portland Trust, said that there are significant educational and funding gaps between the Arab and Jewish school systems.
"Over 50% of Arab families live under the poverty line – so if you don't have the tools, and if your family doesn't invest in your education, you have less of a chance to be integrated into the work force," she said.
Her research shows that among young Arab women ages 18–22, almost half are neither working nor studying.
"We must change this," she said. "It's easier to deal with the problem before they have children, and we must capitalize on this time to give them tools to integrate into higher education and the work force."
If these younger women are not able to enter the work force or go to university, they will marry young and have children. Once that happens, she said, it is more difficult to get women to leave their homes and go to work.
When it comes to higher education, she said, progress has been made. Arab citizens make up about 17% of the total number of university students in Israel, close to their 20% representation in the population. Of the Arab students, 70% are women, showing that families realize the importance of education for their daughters' future.
"I see young Arab women taking over the universities," Haj Yahya said. "Families want their daughters to have a higher education and to work at high-level jobs. In my research, most of the families and the husbands do not want to see their wives at home. People understand that women who venture out of the villages or towns will raise their kids differently. If we want to deal with poverty in Arab society, the man can't be the only breadwinner."
The very day we met in Tel Aviv, Haj Yahya had submitted her PhD thesis for approval.
Some of the barriers to increasing women's employment are rooted in structural problems, said Aiman Saif.
"Arab society is located in the periphery of Israel, in the North and the South. It doesn't matter if you are Jewish or Arab – the employment opportunities in these areas are limited. We don't have enough industrial zones on the periphery of Israel or in Arab villages and towns. There are a lot of Arab women who would be willing to be part of the labor market if we create an inclusive environment."
Most Arab towns and villages had no public transportation until 2010, meaning it was impossible to commute to work without a car. In addition, there are not enough day care facilities in the Arab sector.
Government has set target of 54%
The government is responding to these issues by first building industrial zones in large Arab towns like Nazareth that can offer employment close to many Arab villages. There are also 22 employment centers for Arab women – one that is even inside a mosque – to match women to available jobs.
The government has set a target of 54% Arab women's employment by 2030.
Both Haj Yahya and Saif believe that increasing women's employment is not only vital for the Israeli economy, but can contribute to shared society. A recent study found that 50% of Jews believe their fellow Arab citizens are enemies who want to destroy the State of Israel. At the same time, 90% of employees in a shared workplace, said they had a good relationship with their counterparts.
"When people get to know each other, they understand that we are human beings that want to live here in a respectful way," Haj Yahya said. "It changes the way the majority treats the minority in Israel."
https://www.jpost.com/Israel-News/Arab-Israeli-women-joining-the-labor-force-in-large-numbers-591301
--------
I Read Quran to Learn About Terrorist Beliefs, Ended Up Becoming Muslim Myself: Jennifer Williams
June 2, 2019
If you were to pass me on the street, you would never suspect I'm a Muslim: I don't wear hijab. I have platinum blonde hair and blue eyes. And I am heavily tattooed. I grew up in Texas and was raised Southern Baptist. I use the word "y'all" a lot—and not ironically. But I am Muslim. I also speak Arabic and hold a Master's degree in International Security with a focus on terrorism and the Middle East.
Several years ago, I realized that although I had long studied, analyzed, and written about Islamic political theory and how jihadist ideologues like Osama bin Laden use the Qur'an to justify their heinous acts of violence, I had never actually read the Qur'an. So I read it—and what I found in its pages changed my life. I found answers to questions about faith and belief and morality that had been plaguing me since my youth. I found the connection to God I thought I had lost. And seven years ago, I converted to Islam.
Just to be clear: I detest the twisted interpretations of Islam espoused by the likes of Al Qaeda and ISIS just as much today as I did before I converted—in fact, probably more so, since now I see it not only as a sick bastardization of a beautiful religion, but a sick bastardization of my beautiful religion.
When I read the Qur'an, I find a God who is beneficent, who is merciful, and who cherishes mankind. I find a religion that encourages independent thought, compassion for humanity, and social justice. The jihadis claim to love these same things about Islam, but have somehow decided that the best way to share God's message of mercy and compassion with the world is to blow up mosques and behead humanitarian aid workers. Great plan, guys.
Three years ago, the hashtag "#MuslimApologies" began trending on Twitter. The hashtag was a tongue-in-cheek response to those—such as right-wing radio host Laura Ingraham—who, in the wake of the beheadings of Westerners by ISIS, have questioned why Muslims have not been more vocal about denouncing terrorism carried out in the name of Islam (except that many have). Tired of constantly being asked to apologize for the acts of a few vile individuals who twist Islam to justify their barbarism, Muslims on Twitter decided to take a humorous stand—by apologizing for everything: the Twilight saga, World Wars I and II, that Pluto is no longer a planet, and, my personal favorite, that Mufasa had to die in The Lion King. Some also used the hashtag to sarcastically apologize for the important contributions Islamic culture has made to the world, from algebra to coffee to the camera obscura.
Of course, I wanted to get in on the fun. After tweeting my sarcastic apology for the terrible ending of the television show LOST, I decided to tweet something a little more serious: a 140-character summary of my conversion story.
After sending my tweet, I went to bed. When I awoke the next morning, I was pleasantly surprised to find that my humble little tweet had been retweeted numerous times and I had picked up dozens of new followers. Several people—almost all Muslims—had responded expressing their happiness for me and welcoming me to Islam. So, that was nice. I also got a few trolls, of course: people telling me I was brainwashed, trying to convince me that the CIA created ISIS, or asking me if I had engaged in female genital mutilation yet. That was less nice, but to be expected; it is Twitter, after all.
Then things took an unexpected turn. My tweet went viral—at last check, it had been retweeted more than 11,300 times—and I soon began to notice a disturbing trend: of the thousands of people who were retweeting and following me, many of them had the black flag of ISIS as their Twitter profile photos. Others had pictures of themselves holding swords, standing in front of the black ISIS flag. Uh-oh.
Then the Saudis showed up: men whose profile pictures showed them in traditional Saudi dress (sometimes behind the wheel of a swanky SUV or insanely expensive sports car) started replying to my tweet and asking to speak to me in private. One guy told me how beautiful I would look in hijab. Another just straight up asked me to marry him.
So I'm famous. In Saudi Arabia. Great.
Not that I have anything against Saudis, of course. I've known plenty of perfectly lovely Saudis, and I would be making the same mistake as American Islamophobes if I painted all Saudis as Islamic fundamentalists. But there is no denying that something is rotten in the Kingdom of Saudi Arabia. The ruling al-Sauds have given a lot of power and influence to hardline Islamic fundamentalists within their society in order to secure their rule. Among the results of this dubious bargain is that Saudi-funded Salafi-Wahhabi madrassas around the world preach hate and the Saudi state has beheaded far more people in the last several months than ISIS has—for crimes ranging from adultery to apostasy to "sorcery." So it's still a little disconcerting that I've suddenly become a big hit in Saudi Arabia.
It's clear that my tweet about becoming Muslim struck a nerve with a lot of Muslims, both here in America and in the broader Muslim world. Non-Muslims sometimes don't realize how much hatred and negativity gets thrown at Muslims and how utterly soul crushing it can be to have to defend yourself and your beliefs on a daily basis, and it's really nice to see someone saying something positive about Islam.
At the same time, though, it's precisely the actions of ISIS and their followers and the words of intolerance emanating from the Salafi camp that provoke this reaction against Muslims. And I, for one, do not appreciate having my conversion story used to attract more people to a repugnant ideology that spawns suicide bombings and beheadings.
https://www.siasat.com/news/i-read-quran-learn-about-terrorist-beliefs-ended-becoming-muslim-myself-jennifer-williams-1502705/
--------
URL: https://www.newageislam.com/islam-women-feminism/syrian-women-take-up-bread/d/118775
New Age Islam, Islam Online, Islamic Website, African Muslim News, Arab World News, South Asia News, Indian Muslim News, World Muslim News, Women in Islam, Islamic Feminism, Arab Women, Women In Arab, Islamophobia in America, Muslim Women in West, Islam Women and Feminism