New Age Islam News Bureau
26 September 2020
• Bristol Project Encouraging Women of Muslim Faith to Start Cycling
• France's Decades-Long Feud over the Hijab Takes Centre Stage
• Saudi Arabia's Consultative Shura Council Considers Naming And Shaming Sex Offenders
• Jerusalem Women Advancement Authority Seeks To Promote Women in Senior Positions
• UAE Employers, Employees Welcome Equal Pay Decree In The Private Sector
• Paving the Road for Women: Meet the Heroines of Upper Egypt
Compiled by New Age Islam News Bureau
URL: https://www.newageislam.com/islam-women-feminism/syrian-filmmaker-waad-al-kateab/d/122954
--------
Syrian Filmmaker Waad Al-Kateab and Egyptian Journalist Lina Attalah Named Among the World's 100 Most Influential People by Time Magazine
25.09.2020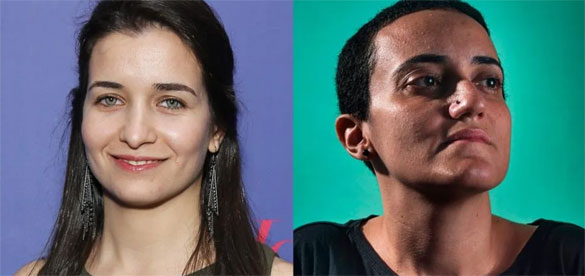 (Left to right) Waad al-Kateab and Lina Attalah made the list for TIME magazine's 100 most influential people of 2020 (AFP/TIME magazine)
-----
In a region often portrayed as rife with conflict, corruption and repression, hope shone for the Middle East, even if for a brief moment.
Earlier this week, two Arab women were named among the world's 100 most influential people by New York-based news magazine Time.
Syrian filmmaker Waad al-Kateab and Egyptian journalist Lina Attalah were described by experts in their respective fields as utterly courageous for their work, vision and determination despite unwavering opposition from autocratic regimes.
They were dubbed pioneers and icons among the world's foremost social, cultural and political leaders.
'What we are fighting for'
Al-Kateab's story takes off in Aleppo. When the Syrian regime, aided by the Russian military, launched a brutal siege of Aleppo, she had a crucial decision to make: whether to stay and continue her work documenting the revolution or flee for safety.
Her Oscar-nominated film "For Sama," named after her daughter who was born and raised during the siege, offers an intimate look at what it meant to document the Syrian revolution as both a mother and a citizen journalist.
Her husband, Sama's father, was one of the few doctors to remain during the siege. The film is a testimony for her daughter "so you can understand what we are fighting for," she says in the opening scenes.
Her film received critical acclaim from the film industry, winning a British Academy Film Award, four British Independent Film Awards and a Peabody Award, among several other nominations.
Telling Syria's story
For al-Kateab, being recognized as one of Time's most influential people of 2020 was an acknowledgement of her efforts to tell the tragic story of Syrians living through the staggering violence of the conflict.
"This is a recognition for Syria, for the Syrian revolution and for the Syrian people," al-Kateab said. "This is about everything related to the film, my personal story and my people's story. It's about attacks on hospitals, about the conditions we live through as Syrians who are displaced."
She told DW that she hopes the recognition of her work would bring greater awareness to the situation in Syria.
"The most important thing is to use this recognition to make people more aware about what's happening in Syria — that it's still happening — and to put more pressure on the government, and on others to support the Syrian people."
For the record
Less than 1,000 kilometers (621 miles) away from Aleppo, Egyptian journalist Lina Attalah leads a group of journalists committed to reporting news that causes "good trouble" amid growing attacks on press freedom.
This year, Egypt ranked 166 out of 180 countries on the World Press Freedom Index, with Reporters Without Borders describing the country as "one of the world's biggest jailers of journalists."
That's to say that Attalah has had to manage Mada Masr, one of the last beacons of independent journalism in the region, under some of the toughest conditions in the world for the press.
"Lina's troubles, and our 'necessary' troubles, range from the storming of the office, the detention of our journalists after publishing a potentially disruptive story, and the arrest and detention of Lina while carrying our her journalistic duties, to the simplest trouble: Posting daily on a blocked website," said a Facebook post written by Mada Masr staff that celebrated her inclusion on Time's list.
"We are here by choice."
'Keep fighting'
One thing is clear. What al-Kateab and Attalah have in common is a tenacious courage and unrelenting determination to fight the good fight even if it comes with great sacrifice. For al-Kateab, that tenacity should not be held back.
"My advice to the young women in the Middle East, in Syria specifically, is to keep the fight, to keep the hope, to keep fighting for our basic rights, for our stories to be heard, for our voices to speak out," al-Kateab said.
"We have a very long battle and journey ahead. We have to have the courage to keep fighting."
https://www.dw.com/en/middle-east-women-lina-attalah-waad-el-kateab/a-55056365
--------
Bristol Project Encouraging Women of Muslim Faith to Start Cycling
24 September 2020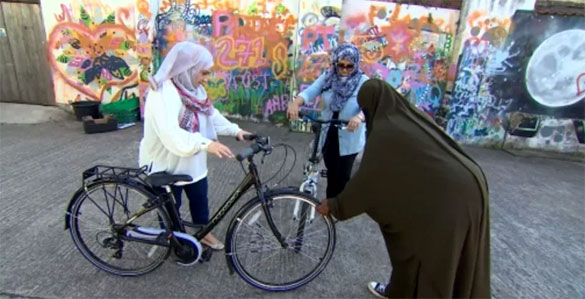 A new project has launched in Bristol encouraging Muslim women to start cycling.
-----
A new project has launched in Bristol encouraging women of Muslim faith to start cycling.
The Cycling Sisters group was formed two months ago by Aumairah Hassan and Seila Mañana after they learned hardly any of their female friends knew how to cycle or felt confident doing it.
The group is part of the Bristol Muslim Cultural Society and is aimed at helping women learn to ride a bike and support those who may have faced cultural barriers to cycling in the past.
It has proven so popular, nearly twenty people are on a waiting list to participate in the club's free weekly sessions.
Robina Malik was one of the first women to sign up, and she has now learned to cycle for the first time.
She says growing up in the city, cycling was "frowned upon" for young girls.
Instructor Sheyla said she is hopeful the group will help break down any negative stereotypes surrounding cycling.
"I was riding along on the road and a number of ladies actually stopped me and they were like 'we've never seen somebody like you cycling, do you teach? What do you do?'" Sheyla said.
"I think it just encourages more and more women to look however you want to look and still cycle."
The lessons are free but the group is now looking for funding to expand.
The bicycles have been provided by local businesses Bristol Sweet Mart and Pak Butchers.
The group operates from Baggator in Easton, which offers the women a private space to learn.
https://www.itv.com/news/westcountry/2020-09-24/the-new-bristol-project-getting-muslim-women-into-cycling
--------
France's Decades-Long Feud over the Hijab Takes Centre Stage
By Rebecca Rosman
22 Sep 2020
A woman holds a placard reading 'Stop Islamophobia' as she takes part in a gathering in Paris [File: Michel Stoupak/NurPhoto via Getty Images]
-----
Paris, France – Last week, a member of French President Emmanuel Macron's La Republique en Marche (LREM) party walked out of a National Assembly hearing, saying the presence of a veiled student went against the country's secular values – a stunt which has renewed a debate over the hijab.
"As a Member of Parliament and a feminist, committed to Republican values, to laicite and women's rights, I cannot accept someone who enters a National Assembly hearing wearing a hijab, which for me remains a mark of submission," Anne-Christine Lang wrote on Twitter shortly after leaving the hearing mid-session.
The student, 21-year-old Maryam Pougetoux, was representing a student's union during a discussion on how to minimise the effects of the COVID-19 health crisis on young people.
Pougetoux is no stranger to attacks for wearing the hijab. In 2018, she received similar criticism for wearing the headscarf during a television interview.
Wearing the hijab is banned in French schools and for public servants at their workplace.
France's decades-long feud over the hijab is couched in terms of the country's tradition of laicite, a strict form of secularism which, among other things, bans people from wearing religious symbols in public schools.
"In France, we think all religions are equal and shouldn't be in the public space," Alexis Poulin, a political analyst and founder of the news site Le Monde Moderne told Al Jazeera.
But according to Poulin, Lang's interpretation of the law went too far.
"What she did was a purely political move," Poulin said. "It's not written anywhere that you are forbidden to enter the National Assembly with a veil."
Some MPs criticized Lang's move as discrimination.
"It sends a terrible message," Eric Coqurel, an MP from the far-left party La France Insoumise, told French radio FranceInfo. "This isn't laicite, it's discrimination."
Fiona Lazaar, an MP with Macron's LREM party, told Al Jazeera she saw Lang's move as disrespectful.
"I can understand if you're against the veil and what it represents, but at the same time we need to respect the women who wear it," Lazaar said. "Some wear it by choice, others do it because it's imposed on them, but we should be fighting those who are imposing it, not the women who wear it."
But others, such as socialist party member Segolene Royal, supported Lang.
"[Pougetoux] knows what she's provoking," Royal told BFMTV. "Fortunately, she has the right to provoke in our society, but at the same time there are limits … there are rules."
The affair follows another recent debate earlier this month, on social media, which erupted when a French journalist tried to draw a connection between a food video by a Muslim woman wearing a hijab to the September 11, 2001, attacks in the US.
French network BFMTV tweeted a video of Imane Boune, a 21-year-old food blogger, giving cooking tips to university students on a budget. Replying to the post, Judith Waintraub, from right-leaning newspaper Le Figaro Magazine, commented: "11 septembre".
Waintraub's comment provoked an outcry by many people in France and was formally condemned by prominent French Muslims and politicians on both sides of the spectrum.
But after she received some death threats, several prominent politicians came to the journalist's defence, including France's Interior Minister Gerald Darmanin.
"Whatever the disagreements, some of which are profound, I strongly condemn the death threats [Waintraub] has received," Darmanin posted on Twitter.
Fatima Bonomar, a prominent feminist, responded to Darmanin's tweet in defence of Boune: "A word for the student who had to read thousands of racist comments against her, was equated to murderers via the unacceptable post of this 'journalist' which reinforced the wave of hatred against her … her only fault being a video about her cooking activities?"
In an Instagram post published several days later, Boune thanked her supporters and said she had temporarily deleted her Twitter account and was taking a break from social media.
"I read every one of your very touching messages," Boune wrote. "Your love and gratitude overshadow their hatred … I am a student who tries to help 100,000 students every day. I don't have the time or energy to give to these cruel people."
France's Muslim community, about 5 million people, comprises about 10 percent of the population, the largest Muslim minority in Europe.
Following a similar controversy last year, which involved a far-right politician asking a woman to remove her hijab, French President Emmanuel Macron decried what he called the "stigmatisation" of Muslims, warning against linking Islam with "terrorism".
https://www.aljazeera.com/news/2020/9/22/frances-decades-long-feud-over-the-hijab-takes-centre-stage
--------
Saudi Arabia's Consultative Shura Council Considers Naming And Shaming Sex Offenders
September 26, 2020
Ramadan Al Sherbini
Cairo: Saudi Arabia's consultative Shura Council will vote later this week a proposal for public naming of sex harassers as part of legal steps to fight sex offences in the country.
A similar motion was previously blocked amid opposition from some members of the council, who argued that naming the offender harms his family as well. Proponents, meanwhile, believe that introducing the name-and-shame penalty, already adopted in commercial wrongdoing in Saudi Arabia, would be a strong deterrence in sex offences.
The Shura Council is due Wednesday to hold a vote session on the proposal, based on a report from its Security Committee to add the suggested penalty to the anti-harassment legal system, Saudi news portal Sabq reported today.
In recent years, Saudi Arabia has sought to fight sex offences and boost women's rights as part of drastic reforms in the kingdom championed by Crown Prince Mohammed Bin Salman.
In 2018, Saudi Arabia approved a law criminalising sexual harassment, making the act punishable by up to five years in prison and a maximum fine of SR300,000.
"The harassment crime is one of the most heinous acts that causes psychological harms to the victim. Several countries have enacted firm laws to deter harassers," said Asil Al Jaid, a legal advisor. He told Sabq that there is no religious or legal prohibition for naming to shame such "criminals".
The state Saudi Human Rights Commission has defined harassment as every verbal expression, deed or motion carrying sexual insinuation made by a person towards another referring to the body and honour or harming modesty in any way including modern technology methods.
https://gulfnews.com/world/gulf/saudi/saudi-arabia-considers-naming-and-shaming-sex-offenders-1.74143683
--------
Jerusalem Women Advancement Authority Seeks To Promote Women in Senior Positions
By CODY LEVINE
SEPTEMBER 25, 2020
The Authority for the Advancement of Women in the Social Equality Ministry held a first-of-its kind zoom meeting on Wednesday to establish a database of 2,000 women eligible for senior positions in the public sector and public administration, according to a press release from the ministry.
Likewise, the database will be used for applications in public committees and various forums such as conferences on various topics.
The Authority is seeking to launch the database at the beginning of the new year, and includes women who have meet specific qualifications, such as seven years of experience in the field of expertise, five years of senior management (rank of VP or management of 50 staff or management of NIS 30 million per year), PhD, other relevant academic degree, rank of Lt. Col. (or equivalent) and above, 10 years of experience in the fields of sports and culture.
The press release also noted that almost 300 women registered in a single meeting, where the Authority spoke of its activities and answered the questions and concerns of the participants being included in the database.
The Director-General of the Authority for the Advancement of Women Eva Madjibouz said in response to the announcement that "In recent years we have repeatedly called for candidates for every senior public position that becomes vacant and now we have a permanent pool of potential names for every position, every board, every public committee and also to any panel at a conference or TV studio."
"A female presence is not a fig leaf, but a substantive, value-based and even educational matter. There is no reason that in senior management positions there should not be complete equality between men and women. The Authority for the Advancement of the Status of Women has taken it upon itself to lead the change, and through the established database we will make more talented and experienced women reach the forefront of the stage," she added.
Oshra Friedman, Deputy Director of the Authority for the Advancement of Women and Commissioner of the database said that "The purpose of the database is twofold. The place of women from population groups that are hardly represented at all. Haredi and Arab women, women from the Ethiopian community and the former Soviet Union community, older women and women from the socioeconomic periphery to speak up and increase their voice and representation in positions of power and influence they deserve."
The Authority noted that current data indicates a degree of inequality in positions of authority.
According to a OECD report, Israel is below average when it comes to representing women in key positions and boards of directors, with 18.1% representation compared to an average of 20% among the member countries of the organization, which was reviewed by the international consulting firm Deloitte.
https://www.jpost.com/israel-news/women-advancement-authority-seeks-to-promote-women-in-senior-positions-643574
--------
UAE Employers, Employees Welcome Equal Pay Decree In The Private Sector
September 25, 2020
Angel Tesorero
Dubai: UAE residents have hailed the landmark decree mandating equal wages for both women and men in the private sector which came into force on Friday. The mandate says female employees will receive wages equal to that of men if they have the same work.
The decree was based on Federal Law No. 06 for 2020 issued by the President, His Highness Sheikh Khalifa bin Zayed Al Nahyan, on August 25 stating: "Female employees shall receive wages equal to that of males if they perform the same work, or another of equal value. The procedures, controls and standards necessary for evaluating work of equal value will be set under a decision to be issued by the Cabinet, based on a proposal from the Minister of Human Resources and Emiratisation."
Alisha Moopen, deputy managing director at Aster DM Healthcare, hailed th decision as forward looking. She said: "Any nation, community or organisation that doesn't unlock the full potential of its entire population is losing half its resource power. Another brilliant and forward-looking move by UAE and our beloved President that has enforced the equal pay for equal work irrespective of gender." "I feel so proud and excited for such progressive moves that will continue to propel this country forward. I am positive this will turbo charge the growth of the UAE and, furthermore, will be a game changer for this region," she added.
Kamal Vachani, group director of Almaya Group, said the UAE has led the path in making reforms. He told Gulf News: "This (equal pay) is a great announcement. This is a wonderful pioneering move by the government. The UAE has always been a leader in major reforms and this move is a sign of great leadership and governance."
The landmark decision was praised as a model of inclusive society by educator Sheela Menon, principal at Ambassador School in Dubai. She said: "The UAE leaders are setting a significant and powerful example of inclusive society in the true sense by this landmark decision. It is a very positive and strong message to the younger generation."
Canadian-Italian expat Simona Agolini, CEO and co-founder of family mobile app QiDZ, said: "Today, September 25, the law on equal wages pay comes into effect. For the women and men in the UAE, this is an amazing milestone and a real sign of the commitment of the UAE in supporting women in the workforce. I'm super excited to be among the women who will benefit from this kind of initiative and I feel that it really puts the UAE at the forefront of gender equality."
UAE to become more attractive
Filipino expat Sheila Tobias, senior communications manager at Twister Communications, is confident the recent announcement will attract more families, not just women to live and work in the UAE Dubai. She explained: "The decree is a good step that would give the female workforce more motivation to contribute more towards the success of the company - since they know that they will be compensated equally as compared with their male counterparts. In addition, I think it will attract more families to come here (in the UAE) and find a new home."
Indian expat and media consultant Shaneer Nusrat Siddiqui, 38, added: "The equal pay law is an amazing step by UAE government towards gender equality, equality at workplace and an equal society. I would like to add, though, even earlier the UAE has always been talent-oriented and gender was never an issue. But this law will encourage and boost more women power to showcase their skills and expertise at best; and will help to improve the workforce market. The UAE leadership has shown again that this country is a champion of human rights and women empowerment. I am sure that this law is going to be an exemplar for other countries also in terms of women rights and society development."
https://gulfnews.com/uae/uae-employers-employees-welcome-equal-pay-decree-in-the-private-sector-1.74122269
--------
Paving the Road for Women: Meet the Heroines of Upper Egypt
MIRNA ABDULAAL
SEPTEMBER 25, 2020
"People in the village would mock me and say, why is she leaving her responsibilities at home to become a teacher? Why is she neglecting both her husband and children?" Ekram Abdel Baset tells Egyptian Streets, "but it was my husband that supported me. We both moved together step by step until we created a secure livelihood for ourselves and our children."
The stories we tell today determines our future tomorrow. Abdel Baset's story is not just one to be told, but to be shared and documented. Stories that explore how they can break traditions, stereotypes, and create a new narrative on women in Upper Egypt that can be the foundation for other women in the future.
Located in the small village of Al Boghdadi in Luxor, Abdel Baset is one of the many of women who have been striving to change the narrative for women, from one that is too focused on their role as mothers and housewives to one that also includes their role in the labor force and transforming society as a whole. In partnership with the World Food Programme and the Ministry of Agriculture, Egypt's Ministry of International Cooperation announced on September 20 expansions of rural community projects from sixty villages to 500, increasing the number of people benefiting to one million by 2023.
Two projects focus primarily on women and girls, such as the 'She Can' women empowerment and livelihood programme as well as community smart schools. "All projects aim to integrate gender equality and women's empowerment, and this has been put in place to ensure real community transformation, so that every individual in the household benefits," Menghestab Haile, World Food Programme (WFP) director in Egypt, says.
As of today, 'She Can' has built entrepreneurial capacities of 102,000 women, of which more than 33,000 received micro-loans to start their own businesses.
However, unemployment continues to be significantly higher amongst women than men, with 25.3 percent compared to males 8.5 percent. Child marriage, gender-based violence and cultural constraints are also major challenges that cannot be understated or overlooked, and coverage of legal services is a major need for women victims of violence to raise their awareness on the legal support services available.
Below are a few stories of women that are eager to get their voices heard.
EKRAM ABDEL BASET
Ekram Abdel Baset is a teacher at one of the community smart schools in her village; she has been working there for over 20 years since 1998.
Her story starts with a hopeful beginning: she began studying her first year at university and was eager to continue her higher education, but due to difficult economic constraints and the unfortunate passing away of her father, her mother preferred to prioritize the education of her sons, Abdel Baset's brothers.
"This really broke me; I felt that my dreams to excel in higher education were over. I am very passionate about education and it was my goal," she says, "but then, coincidentally, I heard of the community school projects in our village, and I decided to go and see if I can have an opportunity there as a teacher."
Her desire to work as a teacher was met with hostility, she says. "People in the village would mock me, ask me why I should leave my home responsibilities to become a teacher. But it was my husband who encouraged me. He was my main source of support, and we both moved slowly step by step together."
She insisted on later continuing her university education as she was supporting her four children. "My family helped me raise my children; this allowed me to continue my education. We all worked together, and this is what helped me eventually achieve what I wanted."
Using her own story as a model, Abdel Baset says that she is keen on teaching other girls the importance of having commitment and dedication. "I am not just teaching them a curriculum, but also values and life skills. I want to make sure that they also never lose hope," she says.
However, Abdel Baset faces more challenges with families than with the young girls. "I face a lot of difficulties in convincing parents to send their kids to school. Child marriage is a huge problem, and we hope that a secondary school for girls opens in the area so that the culture of secondary education for girls develops," she adds.
"My biggest hope is for education and knowledge to continue to flourish in our village."
LAILA MAHMOUD
As a university graduate in law, Laila Mahmoud is also an avid believer in education, and particularly girls' education.
Her main backbone was her father, who dedicated all of his hopes on her, she says. "My father dedicated his life for me. He pinned all of his hopes to help give me a different future. I am who I am today because of him," Mahmoud told WFP.
Following her university education, she became a teacher at one of the village's smart schools, which offers a chance for an education to children living in rural remote areas. Since January 2019, 57 new community smart schools were established benefiting more than 2,000 women and youth.
"I want to help other girls also receive an education and create a spillover effect – starting from me, to them, and then to future generations," she says, "this school represents one of the rare opportunities for learning for many girls."
However, one main obstacle is transportation, as the nearest school is usually two to three kilometeres away, and most families fear risking the safety of their girls by sending them out on long walks to attend school.
To provide incentives to send the girls to school, WFP has been providing cash transfers or a school feeding programme to cover the students' nutrition and reduce food insecurity for many families in Upper Egypt, increasing food security for more than 460,000 family members.
Nevertheless, Mahmoud, along with Abdel Baset, stress on the need for further awareness seminars and trainings for mothers in particular, who represent the backbone of the Egyptian household.
"Mothers need to be more aware of the importance of education. It is understandable that the economic constraints push some families to send their kids to work, but there is also the problem of awareness. Mothers never speak out when we tell them to try and convince their husbands to send their children to school," Mahmoud says.
FATMA ALI
Fatma Ali wanted the world to know of her dream: to have her own business card with the name 'Fatma for Perfumes.' After a long journey, she was able to have this card and open her own perfume shop.
Every business project not only provides the potential of economically empowering women and their families, but it also often changes mindsets and creates a new narrative. Ali was able to create her own narrative through her determination to attend regular trainings by the WFP to learn how to make her own perfumes.
Soon, she became the first woman in Al Malees village to produce and sell perfumes. For her, the real impact of this project will be seen in her daughters' futures, hoping that it will continue on for future generations. "I want them to be better than me when they grow up," she says, a simple statement that carries a lot of weight in determining future development initiatives.
WHY INVESTING IN PEOPLE IS KEY TO ACHIEVING DEVELOPMENT
In celebration of the UN's 75th anniversary, Egypt's Ministry of International Cooperation produced a video entitled 'Beyond Food' in partnership with the WFP, showcasing the history of Egypt's partnership with its development partner to end hunger and transform communities.
It is becoming increasingly known that investing in people, and particularly women, is a main determinant of sustainability. In a paper titled 'Human Capital and Sustainability', Jacobs and Slaus note that "development of human capital is the critical determinant of long-term sustainability", adding that through an examination of linkages between population, economic development, employment, and education, the "emergence of mentally self-conscious individuals will be the most effective approach for ensuring a sustainable future."
In other words, economic development is impossible without human development, as social entrepreneur Craig Kielburger says. "I believe this is the new model of scalable development the World Bank is calling for, shifting the focus from physical capital — like roads, bridges and airports — to investments in health and education," he adds.
It is important to always look beyond – to acknowledge that there is a lot of human potential waiting to be untapped, and a lot of stories to be documented to understand the challenges and the opportunities to move forward.
https://egyptianstreets.com/2020/09/25/paving-the-road-for-women-meet-the-heroines-of-upper-egypt/
--------
URL: https://www.newageislam.com/islam-women-feminism/syrian-filmmaker-waad-al-kateab/d/122954
New Age Islam, Islam Online, Islamic Website, African Muslim News, Arab World News, South Asia News, Indian Muslim News, World Muslim News, Women in Islam, Islamic Feminism, Arab Women, Women In Arab, Islamophobia in America, Muslim Women in West, Islam Women and Feminism