New Age Islam News Bureau
19 Jun 2014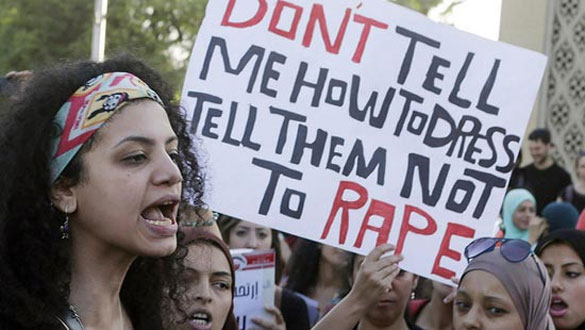 Women chant slogans as they gather to protest against sexual harassment in front of the opera house in Cairo June 14, 2014. (Reuters)
----------
• Road Show Puts Forced Marriages in UK in the Spotlight
• Hundreds Protest Impending Shutdown of Surabaya's Red Light District
• Forbidden Afghan Couple Are Reunited After Arrests
• The Law Is Failing the Women of Libya
• Saudi Woman Killed 'For Wearing Muslim Dress in UK
• Women's Rights NGO Criticises Altered Ramadan Work Hours
• Working Women Juggle Demands of Family and Jobs
• 472 Cases of Family Violence in Saudi Arabia in One Year
• New Report on Egypt: Over 550 Women, Girls Kidnapped, Forced To Convert To Islam
Compiled by New Age Islam News Bureau
URL: https://www.newageislam.com/islam,-women-and-feminism/new-age-islam-news-bureau/syariah-court-strikes-out-indonesian-catholic-woman-s-khalwat-case/d/87638
-------------
Syariah Court Strikes Out Indonesian Catholic Woman's Khalwat Case
19 June 2014
GEORGE TOWN: The case of an Indonesian Catholic woman, who had been waiting for her appeal against her conviction for Khalwat (close proximity) to be heard at the Syariah Court of Appeal, took an unexpected turn Thursday.
The court made a decision to strike out the conviction on Halimah, a spa therapist, meted out by the Syariah Lower Court and the decision of the Syariah High Court in dismissing her appeal against the conviction.
It directed her case to be heard again in the lower court where she was sentenced to a 14-day jail term and RM3, 000 fine on Feb 28, 2012. No date was fixed for the hearing.
The illiterate was unrepresented when she was charged and had apparently nodded her head when the charge was read to her. She was allowed a stay of execution pending her appeal, with a bail of RM3, 000.
She appealed to the Syariah Court of Appeal after the Syariah High Court dismissed her appeal against the conviction in September last year.
The case made headlines as the first in the country in which a non-Muslim was convicted in a Syariah Court for committing Khalwat with another non-Muslim.
Cecil Rajendra, who is holding a watching brief for the Bar Council, produced a copy of the Syariah Court of Appeal's decision at a press conference here Thursday.
He said there was no case against Halimah as under Section 74 of the Religious Enactment Act, the Syariah Court has no jurisdiction over non-Muslims.
He said he received a copy of the decision, which was made in chambers on June 5 by three Syariah Appeal judges, from the Indonesian consulate here.
The Indonesian consul-general here had, in a letter dated April 28 this year, made a request to the Chief Syariah Judge in Penang for the khalwat case against Halimah to be reviewed and withdrawn.
A copy of Halimah's baptism letter issued by the Archdiocese of Medan was among several documents enclosed in the letter as proof of the faith Halimah was professing.
Halimah, who was present at the press conference with her employer, said she has not been back to Indonesia for four years partly due to the case and had to miss her son's marriage last month.
Her lawyer, Wan Faridulhadi Mohd Yusoff, said he only found out about the Syariah Appeal Court's decision when reporters called him for comments.
He said he would write to the court to seek an explanation.
http://www.thestar.com.my/News/Nation/2014/06/19/syariah-appeals-court-overturns-indonesian-khalwat-case/
-------------
Road Show Puts Forced Marriages in UK in the Spotlight
19 June 2014
THE number of Oxfordshire girls calling a forced marriage and honour abuse helpline is set to double this year.
And an Oxford Muslim leader admitted there was a problem in the city and warned the new law criminalising the practice cannot fight centuries of family tradition.
The national helpline run by charity Karma Nirvana said it had received 13 calls from Oxfordshire already this year, compared to 16 in the whole of 2013.
Forced marriage became a criminal offence in the UK on Monday, punishable by up to seven years in prison.
Oxford Imam Hojjat Ramzy said only one in 500 victims of forced marriages speaks out and the new law could not change the culture.
Dr Ramzy, director of the Oxford Islamic Information Centre, said: "There is a problem in Oxford. I get young people come to me and they have been victims of forced marriages by their fathers, even boys of 17 or 18 come to me.
"That situation, where one side doesn't love another, is an absolute tragedy."
But, he warned: "These are children of 15 and 16, if they tell police then their father or mother will go to prison. Do they really want to go to a foster home?"
Dr Ramzy said many families sent their children abroad to countries in Africa or South Asia where the legal age to marry was as low as 14.
Often, he said, they would not tell their children the real reason they were going.
He said change was possible, but only through a change in Islamic teaching by the religion's highest scholars.
On Tuesday, Karma Nirvana brought its honour-abuse road show to Oxford's Kassam Stadium, hosted by Thames Valley Police.
Project manager Anup Manota said the new law gave victims, who have been silenced by their communities, a voice.
He said: "We know there are many good people in the community and this new law gives them a voice to stand up to the community. These families operate around the concept of honour.
"If a girl has a boyfriend the parents disapprove of they might force her to marry, or practice female genital mutilation (FGM) on her."
He said an increasing number of calls to the charity was a sign the new law was giving victims the confidence to speak out.
http://www.oxfordmail.co.uk/news/11286298.Roadshow_puts_forced_marriages_in_the_spotlight/
-------------
Hundreds Protest Impending Shutdown of Surabaya's Red Light District
19 June 2014
Jakarta. Hundreds of sex workers at Gang Dolly protested the Surabaya administration's plan to close the city's red light district after dusk.
Surabaya mayor Tri Rismaharini has set the time for the closure for at 8 p.m.
Sex workers and some locals blocked the road entryway to Gang Dolly, which caused heavy traffic. The protesters shouted and thumped kitchen utensils to music.
"Sex workers cannot be defeated, the people cannot be defeated. We reject the Dolly shutdown. It is our work field," said Lita, a sex worker, as quoted by newsportal Kompas.com.
The protesters included pimps and workers joined the rally in black attire, a symbol to the somber mood of the impending closure.
Gang Dolly is Southeast Asia's largest red light district, which has been operating openly for decades. Rismaharini had strongly voiced her plan to shutter the area, which has almost 1,500 sex workers and 300 pimps.
The city, in addition to providing financial assistance, has also prepared for the workers to be in other forms of employment.
Surabaya spokesman M. Fikser was quoted as saying by Detik.com that the city administration will provide compensation of Rp 5.05 million ($429) to each woman displaced from work because of the shutdown. That includes Rp 3 million as capital to open a business, Rp 1.8 million for three-month stipends and Rp 250,000 for transportation fees for them to return to their hometowns.
The pimps will also get Rp 5 million each, to be allocated by the East Java provincial administration. The Ministry of Social Affairs has set aside a budget of Rp 8 billion for the sex workers.
Additionally, the Surabaya administration has allocated Rp 16 billion to buy the guesthouses in the area and transform them into public facilities centers.
Social Affairs Minister Salim Segaf Al-jufri will attend the declaration of the shutdown on Wednesday night at Surabaya Islamic Center, where he will distribute funds symbolically.
http://www.thejakartaglobe.com/news/hundreds-protest-impending-shutdown-surabayas-red-light-district/
--------------
Forbidden Afghan Couple Are Reunited After Arrests
19 June 2014
KABUL, Afghanistan — Zakia and Mohammad Ali, an Afghan couple who married for love despite death threats from her family and criminal charges by the authorities, were reunited on Tuesday after they were both freed from custody.
"The Afghan government did the right thing," said Manizha Naderi, executive director of the aid group Women for Afghan Women, whose lawyer, Shukria Khaliqi, won dismissal of the charges against the couple. "They saw the injustice in this case and decided to act."
Mohammad Ali, 21, and Zakia, 18, were reached separately by telephone before being reunited. (Like many Afghans, they do not use surnames.)
"Before I was arrested I was 100 percent happy," Mohammad Ali said. "Now, when my wife is released, I will be 1,000 percent happy."
Zakia said: "After I get released, I hope we can have a happy life again and go and live in a place that is safe for us. If my family catches us, they won't leave us alive."
The couple eloped in March, but Zakia's father pressed bigamy charges against them, claiming she had already been married to her nephew; she asserted that she was only engaged to her nephew, and that was against her will and without her knowledge. Several of her male family members publicly vowed to carry out an honor killing against her, angry not only that she had defied her family, but also that she had married someone from the Hazara ethnic group. She is Tajik and Sunni Muslim; he is a Hazara and a Shiite.
They remained in hiding, first in the mountains of central Afghanistan, and later in Kabul, until Mohammad Ali was spotted by his in-laws on June 6 and dragged to a police station. His wife then voluntarily turned herself in to the custody of a women's shelter run by Women for Afghan Women, fearing arrest or, worse, attack by her family.
Women for Afghan Women, an Afghan charity supported by private donations and some American government funding, runs seven shelters in Afghanistan, as well as child support centers and family counseling centers that try to find peaceful settlements to domestic disputes.
While the couple were in custody, many Afghans began agitating on social media for their release, and the case received extensive coverage in the Afghan news media. Most Afghans have their marriages arranged by their families, but love matches are increasingly common among young people.
Last week, Mohammad Ali was released from custody on an order from the office of Attorney General Mohammad Ishaq Aloko. And after Mohammad Ali produced documentation of his marriage to Zakia, the charges against her were dismissed as well after a brief hearing on Tuesday. Ms. Khaliqi said the authorities had offered to draw up a warrant for the arrest of Zakia's father for trying to force her to marry against her will, which is a crime under Afghanistan's Elimination of Violence Against Women law.
Ms. Naderi said: "The attorney general went out of his way to make sure that they don't get punished for a crime that they didn't commit. We are grateful to him and the E.V.A.W. unit at the attorney general's office for expediting their case."
Zakia said she would decline to press charges against her father. "I know my father and mother will not even want to see me," she said. "But I don't want trouble for them."
http://www.nytimes.com/2014/06/18/world/asia/forbidden-afghan-couple-reunited-after-arrests.html
--------------
The law is failing the women of Libya
19 June 2014
TRIPOLI — What started as a normal day for an ordinary young woman here in Libya turned into a nightmare when a security guard at her public university physically and verbally attacked her, trying to bar her from entering her classroom because she was not wearing a head scarf.
The public assault in April on the woman, named Hind, is not unique, but it is rather uncommon. As Libyans repeatedly tell me, their country is made up of conservative — yet still moderate — Muslims.
As is often the case these days in Libya, this particular guard and his companion took matters into their own hands. There was no legal basis for their action. In the absence of law and order, and after two years of zero accountability, individuals, paramilitaries and militias are imposing "self-justice" according to their own standards and beliefs. The latest efforts of former Gen. Khalifa Haftar and his coalition of forces to try to step in and take control only furthers the instability of the situation.
In this legal void, there are other influences on Libyans' behavior.
A fatwa from March 2013 by Libya's grand mufti stipulating that women can attend a university only if it is gender-segregated caused an uproar recently. An earlier call by the cleric had gone even further, calling for gender segregation in all public institutions, universities and hospitals. The March 2013 fatwa also called on female students to dress according to Islamic traditions, which include covering the hair, to counter the dangers of "mixing" between the genders.
Several hundred miles east of Tripoli is the city of Derna, a bastion for militias with a self-declared Islamist ideology. In Derna, a university reportedly started building a wall in the middle of the campus to segregate female from male students, disrupting studies and limiting access. A militia contracted to provide protection to the university had stipulated this segregation as a condition for its services.
There are other examples. Dar al-Ifta, Libya's main religious institution, which issues religious edicts and to which the grand mufti belongs, reportedly called on the government last year to not approve marriage contracts between Libyan women and non-Libyan men for fear that women would be misled into marrying men from other denominations. These calls caused an outcry and didn't become law, but the government temporarily stopped issuing marriage licenses.
The same religious authority has called for a woman to be accompanied by a guardian if she wishes to leave the country.
In April, a security officer at the Tripoli airport tried to prevent the daughter of a prominent former lawmaker from boarding a plane with her two children, demanding her husband's "permission" for her to travel, according to her brother, who gave me details of the incident. Her mother, who was also present, loudly confronted the officer, threatening legal action. The daughter managed to travel that day, but only after her husband spoke with the security official on the phone.
In the last few months, I have spoken with many young women in Tripoli who see their lives affected by this pressure. A Libyan friend who works at a reputable international organization told me recently that she was contemplating wearing a hijab when she leaves the house just to avoid the harassment. "I am scared they will do something to me," she said.
Most of the harassment and attacks on women by militias and individuals go unreported and unchecked. When I asked one victim whether she had filed a police complaint, her answer echoed what I have heard many times: "Which police? The police can't do anything for me. The militias are too strong."
Female journalists and activists are often on the receiving end of harassment. In April, people in charge of security required female foreign journalists to put on head scarves when they attended the trial of former Kadafi government officials in Tripoli. Earlier this year, two Libyan journalists were not allowed to attend a trial at the same court because they are women.
It's been well over two years since the end of the uprising against Moammar Kadafi, and Libya's security landscape is as fragmented as its politics are polarized and its elected legislature is dysfunctional. More than two years of militias operating with impunity have left their mark, and violence continues to spiral out of control.
These increasingly worrying restrictions interfere with a woman's right to freedom of education and movement. They also come on top of existing discriminatory laws and practices that Libyan women face. Libyan authorities need to make clear to educational institutions and their own state officials, as well as non-state actors, that discrimination against women will not be tolerated. And they need to reform discriminatory laws and practices.
Meanwhile, Hind's mother — a prominent writer and herself a victim of harassment and threats because of her outspoken opinions — told me that her daughter, an A student, was terrified and humiliated when the guard started to pull her away from the classroom. He told her, "I will follow you, until you wear the hijab."
Hind's parents, disillusioned like so many other Libyans, are contemplating sending her abroad to continue her education. "I am afraid for my daughter," her mother told me. "I want her to leave."
Hanan Salah is the Libya researcher at Human Rights Watch.
http://www.latimes.com/opinion/op-ed/la-oe-salah-libya-women-under-threat-20140619-story.html
-------------
Saudi Woman Killed 'For Wearing Muslim Dress in UK
19 June 2014
Police are looking into the possibility a woman who was murdered in Colchester may have been the victim of a Muslim hate crime.
The woman, who has not been identified, was attacked along Salary Brook Trail on the morning of 17 June. Police said the woman was severely beaten and her attacker also used a "knife or other bladed weapon" to kill her.
Essex Police have now said the woman was in her early 30s and wore a dark navy blue full-length robe, called an Abaya, as well as a Hijab headscarf when she was attacked.
While police are yet to uncover a motive for the attack, they are "conscious" that the woman's dress would have identified her as being a Muslim and that this is one of the main lines of the investigation.
However Detective Superintendent Tracy Hawkings added there is "no firm evidence at this time that she was targeted because of her religion".
A 52-year-old man has been arrested in connection with the murder and is currently being questioned at Colchester Police Station.
Hawkings said police are keeping an open mind about the motive for the attack, but added right now it does not appear she had anything stolen from her during the attack.
Officers have also not ruled out a link between this murder and that of James Attfield, a 33-year-old man who died after being stabbed more than 100 times in the town's Castle Park in March.
Hawkings said: "A forensic post-mortem is due to be carried out to establish the cause of death but at this time it would appear that a knife or other bladed weapon was used in this attack.
"The victim also suffered facial injuries but the cause of these has yet to be established.
"We have no further detail on the murder weapon or weapons at this time but if anyone comes across any suspicious items which they think could be connected to this murder we would ask them to call us."
"There are some immediate similarities between this murder and that of James Attfield, but there are also a large number of differences as well," she said.
"There is no current known motive for this attack and we are keeping an open mind, exploring all possible avenues of investigation."
Police are also asking local residents to check their bins and gardens for any possible discarded weapons or blood-stained clothes.
Anyone with any information that could assist the enquiry is asked to contact the Major Investigation Team on 01245 28210301245 282103, Essex Police on 101 or they can contact Crimestoppers anonymously on 0800 555 1110800 555 111.
http://www.ibtimes.co.uk/colchester-woman-killed-wearing-muslim-dress-1453227
-------------
Women's rights NGO criticises altered Ramadan work hours
By Ahmed Rilwan | June 19th, 2014
Women's rights NGO Hope for Women has criticised the altered working hours this Ramadan, stating the decision was made without consideration as to how it would impact women working in public service.
"In the Maldivian society, domestic responsibilities typically fall on women, with added work during the month of Ramadan for the preparation of the meals for the family in time for breaking fast," said the NGO.
"Therefore, we believe that the decision regarding the Ramadan working hours have been made without giving consideration to how it would impact women working in public service."
The President's Office today announced the working hours at government offices for Ramadan and the seven days of Eid al Fitr, which will be from 10am til 2:30pm.
While it is usual for the government to reduce work hours every Ramadan, this year's timings are one hour later than previous years.
Hope for Women, highlighting recent reports that the number of women working in the civil service is twelve percent more than men, and said that finishing work late would impact women negatively as the domestic responsibility of preparing food for breaking the fast at sunset falls on women in the Maldivian society.
A recent election observation report from an observer mission noted that women continued to face multiple barriers to participation in public life, leading to acute under-representation in the public and political spheres.
The average time for sunset and breaking the fast this Ramadan is at 6:20pm.
Hope for women also suggested the government's decision was influenced by the late hour football matches of the ongoing World Cup tournament which it claims is causing many government employs to attend work late.
The massive popularity of the tournament has already prompted the government to relax previous opening times for local cafes in order for people to watch the matches, which currently conclude at around 5am.
Speaking to Haveeru, spokesperson to the President Ibrahim Muaz assured the decision has no connection to the World Cup, saying that it had been made to allow people to spend more late hours in worship.
Even if might upset some workers, the government's decision was made after considering everyone's convenience.
The Ministry of Education has, meanwhile, reduced school times to three hours during Ramadan.
Single session Schools will hold classes in the morning from 9am until 12pm, while schools with two sessions will hold classes from 8:30am til 11:30am and from 11:45am until 3pm – with an extra 15 minutes for noon prayers.
The ministry has also informed all schools to make arrangements for students to pray at schools and not to conduct any school activity at night in a way which could interfere with religious activities such as obligatory prayers, optional prayers, and religious preaching
http://minivannews.com/society/womens-rights-ngo-criticises-altered-ramadan-work-hours-87234
-----------
Working women juggle demands of family and jobs
19 June 2014
Working women often have the unenviable task of trying to find time for family and demanding careers.
Latifa Alabdelkadir, a fashion designer, says there is no doubt working women have to sacrifice time spent at home. "My work limits the time I spend with my family, and at family gatherings. I always have to be at my studio working on designs and attending to clients. I'm trying hard to find a balance because my family means a lot to me."
Alabdakadir says working women can overcome this issue by getting their children to take up responsibilities at home. This allows them to remotely manage their homes while at work.
She says women must have a clear dividing line between work and home. If this is not the case then they are bound to disappoint their children and other members of their family.
Mai Al-Oqla, an investor and owner of a sweets and pastry business, says she has been able to find a comfortable balance between work and home. The Internet has helped a great deal because she has been able to cut down on traveling.
Al-Oqla also believes that the key to success is to trust in God and allocating quality time to both career and home life.
For interior designer Nada Aljabr, work requires her to travel and attend many exhibitions, which has affected her family life. She has been trying to find a balance by spending as much time with her family as possible because she believes that this is a crucial element for success at work and happiness at home.
Huda Mehdi, a businesswoman and owner of Huda Thurathiat, is in a different situation. "My sons are married and their wives are my assistants, so I have no problem," she says.
She believes that women can be successful if they organize themselves properly. "Time management, sleeping early and being punctual with customers and family are the keys to success."
Some women involve their families in their work. "I assign my 15-year-old computer-related work, and I rely on the opinion of my 9-year-old daughter about what kids love in concerts and shows. So every member of my family joins in on my work," says Nefelh Al-Dosari.
Ali Zaeri, a psychologist, says working women who are successful often work even harder to maintain that success. He believes that this could be detrimental to their home life, and that they should try to find a balance.
He says working women can achieve this psychological balance by taking time for themselves, remain healthy by exercising and staying away from energy-sapping and unhealthy food. Happiness comes from the inside. If women are able to achieve an inner happiness, they will automatically be able to spread it to those around them, he says.
He says working women must ensure that they do not mix their home and working lives because this is a key part of finding the correct balance.
Jassim Al-Mutawa, an expert and consultant in family and education, says that balance must be sought because a successful career can also mean a happy home life.
http://www.arabnews.com/news/588891
-------------
472 Cases of Family Violence in Saudi Arabia in One Year
19 June 2014
Saudi courts registered a total of 472 cases of family violence last year including psychological or physical/corporal abuse. The victims were mainly children or spouses, local media said quoting sources at a local human rights body.
There were some 112 cases of child abuse or 23.7 percent of the total cases in the same year, a newspaper said, quoting sources at the National Society for Human Rights (NSHR).
At 274 cases, corporal or physical violence topped the list, followed by denial of marriage (22), denial of education (20), mothers denied visit by children (10), sexual harassment (9), runaway girls (7), denial of salaries (in family rift) (5), violence related to addiction (5), extrusion (defaming) of women (4), sheltering request (3), denial of work (1), and 67 miscellaneous cases. The Riyadh region was responsible for the highest rates of violence at 117 cases, followed by Madinah at 50, Jazan (40), Dammam (36), Makkah (34), Jeddah (29) and Jouf with only one case.
http://www.arabnews.com/news/588876
-------------
New Report On Egypt: Over 550 Women, Girls Kidnapped, Forced To Convert To Islam
19 June 2014
A new report from the Association of Victims of Abduction and Forced Disappearance (AVAFD) states that more than 550 Egyptian Christian women and girls have been kidnapped since 2011. The kidnapped women are then forced to marry their Islamic captors and adopt Islamic practices.
The AVAFD reported that the women's ages ranged from 14 to 40. Many of the women are raped; many are not even sought after by police. Egyptian authorities instead report that the women left their families by choice contradicting family testimonials.
The Daily Star reported of two more incidents in the Sinai Peninsula with armed masked men kidnapping two female Coptic Christians.
International Christian Concern is reporting that 2014 has already seen a spike in the number of Christian girls in Egypt being abducted as sexual harassment, sexual assault, rapes, forced conversions, forced marriages and even being forced into working without pay are all on the rise.
Police did not get involved with 14-year-old Nadia Makram's case, though her family told police the name of her captor.
AVAFD founder, Ebram Louis said that kidnappings have increased in Egypt since Hosni Mubarak fell from power. "Before the revolution, five or six girls would disappear each month. Now the average is 15."
A church official based in el-Arish said that the abductions have caused a state of panic among Christians, the Daily Star source added.
http://www.theglobaldispatch.com/new-report-on-egypt-over-550-women-girls-kidnapped-forced-to-convert-to-islam-37720/
-------------
URL: https://www.newageislam.com/islam,-women-and-feminism/new-age-islam-news-bureau/syariah-court-strikes-out-indonesian-catholic-woman-s-khalwat-case/d/87638