New Age Islam News Bureau
16 February 2021
• Toni Breidinger Becomes NASCAR's First Arab-American Female Driver
• Saudi Woman Sentenced To Death for Killing Bangladeshi Maid
• New Zealand Woman Identified As Isis Terrorist Captured At Syria Border with Two Children
• Saudi Arabia: 65-Year-Old Female Scholar Arrested For 'Teaching Quran' At Home
• Meet 6 Female Arab Scientists Who Are Making Us Proud
• Lulu Opens First Women-Led Store In Kingdom
Compiled by New Age Islam News Bureau
URL: https://www.newageislam.com/islam-women-feminism/switzerland-burqa-ban-vote-appeals/d/124320
--------
Switzerland: Burqa Ban Vote Appeals To Islamophobia and Feminists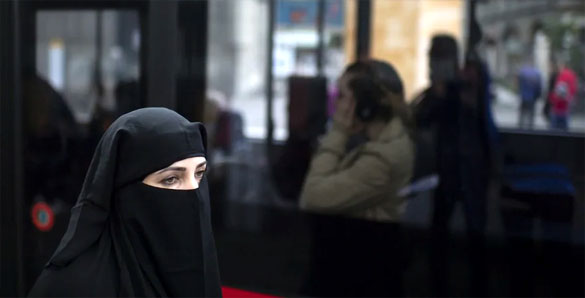 The number of women in Switzerland wearing a burka or a niqab in public is estimated at 30, but supporters of the initiative argue a nationwide law is needed. Gian Ehrenzeller/Keystone
------
February 16, 2021
Often referred to as "the Burqa ban", the initiative by right-wing groups also includes a ban on the wearing of Niqabs as well as other non-religious forms of face coverings.
The vote is scheduled for March 7.
The campaign takes place as hygiene masks are mandatory in busy public places due to the current coronavirus pandemic. It adds an ironic note to a debate which takes in religious freedom, female equality and fears of terrorism.
What's at stake?
The proposal aims to outlaw the wearing of face coverings in public, notably in the streets, in public transport and offices, restaurants, shops and football stadiums. Exceptions are not allowed for tourists.
However, special rules apply for religious sites, health reasons or particular weather conditions.
In a bid to block the initiative, parliament has approved a legal reform which would ban face coverings purely for the purpose of identifying an individual, notably in public office or in public transport.
The alternative proposal foresees measures to promote equal rights for and integration of Muslim women. The legal amendment will come into force if the initiative is rejected in the nationwide vote.
What are the main arguments for and against?
Supporters argue a face covering ban helps prevent terrorist attacks and other forms of violence.
At the same time the ban is seen as a way to promote equality between Muslim women and men, giving women freedom from a discriminatory patriarchal society.
Members of the initiative committee have warned of Islam spreading in Europe and threatening Christian culture. But the committee rejects allegations that its proposal is undermining religious freedom. Instead the ban is aimed at strengthening basic values of the western world, they say.
In addition, supporters stress that similar restrictions are in place in other countries and that regional Burqa bans introduced in Switzerland five years ago have been efficient.
However, opponents say a Swiss-wide face covering ban is unnecessary, damaging for tourism and not in line with the divided power structure between the national and the cantonal authorities.
They say there is no reason to amend the country's constitution for a very small group of people – estimated at up to 30 women - who wear a Niqab or Burqa of their own free will.
Opponents say a ban would not be able to boost equal rights for Muslim women and improve their integration in Swiss society. A legal reform, approved by parliament last year, is better suited, they say.
Opponents also warn that tourists from wealthy Arab Gulf states could be discouraged from holidays in Switzerland if the ban wins a majority in the vote.
Why do voters have a say?
A committee of right-wing politicians and conservative activists submitted the necessary number of signatures to force a nationwide ban on face coverings in public.
More than 105,500 signatures for the people's initiative were collected between March 2016 and September 2017.
Under the Swiss system of direct democracy, an amendment to the country's constitution needs the support of at least 100,000 Swiss citizens.
Who are the opponents and supporters?
The main supporters of the initiative are the right-wing Swiss People's Party as well as other conservative groups and several politicians from centre-right and centrist parties.
A group of feminists and liberal Muslims have also come out in favour of the ban on Burqas and niqabs in public.
The supporters face a broad alliance of opponents from the other main political parties from the left to the centre, the government and a clear majority of the Swiss parliament.
Human rights and women's groups, church committees as well as the Swiss tourism sector and trade unions have also recommended rejection of the proposal.
How does Switzerland compare with other countries?
About 15 countries in Europe have introduced general face covering bans over the past decade.
France was a front-runner in 2011, but Switzerland's other three neighbouring countries – Germany, Italy and Austria - have also implemented restrictions; either general bans, or specific and regional measures.
Burqa and niqab bans of some sort are in place in numerous countries in Europe, Asia, Africa and North America.
In Switzerland, two of the country's 26 cantons have imposed a Burqa ban since 2016. Another 15 cantons have banned face covering for demonstrations and sports events.
What's does the Burqa vote have in common with the minaret ban?
The committee behind the Burqa ban is the same as the one that launched a proposal for a ban on the construction of new minarets in Switzerland.
The vote in 2009 resulted in a ballot box upset when 57.5% of voters and 22 of the 26 cantons came out in favour of outlawing new minarets at mosques.
Unlike 12 years ago, opinion polls suggest that supporters of Burqa ban enjoy solid initial backing. But experts say another political upset appears less likely, as anti-Islamic sentiment is no longer taboo.
https://www.swissinfo.ch/eng/politics/Burqa-ban-vote-appeals-to-islamophobia-and-feminists/46334100?
--------
Toni Breidinger Becomes NASCAR's First Arab-American Female Driver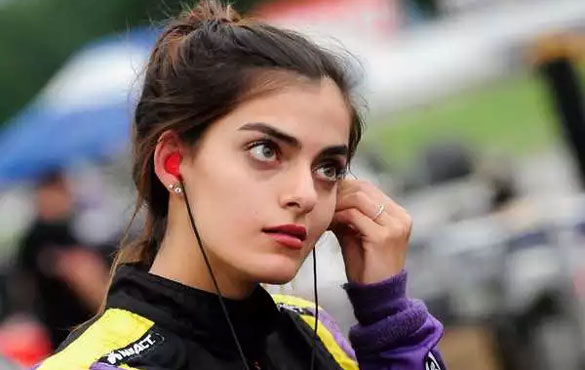 Toni Breidinger will become the first Arab American female driver to compete in a NASCAR national series.Icon Sportswire/Getty Images
-----
Tala Michel Issa
16 February, 2021
Twenty-one-year-old Toni Breidinger made history on Monday as she became the first Arab-American female driver to take part in a NASCAR national series, at Daytona International Speedway, US-based media CBS reported.
Breidinger, who is of Lebanese descent, told CBS, that it was "exciting" to be a trailblazer.
In an interview with international news media CNN, she said, "I'm honored and excited to be the first, but I don't want to be the last. I hope I can pave the way for future female Arab drivers as well".
"Daytona has always been on my bucket list to race at. Every driver's dream is to race there one day. It's such a historic track. It's a step in the right direction to hopefully race in the Daytona 500 one day," she added.
She made it to the 18th place in the 2021 ARCA Menards Series season-opener in Daytona, Florida.
"I went to that race last year just to go watch and I told myself, 'I want to be racing here next year. So, that was a really big goal for me," she said to CBS.
Breidinger is a 19-time United States Auto Club winner, a first-of-its-kind record for a female driver. She also made it to the Top 10 at Madison International speedway in ARCA Menards back in 2018, CNN reported.
At the age of nine, she sat behind the wheel of a go-kart and immediately knew that she wanted to become a racecar driver one day, she said in an interview with New York-based lifestyle media Paper Magazine.
"I've always had so much passion for it. I love the competition, the adrenaline rush. I'm hooked on it. When the helmet comes on and I'm racing, it's not about being a female driver anymore. I'm just like anyone else trying to get to the finish line," she told CNN.
https://english.alarabiya.net/sports/2021/02/16/Toni-Breidinger-becomes-NASCAR-s-first-Arab-American-female-driver
--------
Saudi Woman Sentenced To Death for Killing Bangladeshi Maid
Thomson Reuters Foundation
February 15, 2021
DHAKA: A Saudi woman has been convicted of murdering her Bangladeshi maid by a criminal court in Saudi Arabia, in a ruling rights groups in the South Asian nation said was a rare example of an employer being found guilty of abusing a migrant worker.
Ayesha Al Jizani was sentenced on Sunday to death by the court for killing Abiron Begum in March 2019, some two years after Begum went to the Gulf state in search of better paid work, a Bangladeshi government official said.
Begum's relatives urged the Bangladeshi government to take action against the brokers who "tricked" Begum, 40, into taking the job in Saudi Arabia four years ago.
"(She) wanted to go abroad to earn more money so that she could pay for her aged parents," Ayub Ali, Begum's brother-in-law, told the Thomson Reuters Foundation.
"They started torturing her two weeks after she left. She would call us and cry … we begged the brokers here to bring her back, but no one listened to us."
Jizani's husband was jailed for three years for failing to help Begum access medical treatment and making her work outside the family home illegally, confirmed Ahmed Munirus Saleheen, a senior official at Bangladesh's expatriate ministry.
Jizani's son was sent to a juvenile facility for seven months, Saleheen added.
Bangladesh is one of the world's top exporters of labour and depends heavily on the remittances they send home to relatives.
Prior to the pandemic, about 700,000 Bangladeshis used to travel abroad for jobs annually, with Saudi Arabia being the top destination despite having one of the highest recruitment fees for migrant jobseekers from the South Asian nation.
Labour rights activists say the fee, which is often paid through a network of unofficial brokers, opens the door to exploitation and trafficking.
Campaigners said the Saudi court's verdict against an employer was unusual.
"I have been working in the migration field for several years and I have never heard of such a verdict," said Shakirul Islam, head of the Ovibashi Karmi Unnayan Programme, which deals with migrant rights in Bangladesh.
https://www.freemalaysiatoday.com/category/world/2021/02/15/saudi-woman-sentenced-to-death-for-killing-bangladeshi-maid/
--------
New Zealand Woman Identified As Isis Terrorist Captured At Syria Border with Two Children
16 Feb, 2021
A New Zealand woman named as an international terrorist by Turkish authorities is facing deportation, along with her two children, after being caught trying to leave Syria.
The Republic of Turkey's Ministry of National Defence says the 26-year-old woman is an Islamic State terrorist.
"Three New Zealand nationals including an adult and two children were caught by our border guards in Hatay's Reyhanlı district while trying to enter illegally from Syria," a ministry statement said.
"The adult, a 26-year-old woman named S.A. was identified as a Daesh [ISIS] terrorist wanted with a 'blue notice'. The captured terrorist was handed over to the Reyhanli Public Prosecution Office."
Local police confirmed the woman was the mother of the two children found with her at the Turkey-Syrian border.
A spokeswoman for the Prime Minister refused to say whether Jacinda Ardern had been briefed on the case, or whether the woman's identity was known to New Zealand authorities.
She said no information would be forthcoming from the Prime Minister until she made her way to Parliament prior to 2pm when press gallery journalists would have the opportunity to quiz her.
Police told Newstalk ZB they had been in contact with the NZ Embassy in Ankara.
They say the woman is likely to face deportation to New Zealand.
New Zealand's Ministry of Foreign Affairs and Trade said it is "aware of the situation".
Overseas media reports say the woman was wanted by Interpol with what is dubbed a blue notice.
A blue notice is an international alert, circulated by Interpol, to locate, identify or obtain information on a person of interest in a criminal investigation.
It differs from a red notice, to seek the location or arrest of a person wanted by a judicial jurisdiction or an international tribunal with a view to his or her extradition.
Intelligence expert Dr Paul Buchanan, of 36th Parallel Assessments, said the blue notice indicated the woman was sought for information rather than acts of terrorism.
"It's a notification they want to get information on a person. It doesn't mean she's been doing anything bad. Walking across the border with kids would seem to indicate she was a camp follower or concubine."
He said that would fit with the role of women in the Islamic State of Iraq and Syria, or Daesh.
During the peak of ISIS in 2014-2015, the would-be Caliphate sought to import male foreign fighters but also women who would produce future generations.
"We have yet to determine if she was a fighter or a breeder," he said, although the religious confines and structure of ISIS suggested the latter. "I seriously doubt she would be a fighter."
Buchanan said it was likely she would fit the description of those who were described at the time as "Jihadi brides" - primarily young women who were indoctrinated online or by local recruiters to travel to ISIS territory where they would marry fighters.
If so, Buchanan said it was also possible the woman was from Australia.
In 2015, the prospect New Zealanders were among those women who had travelled to marry fighters was raised by NZ Security Intelligence Service director-general Rebecca Kitteridge.
She told Parliament's Intelligence and Security Committee that there had been growing numbers of New Zealand women travelling to areas controlled by ISIS.
She told MPs: "Something that has changed over the last year is the issue of New Zealand women travelling to Iraq and Syria, which is something we haven't seen previously or been aware of."
Then-Prime Minister John Key asked Kitteridge if they could be called "jihadi brides".
The exchange caused a furore over the prospect of women travelling from New Zealand to join the would-be Caliphate. It later emerged none of the dozen women known of by the NZSIS left from New Zealand. Instead, they had travelled from Australia.
The claims led to puzzlement from New Zealand's Muslim community, and then demands for an apology with the Islamic Women's Council submission to the Royal Commission of Inquiry into the Attacks on Christchurch Mosques saying it had caused a rise in hostility towards New Zealand's Muslim community.
Buchanan said the primary focus needed to be on the humanitarian rights of the woman and particularly the children she had with her when she crossed the border. When she returned to New Zealand, legislation existed that would allow her involvement with ISIS to be closely examined, and prosecuted if necessary.
He said the children would be New Zealand citizens by maternal right and it was critical the Government took steps to make sure they were safe and were able to be returned to New Zealand.
Buchanan said it was highly likely the NZSIS would want to speak with her, particularly in the hope of receiving intelligence about missing Red Cross nurse Louisa Akavi, a New Zealander who was taken hostage by ISIS in 2013 and has been missing since.
Green MP Golriz Ghahraman said it was important to bring the woman and her children back to New Zealand.
"Right now, the safety, the rights and wellbeing of these children should be paramount. We have a responsibility to bring our people home."
However, she said New Zealand also had a legal responsibility to determine the mother's culpability in any terrorist activities and to prosecute.
"If she has been contributing to terror, the Syrians - the victims of terror - don't have the resources to make themselves safe right now."
If it were the case she returned with behaviours or an ideology that raised our threat level, that also needed to be managed. "Then we have to make New Zealand safe," she said.
Ghahraman, a former United Nations lawyer, said New Zealand's foreign fighters legislation was designed to manage those who repatriated from conflicts such as that which sprawled across the Middle East during the rise of the would-be Caliphate.
She said the age of the woman now - 26 - and the timing of movement of young women to ISIS during its peak suggested she would have been very young when she went there.
https://www.nzherald.co.nz/nz/new-zealand-woman-identified-as-isis-terrorist-captured-at-syria-border-with-two-children/6DUMFX47TM5UTCUNAHEBMBOSAI/
--------
Saudi Arabia: 65-Year-Old Female Scholar Arrested For 'Teaching Quran' At Home
16th February 2021
Aisha Al-Muhajiri, a well known 65-year-old female Islamic scholar has been detained by Saudi authorities reportedly for preaching and giving Quran courses at her house, a report by Prisoners of Conscience stated.
She was reportedly detained by a 20 member squad of Saudi intelligence from her home in Makka along with two other women.
Prisoners of Conscience, which reports on the Saudi government's arrest and repression of activists and public figures, tweeted "We confirm the detention of the famous female preacher Aisha Al-Muhajiri (65 years), after authorities broke into her house in Mecca. The grounds of her detention is her working in preaching and giving Quran courses at her house."
In another tweet, the Prisoners of Conscience wrote, "We also confirm that TWO WOMEN were arrested with Aisha Al-Muhajiri, on the same day of the raid on her house in Mecca; one of the two women is 80 years old, while the family of the other woman refused to publish any information about her."
Following the arrest, the report also stated: "We confirm also that the sons of the preacher Aisha Al-Muhajiri were threatened of being detained when they asked about her after she was arrested; authorities said literally: 'We will arrest anyone asking about her'."
Iran based International Quran News Agency (IQNA) criticized the arrests of the scholar stating, "A number of scholars, activists and critics of the Saudi regime have been arrested over the past few years. Even highly-regarded and well-known clerics have been detained simply for commenting on current affairs or government policy, among them Aid Al-Qarni, Ali Al-Omari, Safar Al-Hawali, Omar Al-Muqbil and Salman Al-Ouda. Many are known as reformists and are thus seen as a threat by de facto ruler Crown Prince Mohammed Bin Salman."
IQNA further stated "Even foreign scholars have not escaped under the crackdown. Amidoula Waili from China's persecuted Muslim Uyghur minority was arrested by the Saudi authorities in November at the request of the Chinese government. Having already been detained in China years ago before escaping to turkey, Waili is reported to be at risk of being deported to China."
https://www.siasat.com/saudi-arabia-65-year-old-female-scholar-arrested-for-teaching-quran-at-home-2091305/
--------
Meet 6 Female Arab Scientists Who Are Making Us Proud
Riham Darwish
February 11th, 2021
While many of the countries in the Arab World rank amongst the lowest in terms of gender equality and opportunities available for women, there is a really long list of outstanding female scientists who have successfully achieved international recognition and respect.
It is one thing to make it in an environment that provides you with all the tools you need for success, and a whole other thing to achieve success in a highly challenging one, whether in terms of resources, opportunities, or even cultural and social stigmas and traditional gender roles.
All over the world, the scientific field continues to be heavily male-dominated, creating extra challenges for women who are passionate about the different sciences. Meanwhile, in the Arab World, things get a little extra challenging, not only because of the relatively higher regard for traditional gender roles, but also because of the general scarcity for appreciation and availability of resources available for scientists.
Celebrating International Day of Women and Girls in Science this year, we have chosen to highlight a number of Arab women scientists who have, despite all odds, excelled in their respective fields, achieved great success, and gained recognition for their work.
1. Dr. Lama AlAbdi (Saudi Arabia)
Honored last December as one of six women scientists in the Middle East who are engaged in breakthrough research, Dr. AlAbdi's work as a biochemist has been mainly concerned with the connection between gene expression and the development of non-genetic diseases.
2. Dr. Abeer Al Bawab (Jordan)
Despite battling kidney cancer for the last three years, Dr. Abeer Al Bawab, a professor of chemistry at the University of Jordan has successfully excelled through her research in physical chemistry, receiving several international awards, including the prestigious IUPAC 2021 Distinguished Women in Chemistry or Chemical Engineering award.
3. Ayah Bdeir (Lebanon)
Supported by her family, Ayah's love for science and entrepreneurship has been focused on educational robotics, as she has founded littleBits in 2011 hoping to create an open-source library of modular electronics.
4. Dr. Nour Al-Sabeeh (Kuwait)
As an assistant professor at the Physiology Department at Kuwait University, Dr. Al-Sabeeh has received the L'Oreal-UNESCO Middle East Fellowship in 2019, in recognition of her research focusing on the different mechanisms underlying the development of type 2 diabetes.
5. Dr. Samia Elfekih (Tunisia)
Focused on climate change, food security, and global human health, Dr. Elfekih has dedicated her life to studying and exploring the different ways through which humanity could utilize eco-friendly strategies to achieve better environmental balance.
6. Dr. Maryam Al Yammahi (UAE)
Featured for her work during the sixth edition of L'Oréal-UNESCO for Women in Science Middle East Fellowship in 2019, Dr. Al Yammahi's research is mainly concentrating on data science, big data, and artificial intelligence as main drivers of the decision-making process in every field. She is the Assistant Dean for Students at College of IT UAE University.
Lately, the UAE has celebrated its first Mars exploration mission called Hope, one that has been prepared for by a science team 80% of which are women.
Not only has the Hope Mars mission been accomplished mostly by women, but the whole mission has been supervised by a woman scientist, the Emirati Minister of State for Advanced Sciences Sarah Al-Amirim, who has also been named the chair of the UAE Space Agency and the United Arab Emirates Council of Scientists, and Deputy Project Manager of the Emirates Mars Mission.
What is the most challenging issue facing women in science in this day and time? Where do you think are women's experiences in the scientific fields relatively easier?
https://www.albawaba.com/business/meet-6-female-arab-scientists-who-are-making-us-proud
--------
Lulu Opens First Women-Led Store In Kingdom
February 10, 2021
JEDDAH — Leading UAE-based retailer LuLu Group further strengthened its presence in the western region of Saudi Arabia with the soft opening of its new Express Store in Al Jamea, Jeddah, thereby increasing its total store count to 201 globally.
As a first, it is the group's first store led by an all-women staff, which is a pioneering initiative among all the hypermarket brands in the Kingdom and reaffirms its commitment to economic empowerment of Saudi Women in line with the Vision 2030 reform plan.
Located near King Abdul Aziz University, in a retail space of 37,000 square feet, the new express store which is also 20th in Saudi Arabia is home to a wide variety of globally sourced products such as grocery essentials, fresh food, health and beauty, household and much more.
"The LuLu brand has always been known for catering to shoppers based not only in city centers, but as well as the outskirt areas and suburbs, where people do not need to drive long distance. We commit to providing world-class shopping and we shall continue meeting the lifestyle needs of our clientele base.
Amidst COVID-19 crisis and public movement restrictions, an inaugural function was not held. To support the government's mandate, LuLu only permits entry to shoppers who have downloaded the Tawakkalna App as a safety precaution.
In the midst of the pandemic, LuLu has played a very crucial role and ensured uninterrupted supply of food and non-food products, while maintaining the highest standards of hygiene, health and safety of both its customers and employees. Enhanced sanitization programs and social distancing norms are being adhered as per industry protocols.
"Apart from introducing innovative shopping platforms, we are also proud to announce that this our very first store led by our female team, from the general manager to the cashiers, which signifies our effort to empower more Saudi women in the workforce," said Shehim Mohammed, director of LuLu Hypermarkets Saudi Arabia.
"At present, we employ 3,000 Saudi nationals including 800 women in all the hypermarkets across the country in various positions and our aim is to encourage more women in our organization, thereby ensuring Saudi women's economic participation," added Shehim.
Maha Mohammed Alqarni, general manager of the newly launched store, said: "I am extremely happy to be part of LuLu Group's first ever store that is fully managed by women. This is such a great honor for me to represent the growing community of Saudi women who are supporting for the progress of the country's economic activities and aiming to share their skills and be of greater contribution to the public." —SG
https://saudigazette.com.sa/article/603406/BUSINESS/LuLu-opens-first-women-led-store-in-Kingdom
--------
URL: https://www.newageislam.com/islam-women-feminism/switzerland-burqa-ban-vote-appeals/d/124320
New Age Islam, Islam Online, Islamic Website, African Muslim News, Arab World News, South Asia News, Indian Muslim News, World Muslim News, Women in Islam, Islamic Feminism, Arab Women, Women In Arab, Islamophobia in America, Muslim Women in West, Islam Women and Feminism