New Age Islam News Bureau
28 Nov 2015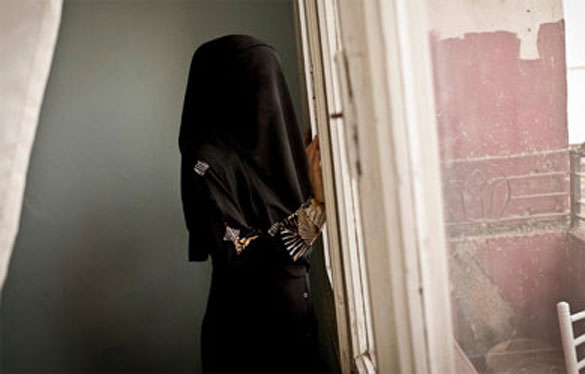 Photo: Switzerland bans the burqua, imposes £6,500 fine on Muslim women wearing full-body garment in public
----------
• Pregnant Muslim woman branded 'terrorist' on London bus while passengers looked on
• Muslim women say urgent need for hate crime prevention in Waterloo Region
• Saudi women braving odds in municipal elections
• Woman killed over domestic dispute
• Four Afghans among six children drown as boat sinks off Turkish coast
• Maysmode — Breaking stereotypes with fashion
• People face jail for refusing polio vaccination in Peshawar
• Child and Women Protection Department handles 191 cases in 2015
• Yemeni girl's legs stuck in Kajang lift doors
• Female professor held in murder case
• AJK IIC mulls woman induction as 'Qazi'
• Gutsy woman on motorbike stops snatch thief in his tracks
• Ecosystem mooted for Gulf, India businesswomen
Compiled by New Age Islam News Bureau
URL: https://newageislam.com/islam-women-feminism/switzerland-bans-burqua,-imposes-£6,500/d/105453
----------
Switzerland bans the burqua, imposes £6,500 fine on Muslim women wearing full-body garment in public
27 November 2015
Women in many parts of the Middle East are prohibited from being seen without their all-black burqua outfit on. The reverse is true in at least one canton in Switzerland: Muslim women will no longer be allowed to wear their full-body garments in shops, restaurants, public buildings, and other similar places.
The local government of Ticino recently approved a referendum that would fine any woman wearing a burqa the equivalent of a whopping £6,500 in light of the heightened terrorism alerts all across Europe, Express UK reported.
The Swiss Parliament earlier ruled that the ban did not violate the country's federal law, resulting in a referendum in Ticino where two-thirds of the population voted to support and impose the ban.
According to the new law, the 40,000 Muslim women in Switzerland will still be allowed to wear masks, balaclavas, or crash helmets. However, their head-to-foot body cover will strictly be prohibited. Even visiting tourists must strictly comply with the new law.
Giorgio Ghiringhelli, who drew up the proposal, said the referendum vote is a strong message sent to "Islamist fundamentalists" in the country.
"Those who want to integrate are welcome irrespective of their religion. But those who rebuff our values and aim to build a parallel society based on religious laws, and want to place it over our society, are not welcome," he said.
The Ticino law was actually inspired by a similar French ban, which was observed by the European Court of Human Rights back in 2014. According to the said ban, women can be fined up to £150 for wearing the burqa in France, which has the biggest Muslim population in western Europe. When a British legal team tried to reverse the French ban last year, the attempt was rejected.
Meanwhile, Amnesty International was dismayed by the Ticino ban and called their decision to control the clothing preferences of Muslim women as a "black day for human rights in Ticino."
http://www.christiantoday.com/article/switzerland.bans.the.burqua.imposes.6500.fine.on.muslim.women.wearing.full.body.garment.in.public/71830.htm
----------
Pregnant Muslim woman branded 'terrorist' on London bus while passengers looked on
RACHEL BLUNDY
November 28th, 2015
A pregnant Muslim woman was racially abused by a drunk man who branded her a "terrorist" in a 15 minute tirade on a London bus while passengers looked on without intervening, it has been claimed.
The Turkish victim faced a barrage of abuse as she travelled on a 259 bus along Blackstock Road, Finsbury Park.
It was only when her abuser threatened to punch her that a man stepped in to protect her, witnesses said.
The bus driver, who remained in his cabin, stopped the bus and told passengers to get off once he was alerted to the abuse.
He called police who arrived on the scene moments later.
Charity worker Betta Elisa watched the events unfold as she travelled to work.
The 40-year-old Sicilian, who lives in Tottenham, said she was "surprised" that no one stepped in to help the woman for at least 15 minutes, adding that one man only moved to restrain the abuser when he threatened to punch her.
She said she was one of two women who stayed with the victim while her sister was called to collect her.
She told the Standard: "What surprised me even more is that no one went to comfort the victim. She was stroking her belly because she was six months pregnant.
"I felt really sad because this should not happen.
"I do not know if it was because it happened in London. We live in an individual world now. We need more of a sense of community. People just do not want to get involved."
Describing the incident, she said: "I was on my way to work and I heard someone talking loudly. It was this man with a bottle of beer.
"He was obviously drunk.
"He started shouting. He was saying things like 'B****, get back to your country'. He called her a Muslim terrorist. His English was quite broken.
"He was really aggressive. She was crying loudly.
"He leaned forward to punch her.
"But a man intervened and stopped him.
"Before that, no one was saying anything. I was going to help but another woman stopped me and said it was dangerous. Now I wish I had."
Fiyaz Mughal, director of Islamophobia watchdog Tell MAMA, said the case was one of an increasing number of attacks on Muslim women after the Paris terrorist killings.
He said: "We have received cases post Paris that show a marked spike in anti-Muslim hate incidents, where at a street level, Muslim women are the ones being targeted.
"Their visibility, with their hijabs, sadly means that they are targeted and in a number of cases, Muslim women have said that no member of the public intervened to stop the abuse.
"This is worrying and there is much more work to do around community education in how to deal with such situations and in a manner that does not put yourself at risk."
Transport for London insists the number of racist crimes per passenger journey has remained "stable" at about one crime for every three million passenger journeys over the last five years.
Steve Burton, Transport for London's director of enforcement and on-street operations, said: "We do not tolerate racist behaviour of any kind on our bus network and the police are currently investigating this incident."
Scotland Yard said a man had been arrested following the attack incident on Monday morning (November 23).
The incident comes just one month after video footage of another pregnant Muslim woman being abused on a bus in north west London went viral.
Simone Joseph, 36, of Angel Court, Willesden Green, was given a 16 week jail sentence suspended for 18 months after admitting racially and religiously aggravated behaviour.
http://www.standard.co.uk/news/crime/pregnant-muslim-woman-branded-a-terrorist-on-london-bus-while-passengers-looked-on-a3125006.html
----------
Muslim women say urgent need for hate crime prevention in Waterloo Region
Nov 27, 2015
The Coalition of Muslim Women of Kitchener-Waterloo is bringing back a hate crimes prevention program for what the group says is an urgent need.
The group says it wants to encourage people to report any incidents that may be part of the anti-Muslim backlash seen in the wake of the Nov. 13 attacks in Paris, France.
"We felt there was a general unease in the community, and there was a bit of fear, and that people, especially Muslim women, were scared to pick up their children from school or go to work. We were called to action because of that," said Sarah Shafiq, the coordinator of the hate prevention initiative.
The return of the program comes after reports of physical or verbal assaults on Muslims in Toronto over the past few weeks. One woman waiting to pick up her children from school said she was beaten and robbed, while two others said they were accosted on the subway.
In addition, a mosque in Peterborough was set on fire.
Shafiq says there have been no such reports in Waterloo Region since the Paris attacks. But when the group was running the program as a pilot project from November 2012 to December 2013, it noted that a number of Muslim women in the Kitchener-Waterloo region had related experiences of discrimination.
"One such incident was shared with us by a Caucasian woman who had recently converted to Islam," the coalition's website said. "She told us how a familiar cab driver, upon learning of her conversion commented, 'Just don't go blowing any of us up now.' The Muslim woman answered: 'Islam is a religion of peace.' The driver said: 'Yeah right' and drove away."
At the time the pilot project was launched, the group said it wanted to increase awareness about hate crimes, their prevention and reporting among Muslim women living in Kitchener-Waterloo. It also wanted to establish a database of hate incidents and provide one-on-one support to women who are reporting such incidents.
Shafiq says those calling the hate prevention hotline at 226-988-5392, or contacting through email at peersupportservice_hci@hotmail.com, will be encouraged to talk to police if the incident is serious.
http://www.cbc.ca/news/canada/kitchener-waterloo/muslim-women-kw-hate-crimes-prevention-program-1.3339868
----------
Saudi women braving odds in civic polls
Nov 28, 2015
Women in Saudi Arabia begin their first-ever election campaign on Sunday, a tentative step toward better representation in the Kingdom's decision-making process.
Around 900 female candidates are standing in next month's municipal election, a poll that also offers a chance to female voters to elect their officials for the first time.
"If we want to develop or reform our country we should put a woman in every decision-making level," says Nassima Al-Sadah, a candidate in Qatif for the Dec. 12 vote.
This will be the first time Saudi women have had a say in who gains office.
While Al-Sadah expressed satisfaction at the number of female candidates, she said "very few" women have registered to vote.
Data cited by the Saudi electoral commission show about 7,000 candidates are vying for seats on the 284 councils.
According to the intekhab.gov.sa elections website, just 130,600 women have signed up to vote, compared to around 10 times that number of male voters.
Aside from transport problems, women say their voter registration was hindered by bureaucratic obstacles and a lack of awareness of the process and its significance.
"I myself had a very difficult time to register", said Sahar Hassan Nasief, an activist in Jeddah who has many friends running as candidates.
She had to go "back and forth and back and forth until I got my name down" but nonetheless encouraged others to make the effort.
"This is one of the first steps for women's rights, a big step for us," said the retired university teacher. "Even my mum who's 95… she too went to register."
There is also disappointment at the performance of the local councils and their limited powers restricted to streets, gardens and garbage.
"I took part in the last round and didn't see any benefit or results," said Sultan Al-Obthani, 35, of Riyadh, who will not vote this time.
Although the voting age has been lowered to 18 from 21 and the proportion of elected council members has increased to two-thirds, winning a seat remains a challenge for women in electorates where male voters vastly outnumber females.
"I cannot predict my chances of winning but I am doing my best," says Safinaz Abu-Alshamat, 33, who plans to campaign through social media in her Makkah district.
In Al-Sadah's Qatif electorate there are only 2,000 registered female votes, meaning she will have to woo the 48,000 men in order to stand a chance.
"It's very, very difficult for us to win and to target our voters," she says.
Khalid Al-Dakhil, an independent political analyst, said he would "of course" consider voting for a woman in the ballot which "should be the first step along the road to democracy."
Elections for the Shoura (Consultative) Council would be the next logical step, he said.
Despite the obstacles, Al-Sadah is confident there will be at least one woman elected next month.
She says her record of community service and activism has built enough trust among men and women to propel her to victory.
http://saudigazette.com.sa/saudi-arabia/saudi-women-braving-odds-in-civic-polls/
----------
Woman killed over domestic dispute
November 28, 2015
Rawalpindi - A 50-year-old woman was shot dead over a domestic issue by brother-in-law of her daughter here at Quaid-e-Azam Colony yesterday, said police.
The murderer fled after committing the crime while police registered a case against two accused.
Station House Officer (SHO) Malik Yar said that one Waheed contracted love marriage with Shazia Bibi, the daughter of Shehnaz, and later he banned the entry of her parents-in-law in his house.
He said that on the day of incident, Shehnaz visited her daughter's home where a verbal clash occurred between her and Ghazanfar, the brother of Waheed.
On this, he said, Ghazanfar opened fire at the lady, killing her on the spot.
The SHO said that another accused Nadeem is also involved in the murder case and police have registered case against Ghazanfar and Nadeem, who had fled from the crime scene.
http://nation.com.pk/islamabad/28-Nov-2015/woman-killed-over-domestic-dispute
----------
Four Afghans among six children drown as boat sinks off Turkish coast
By ZABIHULLAH MOOSAKHAIL
Nov 28 2015
Six children have drowned in Turkish water in two separate incidents, among them were four Afghans.
The children died after their boat on their way to Greece sank off Turkey's coast, local media reported.
One vessel was carrying 55 Syrian and Afghan migrants that capsized due to bad weather conditions off the town of Ayvacik from where the Turkish coastguards recovered the bodies of four Afghan children.
Another wooden boat on its way to island of Kos carrying around 20 refugees sank off due to harsh weather condition near the southwestern resort of Bodrum on Friday.
Turkish coast guards say dead bodies of two children were recovered reportedly sisters of one and four years of age.
Turkey has become the main transit point for people fleeing war and misery for a better life in Europe and the town of Ayvacik is the core crossing point for refugees trying to reach the Greek island of Lesbos.
Meanwhile, European Union (EU) has agreed with Turkish officials in principle to a refugee action plan, which is expected to be finalized at a summit on Sunday.
http://www.khaama.com/four-afghans-children-among-six-drown-as-boat-sinks-off-turkish-coast-4361
----------
Maysmode — Breaking stereotypes with fashion
Nov 28, 2015
Dona Paranayil
Welsh-born Haifa Shamsan, is an aspiring fashion designer from Wales, UK who inspires Muslim women through her clothing line- Maysmode. The brand blends traditional Arab style with a Western outlook. Shamsan, originally from Yemen, plans to take her line to an international level and break the stereotype associated with Muslim women.
"I am a 26-year-old business marketing graduate. I am Welsh born and bred but my parents originate from Yemen. I started designing a couple of years ago when I had started designing outfits for my daughter. I aim to go global in designing innovative modest designs for fashion devoted women," she told Saudi Gazette. Currently, Shamsan takes orders via email and her Facebook page.
SG: How and why did you start your fashion designing journey? Has anyone in particular inspired you?
HS: From a very young age, creativity was my strong point, be it interior designing or clothes. I enjoyed fashion a little more. Both my grandmother and mother are seamstresses, so I guess it is genetic! I also enjoyed textiles classes at school, which pushed me in this direction. It is safe to say my mother definitely inspires me a lot and she is the reason I pursued my designing career. When I was younger, I always liked to dress differently, less mainstream, which I believe led me to start this journey by creating my designs.
SG: What is the concept of your designs? How are they different from other fashion designers?
HS: Everyone has a sense of originality in their designs and that is the beauty of it. Each creative designer will bring something different. To me, it is not about designing a dress or a maxi skirt or a sleeved blouse. There has to be something interesting about each piece. The whole point of designing is to create something that no one has ever seen before. Apart from the fact that I aim for my clothing to bring modesty, I sometimes love to bring in dome vintage styles and mix up a little culture to make things more interesting and revive some pieces. I sometimes love to incorporate traditional fabrics into my clothing to give it a special touch.
SG: Is your focus the Muslim community in Cardiff or all around the world?
HS: Aiming small for now, but I shall definitely aim big because I would love to go global which is my long term vision. I not only target Muslim women, my fashion pieces are modest but not too traditional meaning anyone can wear them.
SG: Can you talk about the fashion shows you have held so far including your first and the most recent one? Are you planning to hold any fashion shows soon or in the future?
HS: The first fashion show I had was in London Mayfair hotel where I got to showcase my first collection and actually got my first interview that was featured in a London based magazine. My next show will be in a month's time, it is planned by a modest fashion platform for any upcoming designers and bloggers. They are called Muslim Woman Expo and it will be held in 'The Atrium' London.
SG: Are you bringing your daughter into the fashion industry as well? What do you think about kids fashion? Do you design for them as well?
HS: "Mays" is my daughter's name which means 'to walk with pride' and that is what I would love my audience to feel when I get to dress them. My daughter is one of the reasons I actually started designing. So yes, she will very much be in the industry. Matching children outfits is what we are known for. I love to dress the little fashionistas to match their mothers sense of style. Of course that started from my daughter too as she is very trendy and to me, her style is more important than mine!
SG: Who would you like to see wearing your designs?
HS: I would love to see the well-known social media influencers such as Hudabeauty, Zoella and Ascia AKF to be wearing Maysmode. I would also love to dress celebrity mothers and their children in a matching Maysmode outfit.
SG: What do you think of women's fashion in Saudi Arabia?
HS: Nowadays fashion in Saudi Arabia is quite western, although some women still like to wear their traditional dress. I feel Arab women love to follow western fashion a lot now and follow what is out on the runway. I would love to plan a fashion show there, of course one step at a time.
Instagram @Maysmode
Facebook @Maysmode
Email maysmode@gmail.com
http://saudigazette.com.sa/life/breaking-stereotypes-with-fashion/
----------
People face jail for refusing polio vaccination in Peshawar
November 28th, 2015
PESHAWAR: The Peshawar district administration has decided to send behind bars the parents who have declined vaccination of their children against polio.
The decision was taken at a meeting chaired by Deputy Commissioner Riaz Khan Mehsud here on Friday.
A spokesman for the DC office said the decision to arrest the parents under 3 MPO was final because the refusing parents were not ready to cooperate with the polio teams. He said though the refusal cases across the district numbered 1,600, half of them had already been addressed.
Talking to Dawn after the meeting, EPI in-charge Dr Ikramullah, said the refusal cases were reported in different parts of the provincial metropolis, particularly on its outskirts. He said a large number of refusals occurred in Badhber, Bazidkhel and Matani, where the people did so in protest against lack of healthcare facilities.
"Many people are of the view that while routine medical facilities are not available in their areas the government is only focusing on anti-polio vaccination," he said and added efforts were made to facilitate the people by arranging free medical camps in their localities.
Similarly, he said the health department, the district administration and international donor agencies were pursuing the parents to shun their misconceptions about the polio vaccine.
Dr Ikram said data about the refusal cases was being collected and the guilty people would face jail.
http://www.dawn.com/news/1222853/people-face-jail-for-refusing-polio-vaccination-in-peshawar
----------
Child and Women Protection Department handles 191 cases in 2015
November 27, 2015
Dubai - Dubai Police's Child and Women Protection Department handled 191 cases between January and September 2015.
Brigadier Mohammad Al Murr, Director of Dubai Police's Human Rights Department — of which the Child and Women Protection Department is a part — said that of the 191 cases, 55 were handled by the social support unit, 36 by the children's protection unit and 21 by the women's protection unit.
Of the 55 cases handled by the social support unit in 2015, seven were cases of neglect, 10 were of domestic violence, two involved mistreatment, 13 were family disputes, five were related to custody, eight were related to monetary allowance, and 10 cases involved people who came in for counselling.
In 2014, the social support unit handled 96 cases, the children's protection unit 62 and the women's protection unit handled 33.
Major Shaheen Ishaq Al Mazmi, Director of the Department, said one of the cases they helped with involved a couple with four children who were in the process of getting a divorce.
"The couple had many problems and they tried to resolve them, but the woman could not take it anymore so she took her eldest daughter,10, and left the house and filed for a divorce," he said.
The couple's other three children, two girls aged nine and seven, and a boy aged four, stayed with the father.
"They were on bad terms and for four months, the wife wouldn't let the husband see his daughter, and the husband wouldn't let his wife see the other children," Al Mazmi said.
The department got the parents to sit together and helped them reach an agreement so both of them can see all their children until the divorce was finalised.
The meeting between the parents and their children was very touching, Al Mazmi said.
http://gulfnews.com/news/uae/society/child-and-women-protection-department-handles-191-cases-in-2015-1.1627471
----------
Yemeni girl's legs stuck in Kajang lift doors
November 28, 2015
KUALA LUMPUR: A 12-year-old Yemeni girl was seriously injured when both her legs were caught in the doors of a lift at an apartment in Taman Sepakat Indah 2, Sungai Chua, Kajang near here on Friday night.
The incident occurred about 8.15 pm on the 14th floor of the building as she was returning to her family apartment, said Mohd Sani Harul of Selangor Fire and Rescue Department.
Firemen opened the lift doors and brought the girl out.
She was sent to Kajang Hospital for treatment, said Mohd Sani.
http://www.freemalaysiatoday.com/category/nation/2015/11/28/yemeni-girls-legs-stuck-in-kajang-lift-doors/
----------
Female professor held in murder case
November 28th, 2015
MARDAN: The police on Friday claimed to have arrested a female professor and a driver in the killing case of director finance of Abdul Wali Khan University Mardan (AWKUM).
Mohammad Tariq was found murdered in a deserted place in the Sheikh Maltoon Town here on Wednesday.
District Police Officer Faisal Shehzad told Dawn the police had solved the blind murder and arrested two accused, including driver of the slain and a female professor.
He said Ishfaq Afzal, the victim's brother, had nominated driver of his slain brother and an assistant professor at the university's women degree college in the murder case.
He said the alleged killers were being interrogated to know about the motive and any other accomplices involved in the murder case.
Meanwhile, the law enforcement agencies in a joint search and strike operation arrested 15 suspects, including four Afghan nationals and three proclaimed offenders, and recovered illegal arms from their possession on Friday.
Ikhtiraz Khan, SHO city police station, said the joint operation was conducted in Hoti, Par Hoti and other localities. He said the law enforcers arrested at least 15 suspects, four Afghans among them who were staying without valid documents.
The SHO said four pistols were also recovered from the arrested men. They were shifted to an undisclosed location for interrogation.
Published in Dawn, November 28th, 2015
http://www.dawn.com/news/1222852/female-professor-held-in-murder-case
----------
AJK IIC mulls woman induction as 'Qazi'
November 28, 2015
MIRPUR (AJK)
The Islamic Ideological Council of Azad Jammu & Kashmir discussed at length the appointment of woman being 'Qazi' in the state judicial system and payment of loan from Zakat fund for higher education.
The AJK IIC also reviewed implementation of the previous recommendations made during its last meeting.
The 91st session of the eight-member AJK IIC was held here with its Chairman Justice Muhammad Azam Khan, the AJK Supreme Court Chief Justice, in the chair.
The council reviewed the AJK Auqaf Act - 1960, The official Secrest Act - 1923, the reference landing from Law, Justice, Parliamentary Affairs and Human rights regarding the appointment of a woman being 'Qazi' in the Islamic-oriented judicial system of Azad Jammu & Kashmir and payment of loan from Zakat fund for higher education.
The meeting discussed the issue in response to a reference moved by the AJK government seeking opinion, under the doctrine of the teachings of Islam, about the induction of a woman in capacity of Qazi in the AJK's judiciary, following a reference reached from the AJK Department of Law, Justice, Parliamentary Affairs and Human Rights.
The members including leading scholars representing different schools of thoughts including Secretary Council Syed Fida Hussain Gardezi, Additional Secretary Law and Justice Waheedul Hassan Chaudhry, Ch Munsif Dad Advocate, Mufti Syed Kafayat Hussain Naqvi, Maulana Muhammad Ishaq Madni, Allah Syed Ghulam Yasin Shah Gillani, Maulana Muhammad Imriaz Sadiqqi, Maulana Muhammad Khursheed Khan, Dr Muhammad Iqbal Majadadi and others reviewed in depth all the aforesaid issues.
Addressing the meeting, the AJK IIC chairman eulogized the active role of the council for providing due guidance to the state legislature for keeping the law entirely in line with the Islamic teachings.
He said that Secretariat of AJK IIC has been established following the untiring efforts to streamline the issues related to the well being including incentives for the members and employees of the Council.
The Thursday session of the council, through various unanimously passed resolutions, strongly condemned the increased human rights abuses and brutalities by the Indian occupying troops in Indian-held Jammu & Kashmir and the continued undeclared war by India in occupied state. The resolution underlined that India is depriving the people of Jammu & Kashmir of their due rights to self-determination since over last 68 years at the might of her military power.
http://nation.com.pk/national/28-Nov-2015/ajk-iic-mulls-woman-induction-as-qazi
----------
Gutsy woman on motorbike stops snatch thief in his tracks
November 27, 2015
GEORGE TOWN: A gutsy woman who saw a snatch thief take off on his motorbike, gave chase and slammed into him, causing him to lose balance and fall to the ground.
In the 2.30pm incident, the female motorcyclist saw the 39-year-old suspect attempt to snatch the bag of a 58-year-old woman as she stood by the roadside waiting for her friend.
The attempted grab sent the woman tumbling to the ground, injuring her right hand and right knee. It was learnt she also broke her tooth.
Seeing the suspect taking off, the female motorcyclist gave chase and rammed her vehicle into his, causing him to lose his balance, and fall to the ground. He was immediately apprehended by passers-by who handed him to the police.
Northeast district police chief Assistant Commissioner Mior Faridalatrash Wahid when told of how the woman stopped the suspect, praised her for her bravery and encouraged more members of the public to help curb crime.
"We appreciate her courage and urge the public to do the same in helping the police curb crime," he said when contacted yesterday.
Police investigations have revealed that the suspect had past drug offences and was involved in gang-related activities.
He is being investigated under Section 394 of the Penal Code for voluntarily causing hurt to another person.
http://www.freemalaysiatoday.com/category/nation/2015/11/27/gutsy-woman-on-motorbike-stops-snatch-thief-in-his-tracks/
----------
Ecosystem mooted for Gulf, India businesswomen
Nov 28, 2015
Hassan Cheruppa
A close interaction of businesswomen from the Gulf and India was a major highlight of the 4th GCC-India Industrial Forum. The parallel session on "Cooperation between the GCC and Indian businesswomen communities," moderated by Nashwa Abdulhadi Taher, president of Jeddah Commercial Forum, explored the prospect of building networks of businesswomen of the six Gulf Cooperation Council states and India in order to ensure that women lead across all levels of business and entrepreneurship.
The forum underscored the need to create an ecosystem so as to enable women to come out and play an active role in all walks of life, especially in commercial and business fields. It also stressed that the robust growth of any economy relies largely on active contribution and involvement of women, who make up nearly half of the world population.
The speakers at the session were Nadia Al-Humaid, president of Nadia Saleh Al-Humaid Trading Corp., Khlood Abdulqadir, member of the businesswomen committee of the Bahrain Chamber of Commerce, Dr. Nouf Al-Ghamadi, general manager of Chief Outsider Consulting Firm–Saudi, and Rina Vivekanandan, chairwoman of Kerala unit of Indian Women Network (IWN), the women's wing of Confederation of Indian Industry (CII).
Speaking to Saudi Gazette, Rina said the outcome of the forum was very good and its mission was successful. All the three prominent Arab women who spoke at the workshop are interested and highly enthusiastic to have a tie up with India. Nadia, who is engaged in manufacturing chocolate, wanted to come to India to see if India is a market for her products. Khlood suggested all businesswomen in GCC and India should create a common platform so as to exchange ideas and start businesses together.
"Here in the Kingdom, I saw women-friendly environment to do business. I saw women here enjoy much respect and they feel safe and secure. We have to create an ecosystem so that businesswomen can contribute actively in commercial and business activities."
Rina, who is CEO & managing director of Sinura Health Information Process Solutions (SHIPS) at Trivandrum Techno Park, said that problems of working women are almost similar in the Gulf countries and India. "For women who work in night shift, there shall be women senior officials to supervise them apart from women security personnel. There should be transport facility to pick them up and drop them off, and this necessitates a support system for women to work."
Rina noted that Gulf businesswomen have shown interest to come over to India and attend a follow up session there. "Despite the challenges and road blocks, I enjoyed meeting everyone, and from a business perspective, Saudi Arabia is keen to have investors from India and it is a fertile environment to conduct business and generate revenues."
She also unveiled plans to do the follow up work. "There are many educated women in the Gulf, and we will sit together with them to iron out problems and work out policies at government and industry levels to facilitate business partnership and joint ventures."
Drawing attention to dismal state of businesswomen's stake in the economy of GCC states while comparing it to the global average, Rina extended a helping hand from CII and IWN to leverage their roles. According to McKinsey research firm's findings, across the world women make up only 24 percent of senior business roles, 17 percent of board positions and 12 percent of CEOs. At the same time, the overall figures drop dramatically while coming to the GCC states. According to a study from the research firm Catalyst, Saudi Arabia comes at the bottom of all GCC states with 0.1 percent while Oman tops with only 1.8 percent in this regard.
CII, which was founded in 1895, and now with over 7,900 members, recognized the role of women in economic growth and this translated into action with the creation of IWN in 2013, Rina said. "IWN plays a pivotal role in exploring potential avenues to empower women to succeed and excel in the business world."
She noted that information and communications technology is fast transforming the world of work and 65% of all new businesses come from networking and referrals. Highlighting that global organizations are more receptive to women in business leadership roles, she called for building GCC businesswomen and IWN partnership in order to have women from both sides an opportunity to engage and share knowledge to leverage ideas and best practices.
Taking part in deliberations at the session, Hanan Ali Algaai, head of communication and media at the president's office of Arab Authority for Agricultural Investment & Development (AAAID), invited Indian businesswomen and investors to start investment projects in the Arab world. The Saudi woman official of AAAID underlined the need for setting up joint projects to serve the interests of both sides.
Speaking to Saudi Gazette, Algaai said that the AAAID is keen to spread its wings to large economies like India for the benefit of the authority's member countries.
Algaai attended the forum along with the AAAID President Mohamed Al Mazrooei, who moderated a session titled 'Food security and agriculture.' "At the session, we introduced the Authority especially to the Indian business leaders and investors. We also expressed our desire to do business with GCC and India in agriculture," Algaai said.
She said the authority promotes women to engage in agricultural products and extends support to productive families. "Most of our projects are to support household and small scale agricultural projects like raising cattle, sheep, and poultry. We give farmers support in terms of new technology, training, seeds, and purchase of products at reasonable rates but not extending any financial support," she said. There are 21 Arab member countries in AAAID whose main office is in Khartoum and regional office is in Dubai.
http://saudigazette.com.sa/business/ecosystem-mooted-for-gulf-india-businesswomen/
URL: https://newageislam.com/islam-women-feminism/switzerland-bans-burqua,-imposes-£6,500/d/105453
New Age Islam, Islamic Website, Online Islam, Islamic World News, Womens in Islam, Islamic Feminism, Arab Women, Womens In Arab, Islamphobia in America, Muslim Women in West, Islam Women and Feminism