New Age Islam News Bureau
05 March 2022
• Saudi Arabia to Hold 'Women in Science' Workshop
• Balochistan Gets Women Police Station after 28 Years
• Afghan Journalist Zahra Joya among Time's Women of the Year
• Balochistan's Culture Does Not Discourage Girls Education, Research Finds
• Embassies of Muslim Countries to Join NCSW in Promoting Women Empowerment
• More Action Needed To Draw Women to Science, Say Middle East Female Achievers
Compiled by New Age Islam News Bureau
URL: https://www.newageislam.com/islam-women-feminism/swedish-woman-child-soldier-syria/d/126513
--------
Swedish Woman Jailed For War Crimes over Son Becoming Child Soldier in Syria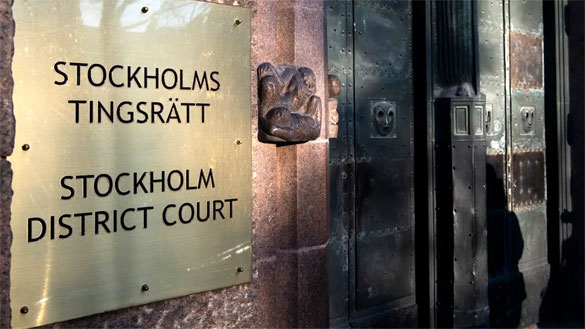 A file photo shows the entrance to the district court in Stockholm. (AFP)
-----
04 March, 2022
A Swedish court found a Swedish woman guilty of war crimes for failing to prevent her 12-year-old son from becoming a child soldier in Syria, where he was killed in the civil war.
The woman has denied the charges.
"The district court sentences Lina Ishaq to six years in prison for grave violation of international law and grave war crime," the Stockholm district court said on Friday.
"She, in her capacity as protection guarantor, omitted to prevent her son Joan, 12-15 years, from being recruited by unknown accomplices and used as child soldier on behalf of ISIS in the armed conflict in Syria," it said in the verdict.
The 49-year-old woman, a Swede who returned from Syria in 2020, is the first person known to have been charged in Sweden with aiding the recruitment of her own minor son as a child soldier.
The boy, born in 2001, died in 2017.
According to the United Nations, recruiting and using children under the age of 15 as soldiers is prohibited under international humanitarian law and recognized as a war crime by the International Criminal Court.
Under Swedish law, courts can try people for crimes against international law committed abroad.
Source: Al Arabiya
https://english.alarabiya.net/News/world/2022/03/04/Swedish-woman-jailed-for-war-crimes-over-son-becoming-child-soldier-in-Syria
--------
Saudi Arabia to Hold 'Women in Science' Workshop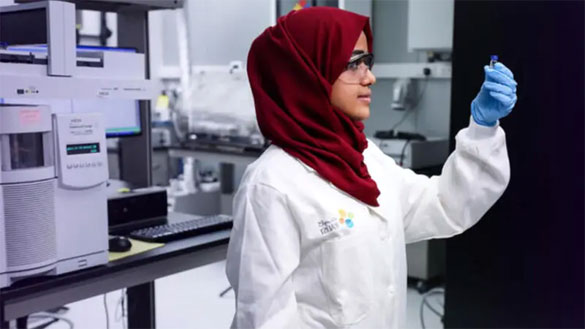 Image from Arab News
-------
March 4th, 2022
The King Abdullah University of Science and Technology will hold a workshop to promote the role of women in science next month.
With talks by industry experts about their personal journeys and struggles, the two-day event, titled "Women in Science, Engineering and Research," will take place on March 8 to 9.
There will also be presentations by experts in gender equality, as well as practical sessions on management and leadership techniques, how to tackle gender issues and how to succeed at interviews.
All of the sessions will be held concurrently at the university's campus and online via Zoom.
With a goal to become a recognized center for education and research in the fields of science and technology, KAUST is well aware of the role women have to play in the industry. Its aim is to inspire discoveries that not only build bridges between people and cultures but also aid the betterment of humanity.
Ahead of the 'WISER' workshop, the university is organizing a competition for people to submit their short films on the subject of women in science, engineering and research.
The videos must be no longer than 60 seconds in length and should cover either women's success stories, whether there are too few women in the sector, or why the industry needs more women.
The competition is open to all, regardless of age, ethnicity or nationality, and the videos will be judged on their originality, impact and creativity.
The winners will receive a gift card worth $250 and the best entries will be shown during the workshop and via social media.
The deadline for submissions is March 1 and more information is available at wiser.kaust.edu.sa.
Source: Al Bawaba
https://www.albawaba.com/editors-choice/saudi-arabia-hold-%E2%80%98women-science%E2%80%99-workshop-1468583
--------
Balochistan gets women police station after 28 years
March 5, 2022
QUETTA: The first police station for women in Balochistan opened its doors on Friday. The facility in the provincial capital was inaugurated by Inspector General Police (IGP) Balochistan Mohsin Hassan Butt.
The police station dedicated to serve women in Balochistan came into existence 28 years after the first such facility was set up in the country. Pakistan's first women police station was inaugurated by late Prime Minister Benazir Bhutto in Islamabad on January 25, 1994.
Speaking at the inaugural ceremony, IGP Balochistan said, "Keeping in mind the traditional environment of the province, I have been striving to establish a separate police station for women so that they can lodge their complaints with confidence in a peaceful environment."
"Women should be able to share their issues and their FIRs would be registered at this police station. All staff of the police station, including the officers, would be women who would help in solving the problems of women under one roof," said Mr Butt.
The first women police station will play an important role in the province, he added.
IGP Balochistan also appreciated the services of former DIG Quetta Abdul Razzaq Cheema who ensured completion of construction and other phases of setting up the first women police station in Balochistan during his deployment.
Source: Dawn
https://www.dawn.com/news/1678342/balochistan-gets-women-police-station-after-28-years
--------
Afghan journalist Zahra Joya among Time's women of the year
Annie Kelly
5 Mar 2022
The Afghan journalist Zahra Joya has been named as one of Time's women of the year 2022 for her reporting of women's lives in Afghanistan through her news agency, Rukhshana Media.
Now living as a refugee in the UK, Joya continues to run Rukhshana Media from exile, publishing the reporting of her team of female journalists across Afghanistan on life for women under Taliban rule.
Rukhshana Media partnered with the Guardian on the Women report Afghanistan series during the Taliban takeover in August 2021, which told the stories of women fleeing their homes as the Taliban advanced and the plight of divorced and single mothers, attacks on women police officers and the crushing of protests. Joya has continued to report for the Guardian since she was evacuated from Kabul to London.
Joya launched Rukhshana Media in December 2020 with her own money as Afghanistan's first feminist news agency, with the aim of becoming the first national news source where an Afghan woman in any region could see her own life reflected in the stories published every day.
Both she and her journalists faced attacks and threats to their lives due to their reporting on women's rights and her team in Afghanistan continues to work in secret.
"Although it has never been easy to be a woman and a journalist in Afghanistan, now our reporting has been almost eradicated," says Joya.
"The Taliban have forced female journalists to wear the hijab, banning them from appearing on screen or in public, or from broadcasting their voices on radio in some provinces, but this makes it even more important that our stories continue to be told."
Joya was interviewed by Angelina Jolie for Time's women of the year issue, which also featured the human rights lawyer Amal Clooney, the Olympian Allyson Felix and the poet Amanda Gorman.
Source: The Guardian
https://www.theguardian.com/global-development/2022/mar/05/afghan-journalist-zahra-joya-among-times-women-of-the-year
--------
Balochistan's Culture Does Not Discourage Girls Education, Research Finds
by Salal Amin Baloch
March 3, 2022
A frightening silence is maintained in the country on Balochistan. It is described as an information black hole. However, a recently published research paper, titled Girls' education in Balochistan, Pakistan: exploring a postcolonial Islamic governmentality' offers some hope to the province.
Authored by Javed Anwar, Peter Kelly and Emily Gray, and published in British Journal of Sociology of Education, the paper is an effort to understand gender disparities in rural schools of Balochistan.
Taking advantage of substantive political theories like Michel Foucault's theory of governmentality, Mitchell Dean's illiberal governmentalities, and Salehin's pious governmentality in Bangladesh, it develops a productive theoretical approach of 'post-colonial Islamic governmentality' to broaden the discourse on education governance in Pakistan and rest of the world. The authors examine the ways in which the transnational organisations, colonial legacies and politics and culture of particular version of religious practices in different ways attempt to govern and shape girls' access and participation in rural and remote areas. They suggest that at the intersection of Islamic principles and practices and modern education, the sustainable development goals can be achieved in the rural locations.
This qualitative study used data collected from 19 individuals and five focus groups through semi-structured interviews. The interviewees selected for data collection were involved in education policy and governance of Balochistan at different hierarchical levels.
Contending that the political rationalities mediate between Islamic and secular forms of governance, the paper looks at the global influences of education policy with regard to United Nations Sustainable Development Goals (SDGs), conceptions of neoliberal globalisations along with the bearings of colonial legacies and religion on framing national, provincial and district policy narratives.
Balochistan has been chosen as a case study to investigate the problem of girls' education as it presents a bird's eye view of governing challenges due to its rural and urban and gender disparities in schools.
The study recommends two key applications for the conceptual framework of post-colonial Islamic governmentality: first, this framework might be useful in realising the promise of long-term progress in girls' education; second, it declares that this innovative framework is an attempt to contribute to academic debates in Foucault's theoretical legacies.
Post-colonialism, in the paper, is understood in two different ways: first, the period following the departure of the British colonial rulers; second, as a theoretical lens it unfolds the ways through which geography, politics, social, and cultural lives are understood both within previously colonised as well as colonising nations.
Further, the paper stresses on two key education policy influences and policy shifts during the Cold War and the War on Terror. During the military regime of General Ziaul Haq, the objective of Islamisation was achieved through the development and implementation of the Education Policy of 1979. Pakistan committed to the global agendas of Education For All (EFA) and Millennium Development Goals (MDGs) in the following years, creating hope for improved girls' education and closing the gender gap.
Despite these assurances, there has been inadequate improvement in the field of female education due to Zia's rigorous Islamisation policies. Conservative lobbies gained disproportionate representation in the policy arena that led to gender segregation and women/girls' marginalisation across the country.
General Pervez Musharraf pressed for moderate Islam and attempted to accord more space to women/girls in the public sphere through multiple initiatives. This shift in the education policy attracted the international donors and transnational organisations to assist the girls' education policy and practice. There was also an emphasis on the decentralisation of governance through the initiatives of Devolution of Powers Ordinance (2001), and later 18th constitutional amendment (2010) which transferred the education policy governance responsibilities to the provinces and districts. National Education Policy 2009, aided by tremendous technical and financial support of international donors could not achieve education-related UN millennium development goals (MGD) by a great margin. Pakistan recommitted to the UN sustainable development goals (SDG) objectives in 2015 and also made it a part of its national development strategy. Nonetheless, all gender inequalities across the urban-rural split and socioeconomic class remain significant, and are expected to worsen as a result of Covid 19.
The paper argues that the 'sparse rurality' of Balochistan poses multiple challenges. There are around 3,974 schools for girls and 9,700 for boys. Given the scattered population of the province more funds are required to educate all the children, including girls. The paper suggests for alternative solutions of mobile schools or flexible schools in the rural areas.
Moreover, in the absence of certified teachers, pesh imams of local mosques frequently teach children. The local communities trust them due to their role in spiritual, social and community activities. In such circumstances, the paper advocates for imams to be mainstreamed, by training them in contemporary education.
In this case, two advantages of application of conceptual framework of post-colonial Islamic governmentality are suggested: first, the participation of pesh imam improves girls' opportunities in rural areas to receive modern education as well as religious instruction; and second, it brings local religious actors, development organisations and public institutions closer, allowing for a productive relationship between religious and secular-modern forces.
The paper also discusses the challenges of lack of availability and low standard of public schools, which results in a growing tendency of girls' enrollment in informal madrassahs. Around 3,200 of the province's numerous madrassahs are officially registered with the government. These madrassahs and/or mosques with pesh imams — as teachers in locations where girls' schools and female teachers are not available — can become schools for girls up to levels primary level and beyond.
It highlights that social and gender relations in Balochistan are guided and understood by the discourse and practice of Balochi riwaj (traditions) in the province, whereby women/girls are thought to be honour and dignity of the family, clan and tribe. Islamic norms and practices interplaying with riwaj and shape girls' schooling. The paper also shows that the intersection of local cultures and Islamic practices do not stop girls from going to school.
Balochistan's culture in fact facilitates and supports girls' education. It accommodates female teachers and their families in school premises to ensure girls get education. The decisions are taken by village malik (elder), and governance of girls' schools strengthens his authority in the area.
This paper also provokes many questions: for example, what will be the mechanism of equating the qualification and skills of pesh imam to enable him to teach Science, IT and other courses in addition to spiritual? Will pesh imams stay in the same village if they are provided employment as teacher? How will malik find space in the education policy making? How will girls in primary education taught by imams pursue higher education? Girls may have to relocate to attend colleges and universities. In this sense, postcolonial Islamic governmentality as a theoretical approach can be applied at different junctures and locations to analyse girls' education in the country.
The paper provides significant insights. It provides an academic understanding about the problem of girls' schooling. It merits a thorough reading by the policymakers, scholars, academics, researchers, policy analysts and stakeholders to understand policy problems with regard to girls' education in the country.
Source: The Friday Times
https://www.thefridaytimes.com/balochistans-culture-does-not-discourage-girls-education-research-finds/
--------
Embassies of Muslim countries to join NCSW in promoting women empowerment
March 05, 2022
Islamabad : The Embassies of Indonesia, Malaysia, Jordan, Saudi Arabia, Tunisia, and Turkey collaborated with the National Commission on the Status of Women (NCSW) to organise the first hybrid International Workshop session on 'Muslim Women Pioneers: Leading Economic Growth.'
The event was a kick start of a series of discussions to share best practices of women's breakthrough leadership in socio-economic affairs, politics, and policymaking in the Islamic world, says a press release.
The opening session was attended by participating embassies, the diplomatic community, Chairperson of the NCSW, Nilofar Bakhtiar, Chairperson of the National Commission for Child Rights, Afshan Tehseen, Director-General United Nations of the Ministry of Foreign Affairs, Usman Iqbal Jadoon, and featuring the Founder and Managing Director of Kashf Foundation, Roshanay Zafar and four esteemed panelists who joined the event virtually from Jordan, Huda Ayesh, Dr. Lana H. Bin Said of Saudi Arabia, Dr. Suryani S.F. Motik of Indonesia and 2015 Nobel Peace Laureate, Ouided Bouchamaoui of Tunisia.
Ambassador Adam Tugio of Indonesia in his opening remarks underscored the importance of Education and skill development of women to enhance their productivity and betterment of the future generation. Ambassador Borhene El-Kamel of Tunisia further added the importance of the progressive role of women and their contribution to nation-building and shared to the audience the experience of women empowerment in Tunisia. The chairperson of NCSW shed the light of the idea behind the launching of international workshops and suggested making a pool of new talented women entrepreneurs and connecting them with successful global Muslim women entrepreneurs as the next step endeavor to facilitate concrete implementation.
The workshop focused on promoting the economic conditions of Muslim Women. The esteemed panelists underscored that Muslim Women have made an outstanding contribution to society and on some occasions served as outstanding leaders. They shared their struggle to start a business and gain success at a later stage, including Noble Peace Laureate, Ouided Bouchamaoui from Tunisia.
Chairperson of the National Commission for Child Rights, Afshan Tehseen reminded that "If you support a woman, you support an entire nation." Ambassador Ibrahim Al Madani of Jordan concluded the event by emphasizing that, "The inclusion of Women's economic empowerment should be incorporated as a priority in national development plans."
Source: The News Pakistan
https://www.thenews.com.pk/print/938725-embassies-of-muslim-countries-to-join-ncsw-in-promoting-women-empowerment
--------
More action needed to draw women to science, say Middle East female achievers
March 05, 2022
DUBAI: Despite recent advancements in the Middle East, women remain massively under-represented in the fields of science and engineering across the region and more must be done to change this, say experts.
According to the 2021 UNESCO Science Report, only 33 percent of researchers worldwide are women. While gender parity has almost been achieved in the Middle East and North Africa region at the doctorate level and at the start of a scientific career, there are still considerable disparities across disciplines and between countries.
The glass ceiling remains a reality for females involved in research, where the proportion of women decreases as they advance in their careers, in all likelihood because of obstacles and barriers. Although the Gulf region is blazing a trail for women, there is still a long way to go given that they constitute only 40 percent of the STEM workforce.
Nura Adam Mohammed, from Qatar University, believes that changing this imbalance requires collaboration among many groups, organizations and parts of society, including families, schools, universities and governments.
"Empowering women in science should start at the very early stages, as early as primary schools, and by hosting public engagements and welcoming young girls to research open days and later to volunteer in the research field," she said.
Her work involves the development of nonconventional therapeutic tools to prevent diabetes and cardiovascular diseases, which could potentially help to solve one of the region's biggest health challenges.
Mohammed was one of 14 Arab women honored last month at L'Oréal-UNESCO for Women in Science Middle East, a special event hosted by Expo 2020 Dubai in recognition of the work of exceptional women in the fields of life sciences, physical sciences, mathematics and computer science.
The project is part of a global initiative that since its inception in 1998 has recognized more than 3,900 researchers and 122 laureates from more than 110 countries and regions.
Another of those recognized this year was Ghada Dushaq from New York University Abu Dhabi, one of five women from the Gulf Cooperation Council area honored at the event.
She said she hopes to inspire a new generation of Arab women to take up science, a sector in which they remain under-represented, and is specifically interested in the fields of photonics and optics where the proportion is below average.
1. Ghada Dushaq, a researcher at New York University Abu Dhabi
2. Halima Al-Naqbi, an academic at Khalifa University, Abu Dhabi
3. Hend Al-Qaderi, a lecturer at Harvard School of Dental Medicine
4. Nura Adam Mohammed, a researcher at Qatar University
5. Arij Yehya, an instructor at Qatar University
"This might hinder the full understanding of the complexity of our cultures and individuals," Yehya said. "Paving the way for younger generations will give us a good chance to build on previous findings and learn more about our cultural and individual identities."
Halima Alnaqbi, an academic at Khalifa University, comes from a small town in the UAE where tribal marriage is considered a tradition. She told how she remembers observing, as a curious child, that some people in her community suffered from rare diseases that mostly resulted from genetics.
She later learned that more rare diseases appear in communities with certain cultural practices, such as consanguineous marriage, or marriage between close blood relatives, that increase the prevalence of recessive disorders.
"As I grew older and became a biomedical engineer," Alnaqbi said. "I channeled my intrinsic motivation to solve challenges that impacted my society and the world.
"I particularly devoted my knowledge and skills to studying the genes that govern the immune system (immunogenetics) in the Arabian population, which play an important role in the development of autoimmune diseases."
Her research into ways to enhance the organ transplantation system to better include Arab ethnic groups is crucial for the region. Due to a dearth of genome data about the Arabian population, healthcare systems in under-represented nations face unique challenges that affect the region's capacity to integrate molecular genetic research findings into clinical applications.
"Unrelated organ donors are identified from millions of volunteers via regional networks," Alnaqbi said. "However, there is no Arabian contribution to these international registries. My research aims to address this gap and establish a preliminary framework for organ and bone-marrow transplantation donor selection."
With women now accounting for half of all engineers in the UAE, she added that the field of science is changing in the country, the barriers that once stood in the way of women have been removed and the image of the sector as a male-dominated domain is outdated.
"The stereotype that working in science, and especially engineering, is only for men is changing," Alnaqbi said. "In science, research is done in teams, and gender and specialization diversity in any team is particularly important since it encourages innovation.
"Women have previously demonstrated their ability in science topics, as more than half of engineering graduates in the UAE are female."
Hend Alqaderi, who is from Kuwait and a lecturer at Harvard School of Dental Medicine, also believes that it is crucial to engage more women in science and said her personal experiences during the pandemic only helped to reinforce her opinion.
"Having more women in scientific research can bring diversity and make research more effective and accurate, impacting both men and women," she said.
Her research is on the use of oral fluids as a non-invasive tool for the early diagnosis and disease management of COVID-19 and other inflammatory diseases. The work has very personal significance for her, as she was inspired to pursue it after the sudden death of her father as a result of the coronavirus.
"After the shock of losing my father, I became curious to understand how the immune system works and why some people have no symptoms while others need hospital care and some pass away," Alqaderi said.
"I have experience studying salivary biomarkers and I wanted to expand my knowledge, so I decided to study the immune response in the oral cavity that can lead to a new understanding of COVID-19 and might lead to developing new preventative strategies. I hope my findings can help other families like mine and prevent more deaths."
Mohammed's work on therapeutic tools to prevent diabetes and cardiovascular diseases could prove vital given that the number of people globally with diabetes is approaching 425 million and expected to top 628 million by 2045.
She is developing nano-pharmaceuticals capable not only of delivering drugs to treat diabetes but also minimizing cardiovascular complications associated with the disease, which is one of the most prevalent in the region.
"This research is gaining both national and international attention, especially as the world moves toward targeted drug delivery, personalized medicine and stem cell technologies," Mohammed said.
"I hope to develop nano-carriers with protective properties that could enhance the loaded drug's efficacy, and to develop better in vitro cellular and tissue models that better represent diabetes and the associated cardiovascular complications through the use of stem cell technologies."
Source: Arab News
https://www.arabnews.com/node/2036361/middle-east
--------
URL: https://www.newageislam.com/islam-women-feminism/swedish-woman-child-soldier-syria/d/126513
New Age Islam, Islam Online, Islamic Website, African Muslim News, Arab World News, South Asia News, Indian Muslim News, World Muslim News, Women in Islam, Islamic Feminism, Arab Women, Women In Arab, Islamophobia in America, Muslim Women in West, Islam Women and Feminism