New Age Islam News Bureau
13 Oct 2014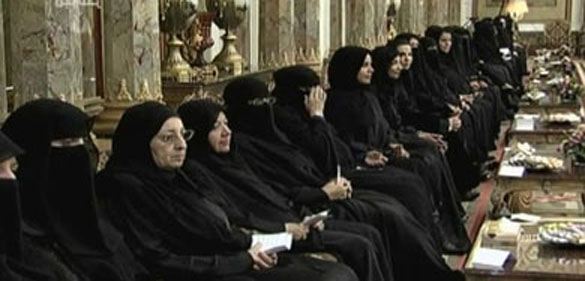 The members have made a number of decisions supporting women's entrepreneurship in Saudi Arabia. (File photo)
--------
• Meerut Love Jihad Row: Girl Denies Rape, Forced Conversion to Islam
• Female Imams Have Important Role in China
• 20-Year-Old Woman Ran Off To Join Malaysian Jihadists in Syria
• Ukrainian Women Join ISIS in Mosul as Assassins and Medics
• Saudi Women in Shoura 'An Important Landmark'
• Saudi Women Launch Fresh Push For Right to Drive
• Malala: The Award Is For All Children Who Are Voiceless
• This 12-Year-Old Norwegian Girl Is Getting Married On Saturday
• Two Upper West Side Artists Think NYC Women Should Give The Hijab A Try
• New Research Says 10 Million Women in UK Are 'Depressed' Over Body Image
Compiled by New Age Islam News Bureau
URL: https://newageislam.com/islam-women-feminism/swat-women-foresee-change-after/d/99495
---------
Swat Women Foresee Change after Malala's Nobel Win
13 Oct 2014
MINGORA: Saima Bibi was just 13 when she was married off to settle a debt of honour, a common custom in Swat Valley where Nobel Peace Prize winner Malala Yousufzai grew up.
A top student who got the highest marks in class, Saima was forced to drop out of school and give up her dreams of an education.
Now aged 22, she says Malala has given her the "courage" to speak up to her husband and in-laws to try to go back to school, and is determined her four children will finish their studies.
"When Malala's picture was being printed in the newspapers, everybody in my family used to say it's a conspiracy against Islam. But I liked her from the beginning," she told AFP on a visit to a doctor in Mingora.
Malala's award has been widely hailed by the country's political leaders and the press.
It has also cast a spotlight on the abysmal rates of educational enrolment and literacy for children, especially girls.
While the 17-year-old campaigner was forced to leave Pakistan after being shot in the head by Taliban gunmen two years ago, millions of other children miss out on schooling for various reasons, including marriage, getting involved in work to support their families' income, etc.
The Taliban razed hundreds of schools when they ruled Swat from 2007 to 2009 and while the militants have mostly been pushed back into hideouts in tribal areas, problems remain.
Some 25 million children aged from five to 16 in Pakistan are out of school, 14 million of them girls, according to Alif Ailaan, an education campaign group.
Ghost schools
Sumera Khan said she too was forced to drop out after eighth grade – not because of marriage but for a lack of schools where she grew up.
"I was fond of studying but...there were no middle and secondary level schools for girls in my village," the 21-year-old told AFP in Mingora, as she prepared dinner at home while her two children played on the floor.
"My family did not allow me to continue education with boys in higher classes," she added.
Sumera said she was inspired by Malala.
"She gave me courage to resume my studies and now I am planning to study privately...I will raise my voice for myself like Malala."
Official figures show 69 per cent of boys and 44pc of girls are enrolled in primary schools in Swat, figures that drop to just 5pc and 2pc by the time they pass middle school aged 14 and enter secondary education – broadly mirroring national trends.
Iffat Nasir, a senior education official, said the majority of girls dropped out around the age of 13 to get married, while it is difficult for students in rural areas to access education.
"There is poverty in the region, so the girls start embroidery and tailoring work after primary school," she said.
"Families also use them for domestic labour."
Such issues are by no means restricted to Swat or the country's militancy-wracked north-western areas, with chronic underinvestment leading to around 7,000 "ghost schools" where the buildings stand but no classes are taught.
Classes may also not occur because of a lack of teachers.
`My father backed me'
Girls who are able to overcome the odds are often reliant on a strong male figure, like Malala's father Ziauddin Yousufzai, to battle hostility from within their family.
Fazeelat Akbar, a 32-year-old doctor, said she hoped Malala's success would help more men change their minds.
"I forced my family to let me continue my education after high school. I was determined to continue my studies and luckily my father backed me," she said.
Observers have hoped the goodwill surrounding Malala's Nobel win can be leveraged to improve the fortunes of all schoolchildren, but many are pessimistic.
"I don't think (the government) will have a wake-up call and go `Oh gosh Malala won the Nobel now we have to make this a priority,'" said writer Bina Shah.
"They will say that `It is nice, we are proud of her' and they are going to go back to doing the same thing."
Back at the clinic, AFP asked Saima Bibi's husband Javed Alam what he made of her plans to finish her schooling.
"I am thinking about it, and I will let her know," he said.
http://www.dawn.com/news/1137644/swat-women-foresee-change-after-malalas-nobel-win
----------
Meerut Love Jihad Row: Girl Denies Rape, Forced Conversion to Islam
13 Oct 2014
The Meerut gang rape and forced conversion case, which had put the state of Uttar Pradesh on the verge of communal riots, has weakened in light of a new revelation by the victim where she has denied both the gang rape and conversion charges, and instead said that she had eloped with her Muslim boyfriend on her own.
According to a report in the Hindu the girl told the police that she had made the charges because she was being threatened by her family. She also gave a written statement denying both the gang rape and the conversion.
She wrote in the statement, "I was staying with my parents, but I ran away from home because I feel a threat to my life from my parents and relatives...I went with the boy belonging to a different community out of my own will."
The man named Kaleem and eight others were arrested when the first complaint of gangrape and conversion was filed in August.
Superintendent of Police (Meerut Rural) MM Beg told the Hindu that the after running away from her house, the girl "approached a women's police station on Sunday morning" and had been present before a Magistrate. She has been to the Meerut Nari Niketan as she had requested, adds the report.
When the initial reports about the gang rape had emerged, discrepancies were noticed in the girl's tale.
In her complaint, the girl had claimed that she was kept captive after she was abducted on July 23 and taken to a madrasa in Hapur where she was gang raped before being shifted to Muzaffarnagar. She also claimed that in Muzaffarnagar many other girls were held captive but she couldn't meet them. The police had not discovered any such captive girls when they had raided the madrasa.
The girl had also alleged that her attackers had forcibly operated upon her on 23 July. It was later discovered that the stitches on her abdomen were from a surgery for an ectopic pregnancy.
An Indian Express report had pointed out that the time that the victim's statement had a lot of discrepancies.
For instance she had given a timeline that appears inexplicable. She was quoted as saying then, "When Ramzan started, again they started trapping me. I was taken to a madrasa in Hapur on 23 July where I was gang raped and got pregnant. They did an ultrasound and got me operated. I was taken to another madrasa in Muzaffarnagar on 30 July where an old woman would beat me up and feed me cow meat."
While the girl has dropped her charges now, her initial revelations had caused a political storm in the region.
The BJP and Sangh Parivar has taken up the issue of her conversion and alleged that the incident revealed that the issue of 'love jihad' a ploy by Muslim men to trick Hindu girls into falling for them and then forcing them to convert was a real threat in the region. BJP MP from Gorakhpur Yogi Adityanath had raked up the issue during the UP by polls campaign and said in a provocative speech that for each Hindu girl converted to Islam, Hindus should convert 100 Muslim women to Hinduism.
He wasn't the only who tried to play up the issue of love jihad.
BJP's UP state leaders Laxmikant Bajpai and Vinay Katiyar had discussed the issue of 'love jihad' in the party's meeting ahead of the by polls and insisted that it should figure in the party's political resolution. Although it was not specifically mentioned in the final version of the statement, the party compromised by expressing 'concern' about reports of forced conversions.
Fringe groups like Dharma Jagran Manch in Meerut had also raked up the love jihad issue and even launched a campaign to tie Rakhis to Hindu girls, requesting them not to fell prey to Muslim youths who lure them to convert their religion.
Where the BJP was concerned, not everyone was convinced that this was an issue of importance. One leader had told IANS, "Bajpai has a penchant for melodramatic words in public discourse which should be avoided at all costs because they harm the party's prospects...This 'Love Jihad' is a non-issue. It will have no takers outside the fringe." Home Minister Rajnath Singh had then tried to avoid the issue altogether by saying that he had never heard of the term Love jihad.
For the BJP, though the issue didn't really prove to be of any political help in the recently concluded by-elections, as the party lost 7 out the 11 seats they had in the state, including one belonging to its ally, the Apna Dal. The result was in fact, seen as a rejection of 'polarising politics' by the BJP, although there was no real evidence to say how or if the issue had impacted the final poll results.
Hindutva groups for their part rejected the idea of abandoning the issue. According to this report in The Hindu,
In the aftermath of the BJP losing seven of its Assembly seats to the Samajwadi Party, the proponents of anti-'love jihad' campaigns in Western UP told The Hindu that their campaigns would go on with the "same or even more vigour and focus".
According to the report:
Ajay Tyagi, an industrialist who formed Hindu Bahen Beti Bachao Sangharsh Samiti, refused to buy the argument blaming Mahant Adityanath's campaign time focus on "love jihad" for the electoral drubbing. As part of his Samiti's work, Mr. Tyagi has started helpline numbers on which he attends calls, as he claimed, by "distressed" Hindu parents about their daughters being lured in 'love' by Muslim men.
He told this correspondent that the BJP would have won more seats, had Adityanath visited mote constituencies and raised the polarizing issue. "Look at the fact. Mahant Adityanath ji visited two constituencies-Noida and Lucknow and talked about 'love jihad' and the BJP won both of them," he said.
There has been no reaction from the BJP or any of the other Hindutva groups, now that the poster child of their favourite issue has revealed herself to be a fraud.
Will this be enough to convince them to let go of the issue once and for all? Unlikely.
http://www.firstpost.com/india/meerut-gangrape-love-jihad-girl-says-eloped-muslim-man-1754339.html
----------
Female imams have important role in China
By Xinhua in Yinchuan
13 Oct 2014
At Yinta Mosque in China's Muslim heartland, Tian Xinghong teaches other Muslim women scriptures from the Quran every morning from 6:30 to 9:30.
The 28-year-old, wearing a black robe and pink scarf, has 60 students at the mosque in Wuzhong in Northwest China's Ningxia Hui autonomous region, where many of the country's Muslim Hui ethnic minority live.
Although Muslim women pray at home, Tian also leads them in prayer and chanting on special occasions such as festivals, either at a women's mosque or another mosque's restricted areas for women.
She is a female imam, or ahong, pronounced ah-hung, from the Persian word akhund for "the learned." In China, female imams, rare in Arab countries, are an innovation.
Tian was born into a religious family. Her grandmother was one of the first female imams in Ningxia.
She was sent to a local mosque at the age of 12 to study Islamic scripture and furthered her studies at a Chinese-Arabic school for girls in neighboring Gansu province in 2001, where she studied Islam and Arabic.
In 2003, Tian passed a qualification test organized by the regional Islamic association to become an ahong. More than 300 Muslims applied for the test and, of the five female applicants, Tian was the only one to pass.
"Many female Muslims did not have much formal education, especially the elderly. Although they are Muslim, they know nothing about the Quran. I want to teach them the holy scriptures and hope they can be inspired, think independently and have their own careers," she said.
Tian's husband is an imam at Wunan Mosque, the biggest mosque in the city. In addition to her religious duties, Tian takes care of their two children.
In the late Ming Dynasty (around the 17th century), followers of the faith set up schools for Muslim women and girls around the country. These later became mosques for women operated by female imams in the late Qing Dynasty (around the 19th century).
Female imams then spread throughout Chinese Muslim societies.
During the "cultural revolution" (1966-76), religion was banned. It was revived in the 1980s, leading to growing numbers of Buddhists, Taoists, Muslims and Christians, among other faiths. The government's push for gender equality helped broaden Muslim women's roles.
However, China's female imams do not have equal status to male prayer leaders. They do not lead salat, the five daily prayers considered among the most important Muslim obligations. The prayers are instead piped via loudspeakers into women's mosques from the nearby mosques for men.
Still, the female imams guide others in worship and are the primary spiritual leaders for the women in their communities. In the women's mosque, women can study the Quran and Islamic doctrine, as well as the Arabic language.
In the Litong district of Wuzhong, where Tian lives, there were 12 female ahongs out of 600 registered ahongs as of the end of 2013, said Tian Xuewu, an official with the district religious affairs administration.
"Whether male or female, whoever can teach us the Islamic scriptures and religious knowledge is our respected ahong," said Du Shaocheng, who prays at Yinta Mosque.
http://www.chinadailyasia.com/nation/2014-10/13/content_15176928.html
----------
20-year-old woman ran off to join Malaysian jihadists in Syria
13 Oct 2014
KUALA LUMPUR — Police have confirmed that former Kolej Universiti Islam Antarabangsa Selangor (KUIS) student, Syamimi Faiqah left for Syria on October 4 and is believed will join militants of the Islamic State (IS) there.
Federal Police Special Branch principal assistant director (Counter-Terrorism Division) SAC Datuk Ayub Khan Mydin Pitchay said Syamimi, 20, left from the Kuala Lumpur International Airport (KLIA) at 11.55pm on that day.
"Based on the latest information available, Syamimi is now believed to be at the Turkey-Syria border and is waiting to slip into Syria. When she arrived at Istanbul airport, there were already two individuals waiting for her to bring her to Syria overland through the Hatay province (in Turkey).
"Once she reaches the border area, a syndicate will smuggle her into Syria," he told Bernama today.
A local daily today reported that Syamimi had run off to Syria to marry an IS militant known as Akel Zainal, whom she got to know via Facebook.
Akel Zainal is understood to be a former member of a local rock group which was famous in the 1990s and is now in Syria to fight for IS.
Ayub said Akel is believed to be trying to entice women in particular Malay girls from local higher learning institution to join IS militants.
"What is worrying is that just through Facebook they were able to convince her to leave her family and could even make arrangements to fetch her from her home to be brought to KLIA," he said.
He added that since police started monitoring the involvement of Malaysians in Syria, so far five have been reported killed and six others injured in clashes between militants and the security forces there.
It has been reported that so far 22 Malaysians, including three women, have been detected to be with militant groups in Syria.
Twenty-three others have been detained in the country for alleged links with these groups.
http://www.themalaymailonline.com/malaysia/article/cops-confirm-20-year-old-woman-ran-off-to-join-malaysian-jihadists-in-syria#sthash.3jsi7E3h.dpuf
----------
Ukrainian women join ISIS in Mosul as assassins and medics
13 Oct 2014
Iraqi local authority sources reported that Ukrainian women joined the Islamic State of Iraq and the Levant (ISIL) terrorist group in Mosul city.
The duties of these women concentrated on medical treatment and assassination operations, Iraq TradeLink reported Saturday.
The sources confirmed the presence of one Ukrainian woman in the city's hospital, but cannot speak Arabic fluently.
No information was given how these women entered Mosul city.
Security and intelligence sources reported the presence of hundreds of foreign and European members within ISIL ranks in both Iraq and Syria.
The ISIL Takfiri terrorists currently control parts of Syria and Iraq. They have threatened all communities, including Shiites, Sunnis, Kurds, Christians, Ezadi Kurds and others, as they continue their atrocities in Iraq.
Senior Iraqi officials have blamed Saudi Arabia, Qatar, and some Persian Gulf Arab states for the growing terrorism in their country.
The ISIL has links with Saudi intelligence and is believed to be indirectly supported by the Israeli regime.
http://www.globalterrorwatch.ch/?p=75776
http://www.iraqinews.com/features/urgent-ukrainian-women-join-isis-mosul/
----------
Saudi women in Shoura 'an important landmark'
13 Oct 2014
RIYADH — One of the most important landmarks of the era of Custodian of Two Holy Mosques King Abdullah was allowing women to participate for the first time in the Shoura Council, said a researcher from King Faisal University in Abha, Al-Riyadh daily reported.
Uhood Al-Wadei, who works at the university's Prince Sultan Tourism College, said: "At present, with the international challenges and the latest developments due to the fast tempo of life today, women in the Kingdom have been promised during this era with ample support and big expansion opportunities in the business field and allowed to contribute to all economic, social and cultural fields."
Al-Wadei, who developed a study on the difficulties facing female entrepreneurs in small projects in Abha and Khamis Mushayt, said 80 percent of Saudi women are in the education field.
She said seven fields have been opened for women in the labor market with the aim of reducing unemployment among women.
Al-Wadei said there are many jobs that Saudi women can take up such as administrative positions in courts, notary public offices and municipalities.
"Also, factories exclusively run by women can be set up, such as factories for food, handicrafts, fabrics, carpets, clothes, designs, fashion, gold ornaments, interior design, and computer centers.
"Women can also work as researchers, lawyers and legal investigators for women and juveniles.
"Malls, bookstores, research centers, universities and schools can be established exclusively for women."
Women's participation in the Shoura Council has made a difference to the decision-making body, she said.
"Many issues were solved and others were closed quickly when women were allowed to participate in the decision-making process."
Al-Wadei said according to a study by the International Monetary Fund (IMF), the number of Saudi businesswomen holding commercial registrations has exceeded 30,000.
The amount of cash held by Saudi women in banks has reached SR65 billion. Quoting Huda Al-Jeraisi, head of the Saudi businesswomen's section at the Council of Saudi Chambers, she said the number of investment and economic projects owned by Saudi businesswomen has exceeded 100,000 and are worth in excess of $80 billion.
According to the council's figures, the number of commercial registers belonging to Saudi businesswomen as of 2012 has reached 72,494, while the number of female subscribers in the chambers of commerce and industry has reached 38,750.
Al-Wadei said recently the topic of improving Saudi women's participation in economic development has occupied a prominent place in the list of strategic priorities and national development plans.
A number of decisions were issued supporting women's entrepreneurship in Saudi Arabia.
http://www.saudigazette.com.sa/index.cfm?method=home.regcon&contentid=20141013220958
----------
Saudi women launch fresh push for right to drive
13 Oct 2014
RIYADH — A group of Saudi women launched a new campaign to be allowed to drive their cars, Al-Hayat daily reported.
The new campaign, called "I Drive by Myself", reiterates the women's calls for freedom of movement and transportation without having to resort to private drivers.
Dr. Hala Al-Dawsari, member of the campaign, told Al-Hayat daily the constant campaigns launched by women will eventually lead to two things: either authorities lift the ban imposed on women who want to drive or they should provide a good explanation why women are not allowed to get behind the wheel.
"All active women want one thing: free movement without any cost or social restrictions," Al-Dawsari said.
There is no written law that explicitly and clearly states that women cannot drive.
Saudi law requires citizens to have valid driver's licenses when operating a vehicle inside the country. However, women cannot obtain driving licenses, making it difficult for them to drive on the road because they will be breaking the law.
Al-Dawsari presented a working paper about women driving at the Council of Human Rights in Geneva this month. She launched a campaign encouraging people to participate in the issue and document their demands in a bulletin that will be issued on Oct. 26.
The campaign, launched a week ago, has so far attracted 30,000 supporters, Al-Dawsari said, adding that only Saudi women can end the ban imposed on them.
"Women driving is a legitimate right all over the world and there are no logical reasons why they should not be allowed to drive," she said. The issue is still heavily debated in Saudi society.
Women have been working hard to lift the ban on driving while religious scholars still oppose the idea vehemently.
The voices calling for allowing women to drive increased when June 17, 2011 was set as the date when women would drive their cars on the street.
However, they had to push the date to June 29 following the death of then Crown Prince Naif Bin Abdulaziz. In commemoration of the June campaign, a group of women and men have called on authorities to reconsider this issue, stressing that they will not violate laws or cause any trouble to authorities.
They agreed that all they need is to allow a woman who lives alone and does not have a man to help her to drive to the market and buy her stuff herself.
http://www.saudigazette.com.sa/index.cfm?method=home.regcon&contentid=20141013221040
----------
Malala: The award is for all children who are voiceless
13 Oct 2014
OSLO — Pakistan's Malala Yousafzai, who became the youngest ever winner of the Nobel Peace Prize on Friday, made a high-level peacemaking move after sharing the award with India's Kailash Satyarthi for championing children's rights.
The 17-year-old girls' education activist — who heard of her win during a chemistry lesson at her school in Birmingham, England — invited the prime ministers of oft-warring India and Pakistan to the ceremony in Oslo in December when she and the 60-year-old Indian activist will receive the award. "The award is for all the children who are voiceless, whose voices need to be heard," she told a press conference held at the end of the school day so she wouldn't miss class.
The selection of such a young winner was bound to make headlines, but it also came amid news that 17 civilians died in the worst violence in decades in the disputed Kashmir region between India and Pakistan.
Malala did not miss the significance of the moment, paying tribute to her co-winner anti-child labor activist Satyarthi and inviting Indian Prime Minister Narendra Modi as well as his Pakistani counterpart Nawaz Sharif to celebrate their joint win.
The Norwegian Nobel Committee said the duo had been chosen for their struggle against the repression of children and young people and "for the right of all children to education." "Through her heroic struggle Malala has become a leading spokesperson for girls' rights to education," the committee said.
Standing on a box so she could reach the podium, the teenager joked that the Nobel would not help in her exams or in arguments with her young brothers. And she paid emotional tribute to her father, "who did not clip my wings." Joyful Pakistanis celebrated her receiving the prestigious award in her home town of Mingora with dancing, singing and the sharing of cakes.
Ayesha Khalid, who was at school with Malala, said: "It's not Malala alone winning this award, the girls of Pakistan have won it...(she) is the light of our eyes and the voice of our heart.
"She has proved that you can't put a halt to education by blowing up schools."
Satyarthi, who founded a consumer campaign in the 1980s to combat child labor in the handmade carpet industry, said he was "delighted," calling the Nobel prize "recognition of our fight for child rights."
The low-profile activist heads the Global March Against Child Labor, a combination of some 2,000 social groups and union organizations in 140 countries.
http://www.saudigazette.com.sa/index.cfm?method=home.regcon&contentid=20141012220895
----------
This 12-year-old Norwegian girl is getting married on Saturday
13 Oct 2014
Thea is a 12-year-old girl from Norway. On Saturday, she will marry her fiancé, Geir, a thirty-seven year-old man. The young girl is even blogging about the special occasion and all the fun things she is doing to prepare, like tasting food and testing her wedding-day hair.
"My dream has always been that I want to be a vet because then I can work with horses and stuff like that all the time. But when I talked about it today so Mom said that I do not really need and work on some things or going to school now that I'm marrying Geir," blogged Thea yesterday.
You are probably thinking, "There is no way this is real."
You are right.
Thea's marriage to Geir is not real. However, the 39,000 girls that are married each day before turning eighteen is real. More than two out of every three girls are married before eighteen in Chad, Niger and the Central African Republic. It is a global problem that some predict will see 142 million girls married before turning eighteen in this decade.
The campaign by Plan Norway is intended to provoke and illustrate the global problem of child marriage. It is working. More than 660,000 unique visitors from Norway have visited Thea's blog. That represents roughly 12 percent of the country's population.
Quite a few people have been duped by the blog posts. And you can't blame them. The honest blog posts describe all the ways Thea is getting ready for her wedding. Amid descriptions of cakes and makeup, Thea describes the challenges to being a child bride and how it will disrupt her life.
Some visitors think it is real. Recent posts are filled with comments providing earnest advice and feedback to Thea. Plan Norway hopes that the outrage about a potential child bride in Norway can be channeled to child marriage around the world.
"Actually I'm not very happy today just because I and my mom just arguing. I asked her if I could ask Sara and Annikenin wedding because I do so want them to come so they can know that we can remain friends even though I'm getting married and not see at school every day," writes Thea in a translated post.
"To open the eyes of Norwegians to these tragic facts, we needed to adopt strong measures. Therefore we decided to put the brutal reality in a Norwegian context, so that the whole population takes an active position and helps in the fight against child marriage. This has shown to be a very effective way of telling the stories," said Annika Diseth Yri, a Plan Norway communications staffer, via email.
Visitors to the blog are directed to Plan International's "Because I am a Girl" campaign. The top of the blog reads "Stopp Bryllupet" (stop the wedding) and provide links to the campaign, Plan's work and how to sponsor a girl. They are encouraged to join the campaign to stop child marriage and share it through social media with the #stoppbryllupet tag.
The Because I am a Girl campaign has reached more than 10 million people, said Yri. She expects global media coverage for the wedding this weekend, including television outlets from Russia and Germany. The run-up to the wedding was covered this week by Buzzfeed and the Independent.
Making the personal connection is behind the success of the campaign.
"We believe this massive response is due to the fact that we chose to bring the issue of child marriage home to a Norwegian context," said Yri.
"We have seen that this has been effective method to get people engaged in the issue. We as Plan Norway are both impressed and grateful of the response of the Norwegian people. People who normally don't engage in development issues, are now campaigning to stop child marriage and sharing our message."
http://www.humanosphere.org/human-rights/2014/10/12-year-old-norwegian-girl-getting-married-saturday/
http://i100.independent.co.uk/article/the-truth-behind-norways-first-child-wedding--lyHKZMEaBg
----------
Two Upper West Side Artists Think NYC Women Should Give The Hijab A Try
The covered-girl look is great, say two Upper West Side artists who think NYC women should the Hijab a try
13 Oct 2014
Saks Afridi and Qinza Najm spread the word with their selfie campaign about the virtues of wearing a traditional veil
The Hijab is hot!
That's the message two Upper West Side artists want to spread by encouraging women around the city to put on the veil and snap a selfie.
"Women who wear a Hijab by choice are in complete control of their sexuality," says Saks Afridi, who started the #DamnILookGood campaign with project partner Qinza Najm. "Here in New York, it's very brave for a woman to wear one out in public."
Najm had started wearing a Hijab around New York City as an experiment, just to see what it would be like. Though she was raised in Pakistan, she and her family members do not wear the traditional head covering worn by some Muslim women. But one day she put on a Hijab in her Lower East Side art studio and went for a walk around the neighbourhood.
"Someone started screaming at me to 'Go home!' " Najm recalls. "I was surprised because I figured people in New York would have more tolerance."
She spent the next week wearing the Hijab around town, and encountered more angry New Yorkers on the streets and subways. This aggressive reaction to a garment that's quite common in many Muslim cultures prompted Najm and Afridi to do the project.
They launched it at the DUMBO Arts Festival last month, where hundreds of women put on the head covering and posed for selfies, posting them to sites like Twitter, Instagram and Facebook with the hashtag #damnilookgood.
"A selfie suggests you are feeling confident and good about yourself," says Najm, who put her Hijab back on for the project and posed with the other women.
Almost none of the women who participated in the #DamnILookGood project had ever worn a Hijab before.
Some, like Erin Zeitler, 25, from the Upper West Side, had always assumed that women in Hijabs were being forced to wear one, and not doing it as a fashion statement.
"It was mind-opening to put one on," she says. "It was like looking at the world through someone else's eyes."
Her boyfriend says he was also thinking about eyes — but mostly how sexy his girlfriend's eyes looked with the rest of her face covered.
And it wasn't just women who stopped by to try on the traditional head covering. Men and kids also tested the veils out, which is exactly what the artists wanted.
"I would not say this is a celebration but rather an exercise in tolerance," says Afridi. "We are not for or against the Hijab, we are just posting the question about how it makes people feel to wear one."
If anything, the artists hope their project will encourage respect for women who choose to cover their heads in public. As Najm discovered, it's not easy to stand out from the crowd and invite stares.
The Hijabs for the #DamnILookGood project were all donated by local Muslim women who also wanted to stir a discussion about wearing them.
The artists are clear that their project is not about supporting laws that require women to wear Hijabs in public, as some Middle Eastern countries do. This is about women who have a choice to wear one, and choose to do it.
"With it, she is in complete control of her sexuality, and ultimately that's what makes her so beautiful," reads the artists' statement on their website.
Najm was actually surprised by how much she missed covering her regular clothes when she stopped wearing the Hijab.
"You can wear pajamas or crappy clothes underneath," she says. "You can be a total slouch. It's just very comfortable."
"Well," Afridi says, "it's uncomfortably comfortable."
http://www.nydailynews.com/life-style/covered-girls-aim-show-Hijab-hot-article-1.1970678
----------
New Research Says 10 Million Women in UK Are 'Depressed' Over Body Image
By Radhika Sanghani
13 Oct 2014
Almost 10 million women in the UK have reported that they 'feel depressed' because of the way they look, according to new research.
The study, which coincides with the launch of Body Confidence Week, finds that one in four women feel their body image has held them back from having a fulfilling relationship.
Another quarter believe that anxiety around the way they look has stopped them going for a job they wanted.
Out of the 2,339 women surveyed, 36 per cent say they do not exercise due to the way they feel they look. While 26 per cent struggle to stick to exercise regimes, and a quarter skip meals to lose weight.
The study claims that a total of 10.2 million British women do not exercise because of body anxiety.
The Be Real campaign aims to change attitudes to body image. It was founded in response to a 2012 report by a parliamentary group on body image, which showed an urgent need for change.
Almost four fifths of women agree the UK is suffering from a body confidence epidemic and 54 percent of women think issues relating to body image are increasing.
More than half say they feel powerless about society's obsession with looks.
Caroline Nokes MP, chair of that group, says: "Low body confidence is a critical public health issue that we cannot ignore. It affects everyone – all ages, both sexes – and starts as young as five years old.
"Through this campaign, we're driving change through three priority areas. We want to ensure children and young people are educated about body confidence from an early age, to promote healthy living and wellbeing over weight loss and appearance, and to encourage the media, business and advertisers to recognise diversity and positively reflect what we really look like."
http://www.telegraph.co.uk/women/womens-health/11151074/Body-confidence-week-New-research-says-10-million-women-depressed-over-body-image.html
----------
URL: https://newageislam.com/islam-women-feminism/swat-women-foresee-change-after/d/99495