New Age Islam News Bureau
4 Apr 2015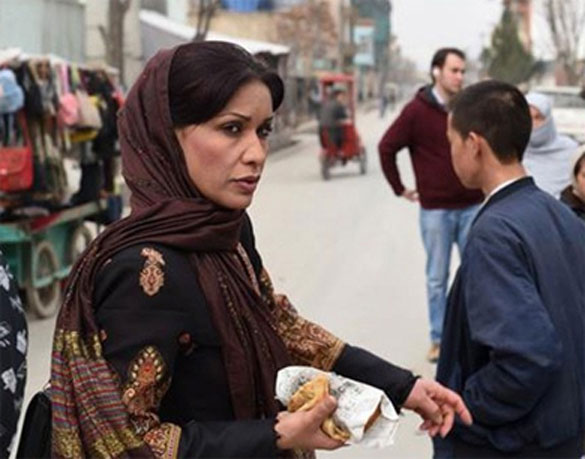 In a scene from a television drama, Afghan actress Leena Alam who plays Shereen walks past street vendors in Kabul. ─ AFP/File
----------
• Afghanistan's Daring, Taboo-Smashing Feminist TV Drama
• Israel Arrests Female Palestinian Lawmaker, Khalida Jarrar
• Muslim Girl Wins Bhagavad Gita Contest, Says 'Humanity Is the Ultimate Religion'
• Indian Muslim Women Sing Sohar on Ram's Chhathi, a Festival
• Philadelphia Woman Arrested For Planning To Join ISIS
• Sindh Police Appoints First Female Spokesperson
• Three Weeks As An Islamic State Captive – One Woman Tells Her Story
• India's Census 2011 Data: In 33% Marriages, Women Weren't 18
• Unprofessional Media Studies Target Saudi Women
• How Jihadi Bride's Family Sought Help from Hard-line Isis Apologists Cage...Not Police
Compiled by New Age Islam News Bureau
URL: https://newageislam.com/islam-women-feminism/swat-tabassum-adnan-dedicates-secretary/d/102284
---------
Swat's Tabassum Adnan dedicates Secretary of State award to all women
04 April, 2015
MINGORA: Returning home after receiving the 2015 Secretary of State International Women of Courage Award, Tabassum Adnan has dedicated her achievement and recognition to every woman in the country.
"This award is not just an honour for me, but for every woman of the country including those who became victims of violence," she told The Express Tribune after returning from the US. The woman surprised all those around her when she founded the Khwendo Jirga for women—a first of its kind. Through this platform, the women of Swat had a chance to meet on a weekly basis and discuss matters such as honour killings, acid attacks and swara.
Autonomy and agency
"Though I got a barrage of criticism from different sections of society, along with threatening letters, nothing discouraged me and I continued working against the violation of women's rights in Swat and surrounding areas," she said.
Her fellow jirga members actively monitor cases of violence against women in Swat and try to immediately reach the site to identify and resolve the matter. "We identified around five cases of swara, some of acid throwing and an incident of a man cutting off his wife's nose and another in which a woman's leg was severed by the husband," she recalled. "We successfully obtained justice for all the victims from court," Tabassum said, adding her jirga also fought actively against child marriages in the area.
She has managed to create a strong network in the valley and any case of violence against women is reported to her at once. "We also receive information about the trafficking of women and I have started a campaign to monitor and halt such activity with the help of government institutions," the activist revealed.
She said her jirga resolved minor issues internally, while it hired the services of lawyers to fight in court against serious violations. Touching upon her future undertakings, Tabassum said the award encouraged her to continue with the mission. "It is my goal to work for women's rights," she said. "The award encouraged me to continue my mission against the trafficking of women in the name of marriage."
Tabassum said thousands of women were widowed and as many orphaned during the wave of militancy in Swat. "Widows and orphaned girls are vulnerable and the government has turned a blind eye to their problems. I also intend on raising the issue and working for them," she vowed.
The activist urged every woman across the globe to raise their voice against injustices suffered by them as their problems cannot be resolved by themselves.
http://tribune.com.pk/story/863360/a-universal-victory-tabassum-adnan-dedicates-secretary-of-state-award-to-all-women/
----------
Afghanistan's daring, taboo-smashing feminist TV drama
04 April, 2015
KABUL: In a grimy Kabul street, the director gives the order to roll the cameras, and filming starts on a remarkable new TV drama that boldly challenges taboos about women in conservative Afghanistan.
Shereen, the star, enters the scene and buys a few things from street vendors when suddenly her husband, a possessive and brutal man, grabs her.
But tough, no-nonsense Shereen won't back down and a row ensues.
"Shereen's Law", due to be aired on Afghan TV before the end of the year, tells the story of a 36-year-old woman who brings up three children on her own while forging a career as a clerk at a court in Kabul.
Such a character is already shocking in an overwhelmingly patriarchal society where most women are confined to lives of menial domesticity.
But the show deliberately ramps up the impact. Shereen fights corruption, harassment, and rape, and tries to divorce her husband, whom she wed in a forced marriage.
More than 13 years after the fall of the Taliban, Afghanistan remains deeply wedded to traditional customs and its airwaves have never hosted anything like this before.
"It is the first such drama that is about women, that is about empowering women, that is about the struggles of women in Afghanistan," Leena Alam, the Afghan actress who plays Shereen, told AFP.
Giving women a voice
Women in Afghanistan continue to be subject to violence. On Mar 19, a young woman was beaten to death and her body burned in central Kabul for allegedly burning a Quran.
Defying entrenched conventions in such a country comes with a risk, as Alam ─ who moved to the US as a child with her family before returning in 2007 ─ admits.
"It's a bit dangerous, even for myself. Yesterday we were shooting outside. When ... I'm waiting for the shot, I'm always scared that somebody may throw acid on me or somebody may hit me with a knife," she said.
Casting the show was not easy. Several actors said no to a storyline they found too challenging.
An actress who played a lawyer friend of Shereen's, was forced to pull out because her husband was unhappy with the show.
As well as portraying a strong female character, the series attacks the Afghan judicial system where rampant corruption is hidden behind a wall of silence.
"It takes a lot of courage to write something like this and it takes a lot of courage to play something like Shereen," Alam, a producer who has also appeared in several Afghan films, said.
"But I think it's time, after more than 30 years, to move on and educate people and give them the information as bluntly as Shereen."
Apart from the exterior street scenes, the show's action takes place in a studio with sets decked out to look like a courtroom, Shereen's house and legal offices.
No detail has been missed, from the portrait of President Ashraf Ghani in the courtroom to the stapler on Shereen's desk.
Breaking barriers
Director and writer Max Walker, an Australian who came to work in Afghanistan, says he took advice in advance on how to avoid drawing too much attention from conservative clerics.
"There's been an enormous consultation, an enormous review of the script and of the whole storytelling process to make sure that it raises these issues, but it doesn't raise them so bluntly and so offensively that it's going to make the programme go off air," Walker said.
Under the Taliban's hardline 1996-2001 regime, television was banned, but now 58 per cent of homes have a set, according to the Asia Foundation development organisation.
"Shereen's Law" will face tough competition for viewers from popular imported Turkish and Indian soap operas.
Frenchwoman Anne Jasim Falher, founder and head of consultancy firm ATR in Kabul and a long-term observer of Afghan society, says television has a role to play in changing attitudes.
"Television has allowed people to shake things up on forced marriage, probably also on violence against women and violence within families," she said.
The 12 45-minute episodes are being made by the Tolo television channel, one of the big successes of Afghanistan's new media scene, largely funded by foreign donors when it was launched in 2004.
The Moby group, which owns Tolo, claims a pioneering role for itself, notably for being the first Afghan channel to have female and male presenters alongside one another.
"You have to cross the barriers sometimes and you have to do something where you give the voice to the women," Moby's director of programming Massoud Sanjer told AFP.
"Afghanistan is a country where if you tell directly people 'do this', they won't do it. But if you just give them a reason, make them think themselves, they will do it. So a TV show will definitely help the men who are the dominant power of the society to think that a woman is also part of this country, a woman is part of their lives, and a woman is part of their family."
http://www.dawn.com/news/1173686/afghanistans-daring-taboo-smashing-feminist-tv-drama
----------
Israel Arrests Female Palestinian Lawmaker, Khalida Jarrar
04 April, 2015
OCCUPIED JERUSALEM — Israel has arrested a Palestinian lawmaker from a left-wing militant group for disobeying an Israeli order restricting her movement in the West Bank. The Israeli military says it arrested Khalida Jarrar, a senior political leader of the Popular Front for the Liberation of Palestine, early Thursday in the West Bank city of Ramallah due to "substantial concerns about the safety and security of the region." Her husband, Ghassan Jarrar, says she was arrested from their Ramallah home. She had long flouted the Israeli ban. Last year, the military confined her movement to the city of Jericho and its surroundings. The army said the restraining order was based on her "incitement and involvement in terror."
http://www.saudigazette.com.sa/index.cfm?method=home.regcon&contentid=20150403239142
----------
Muslim Girl Wins Bhagavad Gita Contest, Says 'Humanity Is the Ultimate Religion'
04 April, 2015
MUMBAI: Twelve-year-old Maryam Siddiqui is a rank holder at the exams in school. But recently, the class VI student has aced a written competition based on the Bhagwad Gita. The Muslim girl has won the first position among over 3,000 participants at the 'Gita Champions League' contest, organized by International Society for Krishna Consciousness (Iskcon) in January.
The 100 mark multiple choice question based test, evaluates children on their knowledge of the Gita. "I have always been inquisitive about religions and I often read up on them during my free time. So when my teacher told me about this contest I thought it would be a good chance to understand what the book is about. My parents too supported my idea of participating in the contest," said Maryam, who received the prize on March 15.
A student of Cosmopolitan High School, Mira Road, Maryam studied material that was provided by Iskcon for almost a month before giving the test in English. "I read through the material and tried to understand what the Gita tries to tell us. The more I read about different religions, the more I have realized that humanity is the most important religion that we must follow," she said.
Maryam has always had conversations about religion with her parents. "Our family believes that one needs to respect and accept all religions. No religion preaches hatred or wrong. However, there are some members who have misguided us. Before these have a bad influence on the children, we need to talk to them and make them understand what is right," said her father, Asif Siddiqui.
Teachers at school are proud of Maryam's achievement. "The contest is open to students from all religions so we asked if anyone from school wanted to participate. Maryam is excellent at school exams and she showed the same excellence at this contest too," said her teacher, Sapna Brahmandkar.
http://timesofindia.indiatimes.com/city/mumbai/Muslim-girl-in-Mumbai-wins-Gita-contest/articleshow/46789857.cms
----------
Indian Muslim Women Sing Sohar on Ram's Chhathi, a Festival
04 April, 2015
VARANASI: For a section of Muslim women of Kashi, Hindu God Ram is a symbol of social and religious harmony. After celebrating the birth of Bhagwan Ram on the occasion of Ramnavami on March 28, these women also celebrated the 'chhathi' ceremony of Ramlala by singing 'sohar' (songs sung on the occasion of child birth) along with Hindu women on Thursday, the sixth day after Ramnavami.
With sohar songs like "Ghar ghar bajat badhaiya, nagariya mein shor bhayo ho; Lalna Awadhpuri sukh dham, janam Ram lihale ho..," the women celebrated the occasion at Vishal Bharat Sansthan in Varunanagaram colony. Prasad was also prepared for the bhog of Ramlala.
"We believe that by celebrating chhathi of Ramlala we will not only strengthen the Hindu-Muslim bonding, but will also be able to conserve and popularise the tradition of sohar singing, which is dying now," said Nazneen Ansari, who has also scripted 'Shri Ram Aarti' and 'Shri Ram Prarthana'.
This was the first occasion when these Muslim women celebrated chhathi of Lord Ram. However, they have been celebrating Ramnavmi for last several years. "We will take it to villages as a campaign mode to propagate the message of communal harmony and peaceful coexistence," said Nazneen. She believes that Ram is the ancestor of Indians, and his name is a key to all problems.
This maiden chhathi ceremony of Lord Ram by Muslim women was also attended by the former central information commissioner OP Kejriwal. "Such an event can be a practical model of Hindu-Muslim unity and tool to eliminate hatred from the society," said Kejriwal. The VBS founder Rajiv Srivastava, a teacher of History at Banaras Hindu University, said the celebration would be held at a bigger level from next year with greater participation of women, who can play an important role in building religious harmony.
Earlier, on March 28, these Muslim women had celebrated Ramnavmi by offering prayer and aarti in praise of Ram.
http://timesofindia.indiatimes.com/city/varanasi/Muslim-women-sing-sohar-on-Rams-Chhathi/articleshow/46794011.cms
----------
Philadelphia woman arrested for planning to join ISIS
04 April, 2015
A 30-year old woman from Philadelphia has been charged with trying to join the Islamic State. Federal Prosecutors say she knowingly attempted to travel overseas to provide material resources to a designated foreign terrorist organization.
Thomas posted the following statement on Twitter, according to the criminal complaint against her.
"If we true knew the realities, we would all be rushing to join our brothers in the front lines pray ALLAH accept us as shuhuda (martyrs)," she tweeted.
She then deleted her Twitter account and applied for a US passport and contacted an Islamic State fighter in Syria.
Prosecutors allege they asked her if she wanted to be a martyr to which she replied, "that would be amazing…a girl can only wish." She then made arrangements to fly to Spain and Turkey.
Thomas is now in custody and if convicted she faces a maximum of 15 years in prison, even though she never made it out of the US.
Her arrest comes after two women in Queens, New York were accused of plotting to plant bombs in the US on behalf of Al-Qaeda.
The two women, 28-year old Noelle Velentzas and 31-year old Asia Siddiqui, have been charged with planning to build a bomb after a month-long undercover operation.
Ms Siddiqui had been communicating with Al-Qaeda in the Arabian Peninsula, and Ms Velentzas had watched violent Islamic State videos, according to an unsealed complaint on Thursday in a Federal District Court in Brooklyn, which was seen by the New York Times.
Ms Siddique had managed to buy four propane gas tanks and store them in stairwell outside her apartment. The woman had also bought potassium gluconate and Miracle-Gro fertilizer from a Queen's pharmacy. These ingredients can be used as a bomb component, from a Queen's pharmacy.
The criminal complaint for the US District of Philadelphia lists how Keonna Thomas posted a number of Tweets, one of them a photograph of a young male child wearing camouflage with firearm magazine pouches with the caption, "ask yourself, while this young man is holding magazines for the Islamic State, what are you doing for it?#ISIS."
The complaint also says that Thomas sent an email to a known violent jihadi fighter based in Somalia where she states she would be "able to travel; I should be getting some money soon."
Mubin Shaikh, a former radical jihadist who became an undercover agent and expert on terrorism, told RT's Sophie Co that women who join ISIS are often living in a fantasy world.
"They live in La-la land. They spend hours and hours watching these propaganda videos, thinking that the fighters are like jihadi princes. For a lot of these girls, who are told, "listen, you can't have a boyfriend, you can't talk to guys" ‒ the only way for them to have any kind of intimate companionship is through marriage. This is the only option that they give themselves, and they've brought themselves into it almost, like, a cult-like community," he said.
He also explained how he believed these women had been lured in ‒ in the same way that child sex predators prey on children ‒ and that many of the young women are vulnerable.
"It's exactly like [how] a child sex predator lures young girls over, gives them presents - there has been a guy who was sending her gifts and books and chocolates and "I love you", and she's not 100% upstairs, so they use these vulnerabilities, they look for these vulnerabilities, they get you on Skype, they talk to you, they see how vulnerable you are and then they make their move," he said.
Shaikh also said that in most cases a convert to Muslim extremism who has grown up with a white or black Western background, is likely to have come from a background of abuse and crime.
"When you're looking at converts who become extremists, usually they have abuse in their backgrounds, usually they have a pre-criminal experience, or at least, their peers are criminals or have had criminal experiences - and there is some identity involved in that. They become detached from society; they feel that the society doesn't like them, doesn't care about them and that society is against them," he said.
http://rt.com/usa/246593-isis-philly-woman-fbi/
----------
Sindh Police appoints first female spokesperson
04 April, 2015
KARACHI: The Sindh Police department has appointed a female superintendent as spokesperson for the first time in the history of the provincial law enforcement department.
According to an official notification issued here on Friday, the Inspector-General Sindh Police has appointed SP Erum Awan as its spokesperson.
Awan is expected to hold her first press conference today at 2:00 pm.
In April last year, female sub-inspector Ghazala Syed was elevated to Station House Officer (SHO) for a general police station in Karachi.
A large majority of men are employed in the police department in Pakistan, where women are rarely encouraged to pursue a career in law enforcement.
Women account for less than one percent of total police force in Pakistan, according to data by the National Police Bureau.
http://www.thenews.com.pk/article-180240-Sindh-Police-appoints-first-female-spokesperson
----------
Three weeks as an Islamic State captive – one woman tells her story
04 April, 2015
(CNA/EWTN News).- The woman was just 19 years old when she was captured by militants from the Islamic State. Caring for her young son and pregnant with her second child, she was separated from her husband and told that she would be forced to marry a member of ISIS.
Her harrowing story is not unique, but the fact that she escaped places her in the minority of those who face the similar terror of life as an ISIS captive.
The woman's name, and that of the village where she is staying with her two children, cannot be revealed for security reasons. CNA met her during a trip to Iraq with a papal delegation led by the Pontifical Council Cor Unum March 26-29.
On the wooden door of the room where the woman speaks with the pontifical delegation, a phrase in English is embossed: "God is Lord." The woman holds her son in the hands, while her mother-in-law is taking care of the younger child, who is now four months. Her brother-in-law sits on her right.
She sometimes takes a deep breath, and sometimes holds back her tears, as if she is living once more what happened. But she agreed to tell her story, because she wants everyone to know what happened.
In early August, Islamic State forces attacked Mahmur camp, a U.N.-run refugee camp home to some 12,000 Turkish refugees who fled in the early 1990s during the height of Turkey's conflict with Kurdish separatists. Mahmur is located in the vicinity of Erbil, and the residents there had established a school system and local government.
The attack was one of several similar military attacks in the region, part of ISIS' major Northern Iraq offensive in the summer of 2014.
The woman said that she was taken by Islamic State militants on Aug. 5.
"As we had been aware that the ISIS forces were coming, we managed to escape," the woman told CNA. "But those who had no opportunity to use a car moved more slowly, remained behind, and were then captured by the ISIS forces."
She and her family were among some 3,100 people captured by the Islamic State. Of them, approximately 600 managed to escape while about 2,500 remained in the hands of Islamic State forces.
The woman recounted that "they divided into groups of male and female."
"I was thus separated from my husband, and I have had no news of him ever since."
After three days, Islamic State militants selected the married women and brought them into separate houses, where they stayed alone under the control of guards.
"After a couple of weeks of captivity, I was told by one of the guards that if I did not marry one of the ISIS members, they would have separate me from my child," the woman recounted. "That very night I managed to escape."
During the night of Aug. 28, the three guards watching her fell asleep, and she took advantage of the situation to get out of the house.
"I walked for four hours with my child, and myself pregnant. Then I was helped by an Arab family, who took me to the Peshmerga checkpoint, and I was then able to get to a refugee camp," she said.
She then rejoined her brother-in-law and mother-in-law, who now all live together in the Dohuk governorate.
The woman's brother-in-law told CNA: "We will always be grateful to the Peshmerga forces for helping us, but now we cannot trust anyone else. We would only trust an international force, sent to Iraq to end the war and bring finally peace."
http://www.catholicnewsagency.com/news/three-weeks-as-an-islamic-state-captive-one-woman-tells-her-story-53525/
----------
India's Census 2011 Data: In 33% Marriages, Women Weren't 18
04 April, 2015
NEW DELHI: Far reaching changes seem to be occurring in the way marriages are fixed in India, and one of these is the age at which marriages take place.
About one-third of all married women in the country tied the knot before they were 18 years old. Among men, this proportion was much smaller at just 6%. But, the overwhelming majority of women got married by the time they were 25 years old, revealing social pressures - and perhaps lack of employment - still at work.
These and related findings, including a rising trend of men and women not marrying at all, emerge from recently released Census 2011 data on marriage.
Among those married up to four years prior to 2011, around 17% of women and just 3% men were below 18 years of age at the time of marriage. To compare this with the past, we can look at the age at marriage of people married 20 or 30 or even 40 years ago. Among such middle aged and elderly persons, 50% of women and 16% of men reported getting married before they were 18 years old.
So, are people marrying later? Yes and no. Clearly, much less people are marrying before the legally permitted ages of 18 years for women and 21 years for men, compared to earlier. But here's another fact: 92% of women were married by the time they reached 25 years of age. This was the case among those married up to four years before the Census in 2011. Among women married for 20 to 29 years, a huge 96% had got married by the time they reached the age of 25.
Among men, the situation was different earlier, and it has changed even more in recent years. Among men married in the past four years, nearly one-third got married after they had reached 26 years age. Between 20 and 30 years ago, the proportion of such men was 22%. Forty years ago, 12% men married after age 26.
"Age at marriage is delayed, possibly due to increasing levels of education and campaigns to delay marriage," said Rajni Palriwala, professor of sociology at Delhi University. Another factor is finding the right match because nowadays, criteria beyond caste and present parental economic status are brought in and men's economic status is more uncertain, she told TOI.
What is the reason for the continuing trend of women getting married in their early 20s? Prevalent ideas in society about a woman's economic, social, and sexual security can is the main reason behind this, says Palriwala.
"For women and their families, values of marriage, ideas of reproductive period, stigma and perceptions of social and sexual dangers of single women, persisting ideas of marriage as women's primary life trajectory, and adverse sex ratio means that marriage is not delayed beyond the age seen as ideal for reproduction," she said.
The Census data also shows more men and women remain unmarried than earlier. In 2011, about 6.4% of all persons older than 25 years were unmarried. That works out to about 3.89 cr people - 2.89 cr men and 1 cr women. In 2001, the proportion of never married persons in the above 25 years age group was slightly lower at 5.3%. That's 2.5 cr persons - 1.95 cr men and 56 lakh women.
Palriwala explains that adverse sex ratios mean that in any age group there are more men than women and at first marriage for women, the more eligible men will be matched while others remain unmarried.
"Long distance marriage for men in more prosperous areas has emerged as a path but not a solution. So there's persisting non-marriage for men," Palriwala explained.
http://timesofindia.indiatimes.com/india/Census-2011-data-In-33-marriages-women-werent-18/articleshow/46790489.cms
----------
Unprofessional media studies target Saudi women
04 April, 2015
Saudi women today are not only targeted by Western media but by Arab media as well. Some Arabic newspapers focus on women's issues and sensationalize news in order to attract more readers.
An Arabic newspaper reporter may, for instance, visit a girls' intermediate school and ask 10 female students whether they smoke.
If five say they do, the reporter will write a headline claiming that half of Saudi schoolgirls at the intermediate level smoke.
Readers will of course believe what is written and feel appalled. They will think that the number of female high school students who smoke is much larger and will assume that the majority of Saudi women smoke. All of these claims that tens of thousands of schoolgirls smoke are simply based on a survey of 10 students.
The Arabic press seems to care more about making news, than about the actual details. By publishing "news", such as that about school girls smoking, they think they have a scoop.
They overlook the negative impact such headlines may have. Readers have no idea about how the research was carried out. Even if 10,000 girls are asked questions about smoking, there should be some thoroughness in how the survey is conducted.
The sample population should be varied and should represent different parts of the Kingdom. It is not easy to carry out proper research because it is time consuming and sources require verification.
What kind of media turns unreliable information into news, and then mentions that the results are based on studies carried out in the field? Where are media ethics? These media outlets are worse than foreign and Western media which like to weave false stories about Saudi women.
A newspaper once said that Saudi women prefer hashish to other kinds of drugs. It published the news as if it was talking about makeup or some kind of food.
How did the so-called study determine the type of drugs Saudi women like to use? The conclusion drawn was simply absurd.
If the media wants to conduct studies on women, they should focus on issues, such as unemployment, why women do not marry, causes of divorces and other important issues facing women in the Kingdom. Carrying out unprofessional studies claiming that the majority of Saudi women smoke or use drugs harms our women and prevents them from working.
Why does the media not shed light on women who work in women-only stores and the important role they play in protecting female customers from being harassed by salesmen? Women can today visit stores and not be bothered about being harassed as they can deal with other women.
The job opportunities created for women in the retail sector should receive the full attention of the media because unemployment among women has been reduced.
The system is also helping those women who are the sole breadwinners of their families. The media should support and help women instead of accusing them falsely by publishing the results of unprofessional studies carried out by journalists.
http://www.saudigazette.com.sa/index.cfm?method=home.regcon&contentid=20150404239180
----------
How jihadi bride's family sought help from hardline Isis apologists Cage...not police
04 April, 2015
The jihadi bride who persuaded three friends to follow her to Syria was brought up in a strict Muslim household which turned to Islamic State apologists Cage when she disappeared, it emerged yesterday.
Sharmeena Begum, 15, was raised by her uncle Shamim Miah, a devout Muslim and former religious scholar.
He encouraged her to pray each dawn before classes at Bethnal Green Academy in Tower Hamlets.
He blames the airport authorities, police and her school for letting Sharmeena flee the country last December, flying from Gatwick to Turkey before crossing the border to Syria.
Controversially, he has turned for advice to Cage, the hardline human rights group whose leaders have said IS executioner Jihadi John is a 'beautiful young man'.
In an exclusive interview this week, Mr Miah, 38, sat at the kitchen table of his terraced house, a few minutes' walk from the academy in East London.
It is where Sharmeena lived with him, her mother Shahnaz – until her death from cancer aged 33 last year – and her grandmother, Jahanara, 66.
Close to tears, he disclosed how his niece used £1,000 to go to Syria, money given by relatives after her mother's death as a traditional gift in Bangladeshi families to show respect for the deceased.
'At first her Nan – my mother –kept the money safe. Then Sharmeena asked to open her own bank account and she gave the cash to her,' said Mr Miah.
'She also pressed to keep her passport in her bedroom and we allowed that too. If her mother had not died, she would never have had money to go.'
Mr Miah was born in Bangladesh and came to this country as a boy with his parents. He studied Islam before becoming a takeaway restaurant owner and now works nights at a supermarket.
'I have known Sharmeena since she was born,' he said. 'She grew up in my house with her mother Shahnaz, my sister.'
He explained that Sharmeena's father, Mohammad Uddin, had not often lived at the house because his work took him away so often.
Mr Uddin, 39, a waiter, has remarried and lives with his new wife in a block of flats in Bethnal Green.
Mr Miah has been interviewed by police about his missing niece and the disappearance of her three classmates: Shamima Begum, 15, Kadiza Sultana, 16, and Amira Abase, 15, earlier this year.
It is thought that Sharmeena was the ringleader, inspiring the other three to follow her to Syria. It has emerged that a fifth girl from the academy, who cannot be named for legal reasons, also plotted to become a jihadi bride.
She boarded a plane for Syria from Heathrow on the same Saturday which Sharmeena flew from Gatwick. This girl's parents alerted police, the jet was stopped on the runway and she was removed.
It has also emerged that Amira's father Hussen Abase is an Islamic militant who marched at the front of a rally led by hate preacher Anjem Choudary and attended by Michael Adebowale, one of the killers of soldier Lee Rigby.
Like Mr Miah, Mr Abase is receiving advice from Cage.
But her uncle denies his devotion to Islam influenced Sharmeena. He has already been asked by police if she was radicalised at home.
'The loss of her mum turned my niece's life upside down despite our Islamic belief that earthly life means nothing,' he said. 'It is the hereafter that we prepare for. She turned to religion after her death.'
He feels let down by police and the school, alleging that neither care about Sharmeena 'because she is a Muslim girl'.
Mr Miah added: 'You tell the police everything you know but they seem to do nothing to get Sharmeena back. I am really scared of what they might do to me if I am blamed for her going to Syria.'
He is also worried for Sharmeena if she does return to the UK.
'I believe she will be prosecuted. I don't think she will ever be allowed to return to our home. The police will want information from her about the Islamic State and life will never be normal for her again.'
Reliving the morning his niece disappeared, Mr Miah told how the teenager said her prayers at 5am as usual. 'The early prayers are what we do every day in our Muslim religion,' he explained solemnly.
Sharmeena then came downstairs and told her grandmother that she had extra classes at school.
'She left at about nine in Western clothes, leaving her Asian ones. We do not know whether she took a taxi, bus or train to the airport. Or if she was picked up by a car. I came back from the night shift at ten but I was not alarmed.'
Full report at:
http://www.dailymail.co.uk/news/article-3025149/How-jihadi-bride-s-family-sought-help-hardline-Isis-apologists-Cage-not-police.html#ixzz3WN2ns64C
----------
URL: https://newageislam.com/islam-women-feminism/swat-tabassum-adnan-dedicates-secretary/d/102284