New Age Islam News Bureau
17 March 2021
• UK School Drops Lawsuit over Muslim Girl's 'Too Long' Skirt
• Across Africa, Hijab in Schools Divides Christians and Muslims
• Burqa Ban Just a 'Proposal', Sri Lanka Says After Criticism From Allies
• Saudi Female Fighters Take Aim at another Stereotype
• AP, WSF Launch First Scouting Units for Women in Saudi Universities
• Women Must Be 'Front and Centre' Of Pandemic Recovery, UN Chief Says
• Gender Equality Means Business, Guterres Tells Corporate Leaders
• HRW: Targeted Killings Aimed at Keeping Afghan Women from Public Life
Compiled by New Age Islam News Bureau
URL: https://www.newageislam.com/islam-women-feminism/sunni-ulema-council-proposed-nikahnama/d/124557
--------
Sunni Ulema Council Proposed Nikahnama Calls For Right to Divorce for Women and Bars Triple Talaq in One Sitting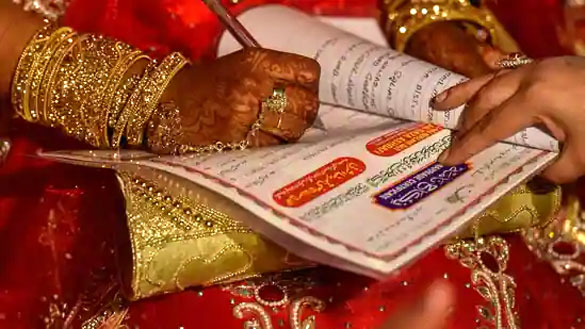 The nikahnama gives the woman the right to divorce and binds the clerics and witnesses to give their testimony in case the issue reaches a court.(Kunal Patil/ Hindustan Times)
-----
By Haider Naqvi
MAR 17, 2021
The Sunni Ulema Council, a prominent body of Sunni Muslims, has proposed a new Nikahnama (marriage contract) that bars triple Talaq in one sitting and provides safeguards to women, including the right to divorce.
In a first, the document will be made available in both Urdu and Hindi.
"We are giving them (new Nikahnama) to the clergy to build a consensus on it and also promote it in place of the old one that had none of the conditions mentioned in this one," said Haji Mohammad Salees, convener of the Sunni Ulema Council.
According to the draft, seen by HT, the nikahnama gives the woman the right to divorce and binds the clerics and witnesses to give their testimony in case the issue reaches a court. The name and address of the cleric who solemnises the marriage would also be mentioned in the contract, the draft states.
The draft of the Nikahnama states that a husband will not be able to give triple talaq in one sitting and the method of divorce would be in accordance with the Quran, Salees said. The old version was only available in Urdu and did not have any instructions on divorce which is why triple talaq happened, he said.
"The new Nikahnama has detailed that divorce can only take place as per the method outlined in the Quran -- the husband cannot give triple talaq in one sitting," he said. Getting it in Hindi would make it easier to understand for everyone who are not well-versed in Urdu, he said.
Salees said that the old version of the Nikahnama needed to be changed to with respect to the change in time. He said that old version was just an announcement of marriage declaring that the woman would get a mutually agreed amount, meher, in lieu of the marriage. Unlike the old version, Aadhar numbers of the man and woman, along with those of the witnesses, would be mentioned in the marriage contract, he added.
"The new Nikahnama is being discussed among clerics, who are likely to reach a decision before Ramzan," he said.
The All India Muslim Women Personal Law Board (AIMWPLB) has given its consent to the new Nikahnama, which is likely to be effective from Eid this year, president of the board Syeda Tabassum said. "The Nikahnama will formally be in use from Eid this year; the draft is ready and it will be an effective instrument in checking cases of triple talaq," said Tabassum.
The AIMWPLB, on its part, would organise pre- and post-marriage counselling and distribute books on rights of the husband and wife.
https://www.hindustantimes.com/india-news/sunni-body-s-proposed-nikahnama-calls-for-right-to-divorce-for-women-101615917542051.html
--------
UK School Drops Lawsuit over Muslim Girl's 'Too Long' Skirt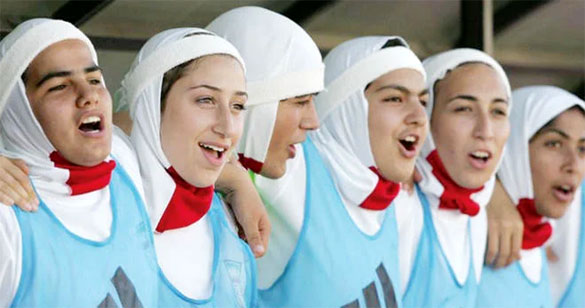 Under the UK's Department for Education guidelines, uniform policy is a matter for individual head-teachers and their governing bodies. (AP)
-----
March 16, 2021
LONDON: A UK school that threatened a lawsuit over a Muslim schoolgirl whose skirt was "too long" has backed down from taking legal action and apologized, The Guardian reported on Tuesday.
Siham Hamud, 12, of Uxbridge High School in London, said she was bullied over her religion after being sent home every day in December and told she could only return when wearing a shorter skirt.
The school subsequently threatened her family with legal action after her consecutive absences. Her parents argued that short skirts violate Islamic religious beliefs.
But three months after first threatening legal action, Uxbridge High School has reversed its decision.
Siham's father Idris Hamud said the period has been "difficult" for the family, and he felt relief upon hearing the news.
In a statement released by lawyers, Hamud said he is "pleased" that the school has listened to their concerns.
"We are very happy that Siham has been able to resume her schooling, with her right to practice her faith by wearing an ankle-length skirt in the same style as the school uniform skirt now accommodated by the school," he added.
The school has also sent a letter of apology, the statement said. "We thank the school for its willingness to work towards a fair and positive outcome," Hamud said.
"This has been a difficult period and we are relieved to now have the matter concluded. We are grateful for the support we have received from the wider community."
Hamud had previously warned that his daughter was "being denied an education because of her religious beliefs."
https://www.arabnews.com/node/1826591/world
--------
Across Africa, Hijab in Schools Divides Christians and Muslims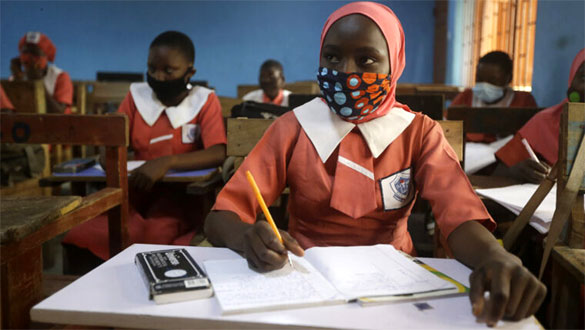 Students listen to a lecture during class at Oregun Junior and Senior High School, in Lagos Nigeria, Monday, Jan. 18, 2021. (AP Photo/Sunday Alamba)
-----
16 March 2021
In its traditional form, religious veils worn by Muslim women signify modesty and privacy. Fashions range from simple scarves known as "khimaars" to head-to-toe cloaks known as abayas or burqas.
But in any form, wearing hijab is regarded as an act of worship or a statement of Muslim faith, and recently, the religious garments have triggered bitter fights between Christians and Muslims. One such fight is unfolding in the western Nigerian state of Kwara, forcing a temporary closure of at least 10 Christian schools.
The dispute began in February, when the head of the schools sent Muslim students with head coverings away, in apparent violation of Nigeria's constitutional right to wear a head covering. The school official claimed that veils were against the original Christian heritage of the school's founding missionaries.
"We assert that in principle and practice our schools are mission [government] grant-aided schools and not general public schools and cannot be technically Islamized starting with the use of Hijab," said Rev Reuben Idowu Ibitoye, a Baptist minister who is the secretary-general of the Christian Association of Nigeria in Kwara, in a statement.
Earlier in the month, the state government approved the use of the hijab in school, but the Christian association said it rejected and condemned the approval.
"This will cause discrimination in schools and also allow terrorists to easily identify our children and ward," said Ibitoye, while also calling for the government to return mission school oversight to churches.
But Nigeria's hijab dispute is similar to those in some other African countries.
In 2015, the countries of Congo, with a population that is 1.3 per cent Muslim; Chad, with 51 per cent; Guinea, with 85 per cent; and Cameroon, with about 30 per cent, banned modesty garments to counter Boko Haram, the Nigerian terrorist group that is increasingly active in the region. The bans were part of the measure to curb terrorist activities. Tunisia, Gabon and Morocco are African countries with large populations of Muslims that have banned the burqa.
In East Africa, similar disputes have also occurred. In Kenya in 2019, the supreme court overturned a lower court ruling that had allowed female students to wear the head coverings in school. The ruling was decided as Muslim leaders made a spirited push for allowing religious garments in church-owned schools.
Christian leaders and educators had been resisting the move, maintaining that dress codes and school uniforms not only provided discipline and equality, but also were part of church and school traditions.
"We have been successful in most of the schools, but there are others where we had to allow the hijab due to the large numbers of Muslim students. We are still pushing to maintain the Catholic Church traditions, ethos and values in the schools we sponsor," said Rev Henry Ndune, a Roman Catholic priest in the Archdiocese of Mombasa, a region with many Muslims.
In Uganda, the controversy around the hijab in schools is bigger than in Nigeria, said Hadija Kibira, the chairperson of the Uganda Muslim Women Vision.
"The biggest problem is in public schools. Many of them have been Christianised and therefore do not allow the wearing of the hijab," Kibira told Religion News Service. "They admit very few Muslims, who usually have less say and cannot demand their rights."
According to Kibira, students sitting for national examinations are often stripped of their hijab in accordance with a ban by the examination board, and some at Uganda's main university in Makerere have been stopped from sitting for their examinations altogether.
"In Uganda, Muslim women are not allowed to have hijab in their passport photographs. At the airport, many times, we have been told to unveil for identification with the photo on the Passport," said Kibira, adding that her organisation has petitioned the court and the parliament over hijab on the passport.
Abdallah Kheri, a Muslim religious scholar who chairs the Islamic Research and Education Trust in Kenya, said the disagreements are caused by the faiths' failure to reason and dialogue.
"Historically the two faiths have been rivals, since they are calling people to join. They are always looking for customers, and they shall forever be rivals, but they have to reason and co-exist," said Kheri, who said colonization exacerbated these divisions.
"In Nigeria, some of the disputes trigger because Christians and Muslims cannot agree on who is the majority. In Kenya, the problems are due to lack of knowledge and growing religious extremism," he said.
https://www.sightmagazine.com.au/news/19413-across-africa-hijab-in-schools-divides-christians-and-muslims
--------
Burqa Ban Just A 'Proposal', Sri Lanka Says After Criticism From Allies
Mar 16, 2021
Sri Lanka said on Tuesday a call to ban the wearing of the burqa was 'merely a proposal', following criticism from regional allies ahead of a crucial United Nations vote on human rights in the island nation.
Sri Lanka's minister for public security, Sarath Weerasekera, said on Saturday it would 'definitely' ban the full-face covering worn by some Muslim women on national security grounds, pending cabinet approval.
But the foreign ministry said on Tuesday, a decision had not yet been taken on what it described as 'merely a proposal... under discussion'.
"The government will initiate a broader dialogue with all parties concerned and sufficient time will be taken for necessary consultations to be held and for consensus to be reached," it said in a statement.
Muslims make up around a tenth of the population in majority-Buddhist Sri Lanka.
The statement follows criticism from Pakistan's ambassador to Sri Lanka, Saad Kattak, who said in a tweet on Monday a ban 'will only serve as injury to the feelings of ordinary Sri Lankan Muslims and Muslims across the globe'.
Ahmed Shaheed, a Maldivian diplomat currently serving as the UN Special Rapporteur on Freedom of Religion or Belief, said a ban was incompatible with international laws that protect religious belief and freedom of expression.
Several Muslim-majority countries, including Pakistan and Bangladesh, are among the 47 nations that will vote on Sri Lanka's human rights record at a United Nations session in Geneva next week.
A UN resolution passed against Sri Lanka could allow for prosecutions of government and military officials involved in ending a decades-long civil war in 2009, and Colombo is sensitive to anything that may impact voting there, according to a person familiar with the developments.
Almost a third of the 47 nations are members of the Organisation of Islamic Cooperation, which last year criticised a Sri Lankan policy to forcibly cremate coronavirus victims in the country, in violation of the Islamic tradition of burial. The policy was repealed last month.
https://www.wionews.com/south-asia/burqa-ban-just-a-proposal-sri-lanka-says-after-criticism-from-allies-370968
--------
Saudi Female Fighters Take Aim at another Stereotype
DEEMA AL-KHUDAIR
March 16, 2021
JEDDAH: Saudi female participation across the sporting landscape may be blossoming these days, but in many cases the seeds for the current success were sown decades ago.
Boxing and other martial arts have always been male-dominated sports globally, and across the Middle East and in Saudi Arabia.
But women in the Kingdom are becoming increasingly adept at breaking stereotypes and celebrating their own achievements in sports, and beyond.
Halah Al-Hamrani has been teaching boxing for 20 years and, in 2016, opened her first gym, Flagboxing, in Jeddah. Before the 2020 lockdown following the outbreak of the COVID-19 pandemic, she followed that up with a second center.
However, her journey as a boxing trainer began at her family home, as public gyms for women were rare.
Things have changed rapidly, according to Al-Hamrani, who has seen women's participation in the sport rise by up to 70 percent in the last two decades.
But more recently, thanks to social media as well as social and cultural changes in the Kingdom, that there has been an explosion in the number of women lacing up their gloves.
"When I first started training people, it was apparent that women were very much interested in combat sports," Al-Hamrani told Arab News. "I started getting on social media in 2014, and that's when I started to realize just how many women were interested."
She said that one reasons women sign up for boxing, beyond the fitness benefits, is that they find it therapeutic.
"You get a lot of different reasons why people join, but most of the time it's just that they have a lot of internal struggles that they want to let out when they come to the gym," said Al-Hamrani.
"It's a way of letting out annoyances that have been going on in their life, punching it out."
From a health perspective, the trainer said that boxing's physical benefits are holistic.
"In general, boxing is a full body workout, you're targeting a lot of the (upper body) muscles, but the legs are involved as well," she added. "You can reach your optimum shape and fitness levels, but you have to be very patient with the skill aspect of the sport in order to reach your goals."
Al-Hamrani's classes benefit from the years of experience she has had tailoring specific routines and exercises for her female students.
"I do a 100 percent work skill and footwork right off the bat," she said. "If you go to any other gym, they're going to put you in front of a bag, have you punch the bag without understanding anything about the sport itself. It's just to release whatever pressure you have, which is great.
"From a fitness aspect, that's fine, but at the same time, you have to develop better (technical) ability standing in front of the bag," Al-Hamrani added. "If you want to burn more calories or you want to stay injury free, you cannot neglect the skill part of the sport."
More than 90 percent of the women who join her classes may not be looking to fight competitively, but she highlights the importance of body form and footwork nevertheless.
"The better your skill, the better you'll be able to work, the more calories you're going to shed and the fewer injuries you will develop," Al-Hamrani said.
With those good, long-term habits in the bag, it won't be long before we see young female Saudi fighters making their mark competitively in the ring.
https://www.arabnews.com/node/1826586/sport
--------
AP, WSF Launch First Scouting Units for Women in Saudi Universities
March 16, 2021
RIYADH — Alwaleed Philanthropies, chaired by Prince Alwaleed Bin Talal, signed two memorandums of cooperation (MoC), in collaboration with the World Scout Foundation to support women and youth involvement in scouting locally and internationally, and encourage greater participation in community volunteering within the higher education sector.
The collaboration will support the Kingdom's Vision 2030 goal of rallying one million individuals to volunteer per year.
The partnership agreements aim to align volunteering programs in the Saudi universities with the framework of the World Scout Foundation as well as prepare students to participate in non-profit development projects.
Furthermore, the programs will work to improve community engagement by forging partnerships with third-party institutions within the community to achieve the Sustainable Development Goals (SDGs) by 2030.
The newly launched initiative is the first in the Kingdom to build structured women and youth scout groups in Saudi universities.
As part of the pilot phase, five universities are expected to be onboard in 2021, while further agreements will include more universities in Saudi Arabia as part of a broader scheme after this year.
The first two agreements have been signed with Princess Nourah Bint Abdulrahman University (PNU) and Prince Sultan University (PSU).
Emphasizing the importance of encouraging youth to participate in volunteering programs, Princess Sama Bint Faisal, board member of the World Scout Foundation and head of the Saudi Girl Scouts Committee, said: "Our countries need to empower and encourage women and youth to contribute positively to the continuous growth and development of our societies.
"Scouting is one of the most effective ways to develop the required skills, knowledge, and sense of responsibility to improve well-being of our local and global communities."
Princess Sama Bint Faisal is the first head of the Saudi Girl Scouts Committee, and has supported young women to participate in community engagement programs throughout the Kingdom.
Commenting on the announcement, Princess Lamia Bint Majed Saud, secretary general of Alwaleed Philanthropies, added: "Saudi women have a crucial role to play in the development of the Kingdom of Saudi Arabia and the wider region.
"I strongly believe that empowering women and youth through volunteer programs has a ripple effect on families, communities, and countries, and can achieve long-lasting benefits and inspire other women, particularly young girls to participate in the society and drive environmental and economic progress in the Kingdom.
"We are proud to work with our partners to support the Kingdom in reaching 1 million volunteers per year, while simultaneously achieving the Sustainable Development Goals."
For four decades, Alwaleed Philanthropies has supported and spent more than $4 billion on social welfare and initiated more than 1000 projects in over +189 countries, managed by 10 Saudi female members, reaching more than 1 billion beneficiaries around the world, regardless of gender, race, or religion.
Alwaleed Philanthropies collaborates with a range of philanthropic, governmental, and educational organizations to combat poverty, empower women and youth, develop communities, provide disaster relief, and create cultural understanding through education. — SG
https://saudigazette.com.sa/article/604485
--------
Women Must Be 'Front and Centre' Of Pandemic Recovery, UN Chief Says
March 17, 2021
GENEVA — Women need to be "front and center" of the pandemic recovery as a matter of economics, efficiency, effectiveness and social resilience, the UN chief told the women's commission on Tuesday.
"Male-dominated teams will come up with male-dominated solutions," Secretary-General António Guterres warned a virtual town hall with women civil society during the 65th session of the Commission on the Status of Women (CWS).
"We cannot go back to the failed man-made policies that have resulted in the fragility we see around us — in healthcare systems, in social protection, in access to justice, and in the wellbeing of our planet," he added.
A litany of setbacks
The UN chief painted a devastating picture of the social and economic impact the COVID-19 pandemic has had on women's rights, particularly the most vulnerable, marginalized and poorest.
He spoke about gender-based violence, both inside the home and online, as well as the repercussions of school closures and elder care in perpetuating inequalities, along with the inability of 12 million women to access sexual and reproductive health services.
"UNICEF reported last week that up to ten million more girls are at risk of becoming child brides as a result of the pandemic," he said.
Moreover, there is a huge gender gap in the task forces and panels that are supposed to be building the recovery.
Turning it around
To ensure that everyone enjoys life, dignity and security on a healthy planet, he said there was a need to "reset" policies on the basis of the 2030 Agenda for Sustainable Development.
The UN chief stressed that "gender equality is a question of power", and as such, "women's full representation and leadership are a prerequisite" in moving forward.
"We need a more inclusive, networked multilateralism that recognizes the strength that comes through diversity. We cannot talk about inclusive multilateralism without including half the world's population," he spelled out.
Seize the moment
In an effort to "reignite" the Decade of Action for the Sustainable Development Goals (SDGs), and chart a path to more equal, just, inclusive, sustainable societies and economies, the secretary-general advocated for five "transformative actions" to build women's representation, participation and leadership.
Specifically, he called for repealing discriminatory laws, taking concrete steps to ensure women's equal representation; advancing economic inclusion with equal pay; addressing violence against women through increased funding, more effective policies and political will; and support for young women leaders.
'Signs of hope'
Crediting vaccines that "have been developed in record time", Guterres said, "there are now signs of hope".
But rather than going back to the previous "normal", often discriminatory, unjust and unsustainable, he underscored the importance of moving towards a "safer, fairer, more inclusive and equal world".
Women's insights needed
Hosting the event, UN Women Executive Director Phumzile Mlambo-Ngcuka echoed the UN chief in saying that COVID-19 "cannot be solved by men alone without the insights of women" and called for an "agreed conclusion that highlight the agency of engaging and involving women."
She introduced Tumie Komanyane of Frontline AIDS, who zeroed-in on the issue of justice, which for many women living in sub-Saharan Africa, "remains a far-fetched reality".
Komanyane asserted that reparations for violence against women and girls be a "key part of the COVID-19 response".
"Although many of the countries have progressive legislation, implementation remains fraught with challenges, including poor resource allocation to response," she said.
Nandini Tanya Lallmon, a social activist leader from Mauritius who spoke on behalf Women's Rights and the LGBTI Caucus, detailed that "the near absence of lesbian, bisexual, transgender, intersex and gender non-conforming, women, girls and people from local councils, political parties, trade unions...have resulted in them facing barriers to access and exercise their rights".
Lallmon underscored that "full and inclusive participation in public life" is a prerequisite for ensuring that the interests of every group are adequately represented. — UN News
https://saudigazette.com.sa/article/604500/World/Women-must-be-front-and-center-of-pandemic-recovery-UN-chief-says
--------
Gender Equality Means Business, Guterres Tells Corporate Leaders
March 17, 2021
NEW YORK — The UN Secretary-General has urged corporate leaders to achieve gender equality, highlighting the benefits for the private sector and society at large.
António Guterres made the appeal in a video message to the 'Target Gender Equality LIVE' event, held on Tuesday during the latest session of the UN Commission on the Status of Women (CSW).
Target Gender Equality is an initiative by the UN Global Compact, which supports businesses in adopting sustainable and socially responsible policies.
"The world needs the talents and perspectives of all women to solve our biggest challenges, from rebuilding the global economy to fighting systemic racism to tackling climate change," the UN chief said.
"That is why gender equality is a strategic priority for the UN Global Compact and for the UN system itself. Gender equality means business. Let us unite to make it a reality."
A moral duty
As the secretary-general pointed out, gender equality is essentially "a question of power". Whether in the public or private sector, men dominate.
"For the private sector, women's equal participation and leadership is both a moral duty and a business imperative," he said.
"When women have income and resources — including access to digital technology — they are more likely to invest in ways that benefit their families and communities. Experience also shows that businesses with women well represented on their corporate boards are more stable and profitable."
Guterres noted that hundreds of companies are now implementing the Women's Empowerment Principles launched by the UN Global Compact and UN Women in 2010. He hoped thousands more would join them.
No backtracking
He stressed the need to act urgently, given the threat posed by the COVID-19 pandemic, whose impacts are affecting women worst of all.
"Backtracking on the path to gender equality is not just bad for women. It will undermine the resilience of entire economies and societies. And it will prevent the world from fulfilling the 2030 Agenda for Sustainable Development," he warned.
A $13 trillion payoff
The pandemic's disproportionate impact on women also figured heavily in an address by the UN's deputy chief, to another event hosted on Tuesday by the UN Global Compact.
Advancing gender equality in response to the crisis could add $13 trillion to global Gross Domestic Product by 2030, according to Deputy Secretary-General Amina Mohammed.
She said the UN's road map out of the pandemic advocates for a just and inclusive recovery, emphasizing the need for increased fiscal space and greater social protections for women.
"With targeted support, women-led businesses can play a major role in job creation and economic recovery, keeping households and businesses afloat," Mohammed said, in a video message to the 'Women Rise for All' event.
"Given this immense potential, I am inspired to see women leaders unite to identify, support and finance women-led businesses and to protect vulnerable workers." — UN News
https://www.saudigazette.com.sa/article/604501/World/Europe/Gender-equality-means-business-Guterres-tells-corporate-leaders
--------
HRW: Targeted Killings Aimed at Keeping Afghan Women from Public Life
By Ayaz Gul
March 16, 2021
ISLAMABAD - A global rights monitor is urging authorities in Afghanistan to launch investigations into recent targeted killings of civilians in prominent positions, and to prosecute those responsible.
The latest incident of targeted attacks on civilians came Tuesday when gunmen ambushed a bus carrying university staff in northeastern Baghlan province, killing the driver and a student. Officials said the attack injured six university lecturers. The Taliban insurgent group denied involvement and instead condemned the bus attack.
In a statement issued Tuesday, New York-based Human Rights Watch (HRW) noted that attacks in recent weeks have killed at least five women, mostly journalists and media workers, and seven factory workers from the minority Shi'ite Hazara community.
Patricia Gossman, associate Asia director at HRW, said the surge in targeted killings "appears intended to drive women from public life and spread terror among minority communities."
Gossman said unidentified attackers also have gone after journalists, civil society activists, and professionals, killing many, forcing some to flee the country and leaving the rest to live in fear.
An increasing number of Afghan women in journalism have left the profession because of worsening security and threats, a trend that emerged after 2015 and has accelerated, according to the HRW statement.
In 2020, 18 women journalists and media workers were threatened or violently attacked.
The Afghan affiliate of Islamic State, known as IS Khorasan Province (ISKP), has claimed responsibility for many recent attacks, particularly those in and around Jalalabad, the capital of eastern Nangarhar province.
"In many cases, insurgents have accused the women of violating social norms by taking on a public role," said HRW.
"Because many attacks on journalists go unclaimed and the Afghan government rarely investigates threats or attacks on journalists, there has been a growing climate of fear among the Afghan media," the group stressed.
Afghan authorities blame the Taliban for orchestrating the targeted killings, charges the Islamist insurgent group rejects.
Gossman said the Afghan government "finds it convenient" to blame every attack on the Taliban rather than actually investigating it.
Afghan authorities are reluctant to conduct an investigation, she alleged, because "to do so would inevitably expose some cases where corruption, local power struggles over land and resources, and abusive officials played a part."
Targeted killings of high-profile Afghans have swept through the country over the past year. The United Nations, in a report published last month, said the violence killed more than 700 civilians and injured nearly 550 others in 2020.
Human Rights Watch noted it often is not clear whether the ISKP, the Taliban, or other groups are responsible for the threats and attacks.
Critics say the prolonged Afghan conflict and rampant corruption in the country's judicial system, along with security institutions, also are encouraging influential people aligned with the government to settle traditional tribal rivalries over land or resources, leading to some targeted assassinations.
The spike in violence comes as the United States has accelerated diplomatic efforts to push the Taliban and the Afghan government to urgently reach a political settlement to end the conflict and pave the way for all American troops to leave the country. However, Afghans and independent critics are skeptical about an early resolution to the conflict and fear the U.S.-led foreign troop drawdown will lead to more bloodshed and chaos in Afghanistan.
https://www.voanews.com/south-central-asia/hrw-targeted-killings-aimed-keeping-afghan-women-public-life
--------
URL: https://www.newageislam.com/islam-women-feminism/sunni-ulema-council-proposed-nikahnama/d/124557
New Age Islam, Islam Online, Islamic Website, African Muslim News, Arab World News, South Asia News, Indian Muslim News, World Muslim News, Women in Islam, Islamic Feminism, Arab Women, Women In Arab, Islamophobia in America, Muslim Women in West, Islam Women and Feminism