New Age Islam News Bureau
02 June 2022
• Dr. Anne Azza Aly Is Australia's First Female Muslim Minister
• Islamophobic and Racist: French Restaurant Denies Entry to Muslim Woman Wearing Hijab
• 2 Women Journalists Win Shaheed Selina Parvin Award
• First Starbucks Drive-Thru Run By Saudi Women Opens in Eastern Province of Saudi Arabia
Compiled by New Age Islam News Bureau
URL: https://newageislam.com/islam-women-feminism/sultana-tafadar-queen-england/d/127157
-------
Sultana Tafadar is first hijabi barrister to be appointed counselor to Queen of England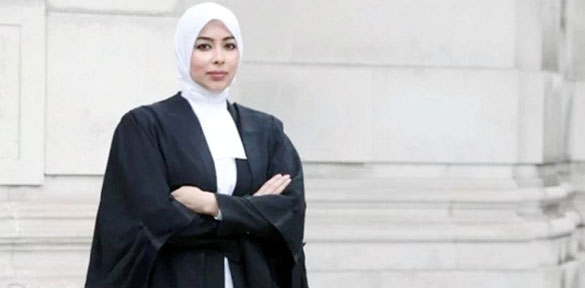 Sultana Tafadar, the first hijab-wearing criminal barrister, was appointed as counselor to Queen Elizabeth II of England.
----
June 01, 2022
LONDON — Sultana Tafadar, the first hijab-wearing criminal barrister, was appointed as counselor to Queen Elizabeth II of England, one of the highest positions a lawyer can hold in England, for those who showed "excellence in advocacy."
During a ceremony conducted at Westminster Palace near the Buckingham Palace to commemorate her "taking the silk" — an euphemism for her designation in the Quality Control Center in English courts.
The high-ranking lawyer was born in Luton, England, according to the British Daily Mail website, and her roots are from Bangladesh.
Tafadar confirmed that she could not believe what she had achieved, and that everything was a surreal experience. "I'm absolutely delighted, especially as the first hijab-wearing barrister to have been admitted at the criminal bar."
She said, "Representation is really important." She added to her wish for hijab-wearing girls to realize their dreams after her dream has become a reality.
She described the challenge faced by other veiled women across Europe as sad. "There are women across Europe and particularly in France who are facing discrimination because they wear the hijab," she added.
"France wants to impose various forms of hijab bans and that amounts to sex discrimination, race discrimination and religious discrimination."
She further explains, "It's sad on a day like this and I'm celebrating taking the silk wearing the hijab that others across Europe are denied those opportunities that I've had."
A London General Council report on race found that prior to Tafadar's appointment, only 31 women of black, Asian or mixed ethnicity out of nearly 2,000 received quality control.
"In terms of hijab-wearing barristers that are Queen's Counsel, there's only ever been two and I'm the first at the criminal bar," she added.
Shaheed Fatima of Blackstone Chambers in London, who was promoted to the title in 2016, was the first hijab-wearing lawyer to take the silk.
Tafadar earned a Master of Law in human rights from University College London. She used to be asked if she was the interpreter while at court when she started.
She also holds an Oxford University master's degree in international human rights.
"Unfortunately, it is layers and layers of challenges that I face, as a woman, as somebody from an ethnic minority background and as somebody who's visibly hijab-wearing."
"There have been challenges in court, there have been challenges in the workplace in my previous chambers, but I'm glad to say that it is possible to overcome those challenges and it is possible — having the opportunities — it is possible to shine."
Currently Tafadar is trying legally to end France's headscarf ban, and this year she will argue before the United Nations that the French government is breaking international law.
"Diversity that embraces lawyers from different racial, ethnic and gender backgrounds, is to be welcomed and championed if the criminal bar is to continue to better reflect the public we serve as prosecutors and defenders," said Jo Sidhu QC, chair of the Criminal Bar Association.
In May 2020, Raffia Arshad became the first hijabi woman to be appointed as a judge. — Agencies
Source: Saudi Gazette
https://saudigazette.com.sa/article/621269
--------
Dr. Anne Azza Aly Is Australia's First Female Muslim Minister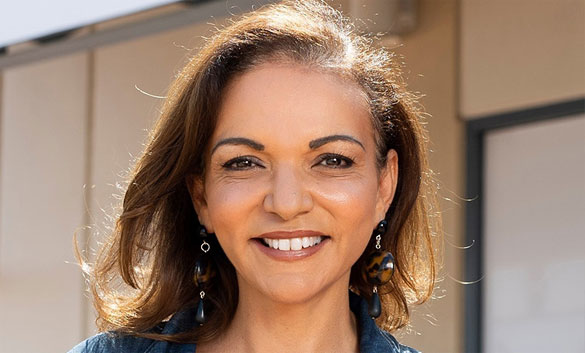 Anne Aly.
----
2 June, 2022
Australian Prime Minister Anthony Albanese on Wednesday appointed a record number of women to a diverse ministerial team that includes religious minorities and indigenous peoples.
Albanese's cabinet has 23 ministers, including 10 women, compared to seven in former Prime Minister Scott Morrison's liberal government.
The Minister of Youth in Albanese's cabinet is Dr. Anne Azza Aly (born Azza Mahmoud Fawzi Hosseini Ali el Serougi) and her colleague, Industry Minister Ed Husic, are the first two Muslim ministers in the Australian Federal Government.
Anne Aly is the first woman of Arab and Muslim origin to hold a high position in Australian history.
She is of Egyptian origin and was born in Alexandria on March 29, 1967.
Although she is a newcomer to the Australian Labor Party, but within a few years she has proven her worth and statesmanship, and she has been a member of the House of Representatives since the 2016 elections for the Labor party, which won the elections on Saturday, May 21, 2022, with 77 seats out of 150 seats is the number of seats in the Australian House of Representatives.
Ann Aly represents the voters of the Cowan region in Western Australia. She is a graduate of Edith Cowan University. She also studied at the American University in Cairo and is married.
She has two children, Adam, Reda and Karim.
Anne Aly represents the left-wing in the Australian Labor party, and her victory in the ministerial position in the Albanese government, of Italian origin, means that racial, religious and cultural diversity has become a tangible reality in Australia.
Anne Aly is considered one of the best politicians who can respond correctly to the challenges brought about by the reality of diversity in Australian society, especially in the last fifty years.
Source: Gulf Today
https://www.gulftoday.ae/news/2022/06/01/anne-aly-is-australia-first-female-muslim-minister
--------
Islamophobic and Racist: French Restaurant Denies Entry to Muslim Woman Wearing Hijab
June 02, 2022
According to media reports, the incident took place on Sunday when a resident of France's Hendaye city, wanted to take his mother to a restaurant for a Mother's Day dinner, which he had made a reservation a week in advance.
In the footage, when the mother and son arrive at the restaurant door, the woman who owns the business said she will not let the two customers into the restaurant because her mother is wearing a "headscarf from the Dark Ages."
The restaurant owner, who is believed to be a Christian because she was wearing a religious symbol – a cross around her neck – claimed that "the headscarf is a tool to subdue women" to her Muslim client, whom she then refused to let in.
The customer, who stated that he was shocked by the words directed at him, went to the police station and filed a complaint on the grounds that they were discriminated against.
Images of incident widely condemned
The images, which went viral on social media, garnered reactions on the grounds that Islamophobic and racist behavior was displayed.
With the implementation of laws targeting Muslims in France, Islamophobic and discriminatory attacks against headscarved women, Muslims and Islamic establishments and places of worship have increased, which appear to have emboldened anti-Muslim racist attacks.
Recently, the decision of the municipality of Grenoble to allow veiled swimwear on public beaches and swimming pools in the country was suspended by a court upon the instructions of Interior Minister Gerald Darmanin.
Source: IQNA
https://iqna.ir/en/news/3479153/french-restaurant-denies-entry-to-muslim-woman-wearing-hijab
--------
2 women journalists win Shaheed Selina Parvin award
Jun 2, 2022
Two female journalists received the "Shaheed Journalist Selina Parvin Journalism Award given by Bangladesh Nari Sangbadik Kendra (BNSK), a centre for women journalists.
The award ceremony was held at the Jatiya Press Club in Dhaka today (June 2, 2022).
Kaberi Maitrya, senior reporter at Ekattor Television, was given the "Shaheed journalist Selina Parvin Journalism Award" for the year 2020 while Rozina Islam, special correspondent of Prothom Alo, was awarded the "Shaheed journalist Selina Parvin Courageous Journalism Award-2021".
Writer Selina Hossain, also president of Bangla Academy; Mahfuza Khanam, former vice-president of Dhaka University Central Students' Union (Ducsu); and Mofidul Hoque, one of the Trustees of the Liberation War Museum; were present as special guests at the programme.
Prof Golam Rahman also attended the programme with BNSK president Nasimun Ara Huq in the chair.
While speaking Nasimun urged media houses to create more opportunities for women to join journalism.
In addition, the government instruction to form sexual harassment prevention body at all media houses should be implemented soon, she added.
Selina Parvin, born on March 31, 1931, was a Bangladeshi journalist and poet. She worked for Weekly Begum, Weekly Lalana, Shilalipi, among others.
She was one of the intellectual martyrs killed by Al-Badr on December 14, 1971. Al-Badr members picked her up from her house in Dhaka on December 13.
Her body was later recovered from Rayerbazar mass grave and later, she was buried at Azimpur Graveyard on December 18, 1971.
Source: The Daily Star
https://www.thedailystar.net/news/bangladesh/news/2-women-journalists-win-shaheed-selina-parvin-award-3037701
--------
First Starbucks Drive-Thru Run By Saudi Women Opens in Eastern Province of Saudi Arabia
June 01, 2022
Starbucks KSA has launched its first all-Saudi female-operated Drive-Thru store in the Eastern Province of Saudi Arabia, as part of its ongoing commitment to creating more work opportunities for Saudi women in line with the Kingdom's Vision 2030. The new all-female Drive-Thru only store located on the Coast Road is a significant step toward increasing its female workforce to 30 percent by the end of 2022, with plans to launch many more Drive Thru stores over the coming years in Saudi Arabia.
As a long-term contributor to Saudi Arabia's coffee culture through its Saudization drive, Starbucks, operated by Alshaya Group in the region, has focused its efforts on growing the representation of women in the workforce while encouraging a culture of diversity, equity and inclusion. Alshaya and Starbucks have a long history of creating and strengthening opportunities for women and fostering diversity across the organization and the markets it operates in.
Managed by a team of all Saudi female partners, the Starbucks Drive-Thru only store will continue to deliver the "Starbucks Experience" that brings customers great coffee at their convenience. Partners will be responsible for all aspects of store operations, customer service, day-to-day administration, and brewing coffee for the customers.
"This is an exciting time for our Saudi partners to lead our first all-female driven operation in the country as they set new benchmarks and progress in their career journey at Starbucks," said Andy Holmes, president of Starbucks MENA at Alshaya Group.
"Our first all-female Saudi partners-operated Drive-Thru store in the Kingdom is a significant step toward creating more opportunities for women as we continue to build on the local female talent and empower them in the workplace. As we continue to see a spike in more Saudi women joining the workforce in various sectors, we demonstrate active support to the Kingdom's focus on empowering Saudi youth and highlighting the role of women by offering access to wider employment and career opportunities."
Today, women make up 20 percent of Starbucks KSA's workforce. With the first all-women Starbucks Drive-Thru store launch, the company has further plans to expand its network in Saudi Arabia with more Saudi female partners.
Source: Arab News
https://www.arabnews.com/node/2094841/corporate-news
--------
URL: https://newageislam.com/islam-women-feminism/sultana-tafadar-queen-england/d/127157
New Age Islam Islam Online, Islamic Website, African Muslim News, Arab World News, South Asia News, Indian Muslim News, World Muslim News, Women in Islam, Islamic Feminism, Arab Women, Women In Arab, Islamophobia in America, Muslim Women in West, Islam Women and Feminism