New Age Islam News Bureau
25 Dec 2017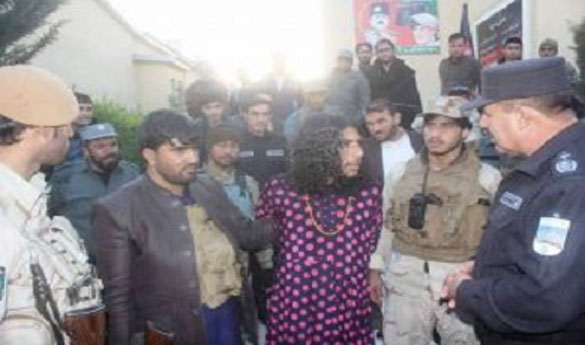 Photo: A suicide bomber who had disguised himself in women's dress has been arrested by the Afghan security forces in eastern Laghman province of Afghanistan.
------
• Violence against Women in Lebanon 'Structural and Systematic'
• Second Aswan Women's Film Festival to Honour Egyptian Actress Mona Zaki
• UAE Has Information Tunisian Women May Commit 'Terrorist Acts', Tunisia Says
• Roots of the Nursing Profession in Islam: Rufaida Al-Aslamia, the First Muslim Nurse
• Muslims Help Perform Last Rituals of Hindu Woman in Kashmir
• Egypt's Al-Ahly Wins the 2017 Women's Volleyball Championship for Arab Clubs
Compiled by New Age Islam News Bureau
URL: https://www.newageislam.com/islam-women-feminism/suicide-bomber-disguised-womens-dress/d/113692
---------
Suicide bomber disguised in women's dress arrested in Laghman
By KHAAMA PRESS - Mon Dec 25 2017
A suicide bomber who had disguised himself in women's dress has been arrested by the Afghan security forces in eastern Laghman province of Afghanistan.
According to the local officials, the suicide bomber was arrested during an operation conducted in the provincial capital of the province.
The provincial government media office in a statement confirmed that a suicide bomber in women's dress was held during an operation in Katal area of the provincial capital.
The statement further added that the operation was conducted on Sunday evening based on a tip off.
According to the provincial government, the suicide bomber was looking to carry out an attack in Mehtarlam city but was arrested by the Special Forces before the militants manage to execute their plan.
Laghman governor Abdul Jabar Naeemi hailed the Afghan forces for their bravery and preventing a deadly incident in this province.
The anti-government armed militant groups including the Taliban insurgents have not commented regarding the report so far.
Laghman has been among the relatively calm provinces since the Taliban group regime was toppled down in 2001 but the anti-government armed militant groups have increased their insurgency activities in this province during the recent years.
khaama.com/suicide-bomber-disguised-in-womens-dress-arrested-in-laghman-04115
---------
Violence Against Women In Lebanon 'Structural And Systematic'
REUTERS | Published — Monday 25 December 2017
BEIRUT: Dozens of people gathered outside Beirut's national museum to light candles for a British woman and three Arab women murdered in the past week in Lebanon.
The killing of the British Embassy worker Rebecca Dykes last week has sparked extensive media coverage in Lebanon, prompting activists to press for more attention to be given to widespread violence against women.
Lebanese women's rights activists held the vigil to mourn the victims, demand better laws, and to protest against the violence — including the three reported murders in northern Lebanon alone over the past week.
"Society refuses to listen to us or see us until our blood is spilled," Leen Hashem, an organizer, told the crowd from the steps of the museum. "This violence is structural and systematic."
"Justice is not only arresting the criminal. Justice is for all; this not to happen to us in the first place," she said. Participants laid white roses over pictures of the four women, and lined the steps with candles.
Wafaa Al-Kabbout stood on the sidelines, holding a framed photo of her 21-year-old daughter Zahraa, whose ex-husband shot her dead last year. "Now my daughter is gone, she's not coming back," she said. "But all these young women are our daughters. And there is still fear for the young women after them."
The UN says a third of women worldwide have suffered sexual or physical violence.
A 2017 national study by the Beirut-based women's rights group ABAAD said that one in four women have been raped in Lebanon. Less than a quarter of women who faced sexual assault reported it, the survey said.
"Little by little, we are breaking the silence ... for women to come forward and talk about the violence they are facing," said Saja Michael, program manager at ABAAD.
In the past five years, women have become more likely to report violence and seek help, she said, though sexual assault remains a bit more taboo. Part of the reason is that NGOs have set up new shelters and community centers, with psychological, legal, medical, and other services, Michael added.
"It's becoming more of a public discourse," she said. "It's no longer what's happening behind closed doors."
arabnews.com/node/1214026/middle-east
---------
Second Aswan Women's Film Festival to honour Egyptian actress Mona Zaki
The festival will be held between 20 and 26 February 2018 in Aswan
Ahram Online , Monday 25 Dec 2017
The Aswan Women's Film Festival will honour Egyptian actress Mona Zaki in its second edition, set to take place in February.
Zaki, 41, is an award-winning actress who has starred in over 30 Egyptian films since the early 1990s. Last year, she won the Murex D'Or award for her role in the Ramadan television series Afrah El-Quba.
She also won awards from the Damascus Film Festival, the Alexandria International Film Festival, the Cairo National Film Festival for Arab Cinema, as well as the Paris Biennial for Arab Cinema.
The festival's secretary-general Amira Atef has said that the festival has chosen to honour Zaki for her talent and extensive contributions to cinema since the start of her career, according to a report by Al-Ahram Arabic new website.
"Zaki has tackled women's issues in many of her films, and portrayed the struggles of women of different backgrounds in films including An El-Eshq Wel Hawa (2006), Ehky Ya Shahrazad (2009), Taimour We Shafika (2007), Sahar El-Layaly (2003), Dam El-Ghazal (2005), and Edhak El-Soura Tetlaa Helwa (1998)," Atef said.
Zaki has thanked the festival for the honorary award, saying that it holds particularly special value coming from an Egyptian festival dedicated to women, especially in an edition where the guest of honour is iconic Algerian activist Djamila Bouhired.
In its first edition last year, the festival honoured actress Naglaa Fathy.
The Aswan Women's Film Festival showcases local and international films with women as lead actresses, directors, or that focus on women's issues.
The festival is headed by actress Elham Shahin and is organised by the Ministry of Culture and the Ministry of Tourism, in collaboration with the National Assembly for Women.
english.ahram.org.eg/NewsContent/5/32/286011/Arts--Culture/Film/Second-Aswan-Women's-Film-Festival-to-honour-Egypt.aspx
---------
UAE has information Tunisian women may commit 'terrorist acts', Tunisia says
TUNIS (Reuters) - The United Arab Emirates has information that Tunisian women or women traveling on Tunisian passports might commit "terrorist acts" in the Gulf country, Tunisia's state news agency TAP said.
A women are seen in front of the Dubai airline Emirates office, at Tunis-Carthage International Airport in Tunis, Tunisia, December 25, 2017. REUTERS/Zoubeir Souissi
Tunisia late on Sunday suspended flights from Dubai carrier Emirates to Tunis, with officials saying the airline was refusing to carry female Tunisian travelers.
Emirates has given no reason for not allowing female Tunisians to board its flights since Friday.
A spokesman for Tunisia's presidency did not elaborate on the security threat in a brief TAP article.
Emirates had stopped its Dubai-Tunis connection on Monday.
In Tunisia, anger has been building after women said they had been banned at Tunis airport from boarding Emirates flights to Dubai.
Tunisian civil organizations and political parties called on the government to respond. Foreign Minister Khemais Jhianoui told a local radio station the UAE should apologize for the travel ban, which he said its authorities had not informed Tunisia about.
Reporting by Ulf Laessing, Tarek Amara, Mostafa Hashem and Maha El Dahan; Editing by Hugh Lawson
reuters.com/article/us-tunisia-emirates/uae-has-information-tunisian-women-may-commit-terrorist-acts-tunisia-says-idUSKBN1EJ0MR?il=0
---------
Roots of the nursing profession in Islam: Rufaida Al-Aslamia, the first Muslim Nurse
Dec 25, 2017
By Jeelani Saima Habeeb
Rufaidah received her training and knowledge in medicine from her father, a physician, whom she assisted regularly. Her history illustrates all the attributes expected of a good nurse. She was kind and empathetic. She had clinical skills that she shared with the other nurses whom she trained and worked with.
Women have always played and are playing major roles not only in their families but also in their societies and communities. Islam has given women many rights and privileges, which had never been enjoyed under other religious or constitutional systems before Islam.
Women in the early days of Islam had a great part in all spheres of life and they contributed a lot to various fields of business, education, Hadith narration, charity, nursing, and social work etc.
In Islam, nurses provide healthcare services to patients, families and communities as a manifestation of their love for Allah and Prophet Muhammad (Peace be upon him). Islamic traditions include sympathy for and responsibility towards those in need. This perspective had emerged during the development of Islam as a religion, culture, and civilization.
Rufaidah bint Sa'ad, is recognized as the first professional Muslim Nurse. She was among the first people in Madina to accept Islam and was one of the Ansar women who welcomed the Prophet (PBUH) on his arrival in Madina.
Rufaidah received her training and knowledge in medicine from her father, a physician, whom she assisted regularly. Her history illustrates all the attributes expected of a good nurse. She was kind and empathetic. She was a capable leader and organizer, able to mobilize and get others to produce good work. She had clinical skills that she shared with the other nurses whom she trained and worked with. She did not confine her nursing to the clinical situation. She went out to the community and tried to solve the social problems that lead to different diseases. She was a public health nurse and a social worker.
Devoting herself to nursing and taking care of sick people, Rufaida became an expert healer. She practiced her skills in field hospitals in her tent during many battles. Rufaidah is an inspiration for the personnel of nursing profession in the Muslim world.
Rufaida implemented her clinical skills and medical experience into developing the first-ever documented mobile care-units that were able to meet the medical needs of the community. Mostly, her work was primarily in hygiene and stabilizing patients prior to further and more invasive medical procedures. She is recorded as having personally worked in poor communities encouraging hygiene and attempting to alleviate social problems which led to poor health.
At the time when Prophet's (PBUH) early followers were engaged in war, she led a group of volunteer nurses to the battlefield to treat and care for the injured and dying. After the Muslim state was established in Medina, she was given permission by Prophet (PBUH) to set up a tent outside the mosque to treat the ill and to train more Muslim women and girls as nurses.
Rufaida is described as a woman possessing the qualities of an ideal nurse: compassionate, empathetic, a good leader and a great teacher. She is said to have provided health education to the community, helped the disadvantaged (like orphans and the disabled), advocated for preventative care, and even to have drafted the world's first code of nursing ethics.
At the Battle of the Trench (Ghazwat al Khandaq), Rufaidah set up her hospital tent at the battle-field. The Prophet (PBUH) instructed that Sa'ad bin Ma'adh, who had been injured in battle, be moved to the tent. Rufaida nursed him, carefully removed the arrow from his forearm and achieved hemostasis. The prophet visited Sa'ad in the hospital tent several times a day.
Rufaida had trained a group of women companions as nurses. When the Prophet's army was getting ready to go to the battle of Khaibar, Rufaidah and the group of volunteer nurses called-on the Prophet (PBUH).
They asked him for permission saying "Oh messenger of Allah, we want to go out with you to the battlefield and treat the injured and help Muslims as much as we can". The Prophet (SAW) gave them permission to go. The nurse volunteers did such a good job that the Prophet (SAW) assigned a share of the booty to Rufaida. Her share was equivalent to that of soldiers who had actually fought. This was in recognition of her medical and nursing work. She participated in the battles of Badr, Uhud, Khandaq, Khaibar, and others.
During times of peace, Rufaida continued her involvement with humanitarian efforts by providing assistance to Muslims who were in need. She was praised for spending her life taking care of the sick and the dying, and providing the people of her city with health education. She is described as having been patient, kind, devoted, and committed.
Stories about her work were passed on through the generations. She has been rediscovered as the founder of nursing in the Muslim world. Acknowledging her matchless contribution the Aga Khan University has established a college of nursing and midwifery after her name. The University of Bahrain awards an annual Rufaida Al-Aslamia Prize in Nursing. Each year the Royal College of Surgeons in Ireland (RCSI) at the University of Bahrain awards a coveted and a prestigious Rufaida Al-Aslamia Prize in Nursing. The Jamia Hamdard (University) Delhi has set up a nursing college after the name of Rufaida. Without any fear of contradiction I can say that Rufaida Al-Aslamia introduced nursing to the Muslim world almost 1, 200 years before Florence Nightingale embarked on the profession who is undoubtly 'the founder of modern nursing'.
The name of the companion of the Prophet (SAW), Al-Shifa bint Abdullah, is also worthy to mention here. Her real name was Layla, but the nickname, Al-Shifa (the healing) was given for her profession as a nurse and medical practitioner. She was literate at a time of illiteracy. She was involved in public administration and skilled in medicine. Al-Shifa used to use a preventative treatment against ant bites and the Prophet (SAW) approved of her method and advised her to train other Muslim women. Then she taught it to Hafsa.
I think the glorious history of the nursing profession is a motivating factor for the budding and talented youth to pursue a distinguished career in this sacred profession which is a way to earn the pleasure of Allah and His Apostle (PBUH). Following in the footsteps of Rufaida the nurses have an opportunity to provide health-care services to patients, families and communities as a manifestation of love for Allah and the Holy Prophet (PBUH).
The author can be contacted at saimahabeeb786@gmailcom
kashmirmonitor.in/Details/139617/roots-of-the-nursing-profession-in-islam-rufaida-al-aslamia-the-first-muslim-nurse
---------
Muslims help perform last rituals of Hindu woman in Kashmir
December 24, 2017
In a show of religious harmony, thousands of Muslims in India-held Kashmir helped perform the last rites of a female Kashmiri pundit in Anantnag district, Asia News International (ANI), an Indian news agency, reported on Sunday.
Around 3,000 people, mostly Muslims helped perform the last rites of Nancy Koul, who is survived by her four children, including two girls. Koul's husband died last year.
Scores of her Muslim neighbours rushed to Koul's residence after the news of her death broke. They not only consoled her family and mourned her demise but also performed the pundit's last rituals.
"This is our culture and we share brotherhood. We do not believe in divisive politics. We share a composite culture," a neighbour said while talking to ANI.
Due to the communal and religious harmony in the area, Koul and her husband had decided to stay on in their native village in the 1990s when a large number of Kashmiri pundits had migrated from the region.
dawn.com/news/1378594/muslims-help-perform-last-rituals-of-hindu-woman-in-kashmir
---------
Egypt's Al-Ahly Wins the 2017 Women's Volleyball Championship for Arab Clubs
DECEMBER 24, 2017
The 2017 Women's Volleyball Championship for Arab Clubs has celebrated Egypt the winner of the competitions which concluded its events on 22 December 2017 at the Cairo International Stadium.
Five clubs from four Arab countries competed: Egypt's Al-Ahly, Egypt's Alexandria Sporting Club (ASC), Tunisia's Club Sportif Sfaxien (CSS), Algeria's GS Pétroliers (GSP), and Sudan's Youth 20 Press.
According to the points acquired by each team, Al-Ahly sealed the championship and the runner-up was Tunisia's CSS. In the third place came Algeria's GSP while the fourth place went for Egypt's ASC.
Commenting on the results, Yara Fawzi, head of the volunteers' committee at the Egyptian Ministry of Youth Affairs and Sports, told Egyptian Streets "Al-Ahly did not lose any match and it was the team with the best performance. On the other hand, Sudan's Youth 20 Press was the team with the poorest performance".
Al-Ahly's Aya Hamdy El-Shamy was awarded the title of "The Championship's Best Player".
egyptianstreets.com/2017/12/24/egypts-al-ahly-wins-the-2017-womens-volleyball-championship-for-arab-clubs/
URL: https://www.newageislam.com/islam-women-feminism/suicide-bomber-disguised-womens-dress/d/113692