New Age Islam News Bureau
13 Apr 2019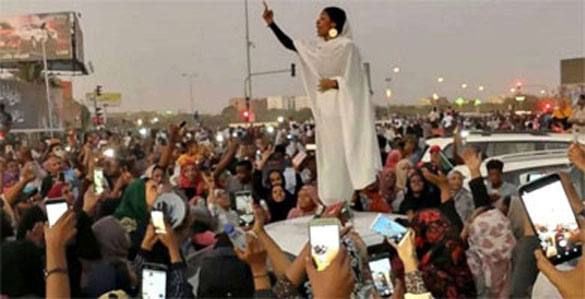 Alaa Salah dressed in a traditional white Sudanese thobe speaks to protestors. Sudanese on social media called her "Kandaka," an ancient Nubian title for queen. Photo/COURTESY
-----
• Captive Teen Brides Trapped Between ISIS And Its Victors
• Employment for Saudi Women Is A 'Right and A Necessity'
• Missing Pakistani Hindu Student Converts to Islam, Marries Muslim Class Fellow
• Manal Al-Sharif Wants Americans to Know of Saudi Arabia's Human Rights Abuses
• Meet Women In UAE Who Knit Clothes For Underprivileged Children
Compiled by New Age Islam News Bureau
URL: https://www.newageislam.com/islam-women-feminism/sudanese-woman-iconic-protest-image/d/118314
--------
Sudanese Woman in Iconic Protest Image Reports Getting Death Threats
2019-04-12
NEW YORK — A woman who has come to symbolize protests in Sudan after being photographed chanting atop a car during protests against President Omar Bashir said on Thursday she had received death threats since her image went viral.
Clad in white, Alaa Salah can be seen poised above the crowds in Khartoum, where demonstrators gathered to demand the military hand over power to civilians.
The ouster on Thursday of Bashir, 75, followed months of protests against his rule.
"I wanted to get on the car and speak to the people," according to a post on a Twitter account for Salah, 22, an engineering and architecture student at Sudan International University.
"We need international support, for people to be aware of what's happening and to understand our demands."
The post praised the role of Sudanese women, many of whom have taken to the streets in protest.
Figures from the World Bank show that less than half of women finish secondary school in Sudan where female life expectancy is about 66 years old.
"You cannot have a revolution without women. You cannot have democracy without women," read the tweet. "We believed we could, so we did."
Calling herself "very proud to take part in this revolution," Salah said her life has been threatened since her picture and video went viral on social media.
"I will not bow down. My voice can not be suppressed," according to a tweet on her account, adding that she would hold Bashir responsible "if anything happens to me."
The Thomson Reuters Foundation could not reach Salah for comment or verify that she wrote the tweets herself on her account rather than representatives. — Thomson Reuters Foundation
http://www.saudigazette.com.sa/article/563256
--------
Captive Teen Brides Trapped Between ISIS And Its Victors
April 12, 2019
AL-HOL CAMP, Syria — Rawan Aboud tried to escape Islamic State after the death of her abusive first husband, a militant killed fighting for the group. She was jailed and forced to marry another fighter. When he died, she finally fled.
Now she is interned with fanatic supporters of the violent jihadist group she has sought refuge from since the age of 13.
"I married age 12," said the Syrian girl, now 18. "My husband then brought me to Raqqa. He beat me and said I was an apostate for trying to leave."
Thousands of women, especially foreigners who flocked from Europe and North African countries, willingly joined Islamic State, subscribing to its brutal interpretation of Islam and marrying militants.
Some remain ardent supporters of its ideology and live in camps they fled to in eastern Syria which are under the control of the US-backed forces that drove IS from its final piece of territory last month.
But many like Aboud, married off by conservative Muslim families in Syria, Iraq and Lebanon, had no choice.
Aboud, several Syrians and a Lebanese woman also wed as a child to a man who joined IS are now detained alongside its die-hard adherents in a guarded section of al-Hol camp.
Regarded as suspect by Kurdish-led forces that helped defeat the jihadists and persecuted by women they are locked up with, they fear they will rot in detention or face death at the hands of their extreme fellow detainees.
Aboud has spent three months at al-Hol along with more than 60,000 people who fled the battle for Baghouz, the final shred of populated territory that Islamic State had held until its defeat there last month.
In an interview with Reuters this month, she wore a green coat, fingerless gloves and eye makeup behind her veil, which she only wears to avoid drawing the attention of IS supporters.
She used the pejorative acronym Daesh for IS, rather than "dawla," Arabic for state, which many in the camp still use. She said her husbands were dead, not martyred, as slain militants are usually described by supporters.
"My first husband was killed fighting three years ago, thank God."
Aboud tried to flee IS territory and was jailed in its Raqqa stronghold. When the US coalition began bombing the city, her 9-month-old daughter was killed. Militants moved her and other women from town to town as they retreated, and married her to another fighter who was also killed several months ago.
She then escaped with her other daughter, now 4.
They face an uncertain future.
"I want to go to my family in Idlib. But right now I'd settle for just another part of the camp, away from the foreigners. Somewhere I can use a phone," she said.
The security forces that guard al-Hol have denied her requests to move, she said. "They keep saying tomorrow and asking, why did you marry an IS fighter."
The Kurdish-led Syrian Democratic Forces (SDF) that run the camp did not immediately respond to a request for comment on her detention.
'Swine and infidels'
"Because I fled and how I dress, the other women call me an infidel. They throw stones at me. When I queue for water, they say this isn't a line for Syrians."
Amal Susi, the Lebanese woman in the same section of the camp, complained of similar treatment and feared never returning home.
The 20-year-old surrendered herself and her two children in 2017 to the SDF after her husband was killed in Raqqa. Months later she was returned to IS territory in a prisoner swap, she said. "It was back to zero," she said.
Her husband took her as a teenager to Syria to live in Islamic State's self-declared caliphate.
Susi is also waiting to be transferred to another section of the camp.
"Those of us forced to come should get to leave. IS supporters call us swine and infidels, say we're spies for the Kurds, and assault us."
The SDF is struggling to cope with the number of suspected militants and supporters languishing in detention centers and camps while some Western countries refuse to allow their citizens to return.
Most Syrians and Iraqis roam al-Hol camp separately from foreign women who are guarded by the SDF. Many foreigners use derogatory jihadist terms against non-extremists and blame their plight solely on Islamic State's enemies.
Aboud, Susi and many others hope to get as far away from them as possible.
"We're not rid of Daesh. They've basically moved the Islamic State here, that's what they believe. They say we'll build it again right here. The camp is under their control," Susi said.
https://nypost.com/2019/04/12/captive-teen-brides-trapped-between-isis-and-its-victors/
--------
Employment for Saudi Women Is A 'Right and A Necessity'
April 12, 2019
RIYADH: Saudi Arabia's Ministry of Labor and Social Development has set itself 12 objectives as part of ambitious plans to improve its services, help more Saudis find work, guarantee a prosperous future for the country and achieve sustainable development. The initiative, launched under the National Transformation Program (NTP) 2020, part of the Kingdom's Vision 2030, was announced by Dr. Tamader bint Youssef Al-Rammah, the deputy minister of labor and social development. It is part of a working paper she presented in Riyadh during a session, titled "Skills and the Future of Labor," at the International Exhibition and Conference on Higher Education (IECHE 2019), which was organized by the Ministry of Education.
Al-Rammah said that the ministry seeks to empower all citizens, including women and those with disabilities, who are able to work to support themselves by integrating them in the labor market.
"The ministry also endeavors to achieve higher levels of sustainable economic contribution for volunteering, increase quality volunteering opportunities for everyone who wishes to volunteer across the Kingdom, enrich their experience with volunteering by increasing the number of volunteers from 23,000 to 1 million by 2030, and improve the economic value of each volunteer from SR0.6 ($0.16) per hour to SR15 per hour," she added.
Al-Rammah said the ministry is working to increase the focus of local companies on social responsibility by encouraging them to diversify their activities in this area, and raise the level of their contributions through the provision of community development services. It also aims to increase the nonprofit sector's sustainable economic contribution to the gross domestic product (GDP) from 0.3 to 0.6 percent, and the percentage of workers in the sector from 0.13 to 0.32 percent of the total workforce.
She added that the ministry is planning to establish a national center for the development of the nonprofit sector to ensure its independence and contribution to development needs.
She said the ministry aims to help nonprofit organizations increase the social and developmental revenue from their initiatives and services; improve their efficiency; strengthen their role in providing and implementing innovative solutions to meet development challenges and needs; and create opportunities for social investment.
The ministry also plans to develop legislation and services that will empower persons with disabilities and provide them with the opportunity to integrate with and be active in society, by increasing the proportion of employed persons with disabilities from 7.7 percent to 12 percent by 2020.
Al-Rammah said that the Authority for the Care of Persons with Disabilities has been established for this purpose, and that the ministry will launch a National Strategy for Persons with Disabilities, as the Kingdom is a member of the UN Convention on the Rights of Persons with Disabilities and its Optional Protocol.
She also said that employment for women is a right and a necessity, not a luxury or secondary issue in society. She pointed out that one of the objectives of the NTP 2020 is to increase the rate of participation in the labor market by women from 17 to 25 percent by empowering them, making it easy for them to perform jobs, and developing the retail sector.
"As an extension to Vision 2030, and in view of the social protection system program, Saudi Arabia seeks to develop and provide a unified comprehensive national platform for all means of support," said Al-Rammah.
"The platform will provide all laws, policies and programs for helping social security categories face crises, and empowering them, as well as providing them with suitable job opportunities."
http://www.arabnews.com/node/1481706/saudi-arabia
--------
Missing Pakistani Hindu Student Converts to Islam, Marries Muslim Class Fellow
April 12, 2019
KHAIRPUR: A Hindu student of Shah Abdul Latif University, who was allegedly missing has reportedly converted to Islam and married a Muslim class fellow, Geo news reported.
Aarti Kumari, who has changed her name to Aliza Fatima, a student of BSc Chemistry – had likely gone with her class fellow by choice, police reported.
She has recorded her statement in the court later. She reportedly went under conversion at the Al-Jamia Islamia Madrassa Khairpur.
Aliza Fatima married a Muslim class fellow named Hasan Pathan. Hasan was nominated as a suspect in girl's kidnapping, as stated in the first information report (FIR) filed by girl's family.
The girl's family, including uncle Santosh Kumar, expressed his concern to the authorities that they believed that Aarti Kumari was kidnapped and submitted a request to file a FIR report. Kumar named Hasan Pathan as the suspect.
At that time, however, Assistant Sub-Inspector of police (ASP) Dr. Imran Khan said that police initiated an investigation upon the submission of Kumar's request and attempts were being made to track down the two through mobile phone records.
Police said that they had also conducted a raid at the residence of Hasan Pathan, the boy who was named as the suspect by the Hindu girl's uncle Kumar.
https://www.thenews.com.pk/latest/456956-missing-khairpur-hindu-student-converts-to-islam-marries-muslim-class-fellow
--------
Manal Al-Sharif Wants Americans to Know of Saudi Arabia's Human Rights Abuses
12 Apr 2019
Manal al-Sharif made history in Saudi Arabia eight years ago when she broke the law, simply by getting behind the wheel of a car and driving.
Video footage of her stunt went viral, gaining over 700,000 views on YouTube in a day, and propelling Sharif to the frontlines of a battle against the kingdom's ultraconservative government.
Now, after Saudi Arabia finally made it legal for women to drive last year, Sharif is speaking out again by driving over 3,000 miles across the United States to raise awareness among Americans on human rights abuses in her home country.
Starting in San Francisco on Friday, the 10-stop tour of major US cities is sponsored by not-for-profit Human Rights Foundation, and will involve travelling over 3,000 miles, taking in places like Phoenix, Arizona, and Birmingham, Alabama.
It will culminate in a protest outside the Saudi embassy in Washington DC on 25 April, her birthday, to call out Saudi Arabia's strict guardianship laws, which require women to have the permission of a man to do basic things, like go to school or to the hospital.
She plans to stand outside the embassy with a sign that reads: "I'm turning 40 today, and my son is still my guardian."
"If American citizens are aware that one of their biggest allies, Saudi Arabia, is accused of these huge violations of human rights, they should question their senators, they should question their representatives, they should question their government," Sharif said in an interview with the Guardian in New York this week.
Sharif is well aware that critics of the Saudi government, particularly the Crown Prince Mohammed bin Salman, put themselves in danger when publicly protesting against the government.
She has experienced the silencing herself when she was imprisoned in 2011 after posting the video of her driving. And the brutal killing last year of Jamal Khashoggi, a Washington Post journalist and a prominent critic of the Saudi government, whose assassination US officials determined was ordered by the kingdom's crown prince, has intensified fears over speaking out.
But Sharif said that fear will not deter her.
"A lot of people are too afraid [to speak up] … after Jamal Khashoggi died. I'm like, you have two options: Be quiet and get killed, or speak up and get killed," Sharif said. "I think I'll choose to speak up."
For Sharif, 39, the issues she plans to address during the trip are deeply personal. Though she currently lives in Australia under self-imposed exile with her husband and youngest son, Sharif was born and raised in Saudi Arabia.
She has lived under the country's strict guardianship laws. Most recently, her friends who publicly protested against the driving ban have reportedly been imprisoned and tortured by the government for it.
Her father and oldest son still live in Saudi Arabia. Though she planned on making a visit home to see her family in 2018, she cancelled her trip fearing that she, too, would be arrested.
At the heart of the message Sharif hopes to share with Americans is criticism of the country's powerful leader, Prince Mohammed.
Sharif once had high hopes for the young prince, who many thought would reform the country. In the epilogue of her book, Daring to Drive, which she says she penned in December 2017, she wrote, "I was very skeptical, but after a few hours of heated discussions and many more hours of studying and reading, I became a supporter and a believer that this young man can finally bring change."
But after waves of journalists, academic and fellow activists were arrested, for what many say was a consequence for criticizing the crown prince, Sharif said that hope has subsided.
Looking back, Sharif says she sees that her aspirations for MBS were based in a deep-set hope that conditions in Saudi Arabia would become better.
"We were getting desperate for change," she said. "I wanted to go back to my country. I wanted to have my children with me. I wanted to help build a better country for me, as a woman, and for my children."
When news of Khashoggi's death got out, Sharif said she gave up all faith that her country could change. She deleted her social media accounts, turned down speaking invitations and decided her days as an activist were over.
But "then Rahaf Mohammed al-Qunun happened," she said, referring to the Saudi woman who captured the world's attention in January by barricading herself in a Thai hotel room after fleeing abuse in her country.
Activists were trying to get the Saudi teenager in touch with Sharif as she was trying to flee her family, who she said had subjected her to years of neglect.
"I saw how scared she was, the way she said: "If they send me back to Saudi Arabia, I will kill myself," Sharif said. "That's the moment, like, I just can't be quiet."
Sharif spoke this week at the 10th Annual Women in the World Summit in New York, which hosted other speakers like Stacey Abrams, Brie Larson and Oprah Winfrey. Sharif told the crowd: "Every time someone asks me about the politics, I'm like, it's so dangerous. I could lose my life if I go back, and I have family there … [but] because I live in self-imposed exile in Australia, I can speak up more."
The reason the government has been able to suppress women for so long, Sharif said, is because of fear. But that continues to change.
Before Sharif got on stage at the summit, Alia al-Hathloul, sister of activist Loujain al-Hathloul, a women's rights activist who is currently in a Saudi prison, spoke.
"For a long time, I believed that staying silent was the best way to protect Loujain from further harm," Hathloul said. "But the injustices have only continued. I have no choice but to speak out and use my voice because my sister cannot."
https://www.theguardian.com/world/2019/apr/12/manal-al-sharif-saudi-arabia-human-rights-abuses
--------
Meet Women In UAE Who Knit Clothes For Underprivileged Children
April 12, 2019
Abu Dhabi: In the true spirit of community activism, a group of women living in the UAE have devoted their free time and talents towards helping children living in orphanages and refugee camps through the simple act of knitting and sewing, with all of the clothes they make donated to the children.
Founded five years ago, the community group — Rags to Riches UAE — has 140 active female members with 5,000 followers on social media. Meeting every week, the women sew, knit and quilt fabrics into clothes such as shirts, shorts, hoodies, tracksuit bottoms and dresses.
"We're just a group of women who have a hobby for sewing, knitting and quilting, and so we've all come together and decided to put those efforts towards a good cause," said one of the group's organisers Ceri Rocca, from the UK.
"All of this activity is done in our spare time, we don't ask for any money as we're not a charity, we just make the clothes and collect them together and then send them off to orphanages or refugee camps," she added.
Rocca explained that the group receives monthly requests for clothes from international humanitarian organisations such as Bring Hope, keeping them busy with their volunteerism.
"We have a good relationship with them and they usually send us one or two requests a month so it is pretty regular. Once we get the request we all get to work to meet our deadline, and when our task is completed we let them know and we send over our boxes of clothes.
"We have a standard summer and winter range of clothing items we make to suit the needs of the children for those seasons. For the girls, we make them dresses, skirts and tops. And for the boys, the range of clothes we create are shorts and shirts," she added.
"It's a great feeling afterwards when you have finished making the clothes and have sent them off. We live in a very privileged society here in the UAE and so it's always important to remember those who are living in difficult conditions, and to do what we can to help them out," she said.
Rocca said the group has also received requests from orphanages as well as schools who have learnt about them and their cause.
"We recently got contacted by a parent who set up a small school in Nepal, the children at the school are not orphans but they live in a very poor region and so we have been making clothes for them as well.
"There was also another request we got from an organisation in Sri Lanka that works with young adults of determination, and so this was also something different for us, but we were more than happy to help," she added.
Fahmida Seitz, who hails from South Africa, said she joined the group as a member over a year ago as she wanted to give back to the community.
"I've worked in a corporate environment for all my life and I've never done something that has been so rewarding as this. When I joined the group I was looking to do something valuable and to give back to society, I really liked that the group was helping children and so that really motivated me.
"When the clothes gets delivered to an orphanage and we see the pictures of the smiling children there's nothing that compares to that feeling. You really do feel like you have made a difference in a positive way," she added.
Seitz also spoke positively on the collective spirit of all the women involved in the group, highlighting how they come from different backgrounds.
"It's really amazing to see because this is a very community-based group, our members are so diverse and come from all walks of life, nationalities, cultures and religions.
"A lot of good friendships and bonds have been formed through this group thanks to our meetups," she added.
Latifa Ghezala, an Algerian member of the group also spoke glowingly about the shared unity between women in the group.
"We're all achieving this together, the unity is really amazing, we all work together and help each other if needed. All of us want the same thing, which is to help other people.
"It makes me the happiest person on Earth to help these young children. When you make something yourself after hours of knitting and sewing, there is a special feeling behind that as you know a young child is going to be wearing those clothing items to stay warm during the cold winter months," she added, feeling pride in her activism.
"I encourage everyone to do what they can, even if they don't join the group and make the clothes themselves, they can give us the items and materials they don't need and we can put them to very good use," she said, highlighting how everyone can play their role in giving back.
https://gulfnews.com/uae/meet-women-in-uae-who-knit-clothes-for-underprivileged-children-1.63247486
--------
URL: https://www.newageislam.com/islam-women-feminism/sudanese-woman-iconic-protest-image/d/118314
New Age Islam, Islam Online, Islamic Website, African Muslim News, Arab World News, South Asia News, Indian Muslim News, World Muslim News, Women in Islam, Islamic Feminism, Arab Women, Women In Arab, Islamophobia in America, Muslim Women in West, Islam Women and Feminism