New Age Islam News Bureau
14 Oct 2013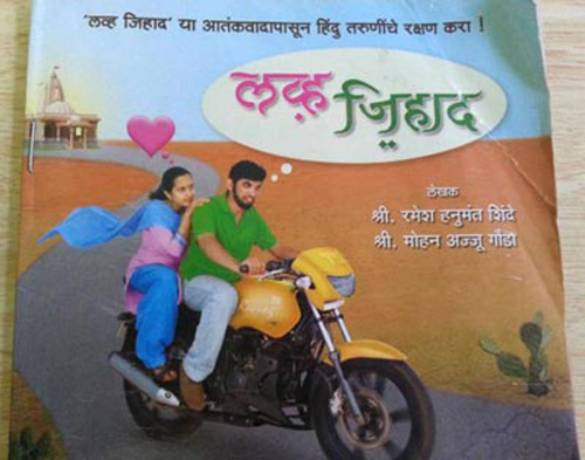 The cover of a booklet distributed by Hindutva vigilante squad Hindu Rakshak Samiti urging people to 'save Hindu girls from the terrorism of Love Jihad'. Photo: Special Arrangement
---------
• Female Teachers Must Cover Face If Male Students Have Reached Puberty: Libyan Grand Mufti
• Top BBC Muslim Woman Broadcaster Says No To Islamic Dress Code
• Hindutva Vigilantes Target Hindu-Muslim Couples
• Nairobi Mall Attack: 'White Widow' Taunts Detectives
• Granddaughter of Khomeini Says She Hopes to Start 'A Colour Revolution'
• Taliban Intimidation Backfires As Malala Inspires School Enrollment Surge
• From Poverty to Violence: Yemen Child Brides Sold To Abusive Men
• Malala says she's No Western Puppet
• Grameen Bank Women Directors Dismissed After New Law: Bangladesh FM
• In Pakistan, New Focus on Rape after a String of Deadly Attacks on Children
• Female Guides Duties Differ But Serve Haj Pilgrims with Verve
• Distinguish Between Killers And Mujahideen: Slain Cleric's Mother
Compiled by New Age Islam News Bureau
URL: https://www.newageislam.com/islam,-women-and-feminism/new-age-islam-news-bureau/sudanese-female-pilgrim-regains-eyesight-in-prophet-s-mosque/d/13984
-----------
Sudanese Female Pilgrim Regains Eyesight in Prophet's Mosque
October 14, 2013
MADINAH — "Allahu Akbar (God is great) … I can see," a Sudanese female pilgrim started yelling inside the Prophet's Mosque in Madinah. When the congregate surrounded her she told them amidst tears of joy that she has suddenly regained her eyesight which she had lost more than seven years ago.
Fatima Al-Mahi, who is in her late 60s, said she became blind about seven years ago and added that numerous operations had all failed to in helping her regain her eyesight. She did not say how she became blind but was extremely thankful to Allah for making her see again.
"I made sincere supplications inside the Prophet's Mosque asking Allah to bless me with my eyesight. In a miraculous moment of providence I started to see light. I turned left and right and could see the mosque very clearly. I went delirious with happiness when I saw my son who was accompanying me," she said.
Fatima said she saw her face for the first time in more than seven years. "I also saw my son who started crying with joy. I saw the other Sudanese pilgrims in our group. I was able to move alone without any help," she said.
She said that although she lived in complete darkness, she never lost hope that Allah would give her back her eyesight. She said she never stopped praying to Allah to give her back her eyesight.
http://www.saudigazette.com.sa/index.cfm?method=home.regcon&contentid=20131014183629
-----------
Female Teachers Must Cover Face If Male Students Have Reached Puberty: Libyan Grand Mufti
October 14, 2013
The Grand Mufti, Sheikh Sadik Al-Ghariani, has issued a fatwa saying that female teachers in schools and colleges must cover their faces if they are teaching males who have reached puberty.
He made the ruling following a request for advice from the Ministry of Education on the issue. It had said that some female teachers were veiling their faces while giving lessons but it felt that this was having a negative impact on students' understanding because, by not seeing the teacher's face, they were not able to interact and properly lean.
It asked for a fatwa telling female teachers to remove their veil inside the classroom while teaching.
The best solution, the Grand Mufti said, was to segregate male and females altogether in schools and colleges and universities "because those in charge are duty-bound in Islam to do so, if they able to".
If that is not possible, they must at least be segregated during break times, in halls and corridors and have separate entrances for boys and girls.
In addition, students must be made to dress "respectfully and to abide by the Islamic dress code and not to allow girls to wear make-up and perfumes to avoid temptation", the fatwa said. Schools should have male teachers to teach boys and female teachers to teach girls, it added.
There was a suggestion of a concession for older female teaches. The ruling about covering the face specifically said that a female teacher should veil herself if she was herself of a young age.
It is not clear where this leaves the Ministry of Education. Last month it said that it would not segregate male and female students in schools and universities because, given that the vast majority of teachers were females, this would damage their education.
But having requested a fatwa and having obtained one that is clearly not what it wanted, the ministry is now in the position of possibly having to force female teachers do cover their faces.
http://www.libyaherald.com/2013/10/13/female-teachers-must-cover-face-says-grand-mufti/#ixzz2hglQptOl
-----------
Top BBC Muslim Woman Broadcaster Says No To Islamic Dress Code
October 14, 2013
London: One of Britain's most high-profile Muslim woman broadcasters has spoken out against the post-9/11 Muslim fixation with "Islamic dress" after being publicly accosted by a "fellow Muslim" who complimented her on her work and then said: "But you'll have to wear the hijab one day." To which she replied firmly, "I don't think so." Mishal Husain described it as "an awkward exchange" that made her reflect on "what amounts to Islamic dress", and on the current debate in Britain over the issue following a series of controversies in recent weeks. Ironically, the encounter occurred the day she was appointed as the first-ever Muslim woman journalist to present BBC Radio 4′s flagship news and current affairs programme Today.
Ms Husain, who grew up in Saudi Arabia, debunked claims that Islam prescribed a dress code for its followers. There was no such thing as an "Islamic dress". The stress in the Quran was on "modesty" with no specific requirement on what Muslims should or should not wear. "In the Koran, the subject of dress is touched upon only a handful of times, with the dominant requirement being modesty on the part of both sexes. One verse puts the emphasis on actions over appearances: 'O children of Adam, we have provided you with garments to cover your bodies, as well as for luxury. But the best garment is the garment of righteousness' (7:26),'" she wrote in The Financial Times. Her intervention came amid calls for a national debate on whether Britain should consider a French-style ban on wearing veil, Hijab and Niqab in public after a defendant refused to remove her ''Niqab'' before a judge arguing that Islam did not permit women to show their face in the presence of men.
Ultimately, the judge rejected her plea saying that making an exception on grounds of religion would ''drive a coach and horses through the way in which justice has been administered in the courts of England and Wales for centuries''. But he allowed her to give evidence from behind a screen to shield her from public view. In another case, Muslim groups forced a college in Birmingham to back down and withdraw a proposal to ban Burqas and Niqabs on the campus. The college was widely criticised for its "u-turn'" with even Prime Minister David Cameron wading into the row to declare that he would support such a ban in his own children's school. Meanwhile, families of two Muslim boys of Pakistani origin are embroiled in a very public dispute with a Roman Catholic school after it banned them from attending classes for refusing to shave off their beards. The unnamed boys and their families claim that they have grown beards for religious reasons and the school's decision is ''pure discrimination''. "Because these boys cannot shave their beards for religious reasons, they are being put in isolation for six-and-a-half hours every day…It is pure discrimination,'' a family member who did not wish to be named told The Lancashire Evening Telegraph.
The school authorities insist that the decision has nothing to do with the boys' religion. It is all about conforming to the school's uniform code. "There is nothing specifically written in the Koran about wearing a beard. It is a choice those boys are making. However inclusive we are, we have standards to maintain,'' said the head teacher, Xavier Bowers. Not long ago, a schoolgirl, banned from wearing Jilbab, went to court accusing her school of discriminating against Muslims. Shabina Begum said the Shalwar Kameez –the school's uniform for Muslim girls– "did not satisfy Islamic clothing". "I feel it is an obligation upon Muslim women to wear this [the Jilbab], although there are many other opinions," she said. The case went right up to the House of Lords, the highest court of appeal in the land, which ruled in favour of the school. It said the school had "taken immense pains to devise a uniform policy which respected Muslim beliefs'' and gone to "unusual lengths to inform parents of its uniform policy." The judges criticised Begum for her "unwillingness to comply with a rule to which the school was entitled to adhere" and regretted that she lost two years of study because of this. Not a week passes without a row over the so-called '"Islamic dress''.
The sight of little schoolchildren being dragged into controversy and exposed to ridicule has prompted even pro-choice liberals to question whether it is really all about free choice, and whether any group can seek exemption from normal rules of the society on religious grounds.
Besides, there is anecdotal evidence that young Muslims, especially girls, face enormous family and peer pressure to wear "Islamic'' clothes. Some Muslim schools reportedly force girls to wear Burqa. Shaista Gohar, chair of Muslim Women's Network, rejects the notion of an "Islamic dress'' and says Islam does not prescribe a rigid dress code. "Islam is not rigid and is flexible,'' she said criticising women whose attitudes" are contributing towards portraying their own faith negatively''. Mishal Husain's intervention, meanwhile, has been welcomed as a timely signal to other Muslim women to speak up on an issue that is becoming increasingly divisive.
http://www.firstpost.com/world/top-bbc-muslim-broadcaster-says-no-to-islamic-dress-code-1170747.html?utm_source=ref_article
-----------
Hindutva vigilantes target Hindu-Muslim couples
October 13, 2013
Propaganda about 'love jihad' spreads to Maharashtra's Dhule district
When 26-year-old Roshni (name changed) wanted to marry her Muslim boyfriend last year, the opposition came not from their families but from a Hindu vigilante group, the Hindu Rakshak Samiti (HRS), active in this region close to Nasik.
"They harassed my parents and relatives, saying we would be ostracised. They even threatened my husband's family," said Roshni , who went ahead with the marriage. But the days leading up to the ceremony were fraught with tension.
The Hindu met with members of the HRS, who spoke openly about their campaign on the condition that they would not be named. Formed in 2005, the all-male squad has a clear agenda: "saving" Hindu women from Muslim men. They see themselves as warriors against what they call "Love Jihad," a conspiracy theory floated by Hindutva groups like the Hindu Janjagruti Samiti which claims that Muslim men lure Hindu women into marriage with the aim of increasing their own population. The vigilantist propaganda campaign, which initially took root in Karnataka and Kerala, has now spread to this region in Maharashtra.
In Dhule, the HRS has an extensive network with a well laid out modus operandi. It has recruited young men who are stationed across the city, especially in colleges. If they see Hindu girls befriending Muslim boys, they warn them. Then they inform their parents about the friendship and ask them to keep their daughters "in check." Most of its members belong to the BJP, the Shiv Sena or the RSS.
The vigilantes include 24-year-old Rohan Kulkarni, among the few who agreed to be named. While speaking to this reporter, he received a phone call. "A Hindu girl was seen entering with a Muslim boy," said the voice on the phone. A few calls later, the Muslim boy was confronted by seven Hindu activists. "We told him that if he's seen with any other Hindu girl again there will be consequences," Mr. Kulkarni told The Hindu, proudly.
"My advice to Hindu girls is — start saying Jai Shri Ram and Muslim boys won't trouble them," said the part-time newsreader. "Girls are fooled easily by boys who give them gifts. We are here to protect our sisters," Mr. Kulkarni argued. "They are boys I have grown up with. But once they make friends with Hindu girls, they don't introduce us to them," he said, not without a hint of jealousy.
The HRS claims to have "solved" 15 relationships by parting Hindu-Muslim couples. It even maintains it has the support of the local traffic authorities who help them identify Muslim boys. "We have two RTO agents as volunteers. They can easily detect if a bike belongs to a Hindu or a Muslim and then we can act," said a lawyer who is part of the HRS.
The group claims it is often contacted by the parents of the young women. "They call us to solve the matter," said an oil trader who is part of the HRS. Earlier this year, he said they handled one such case where a daughter had eloped with a Muslim man. "We tried to convince her. When she didn't listen, we slapped her," he said candidly.
But they admit that sometimes their efforts are thwarted. "We are ready to face abuse from the girls and their parents. This is our duty," said an HRS member who is a BJP corporator. Last year, their attempt to convince a Maratha family failed. "We couldn't do anything as her parents didn't entertain us. They will realise their mistake soon," he said, justifying their actions.
He said his organisation would continue to get involved even though there was no coercive element in these relationships. "All the girls are above 18 years, and they marry with consent. But the girls cannot see the sinister plot behind this fake love," he claimed.
Surprisingly, the police have taken no notice of this vigilante squad despite its strong-arm tactics. "We have not received any complaints. Inter-religious marriages are common these days," said Dhule additional police superintendent Akhilesh Kumar. "If there is any group that is spreading rumours of a conspiracy, they might be doing so for political benefit," he added.
http://www.thehindu.com/news/national/other-states/hindutva-vigilantes-target-hindumuslim-couples/article5231849.ece
---------
Nairobi mall attack: 'White Widow' taunts detectives
ANI | Oct 14, 2013
LONDON: Terrorists hiding Samantha Lewthwaite, dubbed the 'White Widow', have taunted detectives by revealing she recently travelled through a remote town in Somalia.
A message posted in the last few days on Lewthwaite's Twitter account, quoting lyrics from the song Many Rivers To Cross by reggae legend Jimmy Cliff, gave the first clue about her whereabouts since Nairobi's shopping mall massacre.
Security officers believe that Lewthwaite may have been behind last month's terrorists attack on the Westgate mall.
According to the Mirror, the message on the account read: "Many rivers to cross, but I can't seem to find my way over wandering, I am lost as I travel along the Mountains of Galgala... "
It refers to a remote area of Somalia close to the town of Bari and is thought to have been posted on Lewthwaite's behalf by Shabaab terrorists.
http://timesofindia.indiatimes.com/world/uk/Nairobi-mall-attack-White-Widow-taunts-detectives/articleshow/24122241.cms
---------
Granddaughter of Khomeini Says She Hopes to Start 'A Colour Revolution'
October 14, 2013
The granddaughter of Ayatollah Ruhollah Khomeini, founder of the Islamic Republic of Iran, wants to start a revolution in Iran– "a color revolution."
Zahra Eshraghi, one of the privileged few in Iran with access to social media, told news website Asharq Al-Awsat she would like to see the Iranian regime ease its crackdown on the dress code in the country. All Iranian women are expected to cover their bodies and hair, but not their faces.
"I am opposed to any police crackdown on the dress code because I believe that such measures will have no effect. As long as this law is in effect, we have to object to it. The entire dress code law must be annulled," she said.
Eshraghi, who considers herself fashionable, said that for starters, she'd like to see Iranians–specifically women–dress in more colorful outfits.
"For example, my grandfather—Ayatollah Khomeini—always said that the color black is not a good color to wear. That's why I attribute my own dress sense to my family background. I even planned to issue a call to Iranian women via Facebook to begin dressing in happier colors," she told the website.
Despite the restrictions, Eshraghi believes that Iranians are inherently stylish. Not only does she claim that they compete with the rest of the world's sartorial sense, she believes they exceed it.
"I agree that there are some harsh restrictions in Iran, but the most stylish boys and girls in the world are found here in Tehran. Some time ago, I returned from a trip abroad and I discovered that Iranian girls are more stylish than the Europeans, despite the restrictions," she claimed.
Eshraghi didn't limit her comments to fashion, however. She also saved time to criticize the regime of former President Mahmoud Ahmadinejad.
"Tough economic sanctions, failed foreign policy, and sanctions are all legacies of the Ahmadinejad Administration, and so I think everybody is seeking a way out of these woes. So I don't think we will see a return to this period," she said.
"The last elections, which brought Mr. Rouhani to power, were a continuation of (those on) May 1997 [which brought 'reformist' Mohammad Khatami to power]. This showed that the Iranian people still want reforms. Despite an eight-year hiatus and the unfortunate arrival in power of an anti-reform government, people showed that they still want reforms," Eshraghi added.
Since taking office in August, Iranian President Hassan Rouhani has embarked on a charm offensive in the hopes of alleviating sanctions against his country enacted by the West in response to Iran's nuclear program, the purpose of which, many countries believe is to obtain nuclear weapons. Rouhani's efforts have proved fruitful thus far, with a telephone conversation with U.S. President Barack Obama and diplomatic discussions between the two countries being counted among the victories for the Islamic Republic.
Israeli officials, on the other hand, remain skeptical. During his speech at the UN General Assembly in September, Israeli President Benjamin Netanyahu warned that Rouhani's ameliorative tone was "a ruse" and "a ploy."
"I wish I could believe Rouhani, but I don't because facts are stubborn things. And the facts are that Iran's savage record flatly contradicts Rouhani's soothing rhetoric," Netanyahu said.
http://www.algemeiner.com/2013/10/13/granddaughter-of-islamic-republic-founder-hopes-to-start-a-color-revolution/
-----------
Taliban Intimidation Backfires As Malala Inspires School Enrollment Surge
October 14, 2013
MINGORA, Pakistan — The Pakistani Taliban's attempts to deter girls from seeking an education, epitomized by the shooting of 16-year-old Malala Yousafzai in the face last year, are backfiring as school enrollments surge in her home region.
While Yousafzai missed out last week on the Nobel Peace Prize, her plight is helping change attitudes in the Khyber-Pakhtunkhwa province, which lies at the center of a Taliban insurgency. The four-month-old provincial government boosted education spending by about 30 percent and began an enrollment drive that has added 200,000 children, including 75,000 girls.
Yousafzai's story "is certainly helping us to promote education in the tribal belt," Muhammad Atif Khan, the province's education minister, said by phone. "Education is a matter of death and life. We can't solve terrorism issues without educating people."
Taliban militants targeted Yousafzai in retaliation over her campaign for girls to be given equal rights to schooling in a country where only 40 percent of adult women can read and write. Though the Nobel award went to the Organization for the Prohibition of Chemical Weapons, Yousafzai was showered with accolades in a week in which she published her memoir: she won the European Union's top human rights prize and met President Barack Obama at the Oval Office.
The shooting occurred a year ago as Yousafzai traveled home on a school bus in Mingora, a trading hub of 1.8 million people where a majority of women still cover their faces and girls aren't comfortable answering questions from reporters. The bullet struck above her left eye, grazing her brain. She was flown for emergency surgery to Britain, where she lives today.
The increased media attention on Swat since the shooting is pressuring government officials to improve educational standards and encouraging locals to send their kids to school.
Three days ago in Mingora, as local channels flashed the news that Yousafzai didn't win the peace prize, high school student Shehzad Qamar credited her for prompting the government to build more institutions of higher learning.
"She has done what we couldn't have achieved in 100 years," Qamar said. "She gave this town an identity."
Four years ago, Taliban guerrillas took control of Swat and imposed their strict interpretation of Islamic law, which forbade girls to attend schools. They beheaded local officials and burned schools in a two-year fight that uprooted 2 million people from their homes in the forested, mile-high valley that sits 155 miles north of the capital Islamabad.
While a 10-week army offensive starting in May 2009 ended their rule, Taliban strikes in the area are common, deterring tourists from visiting the area's mountains, rivers and lakes. Soldiers and local militia conduct frequent patrols to protect the valley from attacks.
For many in Mingora and elsewhere in Pakistan, Yousafzai's global fame represents an attempt by the U.S. to disparage local culture. The government says Taliban attacks have killed more than 1,200 civilians, soldiers and police this year. U.S. drone strikes in Pakistan have killed 116 people, including 11 civilians, according to the Long War Journal.
"We don't want our daughters to go out and speak against our traditions," said Wali Khan, 50, a restaurant owner in Mingora. "U.S. drones are killing innocent kids and women in our area. Do they really care about us? All they want is to malign us through this girl who is playing into their hands."
While enrollment is increasing in other parts of the province, the Khushal Girls High School & College founded by Yousafzai's father has suffered. New admissions at the school Yousafzai attended have dropped since her shooting, administrator Iqbal Hussain said. It had added about 50 new students per year.
"The environment is not the same," Hussain, 38, said in an interview outside of the two-story school, which was guarded by the police and Pakistan's army.
Other schools in the area are doing better, however. Enrollment is surging in both private and government-funded schools, according to Ahmad Shah, the chairman of Private Schools Management Association, an organization that represents 500 schools in the area. His school has seen a 10 percent rise in admissions this year, the most since the Taliban's ouster.
"In our schools, girls are saying I want to be like Malala," Shah said. "They are relating themselves with her in many ways."
Malala symbolizes millions of Pakistani women who are deprived of basic education and equal work opportunities. Only 22 percent of women aged 15 and older go out and work in Pakistan, compared with 78 percent of males in the same category, according to the Pakistan Bureau of Statistics.
The country's prominent female leaders include Shamshad Akhtar, a former central bank governor, and Fahmida Mirza, a former parliament speaker. Former Prime Minister Benazir Bhutto was killed in an alleged Taliban attack in 2007.
Malala started blogging under a pseudonym for the BBC when she was 11 years old, chronicling her love of learning and Taliban oppression in Pakistan. The following summer the New York Times filmed a documentary about her life. As she rose in prominence, the Taliban targeted her for maligning insurgents.
"Taliban wanted to silence me," Yousafzai said in an interview with the BBC last week. "Malala was heard only in Pakistan, but now she is heard at the every corner of the world."
Sadiqa Ameen, a 15-year-old school girl in Swat, said she wanted to read Yousafzai's book, titled "I am Malala." The Pakistani Taliban, or Tehreek-i-Taliban Pakistan, has threatened to kill Yousafzai and target shops selling her book, the Dawn newspaper reported, citing spokesman Shahidullah Shahid.
"This is probably the first ever book written by a Swati girl," said Ameen, who lives near Yousafzai's school. "I am sure her story will be something we all know and have gone through during the Taliban rule."
Musfira Khan Karim, 11, prayed for Yousafzai's success in the Nobel competition with her 400 schoolmates in Mingora.
"I want her back here among us," Karim said in her school's playground. "I want to know more about her. I want to meet her."
http://www.thereporteronline.com/general-news/20131013/taliban-intimidation-backfires-as-shot-teenager-inspires-school-enrollment-surge
-----------
From poverty to violence: Yemen child brides sold to abusive men
October 14, 2013
SANAA - Forced into marriage when she was only 13, Saadah is now back in her impoverished Yemeni family's cramped home with two children, little money and dreams of returning to school.
"I don't want a husband ever again. All I want is to get a divorce and study," Saadah says as she sits in the small room she shares with her two boys, dark circles shading her weary eyes.
"Child brides," or "death brides" as they are sometimes called, are quite common in poor, tribal Yemen, where barely pubescent girls are forced into marriage, often to much older men.
Saadah's ill father, no longer able to sustain his family, married her off five years ago in an attempt to spare her from her family's poverty.
But her husband soon began forcing her to beg on the capital's streets with her boys until she fled back to her parents' home.
"He would beat and verbally abuse me and my family," says Saadah, now 18, whose name means happiness in Arabic.
She is dressed in black from head to toe, but there are still traces of fading orange henna on the fingernails of her fidgety hands. Her two boys, aged three and four, look on as she recounts the nightmare of her marriage.
"My life is difficult with my parents, as we rely on small amounts of aid from our neighbours to survive. But this is still better than living with my husband," Saadah says.
Her 16-year-old sister Amnah was also forced to marry, and wed a man who agreed to pay her father's 20,000 riyals (93 dollars) worth of debt three years ago.
"I am a victim of early marriage," says Amnah, who was also abused by her husband before she escaped after just five months with him.
"He once put a dagger to my stomach and dragged me out of my parents' house. He then beat me on the street in front of everyone before taking me back to his house," she recalls shyly.
She finally went back to school this year.
Activists have been pushing for a draft law that sets a minimum age for marriage.
Human Rights Minister Huriya Mashhoor said last month she wanted to revive a 2009 bill -- which would have set the minimum age for marriage at 17 -- and amend it to raise the age to 18.
Activists say the bill was shelved when ultraconservative lawmakers from the Islamist Al-Islah party blocked it.
'Rape under the pretext of sharia'
Before the unification of Yemen in 1990, the legal age of marriage was set at 15 in the north and 16 in the south. But legislation in the united country does not specify any age limit.
Human Rights Watch said last month that 14 percent of girls in Yemen are married before the age of 15, and 52 percent before 18, citing Yemeni figures and 2006 data from the United Nations.
In certain rural areas, girls as young as eight are sometimes given in marriage to much older men.
The husbands of child brides often "beat and abuse them, deprive them of food, and force them into sex," according to Ahmed al-Qurashi, head of Seyaj, a Yemeni organisation for the protection of children.
"This is rape under the pretext of sharia (Islamic) law," says Yemeni activist Arwa Othman.
Last month, reports emerged that an eight-year-old girl named Rawan had died from internal bleeding after sexual intercourse, following her marriage to a 40-year-old man in a remote area in the north.
Authorities have denied the claims, and presented to reporters a girl who claimed she was Rawan and was never married.
But in April 2010, 13-year-old Ilham al-Ashi died after being raped by her husband a few days into her arranged marriage, and in September 2009 a 12-year-old wife died along with her baby during delivery.
Girls are usually afraid of speaking out against their parents' decision or reporting abuse in a society where a woman is traditionally shamed if she rejects marriage or defies her family.
But in a case that shook Yemen's conservative society in 2008, a court granted a divorce to eight-year-old Nojud Mohammed Ali, whose unemployed father forced her into marriage with a man 20 years her senior.
While some neighbours sympathise with them, Saadah and Amnah are still sometimes met with reproachful stares on the streets.
"Some people look down at us because we escaped from our husbands' houses," says Saadah.
However, their 14-year-old sister Nemah says she has learned from their bitter experience.
"I will only get married after I've continued my education," she says with a smile.
http://www.middle-east-online.com/english/?id=61946
-----------
Malala says she's no Western puppet
October 13, 2013
Agence France-Presse
LONDON // Malala Yousafzai hit back at claims that she has become a figure of the West, insisting she was proud to be a Pakistani.
The 16-year-old, who was shot by the Taliban for championing girls' right to an education, claimed she retained the support of people in her homeland, and reiterated her desire to enter Pakistani politics.
The activist was shot in the head on her school bus on October 9 last year for speaking out against the Taliban.
She was flown for specialist care in Britain, where she has continued her education, while she has been feted and honoured in the West.
On Thursday, she won the European Union's prestigious Sakharov human rights prize, while the US president, Barack Obama, welcomed her to the White House on Friday.
Asked in a BBC interview broadcast on Sunday about some people in Pakistan thinking she was a "figure of the West" and "a Westerner now", she said: "My father says that education is neither Eastern or Western. Education is education: it's the right of everyone.
"The thing is that the people of Pakistan have supported me. They don't think of me as Western. I am a daughter of Pakistan and I am proud that I am a Pakistani.
She highlighted the problem of education in the midst of the Syrian conflict.
"We want to help every child in every country that we can," she said.
"We will start from Pakistan and Afghanistan and Syria now, especially because they are suffering the most and they are on the top that need our help.
"Later on in my life I want to do politics and I want to become a leader and to bring the change in Pakistan.
"I want to be a politician in Pakistan because I don't want to be a politician in a country which is already developed."
http://www.thenational.ae/world/south-asia/20131013/malala-says-shes-no-western-puppet#ixzz2hgnjF2x0
-----------
Grameen Bank Women Directors Dismissed After New Law: Bangladesh FM
Asif Showkat Kallol Banks
October 14, 2013
9 "pro-Yunus" women directors of Grameen Bank would lose their positions once parliament approved the Grameen Bank Law 2013 bill
Finance Minister AMA Muhith said the nine "pro-Yunus" women directors of Grameen Bank would lose their positions once parliament approved the Grameen Bank Law 2013 bill.
"Professor Yunus used to select the women directors as per his choice and there have been no elections in the Grameen Bank in the 30 years since its inception," the finance minister told the Dhaka Tribune on Sunday in Washington.
He also said a new election, under a new set of rules, would be held for the GB board within a short time after the law was passed in parliament.
"Grameen Bank board is currently non-functional because of Professor Yunus' strong influence over the bank, despite the government's stake and its three members," he said.
The finance minister also expressed his dissatisfaction with the activities of the chairman of the Grameen Bank Commission saying he did not complete his job of submitting a complete report on Grameen Bank, rather only submitted a synopsis.
"Commission Chairman Mamun-ur-Rashid wants two more months to complete the report on the relation between the Grameen Bank and 54 associated organisations," he said.
"The bank will now be under direct control of the central bank, to give the authorities more powers over the microcredit organisation," he added.
But he said the government was not bringing any major changes in Grameen Bank's structure. The ownership structure would remain the same with the borrower-shareholders owning 75% and the government 25%.
The number of government-appointed directors in the 12-member board would also remain three as it is now but quorumwould be made from three members instead of four.
The quorum would be increased phase by phase, he added.
"We will never accept the proposals—it is part of the government's scheme to take over the bank," Tahsina Khatun, a member of Grameen Bank board, told the Dhaka Tribune over phone on Sunday.
She said every item in the draft election rule was against the interests of the bank – and was, therefore, unnecessary.
"The existing rules have served us well over the years, and we will stick with them," she said, adding that if outsiders were brought in to conduct elections it would only create chaos.
Tahsina said the government had targeted the elected directors as the current nine members had been very vocal against any state intervention since Prof Yunus stepped down as managing director in 2011 and had managed to block all the authorities' plans.
"We are real borrowers of the bank. If the government dismisses the nine women directors it will spell disaster for the bank. The meetings would be held even without the women directors, as the quorum can be met by three members of the government," she said.
The finance minister said the appointment of a permanent managing director for the bank was of utmost importance now.
"The government is taking steps to have the High Court petition, which has stalled the process of appointing the managing director, withdrawn so that it can appoint the next chief executive," he said.
"Once the injunction is withdrawn, we will appoint the MD. The main reason [behind the delay] is Prof Yunus, because he wants one of his own people as MD," he added.
He also said a panel had proposed appointing deputy commissioners to oversee the elections for nine borrower-director posts in the 12 member Grameen Bank board.
At present, the government appoints three of the directors, including the chairman of the microcredit organisation's board, while the remaining nine members, all of whom are women borrowers, are elected from grassroots level through a three-tier election system.
But a committee, formed in April by the finance ministry, suggested a two-tier system. In the first tier, the borrower-shareholders of each of the nine constituencies would elect a 15-member electoral body.
The finance minister said the members of the nine electoral bodies would then decide among themselves who would be serving as directors.
http://www.dhakatribune.com/banks/2013/oct/14/grameen-bank-women-directors-be-dismissed-after-new-law-muhith#sthash.Mkrk7Qsu.dpuf
-----------
In Pakistan, new focus on rape after a string of deadly attacks on children
October 14, 2013
GUJRANWALA, Pakistan — In a rural village in Pakistan's eastern rice belt, two teenage sisters left for school one recent day on a muddy path far too narrow for cars.
Within hours, they were dead, their bodies left facedown along a swampy canal after they were raped and shot multiple times, the medical examiner reported. By the next morning, their deaths were news across Pakistan, the latest in a grisly stream of sexual attacks on minors.
"They were identified by their clothes," Muhammad Nazir, the victims' uncle, said in an interview. "All we know for sure: They went from their house to school, and they were murdered."
For generations, rape was a taboo subject in this conservative Muslim society. As recently as a decade ago, the news about the 14- and 16-year-old sisters might never have traveled beyond this rural area, where rice fields stretch for miles and workers shape bricks from the spongy soil.
But thanks to a freer media and a push by child-welfare advocates to get families to report such crimes, the number of cases under investigation is rising, as is the outrage of parents, the public and advocacy groups.
"People are now reporting things, and people are now seeing children are suffering heinous, horrible crimes," said Narjis Zaidi, a human rights advocate in Islamabad.
On the same day in late September that the sisters were killed on the outskirts of Gujranwala, the body of a 13-year-old girl was found on a Karachi beach after she was raped and killed on the way to school.
A week earlier, a 5-year-old girl was raped multiple times after being kidnapped. She was then dumped outside a hospital in Lahore, Pakistan's second-largest city.
And on a single day — Sept. 20 — Pakistan's Express Tribune newspaper reported on the alleged rape of a 4-year-old by his school principal in Faisalabad, and the rapes of another boy, also 4, and a 14-year-old girl. The teenager had been gang-raped by four men over two days, the newspaper reported.
Each case has brought new waves of angry mothers besieging police stations demanding public executions. In Karachi, after the rape of the 5-year-old in Lahore, schoolgirls paraded with signs displaying a noose. In Pakistan's culturally conservative northwest, female lawmakers attempted to block roads in Peshawar to protest the crime, according to media reports.
"This country has gone to the dogs," said Shazia Shaheen, coordinator for the Mumkin Alliance, a coalition of organizations that advocate for battered women.
Activists and government leaders note that sexual violence is hardly unique to Pakistan, citing widespread abuses across much of the Middle East and South Asia, including the brutal gang-rape and murder of a 23-year-old New Delhi student in December that shocked India.
What makes the reports in Pakistan especially notable is that they have emerged at all, reflecting a broader awareness by victims and the news media.
More widespread awareness
Activists say the media attention can be credited in part to the opening of several dozen privately owned television news stations after the government's monopoly on electronic media ended in 2002. That has led to more aggressive coverage of topics previously ignored.
"It's like a disease," said Rana Mohsin, a freelance television journalist in Punjab province. "Ten or 20 years ago, no one knew they had high blood sugar or blood pressure. But now there are labs, and people know and are more aware, and the same with this."
Several rape cases have been well publicized in recent years, including that of Mukhtar Mai, who made international headlines after she spoke out about being gang-raped in 2002 on orders from village elders. The convictions of all but one of six men charged in connection with the case were overturned.
In Punjab, Pakistan's most-populous province, there was extensive coverage in 2010 and 2011 of a serial rapist who attacked eight children in the Sialkot district, leaving some of them dead, said Muhammad Imtiaz Ahmed, program manager for Pakistan's Society for the Protection of the Rights of the Child.
"After that, the media, the police, educationally, all started talking about how we need to do a better job of protecting children," he said.
Pakistan's government does not release frequently updated statistics for child sexual abuse. But according to Sahil, an Islamabad-based activist group, cases of child sexual abuse covered by the media grew from 668 in 2002 to 2,788 in 2012.
"We still think these statistics are just a fraction of what's going on," said Manizeh Bano, the group's executive director.
Activists and government leaders suggest various theories for the recent attacks.
Some blame the country's conservative, Islamic-centered school system, which they say has been too slow to reverse cultural norms that treat females as inferior.
Sahil staffers also worry about HIV-positive men who mistakenly believe they can be cured if they have sex with preadolescent girls. In February, according to media reports, a man cited his HIV-positive status as his reason for raping a 9-year-old and an 11-year-old in Islamabad. The girls were later killed.
Still, as in other parts of the world, minors in Pakistan face the greatest risk of sex abuse from relatives or acquaintances. Abida Hussain, who was Pakistan's ambassador to the United States from 1991 to 1993, noted that the average family in Pakistan is twice as large as the typical U.S. family.
"There is crowding, less space, less of everything, and there is less sense of control," she said.
Calls for legislation
Muhammad Tahir Khalily, chairman of the psychology department at the International Islamic University in Islamabad, said the details of many of the recent assaults are shocking even to experts.
Although he said more study is needed, Khalily said he thinks the country's struggle with terrorism and the near-daily reports of bombings and assassinations are partly to blame.
"There is a famous saying, 'Violence causes violence,' " Khalily said. "To have this fusion of aggravation and sexual acts, and with young children, this is highly unusual."
Concern about the attacks extends to the National Assembly, where legislators plan to consider new laws. The legal definition of rape was changed in 2006, but activists say successful prosecution relies too heavily on witness testimony. Activists estimate that less than 10 percent of rapes in Pakistan result in convictions.
Saman Sultana Jafri, a lawmaker from Karachi, said she hopes to champion legislation that includes tougher sentences, a safety campaign aimed at children, resources for mental health treatment and a government-sponsored study of what is causing so many attacks on children.
But she warns that it could take years to pass such legislation as lawmakers weigh concerns from religious leaders.
Underscoring the potential hurdles, the influential council of Islamic leaders that advises lawmakers ruled last month that DNA evidence alone cannot bring a conviction in a rape case.
Nonetheless, activists say the increased media coverage makes it harder for officials to ignore the problem.
In the killing of the 13-year-old girl in Karachi, police arrested a cousin of the victim and the cousin's husband. In the Lahore case, police have questioned at least 20 potential assailants.
In Gujranwala, where the sisters' blood still stains the grass, the local police commander said he is under pressure to make an arrest.
"With the media attention and [pressure from] higher authorities," said Zubar Warriach, the police commander, "we have to do our job."
Mohammed Rizwan in Lahore and Haq Nawaz Khan in Islamabad contributed to this report.
http://www.washingtonpost.com/world/middle_east/pakistan-struggles-to-combat-child-rapes/2013/10/13/27fd88b0-2f6a-11e3-9ddd-bdd3022f66ee_story.html
-----------
Female Guides Duties Differ But Serve Haj Pilgrims with Verve
October 14, 2013
MAKKAH — Female guides are providing various services to women pilgrims in the Grand Mosque. They feel honored and blessed to serve in the Grand Mosque, despite the difficulties they face. Some come on foot from their homes, due to the crowded streets, and they work under the heat of the direct sun.
Um Saleh, Um Fahad, and Um Khalid said that their duties differ according to the section they work at. There are general services that all women guides volunteer to do, such as giving advice and guidance to female worshipers.
The Haia section duties include guiding women to areas that are designated for women in the Grand Mosque. They advise women to stay away from crowded areas and to avoid mingling with men. They also guide women to pray behind men, and not to sit on the stairs and obstruct the passing of other worshipers. The entrance section is one the main sections the women guides work at.
This section is entrusted with inspecting women entering the Grand Mosque, to prevent any women from carrying banned items into the Grand Mosque. Such items include food and drinks, in addition to sharp metal objects. Female guides at the gates also advise women worshipers to store their valuables at the available safety deposit boxes until they leave the Grand Mosque.
They also monitor women cleaners to ensure that cleanliness is at effective levels. Female cleaning supervisors monitor the toilets cleanliness, and the availability of cleaning material.
The head of the female guides affairs unit of the Presidency of the Two Holy Mosques Affairs, Adel Al-Hamdan, said that his unit executes its plans for the Haj season, through a number of educated women.
These women assist and guide women worshipers in the Grand Mosque. He said that more than 900 permanent women guides are employed to execute these duties. He pointed out that the Presidency provides a number of services for the special needs worshipers.
Such services include specially equipped entry points at the gates for their carts, elevators and escalators, and special copies of the Qur'an in Braille.
The head of the Grand Mosque police, Maj. Gen. Yahya Al-Zahrani said that more than 179 permanent and temporary female staff is entrusted with security inside the Grand Mosque. They notify the police of any security or criminal activities, and assist lost female pilgrims.
In other developments, the Executive President of the Saudi Electricity Company (SEC) Engineer Ali Saleh Al-Barrak said the company has completed its operation plan for this year's Haj. He said the plan includes full supervision of operation and maintenance of the electricity network during this period, boosting the electricity system so as to achieve the highest levels of credibility through operation of the generation units with highest possible productivity, boosting the electricity network in Makkah through the operation and expansion of 110/380 kilovolt transformer plants, boosting and operating new subsidiary transformer plants and expanding the existing plants.
Meanwhile, Makkah Municipality has allotted a number of technical field teams to check the readiness of the tunnels network existing in Makkah and the holy sites. They will also ensure the safety of all their elements and contents during the Haj season. Deputy Mayor of Makkah for Construction and Projects in Makkah Municipality Engineer Khaled Muhammad Al-Haij said the field teams supervise 58 tunnels. Of these, 12 are pedestrian tunnels with a length of 35 km. They have 32 control stations, 48,000 sodium and fluorescent lighting units, 451 jet ventilation fans, 36 standby electricity generators and 38 high pressure water pumps to extinguish fires.
The Traffic Command in Arafat has completed preparations to receive pilgrims through an integrated plan for the ascent and Nafrah. Commander of Arafat Traffic Department Col. Khaled Al-Dhubaib said the ascent plan in the holy site started at 7.00 AM on the 1st of Dhul Hijja and will end at 3.00 PM on Arafat Day.
The General Syndicate of Cars and pilgrims transport companies have provided the biggest wireless network having 2,550 devices (manual, on trolleys and stations) so as to cover the expressways to reach Jeddah, the holy cities and the holy sites.
Secretary General of the syndicate Marwan Zubaidi said the number of trips carried out by the 19 pilgrims transport companies until Saturday afternoon reached 38,000 trips by which 1,275,000 pilgrims were transported.
The Ministry of Health started Saturday carrying out its operation plan for the hospitals and health centers in Mina. They are Mina Emergency, Mina Bridge, Mina Al-Wadi and New Mina Al-Sharea hospital. The outpatient clinics, emergency rooms and different hospitalization departments have been prepared to receive pilgrim patients during the Tarwiyah days, Eid Al-Adha and Tashreeq days. The ministry focused in its operation plan on providing curative services.
The Commander of Civil Defense in Arafat holy site Brig. Gen. Abdulrahman Hassan Al-Zahrani warned pilgrims against attempts to climb the Mount of Mercy (Jabal Al-Rahma) during the standing in Arafat, as there is a likelihood of rocks toppling on them or overcrowding in the areas surrounding the mount. This might lead to injuries due to jostling in steep areas. Al-Zahrani said a big number of Civil Defense personnel have been deployed in the vicinity of the Mount of Mercy.
The Secretary General of the Saudi Arabian Scouts Society Dr. Abdullah Al-Fahd said the scouts center for Youth Welfare will provides services to pilgrims.
http://www.saudigazette.com.sa/index.cfm?method=home.regcon&contentid=20131014183630
---------
Distinguish between killers and Mujahideen: slain cleric's mother
AHMED ALI FAYYAZ
Oct 14, 2013
In a significant development within the separatist fold in Kashmir valley, the mother of Maulana Showkat Shah, the Jamiat-e-Ahl-e-Hadith [JAH] chief who was assassinated in a bomb blast here on April 8, 2011, has publicly assailed the secessionist ideologue Syed Ali Shah Geelani over glorifying her son's alleged killers as 'Mujahideen.'
Mr. Shah's mother Aamina has not spared the JAH leadership or the Omar Abdullah government for their "lackadaisical attitude" in bringing her son's assassins to justice.
"When Showkat sahib was martyred, all the resistance parties, including that of Syed Ali Shah Geelani, [had] jointly investigated the matter and, with the help of the Mujahideen, come out with the names of those who conspired against and killed him," Ms. Aamina said in a statement on Sunday and reminded Mr. Geelani that the two militants — Javed Munshi Billa Papa and Nisar Khan — had been identified as the cleric's assassins.
Ms. Aamina has bitterly reacted to Mr. Geelani's statement in the local newspapers and asked him how he could describe the same persons as Mujahideen and demand their release from jail before Eid-ul-Azha.
Ms. Aamina called it a historic development that the "unknown killers" had for the first time been identified and named by a committee, whose constituents included Mr. Geelani's organisation, other separatist groups as well as the militant outfits.
"After this, these leaders including Geelani sahib came to console me and I still remember the words of Geelani sahib, who, drawing similarities between the killings of our great Khulafai Rashideen, said that Showkat sahib was killed like those Khulafa [caliphs] were. Today after reading his statement I want to ask him: why this double speak now?" Ms. Aamina said.
She pointed out that Mr. Geelani had also glorified eminent cleric-politician Mirwaiz Maulvi Mohammad Farooq's assassin as a 'Mujahid' in the same statement. "If this is what they believe in, may I ask these leaders why they visit the families of those killed and shed tears?"
She said that "no leader or commoner" would remain safe in Kashmir if separatist leaders like Mr. Geelani failed to distinguish "between a killer and a Mujahid."
http://www.thehindu.com/news/national/distinguish-between-killers-and-mujahideen-slain-clerics-mother/article5231951.ece
-----------
URL: https://www.newageislam.com/islam,-women-and-feminism/new-age-islam-news-bureau/sudanese-female-pilgrim-regains-eyesight-in-prophet-s-mosque/d/13984