New Age Islam News Bureau
9 Sept 2013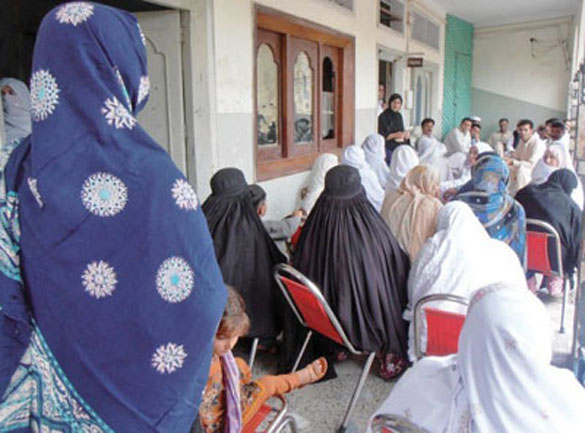 A women's assembly in Saidu Sharif was organised so the body of voters could speak directly to its representatives. PHOTO: EXPRESS
----------
• Death of Eight-Year-Old Yemeni Bride Causes Anger
• Female Drug Addiction on the Rise in Saudi Arabia
• Saudi Arabia Mulls Granting Women Access to Stadia
• A Space for Silenced Voices in Swat's First Women Assembly
• Trendy Abayas Pushing Burqas Out of Fashion
• Tahera Ahmad Is First Woman to Recite Quran at ISNA Convention
• Against The Odds, Miss World Starts In Indonesia after Muslim Protests
• Syria Strike Threats Cast Shadow over New School Term
• Ethiopian Woman in Saudi Arabia Jailed For Five Months for 'Illicit Affair'
• Hijab Exhibition Held in Pakistan
• Cella Platform Connects Professional Saudi Women
• British-Pakistani Woman 'Killed' By Husband in Mirpur
Compiled by New Age Islam News Bureau
URL: https://www.newageislam.com/islam,-women-and-feminism/new-age-islam-news-bureau/sudan-woman-risks-flogging-to-protest--taliban--like-law/d/13422
------------
Sudan Woman Risks Flogging To Protest 'Taliban'-Like Law
AFP
September 9, 2013
KHARTOUM: A Sudanese woman says she is prepared to be flogged to defend the right to leave her hair uncovered in defiance of a "Taliban"-like law.
Amira Osman Hamed faces a possible whipping if convicted at a trial which could come on September 19. Under Sudanese law her hair — and that of all women — is supposed to be covered with a "Hijab". But Hamed, 35, refuses to wear one.
Her case has drawn support from civil rights activists and is the latest to highlight Sudan's series of laws governing morality which took effect after the 1989 Islamist-backed coup by President Omar al-Bashir.
"They want us to be like Taliban women," Hamed said in an interview with AFP.
She is charged under Article 152 which prohibits "indecent" clothing.
Activists say the vaguely worded law leaves women subject to police harassment and disproportionately targets the poor in an effort to maintain "public order".
"This public order law changed Sudanese women from victims to criminals, "says Hamed, a divorced computer engineer who runs her own company.
"This law is targeting the dignity of Sudanese people." Hamed said she was visiting a government office in Jebel Aulia, just outside Khartoum, on August 27 when a policeman aggressively told her to cover her head.
"He said, 'You are not Sudanese. What is your religion?'" "I'm Sudanese. I'm Muslim, and I'm not going to cover my head," Hamed replied.
Her dark hair, tinged golden, is braided tight against her scalp with a flare of curls at the back.
Hamed said she was detained for a few hours, charged, and then bailed.
At her first court appearance on September 1, when the case was delayed until later this month, about 100 women and some men gathered to support her.
Many of the protesting women had their heads uncovered, as did Hamed who says she has "never, ever" worn a Hijab.
"There are many (who) wear it because they are afraid, not because they want to wear it," she said, speaking at her family's home and dressed in blue jeans which could get her into trouble if she went outside.
Hamed was charged in 2002 for wearing trousers but a lawyer helped her get off with only a fine, rather than a flogging.
Most women do not have the benefit of legal assistance and are too ashamed to tell their families about their arrest under the morality law, leaving them at the mercy of the court and vulnerable to sexual harassment by police, she says.
http://www.dawn.com/news/1041601/sudan-woman-risks-flogging-to-protest-taliban-like-law
------------
Death of Eight-Year-Old Yemeni Bride Causes Anger
September 9, 2013
Yemeni activists have called for action after an eight-year-old child bride died of genital tears and internal bleeding on the first night of her arranged marriage.
The groom was five times her age, Kuwaiti daily Al Watan reported on Sunday.
The death occurred in the tribal area of Hardh in northwestern Yemen, which borders Saudi Arabia.
Kuwaiti bloggers are now calling for the girl's family and groom to be punished, Gulf News reports.
Blogger Angry Man posted that the groom was "an animal who deserved to be punished severely for his crime".
Another blogger, Sad posted that the marriage shouldn't have occurred, "even if some tribes believe that it is a good custom".
Activists hope the case would be used to help put an end to the practice of marrying very young girls.
In 2008, a Yemeni eight-year-old bride had her marriage annulled by a court after running away from her husband and filing for divorce.
But in 2009, a Yemeni law that set the minimum age of a bride at 17 was repealed as lawmakers deemed it un-Islamic.
In 2010, a 12-year-old died three days after her marriage from internal bleeding, and a 13-year-old died during labour.
A video released in July by human rights organisation Middle East Research Institute shows an escaped 11-year-old bride-to-be who spoke out after her family was forcing her into an arranged marriage.
http://news.ninemsn.com.au/world/2013/09/09/11/08/death-of-eight-year-old-bride-in-yemen
------------
Female Drug Addiction on the Rise in Saudi Arabia
JEDDAH: ARAB NEWS
9 September 2013
The Amal Psychiatric Hospital has admitted 10 to 20 women drug addicts, including new patients, this year. In addition, there have been between 100 and 200 female patients visiting the hospital for follow-up treatment.
The hospital's medical manager, Dr. Khaled Al-Oufi, said a decision to hospitalize a female addict is taken only after she undergoes several examinations, including an evaluation of the patient's psychological state and level of addiction using blood analysis. A patient is then referred to a social specialist and a religious counselor.
During hospitalization, a patient goes though detoxification while being treated for drug withdrawal symptoms using medication. She is then treated for drug abuse.
Al-Oufi told local press that among those hospitalized is youngsters under the age of 18 who have their own designated unit. These teenagers often become addicts if someone in their family is an addict, or if she herself is under psychological, social and economic pressures, coupled with lack of parental control or negligence.
Al-Oufi said the biggest problems the hospital faces are the refusal of a patient to continue with her hospitalization and patients not making their scheduled visits to outpatient clinics.
Some families are unaware of the importance of treating some cases at the hospital and some prefer to have their addicted members treated at a private hospital or even abroad to avoid social stigmatization.
He said the number of addicts is increasing around the world. In Jeddah, the hospital receives on average 150 male addict cases every month including new and frequent patients. The ministry provides sufficient quantities of medication stored at its medical supplies departments around the Kingdom.
He said there was need to expand addiction treatment and psychiatric services in the Kingdom. "Al-Amal is coming up with a 500-bed medical complex in the Asfan area in northwestern Jeddah. The expansion of drug addiction treatment and psychiatric services is the aim of the ministry's General Administration for Mental and Social Healthcare as per its strategic plans," he said.
The detoxification phase usually takes two weeks, followed by a 4- to 6-week behavior treatment and another period of the same duration for rehabilitation.
A local press report said the number of addicts was increasing at an alarming rate, claiming that the number was doubling every year. They also warned that addicts under the age of 15 are increasing.
"A number of intermediate school-level pupils were admitted into hospitals for addiction treatment. It is a problem that requires concerted efforts," the report said, adding that factors causing child addiction can be imitating others, being falsely led to believe that drugs would make them more vigilant during exam periods and not being monitored by parents.
A 15-year-old addict was quoted by the local press as saying: "I'm not the only one using drugs in my school. There are some my age who visit hospitals for treatment, but many remain untreated and continue to go to school. Drug dealers promote drugs among pupils, especially during exam time."
A 42-year-old addict said he has been undergoing treatment for 14 years and described local addiction treatment programs and rehabilitation programs as successful.
http://www.arabnews.com/news/464006
------------
Saudi Arabia Mulls Granting Women Access To Stadia
By James M. Dorsey
9 September 2013
Saudi Arabia's secretive ruling family is mulling allowing women to attend soccer matches. No Saudi official has suggested that the controversial issue is under discussion but if past experience is any indication, a series of statements and denials suggests that a debate is underway.
The debate would be a revival of closed door discussions that has been waged on and off for the past two years. Attempting to assess debates within the secretive family is not dissimilar to Kremlinology, the speculative science analysts developed in an effort to understand the inner workings of the Soviet leadership.
Granting women sporting rights in the kingdom that in most parts of the world would be taken for granted takes on added significance with the Saudi Football Federation's recent suggestion that the kingdom will compete against the United Arab Emirates, Bahrain, Oman, Kuwait, Thailand and Iran for the right to host the 2019 Asia Cup; hints that Saudi Arabia may field a serious candidate for next year's election of a new head of the Asian Football Confederation (AFC) and the acquisition by Saudi Prince Abdullah bin Mosaad of a 50 percent stake in third tier English cub Sheffield United.
The moves that would that would project Saudi Arabia on the global soccer map are not without risk as Qatar and Abu Dhabi have learnt the hard way. Qatar had expected to be cheered when it won the hosting rights for the 2022 World Cup, but has since had to deal with a barrage of criticism, negative publicity and demands that the tournament's venue be moved. Recent improvements in the material conditions of foreign labor, who constitute a majority of the Gulf state's population, are the result of a threat by international trade unions and human rights groups to boycott the World Cup and companies involved in the construction of infrastructure related to the tournament if Qatar fails to adhere to international labor standards.
Human Rights Watch last month accused the UAE of using its ownership of English Premier League club Manchester City and move into the United States' Major League Soccer to polish an image increasingly tarnished by autocratic and counterrevolutionary policies, including the recent sentencing of scores of dissidents on charges of plotting to overthrow the government and UAE support for the military coup that ousted Egyptian president Mohammed Morsi.
A country that is developing its first national sports plan for men only; lacks physical education for girls in public schools; forces women's soccer clubs to operate in a legal and social nether land; bans women from driving, travelling without authorization from a male relative and working in a host of professions; and when it was forced last year by the International Olympic Committee (IOC) to field women athletes chose two minor expatriates, Saudi Arabia is particularly vulnerable to criticism.
In minor concessions, Saudi Arabia's religious police said earlier this year that women would be allowed to ride bikes and motorbikes in recreational areas provided that they were properly dressed and accompanied by a male relative. Authorities also announced that they would allow girl's physical education in private schools as long as it was in line with Islamic law.
Saudi Football Federation (SFF) president Ahmed Eid Alharbi, a storied former goalkeeper who became the kingdom's first elected sports official after his predecessor, a member of the ruling family, was forced under fan pressure to step down, has hinted at the economic impact of allowing women to attend soccer matches would have.
He said earlier this year that the creation of facilities for women would increase capacity at stadiums by 15 percent. Alharbi said the Prince Abdullah Al-Faisal Stadium in Jeddah would be the first to accommodate up to 32,000 women followed by the King Abdullah City stadium in the capital in 2014. Saudi Arabia, which enforces strict gender segregation, first announced in 2012 plans to upgrade the Jeddah stadium to enable women to enter.
Alharbi later qualified his remarks by saying that the decision to lift the ban on women was not his. "A decision like this is a sovereign decision. Neither I nor SAFF can make it. Only the political leadership in this country can make that decision," he said.
Prospects for women's attendance were further thrown into doubt in the past week when Prince Nawaf bin Faisal, the head of the youth welfare authority who resigned as head of the national soccer body, and the SFF denied that women would be granted access to the King Fahad Stadium in Riyadh during last week's friendly against New Zealand. The denial was issued after the stadium's manager, Sulaiman al-Yousef, manager of King Fahad Stadium, announced that foreign women and children would be permitted to watch the match. A picture on the website of the Saudi-owned Al Arabiya television network of a few women and children in the stadium appeared to counter the denial.
It would not be the first time that Saudi Arabia succumbed to pressure. Protests by Sweden in 2006 in advance of a friendly in Riyadh persuaded the kingdom to allow Swedish women to attend separated from men by seating them in areas reserved for the media
The debate about women's access to soccer matches is being waged against the backdrop of a series of anti-government incidents in the wake of last year's resignation of Prince Nawaf. A Facebook page entitled Nasrawi Revolution demanded the resignation of Prince Faisal bin Turki, the owner of storied Riyadh club Al Nasser FC and a burly nephew of King Abdullah who sports a mustache and chin hair. A You Tube video captured Prince Faisal seemingly being pelted and chanted against as he rushed off the soccer pitch after rudely shoving a security official aside.
"Everything is upside down. Revolution is possible. There is change, but it is slow. It has to be fast. Nobody knows what will happen," said a Saudi sports journalist referring to broader discontent in the kingdom that goes far beyond soccer.
http://www.albanytribune.com/08092013-saudi-arabia-mulls-granting-women-access-to-stadia-analysis/
------------
A space for silenced voices in Swat's first women assembly
9 September 2013
MINGORA: A 'women's assembly' in Saidu Sharif gave the underrepresented sex an opportunity to air their troubles in front of elected representatives and members of the ruling party on Sunday.
The assembly was organised by a women's jirga in Swat. First of its kind, the jirga took form earlier this year in June. Awakening, a non-governmental organisation, also provided support for the assembly which was attended by a large number of women, Pakistan Tehreek-e-Insaf (PTI) MNA Salim ur Rehman, MPA Fazal Hakim and dozens of PTI office bearers.
The problems raised at the assembly covered the spectrum – domestic, financial, educational, infrastructural and local governance.
Study hard, stay at home
"Jobs are given based on influence and bribes; children of poor families are always ignored. Four of my children are educated but they are jobless," said Tahria from Khona Cham.
Many young women present held graduate degrees and complained of zero job opportunities. "I have a master's degree in Physics. In addition to the MSc, I also have two other degrees, including a bachelor's in education. I have been applying for government jobs but have not gotten one yet," complained Yasmeen Gul, a young woman from Saidu Sharif Shagai.
Facing the fist
Physical abuse by their husbands was one of the issues of paramount importance discussed at the women's assembly.
"My husband beats me daily. He is a drug addict and does not work. I want to educate my five children but cannot afford to," shared Naseem from Baligram village. She wanted the government to step up, support her in educating her girls and send her husband to a rehabilitation centre for drug addiction.
Tabbassum Adnan, head of the women's jirga in Swat, presented a score of issues faced by women in the area. Violence against women in male-dominated societies tops the list of things which should be effectively banned, said Adnan. "A bill against domestic violence should be passed in Khyber-Pakhtunkhwa like other parts of the country."
Adnan demanded the government provide education and health facilities to women within their villages. "Women in Swat face many hardships which can be brought to an end by the government."
The head of the jirga pointed out the atrocities inflicted on women in Darul Aman – government run shelters – go unnoticed and have to be brought to an end.
"Government officials in all institutions must be trained on how to behave with women," Adnan told the elected representatives.
Members of the jirga demanded the government introduce theology classes for non-Muslims in schools as a parallel to Islamic studies which are mandatory for Muslim students.
In response to the women's demands, MNA Salim ur Rehman and MPA Fazal Hakim assured that their issues would be resolved.
http://tribune.com.pk/story/601695/for-the-marginalised-a-space-for-silenced-voices-in-swats-first-women-assembly/
------------
Trendy Abayas Pushing Burqas Out of Fashion
SHAZIA HASAN
September 9, 2013
KARACHI, Sept 7: "It is not just a dress. It is a symbol of modesty. Dressing modestly leads to modest thoughts, too. The Abaya and Hijab have a way of shaping morality in the lady who wears it," says Sadia Ali, a customer at an Abaya shop on Tariq Road.
The traditional Burqa is passé. Compared with the Abaya, the full-length embroidered dress originally from the Arab Gulf states, the Burqa is rarely worn these days. "I think there must be one that belonged to my Dadi Jan in that big dusty trunk lying at the back of our garage," says Maria Sabahuddin. The girl herself wore emerald green hijab kept in place on the head with a pretty brooch over a jet-back Abaya with sequins at the front opening and sleeve cuffs.
Shabana Usman, who runs an Abaya shop in the basement of the Gold Mark shopping centre, on main Korangi Road, says that most of the cloaks and Abayas in her shop have been imported from Dubai. Therefore they are expensive. "The simpler ones with scant embroidery or sequins cost Rs3, 000, while the fancy ones cost Rs5,000 and over," she says.
Her shop "is just a mini branch". "Our main shop is in Dubai," she adds.
Ms Usman counts some of the most popular Abaya styles on her fingertips. "There is the farasha style, the Sudanese style," she says. "The material used in Abayas should have a nice fall such as jersey, georgette, etc."
"The most popular colour for Abayas is the very same for the old-style Burqas — black. But we also sell off-white, beige, fawn colour, blue and grey Abayas," says Mohammad Amir, who besides having an outlet in the Gold Mark shopping centre, has the main shop in Dubai.
"It's an Arab tradition, so we have links in the UAE," the shopkeeper points out. The cheapest and simplest of Abayas at Mr Amir's shop are in the range of Rs1, 000 to 1,500.
"But the expensive ones can start at Rs10,000 and go up to Rs50,000," he says. "The most expensive ones are actually encrusted with zircon stones.
"Abaya tailors are also different from your regular Shalwar-Kameez suit tailors. Their cuts are very different."
Rizwan Ansari, who stitches Abayas, says: "I also have an embroidery side in my tailoring shop for doing the embroidered borders for the Abayas.
"We stitch all kinds of Abayas. We can even replicate the ones in the Arab catalogues brought to us by our customers. For the simpler ones, we charge Rs700 and the price can go up to Rs1, 500. It can even go up further depending on what kind of embroidery work or sequins you want on the cloak."
When asked about the difference between an Abaya and a Burqa, the tailor explains: "The Burqa had a proper head covering with a veil but you can wear a scarf of your choice over an Abaya for the Hijab. Girls use pretty and colourful scarves. It's more of a fashion statement now than a way of dressing modestly.
"Then like the Burqa you always wear full clothes underneath the abaya as well. But ladies usually wore a proper Kameez and Shalwar underneath their Burqas. It is not uncommon for young ladies to wear jeans and tunics underneath their Abaya with sneakers, and the mothers copy their daughters," he laughs.
"So the trend is changing. Also the Burqa used to be a loose garment, whereas the abaya is fitted to the body shape. We are asked to put in more pleats by the ladies."
http://www.dawn.com/news/1041384/trendy-abayas-pushing-burqas-out-of-fashion
------------
Tahera Ahmad Is First Woman To Recite Quran At ISNA Convention
September 9, 2013
Tahera Ahmad delivered a beautiful Quran recitation to open the 50th annual Islamic Society of North America (ISNA) convention on August 30, becoming the very first woman to do so.
ISNA has represented the interests of American Muslims for the last half-century, and holds a moderate Islamic viewpoint. In a congratulatory video message, President Obama applauded ISNA for its service efforts, saying, "Over the last half century, you've upheld the proud legacy of American Muslims' contributions to our national fabric, and this gathering is a testament to that tradition."
Illinois-raised Ahmad is the Associate University Chaplain at Northwestern University as well as a faculty fellow. She has been educated at a number of prestigious schools, including Al-Azhar University in Cairo, Egypt, which is considered the foremost institution in the Muslim world for the study of Islamic law.
Ahmad told the Huffington Post, "I am elated to hear from young women who are inspired to now learn this art, as many of them said that they never knew a woman could recite the Quran with such grace. This is not about creating controversy or fitna, this is about digging deep, doing our research and reviving our Islamic tradition and giving women the opportunity to be a part of our rich legacy."
Response to Ahmad's recitation in front of a co-ed audience has been predictably mixed. While some have praised her recitation as a step forward for gender equality in Islam, others have criticized her for being too "innovative" when it comes to religion.
Susan Labidi commented on the video, "Today's generation of girls need to see role models like Sr. Tahera. Controversial? Perhaps, but her dignity resounds and does justice to the greater good."
Another YouTube commenter, Sweetjasmine86, objected, "There is no innovation in Islam. If you can provide evidence that the Prophet (saaw) permitted female reciters in front of nonmuhrim, then women should freely recite. But you can't simply try new methods to accommodate the current culture we have. People nowadays confuse freedom with disinhibition. May Allah Guide us all."
Ahmad isn't the only Muslim woman to challenge patriarchal interpretations of Islam. She follows in the footsteps of Muslim feminists like Amina Wadud, who became the first woman to publicly lead a mixed-gender prayer in 2005.
http://www.huffingtonpost.com/2013/09/08/tahera-ahmad-first-woman-recites-quran-isna_n_3881455.html?utm_hp_ref=religion
------------
Against the odds, Miss World starts in Indonesia after Muslim protests
9 September 2013
AFP, Nusa Dua
Miss World began amid tight security on the Indonesian resort island of Bali on Sunday after days of Muslim hardline protests that forced the venue for the beauty pageant to be moved.
As contestants put on dance performances at a glittering opening ceremony, around 100 police, including some armed with rifles, patrolled around the building where the contest is being held on the south of the island.
Hundreds of police have been deployed at hotels and venues linked to the pageant, which has caused anger in the world's largest Muslim-majority nation.
Thousands of Islamic hardliners have taken to the streets across the country during the past week, denouncing the show as "smut and pornography" and burning effigies of the organizers.
Unlimited anger
But the anger has not been limited to radicals, with criticism also coming from the country's most prominent Muslim clerical body, rights groups, and a government minister.
Organisers pledged months ago there would be no bikini round during this year's pageant in a bid to avoid causing offence.
However, this was not enough to stop street protests, and on Saturday the government bowed to the mounting pressure by deciding to move the final, on September 28, to Hindu-majority Bali.
It had originally been scheduled to take place just outside the capital Jakarta, in an area where there is considerable hardline influence, but radicals threatened to stage huge protests and get it stopped.
Although Bali has been hit by deadly bomb attacks in the past, hardline influence is almost non-existent on the island nowadays and locals are used to seeing hordes of tourists sunbathing in their swimwear.
Announcing the change of venue, coordinating minister for people's welfare, Agung Laksono, said the government had "listened to what the people wanted."
The organizers said they were "disappointed" by the decision.
"There is the potential that we will be seen as a country which always bows to pressure from a noisy Muslim minority group," Arief Suditomo, from the local organizing committee, told AFP.
While most of Indonesia's population of more than 240 million practices a moderate form of Islam, the influence of the hardline fringe is growing and they have succeeded in getting events changed or cancelled in the past.
Last year, pop sensation Lady Gaga axed a concert after a series of protests, where radicals dubbed her "the devil", threatened to burn down the venue and criticized her for wearing only "a bra and panties."
http://english.alarabiya.net/en/News/2013/09/08/Miss-World-starts-in-Indonesia-after-hardline-protests-.html
------------
Syria strike threats cast shadow over new school term
9 September 2013
AFP, Damascus
With one week left before school starts in Damascus, parents hoping it might bring a bit of normalcy to their youngsters have yet another headache with the threat of U.S. military strikes.
The civil war has seriously disrupted education in Syria. More than 40 percent of children aged between six and 15 no longer attend school, says the U.N. children's agency (UNICEF), after 30 months of bloody conflict that has killed more than 110,000 people.
In the capital, schools have fared comparatively well, even though many are used as shelters for those displaced by fighting on the outskirts of Damascus.
But the military action being mulled by Washington and its allies has heightened the stress for parents already coping with supply shortages and rising costs, not to mention concern about long-term trauma war may cause their children.
Like many families, Muwaffaq, his wife, daughter and son headed to the historic Hamidieh souk in the heart of Damascus to buy supplies before the term starts September 15.
"With the war drums beating in the United States, who knows what will happen? The schools could very well close," he says.
On Monday, the U.S. Congress is due to begin debating whether to approve President Barack Obama's calls for military intervention against Damascus over alleged chemical weapons attacks on August 21 said to have killed hundreds.
"Of course we are worried for the schools," says Nuhad, a 30-something mother of three wearing a white headscarf.
"It depends on the areas. For example, we live near a possible target in Damascus, so it's not very reassuring."
"Many parents are waiting for a strike. Others are already saying they won't send their children to school if things get worse," says Ahmed, a shopkeeper on Meskiya Street, as he arranges packets of felt-tip pens.
Since the war came to the suburbs around the capital, residents say they have been signing their children up for schools closer to their homes.
"Damascus has been on the edges of the war for two years now, but the fear is that the war spreads and the schools close," says Mahmud Subhiya, buying a packet of pencils for his son.
UNICEF says more than 3,000 schools (2,000 according to the Syrian authorities) have been destroyed since the beginning of the conflict in March 2011, and another 900 are occupied by families displaced by the fighting.
"In my class, there are now three people to every bench instead of two," says Lamis, a seven-year-old who has come to Hamidieh to buy a new pencil case.
"And the teachers who come from far away are late sometimes," she adds mischievously.
Deputy Education Minister Farah al-Motlaq told AFP that orders have been given to "welcome all displaced children in the schools of Damascus".
Stressing the need to "distance education from the crisis", he said no special measures had been taken for schools in the face of possible US air strikes.
The ministry has also told teachers not to be too harsh with pupils about school uniforms and supplies because of price hikes.
In the souk's maze of shop-lined alleyways, families flock in search of bargains after a year that has seen the cost of many goods skyrocket.
Salma, browsing for school supplies, admits she is struggling. "I still haven't bought anything for my daughter. I am just looking, it's unaffordable," she says, glaring at a vendor who remains unmoved.
"Not our fault," he snaps.
"It's robbery," adds another shopper.
"Prices have quadrupled," says Ahmed, the Meskiya Street shopkeeper.
"There's been the devaluation of the Syrian pound against the dollar, but the factories that make the notebooks have also been destroyed in the provinces.
"Because the roads are dangerous, drivers transporting the goods ask for five times the rate as before."
Ahmed says that the numbers of people coming to his shop are down 20 percent compared with 2012.
Many people at the souk told AFP they were buying only what was absolutely necessary.
"Before, I used to buy notebooks by the dozen. But now, I'm going to wait until the teacher asks us to," says Farah, a mother of two boys.
But Maha, also a housewife, says she is determined to spoil her children.
"They hear the bombing and they can't go out like before. I can't refuse them anything," she says.
http://english.alarabiya.net/en/perspective/features/2013/09/09/Syria-strike-threats-cast-shadow-over-new-school-term-.html
------------
Ethiopian Woman in Saudi Arabia Jailed For Five Months for 'Illicit Affair'
9 September 2013
Manama: An Ethiopian woman in Saudi Arabia has been sentenced to five months in prison after she was arrested for having an "illicit affair" with two men.
The domestic helper was detained during a raid on a sheep barn south of Madina in western Saudi Arabia where she was meeting the two men, local Arabic daily Al Watan reported.
A Saudi national, the owner of a rest house in the area, reportedly tipped off the police about the frequent visits by the African woman to the barn, telling them that he had noticed that an African driver of a small truck often dropped an African woman in her 20s and came back to pick her up three hours later.
A police patrol dispatched to the area raided the barn and found the Ethiopian woman with two men, also of African origin, who managed to avoid arrest by escaping from a window.
During the investigation, the helper said the two men were her brothers and that she met them secretly in the barn because they were staying illegally in the country and could not venture into Madina where they could be arrested during a routine police inspection.
The helper could be deported after serving the sentence.
http://gulfnews.com/news/gulf/saudi-arabia/helper-jailed-for-five-months-for-illicit-affair-1.1228531
------------
Hijab Exhibition Held in Pakistan
9 September 2013
The cultural event was organized by the Islamic Republic of Iran's Cultural Center in the city at the request of the Vahdat Muslimin (Muslim unity) Assembly.
The three-day event showcased posters depicting Iranian Muslim women's activities in society and calligraphy works with the theme of Ifaf and Hijab in the word of the Holy Infallibles (AS).
The exhibition aimed to promote the culture of Hijab and Ifaf among the younger generation, especially women and girls.
The Hijab exhibition was launched in Lahore on Wednesday, September 4, and concluded on Friday, September 7.
Since 2004, different programs including seminars and exhibitions featuring Hijab are held on September 4 in Lahore.
http://abna.ir/data.asp?lang=3&Id=460795
------------
Cella platform connects professional Saudi women
JEDDAH: HABIB SHAIKH
9 September 2013
CellA, a platform for Saudi professional women, now has more than 2,000 members in Jeddah, Riyadh and Alkhobar and is set to expand to other Saudi cities and the GCC in the future.
CellA provides members with three types of services. Networking events provide women with the opportunity to meet each other and exchange views on professional topics. Speakers such as Thoraya Obaid, Lama Al-Suleiman or Nahed Al-Taher talk about their achievements and recount success stories.
CellA also organizes workshops on how to network, negotiate and improve other skills that women in the professional arena might lack. "We bring them the best from abroad and the Kingdom to provide them with skills and train them," said co-founder Dina Madani.
The third service is the mentorship program for students and young professionals.
"Thoraya Obaid and Nahed Al-Taher have expressed their interest in being mentors," said Madani.
Madani is a graduate in international relations and diplomacy. She is a political affairs officer specializing in issues of minority rights. "The position of women within Saudi society has drastically shifted in the past 10 years," says Madani.
"Women are now much more engaged and active in society. They are present in many job categories, including the Shoura Council. They also contest JCCI board elections. There have been great developments, but there is also room for much more," she said.
"Categories are broken down into government, the private sector and civil society. We have to educate all three for women to have a holistic and active role in society. Everyone has a role to play. Even women themselves need to be educated," she added.
As for young Saudis, she says that they have lot of responsibility, but also many opportunities. "Society sees them as part of the solution and an asset. They have a lot of energy, qualifications, education and exposure," she says.
They might, however, lack awareness of the need to be proactive. "Our youth needs to be encouraged to shift from being opportunity-seekers to opportunity makers. They should not only look for jobs but create them. The government has to provide opportunities to start a business and the private sector has to invest more in entrepreneurship skills and training," she said.
Born in Marbella, Spain, where she spent 10 years, Madani works with the department of Muslim minorities and communities at the Organization of Islamic Cooperation (OIC).
She said the department of Muslim minorities holds and facilitates symposiums in different regions. For example, a symposium was recently held in Mozambique for South East Africa, in Seoul for Eastern Asia and in Warsaw for Central and Eastern Europe. "We try to bring the communities together, talk to one another and identify their challenges. That way, we can try to help them," she said.
"It is very important for every woman and youth in Saudi Arabia to not only fulfill their duty, but to go beyond," she said, adding, "There is a lot of young talent that is going to waste and this is very sad. We have to nourish Saudi talent. I am very optimistic about the future. I see that women can play a very big role and I want to contribute to society."
http://www.arabnews.com/news/464008
------------
British-Pakistani Woman 'Killed' By Husband in Mirpur
September 9, 2013
MUZAFFARABAD: A British woman of Kashmiri origin was murdered allegedly by her husband near the Dina-Jhelum Bypass road on August 29. She reportedly did not die in a car accident as was previously believed, The Express Tribune learnt on Sunday.
Saira Rani was a naturalised British citizen from Islamgarh, Mirpur, Azad Jammu and Kashmir (AJK), and was a resident of Bradford, United Kingdom. She recently married Rashid Ashraf, also from Mirpuri and a naturalised British citizen, and the couple had a four-month-old child.
Sources close to the family revealed that the couple had a severe altercation in Bradford, after which Rashid came back to Mirpur, where he shared his wife's growing differences with his family elders.
Rashid's family spoke to Saira and convinced her to come to Pakistan to resolve the differences, they said.
Saira decided to come to Pakistan and reconcile ties with her husband. After landing in Lahore on August 29, she was en route to Mirpur with her husband and his uncle Aslam Chuadhry. When they reached the Dina-Jhelum Bypass, Rashid reportedly pulled Saira out from the car and murdered her.
However, the sources told The Express Tribune that someone close to Rashid, who also lived in Mirpur, saw him moving Saira's body to another car and revealed this information to Saira's father. On hearing this, the father filed a complaint at the Mangla police station on Friday, urging the police to investigate whether his daughter was killed in an accident or murdered by her in-laws. The police began the investigation and arrested Rashid along with his uncle, Aslam Chaudhry, on Saturday.
Reportedly, Rashid confessed to the murder during interrogation, saying he did it to end the dispute between them once and for all.
http://tribune.com.pk/story/601774/british-pakistani-woman-killed-by-husband-in-mirpur/
------------
URL: https://www.newageislam.com/islam,-women-and-feminism/new-age-islam-news-bureau/sudan-woman-risks-flogging-to-protest--taliban--like-law/d/13422