New Age Islam News Bureau
5 Nov 2013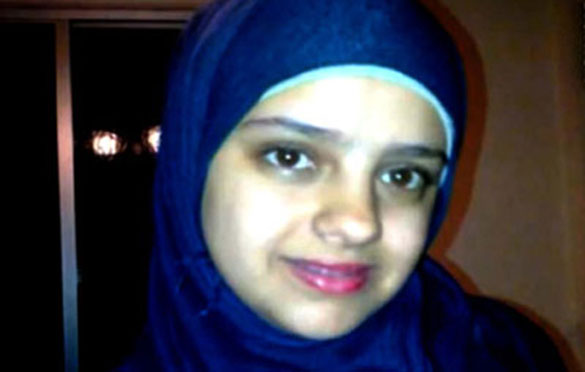 Eva Ghazal, a 13-year-old middle-school student from Beirut's southern suburbs, became the wife of a man she didn't know, sparking outrage across Lebanon. (photo by YouTube/LBCI News)
----------
• Mosque Return for Trans-Sexual Muslim
• Great Mothers, "Widows of Martyred Intellectuals" Deserve State Recognition: ICT
• Facebook Campaigns Denounce Egyptian Films That Degrade Women
• Malaysia No Place for LGBT Rights, Religious Freedom, Says Islamist Group
• Eva's Story Highlights Plight of Women in Lebanon
• Female Criminal Gangs in Saudi Arabia Do Not Face Penalties: Report
• 'Girls of Riyadh' Author Honoured In US for Stem Cell Research
• Hijab Girl Unveils New Range Of Hijab Fabrics
• A Strong Woman in Muzaffarnagar Where Fighting Left Dozens Dead
Compiled by New Age Islam News Bureau
URL: https://newageislam.com/islam-women-feminism/sudan-woman-legal-limbo-refusal/d/14301
-----------
Sudan Woman in Legal Limbo over Refusal to Cover Hair
4 November 2013
AFP, Khartoum
A Sudanese woman accused of "indecent" attire because she refused to cover her hair remains in legal limbo after a court appearance on Monday.
Amira Osman Hamed faces a possible whipping if convicted of violating Sudan's laws governing morality, which took effect after the 1989 Islamist-backed coup by President Omar al-Bashir.
The defense asked in September that the charge be withdrawn but the prosecution is still weighing how to proceed, Hamed and one of her lawyers told AFP after Monday's hearing in Jebel Aulia, just outside Khartoum.
The court is waiting for the prosecutor to either send the file back to court for additional hearings, or to quash the case, Hamed said.
No new date has been set for a further hearing, but one of her lawyers, Kamal Omar, told AFP that "this does not mean the case is finished."
Hamed said she thought that her case would not be quashed immediately.
"I think they will keep it (active) for a while," she said. "If they want to use it any time they will. I'm not free."
Under Sudanese law all women are supposed to cover their hair with a "Hijab" but Hamed refuses, saying authorities "want us to be like Taliban women."
Her case has attracted international publicity and drawn support from rights activists.
She said she was charged after refusing a policeman's order to cover her head while visiting a government office in Jebel Aulia in late August.
In 2009, the case of journalist Lubna Ahmed al-Hussein led to a global outcry and spotlighted women's rights in Sudan.
Hussein was fined for wearing slacks in public but she refused to pay. She spent one day behind bars but others rounded up with her in a restaurant were flogged.
http://english.alarabiya.net/en/News/middle-east/2013/11/04/Sudan-woman-in-legal-limbo-over-refusal-to-cover-hair-.html
-----------
Mosque Return for Trans-Sexual Muslim
November 5, 2013
TRANSEXUAL Muslim Lucy Vallender has been welcomed back to the Broad Street mosque after claiming she was banned because of her gender.
The 28-year-old, of Manor Road, a former Territorial Army soldier who underwent gender reassignment surgery in 2010, spoke out last month after claiming the mosque asked her inappropriate questions and told her to pray with the men.
Now she has patched up her relationship with the mosque and is looking forward to resuming her Arabic classes there.
She said: "They have allowed me back in the mosque. A couple of days ago I called the mosque and spoke to them on the phone and they said I could come back.
"They aren't giving women's classes at the moment but as soon as they do I'd like to go back to my studies. They are just waiting for a new teacher.
"I feel like I was treated like a human being. I feel on top of the world."
Lucy has also fallen in love again with a new man, Avraz, who she met online after divorcing her husband, Murad.
She was the second wife of Murad, who she married earlier this year but has only seen him a couple of times since the wedding.
She is now much happier after meeting her new man, who sprays cars in London and visits her most weekends.
She said: "It's quite easy to divorce in Islamic law. I have a new partner now. I met him about a month ago. I love him. I am much happier now.
"He knows about my operation and he is really supportive."
In September, Lucy claims she was banned from the mosque after her Arabic teacher asked her inappropriate questions about her gender.
Lucy said: "At first at the mosque they didn't ask any questions about my gender. But after a while they asked what my boob size was and whether I had periods.
"They said I was swearing and abusive, but I wasn't. They also said they didn't want me to pray with the women because I was looking at them. It was demoralising."
The mosque denied they ever asked Lucy, whose Islamic name is Layla, inappropriate questions, and they also said that she was never banned from attending.
http://www.thisiswiltshire.co.uk/news/10782128.Mosque_return_for_transexual_Muslim/
-----------
Great Mothers, "Widows of Martyred Intellectuals" Deserve State Recognition: ICT
November 5, 2013
Terming the widows of martyred intellectuals "great mothers" the International Crimes tribunal 2 on Sunday in its verdict strongly suggested that they should be awarded state acknowledgement for their struggle since 1971.
"It would not be out of place to pen the observation that the bereaved family of martyred intellectuals started a new battle for survival, even the war of liberation ended," said the verdict that awarded death sentence to Chowdhury Mueen Uddin and Ashrafuzzaman for committing crimes against humanity through systematic killing of intellectuals.
The tribunal Chairman Justice Obaidul Hassan and its members Justice MdMozibur Rahman Miah and Justice MdShahinur Islam, on Sunday delivered the landmark judgment.
The verdict said: "Facing immeasurable hurdles the traumatised wives of martyrs remained on noble track in nourishing and bringing up their kids who lost their fathers despite untold pains and loss sustained."
"Four decades after the horrific tragedy, tangibly the children of martyrs are now doctors, professors, journalists and highly educated experts working in international and multinational organisations," the verdict said.
"This achievement surely might have laid enormous peace to the departed souls of their martyred fathers,"said theverdict.
"It reduces the pains of their worthy mothers too who had to fight numerous constraints and realities untiringly for keeping up the journey."
"They are "great mothers" indeed and they deserve due state acknowledgement, we stress," said the judges in their judgment.
The judges in their verdict also said, "We believe, the nation still bleeds for the untold trauma it sustained for the extreme criminal activities carried out to eliminate the illustrious intellectuals by the organised murderous enterprise formed of infamous al-Badr, the brainchild of Jamaat-e-Islami."
"We believe too that the nation feels ashamed as it could not bring the notorious perpetrators to book over the last four decades for healing the relentless wound it sustained caused by the beastly act of systematic elimination of eminent sons and daughters of the soil," read the verdict.
"We are convinced that through this process (trial) the nation has got occasion to stamp its humble recognition and homage to their immense and dauntless sacrifices," said the verdict.
http://www.dhakatribune.com/bangladesh/2013/nov/04/great-mothers-deserve-state-recognition-ict#sthash.Smp2ZdhJ.dpuf
-----------
Facebook campaigns denounce Egyptian films that degrade women
November 5, 2013
Several rights groups have criticized the Egyptian movie industry lately. Calls for boycotting film screenings have spread on Facebook and Twitter to protest how Egyptian cinema is portraying women: by allegedly insulting them and legitimizing their harassment.
A group calling itself Shoft Tahrosh (Harassment Seen), which fights harassment of women in Cairo, has asserted that filmmakers have badly portrayed women in this season's films, which were first screened during Eid al-Adha.
The group, via a statement released on its Facebook page, also said that some films deal humorously with the female body, legitimize harassment of women and discrimination, and justify anti-woman physical and verbal violence. The filmmakers do so by means of simple comedy films that the filmmakers think is harmless. Shoft Tahrosh said that such comedic scenes are not merely playful scenes that entertain the audience, but also suggest to the audience what is acceptable and normal. According to the group, just as cinema is influenced by reality, reality is also influenced by cinema.
The group stressed that it respects the film industry's freedom, opposes government and popular censorship in any form and opposes banning films or deleting any part of any film. But the group called for an age-based movie rating system and asked filmmakers to take into account their responsibility toward children and how their films depict women and girls, especially in light of the dire situation of women and girls in Egypt, where women suffer sexual and domestic violence as well as and discrimination in public and private life.
In a related development, Egyptians on social media are increasingly calling for boycotting so-called "low-level movies" that Egyptian movie production companies release every new season, especially after the holidays. The Facebook campaign said that the movies now in theaters harm Egypt's reputation, represent a "danger to public security," and corrupt the mind because they are about bullying, belly dancing, and the lives of criminals.
On its Facebook page, a rights campaign calling itself Ikhrass (Shut Up) called on citizens to boycott a film produced by al-Subki film Production Company because the film has "low morals." Al-Subki is one of Egypt's largest production companies. Over the past few years, it catered to adolescents during Eid al-Adha.
Most of that company's work is about young bullies who face problems and fall in love with temptresses. The films contain low-level folk songs and belly dancers, but no dramatic plot nor a purpose. Examples of such films are Aabdahu Mawtahu, Qalb al-Assad, Ish al-Bulbul, and al-Almani.
The company has been attacked by several campaigns, such as Together against Degradation and Bullying and Egypt Is Not neither a Belly Dancer nor a Bully. The latter campaign blames al-Subki for causing the loss of an entire generation.
For its part, the National Council for Women in Egypt protested and condemned the screening of a range of what it called degrading and low-moral movies, stressing that those types of movies lead to increased and rampant rates of sexual harassment, a phenomenon that threatens the security and safety of Egyptian society. It denounced the ads broadcast by some TV and radio stations for movies that are offensive to the morals, principles and authentic values ​​of the Egyptian family.
The Council called on those responsible for the Egyptian film industry and the regulatory agencies to quickly intervene and take decisive action to stop the showing of those movies in order to preserve society's values ​​and principles and to protect society from the rampant harassment phenomenon, especially since those types of movies are totally inappropriate for the country's current political situation and transitional phase, which requires everyone to work hard and rally around the country's interests.
The Egyptian constitution, which is under review by a 50-member committee, will address the issue of discrimination. Anti-discrimination laws may soon be passed to protect Egyptian women in movies and in the streets. It was agreed that the constitution should not only stipulate non-discrimination against women, but also add a provision criminalizing such discrimination.
That was confirmed by Maha Abu Bakr, a human rights activist and a member of the committee for the preparation of the Egyptian constitution. In an interview with Al-Monitor, she confirmed that there will be a constitutional provision protecting women from attack or from being considered a woman instead of a citizen.
Abu Bakr confirmed that the 50-member committee preparing the constitution is being asked to add clear constitutional provisions that protect women from violence in all its forms, whether harassment or abuse that is psychological, verbal, or physical. She added that the way movies are portraying women is not persecution per se, but is a reflection of the era's artistic and cultural deterioration, whereby those who have money are those whose ideas become dominant.
Actors Syndicate head Ashraf Abdul Ghafur said in a discussion with Al-Monitor that most films recently shown in Egyptian theaters both in the Eid al-Adha or Eid al-Fitr seasons are of a commercial nature and were not intended to be insulting toward women or anyone else. He said the films are a result of the chaos pervading Egypt. He explained that film production has three components: art, production quality, commercialization, and that those films miss the art and production quality components, and rely on just commercialization.
Abdul Ghafur called on the state to intervene and shoulder its responsibility in promoting the film industry so that there won't be a monopoly by privately produced films when Egypt is living under conditions of instability. He said that this situation forces producers who present Egypt's concerns and problems to retreat and leave the playing field open to businessmen who wear the mask of producers and make ugly films that don't represent the Egyptian people and that aren't consistent with the Egyptians' teachings, principles, aspirations or upbringing. He said that what Egypt needs is for movies to be the memory of this phase. He said that Egypt is living through a stage of weak security and unethical behavior, and that the present phase should go down in history as a black period for Egypt.
Despite all the Facebook campaigns and the government campaign through the National Council for Women in Egypt, the quality of these films, which make a hero out of a bully and legitimize violence and harassment against women, still dominate movie theaters and enjoy a large audience among adolescents.
http://www.al-monitor.com/pulse/originals/2013/11/egypt-movie-women-protest-degrading.html
-----------
Malaysia no place for LGBT rights, religious freedom, says Islamist group
November 5, 2013
KUALA LUMPUR, Nov 4 — Malaysia has no room for lesbian, gay, bisexual and transgender (LGBT) rights or religious freedom, Islamist group Ikatan Muslimin Malaysia (Isma) said today as it lobbied Putrajaya to ignore the proposals put forth by a local human rights activist coalition in Geneva recently.
Isma deputy president Aminuddin Yahya said the government must reject the contents of a report presented by the Coalition of Malaysian NGOs (Comango) at the United Nation's (UN) Universal Periodic Review (UPR) late last month.
Aminuddin called Comango's recommendations an affront to the religious sanctity and the sovereignty of the Federal Constitution for insisting on religious freedom and LGBT rights and also on the right of a Muslim to be an apostate and pressing for the removal of Malay privileges.
"Isma takes a firm position that the government must be careful and not negotiate with such unreasonable demands by Comango," he said in a statement published in the group's website.
In a previous seminar, Isma had also claimed that Comango was attempting to spread "liberalism teachings" backed by Western powers.
Isma's remarks today come on the heels of various Muslim voices that have been critical of Comango.
A coalition of Muslim non-government organisations that call themselves Muslim UPRo labelled Comango an illegitimate group that was ran on foreign funds.
Barisan Nasional's Tenom MP Raime Unggi also called on Registrar of Societies and the Malaysian Islamic Development Department (Jakim) to probe NGOs signed on under Comango over their demands which allegedly contradict Islam's teachings.
Comango, which counts Sisters in Islam, the Women's Aid Organisation, the Malaysian Bar and Jaringan Orang Asal SeMalaysia among its 54 signatories, countered that their report was merely an effort to encourage Malaysia to prove its commitment towards improving the lot of all Malaysians via the UPR.
Aminuddin, however, said that Isma, which is a member of MuslimUPRo, does not buy Comango's explanation and insisted that the latter's recommendations were unacceptable.
He said Isma is now planning a roadshow to reveal to the public the "Western plans" and Comango's alleged role in disrupting national peace.
"Isma calls on all who love their religion and race and national sovereignty to join us in evaluating these recommendations," Aminuddin said.
Held every four and a half years, the UPR is a UNHRC mechanism that was established in 2007 to improve the treatment of human rights in all 193 UN member states. Malaysia is currently a member of UNHRC, the second time after a term in 2009.
The process involves a three-hour interactive dialogue, where UNHRC members will question Malaysia based on reports prepared by the government, UN agencies, and the stakeholders' report ― which summarises the report of NGOs both national and international.
According to the Office of the UN High Commissioner for Human Rights, NGOs will have the opportunity to make statements at the regular session of the Human Rights Council when the outcome of the state reviews are considered.
http://www.themalaymailonline.com/malaysia/article/malaysia-no-place-for-lgbt-rights-religious-freedom-says-islamist-group#sthash.d1nyLrI5.dpuf
-----------
Eva's Story Highlights Plight of Women in Lebanon
November 5, 2013
Amid security, economic and governmental crises, Lebanon has been preoccupied during the past two weeks with a tragic humanitarian issue involving a girl named Eva.
Eva hails from a Shiite family that lives in Beirut's southern suburbs, an area that was known as the "misery belt" a quarter century ago. This area is densely occupied by Shiites, most of whom moved decades ago from south Lebanon and the Bekaa Valley. Eva, a 13-year-old middle-school student, liked to have fun and play, and hung drawings of cartoon characters on her bedroom door. Suddenly, Eva became the wife of a man she did not know. She probably still doesn't know how or why it happened.
The story began when a man asked Eva's father to return some money he had borrowed. When he fell behind in his payments, the man abducted the girl by force and took her captive to pressure her father into paying. Then, the kidnapper decided to marry the girl off to his son, who is 10 years older than Eva. Since both families are Shiites, and Lebanon lacks a civil personal status law, a Shiite cleric oversaw their marriage contract.
This, however, was not the end. Organizations concerned with women's rights were informed of the incident and the news was made public on Oct. 23, 2013, creating a fuss throughout the country. The father filed a lawsuit against the kidnapper, with the latter responding through similar means. The lawyer appeared on media outlets claiming that the marriage was performed with the full consent of the girl, who was dragged into the media war, appearing on television mindlessly repeating what she had obviously been taught: "I loved him and we got married."
Officials and parties concerned with the case were not convinced with the story maintained by the kidnapper and the kidnapped girl. Security forces raided the place where the young bride was detained and freed her on Oct. 29. Afterward, the Shiite Jaafari Mufti of Lebanon annulled the marriage contract, which had ben executed by a cleric of the same sect. Subsequently, the kidnappers disappeared, and as of the writing of this article, not a single person involved in the case has been arrested.
Eva returned to her home, yet her tragic story, which exemplifies the tragedy of perilous position of women in Lebanon, has not ended. On a deeper level, it is a three-dimensional tragedy in which religion, a tribal society, a weak state and backwardness of laws and rules intertwine.
On the religious level, sects govern personal status laws in Lebanon. Clerics have the sole right to settle cases related to families and their lives. In this context, women are often victims of violence. In the Lebanese setting, a woman cannot object to domestic abuse. She cannot resort to the judiciary in the event that she is raped by her husband. She does not enjoy equality or a large number of freedoms covered in international humanitarian law.
Many people evalutated Eva's case based on Sharia. A religious cleric commented on the tragedy with, "If she was well-behaved and had the freedom of choice, her marriage should be considered legal, especially since the age of puberty according to Sharia is nine years old."
It was clear that both families involved hail from a tribal society. In other words, they come from a community that has its own laws, customs and behavioral norms. This community does not acknowledge status laws, nor does it accept the concepts and values of modern civil society. During the televised interview with the kidnapper and the kidnapped girl, the man repeated his call for a "settlement," a tribal concept founded on "settling" any criminal or penal case according to the provisions of the tribe and the decision of the tribe's own judiciary system. Civil laws and the concept of the modern state are meaningless to many of those concerned with the tragedy of Eva. In these tribal communities, the rule of law and its values are disregarded, and the absence of a concept of women's freedom, equality and rights is striking.
Eva's case has revealed the weakness and deterioration of the state, in addition to the decay of the concept of the state as a source of justice and power. In this particular context, Lebanese women are discriminated against on many levels, despite the fact that Lebanon joined 187 out of 193 UN member and non-member states and signed the 1979 Convention on the Elimination of All Forms of Discrimination Against Women. The provisions of this convention are, however, unapplied and unobserved in Lebanon, as is the case in all Islamic and Arab countries.
These countries still have reservations on some articles of this convention, notably Articles 2, 9, 15 and 16, which directly touch on the lives of women. Lebanon was no exception to this discrimination, as authorities there had reservations on Article 16, which reads, "States parties shall take all appropriate measures to eliminate discrimination against women in all matters relating to marriage and family relations and in particular shall ensure, on a basis of equality of men and women; the same rights and responsibilities during marriage and at its dissolution; the same rights and responsibilities as parents, irrespective of their marital status, in matters relating to their children; in all cases, the interests of the children shall be paramount." The justification given for this humiliating reservation was that religious laws and tribal traditions should be observed.
In this sense, the tragedy of Eva seems a good example of the plight of Lebanese women, who are subject to murder on charges of adultery without the perpetrators being held accountable. Lebanese women are deprived of the right of passing on Lebanese citizenship to their children in the event that the father is not Lebanese. Furthermore, there are 21 legal articles discriminating between men and women, including laws related to social security; labor; special provisions for private-sector workers, their pensions and allocations; transportation allowances and commerce and bankruptcy.
The case of Eva ended with a temporarily free victim and a forever free perpetrator. The most dangerous aspect of this matter, however, is what social workers who have helped victims of similar cases and environments fear: that freeing Eva was a temporary maneuver. Afterward, the religious, tribal mindset may prevail again over the behavior of those in charge of the girl, especially if they find that she had a sexual relationship with her kidnapper. According to their customs, when the media fuss and feminist movements die down, Eva might be returned to her monster to preserve the honor of the family and pay their debts.
Remember Eva's name and follow up on the case. She is the flag bearer of human rights and women's dignity in Lebanon.
Jean Aziz is a contributing writer for Al-Monitor's Lebanon Pulse. He is a columnist at the Lebanese newspaper Al-Akhbar and the host of a weekly political talk show on OTV, a Lebanese TV station. He also teaches communications at the American University of Technology and the Université Saint-Esprit De Kaslik in Lebanon.
http://www.al-monitor.com/pulse/originals/2013/11/lebanon-child-marriage-women-plight.html
-----------
Female Criminal Gangs in Saudi Arabia Do Not Face Penalties: Report
November 5, 2013
JEDDAH — There has been an increase recently in organized all-female criminal gangs who typically do not face any prosecution when caught. These gang members, which mostly target stores, are often caught red-handed either shoplifting from the store or pick pocketing unsuspecting shoppers but many store owners fail to notify the police due to the bureaucracy of procedures, Al-Hayat newspaper reported.
The CEO of a famous shopping mall in Jeddah, Mohammad Alawi, said his mall is equipped with more than 400 CCTV cameras, a large operations room and 160 private security guards, of which 20 are women. He pointed out that most shops in the mall are also equipped with CCTV cameras but admitted some thefts still occur, especially during the holidays.
"When a theft is reported at a store, CCTV footage is reviewed to identify the culprits and determine whether they have left the mall or are still inside. If they are still inside the mall, security guards are alerted and they are detained. If they have already left the mall, then the police are notified as the case then falls under their jurisdiction," he explained.
Alawi acknowledged that many store owners give up their rights to press charges either by accepting the return of the stolen items or accepting double its price, according to regulations.
"In such a case, the mall can only photocopy the culprits' identification cards and hand it to police and ask for the culprits' pledge not to enter the mall again," he said, while admitting that the such a pledge cannot be enforced as many women cover their faces, making them nearly impossible to identify.
The manager of a women's shop in a shopping mall said that there are organized all-female gangs that steal from stores on a regular basis. She further said about 75 percent of these women are Saudis.
"Shoplifting has become a normal occurrence and it usually increases by 45 percent during seasons like Ramadan, Eid, Haj and holidays. These women are professional thieves, with three or four entering a store to distract workers while an accomplice steals whatever looks valuable," she said.
"Many of these women wear expensive clothes and appear to be rich so they don't draw attention to their true intentions. During the previous Ramadan, one woman stole items worth SR12,000 from different stores during one night," she added.
Many of the gangs use special equipment to take off item tags so security equipment does not sound an alarm when they leave a store.
Gangs target anything of value but perfumes, lingerie, shoes and bags are the most common items stolen.
"These women usually have bad manners and they refuse to hand over the stolen items when caught and become hostile and even start using obscene language.
"When members of the Commission for the Promotion of Virtue and Prevention of Vice (Hai'a) are called in, they only ask for the culprits' pledge not to enter the mall again," she said while adding that many culprits are asked to write their tribal names while others from lesser known tribes are asked for their full names.
A supervisor at a grocery store, Abdullateef Khan, said there have been a number of thefts in the store he works. However, after installing CCTV cameras, the number of thefts has decreased significantly.
"Most of the culprits are of African nationalities who hide the stolen items in their abayas. Whenever an African woman enters the store, she is closely followed and monitored by an employee until she leaves," he said.
Jeddah police spokesman, First Lt. Nawwaf Al-Bouq, acknowledged that theft cases involving women are rarely reported to police.
"Shop owners are at will to report a theft but they should notify the police of such incidents so the culprits do not commit their crimes again."
http://www.saudigazette.com.sa/index.cfm?method=home.regcon&contentid=20131105185712
-----------
'Girls of Riyadh' Author Honored In US for Stem Cell Research
November 5, 2013
Rajaa Al-Sanea, the Saudi author of "Girls of Riyadh," or "Banat Al-Riyadh," which sparked controversy in 2005 for its frank depiction of Saudi women's lives, has been honoured for her research in stem cell science in the US.
Al-Sanea, 31, is an assistant professor at the University of Illinois in Chicago. The university honored her last week for significant achievements. She received the award for distinctive research in stem cells and her work in neurology. The university also recognized her literary efforts, singling out "Girls of Riyadh," which had sold 3 million copies and was translated into 40 languages.
Al-Sanea could not be reached for comment late Monday.
The honor follows Al-Sanea's rocky start as a novelist. In 2005, two men named the Ministry of Information and Al-Sanea in a lawsuit alleging that the ministry gave permission to Al-Sanea to publish a book that "tarnished" the image of Saudi women. Literary critics, however, considered the novel as the Saudi version of the American television show "Sex in the City."
The Saudi Court of Grievances rejected the lawsuit in October 2006.
The novel was published in Lebanon in 2005. The US-based Penguin Group published an English version in 2007. It is sold in Saudi Arabia and has also earned positive reviews in the United States.
Al-Sanea earned her bachelor's degree in dentistry in 2005 at King Saud University. She performed her residency at the National Guard, King Khalid University and King Faisal Specialist hospitals.
http://www.arabnews.com/news/472696
-----------
Hijab Girl Unveils New Range Of Hijab Fabrics
November 04, 2013 (United States of America)
Hijab Girl, a leading retailer of Islamic Hijabs, shawls and scarves for Muslim women, has introduced a variety of new Hijabs in a selection of fabrics. As well as stocking a wide range of Hijabs in different colors, fabrics and sizes, HijabGirl is happy to introduce a range of practical fabric choices to its customers, including cotton and cotton blends, silk, wool, rayon, lycra blends, and polyester.
HijabGirl prides itself on being the "Lowest Price Hijab Store," aiming to provide affordable Hijab fashion to Muslim women. Now HijabGirl has ambition to be the one stop shop for Muslim women's Hijab solutions and is expanding the types of fabrics used in its Hijabs.
"Having scarves in different fabrics is often very important for Muslim women," said a HijabGirl Spokesperson. "Different fabrics are better suited to different occasions, and what fabric you choose to wear is also affected by the season, and climate. As such, sometimes you would need very light, breathable cotton, and at other times you would prefer a warmer blend to keep out the cold."
HijabGirl was launched to provide fashionable Hijab designs and accessories at excellent prices. Over the years, HijabGirl has attracted a loyal customer base that appreciates the range of hijab solutions available, including Hijabs, khimars, al-amiras and girls' scarves, as well as the added savings the store provides.
"It can be a real challenge for Muslim women in the west. Not only is it more of a struggle to dress modestly, the availability of Hijabs in a variety of fabrics, materials and colors is often very poor. Our online store is a convenient place to shop providing for women's varying hijab needs," said the HijabGirl Spokesperson, adding "We're very excited that we're able to offer a real alternatives to Muslim women altogether in one store."
HijabGirl is a leading online Hijab company dedicated to providing its customers with modern, excellently priced scarves and accessories. HijabGirl is proud to offer an extensive range of colors, prints and designs at the lowest prices to its customers all year round.
http://www.fibre2fashion.com/news/apparel-news/newsdetails.aspx?news_id=155034
-----------
A Strong Woman in Muzaffarnagar Where Fighting Left Dozens Dead
November 5, 2013
On a visit to the Indian town of Muzaffarnagar, where fighting between Hindus and Muslims last month left dozens dead, the BBC's Joanna Jolly met a woman caring for a tiny orphaned baby and found herself wavering over the journalistic rule that interviewees should not get paid.
My local colleague, Joydeep, told me that amid the violence, there was a story of hope here.
We had found anger on both sides of the divide in the town of Muzaffarnagar - neighbour pitted against neighbour, rioters on the streets.
A community leader told us that for decades, Muslims and Hindus had lived together peacefully. But now, he said, they feared for their lives.
As he spoke, a crowd of maybe 100 men formed around us. They pressed in closely. Joydeep whispered that he was worried - it was time we left. But first, we wanted to investigate that story of hope.
We followed some of the men over streams of filthy water into a group of small brick houses, through an iron gate and into a courtyard.
There, in the arms of a seven-year boy, was a tiny baby. The men said the girl had been found 10 days ago, in a ditch. Her umbilical cord was still attached and she was being mauled by dogs.
They were convinced she was a Hindu child but said it was only the generosity of a good Muslim woman that had kept her alive.
The woman had taken her in, even though she had eight children of her own.
I wanted to meet this woman, so the men pushed her forward. She was small, but well-built.
Joydeep, who was translating, said she was 36, but she seemed decades older.
We asked the men to leave so we could talk to her. They stood back, but didn't give us much space.
The woman sat down and held the baby in her arms.
The child was dressed in a red top far too big for her and a small green hat. Her eyelids had been painted black with kohl. She was tiny and hardly made a sound. Her skin was yellow, presumably from jaundice.
You have so many children, I asked, why look after one more?
"I'm hoping she'll grow up to go to school and study," she said. "I hope she's clever and can get a government job. Then she can look after me."
I looked at the tiny sickly baby and wondered if she would survive at all. I couldn't see any food in the courtyard nor was anything suggesting there money to look after her.
We have a rule as journalists not to give anything to the people we interview, and it's a rule I've always followed.
But the thought of the baby not having food was too much for me.
"I want to give money," I said to Joydeep.
He looked around nervously at the crowd of men pressing in. Do what you need to, he said, but do it quickly.
Pretending to put a camera into my backpack, I reached inside and scrunched up a banknote in my hand.
It was no more than you'd pay for a sandwich in London. But here, it could feed the baby for a few weeks. I held out my hand and offered it to the mother in a handshake.
At first she looked puzzled. It's not usual to shake hands with a woman in India. But then she felt the scratch of paper in her palm and realised what I was doing.
By now, Joydeep was very nervous. We have to go, he said.
The group of men surged round us as we moved back to our car. One man stood in front of me furiously demanding money.
Just as I was beginning to wonder whether he would hit me, I felt a warm touch around my stomach.
It was the woman. She put her head on my shoulder, affectionately it seemed, and slowly but surely, she guided me though the angry crowd.
"Keep the money secret," I whispered, "keep it for yourself."
She would not let me go. Another man started shouting in my face. She held me even closer.
And she did not let go until I was safely inside our car.
The money I had given her was nothing. Certainly it wouldn't make much difference. I wasn't expecting anything in return. But I felt she had repaid me 100 times over, with a kindness and strength that humbled me.
http://www.bbc.co.uk/news/magazine-24492242
-----------
URL: https://newageislam.com/islam-women-feminism/sudan-woman-legal-limbo-refusal/d/14301