New Age Islam News Bureau
13 December 2021
• Seemin Hossain Rimi (66), Daughter Of Bangladesh's Ex-PM In Tripura To Thank For 1971 Shelter
• Imam Khamenei: Hazrat Zaynab (AS) Proved Women Are In Core Of Making History
• Her Highness Sheikha Fatima The Most Influential Figure In Women's Rights This Year, Says Arab Council
• Tunisian Actress Hend Sabri On Her Career Path, Growing Saudi Film Industry
• NGOs To Get International Support For Gender Equality
• Female Afghan Pilot Gives Birth In United Arab Emirates
Compiled by New Age Islam News Bureau
URL: https://www.newageislam.com/islam-women-feminism/policing-wear-malaysian-sisters/d/125948
--------
Stop Policing What We Wear, Says Malaysian Women's Group Sisters In Islam (SIS)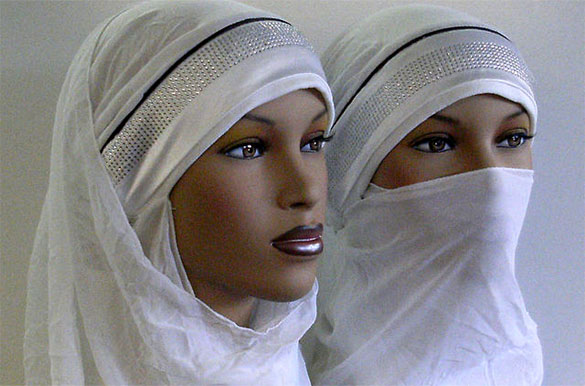 Representational Image
-----
Sean Augustin
December 11, 2021
PETALING JAYA: The policing of women's attire is a never-ending issue in the country, a women's rights group lamented following criticisms that the uniform worn by Malaysian stewardesses was "too revealing".
Sisters in Islam (SIS) said the issue of a woman's dressing had somehow taken priority over other concerns.
Its communications officer, Aleza Othman said the Dewan Rakyat should instead be used by parliamentarians to discuss more critical issues such as the rising cost of living, domestic abuse, student safety and sexual harassment.
"Abdul Latiff Abdul Rahman should not abuse his position in Parliament to raise issues on his personal values and beliefs," she told FMT, referring to the PAS Kuala Krai MP.
"Malaysia is a democratic and multi-ethnic country."
SIS held the view that ministerial directives should not interfere with a company's policy and a process that would incur extra rebranding and production costs unless there were issues of safety, health and security.
National Union of Flight Attendants Malaysia vice secretary-general S Shashi Kumar said Latiff's complaint was "nonsensical".
He also wondered what Latiff implied when he said the uniforms were "too revealing" and asked if the latter could explain what he meant.
He said Malaysia Airlines flight attendants wore the baju kebaya, which he said had become a fashion statement in Southeast Asia. "Royal Brunel Airlines, Singapore Airlines and Garuda Indonesia have adopted the baju kebaya as the uniform for their female flight attendants."
He said this was not the first time PAS had come up with such statements in Parliament. The Islamic party should instead focus on the situation in the country, which was still recovering from the effects of the pandemic.
"These are the priorities PAS should be looking into as part of the government of the day, instead of talking about uniforms. It's time for PAS to change their mentality, instead of looking at everything in a negative perspective and manner."
However, an academic vocal on Islamic issues said that from a religious perspective, the MP did no wrong in raising the issue.
Tajuddin Mohd Rasdi said in Malaysia when one spoke about the need of covering the 'aurat', it referred to the hair and parts of the body.
He said if one were to ask 100 muftis or clerics in the country, "all would likely agree" with Latiff.
"That said, there is a need to respect what people choose to wear and how they choose to represent themselves in public".
This includes airlines, he said, adding that they should also realise that when it comes to attire, "what worked then, may not work now".
"We need to ask what is the role of the stewardess, and if they would be impeded from doing their job if they wore something else.
"One's religious conviction is neither right nor wrong, but it should be accepted by all."
On Wednesday, Latiff questioned the government's stand on the uniforms of Malaysian air stewardesses which he described as being "too revealing".
Latiff was asking about the rights of Muslim air stewardesses who were required to wear uniforms that do not 'tutup aurat', The Star reported.
Source: Free Malaysia Today
https://www.freemalaysiatoday.com/category/nation/2021/12/11/stop-policing-what-we-wear-says-womens-group/
--------
Seemin Hossain Rimi (66), Daughter Of Bangladesh's Ex-PM In Tripura To Thank For 1971 Shelter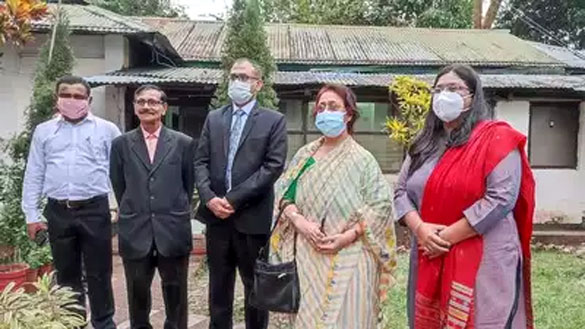 Bangladesh MP and daughter of former Bangladesh PM Tajuddin Ahmad at Sonamura, Tripura, where she and her family too refuge during the 1971 war of liberation for Bangladesh. (PTI photo_
-----
Dec 13, 2021
Tripura: Seemin Hossain Rimi (66), daughter of the first prime minister of Bangladesh, who along with her family escaped to Tripura after a murderous military crackdown during the 1971 war for liberation of Bangladesh, has made the journey back to thank the people of the tiny northeastern state. Sonamura a small town bordering Comilla district of Bangladesh, sheltered thousands of refugees from East Pakistan during the war.
Rimi, now a Member of Bangladesh's Parliament, is the daughter of Tajuddin Ahmad, who led the Provisional Government of Bangladesh as its prime minister during the Liberation War in 1971.
"I cannot believe that I am standing before the bungalow of the then Sub-divisional Officer, who arranged for our shelter and gave us security. My tears now are of joy...," she said. PTI
Source: Times Of India
https://timesofindia.indiatimes.com/world/south-asia/daughter-of-bdeshs-ex-pm-in-tripura-to-thank-for-1971-shelter/articleshow/88246129.cms
--------
Imam Khamenei: Hazrat Zaynab (AS) Proved Women Are In Core Of Making History
December 13, 2021
Lady Zaynab (AS) is a perfect example of a Muslim woman: a role model for women's education, which Islam presents before the eyes of the world.
Lady Zaynab represents a multi-dimensional personality: she is wise and well-educated with great knowledge; a distinguished person; anyone who meets her, feels humble before the greatness of her wise soul and her insight.
Perhaps one of the most important aspects that a Muslim woman's personality can reveal, for all to see, is her deep insight: which is indeed the effect of Islam on her. The Muslim woman's personality becomes so magnificent and glorious, through the blessing of faith and reliance on Divine mercy, that the greatest incidents appear trivial and insignificant to her.
During the lifetime of Lady Zaynab, this is the most visible and prominent dimension of her personality. An incident like the day of Ashura could not shatter Lady Zaynab. The glory and artificial grandeur of an oppressive, cruel regime, like that of Yazid and Ubayd Allah ibn Ziyad, could not humiliate Lady Zaynab.
Lady Zaynab retains the same greatness and spiritual glory in Medina, where her excellency resides; in Karbala, the center of her afflictions; and in the palace of cruel individuals like Yazid and Ubayd Allah ibn Ziyad; instead, other personalities are humiliated before her. Yazid and Ubayd Allah ibn Ziyad–arrogant oppressors of their time–are humiliated before this captive and cuffed woman.
Lady Zaynab has interwoven a woman's enthusiastic affection with a believer's greatness, stability, and sedateness of heart; and the clear, articulate language of a fighter, (Mujahed) on the path of God, and limpid insight that pours out of her mouth and heart astonishes listeners and spectators.
Her feminine majesty causes the popular false figures to diminish before her. This is the magnificence of a woman who is a fusion of humane affection– in no man, we can detect such enthusiastic affection– and the sedateness of personality, endurance of the soul, that can overcome all the troubling hardships; and, on blistering flames, it can bravely step and move forward.
She teaches and educates the people; at the same time, she, like a kind mother, soothes the Imam of her time–Imam Sajjad (as); at the same time, like a strong barrier in the midst of that severe storm, she creates security and tranquillity for the children of her brother–the children of Hussein (as) who was lost in that tragedy.
Hence, Lady Zaynab (sa) represents an all-embracing personality. Islam leads women towards this direction. The woman, with her feminine qualities–which the Almighty God has blessed her with–particular to women along with deep faith, along with steadiness due to reliance on the Lord, and with chastity, that illuminates the area around her, can play an exceptional role in society; no man is able to play such a role.
Like a sturdy mountain of faith and, at the same time, like a fountain overflowing with affection, kindness and other emotions of a woman, she quenches the thirst of those in need of caressing from her fountain of patience and affection.
Humans can be raised in such a supportive embrace. If a woman with such amazing qualities did not exist, humanity would have no meaning. This is the true sense of value and merit in a woman: something that a prejudiced Western mentality is unable to understand.
Those who have not known the slightest degree of religion or spirituality can never comprehend such greatness in a woman.
Those who identify women as ornaments with makeup, as ignorant, and as toys for men's play, can by no means comprehend the basis of a woman's identity within the logic and viewpoint of Islam.
Source: Abna24
https://en.abna24.com/news//imam-khamenei-lady-zainab-proved-women-are-in-core-of-making-history_1207978.html
--------
Her Highness Sheikha Fatima The Most Influential Figure In Women's Rights This Year, Says Arab Council
13 December 2021
Her Highness Sheikha Fatima Bint Mubarak, Chairwoman of the General Women's Union (GWU), President of the Supreme Council for Motherhood and Childhood, and Supreme Chairwoman of the Family Development Foundation (FDF), the Mother of the Nation, was named the most influential figure in women's rights in 2021 by the Arab Council for Social Responsibility (ACSR).
The award was received on behalf of Sheikha Fatima by Noura Al Suwaidi, Secretary-General of the General Women's Union, at the Egyptian Pavilion in Expo 2020 Dubai.
The ACSR named Sheikha Fatima as the most influential figure in women's rights in 2021 during last month's Humanitarian and Volunteer Work Conference in the Era of Social Leadership, organised by the council, under the patronage of the Arab League.
On the occasion, Al Suwaidi said the award is a medal of honour and appreciation for Sheikha Fatima, adding to her many recognitions for decades of giving and distinguished efforts in women's empowerment.
"We are delighted to thank the Arab Council for Social Responsibility for this selection, and we laud its role in supporting Arab women in all areas," she said.
Dr. Randa Rizk, Secretary-General of the ACSR, said the members of the awards jury included a range of experts and specialists, who selected its winners without bias and with integrity.
"Giving the award to Her Highness Sheikha Fatima recognises the projects, programmes and strategic plans she has launched, as well as her rich journey of giving since the establishment of the UAE," she added.
Source: Gulf Today
https://www.gulftoday.ae/news/2021/12/12/sheikha-fatima-the-most-influential-figure-in-women-rights-this-year-says-arab-council
--------
Tunisian Actress Hend Sabri On Her Career Path, Growing Saudi Film Industry
NADA HAMEED
December 13, 2021
JEDDAH: On Saturday, the Red Sea International Film Festival's "In Conversation" session saw Tunisian actress Hend Sabri sit down with up-and-coming Saudi actor Bara Alem in front of a mostly Saudi audience to discuss the ups and downs of her career and interact with the public in an experience many said was exceptional.
Sabri is a jury member for a feature film competition chaired by Italian director Giuseppe Tornatore.
She has performed in 28 films and several series, winning many awards, including eight Arab and international prizes for best actress in different film festivals. She won the Best Actress Award at the Arab Film Festival for her role in the movie "Genenet Al Asmak" in 2008. In 2012, she won Best Arabian Cinema Actress at the Murex D'Or for her role in "Asmaa."
"I'm dazzled and impressed," Sabri said. "I can't believe what I see. The level of excitement in the festival is high," she added, praising Saudi youth for their knowledge of cinema: "Their creative energies are contagious."
She also lauded the strength of Saudi women, adding: "The love that I felt in the city of Jeddah was unparalleled."
The enthusiastic audience replied: "We love you."
During the conversation, a photo of the actress was featured, taken from behind the scenes of her first film ever, "The Silence of the Palace" (1994), in which she worked alongside acclaimed Tunisian director Moufida Tlatli.
She called the film "one of the most important films of the 20th century," saying it introduced her to the world of cinema.
Though she has stared in several Egyptian films — the actress explained that an impromptu interview with Egyptian director Enas El-Deghaidy helped launch her career — Sabri feels a strong connection to her own home country and found that through cinema, she could support the industry there, especially after the political turmoil that afflicted the country in recent years.
After the Tunisian Revolution, the actress explained, she felt compelled to work with directors of the new cinematic wave. Her 2019 film "Noura's Dream" was her first step in this direction.
She told her Saudi audience that actors should not limit themselves to a specific type of cinema, only going for commercial or big independent movie roles. "To limit yourself with big movies is a big loss. Explore your options…It is a win-win situation."
Speaking on what unites the Arab community, she said: "Our civilization is built on culture, a shared culture, and Egypt is its main source."
Sabri is known for inspiring Tunisian and Arab women of different generations through her feminist characters.
"Women across the world are afraid to ask for their rights. Why would I be sorry for being a woman? What is the point of being famous without influencing and inspiring others and making your voice heard?"
Sabri also shared her thoughts on the future of cinema in Saudi Arabia: "I can feel the wave of change in the filmmaking industry and cinema glam coming to Saudi."
Source: Arab News
https://www.arabnews.com/node/1985761/saudi-arabia
--------
NGOs to get international support for gender equality
December 11 2021
The European Union and U.N. Women are set to provide financial and technical support to 22 civil society organizations in Turkey with an aim to advance women's rights and gender equality in the country.
Representatives of organizations from 17 province across the country came together for an award ceremony in Ankara with the participation of U.N. Women and EU senior officials.
Speaking at the award ceremony, Asya Varbanova, U.N. Women Turkey country director, said the women's movement and women's civil society organizations were the pioneers of significant change at both national and international levels.
Stressing civil society's seminal role in creating equal societies by supporting women's leadership, agency and voices, Varbanova noted that women's civil society organizations were among the most strategic partners of U.N. Women.
"We will continue supporting civil society organizations," she said.
On her part, Eleftheria Pertzinidou, deputy head of the European Union Delegation to Turkey, said the project focuses on key priorities to advance women's rights, such as promoting the economic, social and political empowerment of women and girls as well as combating gender-based violence.
"It also has the added value of strengthening the dialogue between public institutions and civil society organizations," she added.
U.N. Women, in partnership with the Flying Broom Foundation, Foundation for Solidarity with Women (KADAV), KAMER Foundation, and the Turkish Women Union, will implement joint projects on ending violence against women and girls and women's access to justice and human rights mechanisms.
The U.N. will also support 18 women's organizations and women-led civil society organizations through small grants.
Source: Hurriyet Daily News
https://www.hurriyetdailynews.com/ngos-to-get-international-support-for-gender-equality-169988
--------
Female Afghan Pilot Gives Birth In United Arab Emirates
December 10, 2021
An Afghan female pilot who was pregnant when she flew from Tajikistan to the United Arab Emirates last month with other U.S.-trained Afghan pilots and crew members has given birth to a baby boy.
The pilot, 27, was one of 143 who arrived on November 10 in Abu Dhabi after months of uncertainty about their final destination. They had fled Afghanistan to Tajikistan on August 15 and spent more than three months in the country.
One of the pilot's colleagues told RFE/RL on December 9 that the baby was born a week ago and that both mother and baby were in good health.
The U.S. Embassy in Tajikistan said last month that the pilots were among 191 Afghan evacuees who were to fly to the U.A.E. and be processed before being granted immigration rights to the United States.
The pilots and crew members have all received COVID-19 vaccines and were looking forward to traveling to the United States, the pilot's colleague told RFE/RL, adding the exact date of their departure is still unknown.
The woman who gave birth is one of two female pilots in the group. She had been hospitalized twice while in Tajikistan.
The pilots played an important role in the war against the Taliban, flying alongside U.S. pilots and conducting air strikes against Taliban positions.
The U.S. war ended in August, with a chaotic withdrawal of all American forces. The Taliban-led government has said that the pilots would not be in danger if they return, but the pilots are skeptical and no longer see Afghanistan as safe.
Source: Gandhara
https://gandhara.rferl.org/a/female-afghan-pilot-gives-birth-uae/31602725.html
--------
URL: https://www.newageislam.com/islam-women-feminism/policing-wear-malaysian-sisters/d/125948
New Age Islam, Islam Online, Islamic Website, African Muslim News, Arab World News, South Asia News, Indian Muslim News, World Muslim News, Women in Islam, Islamic Feminism, Arab Women, Women In Arab, Islamophobia in America, Muslim Women in West, Islam Women and Feminism