New Age Islam News Bureau
7 Sept 2013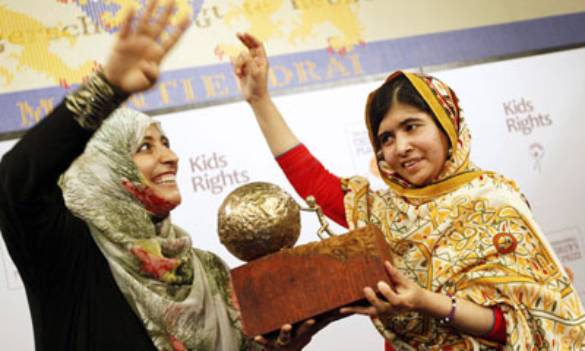 Malala Yousafzai (R) receives a trophy from Yemeni Civil Rights activist – AFP Photo
------
• Indonesians Burn Effigies of Miss World Backers
• Women trafficking still alarming despite crackdown
• Malala Vows to Step up Fight for Children's Education
• Senussi's daughter: Libya 'security forces' behind kidnap
• Work on book sequel led Sushmita to Afghanistan
• Alyssa Milano's 'Sex Tape' Draws Attention to Syrian Civil War
• Call for Miss World Pageant to Be Moved from West Java
• SCW Takes Part in Women Political Empowerment Project in Abu Dhabi
• Women Entrepreneurs Are More Innovative Than Men in the Arab World
• Female Genital Mutilation: 'Mothers Need To Say No'
• Right to Play Organises Volleyball Tournament for Girls
• Children to Advise UN On Violence And Harmful Practices
Compiled by New Age Islam News Bureau
URL: https://newageislam.com/islam-women-feminism/'stay-syria!'-madonna-uses-instagram/d/13404
------------
'Stay out of Syria!' Madonna uses Instagram to slam U.S. plans
7 September 2013
No stranger to making bold statements, Madonna struck a pose on the Syrian crisis this week, opposing U.S. military intervention in the crisis-torn country.
"US stay out of Syria!" read a photo of a hand-written message posted on the pop diva's Instagram page.
In less than 19 hours, Madonna's appeal garnered about 30,000 'likes' from users of the popular photo-sharing service and sparked a discussion on the page, according to a report from Russia Today.
The "MDNA" singer has long been an supporter of U.S. President Barack Obama, who is currently pushing for military intervention in the wake of Syria's use of chemical weapons.
"But Madonna has also been vehemently anti-war, having once compared President George W. Bush's tactics to those of Saddam Hussein," reported the Huffington Post.
On Instagram, users expressed a mixed reaction over Madonna's post.
"Can someone remind Madonna that her job is just to entertain us please?" commented javitheflyingmonkey.
Other's supported Madonna's call "for humanity's sake" as written in the picture.
Madonna's post came amid a stunt by American actress Alyssa Milano, when she tweeted this week about a "sex tape" which intended to redirect her followers' attention to the Syrian crisis.
The 40-year-old star of "Who's the Boss?" appeared stripping down while trying to record her sex tape with a man.
As the couple adjusted the camera over a bed sprinkled with rose petals, and right before they got busy, the camera shifts to a television screen with a news report about Syria.
On Thursday, Milano tweeted: "4M+ kids are now affected by the brutal conflict in #Syria. Support @UNICEFUSA's efforts to help #ChildrenOfSyria."
The U.S. Congress is expected to vote next week on striking Syria.
http://english.alarabiya.net/en/variety/2013/09/07/-Stay-out-of-Syria-Madonna-posts-Instagram-message-to-U-S-.html
------------
Indonesians burn effigies of Miss World backers
September 07, 2013
JAKARTA — Chanting Islamic radicals in Indonesia burnt effigies of Miss World beauty pageant organizers and branded them "infidels" Friday during an angry protest two days before the show starts.
The past week has seen hundreds of demonstrators take to the streets, while hardliners, rights groups and even a government minister have united to express outrage at the decision to host the contest in the Muslim-majority country.
On Friday hundreds of hardliners in traditional Islamic skullcaps and robes, accompanied by a handful of women in headscarves, marched through the capital Jakarta, and protests erupted in other parts of the sprawling archipelago.
The 700-strong crowd in the capital gathered at the head office of MNC media group, which will broadcast the show and is the local organizer, brandishing banners reading "From infidels, by infidels, to ruin Indonesia."
Some demonstrators used red spray-paint to write "pimp's office" on the building, which was surrounded by barbed wire and heavily guarded by police.
Chanting in Arabic, the crowd staged a mock trial of MNC chief Hary Tanoesoedibjo and I Made Mangku Pastika, governor of resort island Bali where the show opens on Sunday, and burnt straw effigies of the pair.
"We will fight until the last drop of our blood is spilled," one protester shouted to the chanting crowd.
Hundreds of protesters also took to the streets on Friday in other major cities across Indonesia, including Bandung on the main island of Java, Medan on Sumatra island, and Banjarmasin on Indonesian Borneo.
Nana Putra, from MNC and the head of the local Miss World organizing committee, defended the contest, saying it did not run counter to Indonesian Muslim culture.
"We are doing everything according to local norms," she said, adding that the protests sent a bad image of Indonesia to the world.
More than 120 Miss World contests have already arrived for the contest.
While there is little danger of protests in Hindu-majority Bali, hardliners have vowed to stage huge demonstrations when the final takes place outside Jakarta on September 28.
Anger has been mounting despite an attempt by the British-based organizers to appease radicals by dropping the famed bikini round from the contest this year, with contestants instead set to wear more conservative sarongs. — AFP
http://www.saudigazette.com.sa/index.cfm?method=home.regcon&contentid=20130907179581
------------
Women trafficking still alarming despite crackdown
Sep 7, 2013
Members of Border Guard Bangladesh rescued 532 women and children from human traffickers along the Bangladesh-India border over the last eight months, as of August 31, reports UNB.
The BGB members rescued 427 women and 105 children while they were being trafficked out of the country, mostly to neighbouring India, and arrested 14 alleged traffickers during the period of January 1 to August 31.
The paramilitary troops also recovered large quantities of smuggled goods, including illegal drugs, worth about Tk3.687bn during the eight months.
Sources at BGB headquarters said 1,086 alleged smugglers were arrested by members of the paramilitary force during this the period.
A total of 114 cases were filed with different police stations across the country, especially frontier districts, in this regard.
In addition, they seized 326,528 bottles of intoxicating Phensidyl syrup from India; 328,004 Yaba tablets, 90,954 bottles of foreign liquor, 3,177 litres of local liquour, 6,649 cans of beer, 2827kg of hemp, 29.6kg of heroin and 22,589 different types of injections during the eight months.
According to sources, 1086 people were arrested on charges of smuggling, and 16,823 cases were filed with different police stations across the country in connection with smuggled goods and narcotic items.
Of the smuggled goods, contrabands worth about Tk3.43bn were seized while being smuggled into the country and goods worth about Tk251.6m while being smuggled out of the country.
Most of the smuggled goods and narcotic items were seized from different areas along the Bangladesh-India border.
http://www.dhakatribune.com/bgb/2013/sep/07/women-trafficking-still-alarming-despite-crackdown
-----------
Malala Vows to Step up Fight for Children's Education
September 7, 2013
THE HAGUE: Pakistani teen Malala Yousafzai, shot in the head last year by the Taliban for campaigning for girls' education, vowed Friday to intensify her struggle for "a world where everyone can go to school."
Speaking at a ceremony in The Hague, where she was awarded the 2013 International Children's Peace Prize, Malala said last October's attack on her had made her more determined than ever to continue her campaign.
"I was just one target for their violence," Malala said in her acceptance speech, referring to her near-fatal shooting when a Taliban gunman's bullet grazed her brain. "There are many others for whom we must continue... so that children all over the world can have a right to go to school," she said to thunderous applause.
Malala, 16, received her prize from the 2011 Nobel Peace laureate, Yemeni journalist and activist Tawakkol Karman, who told a humbled Malala "you are my hero." "You cried: 'No one can stop me or any girl from learning'," Karman told Malala, speaking in Arabic in an address praising the Pakistani teen's achievement.
"The bullet aimed at your head at that moment was a milestone in the history of your country," Karman said at the ceremony at the historic Knight's Hall near the Dutch parliament.
After she was shot, Malala was given life-saving treatment in Britain where she now lives.
Her brave fight for survival and her speech at the United Nations in July have made her a leading contender for this year's Nobel Peace Prize.
But the response to her in Pakistan has been mixed, with many hailing her as a national heroine while others have criticised her for promoting a "Western" agenda.
The International Children's Peace Prize, an initiative of the Dutch-based KidsRights Foundation, was launched in 2005 and set off by former Soviet leader Mikhail Gorbachev when he chaired the Summit of Nobel Peace Laureates in Rome.
It carries a cash value of 100,000 euros ($133,000) that is invested in projects relating to the winner's cause.
Last year's winner was 13-year-old Cris "Kesz" Valdez for his work with Filipino street children while he himself was destitute.
http://dawn.com/news/1041001/malala-vows-to-step-up-fight-for-childrens-education
------------
Senussi's daughter: Libya 'security forces' behind kidnap
Sep 7, 2013
A militia linked to Libya's interior ministry has said it seized the daughter of former spy chief Abdullah al-Senussi for her own protection.
Anoud Abdullah al-Senussi was taken as she left a Tripoli prison on Monday afternoon after finishing a 10-month sentence for using a forged passport.
A member of her tribe says she is in good condition.
Mr Senussi is in jail for his alleged role in crimes committed during the rule of Muammar Gaddafi.
He is also wanted by the International Criminal Court (ICC), which has accused him of responsibility for crimes against humanity during the uprising that ousted Gaddafi in 2011.
A statement released on the official Facebook page of the First Special Reinforcement Unit (FSRU) which seized Ms Senussi says they did so to prevent her being kidnapped by a rival group.
The FSRU comes under the Supreme Security Committee set up by the interior ministry and is partially made up of fighter who took up arms to oust Gaddafi.
The BBC's Rana Jawad in Tripoli says the government has since found it difficult to dissolve the SSC.
Ms Senussi had spoken to her mother, Abdelgader Ibn Gassim from the same Magarha tribe told the BBC.
"We hope that she will be released in the next day or two. She's in Tripoli at one of the security forces headquarters."
On Monday, Justice Minister Salah al-Marghani said heavily armed men opened fire on police escorting Ms Senussi from al-Rayoumi prison before seizing her.
http://www.bbc.co.uk/news/world-africa-23984630
----------
Work on book sequel led Sushmita to Afghanistan
Jhimli Mukherjee Pandey, TNN | Sep 7, 2013
KOLKATA: Why did Sushmita Banerjee — the author who was gunned down by the Taliban in Afghanistan on Wednesday — go back to the trouble-torn country from where she had managed to escape in 1995?
Her publisher claimed of Friday she went back to write a sequel to her first novel, 'Kabuliwalar Bangali Bou'. Sushmita had written two more novels — 'Mullah Omar, Taliban O Ami' and 'Ek Barna Mithye Noi' — but the manuscript she was working on would have been a continuation of 'Kabuliwallar Bangali Bou', according to her publisher.
Sushmita had approached Bhasha-O-Sahitya proprietor Swapan Biswas with a proposal to go back to Afghanistan and write about the social changes that the exit of Taliban might have brought in the country.
"She said she had renewed her ties with her in-laws in Sarana village and would like to pick up the threads from where she had left it when she fled the country. I naturally got excited because her first book had become a bestseller. However, I kept asking her if it was safe to go back to that country. She assured me that things had changed for the better," said Biswas.
During her first stay in Afghanistan in the 1990s, Sushmita got involved in public health programmes and attracted the ire of the Taliban. She also got involved in some family intrigues and escaped, promising never to return again. "This resolve had finally petered away and she had even convinced her husband Jaanbaz Khan, a money lender who lived here, to take her back to Afghanistan. The sequel was supposed to revolve around her family and how she found them after she returned. There was a little girl — Gulguti — whom she loved like her own child. She told me that a sizeable part of her story would be on the life of the girl," Biswas said.
Though the name of the book had not been finalised yet, it was loosely decided that it would be called 'Kabuliwalar Bangali Bou - Abar Afghanisthan-e'. The publisher had asked Sushmita to focus on how the Afghans were finding their feet in the post-Taliban era.
"She was supposed to come back soon and submit the manuscript so that we could work on it. The book was slated to come out during the Kolkata book fair in January," Biswas said.
Sushmita had remained the bestselling writer for her publisher and had earned lakhs of rupees in royalty. Her publisher was sure that the sequel would have created another sensation. "What started with a shock has turned into a heartbreak for me. After all, she had gone back to finish a project of which I was a part," Biswas lamented.
http://timesofindia.indiatimes.com/india/Work-on-book-sequel-led-Sushmita-to-Afghanistan/articleshow/22384267.cms
----------
Alyssa Milano's 'Sex Tape' Draws Attention to Syrian Civil War
7 September 2013
Al Arabiya
When American actress Alyssa Milano tweeted: "My sex tape was leaked. Not sure what to say. Going to post the link myself to try to control the situation," her followers might've thought the star just fell in online sex scandal.
Her tweet turned out to be a joke, and her "sex" tape is actually quite educational, not about how to have the best moment in bed but rather about the Syrian civil war, which, according to Fox News "can also be sexy."
The 40-year-old star of "Who's the Boss?" appeared stripping down while trying to record her sex tape with a man.
As the couple adjusted the camera over a bed sprinkled with rose petals, and right before they got busy, the camera shifts to a television screen with a news report about Syria.
A mirror by the television screen reflects the couple's movements on the bed while their sound could be heard in the background.
One follower @SenPDX tweeted: "Congrats to @Alyssa_Milano on her sex tape. Totally hot. Smart IS sexy!"
The star of ABC series Mistresses has recently been active on twitter, trying to raise awareness about the civil war in Syria.
On Thursday, she tweeted: "4M+ kids are now affected by the brutal conflict in #Syria. Support @UNICEFUSA's efforts to help #ChildrenOfSyria."
Last week, she also tweeted: "I want my son to live in a world without war."
http://english.alarabiya.net/en/variety/2013/09/07/Alyssa-Milano-s-sex-tape-draws-attention-to-Syrian-civil-war.html
------------
Call for Miss World Pageant to Be Moved from West Java
By Carlos Paath
September 7, 2013
Jakarta/Mataram. West Java Deputy Governor Deddy Mizwar on Friday called on the Miss World pageant organizers not to hold the event at the Sentul International Convention Center in Bogor, West Java, as planned, following rising opposition.
"The pros and cons are making the situation difficult. Therefore, in my opinion, it's best to avoid it," Deddy said.
He declined to comment on his opinion regarding the issue.
The actor-turned politician said the differing views held by various groups and government officials in the country could create division among Indonesians which could harm the country's image.
"It could still be held in other parts of Indonesia," he said. "For instance, in parts of our country that are more appropriate to hold the Miss World event such as in Bali or some other place," he added.
Deddy disagreed with the opinion that the event would help promote Indonesia's culture, especially West Javanese culture to the world.
"Culture does not have to be promoted this way. There are many other ways to do it," he said.
Deddy added that the event only benefitted the private sector. "The government was only consulted about it. It was the private sector that is holding it. Sentul was perhaps chosen because it is close to the capital city, making it a potential market. But let's not think only about profits," he said.
Indonesia is the first country in Southeast Asia to host the Miss World event. It is also the fourth international pageant to be held in the country after Miss Asean in 2005, International Man in 2007, Mister International in 2010, and Miss Coffee International in 2012.
In this year's event, contestants are not required to wear bikinis. They will instead use a traditional sarong out of respect for the culture of the host country.
However, Asrorun Ni'am Soleh, edict commission secretary of the Indonesia Ulema Council said he was not impressed with the concession and that his group still rejected the pageant.
Asrorun said the government still had the option of canceling the event if it had a strong political will. He also warned the government to prepare for a wave of protests from Muslims across the country if it ignored the call.
"Why can't it be canceled? It can still be canceled if it hasn't started yet," Asrorun said to Detik.com.
The event was also opposed by a women's group, the West Nusa Tenggara Youth and Students Alliance, who staged a protest in front of the West Nusa Tenggara governor's office in Mataram on Friday.
Irma, one of the protestors, said by allowing the event to take place in the country, the government had failed to protect and maintain the country's moral values and ideology.
However, Andy Yentriyani, commissioner of the National Commission for Women's Rights (Komnas Perempuan) disagreed with Irma, saying that women could speak their minds through the event.
"You are not committing a sin because you're beautiful. They are physically beautiful and it's not their fault for being beautiful. A beauty pageant like Miss World is an event where women can speak their minds. Speaking out is very important for a country like Indonesia," Yentriyani said in defense of the event.
Yentriyani said women could speak in the event about violence against women, poverty, education and other problems in the country such as corruption. "Such a voice is crucial to make changes. Without voicing these views, it would be hard to make social changes," she said.
She added that Komnas Perempuan would keep a close watch on the event. "Komnas Perempuan will take a critical position so that the event will not only assess beauty based on physical appearance. No group should use violence or force their opinions in the name of morality and then stop this event," she said.
Actress-turned politician Nurul Arifin also supported the event, saying it's the right of every woman to express herself, including through a beauty pageant such as Miss Word.
Nurul added that in addition to physical beauty, the contest based its assessments on intelligence, behavior and strength, which was not easily attainable by all women.
Nurul said that as a host, Indonesia could present its culture as its strength through the event.
"We also had a bargaining power to not use bikinis. Many things have been compromised and they didn't kill the characteristic of the Indonesian women," Nurul was quoted as saying by Tribunnews.com.
Camille Munro, a contestant from Canada said the event was not just an ordinary beauty pageant but that it was a forum to learn about different cultures from different countries.
Camille also said that she was surprised when the Miss World Organization announced that contestants would be using the Bali sarong instead of bikini. "This is something different and it excites me. I can't wait to wear the Bali sarong. It shows that it really respects the local culture," Camille was quoted as saying by Okezone.com. The Miss World Pageant is slated to held on Sept. 28. In recent weeks hard-line Islamic groups have strongly condemned the event, demanding the government to cancel it. The government has not yet responded to the demands.
http://www.thejakartaglobe.com/news/call-for-miss-world-pageant-to-be-moved/
------------
SCW Takes Part in Women Political Empowerment Project in Abu Dhabi
Bahrain News Agency
September 7, 2013
Manama, Sept. 6. ) – The Secretariat-General of the Supreme Council for Women (SCW) took part in a training project on raising awareness on women's political participation, organised by the Arab Women Organisation (AWO) in Abu Dhabi from August 31 to September 4, 2013.
The project aims to activate women's quantitative and qualitative participation in the political life through access to diverse political institutions, consolidate the skills of women-empowerment activists, and enhance training information, skills and mechanisms among governmental and non-governmental women organisations in member states.
Director of the Women Support Centre at SCW Rana Ahmed participated in the event on behalf of national establishments, and the Executive Assistant at Bahrain Mumtalakat Holding Company Amani Al-Aradi and Shura Council Affairs Director Dina Ahmed, on behalf of non-governmental organisations.
It is to be noted that AWO was established in 2002 for the aim of achieving solidarity of Arab women as a cornerstone for Arab solidarity, coordinating common Arab stands regarding Arab and international affairs and when dealing with Arab women issues in regional and international organizations, raising awareness regarding economic, social, cultural and legal issues pertaining to Arab women, fostering cooperation and exchange of experience between member Arab states to enhance the status of women, according women issues priority in developmental policies and plans, empowering women and building their capacities as human beings and citizens to play an effective role in societal institutions, in the labor market, and in decision making circles and enhancing essential health and education services for women.
http://www.bna.bh/portal/en/news/578270
------------
Women entrepreneurs are more innovative than men in the Arab world
September 7, 2013
Women's entrepreneurship is all the rage lately. Mentions of women in the global media have risen from a catatonic 200 times a year to 1200 times in 2012, HBR pointed out yesterday. Is it simply a passing fad?, the author asked.
In the Middle East and North Africa, as I wrote last month, it's not just hype; women's entrepreneurship is poised for a major transition. Yes, there's been a bit of excitement around the topic lately. But the hype still masks the fact that most stories of successful businesswomen in the region have not been well-told (something we're working on with our new series on women).
Female founders are still in short supply, however. While it's been reported here and there lately that over one-third of all business in the Middle East are led by women, a statistic that approaches the global average of 37%, that statistic originally comes from data on a very specific population of tech entrepreneurs at Oasis500 in Jordan, and likely does not represent the Arab world on the whole.
Yet, more and more women will be coming on board as entrepreneurs in the next decade; more women in the Middle East intend to start new businesses, relative to men, than in any other region in the world, according to this year's Global Entrepreneurship Monitor report.
A second tidbit that the report reveals (which we initially glossed over), is that, while women aren't necessarily more innovative than men across the globe, they are in the Middle East. Twenty-three percent of women entrepreneurs in this region have an innovative product or service, as compared to 18% of men.
So, in the Arab world, women founders might just create more innovative companies.
It might be counterproductive to make too much of that statistic, for a few reasons that I've argued (there's no evidence of its statistical significance, this data comes from a subset of countries in the Arab world, not to mention that qualities like innovation are by no means innate), but the trend points to a reality that VCs in the region typically confirm: all other things equal, investing in a woman can be a lower risk proposition, because women just, well work harder. We get obsessed. We have something to prove.
One survey of U.S. companies also found that the successful companies had twice the number of women on the founding team.
Of course, women in the Middle East are still up against several negative stereotypes (as women at our Wamda for Women roundtables in Cairo, Doha, Amman, and Riyadh avidly discussed).
But for the women founders collectively seeking US $63 billion to $77 billion in funding across the Middle East, the above might be good statistics to share in a pitch, if an investor seems unconvinced that he or she can trust a female founder. But only after revealing that innovative product.
http://www.wamda.com/2013/09/women-entrepreneurs-innovative-men-arab-world
------------
Female genital mutilation: 'Mothers need to say no'
7 September 2013
Faduma Ali, 86, still remembers the pain of being circumcised at eight. Horrific as it was, she allowed her own daughters to go through the same ordeal. But when it came to her granddaughters, she decided to step in and stop it
"As a little girl I would go looking for the cutters and ask them when it was my turn," Faduma Ali says. "I thought it was exciting. I wish I had known then what I know now."
It's almost eight decades since Faduma underwent female genital mutilation (FGM), sometimes known as female circumcision, in Somalia. Today, sitting in her daughter's lounge in north London, she says it has left her with a lifetime of pain and medical problems. Yet despite her own agony she felt powerless to resist the societal pressure driving the tradition, and insisted her own daughters have it done too.
But when her granddaughters faced the same fate, she knew something had to change. And as an older woman, her voice carried more weight. Faduma told her daughter not to let her granddaughters be cut. "Women can eradicate this," she says. "Mothers are responsible for refusing the practice."
Campaigners say that a tangled mix of family pressure, cultural traditions and religious motivations make FGM – illegal for almost 30 years in the UK – hard to eradicate. It has been documented in 28 countries in Africa and in a few countries in Asia and the Middle East. The practice involves removing all or part of the external female genitalia (including the clitoris, labia minora and labia majora – and in some cases the narrowing of the vagina), and is usually carried out before the age of 15. As well as the risk of bleeding to death or infection, a terrifying array of physical and psychological problems can follow.
Today 30,000 girls in the UK are said to be at risk of this form of mutilation, while 66,000 live with the consequences of it. Yet no one has ever been prosecuted for carrying out or abetting the practice (which carries a maximum prison sentence of 14 years).
This, say campaigners, is because children are unwilling to speak out against their families and communities and that is why Faduma, along with her daughter, Lul Musse, and granddaughter, Samira Hashi, have agreed to explain how – even in a loving and close-knit family such as theirs – such a custom can be perpetuated.
Samira, 22, is translating for her grandmother, who explains that growing up in the suburbs of Galkayo, a city in south Somalia, being "cut" was not just something she looked forward to, but insisted upon. "Everyone had it done," says Faduma, 86. "If you didn't, you were shunned. I saw it as something exciting."
She was under no illusions about how painful it could be, however. "I saw it being carried out – most girls would try and run away. But it was part of our way of life. My grandmother and mother had had it done, so it seemed natural."
Faduma's father, who was in the Somali military, was not convinced. "He had a city attitude because of his travels," says Faduma. He told her grandmother, with whom Faduma lived, that she was not to be cut. But Faduma convinced her grandmother to take her while he was away.
The cutter had no medical qualifications and performed the operation in the open air, without sterilisation or pain relief. Faduma was eight.
"There were four of us," Faduma recalls. "But because I was the bravest I was told to go first.
"My grandmother and the other girls' mothers held me down and the woman cut me with a knife. It's like someone is cutting your finger off without pain relief. My blood was shooting into her face and eyes."
Next, the wound and her vagina were sewn up, leaving her a hole the size of a match head through which to pass urine and menstrual blood. With no medical equipment, three thorns were used in place of stitches. Yet her ordeal was far from over.
"They gave you milk and waited to see if you could urinate," she recalls. "If not, they cut you open a little more. For two weeks it is agony."
Afterwards, she says, she boasted to her friends she had been cut, but never realised it would have such severe complications. "The minute you have it done you have problems," she says. "When you have your period, it is very painful and when you have children it is very painful."
Female genital mutilation, says Faduma, was intended to guarantee virginity before marriage by ensuring sex would be frightening and painful for girls. Giving birth, however, was nothing short of torture. Faduma had 10 children, but her first labour lasted five days with midwives forced to "cut me everywhere" to get the baby out.
Yet when her daughters turned seven, Faduma could not shun the custom. "Without it, my daughters would not have been allowed to marry," she says. "There was not a girl in sight who hadn't had it done."
Now 52, Lul agrees: "You couldn't go to school without it, or people would laugh at you," she recalls. Her operation was in a hospital under anaesthetic, aged seven. "I tried to run from the operating table, but my mum and her friend held me down."
The operation, she says, had a devastating effect on her life and affected her marriage. "When you have sex it is very painful and you don't feel any pleasure. You will never enjoy sex."
Giving birth was excruciating and complicated for Lul. Yet, amazingly, this did not affect her decision to have her own daughters cut. But her mother stepped in. "I was sick of it," Faduma says, firmly. "Times had changed. Women were freer and had more power."
She told her daughter not to do it. Yet Lul says she would have rebelled had they stayed in Somalia. "I would have done it even though my mother said no. All men wanted circumcision. If your daughters weren't cut they would say they are like hookers."
She believes it is up to men to take a stand. "This has to be a man's campaign. Until men say stop, that this is not part of our religion and not part of our culture, it will still go on."
For Samira, the very idea of this kind of mutilation is incomprehensible. Brought up in London, she was working as a model when she was approached by BBC3 to present a documentary about Somalia. Visiting the war-torn country, she met women who planned to have their daughters cut and saw a six-year-old girl who had been recently subjected to FGM. "I just didn't understand how a mother who had gone through this pain could have it done to her children. I don't blame the women, I blame the society that doesn't stop it."
Since the film came out last year, Samira has been touring schools with Save the Children to highlight issues facing Somalia. "One thing I have learned is that while people may say we are moving on, it still continues."
Although Muslim, Jewish and Christian communities carry out FGM, mainstream spiritual leaders from all three religions have denied that the practice stems from religion. Samira believes the desire to control women's sexuality lies behind it.
"I think women here are scared their daughters will become too westernised and not get married – that they will have boyfriends and go out, and this is why they have it done."
Yet the subject, she says, is rarely discussed. "I go into schools with a high number of Somali girls, and they always seem shocked that it is part of our history and culture. We need women to talk about their experiences, men to talk about their marital experiences, clerics to explain it is not linked to religion and doctors to talk about the problems it causes. Then things will change – when we discuss what FGM is really doing."
http://www.theguardian.com/lifeandstyle/2013/sep/07/female-genital-mutilation-tradition-somalia
----------
Right To Play organises volleyball tournament for girls
September 7, 2013
THATTA: An Inter-School Volleyball tournament for girls was organised by the Non-Governmental Organisation (NGO), Right To Play, at the Government Girls High School, Thatta, on Friday. Over 600 participants, including students and faculty members from six schools, volunteers of the NGO, government officials and civil society members, took part in the day's activities.
The event was part of Right to Play's campaign to provide a platform for youth to display their talents and educate them through sports and arts so they may be able to overcome the effects of poverty, conflict and disease in disadvantaged communities. "It is the mission of Right To Play to work in poverty-stricken communities and educate children with the power of sports to enable them to break the shackles of conventional society," said Atta Mohammad Soomro, the project coordinator of the Right To Play's programme in Thatta. He added that such tournaments were a good opportunity to gather communities at one platform and raise awareness regarding the importance of sports towards a child's holistic development.
Thatta district executive development officer Asif Ali said that, "The promotion of volleyball and other games in district Thatta is healthy for the physical and mental development of students". He added that education through the medium of sports and play based activities had boosted confidence in students and increased enrollment.
http://tribune.com.pk/story/600982/developing-young-minds-right-to-play-organises-volleyball-tournament-for-girls/
------------
Children to advise UN on violence and harmful practices
September 7, 2013
Children and youth globally may soon be able to advise the UN on violence and harmful practices they face in their everyday lives.
Marta Santos Pais, the UN Special Representative of the Secretary General on 'Violence Against Children' has mooted the idea of an advisory committee of children and youth across all regions of the world to inform her work.
Ms Santos Pais on Thursday shared her vision with over 100 child and youth delegates from 13 countries in West and Central Africa on the concluding day of a consultation forum on ending harmful practices affecting children and youth, organised by the child rights organisation Plan International.
The creation of an advisory committee will be a new milestone in child and youth participation at the global level. The proposed mechanism, once operational, will provide children and youth leaders a direct communication channel with the UN Special Representative.
"Plan welcomes and supports the UN Special Representative's proposed initiative as it will galvanise the efforts to push for urgent and decisive action against harmful practices and violence against children," said Adama Coulibaly, Plan's Regional Director for West Africa.
In Africa alone, millions of children continue to suffer from various forms of harmful practices, including female genital mutilation/cutting, early and forced marriage, bonded labour, fertility proving, accusations of witchcraft, and a number of other lesser known practices. In West Africa, for example, even though all countries have ratified the UN Convention on the Rights of the Child, children in the region still continue to suffer a wide range of violations many of which are deeply rooted in traditions and customs.
In her address at the Forum earlier on during the week, Ms Santos Pais had said that children and young people are uniquely placed to expose harmful practices and make known the hidden face of violence. "As true agents of change, their involvement is fundamental to achieving lasting solutions in our common struggle to prevent and address all forms of violence, including harmful practices."
Plan has led the setting up of National Child and Youth Advisory Boards in all its 12 countries of operation in West and Central Africa. At the Accra Forum, delegates passed a resolution calling on all governments to create and adequately fund mechanisms to prevent and combat violence against children.
Among other recommendations, the resolution called for integrating child rights in school curricula and teachers training, and increasing public awareness in ending harmful practices.
A Regional Child and Youth Advisory Board of 24 members, comprising male and female representatives from National Boards, was also inaugurated at the Forum.
Editor's Notes:
Plan International is one of the world's oldest and largest child rights and community development organisations with programmes in 50 developing countries across Africa, Asia and the Americas.
Plan has been working in Ghana since 1992, helping poor children to access their rights to health, education, food security and protection.
Plan's West Africa Regional Office has led the creation of National Children and Youth Advisory Boards (NCYABs) in 12 countries: Benin, Burkina Faso, Cameroon, Ghana, Guinea, Guinea Bissau, Liberia, Mali, Niger, Senegal, Sierra Leone and Togo. To date, 10 out of 12 have been officially launched and are fully functional. The boards have been created in collaboration with the government Ministry responsible for child protection in each country.
The NCYABs comprise children and youth between the ages of 8- 24 years; however each country focuses on an age range that ties in with their national laws and policies. The official size of a board is a maximum of 40 gender balanced group.
The aspect of tackling exclusion is highly considered in the composition of the NCYABs, so children from excluded populations, marginalised groups (such as those with limited abilities) and other vulnerable children and youth (HIV and AIDS orphans and children in difficult situations) form part of the board.
http://www.trust.org/item/20130906142015-y2ujo/?source=hppartner
------------
URL: https://newageislam.com/islam-women-feminism/'stay-syria!'-madonna-uses-instagram/d/13404