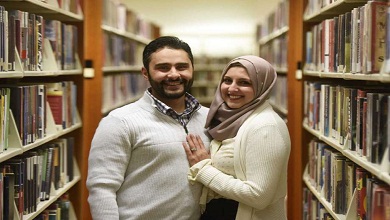 Photo: Stamford residents Shaimah Hamdan and her husband Fadi El-Ghussein pose inside the Ferguson Library near their home in downtown Stamford.
From Colonial Algeria to Modern Day Europe, the Muslim Veil Remains an Ideological Battleground
Group Calls for Understanding Of Muslim Women Wearing Hijab
Lindsay Lohan Reveals More of Her 'Muslim' Side on Kuwaiti Talk Show
America Has a Lot to Learn From This Muslim Fashion Blogger
Islamic State Kidnap 17 Women in Kirkuk: PMU
Compiled by New Age Islam News Bureau
URL: http://newageislam.com/islam,-women-and-feminism/new-age-islam-news-bureau/stamford-area-muslim-women-find-strength-in-religion/d/109961
----------
Stamford-area Muslim women find strength in religion
By Liz Skalka Updated 9:02 pm, Saturday, February 4, 2017
STAMFORD — Every Sunday, Shaimah Hamdan, a Muslim woman of Palestinian descent, leads a religious class at Al Madany Islamic Center of Norwalk, a spiritual home she shares with hundreds of Fairfield County Muslims.
Hamdan, a board member at the mosque, teaches adolescent girls, a group that often struggles with their Muslim identity as they come of age.
"It's hard to hear some of the things they go through," said Hamdan, 28, whose face is usually framed by a silky hijab.
"Back in my youth days, I had my scarf pulled off. I was called a terrorist. To hear them talk … some of the jokes have gone too far. A girl takes out a pencil and someone says, 'Are you pulling out a bomb?' I told them that's not a joke. But they don't know how to react. They don't want to feel like it's bullying. They want to believe that person still likes them. It was difficult hearing because I haven't gone through that in a while."
Hamdan and her husband, Fadi El-Ghussein, 35, moved to Stamford from New Hampshire in 2014. El-Ghussein is a senior design engineer at ASML in Wilton. Hamdan is a quality project manager for Stamford Health Medical Group. Her office is a short walk from the couple's downtown apartment.
Like an estimated 150,000 Muslims drawn by jobs, education and family, Hamdan and El-Ghussein call Connecticut home. And despite a hostile political climate — especially since President Donald Trump's executive order banning immigration from seven mostly Muslim countries, which a federal judge on Friday temporarily blocked — the couple has generally found Stamford to be welcoming.
Still, many Muslims, Hamdan said, want to change how Americans perceive and talk about Islam.
"We don't always have the platform to claim our religion," she said. "It has been hijacked for some time."
This is especially true for Muslim women, often stereotyped for wearing headscarves — called hijabs — and practicing Islamic courtship, customs that Hamdan strongly defends.
"I know there's a lot of controversy surrounding Muslim women," she said, "but I attain my rights as a woman not in spite of my religion, but because of my religion."
A friend introduced Hamdan and her husband in January 2012. They first met in Chicago with both sets of parents, El-Ghussein and his family traveling from Kansas City, Mo. By March, they were engaged.
"We didn't date; we can't date," said Hamdan, who grew up in North Carolina. "I can get to know him and he can get to know me for as long as we want, but there's no physical touch. We get to know each other's goals, future outlook, compatibility."
It's a misconception, she said, that Muslim women are forced into arranged marriages.
"He came with pure intentions," said Hamdan, whose smile grows when she talks about her husband, who is attentive and soft-spoken.
"I often say this to people who ask me about my marriage: He respected me enough to come to my family through the right means, and so he won the great prize of seeing me without my scarf. I don't show my hair to men who aren't related to me.
"I think the process that Muslims have to go through shows he is dedicated," she continued. "Then afterward the physical part comes and he gets to see my beauty without the scarf. It's a nice treat, I guess."
'Sign of liberation'
In most cases, a woman chooses whether to wear a hijab, said Samia Hussein, board president of the Muslim Coalition of Connecticut.
"It's really putting the power in the woman's hands," she said. "She is choosing who can and can't see her body and get to know her on a more individual level based on her character.
"There are many people who think it's a sign of oppression, but really it's a sign of liberation."
Many say it's empowering.
"The perception of having a Muslim woman in the workplace and wearing a headscarf is very important for other people to see and other Muslim women to see," said Safia Hussain, 32, who works in Stamford with low-income families receiving Women, Infants and Children assistance. She wears a headscarf to work.
Hussain and her husband moved to Stamford from Texas after she got a job here. Stamford is close to her in-laws in Queens, N.Y. And compared to the southwest, Fairfield County has been welcoming, if lacking the vibrancy of Muslim communities in denser urban areas. Her clients are mostly unfazed by her hijab.
"I've heard comments, but they weren't outwardly racist," she said. "It was more because it was unknown and unfamiliar. It changes once I start talking to them as their health care practitioner."
But some comments are ridiculous, Hussain says. "I've had co-workers who have been like, 'You can drive yourself? Your dad doesn't drop you off at work?'"
'Pioneering generation'
Although worldwide Muslim men have more formal schooling than Muslim women — the education gap between them is large compared to other religious groups — Muslim women are beginning to make greater educational gains than their male counterparts, according to a 2016 Pew Research Center study.
This trend has been apparent for generations in the U.S. Many first-generation Muslim women are doctors, engineers, lawyers and entrepreneurs.
They are women like Zeba Iqbal, 47, who has an MBA from George Washington University and has worked for Princeton University and Ernst & Young. She moved to Stamford from New York City after marrying her husband, who runs an e-commerce business and has lived here since 1991. The couple has an infant son.
"My parents were really that pioneering generation, and mine is a very typical Muslim immigrant story," Iqbal said. "My parents put a very high priority on making sure we had Muslim infrastructure. And if we didn't go to Sunday school, they made sure we were taught at home."
Iqbal, a Muslim of Indian descent, found her career path shaped by 9/11. The terror attack prompted her to become involved in advocacy, and she went on to serve as executive director at the Council for the Advancement of Muslim Professionals.
As a Generation X Muslim, her life was shaped by 9/11 in a way that younger generations will not experience, she said.
"Millennial Muslims were traumatized in a different way by 9/11," she said. "They were in school at the time and internalized it very differently … I was lucky I had a complete childhood and young adulthood that had nothing like that around. I had a lot of freedom to explore every aspect of my identity."
'Beautiful challenge'
Many of Fairfield County's Muslim women are new immigrants. Basmah Jassem, 33, moved to Greenwich six years ago when her husband landed a job at Gartner in Stamford.
The couple moved from Jordan. They have three children, ages 2, 6 and 8. A former computer game designer of Iraqi and Syrian descent, Jassem met her husband while pursuing her master's degree in England.
Although Jassem and her family are members of Al Madany in Norwalk, hers is one of few Muslim families in Greenwich — a situation, along with adapting to life in the U.S., she views as a "beautiful challenge."
"There's a spotlight on you," she said. "If you do something good, it doesn't always show. But if you do something bad, you're afraid of getting labeled because you're a minority."
Jassem is involved with her children's school and has met with Greenwich women to talk about her religion. "Some of them told us they've never really talked to someone who was Muslim," she said.
In the wake of Trump's executive order last week, Jassem is worried about the trips her family takes to Jordan. But it's not enough to stop her from going this summer (she said her children would be allowed to return, but she may face problems). A holder of Iraqi and Jordanian passports, Jassem says she's used to being stopped at airports.
"It really hit home," she said last week, over a pot of chai tea in Greenwich, with Lujane, 2, on her lap. Jassem wore a hijab with red flowers and black Converse sneakers.
"This is the first time that something comes up and it's really on me, because I'm a green-card holder and with all that's going on, there's a big chance that if I travel to Jordan, there will be complications for me to return."
In America and abroad, Jassem sees misbeliefs about Islam, including how the word jihad is interpreted.
"Jihad is a self struggle," she said. "So my jihad can be waking up in the morning to my baby. For some people, jihad is waking up at 5 in the morning to pray."
Women like Jessem and Hamdan, who are friends, are dedicated to educating people about Islam.
Hamdan says if there's something a non-Muslim wants to know about a Muslim, just ask.
And at the same time, Muslims should continue to proudly own their faith, she says.
"If I'm fearful or I try to hide my Islamic identity, then that fear, that hate, has won — and I'm not going to allow it," she said. "In fact, I'm going to go out there and be more proud of my faith."
eskalka@stamfordadvocate.com
stamfordadvocate.com/news/article/Stamford-area-Muslim-women-find-strength-in-10908834.php
-------
From Colonial Algeria to Modern Day Europe, the Muslim Veil Remains an Ideological Battleground
BY KATARZYNA FALECKA ON 05/02/2017
The Muslim veil has a long history in European politics, often becoming a battleground for different ideologies as well as a form of resistance.
When the German chancellor, Angela Merkel, proposed a ban on the burqa and niqab at a conference of her political party in December 2016, she was following the lead of a number of countries in Europe which already have such legislation in place. In France and Belgium, a woman wearing a full-face veil can be jailed for up to seven days. In January 2017, there were also reports that Morocco had banned the production and sale of the burqa.
Merkel, who has faced criticism over her refugee policy, turned towards a ban on the Muslim veil as proof of her harder stance on integration in Germany.
The politicisation of the veil – whether it covers the full face (burqa), leaves the eyes open (niqab) or covers head and neck only (hijab, al-amira, khimar) – has a long history in European politics. And it often becomes a battleground for different ideologies at times of crisis.
Fantasies of unveiling
Throughout the 19th century, the Muslim veil functioned as an object of fascination for European travellers to the Middle East, despite the fact that Christians and Druzes – a religious sect with origins in 11th-century Egypt – would also veil. European photographers in the region produced eroticised representations of women lifting their veils and exposing their naked bodies. Reproduced as postcards, these images circulated across the Mediterranean, constructing the image of a Muslim woman whose erotic powers could be unleashed once the veil was lifted.
But in the 1950s, the veil played an important role during the Algerian war of independence against French colonial rule. Frantz Fanon, a Martinique-born psychiatrist and anti-colonial intellectual, described the French colonial doctrine in Algeria as follows:
"If we want to destroy the structure of Algerian society, its capacity for resistance, we must first of all conquer the women; we must go and find them behind the veil where they hide themselves and in the houses where the men keep them out of sight."
Fanon was a member of the Algerian National Liberation Front who considered women's ill-treatment by the French army to embody the whole country's situation. For him, it was impossible for the colonial power to conquer Algeria without winning over its women to European 'norms'.
In 1958, during the Algerian war of independence, mass 'unveiling' ceremonies were staged across Algeria. The wives of French military officers unveiled some Algerian women to show that they were now siding with their French 'sisters'. These spectacles formed part of an emancipation campaign aimed at demonstrating how Muslim women had been won over to European values and away from the independence struggle. They were also staged at a moment of political turmoil in mainland France, which was struggling politically and financially to maintain its colony in North Africa.
The unveilings were publicised and presented to the government in Paris as spontaneous acts. But the French leader Charles de Gaulle remained sceptical of the French settlers' claims, and historians would later find that some of the women who participated in these ceremonies never even wore the veil before. Others were pressured by the army to participate.
A form of resistance
Following the staged unveilings, many Algerian women began wearing the veil. They wanted to make clear that they would define the terms of their emancipation – rather than being forcefully liberated by the French colonisers.
The unveilings had come a year after the end of the Battle of Algiers during which female freedom fighters began to carry explosives underneath the traditional white haik, a form of dress which dates back to Ottoman Algeria. But once this technique was detected by the army, the female fighters unveiled and chose European dress instead. This meant they could pass through French checkpoints unnoticed, allowing them to smuggle bombs – a scene depicted in Gillo Pontecorvo's celebrated 1966 film Battle of Algiers. Almost 40 years later, the film was shown at the Pentagon following the invasion of Iraq, in order to scrutinise 'terrorist' strategies.
After the collapse of French Algeria in 1962, many Algerian women in urban areas stopped wearing the veil, but with the rise of Islamic radicalism in the country which led to a civil war in the 1990s, veiling became mandatory.
Mobilisation of the veil against Western systems of thought and values also occurred in the 1970s in Egypt when college-educated women returned to wearing the veil. Among the reasons cited for their choice was a rejection of Western consumerism and materialism, in favour of modesty and minimalism.
A screen on which to project anxiety
The veil offers a visible, public marker that can be mobilised to emphasise various political and social agendas. Under colonial rule, the veil became a sign that demarcated those who did not belong to the European system of thought. It continues to do so, and has become mobilised within political debates at times of crisis – for example in Germany by Merkel facing the rise of the far-right Alternative for Germany party.
According to Gabriele Boos-Niazy, the co-chair of Germany's Association for Muslim Women, there are no more than a hundred women in Germany who wear the full-face veil. In a country of 80m citizens, this forms 0.000125%. The focus on banning the full-face veil is not rational but ideological, with Muslim women's dress now embodying a range of wider fears around terrorism, Islam and immigration. The Muslim veil has become a screen onto which Europe's anxieties and political struggles are being projected.
Europeans have a history of portraying the veil as foreign to the continent's mentality – and this shows no sign of abating. Yet, considering the way Muslim women have used the veil as a way of resistance in the past, they are likely to do it again in the future.
thewire.in/104919/colonial-algeria-modern-day-europe-muslim-veil-ideological-battleground/
-------
Group calls for understanding of Muslim women wearing hijab
Feb 4 2017
Hajia Khadijat Showole, the Project Coordinator, Academy Women's Wing, has called for more understanding on Muslim women that wear hijabs.
Showale told the News Agency of Nigeria (NAN) that Nigerian Muslim women that are wearing hijabs have over the decades been at the forefront of defending this value.
NAN reports that World Hijab Day (WHD) is celebrated annually on February 1.
She said that in spite of their glorious achievements and contributions, Muslim women have continued to face challenges due to their choice to fulfilling their religious obligation.
"In some states in Nigeria, significant populations of Muslim students are compelled to make an unfair choice between religious observance and educational opportunities.
"The states have continued to maintain their state-sanctioned discriminatory policies against the hijab in public schools.
"The Hijab is the covering worn by millions of women all over the world following the revelation in the Holy Quran, which makes men to lower their gaze and guard their modesty.
"And say to the believing women that they should lower their gaze and guard their modesty; that they should not display their beauty and adornments except what (must ordinarily) appear thereof in Chapter 24, verses 30-31," she said.
Showole urged the nation leaders, to use the opportunity of this global event to build bridges of understanding, mutual discovery on why Muslim women choose to wear hijabs.
"Muslim women, like all others, have the right to practice their religion; they also have the right to be treated equally and the right not to be stigmatised or discriminated against.
She urged Nigerians to stand for Muslim women's right to cover their privacy and stop the discrimination against them in public places.
"The hijab is a perfect quintessential representation of an ideal Muslim woman and it depicts modesty, elegance, knowledge and versatility across several areas.
"Hijab is conducting oneself with dignity at all times, hijab identifies you as a Muslim and people will judge Islam by you, and that is a heavy responsibility.
(NAN)
thenewsnigeria.com.ng/2017/02/group-calls-for-understanding-of-muslim-women-wearing-hijab/
-------
Lindsay Lohan reveals more of her 'Muslim' side on Kuwaiti talk show
Published February 5th, 2017
relationship with Islam in an interview with Kuwaiti talk show host Swar Shuaib.
The interview was a combo of some serious, but more funny, conversations between Swar and the American actress.
Swar wasted no time grilling the American actress about THAT photo of her holding a copy of the Quran.
But Lindsay was not bothered, happily explaining that she was going through a lot when that photo was taken, and the Quran was "a solace and a safe thing for me to have."
"My intention wasn't to hold a religious book," she said, "I was just holding a religious book, but people in America didn't like it, they judged me for it and were saying nasty things."
Lindsay, who has recently been spotted wearing the hijab in Turkey, told Swar that she has tried praying the Muslim way and has fasted Ramadan.
"I did Ramadan for three days with my friend from Kuwait, it was hard but it was good. It felt good," she said.
The 30-year-old actress told Swar that she has read 15 pages from the Quran (in English) and that she practices writing some of the verses in Arabic as well.
Lilo even said that she listens to the Quran on her mobile phone, using an app.
"Do u feel something special when u read it?," Swar asked.
"I feel calmness," Lilo said.
There's one thing Lindsay didn't bring out during the interview: her newly-acquired non-American accent, which she said learning Arabic and Turkish were behind it.
She did however impress Swar with her knowledge of Arabic slang, telling him "khalas" and "wallah" when he jokingly taught her to say "I love Swar Shuaib" in Arabic.
The interview was much fun to watch, especially when Swar presented Lindsay with two gifts: the first, a fish bowl filled with water and bath salts (seriously, what?!), and the second, a silver bracelet, which he jokingly said "I didn't pay for it," but she loved it anyway.
However, our fave moment, hands down, from the interview was when Swar got Lindsay to eat a traditional Kuwaiti rice dish with her hands.
She even licked her fingers in satisfaction afterwards.
Our second fave moment was when the comedian host ended the interview with the more creepy than funny comment, "Thank you, Lindsay, see you in heaven, soon inshallah," to which Lilo responded, "Hope not like soon enough."
Swar teased Lindsay further by saying, "Do you like Heaven? It's better than earth."
A concerned Lindsay replied, "I do but not right this second."
Swar wasn't budging and told her, "It's better than earth!," after which Lindsay paused then said, "Let's carry on eating," before the two burst out laughing.
You can watch the full interview below (starting from 18:24).
albawaba.com/entertainment/lindsay-lohan-reveals-more-her-muslim-side-kuwaiti-talk-show-933684
-------
America Has a Lot to Learn From This Muslim Fashion Blogger
Before you form an opinion on Islam, it helps to actually know the basics.
WILL GREENBERGFEB. 5, 2017 6:00 AM
Daniel Chae
In sixth grade, Hoda Katebi decided she would start wearing the hijab.
It was a bold move. She's American born, but her parents immigrated from Iran. Theirs was one of few minority families—let alone Iranian ones—in her small Oklahoma town. The September 11 attacks were only about five years in the rearview mirror, and her classmates were hitting the age when kids become more aware of the world—and of their parents' political viewpoints, which in this case leaned pretty conservative.
One fellow student, after calling her "terrorist" all day at school, punched Katebi in the face.
To some of her schoolmates, Islam seemed scary, freakish. The hijab made Katebi a target for taunts, and worse. One middle-school student, after calling her "terrorist" all day at school, punched her in the face. A few years later, in high school, a peer pulled off her hijab, demanding to see her hair. Katebi never reported the assaults. She was convinced her teachers would look the other way rather than try and defend her. It was up to her to convince people around her that she was not to be feared, and that she largely shared their values.
In the wake of President Donald Trump's executive order banning immigration from seven majority-Muslim countries (including Iran), Katebi, now 22, finds herself in the position of having to explain her culture to people all over again. Indeed, it's part of her job. A year out of college, she heads up communications for the Chicago branch of the Council on American-Islamic Relations, which says Trump's immigration order targets Muslims directly—despite the administration's claims to the contrary. CAIR is working with lawyers and other civil rights organizations to help people who have been detained in airports or stranded overseas as a result of the ban.
But Katebi was working to bridge the gap between America and the Middle East long before CAIR hired her. In her hometown, people were always looking to her to speak on behalf of all Middle Easterners—on everything from the history of Islam to the Israel-Palestine conflict. Their questions compelled her to study up on Muslim history and culture so she could push back against her peers' misguided views.
Continuing discrimination led her to develop a "don't give a shit attitude" that later gave way to a healthier outlet for her frustrations. Recognizing the power of the hijab to dictate how people viewed her, Katebi became interested in the use of clothing as a political statement. So, the summer after her freshman year at the University of Chicago, she launched a fashion blog, calling it JooJoo Azad ("Free Bird" in Farsi). "Fashion is inherently and deeply political," Katebi writes, and not many Americans understand just how complex and diverse fashion for Muslim women can be. She told me she wanted to "yell in a productive way" and tackle the nexus of clothing, Islam, and feminism—a topic she now lectures on.
From Tehran Streetstyle Hoda Katebi
For her undergraduate thesis, Katebi chose Iran's underground fashion scene, and she traveled to Tehran during the summer of 2015 to research the topic. The Iranian designers she met were trending toward traditional motifs and designs, but also creating pieces that technically violated the country's Islamic dress code. Iranian law requires women to cover their heads and to dress modestly, usually keeping their torsos, waist area, and a good part of their legs covered with large, loose garments. Rules on acceptable colors fluctuate depending on who is in charge, as does the zeal of the Gashte Ershad (morality police), who enforce the rules. Punishments can range from a warning or a ticket to arrest, in extreme cases.
During her trip, as many Iranian women do, Katebi tested the limits of the dress codes. She found that the Gashte Ershad rarely enforced it, and that violations are common. One officer saw her wearing a tight crop-top shirt that didn't cover her waist area. He simply yelled that she should "cover up," and then he drove away, she recalls.
Alongside her thesis work, Katebi collected material for her 2016 book, Tehran Streetstyle. The designers wanted Katebi to expose their art to the rest of the world, and her Western blog audience was clamoring for a window into Iranian fashion. The result was a collection of images of a sort Americans seldom see—Iranian women clad in vibrant colors, with creative designs and trendy accessories. While Katebi and most of the designers she spoke with dislike the dress codes, their feelings are complicated. "There's a level of resisting the hijab law, but also wanting to resist Western cultural hegemony that exists globally," Katebi explains.
From Tehran Streetstyle. Hoda Katebi
At a time when the US government is projecting a sinister view of Islam to the public, Katebi's work pushes in the opposite direction, helping open-minded Americans appreciate the nuances and diversity in Muslim culture. It's been a constant tug of war, and the fact that few Americans even bother to learn the basics of Islam before forming an opinion has not made her job easier.
In fact, the rhetoric of the 2016 campaign and beyond, combined with the recent attacks in Europe and the United States, have contributed to a notable resurgence of Islamophobia here. Hate crimes against Muslims spiked 67 percent in 2015, according to FBI data, and there have been many troubling incidents since the election. In late January, as the White House issued its immigration ban, a mosque in Texas was burned down and a gunman attacked the Quebec Islamic Cultural Center in Canada, leaving six people dead and five hospitalized. President Trump, Katebi says, continues to use the same divisive rhetoric against Muslims in the name of national security that leaders employed after 9/11. "Muslims are just recovering," she says, "from the effects of what happened in 2002."
Ever since Trump's immigration order, Katebi has been running on "water and Starbursts."
At least 18 people were detained at O'Hare International Airport thanks to Trump's executive order. Protesters—including Katebi and others from CAIR—flooded the airport with signs and chants demanding that detainees be allowed access to lawyers and that they be admitted into the country. A judge issued a stay to Trump's order, but that injunction is temporary. Organizers are still scrambling to protect people left in limbo, including a friend of Katebi's, a Stanford doctoral student who had to cancel his flight to the United States and now can't get back to school. For Katebi, the past week has been a nonstop work frenzy. As she put it, she's been running on "water and Starbursts."
While she's encouraged by the crowds showing up at the airport to protest Trump's immigration move, Katebi has taken to her blog to challenge misconceptions even among Americans who support Muslim immigration. Consider the viral image of the woman clad in a stars-and-stripes hijab. The artwork was intended as a show of solidarity, but Katebi pointed out that it was the work of a white (non-Muslim) man—Shepard Fairey, the same artist who did the Barack Obama "Hope" poster—and noted that the woman who modeled for the poster does not normally wear the hijab.
She also made the point that, given the fraught history of American military actions in the Middle East, the image sends a decidedly mixed message. "I understand the good intentions," Katebi wrote, "but my liberation will not come from framing my body with a flag that has flown every time my people have fallen. And I hope yours will not either."
View image on Twitter
View image on Twitter
Follow
Hoda Katebi @hodakatebi
Please Keep Your American Flag Off My Hijab -- my latest on JooJoo Azad: joojooazad.com/2017/01/keep-your-american-flags-off-my-hijab.html … / #womensmarch
8:55 PM - 23 Jan 2017
267 267 Retweets 323 323 likes
As the Trump regime ramps up, Katebi is dreading the prospect of having to play teacher all over again. "Educating people on the very basics, like 'Islam is a religion of peace; this is what I believe,' it's incredibly emotionally taxing!" she says. "Having to deal with all of that and be able to respond in a very polite, educational manner is harder than people think."
motherjones.com/politics/2017/01/hoda-katebi-iran-muslim-fashion-chicago-cair-immigration
-------
Islamic State kidnap 17 women in Kirkuk: PMU
Feb 5, 2017
Kirkuk (IraqiNews.com) Islamic State militants have kidnapped 17 women in southwestern Kirkuk, anti-IS popular militias said on Saturday.
Hassan al-Soufi, a senior commander at al-Hashd al-Shaabi (Popular Mobilization Units) said the women were kidnapped due to an attempt to flee a region held by the extremist group in al-Zab region (55 km southwest of the province) towards Salahuddin's town of Shirqat. "Those elements herded the kidnapped women to central Hawija", Soufi revealed.
The group accused the women of "abandoning the land of the caliphate and collaborating for the smuggling of civilians towards Kirkuk and Salahuddin provinces," according to Soufi.
Islamic State has held regions southwest of Kirkuk, along with several other Iraqi cities, since it emerged in 2014 to establish a so-called "Islamic State". The group has, since then, both enslaved women and imposed extreme religious rules on them. Many were also reportedly drafted to fight by the group's side . News about the group targeting and killing many civilians fleeing its areas of control have been recurrent since Iraqi forces launched offensives to drive Islamic State out of the country.
Kirkuk and other few Islamic State pockets are still awaiting official orders for security intervention against the group, but the government is giving full focus to its campaign in Mosul, IS's largest stronghold in Iraq where security forces have so far recaptured a half of territories.
iraqinews.com/iraq-war/islamic-state-kidnap-17-women-kirkuk-pmu/
URL: http://newageislam.com/islam,-women-and-feminism/new-age-islam-news-bureau/stamford-area-muslim-women-find-strength-in-religion/d/109961
New Age Islam, Islam Online, Islamic Website, African Muslim News, Arab World News, South Asia News, Indian Muslim News, World Muslim News, Womens in Islam, Islamic Feminism, Arab Women, Womens In Arab, Islamphobia in America, Muslim Women in West, Islam Women and Feminism