New Age Islam News Bureau
1 Nov 2013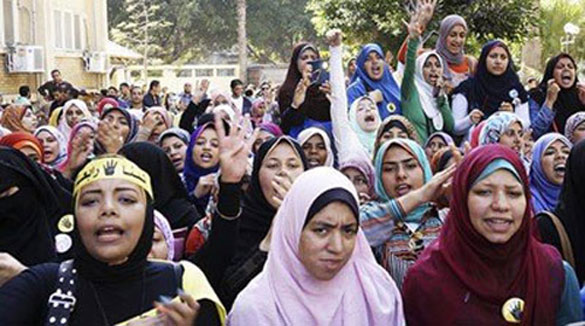 Pro-Mohamed Morsi female students shout slogans during a protest at Alexandria University on Thursday Photo: Xinhua/Landov/Barcroft Media
--------
• Russia Wary Of Muslim Women in North Caucus Ahead Of Olympics
• Nepali Hindu Leaders Ban Women from School during Menstruation
• Edmonton Transit Pulling Controversial 'Honour Killing' Ads
• 20 Muslim Brotherhood Women Supporters Arrested In Alexandria Clashes
• Afghan Schoolgirl Scarred In Acid Attack Now a Teacher
• Afghanistan Withdrawal Puts Programs for Women and Girls at Risk, Top Watchdog Warns
• Offensive "Burqa" Halloween Costume Shows Larger Ignorance of Islamic Culture
• Women's Human Rights Theme of International Education Week
• Muslims of Crimea, Ukraine Organize Courses on the Basics of Islam for Women
• Child Marriage Could Trigger Surge in Africa's Under-15s Pregnancy Rate – UN
Compiled by New Age Islam News Bureau
URL: https://www.newageislam.com/islam,-women-and-feminism/new-age-islam-news-bureau/spinsterhood--a-social-dilemma-haunting-women-in-saudi-arabia/d/14248
----------
Spinsterhood: A Social Dilemma Haunting Women in Saudi Arabia
Nov 1, 2013
DAMMAM — Spinsterhood is a growing dilemma in Saudi society and is reaching dangerous levels. Those who do not get married, either by choice or due to other factors, are entering the world of the unknown. Social experts are warning against the negative consequences of spinsterhood and its negative impact on society. Some people say the solution is in increasing awareness, while others say promoting the benefits of early marriage could solve this problem. The main problem lies sometimes with parents who refuse to allow their daughters to get married because they want to be in control of their daughters' salaries. Other parents exaggerate when it comes to paying dowry.
Nahed, a Saudi woman speaking to a local daily, said that spinsterhood only became a social problem recently. Grooms sometimes overdo it by trying to throw a big wedding, even if he was unable to financially bear the cost of the wedding.
She said, "Some fathers are simply greedy and want to put their hands on the dowry, which initially belongs to the daughter. They exaggerate by asking for a huge amount. Another problem is the cost of weddings, where families over demand. At the end, grooms prefer to be single and brides become spinsters. Psychological difficulties then increase in society and Saudi women end up marrying non-Saudis."
Heba, 39, said she blames her father for her not getting married. She said, "My father is very picky, always asking about the groom's background and his family line. After meeting my father, the groom becomes confused and ends up leaving and canceling the marriage proposal. My father lives in the dark ages, when it comes to the way he thinks. He is racist and thinks that he is better than everybody."
M. Hamad said she did not get married because all men who proposed to her wanted her salary. "I want a decent man with good morals and religion. I want him to respect me for who I am," she added.
"Men these days ask for women's hand in marriage when they are unemployed because they want to live on her salary. Some men want to marry working women to help them financially. Above that, they want to spend a lot of money on weddings, which is unnecessary."
Alya'a said a working woman does not stand in the way of marriage. She said most women delay marriage intentionally because they want to complete their education. After completing their education, some women find that they are not wanted for marriage. She added, "It is the same with men, they delay marriage because they want to establish themselves only to find out that they are old and still cannot bear the cost of marriage."
'Spinster,' a term that needs to be changed
Yaser Abdullah Al-Adl, consultant at a family development center in Dammam, said that being called a spinster is a form of psychological aggression against women. He called on social specialists to come up with a different expression that is less aggressive like "late for marriage". He said that this term would be socially accepted amongst women. He said, "Late marriage made many spinsters desperate and asking for husbands even if they were just divorced to escape from staying single. The economic factor and tradition in choosing a future husband made the marriage experience a terrifying one. The latest statistics revealed there are nearly 1.5 million spinsters in Saudi Arabia." Al-Adl said that "we need to take a tough stand so this number does not increase and businessmen should come up with investment projects that would benefit marriages." Awareness campaigns should be increased amongst society. He said, "Polygamy should be accepted in our society to help develop a healthy society and family."
Positive ways to increasing awareness is needed
Nora, a Saudi spinster, said satellite channels and magazines destroyed the morals of many youth. They cannot establish a family. She added, "The image projected by these satellite channels is that beauty is limited only to blondes and color eyed women. What we need is more awareness seminars and we need to find charitable societies that help young men and women get married and provide them with the financial support needed to establish a family. Society and government should work together to fight spinsterhood."
The age of spinsterhood is different from one country to another
Social experts said spinsterhood age is different from one country to another in the Arab world. In villages and rural societies, if a girl is 20 years old then she is considered a spinster. On the other hand, in a civilized society, a girl is considered a spinster if she reaches the age of 30. The way girls perceive marriage in villages is different from those who live in cities. Women in cities put education and establishing themselves in a job as their priority before thinking of marriage.
Do some girls exaggerate when it comes to specifications?
Kholoud Mahmoud, a Saudi private sector employee, said she does not believe that there is a problem for women to get married at an older age. She said, "Some girls exaggerate when it comes to characteristics of their future husbands. They want him to be handsome, rich or holding an important position. There are women who exaggerate when it comes to rejecting a good groom for the reason of completing her education. As for polygamy, it is permissible in Islam and it helps in reducing the number of spinsters. At the same time, equality between wives is a required condition and also to be able to financially spend on more than one home."
http://www.saudigazette.com.sa/index.cfm?method=home.regcon&contentid=20131101185354
----------
Russia wary of Muslim women in North Caucus ahead of Olympics
Nov 1, 2013
Russian authorities are taking saliva samples from religiously conservative Muslim women in the North Caucasus region, area residents have told news organizations, alleging that authorities are gathering DNA so they can identify the women's body parts in case any of them become suicide bombers.
The move coincides with a drive by President Vladimir Putin to crack down on what he labels an Islamist insurgency in Dagestan, a province in the foothills of the Caucasus Mountains about 300 miles east of the site of next February's Winter Olympics in Sochi.
Eight women contacted by Reuters said they had been asked to provide swabs of saliva. Residents said the DNA tests were part of a sweep following a suicide bombing in Makhachkala, the capital of Dagestan, in May.
Police did not respond to a request for comment.
In the last 13 years, 49 female suicide bombers have carried out attacks in Russia. Most of the bombers were from Chechnya and Dagestan, according to the Caucasian Knot website, which tracks unrest there.
The latest attack occurred Oct. 21 and was committed by a woman from Dagestan, killing six people in Volgograd, a major city north of Sochi.
Roots of insurgency
Dagestan, Russia's southernmost province, has Islamic roots dating back to the seventh century, and the majority of its 2.9 million people are Muslim. Ongoing bitter political struggles against control from Moscow has seen a growth in ultra-conservative Salafist beliefs, under the influence of scholars who studied in the Middle East and Salafi fighters who flooded the region during the secessionist wars of the 1990s.
Dagestan's Muslims — traditionally followers of a more liberal Sufi strain of Islam — saw an upsurge in Salafism during the late 1990s, when nationalists in neighboring Chechnya, disappointed with the lack of support from Western nations in their struggle for self-determination, made common cause with radical Salafi movements from the Arab world, according to a report by Murad Batal al-Shishani, an analyst on Islamic Movements in Chechnya and in the Middle East.
In 1999, parts of Dagestan and Chechnya declared themselves an independent state, with one Islamic body declaring a "holy war" against Russia. Fighters from Chechnya crossed into Dagestan in support, but Russian forces crushed the insurrection within weeks.
The region today remains plagued by lawlessness, corruption, organized crime and high unemployment. Kidnappings, assassinations and violence are commonplace.
Rise of the 'Black Widows'
Dubbed the "Black Widows" by the Russian press, some of the female suicide bombers from the region are believed to be motivated by a desire to avenge the deaths of their husbands at the hands of Russian security forces.
Others, however, say the women are products of a sophisticated process of indoctrination, and some experts believe that underpinning this phenomenon is the traumatization of women caused by the loss of male relatives and the influence of Salafi ideology. Author Yulia Yuzik, who has interviewed a number of the women and their relatives, told Time that North Caucasus women who become suicide bombers are typically exploited by fighters. "The women who take part in terrorism do it not out of their own desire or willingness but because they are manipulated. They are given no other choice."
These women, she said, are often ostracized by members of their own community, who fear Russian security forces will target them, too. "The community that welcomes you after that is the Islamist one. There you find self-respect. You are called a sister. You go to pray with them, socialize with them and you integrate into these groups based around Islam. That in itself serves as a kind of counterforce to the security regime, a way of expressing grief and frustration," Yuzik told Time.
Once the Salafi community begins insisting you carry out a suicide mission, she said, they do not let up. "They will pursue you forever, and you have nowhere else to go. That is the trap."
In the runup to the Winter Olympics in Sochi, the crackdown on suspected extremists has become particularly aggressive. This spring, in what they presented as a preemptive move, officials blew up the homes of several of the widows.
Security forces have also sealed off mountain villages and rounded up young men suspected of having ties to fighters.
Many madrassas, or Muslim religious schools, have been shut, along with charities run by the Salafis. While some Salafis have fled abroad, others are taking up arms, Salafi leaders say.
"By the Olympics, the most important thing for our image is for the situation to be calm and normal in Dagestan," said Ramazan Dzhafarov, Dagestan's deputy prime minister.
The turmoil is taking its toll on residents of the region. Albina Magomedova, a 35-year-old Salafi woman, left her home in Makhachkala for Turkey this month.
Her father disappeared after being kidnapped by gunmen, her husband was jailed, and her brother-in-law — an insurgent blamed for suicide bombings on the Moscow metro in 2010 — was killed by security forces, she said.
Surrounded by other women at her home before she left the country, Magomedova told Reuters, "Allah does not allow us to take up arms. If he allowed it, we would." Some of the others, gathered over sweets and tea, disagreed.
In July, Doku Umarov, the leader of Russia's Salafi insurgency, urged his fighters to use "maximum force" to sabotage the Olympics.
Security tightened
Putin has tightened security around Sochi, where Cossack militia patrol the streets.
On Oct. 25 the country's parliament approved new legislation he submitted, toughening punishment for attacks and making the relatives of insurgents responsible for paying damages.
Security analysts say that fighters are unlikely to penetrate the layers of protection around Sochi, but that attacks cannot be ruled out, especially in nearby cities like Volgograd.
"The special services can't prevent everything. There are many people who want to ruin the Sochi Olympics," said Sergey Goncharov, formerly a senior counter-insurgency official.
Putin in January dismissed Dagestan's former leader, Magomedsalam Magomedov, who had relaxed tough religious policies, sought dialogue with Salafi leaders, allowed them to open madrassas and set up a commission to rehabilitate rebels.
"They wanted to give young people an alternative for realizing their religious needs not in the woods (a local euphemism for joining insurgents) but at the mosque," said Yekaterina Sokirianskaya, the North Caucasus director of the International Crisis Group (ICG), an independent body that works to prevent conflict.
She credits the softer approach with fewer youths joining insurgent ranks last year and a 15 percent drop from the previous year in the number of insurgency-related deaths.
Today the commission has been dismantled, and many of the moderate Salafi leaders have fled abroad.
Al Jazeera and Reuters
http://america.aljazeera.com/articles/2013/10/31/putin-targets-muslimwomenfromnorthcaucusasolympicsloom.html
----------
Harmful Practices Against Women and Girls Can Never Be Justified By Religion - UN Expert
Nov 01 2013
Harmful practices inflicted on women and girls can never be justified in the name of freedom of religion or belief, an independent United Nations human rights expert told a General Assembly committee dealing with social, humanitarian and cultural issues today.
"Countless women are exposed to complex forms of human rights violations based on both religion or belief and their sex," said Heiner Bielefeldt, the Special Rapporteur on freedom of religion or belief.
The expert's latest report, which he presented to the Third Committee, focused on two human rights, namely freedom of religion or belief and gender equality. "My main message is that there is much more room for synergies between those two rights than people generally assume," he told reporters after his presentation.
"Often you find the assumption that, you go either for religion or for gender emancipation and you can't really combine the two, which I would find not only wrong but dangerous."
The expert urged Governments and civil society to look for these synergies, noting that in virtually all traditions, there are persons or groups who use their freedom of religion or belief to promote equality between men and women, often in conjunction with innovative interpretations of religious sources and traditions.
In his presentation, Mr. Bielefeldt also called on States to identify and close human rights protection gaps in personal status laws, including denominational family laws, which disproportionately affect women from religious or belief minorities.
"The purpose must be to create family law systems that fully respect equality between men and women while at the same time doing justice to the broad reality of religious or belief diversity, including persuasions that go beyond the realm of traditionally recognized religions," he stated.
One particularly grave abuse when freedom of religion or belief clashes with gender equality is forced conversion in combination with forced marriage, said Mr. Bielefeldt.
"In a number of countries, women or girls from religious minorities run the risk of being abducted with the purpose of forcing them to convert to mainstream religion - often in connection with an unwanted marriage."
The expert's report offers recommendations to, among other things, integrate a gender perspective into programmes designed to protect and promote freedom of religion or belief.
Independent experts or special rapporteurs are appointed by the Geneva-based UN Human Rights Council to examine and report back, in an unpaid capacity, on specific human rights themes. They also make annual presentations to the General Assembly's Third Committee.
http://allafrica.com/stories/201310310754.html
----------
Nepali Hindu leaders ban women from school during menstruation
1 November 2013
Kathmandu (AsiaNews) - Hindu leaders have banned thousands of Hindu female students from going to school when they menstruate because they are deemed impure. Once limited to confessional schools, now the ban covers many public schools in Nepal's western and northern districts. A sham for many a Nepali religious leader, this controversial practice has victimised thousands of female teenagers and young women.
Speaking to AsiaNews, Hindu leader and educator Chintamani Yogi said, "such a practice is not part of Hindu tradition". Anyone who uses religion to impose it is lying.
The ruling by religious authorities in the western and northern districts has raised eyebrows in the government as well. For this reason, it "is taking action to avoid these phony practices, but it will be a gradual process," Nepali Education Minister Madhav Poudel said.
According to the minister, the ban related to female menstruation is unfortunately prevalent in many parts of the country, including the poorest areas of urban centres.
Poudel explained that his ministry does not have accurate data on how many schools have joined the ban, but it is estimated that thousands of girls and young women are victims of these absurd traditions.
The Catholic Church has been on the forefront in the fight against religious traditions that discriminate against women, especially the Society of Jesus, which runs hundreds of schools and colleges in the country.
The Jesuits have been involved in local education for over 30 years, Fr William Robins said. However, the number of their schools and teachers is too small to counter in an effective way Hindu religious bans.
"We are doing our best," he said, "but we are few in number and cannot reach all parts of the country."
One of the cases that has caused a lot controversy in Nepal involves Sambhusunanda Secondary School in Jukot-7 (Bajura District, western Nepal).
For several weeks, "Hindu religious authorities have prevented not only female students but also teachers from coming to class during their menstrual period," said School Principal Tula Ray Rokaya.
Similarly, "teachers are not able to stand up to religious leaders," said schoolteacher Durgeshwori Shah.
"We are very embarrassed," she added, because "For seven days a month, Hindu leaders do not allow us to go into the classroom and to touch the books used by our students."
Few women or female students complain about it, fearing retaliation, she added.
"The whole community has threatened to expel anyone from the village if they do not comply with the ban, including our parents," said Nita Rokaya, a young student. "Unfortunately, we are forced to endure this kind of discrimination."
In view of the situation, for the young woman, the international community should take up the cause of Hindu women's right to an education, regardless of gender."
http://www.asianews.it/news-en/Nepali-Hindu-leaders-ban-women-from-school-during-menstruation-29401.html
----------
Edmonton Transit Pulling Controversial 'Honour Killing' Ads
Nov 1, 2013
Controversial advertisements, encouraging Muslim girls to reach out if they feel their family is threatening them, will be pulled from city buses.
Coun. Amarjeet Sohi said ETS has told him all of the bus ads should now be removed.
The ads first appeared earlier this week and Sohi said when he first heard about them he was shocked and started working to have them removed.
"I dug deep into it and I found the ads to be very offensive and started working with transit to get them pulled off," he said.
Sohi said he doesn't dispute that honour killings and domestic violence are serious issues, but the ads weren't about addressing those issues.
"It is a clearly anti-Islamic group and their main target is to degrade people of the Muslim faith and that is something that is unacceptable in our city," he said.
The American Freedom Defence Initiative placed the advertisements in Edmonton. The group has worked to have similar ads placed in several U.S. cities.
Masood Peracha, chair of the Edmonton Council of Muslim Communities, said he was immediately offended when he saw the advertisements.
He also said the ads seem targeted at the Muslim community much more than the problem of domestic violence.
"I am questioning what the motives are is it to help victims of violence or is just fear mongering, which I think it seems to be, or is it even more sinister than that?"
Peracha said, while he is relieved the ads are coming down, he wants to know why they went up in the first place.
Sohi agrees and said the city will be looking at that.
"We need to revisit our policy to see how we vet these kinds of ads."
The city contracts out responsibility for advertising on ETS buses to Pattison Outdoor Advertising
http://metronews.ca/news/edmonton/838557/edmonton-transit-pulling-controversial-honour-killing-ads/
----------
20 Muslim Brotherhood women supporters arrested in Alexandria clashes
1 November 2013
Some 20 women supporters of the Muslim Brotherhood have been arrested in clashes with residents of one of the most populous areas in Alexandria, Al-Ahram Arabic website has reported.
Clashes started Thursday when dozens of protesters allegedly blocked a main road in the coastal city and started damaging shop facades, prompting violent encounters with shop owners. The two groups hurled stones at each other. The severity and number of injuries is still not confirmed.
Muslim Brotherhood supporters have been staging near daily protests calling for the reinstatement of ousted Islamist president Mohamed Morsi who was deposed by the military 3 July amid mass protests against his rule.
Pro-Morsi protests chanting against the military have often resulted in clashes with security forces and local residents with anti-Brotherhood sentiments.
Egypt's interim authorities have cracked down on Islamists since Morsi's ouster. Large numbers of Muslim Brotherhood members are detained on charges of inciting violence, including the group's top leaders. Mohamed Morsi himself is due in court 4 November to face charges of inciting violence.
http://english.ahram.org.eg/NewsContent/1/64/85225/Egypt/Politics-/-Muslim-Brotherhood-women-supporters-arrested-in-A.aspx
----------
Afghan schoolgirl scarred in acid attack now a teacher
AFP | Nov 1, 2013
KANDAHAR: When attackers threw acid in Shamsia Husseini's face outside her school in Afghanistan, she defied them by returning to class -- and now she has struck another blow for female education by becoming a teacher herself.
Shamsia suffered severe burns on her eyelids and cheeks in the November 2008 assault, which generated global publicity, with then US first lady Laura Bush condemning it as a "cowardly and shameful" crime.
Afghan President Hamid Karzai vowed to hang the men who had attacked Shamsia as she walked to the all-girls' Mirwais Mena school on the outskirts of Kandahar city.
One man, wearing a mask, asked Shamsia if she was going to school. Then he tore off her veil and pumped acid from a spray gun onto her face.
Several other pupils were hurt in a series of similar acid attacks that morning, but Shamsia and her friends refused to abandon their lessons and persuaded their reluctant parents to support the school staying open.
Five years on, Shamsia, now aged 22, is still in the classroom -- but now she stands in front of an energetic bunch of nine and 10-year-old girls.
"The students sometimes play around and it does test my patience," she admitted to AFP with a smile. "But being a teacher is much better than being a student, and I am now studying to become fully qualified."
'The attackers did not win'
Shamsia's scars eventually healed well after treatment at hospitals in Kabul and New Delhi, though she has recurring problems with blurred vision and eye pain.
"It was very important for me to become a teacher as it shows people that the attackers did not win, just like we came back to school after the attack," she said.
"By teaching, I want to show that education is important and that women can do more than work in the kitchen."
Shamsia retains the quiet determination she displayed when speaking out over the attack, and she remains furious that her assailants have never been punished.
"President Karzai promised to hang these men. If I ever talk to him, I will ask him why he failed to do that," she said.
The Islamist Taliban, who banned female education when they were in power from 1996-2001, denied any involvement in the acid strikes, and nine suspects arrested after the attack gave questionable confessions and were later released.
Shamsia even says that one of her attackers lives close to her home, and that he sees her go to school every day.
"He is free, and it is possible it could happen again. There is no justice, he needs to be punished," she said.
Inside the school, built with Japanese aid money and opened in 2004, classrooms are packed with chirpy girls aged between six and 20, all wearing white headscarves and shooting their hands up in the air to answer their teachers' questions.
More than 2,600 pupils attend lessons in two daily sessions, but many others are turned away due to lack of space even with tents donated by UNICEF being used as makeshift classrooms.
Shamsia, who earns $85 a month, teaches art and handwriting to her fourth-grade class, while older girls have lessons in science, geography and mathematics.
Teaching today's female students
Kandahar, situated in the Taliban heartlands of the south, remains one of the most conservative parts of Afghanistan, 12 years after the Taliban hardliners were overthrown.
For the girls at Mirwais Mena, life after they leave school will likely be restricted to the family home, venturing outdoors rarely and only if cloaked in an all-enveloping burqa.
"We had to work hard to convince parents not to withdraw their children after the attack," said headmistress Danesh Alavi, who was deputy principal at the time. "I remember the anarchy of that day, the panic and fear.
"Shamsia is from a poor family, but her serving as a teacher is a lesson to other girls to be brave and to help develop the country. Young girls can see her be a teacher and understand this.
"Like any good teacher, she is kind to her pupils and is always on time."
For two hours each day, Shamsia also joins a class of female junior teachers who are preparing for their qualification exams.
It is too dangerous for them to travel to teacher-training college in Kandahar city, so Bahir Makimi pays his own bus ticket to come to the school.
"I think Shamsia is a good teacher already and will get better," he said.
"But we have no proper facilities to advance teaching skills here. We improve their knowledge of chemistry and other subjects, and we help them to communicate properly with their students."
The introduction of female education after the fall of the Taliban is often cited by Western and UN diplomats as a central achievement of the 12-year military and civilian intervention in Afghanistan.
There are now about 2.4 million girls in primary and secondary education, and 51,000 female teachers, according to UNICEF.
But lack of classrooms and teachers, as well as early marriages, is holding numbers back, and fears are rising that progress is under threat as US-led NATO combat forces prepare to leave Afghanistan next year.
"I remember the attack on me and the pain," said Shamsia. "Education of girls and having female teachers is so important for the future, to show parents and everyone what we can do."
http://timesofindia.indiatimes.com/world/rest-of-world/Afghan-schoolgirl-scarred-in-acid-attack-now-a-teacher/articleshow/25044692.cms
----------
Afghanistan Withdrawal Puts Programs For Women And Girls At Risk, Top Watchdog Warns
Nov 1, 2013
WASHINGTON -- As coalition forces withdraw from Afghanistan in 2014, it will be increasingly difficult to ensure that U.S. taxpayer dollars intended for reconstruction projects in the country aren't being wasted. And according to the Special Inspector General for Afghanistan Reconstruction, the lead watchdog for this effort, programs affecting women and girls are likely to be among those not getting the necessary oversight.
More than 40,000 troops are set to leave, and dozen of bases will close in the next year. As the Washington Post reported on Saturday, without that "protective umbrella," only about 20 percent of the country will be accessible for oversight.
In testimony before the House Armed Services Subcommittee on Oversight and Investigations on Tuesday, SIGAR John Sopko outlined the challenges he expects to face, including in the area of women's rights.
"[T]here will be fewer opportunities for contracting officers, their technical representatives and other oversight personnel to observe and assess the extent to which female beneficiaries of reconstruction programs are receiving services, protected from the many dangers they face, and consulted in the design and implementation of programs intended to meet their needs," said Sopko, according to prepared remarks.
Similarly, Human Rights Watch states on its website, "Many Afghans feel enormous anxiety as the 2014 deadline for withdrawing international combat forces from Afghanistan looms and warlords and other powerbrokers jockey for position. ... The Afghan government's failure to tackle discrimination and respond effectively to violence against women undermines the already perilous state of women's rights."
In a new report, the International Crisis Group also notes that as the April 2014 Afghan presidential election approaches, many Afghan women "are concerned that the hard-won political, economic and social gains achieved since the U.S.-led intervention in 2001 may be rolled back or conceded in negotiations with the insurgents."
Sen. Claire McCaskill (D-Mo.), who previously served as her state's auditor, has made improving oversight of contracts one of her top issues. She told The Huffington Post that Sopko's findings underscore the difficulty that the government will have in keeping watch over contracts moving forward.
"Whether it's a contract to improve women's educational opportunities or build a power plant, we need to act on the hard-learned lessons of the past decade -- that without strong oversight, American dollars will be wasted," she said. "Programs that lack adequate oversight usually fail, and that's not in the best interest of our troops, our mission or the Afghan people we're trying to help."
The legal status of women in Afghanistan has improved since the ouster of the Taliban in 2001. Women now make up 27 percent of Parliament, and girls comprise 40 percent of schoolchildren. Gender equality is enshrined in the constitution, and rape is illegal. But the implementation of these laws is far from perfect, and women and girls still regularly face threats.
"Since the formal transfer of the security lead to the [Afghan National Security Forces] in mid-2013, insurgent threats to women have increased," concludes ICG in its report. "Their rights are also under attack from yesterday's warlords, now powerbrokers both within and outside government. Rearming their militias as a hedge against what may happen in the 2014 elections or after the transition and attempting to consolidate their electoral base, including by demonstrating independence from the West, they could undo women's fragile gains."
As an example of a program that could falter as troops pull out, Sopko highlighted the Promoting Gender Equity in National Priority Programs initiative. It's designed to increase education, training and promotion of women in Afghan society. USAID plans to commit $200 million to the program, which is set to begin in the middle of 2014, toward the end of the withdrawal of troops.
USAID has said that PROMOTE is meant to work within existing Afghan structures and won't be dependent on a U.S. troop presence. But Sopko is worried that USAID's ability to oversee the program will be "limited" because the agency must rely on outside contractors to monitor progress.
While third-party monitoring is common, Sopko is skeptical of how well it can work in Afghanistan.
"SIGAR plans to hold an expert panel on this issue in the coming months and will also initiate an audit next year on USAID's use of third-party monitors in Afghanistan," he told the subcommittee on Tuesday.
Heather Barr, an Afghanistan researcher at Human Rights Watch, wrote in August that "the frontline fighters for women's rights in Afghanistan since 2001 have been brave, resilient Afghan women who don't have the luxury of ending their struggle next year."
Sopko said his office will focus on "how the military withdrawal, the decline in donor resources, and the transition to Afghan governance and control of the ANSF will affect reconstruction, including efforts aimed at women and girls."
From fiscal years 2003 through 2010, Congress approved $627 million for the Department of State and USAID to support activities specifically for Afghan women and girls.
According to the Washington Post, at least 15 major reconstruction projects, set to cost more than $1 billion, will likely be beyond the reach of U.S. personnel next year.
http://www.huffingtonpost.com/2013/10/29/afghanistan-withdrawal-women_n_4171237.html
----------
Offensive "burqa" Halloween costume shows larger ignorance of Islamic culture
1 November 2013
This past weekend, I saw a girl draped in giant black cloth in such a way that only her eyes were showing. I was not in Saudi Arabia or Iran; I was at a costume party in Austin. I immediately knew what the girl's costume was supposed to portray: the generic, ever-present image of an oppressed Muslim woman in a "burqa."
As a post-9/11 Muslim-American woman with a grandmother, a handful of aunts and cousins who practice wearing the niqab [the black strip of fabric that covers half the face below the nose], I did not hesitate to confront her. While I may not personally wear the niqab — I don't believe it's obligatory — it was frustrating to me that a woman had so casually donned a garment that non-Muslims have used to generate serious misunderstandings around Muslim gender expressions.
The girl told me that she was dressed as a woman in a burqa to generate discussion, even though she admitted she was no expert on Islam. In her words, she had read a few articles.
Throughout our conversation, the girl was defensive of her right to wear the burqa as a costume. People dress up as doctors for Halloween, she said. How is this any different?
It's different because "Muslim woman" is not a costume, and it's only the American obsession with colorblindness that allows her to see it as such.
Colorblindness allows Americans to believe that not commenting on the color of someone else's skin saves them from racism. It also promotes cultural appropriation: the idea that anyone can wear or do anything cultural without context, including a burqa at a Halloween party.
Even though her costume did "start a discussion," it was irresponsible and harmful to start discussions that she didn't have the knowledge to sustain. I asked her if she remembered 9/11, if she knew what Islamophobia was. In response to my repeatedly pointing out that she was not an expert on Islam, the girl replied: "I'll point people over to you if they have any questions."
Theoretically, that would be great — except that I didn't attend the party to lead a class on veiling in the Middle East.
Nor did she show up to the party knowing that I would be there to handle people's inquiries. The crowd was growing more inebriated by the hour; the space was not conducive to teaching people about the nuances of Muslim gender expressions.
While I know that this girl probably didn't intentionally wear a makeshift burqa to hurt anyone, her actions are a part of a much larger problem.
As I mentioned before, my grandmother wears the niqab. I love my grandmother dearly, but I cannot see her: She lives in the besieged city of Homs, Syria.
In recent months, the American people have overwhelmingly failed to feel compassion for the Syrian people. When Syria entered the national dialogue in late August following the sarin gas attack, I saw just how much sympathy American people lack for the Syrian plight. And the numbers are telling: UNICEF raised $70 million for Haiti after the 2010 earthquake in five weeks, but only a paltry $4 million for Syria in more than 130 days.
During that time, I emailed my communications professor to ask him for advice: Could he and I dissect what is going on with the communications failure on the part of the Free Syria activists and revolutionaries?
So we met, and we talked. And I'll never forget what my professor told me: Americans will feel sympathy with people that look like them. Those who seek donations for Syria should make sure any images coming out of the country don't have people wearing funny clothing.
Now come back, full-circle, to the girl wearing the "burqa" at the costume party. She is self-admittedly not able to educate people on Muslim veiling traditions, and is perpetuating the idea of the "Othered" Middle Eastern Muslim, and I, as a Muslim woman, was rightly insulted.
My friends had been socializing a distance off, watching my confrontation with the girl. One friend came over and told me to let it go so that we could have fun.
"What she is doing is not OK, but you're not going to convince her of anything," my friend said.
I reluctantly went with my friends. As I chatted with them, I watched the feathers of a Native American-style headdress bobbing through the crowd.
People shirk certain symbols only when they realize the meaning behind them and anticipate public rapprochement. But what we say or wear, especially in public, is political. When we don't confront those who misuse cultural symbols, our voice and our silence add a vote to what we deem as acceptable and unacceptable in society. I don't regret confronting the girl about her insensitive costume. And should you find yourself in a similar situation this Halloween, you shouldn't, either.
Galyon is a biology graduate from Sugar Land.
http://www.dailytexanonline.com/opinion/2013/10/30/offensive-burqa-halloween-costume-shows-larger-ignorance-of-islamic-culture
----------
Women's human rights theme of International Education Week
1 November 2013
UB's annual celebration of International Education Week will focus its attention this year on women's human rights, with arguably the world's foremost expert on the subject serving as keynote speaker for the event being held Nov. 11-15.
Liesl Gerntholtz, executive director, Women's Rights Division, Human Rights Watch, and keynote speaker, IEW 2013
Liesl Gerntholtz
Addressing the theme of "Women's Human Rights in Focus" will be Liesl Gerntholtz, executive director, Women's Rights Division, Human Rights Watch. Gerntholtz, whose work at Human Rights Watch has included documenting access to safe and legal abortion in Ireland, and sexual and gender-based violence in Haiti in the aftermath of the earthquake, will discuss "Women's Human Rights: The Unfinished Revolution" in her keynote address at 4 p.m. Nov. 14 in Lippes Concert Hall in Slee Hall, North Campus.
Her talk will focus on the work of the Women's Rights Division documenting abuses against women all over the world, specifically violence against women, women in conflict, maternal health and reproductive rights, economic rights and early marriage. She will relate the work of the division to the broader women's rights movement—the long hauls, the heated advocacy battles won and lost, and the ground left to gain.
Another highlight of International Education Week will be the screening of the film "Salma" at 7 p.m. Nov. 12 in the Student Union Theater, North Campus.
The film tells the story of a young Muslim girl in India who was forced into seclusion once she reached puberty, forbidden by her family to study and pushed into marriage. Words became her salvation as she began covertly composing poems on scraps of paper that were smuggled out of the house and into the hands of a publisher. Against all odds, Salma became a famous poet—the first step to discovering her own freedom and challenging the traditions and code of conduct in her village.
Canisius College faculty member Christopher Lee, a specialist in the anthropology of religion and religion in South Asia, Islam and Hinduism, will provide commentary on the film.
In explaining the choice of women's human rights as the theme of this year's International Education Week celebration, Ellen Dussourd, assistant vice provost and director of the Office of International Student and Scholars Services, which organizes the event, notes that one of its objectives "is to provide cultural context for and insightful analysis of international news events that Americans see on television and read about in the newspaper every day."
"In the past year or so, we have seen coverage of the prevalence of sexual assault in the U.S. military, the gang rape of the Indian medical student and resulting protests, the attempted assassination of Malala Yousafzai in Pakistan and other acts of violence against women. Accordingly, we felt that the theme of women's human rights would be timely," she says.
"IEW 2013 will explore the full range of women's human rights issues, focusing on current challenges, efforts to address these challenges and achievements that have been made. We also hope to highlight social entrepreneurs who have made notable contributions to improving women's human rights."
In addition to the keynote address and film screening, other International Education Week events will showcase UB's international student population, as well as feature the international efforts of UB faculty and students. These include two workshops designed to help the community understand the perspectives and traditions that international students bring to UB, the annual "Without Borders" lecture series and the "World View: Study Abroad Photo Contest and Exhibition," a display of photos taken by UB students in the university's numerous study abroad programs.
No International Education Week would be complete without the traditional dance and musical performances by UB international student clubs and community organizations, among them the impressive Lion Dance, Middle Eastern dances and the popular Kendo and Combined Martial Arts demonstrations and International Fashion Show.
All events are free and open to the public.
An annual UB tradition since 2001, International Education Week offers an opportunity to showcase the rich cultural diversity of the campus community, provide insightful analysis of issues of critical importance worldwide and highlight the university's international programs and outreach, Dussourd points out.
The celebration is particularly relevant at UB. With more than 5,000 international students—the largest number in UB's history—representing 115 countries, the university ranks in the top 20 of 2,700 accredited U.S. universities in international enrollment, according to the Institute of International Education. The university has exchange agreements with more than 80 institutions in more than 30 countries.
http://www.buffalo.edu/ubreporter/campus/campus-host-page.host.html/content/shared/university/news/ub-reporter-articles/stories/2013/iew.detail.html
----------
Muslims of Crimea, Ukraine Organize Courses on the Basics of Islam for Women
1 November 2013
Spiritual Administration of Crimea Muslims will organize courses on the basics of Islam for girls, the press service of the clergy reports.
"Women have fewer opportunities to obtain reliable religious knowledge, so the Spiritual Administration of Crimea Muslims with the assistance of public organization "Kardashlyk" decided to organize courses on the basics of Islam for all girl comers", the press service reports.
Spiritual Administration of Crimea Muslims calls all Muslim women who want to gain reliable and holistic knowledge about the basics of Islam, to attend these courses and disseminate information about them.
http://abna.ir/data.asp?lang=3&Id=477175
----------
Child marriage could trigger surge in Africa's under-15s pregnancy rate – UN
Nov 1, 2013
The number of girls giving birth before the age of 15 in sub-Saharan Africa will increase by more than 1 million by 2030 unless urgent action is taken to end child marriage, get more girls into school and ensure their rights are protected, according to the UN's flagship population report.
If current trends continue, the number of girls under 15 having babies in this region is projected to increase from 1.8 in 2010 to 3 million over the next 17 years. This would take the estimated total number of under-18s giving birth in sub-Saharan Africa to more than 16 million by 2030, up from 10.1 million in 2010.
The report, Motherhood in childhood: facing the challenge of adolescent pregnancy, published on Wednesday by the UN population fund (UNFPA), said major changes were needed in addressing teenage pregnancies.
Instead of blaming girls and trying to change their behaviour, the underlying reasons for pregnancy in the young needed to be tackled. This included keeping more girls in school until they are 18, providing quality sex education and access to health services, educating boys and men about girls' rights, and enforcing laws against child marriage.
Despite international commitments to end the practice, one in three girls in developing countries is married before the age of 18, and 50 million girls are at risk of being married before 15 between now and 2020, the report said.
"Too often, society blames only the girl for getting pregnant," said UNFPA's executive director, Babatunde Osotimehin. "In many communities and cultures, the status of women is such that everything that happens to them is considered their fault. But changing behaviour has been wrongly seen as the sole solution. [Pregnancy] is less to do with girls' personal behaviour and more to do with the behaviour of families, communities and governments around the world. Adolescent pregnancy is not only the result of recklessness, but an absence of choices."
Girls were often denied the right to decide when, and if, they had children because in many countries and communities they are still regarded as unequal to boys, he said. Girls who have babies when they are young have had their "rights violated and their future has been forever derailed". Boys must "be socialised to see girls as equal", he added.
Osotimehin said girls were particularly at risk of death and disability from early pregnancy. The report said early pregnancy increased the risk of maternal deaths and obstetric fistulae. About 70,000 adolescents in poorer countries die annually in childbirth or through pregnancy-related complications.
The report found that the vast majority of adolescent births occurred in developing countries, predominantly among girls from low-income households in rural areas, with little or no education. Nine out of 10 pregnant teenagers in poor countries are married or have a partner.
According to figures obtained by UNFPA through surveys in 54 countries, in 2010 36.4 million women aged between 20 and 24 and living in poorer countries reported having given birth before they were 18.
About 17.4 million were in south Asia, the region with the highest number of under-18 births. Latin America and the Caribbean had the lowest rates of pregnancy.
The survey figures also revealed that 3% of young women said they had given birth before they were 15. The report said that one girl in 10 had a child before the age of 15 in Bangladesh, Chad, Guinea, Mali, Mozambique and Niger, countries where early marriage is common. West and central Africa accounted for the largest percentage of reported under-15 births. Niger, which has the world's highest adolescent birth rate, also has the highest rate of child marriage.
"Many countries have laws against child marriage, but they don't enforce them," said Osotimehin. "Impunity is what reigns around the world. We must protect adolescent girls. Justice should prevail."
The report acknowledged the difficulties of obtaining information about girls aged between 10 and 14, but pointed out that not having this data rendered these girls and the challenges they faced invisible to policymakers.
http://www.theguardian.com/global-development/2013/oct/30/child-marriage-africa-teenage-pregnancy-un
----------
URL: https://www.newageislam.com/islam,-women-and-feminism/new-age-islam-news-bureau/spinsterhood--a-social-dilemma-haunting-women-in-saudi-arabia/d/14248