New Age Islam News Bureau
13 Apr 2015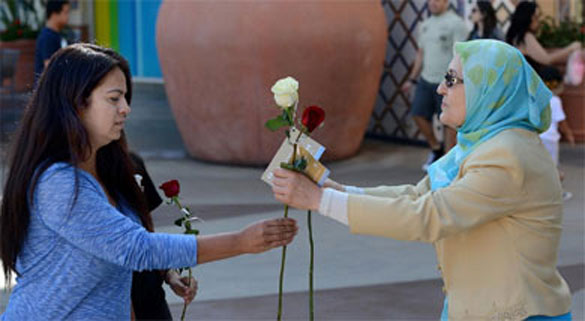 Fatemeh Nassirian, right, president of the Muslim Women Network of Southern California, hands out a free rose at the Irvine Spectrum on Saturday
-----------
• Getting Afghan Girls off Weaving Looms and Into Schools
• First Somali Woman to Contest for Regional Presidency
• Iran Wins Seat at UN Women's Agency
• Indonesia: New Group Fights For Women's Rights
• The White Widow Is Alive and Recruiting Female Jihadi Suicide Bombers in Yemen
• Women Have 'Very Important Role' In Libyan Peace Process, Says UN Envoy
• Islamic Revolution Enabled Women Socially: Rouhani
• Report: Afghan Government Is Abandoning Women's Rights Defenders
Compiled by New Age Islam News Bureau
URL: https://www.newageislam.com/islam,-women-and-feminism/new-age-islam-news-bureau/southern-california-muslim-women-hand-out-roses-to-promote-peace,-unity/d/102439
-----------
Southern California Muslim women hand out roses to promote peace, unity
13 April, 2015
The Muslim Women Network of Southern California handed out free roses over the weekend to promote peace, unity, diversity and freedom.
The group planned to hand out 1,500 roses at the Irvine Spectrum, Downtown Disney and the Beverly Center in Los Angeles. Besides distributing roses, the Muslim women planned to spread messages of Islam, including from the prophet Muhammad: "Feed the hungry and visit the sick, and free the captive if he is unjustly confined. Assist any person oppressed, whether Muslim or non-Muslim. "
"There are too many misconceptions about Islam. Unfortunately usually the media doesn't display the life of real Muslims. They mostly talk about the people that hijacked name of Islam, and everything they do is against true teachings of Islam. Those terrorists not only kill non-Muslims but their main targets are real Muslims," said Shalizeh Aftabi, an organizer of the event. "For example a while ago in Iraq in just one day ISIS killed almost 1,700 young Shi'a Muslims."
http://www.ocregister.com/articles/muslim-657709-roses-islam.html
-----------
Getting Afghan Girls Off Weaving Looms and Into Schools
12 April, 2015
The young girl reached for the pencil and then paused with the blank piece of ruled paper in front of her. Her teacher looked on, not knowing what to expect, as this was their first class together, and her literacy level had yet to be tested. The student gripped the pencil tightly in her hands and said, ''I always dreamed of drawing or writing on paper and playing with a pencil between my weaving fingers. And now I can."
Sitting on the floor of her home in a village in central Afghanistan, Basma is far from the millions of American children who started a new school year this September. At 13 years old Basma is having her first day of school -- ever.
Only weeks before, Basma had been found working on a carpet loom by one of our organization's inspectors. Her "weaving fingers," as she described them, already showed signs of arthritis from holding tools since the age of 9, tying knots for 14 hours a day.
According to the International Labour Organization, there are 168 million child laborers like Basma, forced to sacrifice their youth and their education. In Afghanistan, UNICEF estimates that as many as one in three school-age children are put to work, many of them weaving rugs for Western retailers.
GoodWeave was able to find Basma because the rug on her loom was destined for a U.S. company that had joined our certification program. The company tasked GoodWeave with ensuring that no child was exploited anywhere in their supply chain. In exchange, their rugs bear the GoodWeave label, a signal to consumers of the products' ethical origins.
If a child is found, GoodWeave arranges educational opportunities. But for Basma and girls across Afghanistan -- where the female literacy rate is a dismal 12 percent, according to the UN, and where the Taliban still intimidate schoolgirls -- the stakes of holding a pencil are high.
Basma's father adamantly refused to let his daughter get an education. After GoodWeave facilitated discussions with the family and a representative from the overseas importer, he agreed to homeschooling with a female teacher.
This story is not only relevant to the many families who have recently sent their children back to school. It resonates around the world following the announcement last week that the 2014 Nobel Peace Prize will be shared by GoodWeave founder Kailash Satyarthi and Malala Yousafzai "for their struggle against the suppression of children and young people and for the right of all children to education."
When Kailash founded GoodWeave, it was with the idea that harnessing the power of the marketplace could disrupt the economic incentives driving child exploitation. (Watch Kailash tell GoodWeave's founding story.) Child labor isn't so cheap if it costs you your brand reputation. I'm not sure any of us could have imagined just how far this idea could go -- reaching a home in an Afghan village and compelling a father to educate his daughter.
At first it was a feat for Basma to even hold a pencil, but her teacher now reports that she is filling those pages of ruled paper with letters and numbers.
GoodWeave aims to end child labor in the carpet industry by certifying child-labor-free rugs, and by providing education and opportunities to rescued and at-risk children.
http://www.huffingtonpost.com/skoll-foundation/getting-afghan-girls-off_b_6291850.html?ir=India
-----------
First Somali Woman to Contest for regional Presidency
13 April, 2015
Dahabo Abdi alias Dahabo Udd has today announced she will contest Presidency for Central regions state making her the first ever Somali women to contest that position.
Dahabo Udd, former civil servant said she was motivated the need to change the lives of her people in Central regions whom she said are lacking leadership.
Dahabo has promised to bring prosperity in Central regions should the people elect her, adding she will be committed to serve her people even if to 'sacrifice her life'.
Somalia Women groups have lauded Dahabo's decision to vie for presidency and terming her move as 'courageous', calling voters to vote her.
Some traditional leaders from central regions welcome her decision and promised to support her.
Dahabo's decision seen as glitter of hope for many Somali women who have been sidelined in politics by chauvinistic male society.
Somalia current constitution grants women 30% in political leadership.
http://www.somalicurrent.com/2015/04/12/first-somali-woman-to-contest-for-regional-presidency/#sthash.ZOgPQuIw.dpuf
-----------
Iran Wins Seat at UN Women's Agency
13 April, 2015
Iran's deplorable record on women's rights did not stop the Islamic Republic from winning a seat on UN Women, a United Nations body that was formed in 2010 to promote women's empowerment and gender equality.
"In Iran, women are legally barred from holding some government positions, there are no laws against domestic violence, and adultery is punishable by stoning, making it wholly inappropriate that Iran assume a leadership role on women's rights and welfare at the U.N," said U.S. Ambassador to the United Nations, Samantha Power, in criticizing the decision to make Iran a member of the women's rights body.
Power added that she was "extremely disappointed" in the UN group's decision. Iran's three-year term as a UN Women Governing Board member begins January 1, 2016.
"UN Women is the UN organization dedicated to gender equality and the empowerment of women. A global champion for women and girls, UN Women was established to accelerate progress on meeting their needs worldwide," reads a statement on the UN Women website.
A UN body found last month that repression of women in Iran has gotten worse under "moderate" president Hassan Rouhani.
With the 1979 Islamic revolution in Iran came repressive women's rights policies in accordance with Sharia law.
In modern day Iran, women who have exposed any part of their body besides their hands and face can be punished and beaten for "Bad hijab."
While a man can marry multiple women and divorce their wives whenever he so chooses, women do not have such rights. In many cases, girls are married off at age 13, Human Rights Watch (HRW) reports. In one such example, Iranian President Hassan Rouhani married his cousin when he was 20 and she was 14, according to reports.
Women are also forbidden from leaving Iran or obtaining a passport without the expressed consent of a male guardian, a 2014 HRW report stated.
Several other states that uphold discriminatory policies against women are members of UN Women, including Burkina Faso, Egypt, Pakistan, Sudan, Tajikistan, and others.
http://www.breitbart.com/national-security/2015/04/12/iran-wins-seat-on-un-womens-agency/
-----------
Indonesia: New group fights for women's rights
13 April, 2015
A new group has been established to campaign for women's rights in Indonesia. In December, more than 100 women met in Jakarta to launch Indonesian Women's Action – Kartini (API-K), which has begun campaigning for women's rights in the workplace, home and society.
Participants came from 32 cities across Indonesia. They included women who are involved in existing women's networks, students, workers and urban poor. They spent three days discussing issues facing women in economics, politics and culture.
Compared to countries such as India, there is not a large and active women's movement in Indonesia. The left-wing People's Democratic Party (PRD) initiated the conference to build a broad organisation that can connect the struggle for women's rights to the broader struggle against neoliberalism.
The PRD sees the fight for women's rights as part of the ongoing struggle for democracy and national liberation.
One of the most discussed issues at the conference was violence against women. According to the National Commission for Women, during the years 1998-2011 there were 93,960 cases of sexual violence against women.
Other issues discussed were the high maternal mortality rate, the low representation of women in parliament and the fact that 5 million Indonesian women are illiterate.
Women workers face sexual harassment and discrimination. Many women who work in garment factories are forced to work overtime without pay and are also expected to carry out most domestic work. The conference agreed on a campaign to lift women's wages and encourage the government to build cooperatives.
Delegates agreed on a number of demands around reproductive rights, such as the right to childcare, menstruation leave and maternity leave.
The conference also condemned the practice of forcing women who apply for some government jobs to undergo a virginity test. In February, the town of Jember in East Java dropped its plans to conduct virginity tests before women could graduate high school after an outcry from students and their families.
Human rights activists have called the practice an "unscientific, cruel, degrading and discriminatory treatment that a woman should never experience."
Conference organiser Vivin Sri Wahyuni told Green Left Weekly many conference attendees were inspired by Indonesian women who had fought for their rights in the past.
This was reflected in the decision to name the new organisation after Raden Ajeng Kartini, a national hero who fought against gender inequality and colonialism at the turn of the 20th century.
Left-wing feminism was strong in Indonesia before the savage repression that crushed the left carried out by the Suharto dictatorship in 1965-66. After Indonesia declared independence in the 1945, political space opened up for women to organise and fight for equal rights.
A women's group affiliated with the Communist Party of Indonesia, Gerwani, gained more than 1 million members. But many of these women were murdered or jailed under Suharto.
Vivin said: "Gerwani was stopped by Suharto. We want to show the spirit of Gerwani is alive at this conference."
A key aim of the API-K is to bring about change through mass action. The group is being built through grassroots action committees in each city working in their communities.
To coincide with International Womens' Day on March 8, API-K activists held rallies around the country. In Jakarta, a rally was held outside the office of Ministry of Women Empowerment and Child Protection.
API-K chairperson Minaria Christyn Natalia said many Indonesian women still experience discrimination and sexual violence, Berdikarionline.com reported. She said the government's economic policies impoverished most Indonesian women, noting: "Poverty in Indonesia is currently taking [a] female face, because most of the poor and vulnerable to poverty are women.
"Neoliberalism also threw a number of tasks that should be borne by the state onto women. The effect of privatisation is the removal of the duties of the state in matters of education, health, and others, into tasks borne by housewives."
The protesters urged the Ministry of Women to design programs for women's economic empowerment, particularly through the development of cooperatives.
[Mel Barnes is a member of the Australian Socialist Alliance who attended the API-K's founding conference in December.]
https://www.greenleft.org.au/node/58749
-----------
The White Widow is Alive and recruiting female Jihadi suicide bombers in Yemen
13 April, 2015
Briton Samantha Lewthwaite, whose first husband Germaine Lindsay was one the four 7/7 suicide bombers in London, hid on a dhow to escape from Somalia to Aden as intelligence agencies closed in on her following a string of terrorist attacks.
The revelation puts final pay to claims that she was shot by a Russian sniper in the Ukraine last year.
Though Lewthwaite remains one of Britain's most wanted terrorists, and is still being sought by British and US intelligence services, Interpol and Kenya, efforts to track and strike her secret base are being hampered by the civil war raging through Yemen.
Far from being a "terror mastermind", however, the 30-year-old now works as a low-level recruiter with Al Qaeda in the Arabian Peninsula (AQAP), targeting young Yemeni women to 'martyr' themselves as suicide bombers in Nairobi and Mombasa.
Sources say she has gained 30 lbs in weight and has "suffered from poor health" in the past year, but her social knowledge of the UK and her English language makes her a highly valuable asset to both Al Shabaab and AQAB.
She operates with a small Internet team who use the so-called 'dark net' to promote the vision of Islam to young girls in a bid to spearhead a new wave of suicide bombers who can deliver carnage to the streets of Kenya.
The threat, provoked by anger at Kenya's decision to send troops to Somalia to contain the Al Shabaab threat there, has left Nairobi and Mombasa in constant fear of another "Westgate-style" attack.
Last week a young girl was detained at Mombasa's Memorial Cathedral after worshippers saw her sending texts during a service and feared she was a bomber – police later released her.
Lewthwaite is said to be living with her new husband, Fahmi Jamal Salim, and their four children – two of them by Salim.
She had pledged to raise all her children as Jihadis.
Salim, connected to al Qaeda, is also being sought in connection with the shooting of two Kenyan policemen in Nairobi in 2011.
Confirming the "sinister link" link between the two extremist groups, intelligence sources revealed that one of two Al Shabaab targets hit in a US-led drone strike in June 2014, had 'direct links' to Anwar al Awlaki – the Yemeni-based radical cleric who is a key AQAP figure and whose primary focus is on attacking western communities.
Yemen is on track to become a failed state, as civil war threatens to tear the nation apart. In February, the British Embassy evacuated its staff, with a small force of US Special Forces leaving days later.
In the meantime, it has become a haven for a host of high value targets sought by American intelligence forces over the last four months.
Lewthwaite was reported to have been killed in the Ukraine last October. However, sources now believe she was inspired by
British militant Imran Khawaja to orchestrate false reports about her own death to end the manhunt to capture her.
Khawaja, 27, from Southall, West London, faked his own death in Syria in a bid to give himself a 'clean skin' and return to Britain undetected.
The rouse failed because he was being monitored by intelligence operatives, and he was arrested and later jailed.
Speaking last, night a senior intelligence source told the Sunday Express: "We now know that she escaped from Somalia on a dhow, and arrived in Aden before travelling into Yemen.
"She is very adept, by now, at covering her tracks and the current situation in Yemen certainly presents operational challenges for all intelligence agencies.
"The link between Al Shabaab and Al Qaeda in the Arabian Peninsula is very concerning. We are aware of it and are monitoring this situation closely."
http://www.express.co.uk/news/uk/569861/White-Widow-Samantha-Lewthwaite-alive-recruiting-female-suicide-bombers
-----------
Women have 'very important role' in Libyan peace process, says UN envoy
13 April, 2015
Libyan women have a crucial role to play in resolving the crisis in their country, a senior United Nations official said in an address to 250 Libyan women gathered in Tripoli, at a dialogue aimed at including women from all walks of life in the political process.
"We count on Libya women, who were active during the 17 February revolution, to continue to advocate for peaceful solution … We count on you to spread the culture of peace in your communities and to talk and engage with all who have a role to play in brining stability to Libya," said Special Representative of the Secretary-General for Libya, Bernardino León, via Skype on Saturday.
Mr. León briefed the audience about the progress of the ongoing political dialogue and answered questions regarding the ceasefire, timeframe for agreement and addressed concerns about spoilers seeking to derail the process.
He also stressed that efforts to bring peace to Libya must continue regardless of the obstacles, adding that quick solutions were necessary due to the humanitarian and economic difficulties the country is facing and the increasing terrorist attacks by Daesh also known as the Islamic State of Iraq and the Levant (ISIL).
Libyans, particularly women, have paid and continue to pay a high price in the North African country's armed conflict, said Mr. León, adding that the role of women in pushing for the dialogue process is crucial, as it is also crucial in ensuring the implementation of any political agreement resulting from these talks. Women must get involved in talks at the municipality and tribal level.
"Women have a very important role in following up on the political process and in participating in the new unity government," the Special Representative said, adding that Secretary-General Ban Ki-moon has stressed the importance of women's participation in the transitional process.
The dialogue was facilitated by the UN Support Mission in Libya (UNSMIL) in collaboration with various Libyan women groups. Mr. Leon acknowledged the role of the two women participants in the political dialogue, Ms. Nehad Meiteeg and Ms. Naima Jebril, for their efforts to reconcile the differences among the other participants.
More specifically, he commended their communication with and briefings to civil society and women's groups at gatherings in Tunisia and Jordan in recent weeks in support of the dialogue were of tremendous importance.
http://www.un.org/apps/news/story.asp?NewsID=50529#.VStfGdyUffI
-----------
Islamic Revolution enabled women socially: Rouhani
13 April, 2015
TEHRAN (MNA) – President Rouhani asserted that Islamic Revolution of Iran has brought women to the social front and praised Ayat. Khomeini as the pioneer.
Speaking in a conference commemorating Imam Khomeini's late wife, Khadijeh Saghafi, on Sunday morning, President Rouhani said wives are among the most influential figures of social leaders.
Noting the difficulties of a leader's life, president appreciated the patience and courage of Lady Khadijeh Saghafi during her life and her resistance accompanying Imam Khomeini.
Commending Imam Khomeini's revolutionary approach, which restored and returned honor and glory to Iran, President Rouhani stressed his transcendental viewpoint towards women and added: "There is no doubt this perspective was influenced by behavior and characteristics of Lady Saghafi."
Highlighting the active presence of women in Iranian society, Hassan Rouhani stated: "Islam does not accept concepts like first or second gender, men and women are equal."
"Imam Khomeini paved the way for Iranian women to participate actively in the society and we are proud of Iranian women who are present at all social fields and levels," added he.
Rouhani, further, emphasized that feminism and masculinism are meaningless in Islamic principles, saying "Islam's focus is on meritocracy."
President noted that within the frame of norms and principles, Iranian women have to be involved in all social activities and stressed their role in helping the government to implement the resistance economy policies.
The event was attended by several Iranian high ranking officials to celebrate the Late Khadijeh Saghafi's 60-year struggle against tyranny beside Imam Khomeini.
http://en.mehrnews.com/detail/News/106597
-----------
Report: Afghan Government Is Abandoning Women's Rights Defenders
12 April, 2015
Afghanistan's government and the international community are abandoning women's rights defenders in the country, Amnesty International warned in a scathing report published this week.
"Poorly implemented" protection laws and shrinking funding for aid leaves women highly vulnerable to attacks, including rape and assassination. In the video above, HuffPost Live speaks with Steve Crawshaw, director at Amnesty International's Office of the Secretary General, to discuss the "disturbing" report and the safety of women in Afghanistan.
http://www.huffingtonpost.com/2015/04/10/afghanistan-womens-rights_n_7040686.html?ir=India
-----------
URL: https://www.newageislam.com/islam,-women-and-feminism/new-age-islam-news-bureau/southern-california-muslim-women-hand-out-roses-to-promote-peace,-unity/d/102439