New Age Islam News Bureau
1 Sept 2017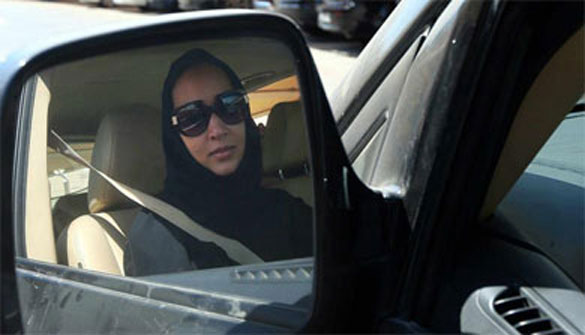 Saudi activist Manal Al-Sharif who drove in Saudi Arabia sees herself as a 'history maker'[Getty] Date of publication: 30 August, 2017
-----
• No Role In Converting Women To Islam: President, National Women's Front
• Arab Women Are Driving Their Own Change - They Deserve Respect, Not Pity
• Activists Call For Strengthening Women's Role in Pakistan Parliament
• Thousands Express Unity with One-Eyed Yemeni Girl Injured In Saudi Raid
• Pioneer Malaysian Woman Cop Bears Witness to Birth of Nation
• Saudi Arabia Edges More Women into Work
Compiled by New Age Islam News Bureau
URL: https://www.newageislam.com/islam-women-feminism/south-africa-tate-fails-protect/d/112411
--------
South Africa: 'State Fails to Protect Women in Muslim Marriages'
31 AUGUST 2017
By Thembela Ntongana
Court told of "unmet constitutional obligation"
There is a need for "coherent clear legislation" to provide for the protection of women in Muslim marriages, the Women's Legal Centre told the Western Cape High Court on Wednesday.
Advocate Nazreen Bawa, for the Centre, said there was an "unmet constitutional obligation".
The Centre is asking the court for married Muslim women and their children to be provided with legal protection, especially when the couple divorces or the husband dies.
The Centre argues this is necessary because of the state's "continued failure to take meaningful steps to remedy and prevent the further and continuing infringement" of rights in the context of Muslim marriages.
A "failure to comply with constitutional obligations" had led to infringements of the Bill of Rights, Bawa said. The State had failed to protect the rights of women in Muslim marriages, as well as children born of such marriages, "by not diligently and without delay enacting legislation recognising and regulating the consequences of Muslim marriages."
This had created a gap in legislation that resulted in "fundamentally injurious consequences for a most vulnerable sector of our community".
There were many ways in which the state could take steps to protect and fulfil the Bill of Rights. These measures would need to be "reasonable and able to withstand constitutional scrutiny".
Bawa said that the state had a duty to put in place reasonable and effective regulatory and/or policy measures recognising the consequences of Muslim marriages. To do this the state must "prepare, initiate, enact and bring into operation an Act of Parliament providing for the recognition of all Muslim marriages as valid marriages for all purposes in South Africa and regulating the consequences of such recognition".
This would also include providing for the dissolution of such marriages, custody and maintenance of children born of such marriages on divorce.
Judge Siraj Desai asked whether it was necessary to regulate. Bawa responded that if there was no regulation then there would be no effective relief.
The case is set to continue for the next two weeks and again for four days from 11 December 2017.
http://allafrica.com/stories/201708310489.html
--------
No Role In Converting Women To Islam: President, National Women's Front
AUGUST 31, 2017
'In Kerala society, it is not possible to forcibly convert anybody'
A.S. Sainaba, president, National Women's Front (NWF), has refuted media reports accusing her of playing a major role in converting women into Islam and providing them a hideout.
At a press conference here on Thursday, she denied any involvement in either of the two issues. "I am the national president of the NWF and a member of the All-India Muslim Personal Law Board. My hands are already full with the responsibilities in that capacity. I am not involved in any other issue," Ms. Sainaba said.
She claimed that in a society like Kerala, it was not possible to forcibly convert any one into any religion or ideology. Also, there was no need to provide a hideout for those converting to Islam.
Ms. Sainaba said that she had lodged a complaint at the Kottakkal police station and with the Superintendent of Police, Malappuram, against those who had been making disparaging statements against her in the social media citing the media reports.
Asked about her role in the Hadia case, which is now in the Supreme Court, Ms. Sainaba said that Ms. Hadia had converted to Islam in 2013 itself and her marriage had taken place only in 2016.
"Her marriage took place at my place because the High Court of Kerala had asked me to be her local guardian. The court has clarified that her marriage is not an issue under their consideration," she said.
Ms. Sainaba denied the allegation that she had gone into hiding fearing questioning by the National Investigation Agency which is probing into the Love Jihad case. She claimed that the agency had just taken over the case and the allegation was meant to mislead them.
http://www.thehindu.com/news/national/kerala/no-role-in-converting-women-to-islam-sainaba/article19595477.ece
--------
Arab Women Are Driving Their Own Change - They Deserve Respect, Not Pity
30 August, 2017
When I was shoulder-deep in research for my book on Arab women, I was immersed in the stories of strong, resilient women. They were seeking not the freedom to emulate a western woman, but the freedoms motivated by inherent desires.
And these women are spearheading a significant and historic change in conservative societies that trumpet the protection of women in defence of outdated laws.
In the last month, we've seen monumental changes to the penal codes in Jordan and Lebanon around laws that affect women who are victims of crime, following years of activism.
As many women in the Arab world pointed out to me as I conducted my research, Arab society is drenched in honour codes and imbalances between the sexes. And when a crime is committed against a woman, it is the family's honour that the law seeks to preserve. Moreover, this fuels the attitude that women require protection, rather than that they have the ability to manage their own lives.
In Jordan, where activists have long sought to make changes to the entire penal code, a law that gave rapists a punishment loophole was revoked. More specifically, article 308 allowed rapists a free pass out of jail if they married their victims.
In Lebanon, a similar law that is decades old was also ditched. Once again, it was the work of tireless advocates for women's rights that saw the law eventually abolished. In one campaign, women used the symbolism of a wedding dress, but instead of pristine white gowns, they displayed torn, bloodied dresses on billboards with the caption "A white dress does not cover rape".
In another development, the Jordanian government has allocated $1.4 million to open a shelter for women in danger of crimes around "honour". As reported by journalist Rana Husseini, who has spent the better part of her career documenting so-called "honour killings" in Jordan, many women face indefinite imprisonment in Jordan when their lives are threatened by family. It's not the offender who is punished; women are placed in "protective custody", some languishing for a decade without charge.
This may seem a minor step; after all, can change come fast enough? But it's a major development considering the long road activists have faced in shifting society's beliefs around honour and shame.
When Husseini first began reporting on so-called honour crimes, she was a lone voice. Her voice has been instrumental in garnering support from wider society, government and even the royal family, in order to criminalise these murders. Thanks, in part to her efforts such as hers, sentences have since increased.
Many of these women are up against deeply ingrained ideas about male superiority, and the belief that men cannot control themselves. Yet men are never instructed to change; only women, who are told to dress conservatively, to be modest and shy. Unfortunately, the focus is not on teaching boys how to be decent men; rather on being a modest, virginal woman - free of shame.
Women will openly share their frustrations about this mentality. Yet this honesty is so often lost in the symbolism of the Arab woman who needs saving.
Consider Manal Al-Sharif, a Saudi woman who sat behind the steering wheel of a car and drove on the streets of Khobar to protest the prohibition on women driving. The custom of women being chaperoned by men fell under the heavy blanket of guardianship, which sees women treated as minors. Al-Sharif has herself gone so far as to say women in the Kingdom are treated like "slaves".
The act was heralded as one of defiance, but in Al-Sharif's words, it was one of "disobedience". She took an event and turned it into a campaign, Women2Drive, where the "mundane" act of driving was used to raise awareness about the discrimination Saudi women face on a daily basis. It became a symbol of disobedience, powerful in its simplicity.
Immediately lauded by the West, Al-Sharif became the face of a cause and her message was shaped into one of the oppressed woman fighting unjust customs in a patriarchal Arab society. In tone, it smacked of the poor Arab woman wanting to be western, because what could be more western than driving?
But what is stronger than a woman disobeying customs and risking her liberty in the process?
Make no mistake, what Al-Sharif did was significant, and it got her into trouble. But she has told media that she wasn't being a "troublemaker"; she was a "history maker".
And what is partly so significant about Al-Sharif's act of rebellion is that she is unapologetic, refusing to surrender the issue of women's rights in her country to other concerned parties. While she is deeply engaged with the world's interest in Saudi Arabia, she remains in control of her own messaging.
Al-Sharif has very openly criticised her country's misogynistic laws and customs, ones that repress women, not men. But as she details in her book, Daring to Drive, while travel opened her eyes to possibilities beyond those she knew of in Saudi Arabia, what she was seeking that day was to gain a basic right: to be the driver in her own life.
It took a great deal of courage to challenge a custom (it's not a law, but the licence required is not issued to women) that enlivened the power imbalance between genders in Saudi Arabia. But tired of being reliant or under the thumb of men, Al-Sharif and many others with her were on a path to self-determination.
It is true that women in Saudi Arabia suffer from a lack of choice in many ways. But women are protesting for their rights. These women are not ignorant or to be pitied; they are their most effective campaigners.
Take, for example, this video, which mocks guardianship laws. And last year, Saudi women petitioned for the abolition of the guardianship system. Many women wear wrist bands with the words of a popular hashtag emblazoned on it in Arabic and English: "I am my own guardian".
Saudi-Australian artist and activist Ms Saffaa has developed an entire body of work around the hashtag.
A new generation of women are finding that their voices can have great reach and they are using them. The result is a discernible shift in Saudi Arabia as it slowly introduces change to a society long bound by rigid ideas about gender interaction and the role of women.
Women now have the right to vote and will be taking up more jobs and study without a male's permission. Female competitors at the Rio Olympics are another example of Saudi society needing to bend to the realities of the modern world – there is a place for women at the table, and on the sporting field.
Mostly importantly, it is women themselves who are leading such necessary change by challenging the status quo. Their personal experiences inform their passion. It's their self-determination at stake. It's not simply that women are their best champions, they are their most essential.
https://www.alaraby.co.uk/english/comment/2017/8/30/arab-women-are-driving-their-own-change
--------
Activists Call For Strengthening Women's Role in Pakistan Parliament
01-Sep-17
ISLAMABAD: Women activists have called for acknowledging the value of women's participation in parliament; and undertaking initiatives for strengthening their role.
They were speaking at a Round Table Conference on 'Evolution of the Role of Women Parliamentarians in Pakistan' jointly organised by Centre of Pakistan and International Relations (COPAIR) -- an Islamabad based German think tank.
Women politicians, activists, entrepreneurs, and business leaders participated in the event.
The speakers noted that Pakistan had made great strides in terms of women representation in democratic institutions, but a lot more was needed to be done to meet the international standards on women's political empowerment.
The conference in its various segments touched upon issues related to women's political participation including their numbers in various democratic institutions; bringing more rural women into the political process; and improving the quality of their contributions.
Dr Farzana Bari, social activist and specialists in gender issues, recalled that women parliamentarians were actively participating in the legislative business and introduced unprecedented number of pro-women legislation.
She, however, regretted that there was a disconnect between higher representation of women in the parliaments and status of women in the country. Pakistan, she said, had slid down on Global Gender GAP Index (GGGI) from 127th position in 2008 to 143th in 2014. She said that women, despite performing well in the parliament, were not given decision-making positions.
Senator Sitara Ayaz, who belongs to Awami National Party, observed that many women parliamentarians need a better understanding of their role. She suggested that political parties should set criteria for choosing women on merit to fill the reserved seats. Senator Ayaz suggested that more women should contest on general seats. Women elected directly on general seats, she maintained, enjoyed greater influence in their parties than those on reserved seats.
Mushaal Hussain Malick, a Kashmiri politician and social activist, said politics was a sacred mission. She talked of the difficulties she had faced while raising voice against Indian oppression in Occupied Kashmir.
Malick said that women in politics faced cultural and structural barriers. These impediments, she advised, could be overcome through better political training for women.
http://dailytimes.com.pk/islamabad/01-Sep-17/activists-call-for-strengthening-womens-role-in-parliament
--------
Thousands express unity with one-eyed Yemeni girl injured in Saudi raid
Sep 1, 2017
Photo of a one-eyed Yemeni girl, the lone survivor of a recent brutal airstrike by Saudi Arabia, has gone viral, setting off a wave of solidarity on social media networks.
Users around the world started sharing photos of themselves with one eye closed in solidarity with Bouthaina al-Rimi, after footage showed the badly bruised and injured little girl trying to open one of her swollen eyes with her fingers.
The young girl, believed to be four or five, was orphaned after her parents and five siblings as well as her uncle were killed in a Saudi airstrike that destroyed their apartment building in the Yemeni capital Sana'a on Friday. Little Bouthaina suffered severe fractures in her face.
Overall, 14 people were killed and another 16 were injured in the attack, one of them as young as three years old, according to a report by the International Committee of the Red Cross (ICRC).
The picture has helped raise awareness about the brutal Saudi military aggression against the impoverished Yemen. The unprovoked war has so far killed over 12,000 Yemenis and put the country on the verge of a humanitarian crisis.
Bouthaina's image has also brought attention to the plight of some 500,000 Yemeni children suffering from acute malnutrition. The deadly war has also led to a cholera outbreak infecting more than half a million Yemenis.
The hashtags #Bouthaina_The_Eye_Of_Humanity and #I_SPEAK_FOR_BUTHINA had both been used more than 3,000 times since Wednesday, according to BBC.
"Such loss of civilian life is outrageous and runs counter to the basic tenets of the law of armed conflict," Carlos Morazzani, the deputy head of ICRC's delegation in Yemen, said in a statement.
Saudis took responsibility for the attack on Saturday, citing a "technical mistake."
http://www.presstv.ir/Detail/2017/09/01/533633/Yemen-Bouthaina-Saudi-Arabia-airstrike
--------
Pioneer Malaysian Woman Cop Bears Witness to Birth of Nation
August 31, 2017
TELUK INTAN: Sariah Ali has a place in this nation's history as she was among the first batch of 54 women who were recruited into the police force as constables.
Her entry, however, was accidental more than intentional.
It all started 61 years ago when Sariah was 22 years old and living in a village in Parit Kadzi in Muar, Johor.
Her friend from the same village had received a letter requesting her to attend an interview in Mantin, Negeri Sembilan, for the post of "mata-mata" (as policemen were known in those days) or constable.
Although she had not applied for the post, Sariah decided to tag along with her friend and try her luck at securing an interview for the same job.
She was in need of a job as life was hard then for her family. Also, she felt she could serve her beloved homeland better if she joined the police force.
"In the end, I was interviewed too. There were five of us, including my friend, at the interview session," she said.
Ironically, only Sariah passed the interview that particular day.
"I think I was selected because of my good health and eyesight and my ability to speak well," she related to Bernama, when met at her home in Taman Cecily here recently.
Sariah is 85 now but she still enjoys good health and does not need spectacles either.
A new chapter
Recalling the interview some six decades ago that changed the course of her life, Sariah, who was the youngest among the six children in her family, said her mother Kalsom Jusoh also travelled with her to Mantin by train.
"Later, when I informed my mother I had passed the interview, she was stunned. This was because I had no official letter and was merely following my friend. In the end I was the one who got the 'mata-mata' job," said Sariah, who only studied up to Standard Six at Sekolah Kebangsaan Parit Kadzi in Muar.
A week after attending the interview, she received an official letter offering her the post of a police constable.
Aug 1, 1956 ― this date will remain etched in Sariah's memory as that was the day she left her kampung for Kuala Lumpur to start her training stint at the police training centre at High Street, now known as Jalan Tun H S Lee.
Historical records show that efforts to recruit female police personnel had begun during the Emergency in 1948. In 1955, seven women were selected for the post of inspector, and a year later, 54 women, including Sariah, aged between 18 and 23, were recruited as constables.
Following the recruitment of the first batch of policewomen, many women, particularly those living in rural areas, started showing an interest in joining the police force.
Prior to recruiting women cops, the task of examining women detainees was carried out by the wives of policemen, as well as female members of the public.
The pioneer batch of policewomen were sent to training centres in Kuala Lumpur, Penang and Ipoh.
Lots of memories
The octogenarian still has good recall of her experiences during her six-month training stint.
Miss B D B Wentworth, said Sariah, was the name of the British police officer who helped to train the pioneer women constables at the Kuala Lumpur training centre.
She also said that the women constables' commissioning ceremony was officiated by Tunku Abdul Rahman in March 1957.
Sariah started her career at the traffic police branch in Kuala Lumpur and her monthly salary was RM99.90.
Controlling the traffic was relatively easy those days as there were not many vehicles on the road.
It was also there that she met her life partner, Kamaruddin Mohd Nordin, who was also a traffic cop.
(Kamaruddin was attached to the criminal investigations department when he retired in 1982 at age 54. A year later, he passed away in Mecca while performing the Haj.)
Lowering of the Union Jack
Sharing her memories of the day Malaya became an independent nation, Sariah said she was on duty on the eve (Aug 30) controlling traffic at the Selangor Club padang (now Dataran Merdeka) area.
Then, at the stroke of midnight, the Union Jack was lowered while the Federation of Malaya flag was raised.
It was an unforgettable experience for Sariah, witnessing the birth of a sovereign nation.
"I was overjoyed. People were shouting 'Merdeka, Merdeka, Merdeka'. I even had the chance to greet Tunku Abdul Rahman."
Sariah worked in Kuala Lumpur for nine years before being transferred to Melaka where she served for eight years. Later, she was transferred to Teluk Intan and opted for early retirement in 1982, having completed 25 years of service.
Now residing at Taman Cecily here, Sariah has eight children, 23 grandchildren and eight great-grandchildren.
She also spoke of her wish to meet her batch of pioneer policewomen who underwent training together.
"A number of them have passed away but I've heard that at least two of them, Mariam Mustafa and Che Amah Mahmod, are still alive," she added.
http://www.freemalaysiatoday.com/category/nation/2017/08/31/pioneer-woman-cop-bears-witness-to-birth-of-nation/
--------
Saudi Arabia edges more women into work
By: Ahmed Al Omran
With a marketing degree from a British university and more than a year of work experience in the UK, Huda al-Somali expected she would get a job "right away" when she returned to Saudi Arabia. But as soon as she began searching for work in the kingdom's Eastern Province, home to its energy industry, reality struck.
"It was very difficult to get interviews. There weren't many jobs for women there. A lot would be for men," she says. "I didn't have luck and hardly had any replies."
After six months, she was hired by a consultancy, but it meant moving to Riyadh, the capital. Still, in many ways she was lucky: a third of working age Saudi women are unemployed, a rate nearly five times higher than men.
This despite the fact that female graduates outnumber males: 105,494 women graduated from Saudi universities last year compared with 98,210 men.
The problems women jobseekers face is largely the result of the kingdom's conservative culture. Many women marry at a young age and stay at home to raise families. But those who want to pursue a career face restrictions in their daily lives that affect their ability to find work. Women are banned from driving, many social and work places are segregated and companies often have a cultural resistance to hiring them.
"It is challenging. Men have the advantage of driving. Whenever there is a sudden visit to a client, I can't accommodate that," says Sara al-Theeb, 30, who works at SABB, an associate company of HSBC. "There are clients who even refuse to talk with women on the phone."
Changing the status quo will be crucial to the success of Crown Prince Mohammed bin Salman's bold economic reform plan, dubbed Vision 2030, that is intended to transform the economy and reduce Saudi Arabia's dependence on oil.
One of its targets is to increase women participation in the workforce from 22 per cent to 30 per cent over the next 15 years, while also reducing total unemployment from 12.7 per cent to 7 per cent by 2030.
To achieve this, Prince Mohammed hopes to bolster the private sector in an economy dominated by state activity. Experts say the critical issue for getting more women in work will be having them take up jobs held by expatriates, who make up more than 80 per cent of employees in the private sector.
The one area where women have made inroads is in the retail sector, where more than 200,000 Saudi women have jobs, says Faten al Sari, head of women's employment policy and programmes at the labour ministry.
That follows a landmark government decision in 2011 to restrict work in lingerie shops to Saudi women. The move initially faced strong resistance from business owners who did not want to change their practices and pay higher salaries. There was also pushback from religious conservatives who warned that having women working in shops would lead to the "westernisation" of culture.
But many stores in malls around the kingdom are now staffed by local women.
"This helped to make society get used to seeing women everywhere. It has become something normal. It raised awareness and helped indirect employment of more women," Ms al Sari says.
The labour ministry is also trying to help women circumvent the driving ban by offering them vouchers that they can use with ride-hailing apps such as Uber and Careem. The programme started as a pilot project for 400 women last year and it aims to serve up to 150,000 women by 2020, the ministry says.
The Public Investment Fund, the sovereign wealth fund, paid $3.5bn to acquire a 5 per cent stake in Uber last year, which was partly seen as nod to the need to help improve the ability of women to travel in the kingdom's main cities.
The government also no longer requires segregation in the workplace. Companies are able to hire women to work side-by-side with men as long as they provide separate toilets, a security system and a private lunch room where they can also pray.
But most commercial buildings in Saudi Arabia were constructed without women in mind, which means that hiring women workers would require office revamps — a cost not welcomed by business owners.
Saudi Aramco, the state oil company, has been one of the rare exceptions where men and women have always worked together behind the walls of its gated compound in Dhahran.
Other state entities have been slow to adapt and critics say the overall pace of change remains slow. In part, they blame the government for failing to communicate clearly their new policies for fear of backlash.
"Some initiatives are best practices globally on gender diversity and getting women to the labour market, but that's just not clear to businesses," says Khalid al-Khodair, founder of Glowork, a recruitment agency that works with companies such as McDonald's to help them find women employees.
"For example, if you have 50 women employees there has to be a nursery in the company. That is a law I don't think any other country in the world has but it's not communicated, it's not adopted."
https://www.ft.com/content/c55d6cf4-8cd3-11e7-9084-d0c17942ba93
--------
URL: https://www.newageislam.com/islam-women-feminism/south-africa-tate-fails-protect/d/112411
New Age Islam, Islam Online, Islamic Website, African Muslim News, Arab World News, South Asia News, Indian Muslim News, World Muslim News, Women in Islam, Islamic Feminism, Arab Women, Women In Arab, Islamophobia in America, Muslim Women in West, Islam Women and Feminism