New Age Islam News Bureau
1 Feb 2018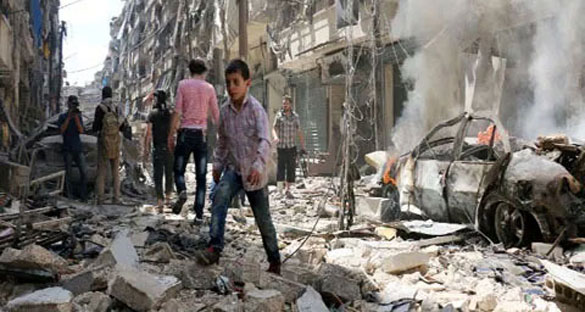 Women shout slogans during demonstrations on the seventh anniversary of the toppling of president Zine el-Abidine Ben Ali, in Tunis, Tunisia, on Jan. 14, 2018. (Youssef Boudlal/Reuters)
-----
• Over 100,000 Saudi Women Apply For 140 Passport Control Jobs
• Israel Sends Palestinian Girl from West Bank to Gaza
• Somalia: Al-Shabaab - Inside the Ranks of Women Fighters
• Nigerian Muslim Women Decry Discrimination
• Justice Ministry to Hire 300 Saudi Women
• Seven Years After the 'Arab Spring,' Tunisia Is Leading another Revolution — On Women's Rights
• Senior Ofsted Official Backs Head Teacher over Hijab Ban for Under Eights
• Iran: What Has Happened To Prisoners And Women Detained Under Torture?
• Iran: Training Camp of Women's National Football Team Cancelled
Compiled by New Age Islam News Bureau
URL: https://www.newageislam.com/islam-women-feminism/soon-saudi-arabia-plans-employ/d/114131
--------
Soon, Saudi Arabia plans to employ women in restaurants
February 1, 2018
Initially, women will be hired to work in 16 restaurants on a trial-and-error basis in the project.
A step towards reforming the labour market and empowering women economically, the Council of Saudi Chambers will employ women in the food sector, Saudi Gazette quoted Arabic newspaper Al Madinah on Wednesday.
However, initially Saudi women will be hired to work in 16 restaurants on a trial-and-error basis in the project which is headed by Princess Nourah Bint Mohammad, wife of the Riyadh Amir.
"On a trial basis we will hire women in 16 restaurants. We will also hold a workshop with restaurant owners in order to discuss strategies to hire more women in the sector," said Huda Al Jiraisi, head of the initiating team.
At present the rate of women's unemployment is 33 per cent and the total rate of unemployment in the Kingdom is 12 per cent.
Read: Saudi women may be allowed to drive taxis from June
The move comes in a bid to offer more employment opportunities Saudi women in the private sector where the women's contribution to the labour market stands at 20 per cent.
And the plan to employ Saudi women in restaurants in the Kingdom, is a part of the Council's aim to increase women's contribution to the labour market to 30 percent by 2030.
Saudi Arabia, with a market size of $5.1 billion in 2015, was the region's largest Quick Service Restaurant (QSR) market (43.8% share in GCC market), according to a GCC food service report.
https://www.khaleejtimes.com/region/saudi-arabia/soon-saudi-arabia-plans-to-employ-women-in-restaurants
--------
Over 100,000 Saudi women apply for 140 passport control jobs
1 February 2018
MOHAMMED AL-KINANI
JEDDAH: Saudi women are eager to work in the country's passport offices, as unprecedented numbers applied for jobs advertised by the General Directorate of Passports (GDP).
On Jan. 18, the directorate announced via Twitter that it was looking for female Saudi nationals to fill 140 jobs at airport passport offices and land borders.
Just a week after the application process began, amazed GDP officials learned that 107,000 Saudi women had applied and that the directorate's website had received more than 600,000 hits.
Officials closed the registration for the jobs to prevent numbers of applications mounting further.
The directorate announced it has begun processing applications to fill vacancies for the rank of private, to be filled by Saudi women who are high school graduates or holders of an equivalent diploma.
Official GDP spokesman, Lt. Col. Talal Al-Shalhoub, told Arab News that it will be possible to process the applications electronically. He said that the directorate will sift applications through an automatic coding system, designed to ensure that all applications meet the criteria.
Successful applicants will need to be physically fit, aged between 25 and 35, and not married to a non-Saudi national. Women who grew up outside the Kingdom while their fathers served overseas are exempt from the Saudi nationals condition.
Approved candidates will have to successfully attend a 30-day training course before they will be allowed to begin their official duties.
http://www.arabnews.com/node/1237191/saudi-arabia
--------
Israel Sends Palestinian Girl from West Bank to Gaza
1 February 2018
A Palestinian teenager from the West Bank arrested by Israel was sent to the Gaza Strip despite never having been there in her life, an NGO said Wednesday.
Israeli rights group HaMoked said the 14-year-old girl, named only as Ghada, was arrested in Jerusalem on January 13 without a permit while visiting the Israeli-controlled city.
While she is from a-Ram a few kilometres (miles) north of Jerusalem, her father is originally from Gaza, the Palestinian territory about 80 kilometres (some 50 miles) away that is hermetically sealed off by Israel.
HaMoked said the girl was told she would be dropped off at a checkpoint near her home but on her release on January 16 instead was taken to the Erez crossing into Gaza.
Abir Joubran-Dakwar, HaMoked's lawyer dealing with the case, said they had not yet received a response from Israel about when she could return.
She said Ghada had never been in Gaza before and did not know anyone there, though she was now staying with members of her extended family.
"No one told her anything -- they told her they would send her to Qalandia (checkpoint near her home) but they sent her to Erez."
She said Ghada has epilepsy and was concerned the stress could affect her condition.
A spokesman for the Israel Prison Service said they were examining the case, stressing however that according to official records the girl was a Gaza resident.
Twenty-seven Palestinians living in the Israeli-occupied West Bank were forcibly sent to Gaza last year, according to military data gathered by HaMoked.
Joubran-Dakwar said it was the first time she had heard of someone as young as 14 being sent there.
Israel has maintained a blockade on Gaza for more than a decade which it says is necessary to isolate the strip's Islamist rulers Hamas, with whom it has fought three wars.
It is extremely difficult for Palestinians from the West Bank to obtain Israeli permission to visit the strip.
https://english.alarabiya.net/en/News/middle-east/2018/02/01/Israel-sends-Palestinian-girl-from-West-Bank-to-Gaza.html
--------
Somalia: Al-Shabaab - Inside the Ranks of Women Fighters
31 JANUARY 2018
A combination of family ties, the desire to avenge ill-treated loved ones and economic distress is driving some young Kenyan women into the arms of Somali terrorist group Al Shabaab.
Once recruited, the women play various roles in the violent extremist group as recruiters, spies, cooks and cleaners, according to a report by the Institute for Security Studies in Africa.
Researchers interviewed 108 women from communities in Nairobi, Mombasa, Garissa, Diani, Kwale and Kisumu, which have been affected by violent extremism.
They also spoke to women who had returned from Al-Shabaab camps, civil society and community leaders and organisers, as well as government officials and donors.
Responses from the study, "Violent Extremism in Kenya: Why women are a priority", provide an expansive view of women beyond being mere victims of violent extremism. Even though the full extent of women's involvement in violent extremism remains unknown, researchers Irene Ndung'u and Uyo Salifu found that women were more actively involved in non-combative or indirect roles than in direct ones.
The indirect roles women play appear to be more prominent than direct participation as perpetrators of violent extremist acts.
Globally, women are trapped into violent extremism and terrorism by strong relationship ties based on family, kinship and romance. They may also be driven by grievances regarding their economic and socio-political circumstances and a commitment to and/or the oppression of certain religious or ideological beliefs.
The interplay between these drivers, which create the dynamics for women's involvement in violent extremism, is also reflected in the study's findings. However, the report had remained embargoed for a year because of the sensitivity about releasing information regarding terrorism.
Intelligence wing
Ms Salifu, a researcher in the ISS transnational threats and international crime programme, said: "The heightened sensitivity around terrorism in Kenya and the nature of the security situation at the time gave rise to the delay in the report's release."
Women's involvement in violent extremism remains deeply nuanced and defies generalisation, according to the report.
Women have reportedly travelled to Somalia to join Al Shabaab, or have been recruiting for the group, masterminding terrorist attacks in Mombasa, forming terror cells, and channelling information and finances for terrorist organisations.
Government officials in Garissa and Diani told researchers, however, that in their experience, perpetrators were often male, and aged between 16 and 25 years and that no women had been convicted on terror-related charges.
So far only four women - three Kenyans and a Tanzanian - have been charged in connection with terrorism. Maryam Said Aboud and Khadija Abdulkadir Abubakar from Malindi, Ummul Khayr Sadir Abdalla from Tanzania and Halima Adan Ali of Mombasa were charged with 19 terror charges, including being members of Al-Shabaab and conspiracy to commit terrorism in Kenya. Another five have been charged with aiding terrorists or concealing information about them.
Although none of the respondents for the study conducted in 2016 had first-hand knowledge of women who had carried out acts of terrorism, government officials told researchers that many girls had gone to Somalia, where some had been trained as suicide bombers and that one had been arrested on terror-related charges, while the others had some involvement in attacks.
Extremist groupings are increasingly targeting women and children as these might not come under the scrutiny of security agencies as attackers.
Secrecy around cultural and religious norms has likely made women fearful of speaking out even when attempts are made to recruit them. Some women are reluctant to speak publicly and prefer to have men speak for them.
Also, those who take part in violent extremism fear exposure by government officials, reprisals from Al Shabaab or being stigmatised by their communities should they confess their involvement or speak about their experiences.
Government officials claim that women play operational roles, gathering intelligence and spying for Al Shabaab. The women are reportedly 'used to collect information [and for] surveillance because they are viewed with less suspicion' and 'pass this information on to others'. One official claimed that "women are part of Amniyat, the intelligence wing of Al-Shabaab".
Speaking in focus groups, women revealed that some of them used their positions as wives, sisters and mothers to recruit for violent extremist organisations.
Kinship
In Nairobi's Majengo area, a female recruiter was reportedly well known for inducing young men in particular to join Al-Shabaab with the promise of jobs.
"It may well be that women's involvement as violent actors is kept hidden," the researchers say, but they cite prevalent socio-cultural and religious norms that limit the roles women play in extremist organisations. Kenya and Somalia are male-dominated societies where women traditionally play the role of nurturers and peacemakers, preferably within a domestic context.
Female recruiters continue to be viewed through the patriarchal lenses of two female stereotypes: mother and temptress. Those recruiting outside the home, such as in the refugee camps, were seen as temptresses 'luring' young men with false promises.
Inside violent extremist groups, women play various supporting roles for the fighting men. They could provide shelter and hide terrorists or family members involved with the groups; or take food to family members arrested on terror-related charges.
Others facilitate financial transactions to fund extremists, provide medical care in refugee camps for injured fighters, cook and clean in training camps, and radicalise their own children.
Providing 'company' or 'comfort' to the terrorists, usually through marriage among the networks of extremists' own relatives and friends, is another unremarked role women play.
Invisibility
The picture of women's involvement in violent extremism as enablers and sympathisers is complex, as aptly summarised by an Anti-Terror Police Unit officer quoted in the report: "Some women are caught between a rock and a hard place. They are the caregivers to the terrorist and play a supportive role; they are facilitators because they are least suspected," said a police officer.
Also, fear [of security agencies] discourages women from disclosing information, especially where police are deemed to be corrupt and extortionist.
Returnees interviewed for the ISS study did not appear to be inspired by ideological or religious factors in joining Al Shabaab.
Aside from finding work, following partners and husbands to Somalia was a leading motivator for many women. One reported that her brother's widow went to Somalia with their daughter to visit his grave a while back. They have not returned since.
Women's participation in extremism remains hidden from policy view, with official interventions targeting visible young males. Some of the women revealed in the focus group discussions that their partners are members of Al Shabaab in Somalia, and explained that girls entering unions with such men risk being radicalised.
Interviewees spoke of women being blackmailed, intimidated or kidnapped by people known to them to join Al Shabaab. One returnee said her husband's friends forced her to join him when he left six months after they married.
Poor education
A poor educational background may also play a factor as s senior counter-terrorism official noted that most of the girls recruited to join Al Shabaab through personal relationships have only have a primary school education. However, this does not exclude recruitment of the more educated.
Others choose to join their loved ones in Somalia as testified by a woman from Kwale who said that her 34-year-old female cousin was radicalised by her husband and followed him to Somalia, where she has also joined Al-Shabaab.
Extra-judicial killings
Revenge for the ill-treatment of loved ones at the hands of security agents was noted as a key factor in influencing women to become involved in extremism.
Interviewees cited experiences including the extra-judicial killing of their husbands and children, media profiling of Islam, police brutality and the disappearance of innocent people, allegedly at the hands of security agents, turning them away from formal state securitisation activities.
One woman, who said she was not aware of the government amnesty programme for those returning from terrorist training in Somalia, is sceptical of state efforts to counter violent extremism: "I believe my religion is under threat because those who are guilty of terrorism and the innocent are treated in the same manner by the authorities."
High unemployment
Another said that her 24-year-old daughter received $170 (Ksh17,000) to join the extremists, instead of the $260 (Ksh26,000) promised. She was ferried to Oman, where the her recruiters demanded $400 (Ksh40,000) ransom for her release.
Al-Shabaab has capitalised on the high unemployment levels in the coastal region to lure youth with promises of jobs, money and other livelihood opportunities.
"Poverty is pushing people into embracing Al-Shabaab. If one is earning $30 (Ksh3,000) but is promised $260 (Ksh26,000), that is a lot of money and the person will choose to join Al Shabaab," one woman added.
An informant -- with the pseudonym Khadija -- was interviewed over the telephone for this study. She was in hiding, fearing for her safety at the hands of the police and fellow returnees.
Men who join Al-Shabaab often leave their homes and families without breadwinners. Women step in as heads of households, but the burden of providing for their immediate (and often extended) families is exacerbated by the lack of a regular income, and many find themselves trapped in a cycle of poverty.
Citizenship rights
The denial of citizenship rights was mentioned as a factor that could drive women to radicalisation. Two women in Lamu reported that their sons were denied national identity documents because they look Somali.
The lack of this document has major implications for travel and access to higher education opportunities.
Most of those interviewed for the ISS study had only a primary school education. They added that perceived injustices against Muslims, as well as media profiling, had created a feeling of being 'under attack' within the community, especially among husbands and sons.
"Islam is not terrorism but a religion that has been misused to carry out terror attacks," said an unnamed interviewee.
Returnees speak out
22-YEAR-OLD FROM LIKONI: "I was married to my first husband for six months before he left for Somalia. I do not know if he is still alive. I was 18 years old when I went to Somalia. I remember finding myself in a forest after getting into a car with my husband's friends, who harassed, intimidated and forced me to go and join him, although I never found my husband at the camp. The living conditions at the camp were terrible; we were treated like slaves and ate only once a day."
"We were verbally and physically abused. I did not get married to any of the group's members but they would use us for sexual purposes. We were given contraception so that we did not conceive. I fled when I got the chance and to take advantage of the Kenya government's amnesty."
24-YEAR OLD INTERVIEWEE: "Poverty is pushing people into embracing Al-Shabaab. If one is earning $30 (Ksh3,000) but is promised $260 (Ksh26,000), that is a lot of money and the person will choose to join Al Shabaab..."
"I was born in Garissa and became involved when I was 20 years old. I went to college and high school. I joined with Al Shabaab because I was jobless and needed a job. A friend took me to Mombasa where we stayed for some days before we hopped onto a bus and were given a drink (which must have been laced with a drug), after which I found myself in Burabe."
"We were about 40 girls in a camp and all of us were Kenyan," she says.
"I received religious, weapons and combat training, as well as suicide bombing. I was a virgin when I arrived and after receiving basic training, I declined sexual advances by a fighter. I stabbed him to death and because of this incident, I was made commander in charge of the women because they saw I could fight," she adds.
"I returned to Garissa through Doble where she sold the gun for money to buy passage back to Kenya because of the amnesty programme, but did not enroll in it fearing how the government would treat me. The reaction from my family was also disheartening and I currently live with friends. But it has been difficult because I am jobless."
http://allafrica.com/stories/201801310473.html
--------
Nigerian Muslim women decry discrimination
January 31, 2018
Nigerian Muslim women on Wednesday called for banning all discriminations against their religious head-covering (Hijab).
"Al-Mu'minaat (an organization of Muslim women in Nigeria) is seeking that legislations be made to specifically criminalize discrimination, harassment, molestation and persecution of Muslim girls and ladies in the religious gear, the Hijab," Nimatullah Abdul Quadri, president of the group, told a news briefing in Lagos ahead of Feb. 1 commemoration of the annual World Hijab Day.
"Our 2018 theme is 'My Hijab, My Right'. This theme seeks to remind the (Nigerian) government and our fellow citizens of our religious rights… especially at this time when the hijab is being assaulted and when modesty of covering up is being ridiculed or associated with oppression and backwardness," she added.
The World Hijab Day, an annual event founded by social activist Nazma Khan in 2013, takes place on Feb. 1 each year in over 140 countries to draw attention to the challenges that the Muslim women face, such as discrimination and harassment, due to the observance of their faith.
Abdul Quadri said this year's event comes amid rising discriminations against Nigerian Muslim women and girls wearing headscarves, citing recent controversies around the religious wear.
Last October, a Muslim female law graduate Firdaus Amasa was barred from the call to bar event in the capital city Abuja because she insisted on wearing her headscarf, triggering a fresh debate on the issue and prompting the parliament to schedule a public hearing on Feb. 6 to resolve the logjam.
In 2016, the Appeal Court held that wearing the headscarf is within the constitutional right of the Muslim woman or girl, outlawing a government circular which had restricted its use in public schools across Lagos state. The government has appealed the ruling at the Supreme Court.
"Fidaus Amasa's case has actually made it abundantly clear that the Nigerian nation is not serious about the Girl-child education and giving equal opportunity to all citizens," according to the women leader.
https://www.yenisafak.com/en/world/nigerian-muslim-women-decry-discrimination-3033688
--------
Justice Ministry to hire 300 Saudi women
1 Feb 2018
DAMMAM — The Ministry of Justice is planning to hire 300 women in the first stage of its female employment program following a decision by Minister Walid Al-Samaani to find vacancies for Saudi women in four sectors.
Informed sources said for the first time in the history of the ministry, Saudi women will be appointed as social, legal and Shariah researchers, in addition to the posts of administrative assistants.
The sources said the women will have to compete for the jobs and should be holders of master's degrees in the Shariah, legal, social or administrative specializations.
They said the women will work in five main cities, which are Riyadh, Jeddah, Makkah, Madinah and Dammam.
Samaani had said the ministry was determined to open the door of employment for qualified Saudi women to serve female clients in the judicial and documentation areas.
He lauded the achievements of the Saudi women, saying they have made distinctive and positive contributions in various fields.
http://saudigazette.com.sa/article/527405/SAUDI-ARABIA/Justice-Ministry-to-hire-300-Saudi-women
--------
Seven years after the 'Arab Spring,' Tunisia is leading another revolution — on women's rights
By Mona Eltahawy
January 31, 2018
Seven years after Tunisia sparked the first protests in what has become known as the "Arab Spring," and ousted its long-standing dictator, it is generating inspiration and anger yet again. How? By upending what many consider more difficult to overthrow than dictators-for-life: Islamic laws and taboos on marriage and inheritance.
In February, President Beji Caid Essebsi is expected to make good on a 2017 promise to make Tunisia the first Muslim country to grant equal inheritance to men and women. Islamic inheritance law typically gives men double the inheritance of women. Last year, Essebsi also lifted a ban on Muslim women in Tunisia marrying men outside their faith. In most Muslim-majority countries, Muslim men can marry Jewish or Christian women, but Muslim women can marry only Muslim men.
Essebsi's upending of the ban on interfaith marriage and his promise of inheritance parity ignited a firestorm of controversy last year. Scholars at Al-Azhar, the Cairo-based highest authority of Sunni Islam, said equitable distribution of inheritance was "undebatable," "contradicted Islamic edicts" and that regulation of inheritance in Islam was determined by Sharia, with "no space for independent reasoning or uncertainty." Those same scholars warned that allowing women to marry outside of their faith would "obstruct the stability of marriage."
Predictably, opponents of women's equality in marriage and inheritance in Tunisia said there were "more important issues" to contend with, and some even said calls for women's equality were part of a "foreign political agenda."
Some have criticized the Tunisian president's progressive stance as "state-imposed feminism." Opponents have accused Essebsi of using women's rights as a "political football" to distract from other issues (namely a controversial law granting amnesty to corrupt former officials under previous regimes). Others say he is just trying to secure women's votes for upcoming local elections in March. Is that a bad thing — to court women's votes by removing obstacles to their equality?
The controversy ignited by the prospect of greater women's equality in Tunisia is a necessary reminder of the extent to which Muslim — and Christian — women in the region are left hostage to religiously sanctioned family laws that are often deeply misogynistic. It also serves as a tragic reminder that, historically, women join revolutions and liberation movements only to find men pushing them aside. It's true, none of the revolutions in the region have been about gender equality. Although women marched alongside men in the uprisings, in the aftermath, men remain at war with men (literally or politically) as they jockey for power, while few gains are made for women in the conservative societies of the region. When I talk about the importance of women's equality, I am often told "This isn't the time." Women hear that their struggles are a distraction. In other words, women — who make up one half of our societies — are low on the list of our priorities — a list determined by men. It is true that our dictators oppress everyone, men and women. But while the state oppresses men and women, the state, the street and the home together oppress women, creating a trifecta of misogyny.
For critics who say Essebsi's actions are "state imposed feminism," they neglect the fact that Tunisia has a history of being progressive on women's rights. When Essebsi lifted the ban on interreligious marriage and promised equal inheritance for Muslim men and women last year, many remembered President Habib Bourguiba, credited with pushing for the country's 1957 Code of Personal Status, which guaranteed women in Tunisia more extensive rights than in many other countries in the region have even today. The code gave women the right to initiate a divorce, open a bank account, establish a business without spousal consent and access abortion services. Under Bourguiba, Tunisia also outlawed polygamy.
In the same way that it sparked revolutions against dictators in other countries, Tunisia is leading the way for women's rights in the region. Post-revolution, it made gender parity on electoral lists mandatory and now has the most progressive constitution among countries in its neighborhood. Whenever opponents of women's equality use the "state-imposed feminism" or "distraction" card against gains for women's rights, they fail to see that Tunisia's parliament, where women make up a third of lawmakers — higher than in the United States, Canada and Britain — passed a sweeping domestic violence law last year that serves to protect women from sexual harassment and economic discrimination. The law also ended a loophole in the penal code that allowed rapists to escape punishment if they agreed to marry their victims. Soon after, Jordan and Lebanon also closed similar loopholes. Morocco ended its "marry your rapist law" in 2014 following the suicide of a 16-year-old girl and the attempted suicide of a 15-year-old, both of whom were forced to marry their rapists. In all three countries, women's rights activists had long campaigned to abolish "marry your rapist" laws.
Tunisia's moves to give women equal marriage and inheritance rights are revolutionary not just for women in that country but also for Muslim women everywhere. This is how a revolution that began against the dictator in the presidential palace can evolve into revolutions against the dictators women face in the street and the dictators women face at home. Tunisia's moves to afford women equality in marriage and inheritance are important steps in dismantling the trifecta of misogyny across our region.
https://www.washingtonpost.com/news/global-opinions/wp/2018/01/31/seven-years-after-the-arab-spring-tunisia-is-leading-another-revolution-on-womens-rights/?utm_term=.1f9376e4f989
--------
Senior Ofsted Official Backs Head Teacher over Hijab Ban for Under Eights
Richard Adams
1 Feb 2018
Ofsted's chief inspector has warned of the danger posed by people who use religion to "actively pervert" education as she made an unusual intervention in a dispute between parents and the head teacher of a primary school over banning the youngest Muslim girls from wearing the hijab.
In a speech to a Church of England schools conference on Thursday, Amanda Spielman is to publicly support the head, Neena Lall, who imposed the ban last month in the face of opposition from parents and community leaders at the predominantly Muslim state school in east London.
Ofsted staff conducted a surprise inspection of St Stephen's primary school in Newham on Wednesday morning, two weeks after the school's governors overturned Lall's decision to ban the hijab worn by pupils under the age of eight.
"School leaders must have the right to set school uniform policies in a way that they see fit, in order to promote cohesion," Spielman will tell the audience of Anglican clerics and educators.
"It is a matter of deep regret that this outstanding school has been subject to a campaign of abuse by some elements within the community. I want to be absolutely clear, Ofsted will always back heads who take tough decisions in the interests of their pupils."
In her speech Spielman will also call on school leaders to use "muscular liberalism" to defend decisions they make, rather than fear causing offence.
"Ofsted inspectors are increasingly brought into contact with those who want to actively pervert the purpose of education," Spielmann will say, according to remarks reported by the Times.
"Under the pretext of religious belief, they use education institutions, legal and illegal, to narrow young people's horizons, to isolate and segregate, and in the worst cases to indoctrinate impressionable minds with extremist ideology."
In response, a spokesperson for the Muslim Council of Britain said: "As Ms Spielman continues to issue a disproportionate number of public statements about Muslims and apparent links to extremism, we hope she will consult before issuing further unjustifiable policies.
"A lack of appropriate engagement will undoubtedly strengthen the negative perception among many Muslim parents about Ofsted's interventions."
Lall's decision to ban the hijab – on the grounds that Islamic teaching did not require girls to wear it until reaching puberty – provoked criticism from local councillors and parents who complained it had been done without consultation.
The school announced that the ban had been overturned a week later, following the resignation of the chair of governors who had supported Lall's move but later apologised for comments he had made on social media.
Spielman's tough line on uniform policies follows a meeting between Ofsted and representatives from faith schools in January, which discussed a new policy aimed at penalising schools found to have bowed to pressure over uniforms.
According to the draft discussed at the meeting, schools that failed to consult adequately or allowed themselves to be swayed by a vocal minority of parents would be downgraded by Ofsted by having their leadership and management graded as inadequate.
In her speech Spielman will tell schools they have a responsibility to "tackle those who actively undermine fundamental British values or equalities law".
School leaders may need to make "uncomfortable decisions" in the interests of their pupils, and not assume that the most conservative sections of a particular faith represent all its members.
"In that regard schools must not, in their entirely correct goal of promoting tolerance, shy away from challenging fundamentalist practice where it appears in their schools or communities," Spielman will say.
"Similarly schools must not allow pressure from certain elements of school communities to dictate school policy, nor should we allow vocal parental minorities to pressure other parents and children to act or dress against their wishes. Giving way to the loudest voices is the opposite of tolerance."
In November 2017 Spielman said Ofsted inspectors would question girls in primary schools wearing the hijab, which drew letters of protest from more than 1,000 academics, teachers and faith leaders accusing Ofsted of a "kneejerk, discriminatory and institutionally racist response".
https://www.theguardian.com/education/2018/feb/01/ofsted-chief-backs-headteacher-over-hijab-ban-for-under-eights
--------
Iran: What has happened to prisoners and women detained under torture?
01 February 2018
Evin Prison authorities have claimed that only four prisoners remain in jail out of some 8,000 arrested during the uprising, and there are no women among them.
A delegation of Iranian parliamentary deputies visited Evin Prison for two hours on Wednesday, January 31, 2018, but since it had been claimed that there are no women among the four remaining prisoners, they did not pay visit to the women's ward. (The state-run ILNA news agency – January 31, 2018)
This is while more than 8,000 protesters were arrested in the nationwide uprising in Iran in 142 cities. They are presently in prison and under torture. Hundreds of women are among these detainees. Dozens of female college students and women civil and human rights activists are in prison and the regime refuses to release them.
http://www.women.ncr-iran.org/iran-women-news/4741-iran-what-has-happened-to-prisoners-and-women-detained-under-torture
--------
Iran: Training Camp of Women's National Football Team Cancelled
01 February 2018
The training camp for women's national football team has been cancelled.
The Football Federation had not made any announcements since March 2017 on the camp planned for the training of women's national football team.
On January 31, 2018, however, the Federation's website published news on cancellation of the camp.
The Vice President of Women's Football Federation had earlier announced that in light of the upcoming Olympics 2020 and Asian Championship games in 2021, they planned to hire a coach from another country. But to save time in preparation for the football games, the prep camp was supposed to be opened with a local coach in late January.
Without announcing the plans for the prep camp, however, the federation announced that it has been cancelled all together. (The official IRNA news agency – January 31, 2018)
http://www.women.ncr-iran.org/iran-women-news/4739-iran-training-camp-of-women-s-national-football-team-cancelled
--------
URL: https://www.newageislam.com/islam-women-feminism/soon-saudi-arabia-plans-employ/d/114131
New Age Islam, Islam Online, Islamic Website, African Muslim News, Arab World News, South Asia News, Indian Muslim News, World Muslim News, Women in Islam, Islamic Feminism, Arab Women, Women In Arab, Islamophobia in America, Muslim Women in West, Islam Women and Feminism