New Age Islam News Bureau
7 Jan 2018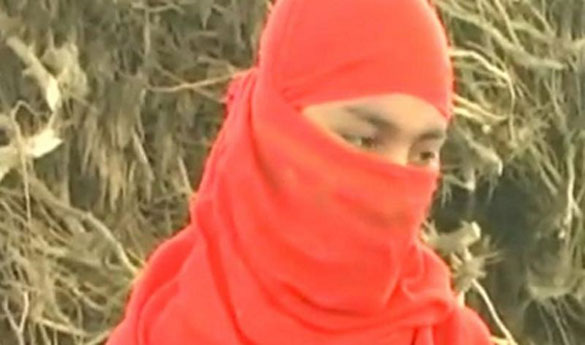 Photo: The victim's father said he would file a complaint in this regard and seek justice to be served to his daughter. (Photo: ANI)
------
• Syrian Women Seek Virtual Marriages amid Uncertain Futures
• Three Palestinian Women Fight Islamic Misogyny in Tel Aviv
• Micro-Mutinies of Muslim Women Will Have Lasting Impact
• Women's Group Criticises Triple Talaq Bill
• The Frenchwoman Who Fell In Love with Lucknow and Launched Many Jihads in Her Lifetime
• Lily Allen: Grooming Gang Victims Would Have Been Raped 'By Somebody Else' if Muslim Abusers Were Absent
• Saudi Women Prepare To Attend Football Matches as Ban on Entry to Stadiums Lifted Next Week
• 4 Ways Tunisia Is Moving Toward Greater Gender Equality
Compiled by New Age Islam News Bureau
URL: https://www.newageislam.com/islam-women-feminism/son-i-want-survive-up/d/113844
---------
Son and I Want To Survive: UP Muslim Woman after Receiving Talaq via SMS
ANI Published: Jan 6, 2018
Sultanpur (Uttar Pradesh): A man from Uttar Pradesh's Nandauli, working in Saudi Arabia, allegedly gave triple talaq to his wife through an SMS.
The victim was allegedly being harassed by her in-laws as they were demanding a vehicle from her as dowry.
"My in-laws used to harass me. They were demanding a vehicle. My husband ill-treated me as well. I received a message from him on phone, where he gave me divorce. I have a son and I want to survive," the victim said.
However, the victim's father said he would file a complaint in this regard and seek justice to be served to his daughter.
"Things were fine for two years. Then they started harassing her. Her in-laws threw her out of the house. Then one day, her husband gave her divorce through an SMS. We haven't informed the police, but soon will," victim's father said.
While the Supreme Court and the Centre have called for the scrapping of the triple talaq, terming it "illegal and unconstitutional", some Muslim women are still facing the brunt of this age-old practice.
Meanwhile, the Muslim Women (Protection of Rights on Marriage) Bill 2017 has been passed by the Lok Sabha and was tabled recently in the Rajya Sabha.
The bill was passed in the Lok Sabha with most of the leading parties in the Opposition, including the Congress, voting in favour, but with caveats as the apex court had directed the Centre to bring an anti-triple talaq legislation.
The bill, if enacted, will make triple talaq a criminal offence. It proposes a three-year jail term for a Muslim man who divorces his wife in any form of spoken, written or by electronic means such as email, SMS, and WhatsApp.
asianage.com/india/all-india/060118/i-have-a-son-want-to-survive-muslim-woman-in-up-after-receiving-talaq-through-sms.html
-------
Syrian women seek virtual marriages amid uncertain futures
ANAN TELLO | Published — Saturday 6 January 2018
DAMASCUS: "I'm married to a man I never met. He's almost twice my age, has two teenage daughters and lives in Romania," Zainab, 28, told Arab News.
"I've been waiting for my visa for more than seven months so I can be united with my husband," she said.
"There are no young men left in Syria, so this is my only chance at starting a family and leaving to become a citizen of a European country. I see no future for me here — at least this marriage gives me hope."
Zainab and her husband Imran, 54, were introduced on Facebook. They spoke via WhatsApp and Skype for a month before they decided to elope and complete all the paperwork for her immigration to Romania.
Marriage by proxy or via Skype has become very popular in Syria since the war erupted in 2011.
Many men have joined the conflict while others have fled to Europe, the Americas or neighboring countries. This has forced young people to resort to marriage by proxy.
Such marriages account for an estimated 54 percent of daily marriages in Syria, said Judge Mahmoud Al-Maarawi, who heads the religious court that oversees personal status issues for Syrian Muslims.
Some youth prefer to carry out marriage ceremonies through Skype, where a licensed notary, the bride, the groom, their parents and witnesses are present.
After the ceremony, the wife or an attorney takes the contract and gets it registered in court for the marriage to be legal and to start working on immigration documents.
The law of personal status has authorized sending an official power of attorney in a proxy marriage, Al-Maarawi said.
Anyone inside or outside Syria may either send a power of attorney to a trusted acquaintance, or appoint an attorney to conclude a marriage contract with the wife or her guardian.
Earlier this year, Al-Maarawi said 70 percent of women in Syria were unmarried — or "spinsters," as he put it.
To solve what he believed was a problem, he released a statement encouraging polygamy, which angered many Syrians on social media.
"It would be better of the judge to worry about providing people with food, warmth and shelter before making these suggestions," said a Facebook user.
Ghalia, an executive manager at a major insurance company in Damascus, said: "Instead of encouraging a solution that is far worse than the problem itself, I suggest Judge Al-Maarawi seek ways to empower women in Syria and prepare them to be more independent instead."
Syrian attorney and writer FatenDerkiy said women are agreeing to marry men they have never met "because of the pressure that faces them in a society that deems every unmarried woman a spinster."
She added: "Those women may also be seeking ways to leave Syria in dreams of becoming citizens of more stable and prosperous countries."
Derkiy said: "Young men are very reluctant to consider marriage under the current economic circumstances. High inflation rates, lack of good employment opportunities, and high accommodation rents are all reasons that put young men off marriage."
She added: "Deeming a woman a spinster and shaming her for it can result in psychological trauma. Reaching a serious state of despair can make a woman accept unfitting marriage proposals or even seek a marriage of inferior rights. In some cases, social pressure may lead an unmarried woman to commit suicide."
To solve these problems, Derkiy suggested establishing associations that facilitate marriage and provide a fund for young people who wish to marry, similar to what other Arab countries have done.
"Women must be encouraged to volunteer, get busy doing something useful and improve themselves instead of waiting for marriage," she said.
"All wars take a toll on society, but usually women and children endure the greatest share of pain."
arabnews.com/node/1220346/middle-east
-------
Three Palestinian Women Fight Islamic Misogyny in Tel Aviv
01.06.18
As evidenced by the violent protests currently raging in Iran, tensions between modernity and tradition remain all too pressing in the Middle East. Thus, In Between arrives at an apt moment in time, dramatizing that ongoing clash with both sensitivity and skill. The feature debut of writer/director MaysalounHamoud, it's an affecting work that refuses to shy away from the vileness of ingrained Islamic intolerance, all of which, in this case, is targeted at women—making the film something like a wrenching live-action companion piece to last year's superlative animated effort, The Breadwinner.
Hamoud's story concerns two longtime Palestinian roommates, Laila (MounaHawa) and Salma (Sana Jammalieh), whose lives in Tel Aviv are anything but conventional. Both proudly single, they spend their late nights carousing in bars and clubs with men, drinking and smoking to their heart's content, and their mornings recovering from the painful hangovers created by the prior evening's revelry. They are, from a Western perspective, no different than millions of likeminded twentysomethings. Yet to many in their religiously-minded culture, they're "impure," having forsaken their pious duty to behave like "whores"—an attitude that exists despite the fact that Laila is a successful lawyer, and is compounded by Salma's multiple facial piercings and romantic preference (which is only slowly revealed by the proceedings) for women over men.
Laila and Salma's independence makes them outcasts, albeit of a minor variety, since In Between depicts them living contentedly—if not altogether stably—in a metropolitan environment populated by similarly iconoclastic friends. The more close-minded world is always right outside their door, however, and soon creeps inside their apartment when Nour (ShadenKanboura), a friend of Salma's cousin, moves in with them. A computer science student who wears a headscarf and is engaged to devout Wissam (Henry Andrawes), Nour is an interloper of sorts into their carefree enclave. Hamoud, though, is careful not to overplay the friction generated by this straitlaced-versus-wild situation; rather, the director consistently presents her protagonists in three dimensions, with their reticence and disapproval of each other coming across as more muted than severe.
Though killjoy Nour seems destined to become a thorn in uninhibited Laila and Salma's side, it's external figures who soon prove most troublesome. That's clearest in Nour's case, considering that Wissam makes plain from the get-go that he's unhappy with his wife's urban living conditions, and is determined to dictate his wife-to-be's present and future circumstances. This entails doing his best to coerce Nour to push up their wedding date, as well as to move to an apartment outside chaotic Tel Aviv—and, specifically, away from Laila and Salma, whom he views as filthy heretics apt to corrupt his beloved. Wissam is a soft-spoken misogynist, one who affects an air of understanding and compassion while nevertheless laying down the law for his companion, and Andrawes embodies him as a canny bully who swaddles his entitled arrogance in sweet-talking sensitivity.
Laila and Salma are far more willful than Nour, but In Between soon portrays them as equally at the mercy of bigoted forces beyond their control.
For Salma, an aspiring DJ who also bartends, problems arise courtesy of her parents, who tsk-tsk her all-black outfits and pierced jewelry, and have her return home to be wooed by suitors over family dinners—including an unpleasant man who brags about the thousands of chickens he supplies to supermarkets, and then offers Salma a piece of torn grapefruit in a gesture that's so awkward as to elicit shivers. Laila, meanwhile, finds her amorous prospects greatly improved when a friend introduces her to his roommate, Ziad (Mahmood Shalabi), who's intoxicated by not only Laila's beauty, but also by her radiant self-assurance, which is felt in everything from a casual conversation with a friend on the street about concert tickets (as she dismisses the cars honking at her for holding up traffic), to a chat with a Jewish legal colleague who unrealistically wants to date her.
Despite Laila falling head over heels for Ziad, In Between offers up few men who are genuinely progressive. Hamoud's critique of Islamic sexism is made without didacticism, and flows naturally from her well-plotted action—and, moreover, is enhanced by her sterling direction. Her handheld cinematography provides intimacy without herky-jerky gimmickry, and her preference for prolonged images of character's faces, often in silence, gives her leads ample opportunity to express a range of multifaceted emotional reactions within a single shot. Most impressive of all is her handling of the material's horrifying centerpiece, the specifics of which are not to be spoiled here. In that bracing sequence, the filmmaker employs two medium shots in which one seated character's face is visible in the frame while another standing person's head is obscured, thereby visualizing the imbalanced power dynamics at the heart of Palestinian male-female relations. Then, in a long master shot, she gazes unblinkingly at Islamic masculine monstrousness, displaying it—and the powerlessness it seeks to inspire in others—in all its unvarnished ugliness.
In Between concludes with more nastiness perpetrated by male characters, even as it makes sure—during a late, beautifully handled confrontation between Nour, Wissam and Nour's father—to avoid painting in overly broad brushstrokes. Hamoud recognizes that sermons are too one-note to be taken seriously, and that no matter how deeply hatred and oppression are woven into a society's fabric, there remain noble individuals unwilling to embrace it at the expense of their loved ones.
Which isn't to say, alas, that In Between functions as an uplifting saga about triumphing over adversity. Through the plight of Laila, Salma and Nour, Hamoud contends that female solidarity is the best means of combatting, or at least surviving, toxic masculine tyranny, and that defiance—alone, and together—is the only rational response to systems of subjugation. Still, such rebelliousness, no matter how justified, comes with a price, here beautifully evoked by a quiet final shot of the three women sitting alone on a balcony outside a house party, each of them set adrift—and apart—by their desire to simply be themselves.
thedailybeast.com/three-palestinian-women-fight-islamic-misogyny-in-tel-aviv
-------
Micro-mutinies of Muslim women will have lasting impact
Sunday 7 January 2018
The question of banning triple talaq created a storm in Muslim politics of India. When the issue cropped up two years ago, the orthodox Muslim leadership could not imagine that Muslim women were not ready to be suppressed anymore. They discarded the traditional slogan of "Islam in danger" from alleged 'Hindu majoritarianism'. They led a silent revolution which was bound to make a greater impact on Muslim politics and society than one could imagine. The reason is obvious. All socio-religious reforms are preceded by a long reformist campaign within the community and protracted discourse. But Indian Muslim women championed the cause without any reformer and reformist organisation. Of course, there are many Muslim organisations operating within the community but their role and reach have been restricted. There is another conspicuous feature of Indian Muslim women assertion their right, dignity and constitutionalism. If we go by history, major reforms affecting women have mostly been led by male reformers or revolutionaries. But here the case is quite different.
The Indian Muslim women championed the cause of their liberation without any support from their male counterparts in the community. The movement is for the women, by the women and of the women. There is a third significant feature of the growing assertion of women. Multitudes of leaders from among the women have emerged and all of them have no experience of politics nor are they English educated. They are mostly from lower strata of the Muslim community. ShayaraBano, Shazia Khan, Shaista Amber, and many more who are now the voice of women on public broadcast and fearlessly fighting against patriarchy, orthodoxy and religious bonds. They don't hesitate to speak about what they feel and like. They boldly confront clerics who claim themselves to be Islamic scholars and custodians of religion. A good 32 years ago Shah Bano was alone.
Greed for consolidated votes made the pseudo-secular parties bow before the fundamentalists. No self-proclaimed secular leader ever spoke against halala, a sign of highest indignity for women because this would have displeased Muslim men in general and clerics in particular. But Shazia Khan raised a banner of revolt when her in-laws asked her to perform halala (physical relations with another man at least for a night and then remarrying her husband who had divorced her). Women who do not have money even to travel from Bareli, Sharanpur, Aligarh to Delhi, who had no opportunity of having elementary education, have been fairly articulating the process of reforms. Micro rebellions together constitute a strong force defying conventional logic of Muslim politics.
Its ramification is not confined to defeating clerics who consider the law against triple talaq as interference in Muslim Personal law. The voice is loud and consistent against treating women unfairly. The demand to ban halala and polygamy can no longer be suppressed. But the most notable and far-reaching impact is the beginning of the democratisation of Muslim community. Women have exhibited their political decisiveness by departing from the conventional anti RSS-BJP plank and associating with the BJP and RSS. The present century of Muslim politics would be dominated and guided by Muslim women and not men who are being compelled to negotiate with the former's assertion which is apparent from changed position of the All India Muslim Personal Law Board on triple talaq. Muslim politics has believed in selective constitutionalism and always reduced its importance by citing shariat. But Muslim women are now marching to liberate themselves from the cage of orthodoxy.
The change in the regime from pseudo secularist to saffron rule has helped them to accomplish micro-mutinies all over the country. There is a strange logic by fundamentalists. They find that only a microscopic minority of women is raising voice. The leadership of enlightenment has always been microscopic. When in the 19th century, IshwarchandraVidyasagar led a campaign for Hindu widow remarriage, he could get merely 987 signatures; but Radhakanta Deb, the zamindar, who opposed widow re-marriage could garner 36,787 signatures in his favour. However, the 987 prevailed upon the rest.
The most glaring critique of the bill to ban triple talaq is criminalisation. This is an absurd logic. Laws banning socio-religious practices award punishment to the violators. Another critique is helplessness of victims of triple talaq in the case of husbands' imprisonment. This question becomes a foundational logic for the uniform civil code, giving women equal rights in marriage, divorce, succession etc. India's secular democracy has wasted huge time trying to extend secular principles to Muslims. During the debate on the Hindu civil code, Acharya JB Kripalani demanded the extension of the code to the Muslim community and accused Nehru government of being communal since it was making a progressive law for one community and leaving other communities in the lurch. This is an opportunity for democratic politics to absorb progressive Muslim women for the larger goal of secularisation and Sanskritisation (reconnecting with historical and ancestral roots) of the Muslim community.
The author is founding Honorary Director of India Policy Foundation, a Delhi-based think tank. Views expressed are personal
dnaindia.com/analysis/column-micro-mutinies-of-muslim-women-will-have-lasting-impact-2573419
-------
Women's group criticises triple talaq Bill
Sunday 7 January 2018
A group of women belonging to the AhleSunnatWalJamaat sect of the Muslim community on Saturday criticised the Bill on triple talaq that was discussed in Parliament. The meeting was held on Saturday at CutchiMemon Hall near Nagpada.
Called 'ShariyatBachaoAndolan', the meeting was chaired by women speakers. Another meeting will be held in the suburbs to garner support from the women in the community to oppose the Bill.
"The Bill is an interference and against Shariah practices. Some women in the community were saying that they wanted to speak on the issue and hence this meeting was organised," said Imran Dadani, member of AhleSunnat.
"The Bill is wrong and it will only create more problems. The Shariah is very clear that these practices have been there and are part of the religion. Those who are opposing it have not understood the religion and need to go to someone who understands the religion properly," said Alima Salma Razvi, an Islamic scholar.
She added, "In this meeting, we told our women members that triple talaqis something that is not liked by our Prophet. He did not like it and people should desist from it. Similarly, it is something that is part of the religion. Criminalising it is wrong. In fact we will tell people from our community to stay away from it."
When asked about women members of the community approaching the court against it and that it not being in the Quran, Razvi said, "They do not understand the teaching. It is present in the Quran also. There are specific verses. Also, a woman may not be able to marry if a male gives her talaq once but not for the remaining time. If she is given at once, she can marry someone else."
dnaindia.com/mumbai/report-women-s-group-criticises-triple-talaq-bill-2573490
-------
The Frenchwoman who fell in love with Lucknow and launched many jihads in her lifetime
After taking the side of East Pakistan in 1971, Mariam AbouZahab became an active sympathiser of the Palestinian liberation struggle.
The Frenchwoman who fell in love with Lucknow and launched many jihads in her lifetime
Mariam AbouZahab in southern Afghanistan during the mid-1980s.
In 2008, French scholar Mariam AbouZahab met Abdullah Anas, a known Algerian Islamist and veteran of the Afghan jihad, over dinner on the sidelines of a conference in London. At some point, the conversation turned to Afghanistan. Mariam AbouZahab, who was conversing in Arabic, mentioned how dear the country was to her heart. Anas' interest was piqued and he asked her if she had travelled to the war-torn country during the 1980s. She replied that she had indeed spent a considerable amount of time there. "But what were you doing in Afghanistan? Were you a journalist?" asked Anas, only to see his interlocutor shake her head in denial. A few more questions followed as he tried to further probe this enigmatic French woman. Was she an aid worker there, or a scholar? he asked. She was visibly amused and kept on answering in the negative. "So what were you doing in Afghanistan?" he asked in desperation. "Jihad," replied the middle-aged woman with a smile.
According to a witness of this exchange, her laconic answer petrified Anas who was still struggling with the stigma of his militant past. "He was so shocked that he did not dare ask for precise details. He just clung to his chair and waited for the conversation to move on," the witness recalled. All those present were left to wonder what she could have meant by her ambiguous statement.
This was not the first time that Mariam Jan, as her Afghan friends affectionately called her, had left her audience high and dry after arousing its curiosity. Not that she was secretive – she just had a gift for dissuading others from enquiring further about her past lives. Because, like a cat, she lived several lives until cancer took her away on November 1, 2017, in Paris.
Longing for new horizons
Mariam AbouZahab was born Marie-Pierre Walquemanne in 1952 in Hon-Hergies, a village in northern France. She came from a family of small industrialists and grew up in a Catholic environment. Feeling somewhat suppressed in her original milieu, she manifested a desire for new horizons early on. Moving to Paris was a first step in this direction. At the age of 17, she passed the entrance examination for the prestigious Institute of Political Studies (better known as Sciences Po) and graduated in three years.
At 20, she showed an inclination for travelling on the cheap. In 1972, she bought an inter-Europe train ticket and accompanied her elder brother on a tour of European capitals. As she later confided to one of her closest friends, Marie-France Mourrégot, the two siblings were briefly detained by the Italian police after they were found sleeping in a park. After their release, they went back home but the train ticket was still valid, so she decided to hit the road again, returning to Warsaw on her own.
The following year, she travelled overland to India. It is during these years (1973-1974) that she discovered Afghanistan and Pakistan as well as the Indian city of Lucknow, to which she would remain particularly attached. Her remarkable linguistic skills – alongside political science, she studied Hindi/Urdu and Arabic at the National Institute of Oriental Languages and Civilisations (Inalco) and would later learn Persian, Pashto and Punjabi – allowed her to engage deeper with these societies than other travellers. Her conversion to Islam, made official at the Great Mosque of Paris in 1975, also contributed to her acculturation. After becoming a self-declared Shia, Marie-Pierre gave way to Mariam.
She acquired an intimate knowledge of Afghanistan, gained through strenuous and perilous travels under the cover of a shuttlecock burqa.
Her conversion was rather unusual in mid-1970s France, although some prominent intellectuals and artists of the time were attracted to the mystic traditions of Shiism, starting with the famed choreographer Maurice Béjart who was initiated into Islam by the Iranian Sufi master Nur Ali Elahi in 1973.
If her conversion estranged her from her original milieu, it was also a matter of concern for her husband. Nazem AbouZahab, a young Syrian whom she had met in Damas and married in 1976, came from a Sunni middle-class family with a secular orientation and, as he told us, he found his spouse's turn to religion rather disturbing. In those days of political upheaval throughout West Asia, however, spiritual matters were not the only thing on her mind.
Activism without borders
When Mariam AbouZahab settled in Damas in the mid-1970s, she was no stranger to political activism. Five years earlier, she had responded to the call of French novelist and former minister of cultural affairs, André Malraux, to form an "international brigade" in support of Bengali nationalists in East Pakistan. And when this project failed to materialise, she still spent some time in the war-torn eastern wing of Pakistan, alongside several French intellectuals influenced by Maoism. Although she did not share these young men's infatuation with Mao's Little Red Book, she remained a defender of the oppressed throughout her adult life – a revolutionary commitment that, far from working against her religious devotion, went along with it. Her fascination with Shia Islam had a strong mystical component as well as an aesthetic and scholastic one. It also fuelled her public interventions, which in turn nurtured her. She was, after all, a child of May 1968, as attested by the number of books in her library devoted to the social movement of the era that changed the face of French politics and society.
After taking the side of the Bengalis in 1971, she became an active sympathiser of the Palestinian liberation struggle. In 1975, before settling in Damas, she made her first trip to Beirut where she met IssamSartawi, an early supporter of peace negotiations with Israel. It is unclear if she shared his political views but she remained close to him until his assassination by Abu Nidal militants in Portugal in April 1983.
She was not a drawing room activist and faced up to the violence that was engulfing her world. During the spring of 1983, after separating from her husband, she briefly took up arms in the ranks of the pro-Arafat faction of the Palestine Liberation Organisation. For two or so weeks, she took part in combat in the Bekaa Valley, opposing the pro-Syrian faction of Fatah, led by Abu Musa. She related the episode to one of her former comrades at Sciences Po, Elizabeth Picard, who at that time was completing her PhD on Hafez El Assad's "correcting movement" in Syria.
Mariam AbouZahab's proximity to notorious Palestinian militants invited the attention of French intelligence agencies. (Between 1980 and 1982, several attacks against Jewish restaurants and religious places were recorded in Paris; Palestinian terrorism remained a source of concern throughout Europe in the following years). She was even interrogated by France's leading anti-terrorist judge, Jean-Louis Bruguière. She would later claim that she was denied entry to the French ministry of foreign affairs because of her Palestinian acquaintances.
The making of Sheenogai
Mariam AbouZahab was a participant-observer of most of the crises that affected the Middle East and West Asia from the early 1970s onwards. She also made a transition from supporting secular freedom struggles to aiding holy wars, as the region at large did. In the early 1980s, she was more involved than ever in the Palestinian movement even though she had already started spending more time alongside the Afghan Mujahideen.
Persisting rumours over the decades have suggested that she could have been involved in military activities against the Soviets on behalf of the Afghan Mujahideen. In the mid-1980s, an article in the French magazine Actuel even suggested that she was heading a band of Afghan fighters in southern Afghanistan. While fuelling her legend, these rumours remain unsubstantiated. If she did fight with and for the Afghans, it was essentially by distributing financial aid to villagers affected by the war and occasionally to local Mujahideen commanders so as to legitimise her presence and that of her organisation among them. As a volunteer for Afrane, a French non-government organisation she had been associated with from 1982 onwards, she also provided medical care to the sick and wounded, spread awareness among women about health issues and visited local schools to assess their needs. According to Eric Lavertu, another volunteer for Afrane who later joined the French ministry of foreign affairs, her affection for children and her concern for women's issues were defining traits of her personality. More than her alleged radicalism, it is her romantic side (son côté fleur bleue) that veterans of Afrane now remember her for.
She travelled extensively across the provinces of Ghazni, Zabol and Kandahar, whereas most French volunteers worked in the north of Afghanistan or around Herat in the west. In order to gain acceptance from the populations to whom she distributed help, she insisted that the funds for her work did not come from the French government. They were gifts, similar to donations made under zakat and sadaqa.
Her mission reports for Afrane are a unique and often poignant testimony on the socioeconomic dynamics of Afghanistan at war, even if they are focused on practical concerns and tend to oversimplify her relations with local populations (which, she would later admit, were often more conflictive than she could acknowledge at the time). She recorded in great detail the disruption of the agrarian economy and also documented the transformations of the education sector, conveying the desire for change among her informants (a significant number of whom seemed favourable to education for girls). She also underlined the positive role of madrasas in a country where secular education had virtually disappeared.
She acquired an intimate knowledge of Afghanistan, gained through strenuous and perilous travels under the cover of a shuttlecock burqa that limited her movements and made the summer heat even more unbearable. Jean-Pierre Perrin, a former reporter for Libération who accompanied her on a particularly challenging journey along the fringes of the Registan desert during the summer of 1983, was impressed by her courage and endurance: "It was a very painful trip. We had to ride motorbikes, trot on camels, and walk long distances. But she tolerated all this, often better than me," he recalls. She was not invincible, however: as Perrin remembers, long walks on rocky paths took their toll on her and she sometimes collapsed from the heat.
These activities pertain to a now bygone era of humanitarian aid, predating its professionalisation. The clandestine nature of their work and the absence of telecommunications only reinforced the isolation of volunteers (Afrane generally covered the travel costs of its aid workers but they were not paid). Etienne Gille, one of the co-founders of Afrane, recalls, "Once our volunteers had crossed into Afghanistan, we had no way to communicate with them for two to three months." This complete immersion only reinforced Mariam AbouZahab's bonds with the Afghans, and with Pakhtuns in particular. Her fondness for them was reciprocated – sometimes beyond her expectations. Mariam Jan was also known as Sheenogai or "green-eyed beauty" in Pashto, and she would often joke about the number of marriage proposals she had received from Pakhtun commanders during the Afghan Jihad.
To her critics, her romance with the Pakhtuns and her proximity to some Mujahideen commanders in eastern and southern Afghanistan often blinded her. Many French journalists, aid workers and diplomats eulogised Ahmad Shah Massoud, a celebrated Mujahideen commander who died in a bomb blast in 2001. Known as the lion of Panjshir, he was widely perceived in France as an enlightened figure with the soul of a poet, if not as an Afghan Che Guevara. Mariam AbouZahab, for her part, always considered the myth surrounding him a fable for Western consumption. She herself preferred Pakhtun commanders such as JalaluddinHaqqani, never ceasing to refer to him as a hero. Her views on the Afghan Taliban also caused controversy in France after she argued that they were a social movement, largely autonomous from Pakistani intelligence agencies. Instead of projecting the Taliban as an archaic formation, she depicted them as a reaction of the poorer and younger strata of Afghan society against traditional elites (the khans and maliks). She also saw their rise as a revolt of the countryside against the cities, which were perceived as dens of iniquity.
Her earlier texts on the origin of the Taliban – published in 1996 in Afrane's journal – do not make an explicit mention of class as a sociological category, but it featured prominently in her analysis. This approach anchors her writings into critical, if not Marxist, currents of sociology. The centrality of class to her work only became clearer as the years passed by, especially featuring in her later work on sectarian conflict in Pakistan.
Making sense of Pakistan's religious politics
While Afghanistan had a special place in Mariam AbouZahab's heart, she also developed a vibrant relationship with Pakistan early on. This set her apart from most other French aid workers active in the region during the 1980s. According to Gilles Dorronsoro, who worked for Afrane before becoming an internationally acclaimed scholar of Afghanistan, "We were utterly ignorant about Pakistani society and, to be honest, even a bit contemptuous of it. While in Peshawar, we were just longing to cross over to Afghanistan. On the contrary, she was fluent in Urdu and Pashto and she could talk extensively about Pakistan – not only about Peshawar but about many other parts of the country as well, which in those days was truly original."
Her first contact with Pakistanis dates back to her days as a young student on an exchange programme in the United Kingdom. From 1968 onwards, she spent three successive summers in Kent where her curiosity led her to accompany Pakistani migrants harvesting strawberries. Her mischievous sense of adventure, her insatiable curiosity and her unflinching sympathy for those on the wrong end of domination continued to inform her relationship with Pakistan even as it matured into an intellectual and personal engagement in later years. So did her love for Urdu and its literature that reveals itself in her marvellous French translation of NaiyerMasud's collection of short stories, Itr-e-Kafoor.
Her contribution to Pakistan studies is impressive, especially considering that she published all of her scholarly works in the last 15 years of her life. Following her intellectual journey is not always an easy task because her academic publications often took the shape of chapters in edited volumes. One precious exception is the book she wrote along with French scholar Olivier Roy, Islamist Networks: The Afghan-Pakistan Connection. Published in 2004, it revealed her unparalleled knowledge of Islamist political groups and militant outfits active throughout Pakistan, Afghanistan and Kashmir.
Located at the crossroads of political science, sociology and Islamic studies, her academic work encompasses a vast array of topics. The Pakistan Peoples Party was one of the first political organisations to engage her interest. She dedicated her master's thesis to the party – yet another indication of her progressive inclinations. In later years, however, she turned to the place of Islam in Pakistan's public sphere. Although not explicit, the one thread running throughout her multifaceted work is her class-based analytical perspective. She primarily understood Pakistani religious politics through the grid of social cleavages, structures of domination, status conflicts, power struggles over scarce resources and phenomena of "frustration" (an emotional variable that she used in many of her works to explain the motivations of the "dominated") be they Sunni ajnabi or strangers contesting the domination of Shia landlords in Jhang, or the "rural poor" challenging the authority of maliks in the Federally Administered Tribal Areas.
Her fieldwork in Punjab mainly focused on Sunni supremacist groups, such as the Sipah-e-Sahaba. She was the first scholar to study the organisation's sociogenesis in southern Punjab. Her papers on this topic, especially her ethnographic study of socioeconomic status conflict and sectarian violence in Jhang, have become classics. Besides their intrinsic academic value, these studies underline the originality of her approach towards her research objects: a convert to Shiism, she did not try to portray the adherents of her own sect as victims; instead, she documented a relation of domination where Shia landlords oppressed Sunni tenants. And, like in her earlier writings on the Afghan Taliban, she argued that the rise of Sunni militancy in southern Punjab was the reaction of an emerging social group (in this case, the urban, lower middle class) against traditional elites (mostly comprising Shia landowners). Her intellectual honesty, as well as her courage, is also attested by her visits to prominent figures of the Sunni sectarian movement. She would remember her meeting with MaulanaAzam Tariq, the now slain leader of the SSP, as one of her most challenging experiences ever.
In the mid-2000s, she turned her attention to another Sunni supremacist organisation, the Lashkar-e-Taiba. In a preliminary paper, she retraced the evolution of the Ahle Hadith sect in Pakistan, its involvement in proselytising and education (through the establishment of madrasas) and its jihadist activities through the LeT, which she described as the "largest private jihadi army in South Asia". In the process, she unravelled the Arab connection of the Ahle Hadith movement and unearthed its internal dissensions (between pietist, political and jihadi elements) based on differences over rituals and strategies. This article is an excellent illustration of her methodological approach. Always mobilising an impressive amount of documentary evidence, she explored not only contemporary (geo)political developments but also historical contexts, ideological and religious doctrines, as well as individual trajectories of the leaders and foot soldiers of the movement under study.
Best known for her work on Islamist movements, Mariam AbouZahab was also a keen observer of Twelver Shia religious life in Pakistan. Her contribution to this field has brought attention to the role of women in the transmission of religious knowledge and to the richness and vitality of Muharram rituals in the country. Though home to the second largest Shia population in the world, Pakistan has long been overlooked in the study of lived Shiism. Her cross-provincial and longitudinal perspective of 40 years made her uniquely equipped to detect subtle variations and innovations in Shia piety. In turn, her familiarity with Iraqi and Iranian forms of Muharram rituals, and with networks of learning connecting these countries, allowed her to offer rare comparative insights.
Some of her latest seminars focused on the performance of Muharram rituals in Punjab, also the subject of a 2008 article subtitled "How Could This Matam Ever Cease"? In it, she examines how variations in the performance of processions and self-flagellation are revealing of changing attitudes among Pakistani Shias towards transnational Shia networks and towards the adherents of the sect in the West Asia. Paying attention to these processions, she writes, can help us situate the singularity of Pakistani Twelver Shiism. If they once denoted a composite interreligious culture, since the 1980s they have increasingly become a means for the community to assert a distinct, sectarian Shia identity. Increasingly more ostentatious yet always vulnerable to attacks, Shia public rituals are now part of an inter-sectarian tussle over the use of public space and, by extension, over the community's right to exist. She demonstrates that, paradoxically, the modernising and purifying impulse of the Iranian revolution and later the Shia revival in Iraq have led to a revival of local heterodox practices in Pakistan. Elaborate processions and the self-infliction of ritual wounds, she argues, have become cardinal to the way ordinary Pakistani Shias mark themselves as distinct from local Sunnis and as more intrepid lovers of the Ahle Bait than Shias abroad.
Her work on Pakhtun society also built on her prolonged and multifarious experience in the field, in particular on her familiarity with regions such as Fata that have become inaccessible to foreign or even Pakistani scholars over the past two decades. In the last few years of her life, she had started reflecting upon the social and political changes brought to Fata by religious militancy, state repression and economic disruptions. As the tribal areas were no longer accessible to her, she proceeded to study these transformations from the outside, in particular through the Pakhtun diaspora in the Gulf. Her fieldwork in the United Arab Emirates with migrants from Fata was central to her comprehension of emerging social dynamics in their home regions. It was also in consonance with her long-term interest in Pakistani diasporic communities and transnational relations – be they economic or religious in nature – between overseas Pakistanis and their homeland. Indeed, her interest in Pakistan did not stop at the country's borders. She was in personal contact with numerous members of the diaspora in France and elsewhere and kept close scrutiny on their activities. These experiences, together with her immense erudition, greatly enriched the people she taught on Pakistani migration for more than 15 years at the Paris-based Inalco.
If Pakhtun expatriates in the Gulf were the primary focus for her latest work, she was also concerned with the fate of the populations forcibly displaced from Fata by military operations. This took her back to Karachi, a city which she was not particularly fond of but where she had nonetheless built strong ties over the years. Many local Deobandi and Shia clerics knew her personally and had equal respect for her due to the in-depth and impartial character of her work. In Sohrab Goth, she conducted interviews with Mehsud tribesmen displaced from South Waziristan by military operations against the Pakistani Taliban. Her ability to converse with them in Pashto was truly impressive. So was her familiarity with a little-known movement from South Waziristan, the Tehreek-e-Teman Force, which was launched in the late 1990s by a gangster-turned-social bandit, GokhanMehsud, who attracted a number of Mehsud youths. By 1999, the acronym TTF started appearing on the windshields of buses and trucks often run by Mehsud tribesmen in Karachi. Despite its influence at the time, the TTF did not attract much attention from non-Mehsuds – something that made her interest in this group all the more intriguing. By returning to this long forgotten group, she was trying to shed new light on the genealogy of the Pakistani Taliban movement.
Although far from being central to her work, the social and political transformations of Karachi did not evade her attention. She was among the first scholars to write on the development of a Pakhtun middle class, a development of considerable importance not just for the Pakhtuns living there but for the city at large.
Her new research was scheduled to be published in a comprehensive monograph on social and political changes in Fata (or, possibly, among Pakistani Pakhtuns more widely). She had been working on it for several years when illness took her away.
A generous pedagogue
Mariam AbouZahab was a gifted and generous pedagogue who never tired of guiding policymakers, journalists and students through the maze of Pakistani and Afghan politics. She delivered lectures – often highly critical of Western intervention in the region – at institutions as diverse as the French ministry of foreign affairs, the Carnegie Endowment For International Peace and the US Central Command. For many years, she also worked as a translator for the public institution in charge of assessing requests for asylum in France, OFPRA. One of her contacts there remembers: "Protection officers would get annoyed because she often delivered a whole lecture during the auditions of Pakistani asylum seekers. She really had a gift for understanding individual trajectories and replacing them in their context."
It was truly in the classroom that Mariam shared her intimate knowledge of South Asia and the Middle East. At Inalco, where she taught classes on subjects as varied as Pashto literature, Pakistani history, South Asian Sufism and diasporic communities, she trained a new generation of French scholars on Pakistan. At Sciences Po, where she taught with various Middle East specialists (such as Gilles Kepel and Elise Massicard), she inspired many young scholars specialising in the Arab world or Turkey.
Her students marvelled at her ability to mobilise first-hand ethnographic knowledge. A lecture on qawwali traditions would thus end with her recollection of being NusratFateh Ali Khan's interpreter in Paris and a class on dargah culture would culminate with her sharing tabarruk (offerings) that she would have brought back from a recent visit to Pakistan.
Mariam AbouZahab was an unconventional teacher. As Stéphane Lacroix, a former student of her at Sciences Po who would become a renowned specialist of political Islam in Saudi Arabia, says: "Her classes were not the usual university seminar. She spoke passionately and often didn't care much about structure. As far as I'm concerned, she fuelled my desire to do fieldwork. She had gone so far that she had fused with the field."
Even as her health deteriorated, she continued to teach. Now unable to travel to Pakistan, she would ask her friends there to film religious rituals (especially those of Muharram in Pakki Shah Mardan for which she developed a growing fascination during the last years of her life) so as to discuss them with her students. This was her last jihad – a struggle to hold back the tide and fulfil her educational mission just a bit longer.
When she realised that this battle was coming to an end, she prepared meticulously for her last journey. She organised her own funeral in the Iraqi city of Najaf and told her friends with a smile that she hoped Shia militias would turn up and escort her to her last abode. She also set up a foundation that will provide funding to promising scholars working on her favourite region, and she donated to a number of welfare projects that will perpetuate her lifelong engagement with Pakistan and Afghanistan. In Pakistan, these donations will go to the Acid Survivors Foundation.
It really takes more than death to disarm fighters of this calibre.
scroll.in/bulletins/110/art-history-music-beer-and-belgian-chocolates-all-in-a-day-in-flanders
-------
Lily Allen: Grooming Gang Victims Would Have Been Raped 'By Somebody Else' if Muslim Abusers Were Absent
by LIAM DEACON6 Jan 2018
Pop singer Lily Allen has claimed Muslim grooming gang victims could have been "raped or abused by somebody else at some point" if the gangs were not active in the UK.
Ms. Allen also claimed that there is a certain "type" of rapist who attacks their stepdaughter and is 100 per cent "British white" during a discussion about Muslim rape gangs and immigration on Twitter.
Recent research by counter-extremism think tank Quilliam found that 84 per cent of grooming gang members are of 'Asian' origin, with founder Maajid Nawaz characterising them as "British South-Asian Muslim men".
But when questioned about this reality, Ms. Allen sought to divert attention to the sexual crimes of others, and insisted the problem of sex abuse is so bad the victims of grooming gangs would have been attacked even if the gangs did not exist.
"Actually, there's a strong possibility they would have been raped and abused by somebody else at some point. That's kind of the issue," she tweeted, after a user asked her if the young victims would have been abused if the perpetrators had not been allowed into the country.
After a barrage of criticism, she deleted the messages, made her account private, and issued a partial apology.
"If there are any victims of abuse and particularly any girls or women from Rochdale who saw my tweet and were negatively impacted, I apologize, of course. Being able to accept responsibility and apologize is a strength, not a weakness," she bragged.
In another tweet, she claimed that "Type 2 Rapists" are 100 per cent "British white males," describing them as "men that have sex with their stepdaughters twice a week for years at a time … neighbors, uncles, gardeners, priests, fast food restaurant managers that do it over and over again."
✔
@Suffragentleman
Lily Allen: "Not all Muslims!"
Also Lily Allen: "All white Men!".
5:02 AM - Jan 6, 2018
118 118 Replies 467 467 Retweets 963 963 likes
She also proposed banning sports in response to claims about abuse in football.
"I think its time we talked about banning sport in this country. It's clearly putting our young men and boys at risk of abuse. #banfootball," she wrote.
Ms. Allen is a well know pro-mass migration activist who has stirred controversy before.
In October 2016, she went on the BBC "apologised" on behalf of the entire United Kingdom for the migrant crisis, before telling a Jewish man on Twitter he should be "twice as ashamed" because of his religion.
breitbart.com/london/2018/01/06/lily-allen-apologises-after-saying-grooming-gang-victims-would-be-raped-by-somebody-else/
-------
Saudi women prepare to attend football matches as ban on entry to stadiums lifted next week
ARAB NEWS | Published — Saturday 6 January 2018
JEDDAH: Saudi women expressed excitement as the lifting of a ban which previously prevented them from entering football stadiums takes effect next week.
Saudi government announced the lifting of the ban late last year and as a result, women will be treated to three upcoming Saudi Professional League matches in which six major sports clubs will play.
Three stadiums will host the first matches in 2018, beginning with a match between Al-Ahli and Al-Batin at Jeddah's King Abdullah Stadium in the same round on Friday January 12, while women will also be able to attend Al-Hilal's match against Al-Ittihad in the 17th round on Saturday January 13, and finally, the 18th round on Thursday January 18 between Al-Ittifaq and Al-Faisali.
The Saudi General Sports Authority (GSA) has approved three stadiums to host women in the coming matches in early 2018, including King Fahd International Stadium in Riyadh, King Abdullah Stadium in Jeddah and Prince Mohammad bin Fahd Stadium in Dammam, Riyadh Daily quoted Abdul Rahman Al-Qadheeb, undersecretary of technical affairs and investment at the GSA, as saying.
Special arrangements have been allocated for women, where a work plan has been prepared, especially at Riyadh's King Fahd International Stadium, which witnessed a number of family events in 2017, thus making preparations easier for its staff.
The decision allowing women in stadiums was first announced on October 29, a month after a historical royal decree lifting the ban on women driving.
According to Al-Qadheeb, there will be an assessment in the first phase of the three stadiums and then the remaining stadiums will be added gradually as it is difficult for the rest of the stadiums which lack the necessary expertise unlike said three stadiums.
He added that companies sponsoring local competitions, as well as marketing and investment companies need to participate collectively in this step.
"After the evaluation process, all the negatives and positives will be studied and then will be circulated to all stadiums," Al-Qadheeb said. "There are arrangements for all three stadiums to determine the final settings."
Regarding entrances, he explained that "there will be a number of ways in which women will be granted access to the matches, including the ticketing system which will be invested in, and the electronic gates which will be controlled and transferred between the three stadiums as well as other places on the field in case the stadium is crowded. So, we have solutions in the authority's stadiums or even football clubs, but the beginning (games) will be in stadiums and then clubs according to available possibilities."
arabnews.com/node/1220196/saudi-arabia
-------
4 ways Tunisia is moving toward greater gender equality
The North African country is making major strides.
2018-01-07
When it comes to championing for women's rights, its safe to say the Arab world has had a relatively prosperous couple of years. From lifting the ban on women driving in Saudi Arabia to abolishing a rape law in Lebanon, the region has witnessed a wave of feminist ideologies being educated and implemented on ground.
One country, however, has made huge strides regarding women's rights.
Here are four ways Tunisia, the country that made international headlines twice this year, is moving more and more progressively towards gender equality.
1. The Tunisian parliament passed a law protecting women against violence
Oxfam International
✔
@Oxfam
"Today we're a bit safer, thanks to you." Tunisia adopts law to end violence against women/girls: oxf.am/2w5yFAM #SayEnough #evawg
3:51 PM - Aug 3, 2017
Replies 37 37 Retweets 66 66 likes
Twitter Ads info and privacy
This past July, Tunisia's parliament passed a bill introducing new criminal provisions and increasing penalties for multiple violations against women, including sexual harassment and discrimination. The Human Rights Watch described it as a "landmark step for women's rights."
It's worth noting that women's rights organizations in Tunisia have been campaigning for more effective domestic violence laws for decades. Their demands included eliminating a provision from the penal code that allowed a rapist to escape punishment if he marries his victim, amongst other things.
According to HRW, the law also "criminalizes the employment of children as domestic workers, and fines employers who intentionally discriminate against women in pay."
2. Muslim women are now allowed to marry non-Muslim men
Samaa
@ii_ambitious
A muslim woman married christian man and muslims are freaking out in the mentions calling their marriage adultery. twitter.com/ayman999/status/904056928967553026 …
Samaa
@ii_ambitious
Also, shout-out to Tunisia that abolished a law that prevents muslim women from marrying non-muslims. The only Arab country that I like 🇹🇳💜
5:35 AM - Sep 3, 2017
3 3 Replies 12 12 Retweets 27 27 likes
Twitter Ads info and privacy
In September, the Tunisian government lifted a law mandating that if a Muslim woman was to marry a non-Muslim man, he'd have to convert to Islam first and be able to show documented proof of his conversion.
Men, however, were legally allowed to marry a non-Muslim woman regardless of whether she converts later on.
"Congratulations to the women of Tunisia for the enshrinement of the right to the freedom to choose one's spouse," presidential spokeswoman SaidaGarrach wrote on Facebook, according to a translation by Al Jazeera.
Back in August, Tunisia's President BejiCaidEssebsi said that the state is "obliged to achieve full equality between women and men and to ensure equal opportunities for all responsibilities." He was referring to Tunisia's 2014 constitution, which was drafted during the Arab Spring.
3. Tunisia's parliament has the highest female representation in any Arab country
Fabian Wa
@fab_wa
Germany's new parliament has a lower percentage of women than Tunisia's. How embarrassing... @GrueneBundestagare a positive exception 💚✊ twitter.com/viktor_funk/status/922695271590645761 …
2:33 PM - Oct 24, 2017 · Berlin, Germany
1 1 Reply 3 3 Retweets 6 6 likes
Topping the list with 33.6 percent in 2016, 73 out of the total 217 seats were occupied by women in the Tunisian parliament. That makes up more than one-third of the total number of MPs, topping even the average number of female representation in the European Union (27 percent).
In 2017, at 31.3 percent, the average number of women in parliament even topped that of Germany (30.7 percent).
"Women represent 60 percent of those working in the medical sector, 35 percent in engineering, 41 percent in the judiciary, 43 percent in law and 60 percent in higher education," said Tunisia's President BejiCaidEssebsi.
4. Tunisia imposes a death penalty on rapists
Al Arabiya English
✔
@AlArabiya_Eng
#Tunisia seeks death penalty for rapist policemen ara.tv/wmemk
9:33 PM - Apr 7, 2014
Joining Saudi Arabia and the UAE, Tunisia is one of the few countries in the region to have imposed a death penalty on rapists, ranging between 15 years and life sentencing.
stepfeed.com/4-ways-tunisia-is-moving-toward-greater-gender-equality-5702
URL: https://www.newageislam.com/islam-women-feminism/son-i-want-survive-up/d/113844