New Age Islam News Bureau
31 Jul 2017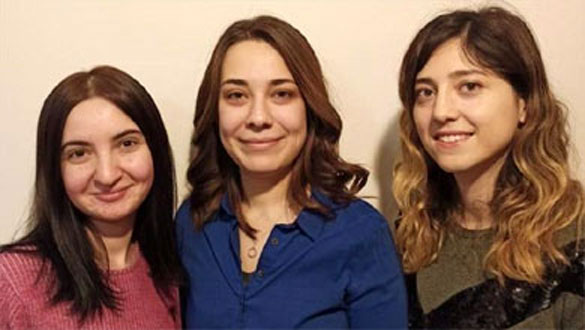 REUTERS photo: Turkish women march against rising intolerance in Istanbul
-----
• NGO Rescues Syrian Refugee Girl in Jordan from Child Marriages
• Unmarried Men, Women in UAE Seek To Freeze Egg, Sperm
• Turkish Women March against Rising Intolerance in Istanbul
• Sheikh Mohammed Saves Women Cyclists in Dubai Desert
• Afghan Woman Rescued Before Falling Victim to Suspected Honour Killing
• Maryam Al-Otaibi: Saudi Anti-Guardianship Campaigner Freed From Detention
• This Is How Egypt's Govt Dealt With Story of Woman Forced To Dress as A Man
• Hurriyat Terror Funding: Kashmir's Most Dangerous Woman under Radar
• Women Activists in Iran Pressing for Female Minister in Cabinet
Compiled by New Age Islam News Bureau
URL: https://www.newageislam.com/islam-women-feminism/some-domestic-haj-groups-require/d/112033
--------
Some domestic Haj groups require women pilgrims to have a 'mahram'
July 31, 2017
MAKKAH — Some domestic pilgrim service companies insist on women signing up through electronic gate of the Ministry of Haj and Umrah to have a mahram (male guardian) accompanying them.
The e-portal for the registration of internal pilgrims opened at 8 a.m. Monday.
"Since the portals opened they have been highly crowded. Like every year, the Haj campaigns are aiming to become affordable this year in order to facilitate the pilgrimage for pilgrims. The price per person ranges from SR3,500 to SR5,000," said Saad Al-Qurashi, executive member of the Makkah Chamber of Commerce and Industry.
He said only 20 percent of Saudi pilgrims register for the low-cost campaigns. Most of them prefer to register in campaigns costing SR7,000 due to the better services offered.
"Requiring a mahram for women pilgrims is the policy of some but not all haj services companies. Registering through the portal is simple and easy to follow. The Ministry of Haj has posted a video on YouTube showing how users can follow the necessary steps to register for a Haj campaign," said Al-Qurashi.
He added the video is only two minutes and 46 seconds. "The user has to define the type of Haj program they want to be in, the number of pilgrims, the city they are from, prepayment or post payment, Haj package, contact information and additional services," said Al-Qurashi.
http://saudigazette.com.sa/article/514028/SAUDI-ARABIA/Haj-pilgrims
--------
NGO Rescues Syrian Refugee Girl in Jordan from Child Marriages
July 31, 2017
Care aims to find sustainable lives for people who are most vulnerable to hunger, violence and disease.
A young Syrian refugee girl in Jordan was about to be married off at just the age of 13, by her parents. Facing a dire economic situation, her parents thought getting her married early was the best option, as they would have less mouths to feed.
Fortunately, a humanitarian organisation, Care, came to her rescue. Headquartered in the US, Care learned about Riham's story and was able to enroll her in a conditional-cash for education programme, delaying her marriage so she could stay in school.
Her family now receives $100 (Dh365) each month during the school year to meet their needs, and Riham is now an activist against early marriage at school.
Care has stepped in to help many such Syrian refugee girls in similar positions as Riham.
The organisation operates in 94 countries, including the UAE, and reaches more than 80 million people through nearly 1,000 life-saving projects. Care aims to find sustainable lives for people who are most vulnerable to hunger, violence and disease.
Speaking to Khaleej Times, Widad Tamimi, case manager at Care Jordan, shed light on the current child marriage problem among Syrian refugees and how Care is addressing this major issue, particularly in Syrian refugee camps based in Jordan.
Key priorities
"One of our key priorities is to learn what gives rise to child marriage. As we learn what leads people to marry their daughters (and sons) as children, we can address those causes to stop child marriage. Digging up its roots help us replant the future for millions of girls around the world," Tamimi said.
"Life is difficult for displaced families. Parents struggle to provide for their children and fear for their safety - particularly sexual violence against girls, abduction, rape, and assaults, especially in a camp setting. Sometimes families push their daughters into early marriage as a means of protection, while providing them with a level of financial stability."
Tamimi said that parents also worry about an alarming future with little social and economic security. She said this is particularly the case for those of a modest socioeconomic status, basic education and often from rural or agricultural settings.
"Sometimes there are barriers to girls' education, particularly for Syrian refugees. The costs of attending school - including books, uniforms and transportation - make education unaffordable," Tamimi added.
There is also an inconsistent implementation of regulations and legislation to protect girls against child marriage, according to Tamimi, and early marriages often go undocumented. The Syrian refugee crisis has made child marriage "increasingly common", especially for girls from poor families who are married off for income, legal status or perceived protection.
However, Care is working towards reducing the risk of early marriage and helping girls who have already been married off as child brides. They aim to enable women and girls to lead healthy and empowered lives.
"By 2022, Care aims to impact one million girls and young women and their families in the MENA region and the Caucasus (Egypt, Lebanon, Syria, Jordan, Yemen, Turkey, Georgia, Armenia and Azerbaijan) through the provision of alternative options to child marriage. The target group includes both girls and young women at risk of child marriage and those who are already married. Our vision is that girls, married or unmarried, realise their rights of choice, health, economic security, information, sexuality and a life free of violence," Tamimi said.
It's a reality, child marriages are rising
Widad Tamimi said that the figures for early marriage may be much higher than actually reported, as people often do not want to report the case or there are limited means of trying to obtain the relevant data.
"Child marriage is a reality for Syrian girls in refugee communities in Jordan, Lebanon, Iraq and Turkey. There have been studies indicating that child marriage in Jordan showed an increase over time. In 2011, 12 per cent of registered marriages involved a girl under the age of 18. This figure rose to 18 per centin 2012, 25 per cent in 2013 and 32 per cent in early 2014," she said.
"Personally, I expect a continuous decrease in the percentage of the child marriage as people really want their children, their daughters, to have access to education and a better future."
https://www.khaleejtimes.com/news/general//news/general/uae-ngo-rescues-refugee-girls-from-child-marriages--
--------
Unmarried men, women in UAE seek to freeze egg, sperm
July 31, 2017
15 unmarried women and men received fertility preserving treatment in the past three months alone.
The number of unmarried women and men seeking to preserve their fertility is growing in the UAE, claim doctors and reproductive specialists.
Dr Elsamawal El Hakim, consultant Reproductive Medicine and IVF, HealthPlus Fertility Centre, in Abu Dhabi - United Eastern Medical Services, told Khaleej Times that 15 unmarried women and men received fertility preserving treatment in the past three months alone.
He said the taboo-nature of preserving an unmarried woman's eggs or a man's semen has diminished, as awareness on health increased.
"There is an increase in awareness for both patients and people in the health care sector, and now there is clear access for men and women, whether married or not, to preserve their fertility."
Dr El Hakim said cancer patients in particular are looking out for their future and choosing to go ahead with the fertility treatments, prior to undergoing chemotherapy or radiation, which could drastically affect their chances of conceiving later in life.
"There are many serious cases to be considered for fertility preservation, including cancer."
"Other medical conditions such arthritis, systemic lupus disease, sickle cell and thalassemia, are also crucial."
He said that during the past two years, doctors have noticed many young people who required medical intervention to preserve their eggs and sperms as a preventive measure due to their need to undergo treatments that may lead to the destruction of cells producing eggs and sperms.
But it is not just those suffering from deadly illnesses that are turning to fertility preservation in the UAE, as career-driven residents are now also looking ahead at how they can balance their passion for work, while securing their chances at having a family in the future.
"Sometimes people delay their marriage for career reasons or not finding the right person, and in women this has a great effect on egg numbers."
He highlighted that there were 12 single women and three single men out of the total cases in the past three months, adding that the eggs in some cases are collected from unmarried women, using advanced techniques by laparoscopy when necessary.
Such cases for single women required prior approval by the relevant health authorities. Dr El Hakim said the cases were approved by the Ministry of Health.
"We have not received any rejections," he added.
Dr El Hakim said the samples are preserved through an accurate electronic system, under a temperature of up to 194 degrees below zero, using liquid nitrogen gas. They are preserved for five years, then renewed.
Majd Abu Zant, Chief Operating Officer, United Eastern Medical Services and CEO of HealthPlus Network of Specialty Centres, said the centre performs thousands of treatments each year, with a success rate of more than 45.2 per cent.
"The centre performs more than 2,670 infertility treatment sessions annually, and samples of eggs or sperms for more than 3,000 patients are currently preserved."
Recent fertility preservation cases
A single Arab-26-year old woman had 12 of her eggs preserved. She was diagnosed with breast cancer and was referred by her oncologist to have her eggs preserved prior to chemotherapy.
Another young man - diagnosed with leukemia at the age of 29 - also chose to freeze his semen, which Dr El Hakim, said that it "takes only a few minutes."
Two samples of the cancer patient were preserved, with 20 million sperms in each sample.
"An Emirati woman in her 30s went abroad to focus on her career. During her screening, we informed her that her eggs were declining, and she decided to freeze her eggs."
As many as 16 fertilised eggs have been preserved for the Emirati career-driver.
A 41-year-old Sudanese woman who had a delayed marriage also found that she was at risk of conceiving and went ahead with egg freezing.
"The treatment usually takes 10-12 days for women," Dr El Hakim added.
https://www.khaleejtimes.com/news/uae-health/unmarried-men-women-in-uae-seek-to-freeze-egg-sperm
--------
Turkish women march against rising intolerance in Istanbul
July/30/2017
Hundreds of women marched in Istanbul on July 29 to protest against violence and animosity they face from men demanding they dress more conservatively.
The march, dubbed "Don't Mess With My Outfit," started in the Kadıköy district on the Asian side of the city. Women chanted slogans and carried denim shorts on hangers as examples of the type of clothing some men say they find unacceptable.
"We will not obey, be silenced, be afraid. We will win through resistance," the crowds chanted, holding up posters and LGBT rainbow flags.
Protesters say there has been an increase in the number of verbal and physical attacks against women for their choice of clothing in Turkey in recent years.
In one incident in June, a young woman, Asena Melisa Sağlam, was attacked by a man on a bus in Istanbul for wearing shorts during the Muslim holy month of Ramadan. Video of the incident showed the man hitting her while the bus driver watched.
"Are you not ashamed of dressing like this during Ramadan?" the footage showed the man saying.
In another incident, Canan Kaymakçı, was harassed on the street in Istanbul when a man accused her of wearing provocative clothing, saying she should be careful because she was "turning people on."
Another woman, Ayşegül Terzi, was called a "devil" and kicked by a man on a public bus, also for wearing shorts. Footage showed the man telling her that those who wear shorts "should die."
The march was joined by several members of the LGBT community, after Istanbul's Pride March was banned by the governor's office late in June.
Since the ruling Justice and Development Party (AKP) took office nearly 15 years ago, restrictions on wearing the headscarf have been eased and more women in the country have chosen to wear it.
The march also saw several women protesting against the criticism they have faced for choosing to wear headscarves.
"Don't meddle with my headscarf, shorts, outfits," read posters held by participants.
http://www.hurriyetdailynews.com/turkish-women-march-against-rising-intolerance-in-istanbul.aspx?pageID=238&nID=116102&NewsCatID=339
--------
Sheikh Mohammed saves women cyclists in Dubai desert
July 30, 2017
The Sheikh in shining armour was all these stranded women needed that evening.
When three women cyclists were left stranded in the desert near Al Qudra, they couldn't help but pray for a miracle to happen. And it did.
Their saviour was none other than His Highness Sheikh Mohammed bin Rashid Al Maktoum, Vice-President and Prime Minister of the UAE and Ruler of Dubai, and his team, who happened to pass by.
It is a heart-warming story of kindness for strangers, which reflects the noble soul that Sheikh Mohammed is. And the women can't stop showering praise on him for his extraordinary benevolence.
It all started on a lazy Tuesday evening last November. The three women planned to hire cycles and pedal for 50km towards Al Qudra. They carried a backpack containing a water bottle and an iPhone with 20 per cent battery. Their adventure was on track for the first 10km, until it went awry when the chain of one of the cyclists came off, according to a report in lovindubai.com.
They were 10km into the desert. The sun had gone down and darkness had dawned. To add to this, the bike rental store didn't answer calls from the phone whose battery was about to run out.
It was indeed a recipe for disaster. And the trio pinned hopes on a 'Godsent. Panic was creeping in, just when they saw a few men on bikes and the headlights of a car coming towards them. It was Sheikh Mohammed and his team. They waved them to stop.
Initially, the rattled ladies couldn't believe that Sheikh Mohammed was amidst them and spearheading their rescue. When they realized it, they were delightfully amazed and couldn't thank him enough for his help. Sheikh Mohammed obliged them with a group photo. The bike was fixed and the women cycled for the next 40km with an incredible adrenaline rush.
Sheikh Mohammed's kind gesture would live in their hearts and continue to inspire them to spread the warmth.
https://www.khaleejtimes.com/nation/dubai/sheikh-mohammed-saves-women-cyclists-in-dubai-desert
--------
Afghan Woman Rescued Before Falling Victim to Suspected Honour Killing
Jul 30 2017
Amid a rapid rise in violence against women across the country, the police forces in eastern Nangarhar province of Afghanistan rescued a woman as two men were attempting to murder for for unknown reasons.
The two men were apparently attempting to murder in the name of honor but the local officials are saying that the main motive has not been ascertained so far.
The provincial government media office in a statement confirmed the incident and said one of the suspects has been arrested and is in custody of the police forces.
The statement further added that the two have been identified as Hokom Khan and Waziri who were attempting to kill the young woman in Behsud district.
According to the provincial government, Wazir has confessed to his crime for the attempted murder and efforts are underway to arrest Hokom Khan in connection to the incident.
This comes as incidents involving violence against women are on the rise in the remote parts of the country amid rampant violence against the women.
The Afghanistan Independent Human Rights Commission officials said last year that they have recorded around 3,000 cases of violence against women and young girls.
The officials further added that the cases belonged to the year 1395 and mainly involved rape cases, forced marriage, and other forms of domestic violence.
http://www.khaama.com/afghan-woman-rescued-before-falling-victim-of-suspected-honor-killing-03240
--------
Maryam al-Otaibi: Saudi anti-guardianship campaigner freed from detention
30 July 2017
A Saudi woman activist campaigning against the restrictions of male guardianship has been freed after over 100 days in detention, reports say.
In what is being seen by campaigners as a significant step, Maryam al-Otaibi was also reportedly released without the presence of a male guardian.
She was detained after she fled her father's house to try to lead an independent life.
Earlier this year, King Salman issued orders to modify guardianship rules.
The system has traditionally left Saudi women needing male permission for many everyday actions, such as applying for a passport, travelling abroad, getting married and also exiting a prison.
Ms al-Otaibi, an activist with a large following on social media, had taken part in a campaign against guardianship rules that saw people post on social media under the hashtag #IAmMyOwnGuardian, send letters to King Salman and sign a petition.
Arrested for flying without a man
The women challenging guardianship
Is Saudi Arabia on the cusp of change?
However male members of her family disapproved of this activity, according to the Gulf Center for Human Rights (GCHR).
Ms al-Otaibi moved to the capital Riyadh on her own but her father complained to police under the guardianship system and she was arrested in April, GCHR said.
Shortly before her arrest Ms al-Otaibi tweeted that she did not want to "go back to hell" and accused police in her home town of al-Ras of conspiring against her with her family.
During her 104 days in detention she was transferred to the women's section of al-Malaz prison in Riyadh, GCHR said.
In April King Salman ordered government agencies to allow women to access government services without a male guardian's consent.
The same month, Dina Ali Lasloom, a 24-year-old Saudi woman, was stopped in Manila airport while attempting to leave her family and seek asylum in Australia.
She was forcibly returned to Riyadh with relatives and has not been heard from since. The Saudi embassy in Manila said it was a "family matter".
http://www.bbc.com/news/world-middle-east-40770776
--------
This is how Egypt's govt dealt with story of woman forced to dress as a man
30 July 2017
Beni Suef's governor Sharif Habib ordered a social welfare team to visit Bahia Sleiman, who had abandoned her femininity and embraced a man's world using the name Bakar to make ends meet for her family.
Bahia cut her hair short and began wearing the jalabiya, a long robe worn by men in Egypt, and began working on her husband's tuk-tuk after an accident left him disabled and bedridden.
Habib directed a team from the governorate to visit Bahia and her family to assess their difficult situation, the governorate said in a statement on Sunday, adding that the team is tasked with dealing with difficult social and humanitarian circumstances.
The governor then met with the team after it visited Bahia and discussed their report and means to improve the family's living conditions and provide their basic needs.
According to the report, Bahia has three children between the ages 4 and 9. The family lives in a house made of white bricks and is not well-equipped. For the past six months, some charity organizations have helped them pay some debts and provided medical aid.
Following the meeting, the governorate decided to provide some immediate financial and in-kind assistance in coordination with the ministry of social solidarity and non-governmental organizations. Among the aid are a stove, washing machine and kitchen equipment.
A kiosk will also be given to the family within a week to help them sell merchandise and make a living while the ministry of social solidarity will provide financial aid to help them pay off some of their debts.
Habib also asked the ministry of health to follow up on the family's health situation and keep him posted.
https://english.alarabiya.net/en/features/2017/07/30/This-is-how-Egypt-s-govt-dealt-with-story-of-woman-forced-to-dress-as-a-man.html
--------
Hurriyat terror funding: Kashmir's most dangerous woman under radar
July 31, 2017
The National Investigation Agency which is probing the Hurriyat terror funding case has also filed an FIR against an outfit called the Dukhtaran-e-Millat. The outfit is headed by one of the most dangerous women in Kashmir, Asiya Andrabi.
She was in the news recently when she wished the people of Pakistan on independence day. Prior to addressing the rally at Lahore, she had also celebrated Pakistan's Independence Day at her residence. The NIA says that she had played an active role in funding the unrest. The funds received by her organisation are under the scanner. She will be questioned soon and if the need be arrested too, NIA officials say. Kashmir most dangerous woman: Provocative and referred to as an iron lady by the separatists, Asiya is founder of the Dukhtaran-e-Millat (Daughters of the nation). The DeM is part of the All Parties Hurriyat Conference in Kashmir and the intent of this outfit is to separate Kashmir from India. Asiya has made several statements that have raked up controversies. On one ocassion she had said that if her son sees George Bush anywhere, it would be a great honour to kill him. She had words of hate against the Indian army as well and has very often said that that it is her dream to kill the soldiers. Asiya has been in the news for all the wrong reasons since long. Married to Ashiq Hussain Faktoo one of the founders of the dreaded Hizbul Mujahideen, she has been labeled as an iron lady by her supporters. Always in a burqa, she has been arrested in the year 2010 for waging a war against India and also inciting violence. Very recently she was in the news for hoisting the Pakistan flag and singing their national anthem on March 25 2015. Security analysts termed these are desperate measures to get noticed by Pakistan. However, she continues to remain one of the most powerful and important separatists. She also had played a key role in the stone pelting incident of 2010 where she managed to gather scores of her supporters. She is best known for mobilizing women against India. She would invite women to read and understand Islam and wage a war against India. She believes that the women too should participate in the war against India and only then would it be a successful one. She was also instrumental in starting the Quit Jammu and Kashmir movement along with several other wings of the Hurriyat Conference. She is a staunch believer in the concept of an Islamic state and says that she would be blessed if her own sons died as suicide bombers.
http://www.oneindia.com/india/hurriyat-terror-funding-kashmirs-most-dangerous-woman-under-radar-2510719.html
--------
Women Activists in Iran Pressing for Female Minister in Cabinet
July 27, 2017
Tara Sepehri Far
President Hassan Rouhani is expected to introduce nominees for his second-term cabinet in the coming weeks, and the question on many minds is whether a woman will be appointed minister.
During the election campaign, Rouhani passionately defended women's participation in the public sphere, saying his administration "does not accept gender discrimination and injustice." The women and family chapter of his draft comprehensive plan for his next administration included several steps, such as "increasing women's participation in high-level management positions."
But the president is said to be having "reservations" about appointing a female minister, according to Fatemeh Saeedi, a female parliamentarian from Tehran who met with the president about cabinet appointments. Now, alarmed by the prospect of women being shut out of a senior cabinet position, women's rights defenders are pushing back. Two days ago, they released a video in which they argued the importance of appointing a female minister.
Since the 1979 revolution, only one woman has served as a minister, in 2009, when President Mahmoud Ahmadinejad appointed Marzieh Vahid-Dastjerdi to head the Health Ministry. Rouhani, during his first term in 2013, did not go beyond appointing four women to his cabinet, none of whom were at a ministerial level. The Guardian Council – an all-male body of Islamic jurists responsible for vetting candidates for elections – has never approved a woman to stand in presidential elections or elections to the Assembly of Experts, despite the fact that women have registered for both.
Several women's rights defenders now see appointing a female minister as the next step toward more equal representation in high-level offices, and they are not alone. Last week, 157 members of Iran's parliament wrote to Rouhani asking him to appoint capable women as ministers to his cabinet.
While women in Iran have limited presence at senior decision-making levels, they also confront discrimination in numerous ways both in law and in practice – whether it's unequal rights in marriage and divorce or their testimony amounting to only half of a man in court. Despite their impressive achievements in higher education, women are also marginalized in the economy in many ways.
Having a female minister will not alone solve discrimination against women in Iranian society. Nor is it sufficient to close the gender gap on economic and social fronts. But appointing women to ministerial positions would be a recognition by the president in action – not just words – that women who constitute half of the society should not be excluded from senior positions on the basis of their gender.
https://www.hrw.org/news/2017/07/27/women-activists-iran-pressing-female-minister-cabinet
--------
URL: https://www.newageislam.com/islam-women-feminism/some-domestic-haj-groups-require/d/112033
New Age Islam, Islam Online, Islamic Website, African Muslim News, Arab World News, South Asia News, Indian Muslim News, World Muslim News, Women in Islam, Islamic Feminism, Arab Women, Women In Arab, Islamophobia in America, Muslim Women in West, Islam Women and Feminism