16 January 2022
• Some Afghan Girls Can Wrestle, Play Sports, And Work — But Only If They Live As A Boy
• Two Arab Women Mrs UAE and Mrs Jordan in Mrs World final as Mrs American Shaylyn Ford Takes Crown
• Love Jihad In Pakistan: Christian Woman Accuses Husband Of Detaining Her In Islam Theological Centre
• League Like PSL Will Help Female Cricketers Gain Exposure: Sana Mir
• Xinjiang Issues Development Plan For Women, Children
Compiled by New Age Islam News Bureau
URL: https://www.newageislam.com/islam-women-feminism/afghan-girls-wrestle-kabul/d/126167
--------
Some Afghan Girls Can Wrestle, Play Sports, And Work — But Only If They Live As A Boy

Sanam, a bacha posh, a girl living as a boy, sits next to her mother and father during an interview in their house, in Kabul, Afghanistan, Dec. 7, 2021. (Photo | AP)
-----
By Associated Press
In a Kabul neighbourhood, a gaggle of boys kick a yellow ball around a dusty playground, their boisterous cries echoing off the surrounding apartment buildings.
Dressed in sweaters and jeans or the traditional Afghan male clothing of baggy pants and long shirt, none stand out as they jostle to score a goal. But unbeknown to them, one is different from the others.
At not quite 8 years old, Sanam is a bacha posh: a girl living as a boy. One day a few months ago, the girl with rosy cheeks and an impish smile had her dark hair cut short, donned boys' clothes and took on a boy's name, Omid.
The move opened up a boy's world: playing soccer and cricket with boys, wrestling with the neighbourhood butcher's son, working to help the family make ends meet.
In Afghanistan's heavily patriarchal, male-dominated society, where women and girls are usually relegated to the home, bacha posh, Dari for "dressed as a boy," is the one tradition allowing girls access to the freer male world.
Under the practice, a girl dresses, behaves and is treated as a boy, with all the freedoms and obligations that entails. The child can play sports, attend a madrassa, or religious school, and, sometimes crucially for the family, work. But there is a time limit: Once a bacha posh reaches puberty, she is expected to revert to traditional girls' gender roles. The transition is not always easy.
It is unclear how the practice is viewed by Afghanistan's new rulers, the Taliban, who seized power in mid-August and have made no public statements on the issue.
Their rule so far has been less draconian than the last time they were in power in the 1990s, but women's freedoms have still been severely curtailed. Thousands of women have been barred from working, and girls beyond primary school age have not been able to return to public schools in most places.
With a crackdown on women's rights, the bacha posh tradition could become even more attractive for some families. And as the practice is temporary, with the children eventually reverting to female roles, the Taliban might not deal with the issue at all, said Thomas Barfield, a professor of anthropology at Boston University who has written several books on Afghanistan.
It is unclear where the practice originated or how old it is, and it is impossible to know how widespread it might be. A somewhat similar tradition exists in Albania, another deeply patriarchal society, although it is limited to adults. Under Albania's "sworn virgin" tradition, a woman would take an oath of celibacy and declare herself a man, after which she could inherit property, work and sit on a village council — all of which would have been out of bounds for a woman.
In Afghanistan, the bacha posh tradition is "one of the most under-investigated" topics in terms of gender issues, said Barfield, who spent about two years in the 1970s living with an Afghan nomad family that included a bacha posh. "Precisely because the girls revert back to the female role, they marry, it kind of disappears."
"It's almost so invisible that it's one of the few gender issues that doesn't show up as a political or social question," Barfield noted.
The reasons parents might want a bacha posh vary. With sons traditionally valued more than daughters, the practice usually occurs in families without a boy. Some consider it a status symbol, and some believe it will bring good luck for the next child to be born a boy.
But for others, like Sanam's family, the choice was one of necessity. Last year, with Afghanistan's economy collapsing, construction work dried up. Sanam's father, already suffering from a back injury, lost his job as a plumber. He turned to selling coronavirus masks on the streets, making the equivalent of $1-$2 per day. But he needed a helper.
The family has four daughters and one son, but their 11-year-old boy doesn't have full use of his hands following an injury. So the parents said they decided to make Sanam a bacha posh.
"We had to do this because of poverty," said Sanam's mother, Fahima. "We don't have a son to work for us, and her father doesn't have anyone to help him. So I will consider her my son until she becomes a teenager."
Still, Fahima refers to Sanam as "my daughter." In their native Dari language, the pronouns are not an issue since one pronoun is used for "he" and "she."
"It's better to be a boy...I wear (Afghan male clothes), jeans and jackets, and go with my father and work," she said. She likes playing in the park with her brother's friends and playing cricket and soccer.
Once she grows up, Sanam said, she wants to be either a doctor, a commander or a soldier, or work with her father. And she'll go back to being a girl.
"When I put on girls' clothes, I thought I was in prison," said Najieh, who grew up as a bacha posh, although she would attend school as a girl. One of seven sisters, her boy's name was Assadollah.
"In Afghanistan, boys are more valuable," she said. "There is no oppression for them, and no limits. But being a girl is different. She gets forced to get married at a young age."
Young women can't leave the house or allow strangers to see their face, Najieh said. And after the Taliban takeover, she lost her job as a schoolteacher because she had been teaching boys.
"Being a man is better than being a woman," she said, wiping tears from her eye. "It is very hard for me. ... If I were a man, I could be a teacher in a school."
Source: Nbcnews
https://www.nbcnews.com/news/world/afghanistans-bacha-posh-tradition-allows-girls-freedom-boys-rcna12216
-----
Two Arab Women Mrs UAE and Mrs Jordan in Mrs World final as Mrs American Shaylyn Ford Takes Crown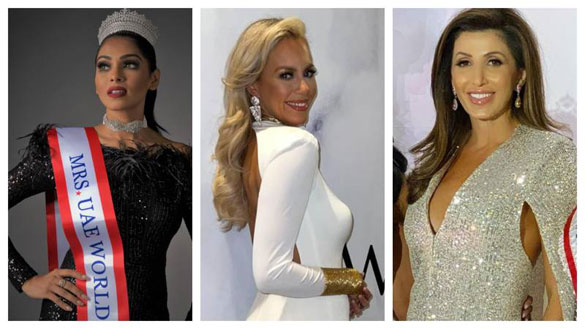 From left, Mrs UAE World Debanjali Kamstra, Mrs World Shaylyn Ford and Mrs Jordan World Jaclyn Stapp. Photos: Mahmoud Marei; Instagram
------
Emma Pearson
Jan 16, 2022
Mrs UAE and Mrs Jordan wowed judges at the Mrs World beauty pageant on Saturday, narrowly losing out on the crown to Mrs American Shaylyn Ford.
Debanjali Kamstra, who was representing the UAE for the first time in the pageant's history, was named second runner-up, with Mrs Jordan Jaclyn Stapp finishing as first runner-up at the glamorous event in Las Vegas.
Ford beat 57 other contestants for the title and was crowned by the reigning Mrs World, Kate Schneider, who was Mrs Ireland World.
The pageant featured the traditional displays of national costumes, swimwear, eveningwear and a series of interview questions to test contestants' personalities and public speaking skills, in which Kamstra and Stapp spoke about their charitable efforts in the Middle East.
A former employee of Emirates airline, Kamstra, 35, is an architect and opened her first interior design business, Veloche, in Dubai a decade ago.
A resident of the UAE for 13 years, she has since started two more companies, one selling home interiors and the other dealing in healthy snacks and drinks.
Kamstra, who has been married to her musician husband Christiaan Kamstra for nine years, loves dancing and fitness and is motivated by helping other women on their fitness journey.
Her mantra in life is: "Confidence is your best accessory. Love yourself and give your best and the results will always be in your favour."
When asked what she wants the judges and world to know about her, Kamsta answered: "I want the world to know that I am a woman who has started her life from scratch and I have never been gifted with everything I've wanted, so I have worked really hard to achieve everything.
"Being the pioneering United Arab Emirates contestant, I'm [for the] first time representing the country in the platform of the world and if I become Mrs World, I will do a lot for the people of determination as I want them to have jobs and I also want to support the children with autism because they are all inclusive."
On the question of how she would utilise technology during her reign, she said: "If you go to my Instagram account you can see I've already got half a million followers. That means when I'm going to travel I'm going to take a lot of pictures and promote different countries' tourism.
"Most important [is] my advocacy for the people of determination. I would like to contact organisations, both private and government, to give some kind of job opportunity to people of determination because they are all inclusive."
Kamstra also stunned judges in the national costume round, winning the award for the Most Exotic Costume in a falcon-inspired getup, made entirely of gold fabric and featuring a floor-length feather cape.
Audiences gasped at Kamstra's magnificent wing-shaped shoulder pads as she strutted out onto the stage, pausing to spread out her feathers majestically.
Crowning the striking costume, designed by Filipino talent Cary Santiago, was a statuesque headpiece depicting a falcon in flight, paired with a stunning gold battoulah glimmering under the spotlights.
The metallic ensemble was paired with thigh-high metal plated boots, an elaborate headpiece and a trident, which she brandished as strode confidently across the Vegas stage.
For the swimwear round, the 15 semi finalists, including Kamstra and Stapp, wore identical plunging black one-pieces paired with perspex heels as they sashayed around the stage to Diana Ross's I'm Coming Out.
The final six then took to the stage in a bright pink number and paraded in front of the judges as hosts shared a brief biography about each contestant's life and work.
When asked about her plans for the pageant's Beauty For Good and Victoria's Voice charities as Mrs World, Ford said: "I've already started. My first meeting is on Monday with the Beauty For Good team and I'm so excited to get some victory clubs going in our state.
"I have had opioid addiction hit my own family. I've lost people who I love and I'm very passionate about taking this forward.
Source: The National News
https://www.thenationalnews.com/lifestyle/fashion/2022/01/16/two-arab-nations-in-mrs-world-final-as-mrs-american-shaylyn-ford-takes-crown/
-----
Love Jihad In Pakistan: Christian Woman Accuses Husband Of Detaining Her In Islam Theological Centre
16th January 2022
By Ajay Kanth
KOCHI: Rekindling the allegations of love jihad, a 20-year-old Christian woman has come out against her husband and his family members for allegedly detaining her in an Islam theological centre at Ponnani for 40 days to make her convert to Islam.
The incident came to light when the woman complained to the Pothanikad police station against the husband Aslam, 33, of Kothamangalam, and his family members charging them with dowry harassment, wrongful confinement, and insulting modesty of a woman. The police registered a case on December 7, 2021, based on her complaint.
Though the husband and his family members moved the sessions court here seeking anticipatory bail to avoid arrest in the incident submitting that they were falsely implicated in the case, the court on January 10 rejected the husband's plea while granting bail to family members. As per the FIR, the woman was forcibly taken to the centre at Ponnani and was detained there for over 40 days without allowing her to go outside or contact others. The woman also submitted that when she escaped and reached her husband's house, she was subjected to mental and physical torture.
"A probe is on. A preliminary report was filed in the court when the anticipatory bail was taken up for hearing. The woman has raised a lot of allegations against the family" said a senior police officer.
Police said the two, who were in love, got married at the Pothanikkad sub-registrar's office on November 11, 2019, based on the assurance that both of them could live together following their own religious beliefs.
"The prosecution records would clearly reveal the diabolic physical, mental and emotional torture of the complainant at the instance of the accused right from the very inception of her marriage with him. It is seen that the complainant was subjected to deplorable sexual harassment by the accused," observed Additional Sessions Judge G Girish in the order.
"The allegation levelled by the complainant that the accused used to share his bedroom scenes with the complainant to his friends is a sort of extreme emotional torture which no wife could bear. In addition to that, the allegation against the accused that he coerced the complainant to abdicate her religious beliefs and to embrace another religion, would reveal that the complainant had to suffer mental torture of severe nature," the judge observed.
Source: New Indian Express
https://www.newindianexpress.com/cities/kochi/2022/jan/16/christian-woman-accuses-husband-of-detaining-her-in-islam-theological-centre-2407315.html
-----
League like PSL will help female cricketers gain exposure: Sana Mir
Faizan Lakhani
Jan 15 2022
KARACHI: Sana Mir, former captain of the Pakistan women's cricket team, on Saturday welcomed the idea of holding a Pakistan Super League for women, saying a local league will help female cricketers gain exposure and experience.
Speaking to Geo News, the former all-rounder stressed the need of having more teams in women's domestic tournaments to increase the players' pool.
"I have been insisting on women's PSL since day one; our female cricketers need such tournaments," she said, adding that this will help them enhance their skills.
Mir added that when you share a dressing room with top players from other countries, you not only learn new things but also get to understand their thought processes.
"A league like PSL for women will surely help our cricketers, there's no doubt. If you want them to go beyond their current limits, then a locally sponsored league is inevitable," she added.
Last month, Pakistan Cricket Board (PCB) Chairman Ramiz Raja had announced that he aims to start a PSL for U19 and women cricketers, saying that PCB has already started working on the idea.
A major challenge would be the number of local players available for the pool. However, Mir said: "You don't need a six-team tournament at this stage, you can kick off with four teams and gradually increase the number of teams in the league."
"There was a tournament recently held in Quetta where five teams participated. So, we can have four teams with top-level local and international players," she said.
"If we continue to play with three or four teams in domestic tournaments then we won't be able to increase our players' pool but if we increase the number of players in domestic tournaments then new players will come in and it will give us a bigger pool," the former women's team captain said.
Source: Geo.tv
https://www.geo.tv/latest/393589-cricket-league-will
-----
Xinjiang issues development plan for women, children
By Xinhua
15-01-2022
Northwest China's Xinjiang Uygur Autonomous Region has issued two plans to promote the high-quality development of women and children through 180 welfare measures spanning 15 fields, local authorities said on Friday.
The plans aim to promote the coordinated development of women and children from urban and rural regions and different areas and groups. They further aim to protect the rights and interests of women and children with special difficulties, said Wang Lixia, deputy director of the regional working committee on children and women.
Besides, these plans will integrate the goals and objectives involving the development of women and children with the overall economic and social planning of the region, Wang added.
In recent years, the rights of women and children in Xinjiang have been further protected, and their health conditions have continued to improve. "Historic achievements have been made in the development of women and children in Xinjiang," said Wang.
The maternal mortality rate in the region had dropped from 39.45 per 100,000 in 2011 to 7.89 per 100,000 in 2020. By 2020, the number of newly employed women in the region's urban areas had accounted for 45.11 percent of the total.
Gender discrimination in the workplace has been largely eliminated in the region, with employment channels for women further expanded and equal pay for men and women fully implemented.
Source: Pakistan Today
https://www.pakistantoday.com.pk/2022/01/15/xinjiang-issues-development-plan-for-women-children/
-----
URL: https://www.newageislam.com/islam-women-feminism/afghan-girls-wrestle-kabul/d/126167
New Age Islam, Islam Online, Islamic Website, African Muslim News, Arab World News, South Asia News, Indian Muslim News, World Muslim News, Women in Islam, Islamic Feminism, Arab Women, Women In Arab, Islamophobia in America, Muslim Women in West, Islam Women and Feminism