New Age Islam News Bureau
27 Jun 2013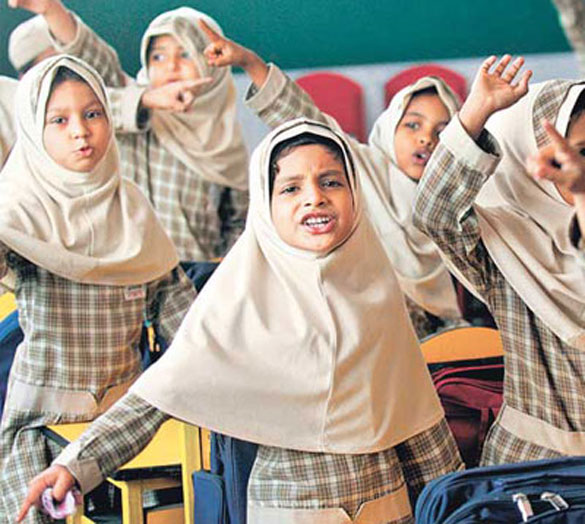 Picture for representational purpose
------------
• Kazakhstan Targeting 30 Per Cent Women at Decision-making Level By 2016
• Women's Group Upholds Rights of Russia's Muslim Soldiers
• Impasse over Girl's Hijab in School Continues
• Forced Conversion of Religion after Abduction of Teenage Girls in Bangladesh
• Jailed Activists Apologize For Topless Tunisia Protest, Released
• Woman Teacher and Activist, Lyla Harassed By Society, Police and Judiciary in Egypt
• Pakistan PM's Wife Urges Women to Play Positive Role for Social Development
• Uganda: Wife Pins University lecturer on Acid Attack
• Czech women kidnapped in Balochistan appear in Facebook video
• Ethiopia: How One Woman Demands Answers and an End to FGM
• Malaysian Gov't Withdraws Appeal in Pregnant Teacher Case
• More than MVR 100,000 Raised For Maldivian Baby Born With Facial Scar
• Tanzania: Women's HIV Infections Still On High Side
Compiled by New Age Islam News Bureau
URL: https://newageislam.com/islam,-women-and-feminism/new-age-islam-news-bureau/somalis-recall-forced-marriages-with-al-shabaab-fighters/d/12315
--------------
Somalis Recall Forced Marriages with Al-Shabaab Fighters
BY DAHIR JIBRIL
27 June 2013
Mogadishu — When al-Shabaab held sway over much of Somalia several years ago, many Somali parents were compelled to arrange for their daughters to flee from forced marriages to the militant group's fighters.
These women escaped to Kenya, Uganda and Ethiopia, but now they are beginning to come home as Somali and African Union Mission in Somalia (AMISOM) forces wrest more areas from al-Shabaab control.
In Mogadishu, Liban Ahmed recalled how one of his three daughters was forced to wed an al-Shabaab member in 2009.
"My daughter was very young and had no interest in marriage when that no-good al-Shabaab member forcibly married her," said Ahmed, 45. "She was 16 years old and in seventh grade in school."
"A man who did not know me or my family came into our house, armed with an AK-47," Ahmed told Sabahi. "He told me, 'I want to marry your daughter Zamzam and I am the holy warrior Abu Akram.' I immediately called my daughter to ask her if she knew the man, but when she looked at him she did not recognise him, which terrified all of us," he said.
Ahmed said he felt intimidated but nonetheless told the al-Shabaab intruder that he would not force his daughter to marry him against her will. This angered the militant, who then got an arrest warrant for Ahmed from an al-Shabaab court in Elasha Biyaha, a suburb of Mogadishu.
"The day after I told him that I could not force my daughter to marry a man she did not want, he brought me a summons that ordered me to report to the court within 24 hours," Ahmed said.
Refusing to marry his daughter to a fighter was a sin, the court told him. "I was forced to marry the girl to the man right there at the court," he said. "I was told to turn the girl over to her husband within three days; I was not even given the opportunity to consult with the girl's mother about the marriage."
"After I told Zamzam's mother about the forced marriage, we started collecting money from relatives and two days later, my wife, Zamzam and her two younger sisters fled to Uganda," he said.
But when al-Shabaab found out that they had escaped, the militants arrested Ahmed again.
"I was unjustly sentenced to a six-month jail term, which I finished in 2010, but thank God my daughters were spared the ordeal of being wives of terrorists," he said, adding that the court ordered the al-Shabaab fighter to divorce Zamzam.
Ahmed's family returned to Somalia in 2013 and they are now living peacefully in Mogadishu's Hodan district.
"My family and I are happy about the losses al-Shabaab has suffered," he said, blaming the group for "almost making people detest their own country" because of the abuse they had to endure under al-Shabaab's rule.
Another Mogadishu resident, 55-year-old Sadiyo Mumin, described how when the city was under al-Shabaab control she feared that her two daughters would both be forced into al-Shabaab marriages. She sent her daughters -- then aged 19 and 22 -- to live with relatives in Ethiopia. Mumin this year brought her daughters back to their Hodan district home.
"All thanks to God for removing al-Shabaab and saving our daughters," she told Sabahi. "We are no longer fearful of al-Shabaab forcefully marrying our daughters because they have fallen apart and received curse [due on to them] for all the suffering they caused."
Shamso Ali, a 26-year-old resident of Daynile, is a former al-Shabaab bride. For three years, she was married to an al-Shabaab member against her will, until he died in a fight with government forces in 2012.
"When he was marrying me, he told me he would tell my father that we wanted to be married and [threatened] he would kill my father and me if I refused," she said. "I was really sad and frightened, and I was afraid that my father would be killed if I fled the city".
"We did not have the financial means for me and the rest of the family to flee, so eventually I decided to agree to this proposal before [the situation] escalated," she said. "I am grateful to God that the dark life I shared with a person I was afraid of is behind me and that I did not bear him any children."
Forced marriages 'no basis in Islam'
Unlike Ali, many other young women who were forced into al-Shabaab marriages ended up struggling through life as single mothers, having to provide for their children with no help from their fathers who would abandoned them for the battlefield without providing any money.
These types of unions are unlawful in Islam regardless of who is involved, according to Sheikh Nur Barud Gurhan, a prominent Somali cleric and spokesperson for the Somali Association of Islamic Scholars.
He said al-Shabaab began using this tactic under the veil of Islam since 2007, taking advantage of poor Somali families already overwhelmed with the state of chaos and war that had besieged the country for years.
"They took numerous women, forcing them to marry and bullying them into thinking they could not lawfully deny a mujahid fighting [to protect] the religion and the country," he told Sabahi, adding women and families who stubbornly stood their ground faced harsh penalties from the group.
Evidence that al-Shabaab's intentions were never to promote long-lasting marriages or create stable communities, the militants also married off Somali local women to foreign fighters who did not speak Somali, knowing they would not be able to communicate or relate to their wives in any meaningful way.
"A marriage like that is unlawful in Islam; it is no better than rape and there is no basis for it in Islam," the cleric said.
http://allafrica.com/stories/201306240191.html?viewall=1
--------------
Kazakhstan Targeting 30 Per Cent Women At Decision-making Level By 2016
By S. Kisho Kumari
27 June 2013
KUALA LUMPUR, June 26 (Bernama) -- Kazakhstan is targeting 30 per cent women's participation at the decision-making level by 2016, in promoting gender equality in the Central Asian republic, said Gulshara Abdykalikova, an advisor to the President of Kazakhstan.
Gulshara, who is also Minister for the National Commission on Women, Family and Demographic Policy, said currently, women held only 10 per cent of the country's decision-making posts.
"The unemployed in Kazakhstan constitute 885,000 (5.3 per cent) of the total population of 16.7 million, with women making up 6.5 per cent of the 885,000," she told Bernama in an exclusive interview through her translator, Almas Nurzhanov, recently.
Expressing her confidence in achieving the target, she said the government had created special conditions to raise the level of women's emancipation in society and had made continuous efforts for gender equality.
"We have a social programme that provides an opportunity for women to take up loans from the government up to US$20,000 to start a small or medium enterprise with flexible conditions, similar to that for microcredit loans," she said.
Due to the flexibility, Gulshara said about 5,000 women received microcredit loans last year to start a business while the number of women in industries was rising each year.
"Women are mainly involved in the textile sector. We (Kazakhstan) have 14 regions, so each region has at least one textile factory that produces garments such as military and medical uniforms," she said.
Gulshara said the programme also allowed entrepreneurs to move from one region to another, depending on the demand and specialisation required, and the government would provide a rented house for the family to start their business.
"The passion for this (textile) industry is developing, whereby we have a few designers and brands that are well known abroad," she said.
Following the initiatives taken by the government in empowering women, Kazakhstan was ranked 31st out of 155 countries in the Gender Equity Index 2012 during the Global Economic Forum last year.
Gulshara noted that the statistics improved significantly after the country enacted a domestic violence act in 2011. Further improvement was however needed, she said, as last year there were about 3,000 cases of women suffering from domestic violence.
She said various issues were discussed with the Malaysian prime minister's wife Datin Seri Rosmah Mansor, including gender issues, during the recent Kazakhstan-Malaysia Forum on "Unleashing Women's Entrepreneurship Potential, held here.
"We could learn about the funding system that Malaysia has, to assist our people through the various associations," said the minister.
She believed Kazakstan could also learn from Malaysia on the development of information technology, Islamic banking, government delivery system, and special schools.
"We also need to learn from Malaysia about helping disabled people and poverty-eradication programmes, and we should continue our cooperation in the healthcare field too," she added.
http://www.bernama.com.my/bernama/v7/ge/newsgeneral.php?id=959083
--------------
Women's group upholds rights of Russia's muslim soldiers
27 June 2013
Muslim soldiers make up a fifth of the Russian Army, according to a recent state poll. An Islamic rights group wants to make sure those servicemen are able to perform their religious duties and receive Halal meals.
The Committee of Soldiers' Mothers, formed under the Russian Muslim Women's Union, is also seeking to ensure that Muslim soldiers are safe from "bullying and hazing," the committee's leader, Nailya Ziganshina, said Monday.
"By setting up this committee, we wanted to also make our contribution to stability, to make the environment [in the Army] better with a mother's love," Ziganshina told RIA Novosti, adding that the group included both mothers and wives.
A government poll in February found that about 20 percent of soldiers in the Russian Army are Muslim, while 70 percent are Russian Orthodox.
The new Muslim committee is an analogue of the Committee of Soldiers' Mothers of Russia, a non-government established in 1991 to protect the rights of conscripts, military personnel and their families. The committee has about 300 regional branches.
The Russian Muslim Women's Union was registered in February to promote traditional Islamic values, solve family problems and help Muslim women find jobs. The union has more than 50 regional branches.
Of Russia's 143 million population, an estimated 12 to 15 percent is Muslim. That portion is expected to rise to 20 percent by the year 2020.
http://indrus.in/news/2013/06/17/womens_group_upholds_rights_of_russias_muslim_soldiers_26187.html
--------------
Impasse over Girl's Hijab in School Continues
Jun 27, 2013
The deadlock, over the issue of a girl from a minority community not being allowed to enter the class for wearing a scarf, remained unsolved on Tuesday.
While authorities of Little Flower English Medium School, where the girl studies, say that she would not be allowed in class wearing a scarf, her parents are exploring legal options. Meanwhile, the girl missed her school on Tuesday.
Her parents met RI Patel, district education officer, Ahmedabad city. "I have assured them that I will talk to school authorities," said Patel.
On the other hand, the girl's father said that they want acceptance of their religious tradition by the school. According to him, the school cannot legally stop his daughter from wearing the scarf. "My daughter has always remained at the top in the merit list. She has been studying in this school since class 1. And she has worn a scarf since then. Earlier she used to remove it outside the school and wear it again once she was out. But now she has grown up. She has to protect herself from the male eye, so she covers her upper body with the scarf. It is part of the Islamic tradition," said the girl's father, who is a civil engineer.
He added, "We are educated and religious too. The school is arguing that my daughter stands out because of her scarf. If so, why are students of other religions, like Sikhs, allowed to have a turban on their head? You have to adopt our cultural traditions too."
However, school authorities are claiming that what the girl wears is not a scarf, but a burqa which not only covers her head but also half of her body. "The burqa covers her face and only her eyes are visible. We cannot allow her with even a scarf. There are nearly 1,000 Muslim girls studying in the school. Many of them wear a scarf or Burqa but remove it outside the school and wear it again only after stepping out. Even their parents have no problem with this. It is just this girl who is adamant and defying rules and regulations of the school," said Yvonne Shah, principal of the school.
She added, "An issue is being created unnecessarily. We are not against anybody, either the girl or her parents. The uniform is to promote uniformity and equality among students. We want to provide a secular environment in our school. She cannot differentiate herself from the rest of the class. If we relax the rules for one student or one community, tomorrow students from other communities will demand such relaxation."
http://www.dnaindia.com/ahmedabad/1853842/report-impasse-over-girl-s-hijab-in-school-continues
--------------
Forced Conversion Of Religion After Abduction Of Teenage Girls In Bangladesh
Udisa Islam
June 27, 2013
A new phenomenon where men kidnap 10-16-year-old girls from minority communities and force them to sign declarations that they are adults and wish to change their religion to Islam to get married
Human rights groups and NGOs are calling for more action to be taken to prevent a spate of abductions and rapes of women, who have reportedly also then been forced to convert to Islam as part of a "carefully-planned" strategy to reduce support for victims from their communities after the crime is perpetrated.
Prima (not her real name), a sixth grader from Gazipur's Tongi area, was abducted on her way back from school on April 6 this year.
Law enforcers found her 55 days later at a hotel in Cox's Bazaar. She had been raped repeatedly by some boys from her locality during the period and was forced to convert her religion from Hinduism to Islam and marry one of the perpetrators, Rabiul Hossein Manik.
Experts say Prima's traumatic experience was not an isolated case, but part of a new phenomenon where men kidnap 10-16year old girls from minority communities and force them to sign declarations that they are adults and wish to change their religion to Islam to get married.
Full report at:
http://www.dhakatribune.com/crime/2013/jun/27/forced-conversion-religion-after-abduction-goes-unchecked
--------------
Jailed Activists Apologize For Topless Tunisia Protest, Released
26 June 2013
Three European women with the radical protest group Femen, jailed in Tunisia for baring their breasts, apologised at their appeals trial on Wednesday and promised not to repeat the protest.
"I regret this act and I apologise," Josephine Markmann, the German member of the group, told the judge, who said Muslim law, prohibited such acts.
"We didn't expect to shock Tunisians to this extent. It is out of the question that we would do it again," said Pauline Hillier, one of the two French women also appealing a four-month prison sentence for their demonstration last month in support of a fellow Tunisian activist.
The three women appeared at the court of appeal in Tunis dressed in the traditional Tunisian veil, or safsari.
Full report at:
http://english.alarabiya.net/en/News/africa/2013/06/26/Jailed-activists-apologize-for-topless-Tunisia-protest-.html
--------------
Woman Teacher and Activist, Lyla Harassed By Society, Police and Judiciary in Egypt
June 26, 2013
By Kanzy Mahmoud
Lyla El-Gueretly, a teacher and activist, was walking on the 6 October Bridge, when Ahmed Yousef, 37, made offensive sexual comments towards her from a bus stalled in traffic. When she insulted him back, he got off the bus and slapped her twice.
Witnesses at the scene said they thought Youssef was her husband, so they did not interfere. El-Gueretly said she wanted justice and for her assailant to learn a lesson. She shouted "molester!" until a crowd gathered around and started beating him, when she asked them to stop: "My principles are anti-violence."
"My first challenge was taking him to the police," said El-Gueretly, who insisted on laying a complaint, "because only that way will he learn his lesson and be made an example of."
Many obstacles stood in her way. Some suggested that the beating he received by the crowd was enough, but she insisted that violence was not the answer. On her way to the police station in a microbus, fellow women passengers made comments about her wearing decent clothing and not revealing anything. El-Gueretly felt aggravated by these remarks, which showed how women's dress was seen as society as a reason or justification for harassment.
Full report at:
http://www.dailynewsegypt.com/2013/06/26/profile-lyla-el-gueretly-harassed-by-society-police-and-judiciary/
--------------
Pakistan PM's Wife Urges Women to Play Positive Role for Social Development
27 June 2013
ISLAMABAD, (APP): First Lady Begum Kalsoom Nawaz Sharif on Wednesday urged the women to contribute their knowledge and skills for the betterment of society and country. She was speaking at the graduation ceremony of the 34th batch of students of PAF Finishing School here. Twenty-four students completed the 19-week course covering diverse areas, including communication skills, languages, management, art of self-presentation, domestic science, general culture, cuisine, protocol, child care, psychology and spiritual enrichment. Addressing the graduates, Begum Kalsoom said the women should act as the ambassadors of moral values, traditions and culture to enrich the society.
She said the role of women was significant in the transfer of knowledge and skills to the next generations.
Full report at:
http://www.app.com.pk/en_/index.php?option=com_content&task=view&id=240602&Itemid=2
--------------
Uganda: Wife Pins University lecturer on Acid Attack
BY MICHAEL ODENG & JOHN TATYAMISA, 27 JUNE 2013
Kampala — Dr. Faisal Buyinza, a lecturer at Makerere University, has been pinned for allegedly masterminding an acid attack on his wife following a domestic dispute.
Hanifa Nakiryowa said Buyinza hired a person to pour acid on her.
At the time of the attack, Nakiryowa was the monitoring and evaluation officer at the Uganda Muslim Supreme Council - UNICEF partnership programme in charge of keeping mothers and children alive, safe and in school.
Nakiryowa told Buganda Road Court on Wednesday that before the incident, she had filed a case at Old Kampala Police Station, accusing her husband of threatening her life and she had been separated from him for two months.
Full report at:
http://allafrica.com/stories/201306270035.html?aa_source=slideout
---------
Czech women kidnapped in Balochistan appear in Facebook video
June 27, 2013
PRAGUE: The Czech foreign ministry convened a crisis unit on Wednesday to check the authenticity of a video that turned up on the Internet and purportedly includes two-month-old footage of two women kidnapped in Balochistan in March.
The two-minute video, which only shows the Czech pair for a few seconds before cutting to a photo montage, offers no indication of the kidnappers' identity or more recent proof of life.
The video first appeared on Facebook, on a profile created on Sunday under the name "Orna Moshe".
Foreign ministry spokesman Karel Srol told AFP that the authenticity of the footage was being discussed by the crisis unit dealing with the abduction of the pair in Balochistan.
"I'm Antonie Chrastecka. I'm Hana Humpalova," the women say in the video, both wearing head scarves and appearing unharmed.
Full report at:
http://tribune.com.pk/story/569090/czech-women-kidnapped-in-balochistan-appear-in-facebook-video/
----------
Ethiopia: How One Woman Demands Answers and an End to FGM
BY LUCY WESTCOTT, 26 JUNE 2013
United Nations — Bogaletch Gebre knows exactly what women in her Ethiopian community are going through. Along with her sisters, the women's rights activist was a victim of female genital mutilation (FGM) when she was a child in a part of Ethiopia where the practice was carried out on every girl.
In 1997, Gebre and her sister, Fikrete, founded Kembatti Mentti-Gezzima-Tope (KMG), which means "women working and standing together". For her work with KMG, Gebre won this year's King Baudoin African Development Prize.
Full report at:
http://allafrica.com/stories/201306270641.html?viewall=1
---------
Malaysian Gov't Withdraws Appeal in Pregnant Teacher Case
Hafiz Yatim
Jun 27, 2013
The government has today withdrawn its appeal against a relief teacher who challenged the Education Ministry and the government over a discriminatory rule, barring those who are pregnant to gain employment there.
The case came up at the Court of Appeal today, where senior federal counsel Shamsubol Hassan informed the court that the government was withdrawing its appeal.
Following this, lawyer Edmund Bon (left) and Honey Tan - acting for Noorfadilla Ahmad Saikin, 31 - has asked for the appeal to be struck off and applied for costs of RM5,000 for preparing documents in the appeal.
Full report at:
http://www.malaysiakini.com/news/234114
--------------
More than MVR 100,000 Raised For Maldivian Baby Born With Facial Scar
By Minivan News | June 26th, 2013
Parents of a baby girl born with a large black birthmark across her face have received more than MVR 100,000 (US$6,485) in donations from the public following an appeal on social media to raise funds for plastic surgery.
The father of the girl told newspaper Haveeru today that the generous response from the public has exceeded the family's expectations.
"Doctors advised me to go for a plastic surgery," wrote Ahmed Shareef on Facebook last week, posting a picture of his newborn.
"But plastic surgery is not available here in Maldives. And it costs a huge amount. Please help me in anyway you can if it is possible. Even I will appreciate your good prayers too."
Speaking to Minivan News on Sunday, Shareef said he had been in touch with doctors from abroad who had given a preliminary diagnosis of Congenital Nevomelanocytic Nevus (CNN).
Full report at:
http://minivannews.com/category/news-in-brief
--------------
Tanzania: Women's HIV Infections Still On High Side
BY JAFFAR MJASIRI, 27 JUNE 2013
WOMEN are most affected by HIV in the country according to a recent report by Tanzania HIV and Malaria Indicator Survey (THIMS) 2012.
The THIMS report says women were leading with a 6.2 per cent and followed by men with 3.8 per cent. The survey also indicates the overall infection percentage of HIV for adults of between 15 - 49 years was at 5.1 per cent.
This was announced on Tuesday at the forum that discussed the role of economic empowerment in reducing HIV risks and vulnerabilities among girls and women in Tanzania. The meeting was officiated by the Permanent Secretary in the Ministry,
Ms. Kijakazi Mtengwa on behalf of the Minister for Community Development, Gender and Children, Sophia Simba on Tuesday. Around 100 delegates and resource persons representing governments, employers and workers organisations, UN agencies, bilateral organisations and Non-Governmental Organisations (NGOs) attended.
Full report at:
http://allafrica.com/stories/201306270518.html
--------------
URL: https://newageislam.com/islam,-women-and-feminism/new-age-islam-news-bureau/somalis-recall-forced-marriages-with-al-shabaab-fighters/d/12315