New Age Islam News Bureau
27 Sept 2014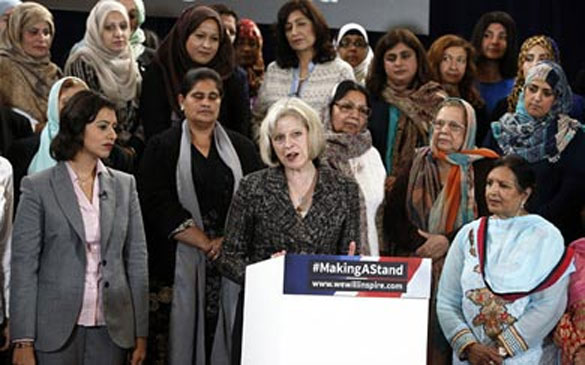 Home Secretary Theresa May speaks at the Making A Stand launch event
--------
• Theresa May Calls British Muslim Women to Challenge Extremism
• Christian Woman Who Wore a Hijab All Week Says It Was a 'Positive' Experience
• Egyptian Beauties Get Ready For Miss Egypt 2014 Pageant
• Afghanistan's First Lady to Focus on Humanitarian Assistance
• 31 Couples Marry In a Mass Wedding in Capital Kabul
• Africa: Invest in Women and Girls for a Better World By 2030
• Indian State Govt to Promote Internet among Women through e-Shakti Abhiyan
• Beheaded British Hostage's Daughter Calls for Isil to Be 'Eradicated'
• Kenya: Nurse Faces Death for Assisting Patient Procure Abortion
• We Don't Need No Mixed-Sex Schools, Says Turkey's Conservative Teachers Union
• One of the 200 Schoolgirls Kidnapped By Boko Haram Is Given Back To Her Family
• Nigeria: Abandoned Chibok Girl Four Months Pregnant
Compiled by New Age Islam News Bureau
URL: https://www.newageislam.com/islam,-women-and-feminism/new-age-islam-news-bureau/somalia-s-shebab-stone-woman-to-death-for-polyandry/d/99295
------------
Somalia's Shebab Stone Woman to Death for Polyandry
27 Sep, 2014
MOGADISHU: A Somali woman has been stoned to death in the Shebab-controlled part of the country for secretly marrying several husbands, officials and witnesses said Saturday.
Witnesses said the woman was buried up to her neck and pelted with rocks and stones by hooded men in front of a large crowd in the southern coastal district of Barawe.
"The woman married four husbands and confessed to the crime. I questioned her several times while she was in prison and she told me she was mentally fit. All the four husbands were questioned and they have confirmed that they had married her," Islamic court judge Sheik Mohamud Abu Abdullah told the gathering.
The woman, 33-year-old Safiyo Ahmed Jumale, was executed on Friday in front of dozens of onlookers.
"The woman was brought with her eyes covered and she was buried up to her neck before she was stoned to death by hooded men," said Ali Yare, a resident who witnessed the execution.
Somalia's Al Qaeda-affiliated Shebab control large swathes of territory in the south and centre of the war-torn country, where they impose a strict interpretation of Islamic law.
http://www.dawn.com/news/1134698/somalias-shebab-stone-woman-to-death-for-polyandry
--------
Theresa May Calls British Muslim Women to Challenge Extremism
Theresa May: 'British Muslim women must challenge extremism and fight the Islamic State'
Sep 27, 2014
Theresa May has called on British Muslim women to challenge extremism in their communities, in the fight against the Islamic State.
The Home Secretary said that Muslim women should try and "exert influence" in their local areas and stop hate preachers "preying" on their children.
She spoke at the launch of the 'Making a Stand' campaign, which has seen Muslim women openly condemning the Islamic State (Isil).
May encouraged mothers to stop children being radicalised here in Britain and said: "I truly believe that [as] women, as mothers, sisters and daughters, you have a unique and powerful role to play in helping to combat the extremist challenge here and abroad, and in taking lead to stop preachers of hate preying upon your young people.
"Challenging hatred and extremism is a job for all of us and we must challenge it wherever we find it.
"If as women in your communities you can exert influence, can create local support networks… then I and the Government will support you."
Her words come as around 60 British women are thought to have signed up to the Isil's all-women police force the al-Khanssa brigde, in the Syrian city of Raqqa.
The 'Making A Stand' campaign, launched by counter-extremism organisation Inspire, aims to help British Muslim mothers spot signs of their children being radicalised by extremists.
It also brings young Muslim women together and offers them support, at a time when they are being targeted online by pro-Isli sympathisers.
May spoke of her support for the campaign and praised the women speaking up against the actions of jihadists.
She said: "Your declaration that the actions of Isil are the most un-Islamic actions of all is being heard in every corner of the world.
"People from across the UK are swift to condemn these atrocities and the [acts] of inhumanity we've seen in Iraq and Syria where Isil have lured people from all communities.
"At the root of these actions is a poisonous political ideology that feeds, supports and sanctions terrorism. It's far removed from the peaceful views held by one billion Muslims worldwide.
"It's an honour to stand alongside Muslim women who have gathered together across the UK to challenge extremism and terrorism."
The Home Secretary also expressed her sympathy for the families of hostages who have recently been murdered by the Islamic State, including British David Haines and American journalists Steven Sotloff and James Foley.
http://www.telegraph.co.uk/women/womens-politics/11118828/Theresa-May-British-Muslim-women-must-challenge-extremism-and-fight-the-Islamic-State.html
----------
Christian Woman Who Wore a Hijab All Week Says It Was a 'Positive' Experience
Sep 27, 2014
For the past seven days Kate Leaney, 27, a committed Christian, has attracted curious looks on the street.
That's because she has been wearing a Hijab everyday in an act of 'love and solidarity' with her many Muslim friends.
Recently, mates of the asylum seeker worker, who is from Adelaide, have said they are scared to wear the head-dress in public. Their concerns followed incidents in the past few weeks involving alleged terror suspects as well as a rise in reported anti-Islamic attacks.
'After the news I saw on TV, i don't want to tell people I'm a Muslim!' one friend texted Ms Leaney. 'i think Australians don't like Muslims!'
So last week she decided to take a stand, don the headscarf and send a message of 'love over fear'.
On the seventh day of wearing her headscarf, Ms Leaney today told Daily Mail Australia that it had been an interesting, although sometimes confronting, experience.
On the one hand, the reaction from her friends was 'overwhelmingly positive'. Many friends who wore a headscarf thanked her for her efforts.
'I was getting messages from (my friends)...They were fearful of retribution or getting racially attacked and I wanted to do something,' Ms Leaney said.
'It wasn't so much about educating the public but standing in solidarity with my friends who are Muslim and showing them they should be able to walk in public and feel safe.' '
'There's a real sense of gratitude for someone who doesnt identify as Muslim wearing it. Most of the reaction has been overwhelming and positive.'
Ms Leaney said one the best examples was when the mother of one of her friends, a Muslim woman in her 40s who speaks very little English, was heartened by her actions.
'She's worn a headscarf for her entire life and for the first time has considered taking it off, because of what it would result in.'
'His heart was breaking for his mum... Him telling her what I was doing for the week had given her a little security or hope she could continue to wear it.'
But it wasn't all smooth sailing. She experienced many of the negatives women who wear the Hijab experience in Australia - particularly, an underlying sense some people felt suspicious of her.
'I have had looks and seen people looking really uncertain... or I get a feeling someone is not happy with it (the Hijab).'
Some people were more blatant. A petrol station worker quizzed her about the Hijab, asking: 'Why would you wear that, when you look like them?'
Ms Leaney faced hostility from some people in the Christian community. She has copped abuse on social media. A mother and her daughter even crossed the road to apparently avoid her.
'It could have been a coincidence, but there seemed to be no other reason,' Ms Leaney said. 'Simply because of a piece of fabric on my head, when if I wasn't wearing it she probably would have engaged me in a conversation or dialogue'.
And despite being the type of person who 'always' gets stopped by security at the airport, she said she faced the most intense security check of her life greeting a friend at Adelaide Airport.
The search included her Hijab, her clothing and in the depths of her bag. 'I can't read too much into it, but it was definitely interesting,' she said.
A spokeswoman for the Australian National Imams Council this week said a passerby allegedly ripped a Hijab from a woman's head this week.
Other Islamophobic incidents included a pig's head being placed on a cross out the front of a mosque and car in south-west Sydney vandalised with graffiti which said: 'F---N' MUSLIMS'.
These incidents occurred following the release of a number of beheading videos by the Islamic State terror group, the largest counter-terrorism raids in Australia's history this month, and the stabbing of two police officers by Numan Haider, 18, in Melbourne's south-east.
The chief religious leader of the Islamic community, Grand Mufti Dr Ibrahim Abu Mohammed, condemned the Islamic State's 'fatwa' against Australians and other Westerners earlier this week and many Muslims have joined a viral worldwide phenomenon where they have taken pictures of themselves holding signs saying the actions of the Islamic State were #NotInMyname.
Ms Leaney said her experience reminded her that many Islamic women often encounter distrust and suspicion wearing the Hijab.
'I have had a few negative moments, and that was always bound to happen,' Ms Leaney said.
'I think it highlights for people who are Hijabis, they experience this everyday, not just the week I decided to wear this,' she said.
'That's their everyday life.'
http://www.dailymail.co.uk/news/article-2770225/I-stand-Always-forever-Love-fear-The-Christian-woman-wore-Hijab-week-solidarity-Muslim-friends-tells-heartwarming-awkward-experiences.html#ixzz3EYn9BFdo
----------
Egyptian beauties get ready for Miss Egypt 2014 pageant
Sep 27, 2014
Egypt is getting ready to crown its beauty queen this month in the annual Miss Egypt 2014 competition, which is returning following a three year hiatus.
"Gamalek Ya Masr, Miss Egypt 2014, is finally making its comeback after being halted for three years," Kareem Hussein, the beauty contest's spokesman, told Al Arabiya News, referring to the competition by its Arabic name.
"We stopped the program after the 2011 revolution," Hussein said, stating that broadcasting an entertaining show while people were "dying and suffering" would not have been appropriate in his view.
He added that the Muslim Brotherhood government did not encourage the broadcast of such entertainment shows during its time in power.
During the contest, which will take place in the coastal resort city of Sharm el-Sheikh on Sept. 26, the 18 contestants will be scrutinized by a nine-member panel including former Miss Egypt Donia Hamed and fashion designer Hani al-Beheiri.
The jury will be chaired by Youssed Spahi, who has organized the competition since 1998.
"Our expectations for this year are higher than in previous years as we want a Miss that would represent Egypt the right way," Spahi told Al Arabiya News.
The chair further explained that the competition it is not only about the contestants' appearance but also judges the participants on their education levels and their knowledge of Egypt's culture and heritage.
"She has to speak several languages and be willing to travel during her reign [as Miss Egypt]," he added.
The winner of the prestigious beauty contest will be automatically qualified to represent Egypt for the Miss World, Miss Earth and Miss Universe pageants.
She will also be awarded a number of gifts.
"In addition to being crowned Miss Egypt and having the privilege of wearing the 2014 Miss Egypt sash, the winner will be given a car and jewelry," Hussein said.
Not only about beauty
The competition also aims to boost tourism in the country, which has seen a dramatic drop in visitors since the 2011 uprising.
"All the [film shootings] happened in touristic places such as the Pyramids and Khan al-Khalili [a historic Cairo market] to show the world what Egypt has to offer," Hussein said, adding that the title of the competition does not only refer to the beauty of the contestants but also the country.
Private camp
Ahead of the competition, the women representing the country's different governorates, which vie for the title, are immersed in a private camp to prepare for the show and learn the manners required of a beauty queen.
According to Spahi, one of the hopefuls failed to do so and was "dismissed" from the competition.
"One of the contestants was left out of the show after she failed to respect the rules of the competition and our system," Spahi said.
"She wasn't taking the show seriously and wasn't punctual," he said, stating that Miss Egypt attracts international attention and needs to portray Egyptian women in the best way possible.
http://english.alarabiya.net/en/life-style/fashion-and-beauty/2014/09/26/Egyptian-beauties-get-ready-for-Miss-Egypt-2014-pageant.html
----------
Afghanistan's first lady to focus on humanitarian assistance
Sep 27, 2014
Afghanistan's first lady Rula Ghani Ahmadzai will focus on humanitarian assistance after Dr. Ashraf Ghani Ahmadzai takes office as the new president of Afghanistan.
Dr. Ashraf Ghani said his wife will start charitable works for women and children and internally displaced individuals who are in need of assistance.
Shukria Barekzai, a member of Dr. Ghani's camp, said the decision by Afghanistan's first lady is a good news for women and children who are in need of support and assistance.
Barekzai said Rula Ghani was involved in humanitarian assistance activities in the past as well but she will double her activities after her spouse takes office.
The presidential inauguration for the president-elect of the country is expected to be organized on coming Monday.
Dr. Ashraf Ghani Ahmadzai was declared the president-elect by the Independent Election Commission of Afghanistan earlier this week.
The announcement was made following the conclusion of an agreement between Dr. Ashraf Ghani and Dr. Abdullah for the formation of a national unity government.
http://www.khaama.com/afghanistans-first-lady-to-focus-on-humanitarian-assistance-6750
----------
31 couples marry in a mass wedding in capital Kabul
Sep 27, 2014
A mass wedding ceremony was organized by a non-governmental organization in capital Kabul where 31 couples belonging to economically weak families tied the knot.
The officials of Khairkhwah Foundation said the wedding ceremony was organized with an aim to assist the engaged individuals who were unable to bear the wedding expenses due to weak economy.
An official from Khairkhwah Foundation, Abdul Rahim Rashid said they are expecting that similar wedding ceremonies are organized with the cooperation of businessmen and wealthy individuals to assist the youths who are unable to pay for their wedding ceremony.
The foundation also vowed that employment opportunities will also be provided for the youths who tied the knot today.
Kabul governor Abdul Jabar Taqwa who attended the wedding ceremony said the government will consider land for each couple where they could build their home.
The ceremony was also attended by relatives of the couples and high level government officials including members of the parliament.
Similar wedding ceremonies have been organized in other provinces of the country in the past, including Herat, Balkh and Helmand provinces.
http://www.khaama.com/31-couples-marry-in-a-mass-wedding-in-capital-kabul-6748
----------
Africa: Invest in Women and Girls for a Better World By 2030
Sep 27, 2014
What type of world do I want to live in by the year 2030? This question was posed this week during two inspiring days at the Social Good Summit, in New York, where I heard activists and global leaders discuss the impact of new media on social good initiatives around the world.
As a woman and an infectious diseases physician, I can tell you quickly the issues close to my heart; gender equality, and sexual and reproductive health, including HIV. But coming from a generation that didn't grow up with social media, I was curious to find out how we can "unite to unlock the potential of technology to make the world a better place" by the time I may have grandchildren.
Sexual and reproductive health
Women's empowerment was a theme throughout the summit, like a candle in the dark. When we talk about girls we need to think about our daughters, our sisters and remember the millions around the world who suffer unwanted pregnancies and exposure to HIV, and other sexually transmitted diseases, because of lack of access to family planning and ability to negotiate safe sex.
But as Melinda Gates pointed out during the summit: "Contraceptive access is just the tip of the iceberg for women's sexual and reproductive health needs and rights."
In one year the Millennium Development Goals (MDGs) expire. Governments and the United Nations now face the challenge of developing a new framework that could make history by bringing about an end to poverty, an end to inequality and an end to diseases such as AIDS. We need a more equitable and sustainable world, but it won't be achieved unless we, as members of civil society, don't step up our game and ensure our voices are heard.
For me, this means getting gender inequality on the table, as it has a massive impact on public health. As a result of lower economic and socio-cultural status, many women and girls are disadvantaged when it comes to negotiating safe sex. Young women (15-24) have HIV infection rates twice as high as young men, accounting for a quarter of all new HIV infections.
Tackling child marriage
It's vital that we join together and use our voices - both men and women - to ensure a standalone goal for gender equality and gender transformative approaches in the post 2015 development framework. I was encouraged to hear about a new global UN solidarity campaign He for She which urges men to advocate for gender equality, as they will definitely need to be part of the solution.
The question is: are we prepared to do whatever it takes to move forward and go for societal and institutional transformation, to bring about equality for women and girls? According to Graca Machel, Mozambican politician, humanitarian and widow of Nelson Mandela, this is the only way to ensure no one is left behind.
Machel hammered home the point by talking about child marriage and the devastating consequences it brings across all aspects of a girl's life. "Every year 15 million girls are forced into marriage. Child marriage is the entry point to so many MDGs; education, health, poverty," she said.
If girls can be retained in school, not only until they finish primary education, but also secondary school, they will not only gain skills for employment, but also the tools and resources they need to make decisions on marriage and family planning.
Full report at:
http://allafrica.com/stories/201409251038.html
----------
Indian State Govt to Promote Internet among Women through e-Shakti Abhiyan
Sep 27, 2014
BHOPAL: Chief Minister Shivraj Singh Chouhan will launch a campaign to impart training of internet by Information Technology Department to 5 Lakh women to promote use of internet and computer among women in the state.
It has been named e-Shakti Abhiyan. The trainees will be informed about benefits of daily use of internet. The campaign will be conducted with the cooperation of Google India.
The CM will inaugurate e-Shakti Abhiyan at Model Higher Secondary School here at 5.30 pm on August 29. Information Technology Minister Bhupendra Singh will be present on the occasion. It is noteworthy that it was decided to run e-Shakti Abhiyan with the cooperation of Google India at a meeting of state-level empowered committee (Apex) headed by Secretary Anthony de Sa. Secretary to CM and Information Technology Hari Ranjan Rao has directed all district collectors to ensure conduct of the campaign effectively.
The target trainee groups under the campaign are Anganwadi workers, assistants and supervisors of Women and Child Development Department, ANMs and ASHA workers of Health Department, lady teachers of School Education Departments, inspectors and other women police personnel, members of women's self-help groups under Panchayats & Rural Development department, women workers of municipal corporations and women Kisan Mitras (Kisan Didis) of Farmers Welfare and Agriculture Development Department.
http://timesofindia.indiatimes.com/india/Govt-to-promote-internet-among-women-through-e-Shakti-Abhiyan/articleshow/43554953.cms
----------
Beheaded British hostage's daughter calls for Isil to be 'eradicated'
Sep 27, 2014
The teenage daughter of a British hostage beheaded by Isil has said she supports all military action to "eradicate" the Islamic extremists as the House of Commons prepares to vote on Britain joining air strikes in Northern Iraq.
Bethany Haines said the murder of her father, David, had "torn the family apart" but Isil could not be allowed to "get away with it". The 17-year-old concluded: "They need to be stopped".
Mr Haines, an aid worker, had been held captive for 19 months before his execution earlier this month and was the third prisoner to have been murdered and paraded on camera by Isil.
A video released by the extremist group showed him moments before he was killed, trembling as he was forced to denounce his country.
But Miss Haines told STV News he should not be judged by the footage and predicted he would have been thinking about his family during his final moments.
The 17-year-old, from Scone in Perthshire, said: "I never thought the day would come when I got told, Bethany, the worst happened. He's been killed. I always thought he would get out.
"IS (Isil) need eradicated. They can't continue this way. They can't be doing this to people and get away with it, no matter what nationality, if they're western or not.
"Hundreds of Syrians have been killed by them and they need to be stopped. If air strikes and ground force is what it takes, that's what it takes."
Miss Haines added: "What if they attacked Britain? What if they attacked any other country?"
She said the group has torn her family apart in some ways but had "made it a stronger unit" in others. "They can say what they want about him. They can put a video up and show him in a worse light but he was strong," she said.
"He wouldn't have given up. In that moment he would have known he was going to die but the fact was he would have been thinking of his family, the people he loved … He would want us to be strong now and that's what we have to do."
She said her family takes strength from memories of him and she expressed a hope that his body will be flown home to the UK. "He was a brilliant man. He will be remembered and not for the way he was shown in that video but for the truly amazing work he did and for the great character he was," she added.
Mr Haines grew up in Perth and married his childhood sweetheart Louise, Bethany's mother, at 22. After serving in the RAF, he worked for a series of aid organisations in countries such as Croatia, South Sudan and Libya.
He was kidnapped in March last year while working for a French aid organisation at a Syrian refugee camp near the Turkish border.
Ten days into the mission, Mr Haines and his Italian colleague Federico Motka were taken. Mr Motka was released two months later.
Mr Haines also leaves behind a four-year-old daughter, Athea, and his second wife Dragana, with whom he lived with in Sisak, Croatia.
http://www.telegraph.co.uk/news/worldnews/middleeast/iraq/11122237/Beheaded-British-hostages-daughter-calls-for-Isil-to-be-eradicated.html
----------
Kenya: Nurse Faces Death for Assisting Patient Procure Abortion
Sep 27, 2014
Nairobi — A nurse has been sentenced to death by the High Court after he was found guilty of assisting a woman to procure an abortion that led to her death.
Justice Nicholas Ombija sentenced 41 year-old Jackson Namunya Tali to death for committing the offense on July 27 2009.
The convict was stationed at Kihara sub district hospital, in Gachie as a medical officer at the time.
According to evidence adduced in court, Christine Atieno who was apparently pregnant visited the clinic of the accused with the express intention of having her pregnancy terminated.
The convict procured an abortion which led to over bleeding and culminated into the patient's death.
The convict did not deny he attended to the deceased and offered her some form of treatment but denied he procured an abortion.
In his defence he told the court that the deceased had been treated elsewhere eight days before she visited him for consultation.
"I was not responsible for the injury which led to over bleeding and subsequent death," he told the court.
While convicting him, judge Ombjia said malice afore thought an ingredient to the offence of murder was established.
"Against the backdrop of evidence, as to who interfered with the fetus that led to over bleeding was a fact within the accused knowledge. Only he could explain how the deceased who visited his clinic while well and not bleeding happened to over bled culminating into her demise," he ruled.
"The facts are inconsistent with the innocence of the accused and incapable explanation on any other hypothesis other than that of guilt,"
"I accordingly find and hold as a matter of law that the accused herein with malice afore thought caused the death of the deceased by assisting her to procure abortion. I convict him accordingly," he added.
http://allafrica.com/stories/201409260232.html
----------
We don't need no mixed-sex schools, says Turkey's conservative teachers union
Sep 27, 2014
Eğitim-Bir-Sen, an education sector trade union with conservative views, has demanded the abolition of mixed-sex education, a move that comes in the wake of the government's decision to allow grade-five girls to wear headscarves in class – another of the group's demands.
The declaration by Eğitim-Bir-Sen, which is headed by Ahmet Gündoğdu, who also heads the umbrella organization Memur-Sen, said mixed-education system was a "violation of rights."
"The boundaries beyond democratic education rights, which limit the basic preferences of the people, should be eliminated. Compulsory 'mixed' education, which holds the will and preferences of the people captive, should be ended. The state should withdraw from its assertiveness on the issue," said a declaration that was drafted after meetings last week.
It also called for a change in the syllabus to prioritize "moral and social values."
Eğitim-Bir-Sen is known for its nationalistic and conservative stance.
The union had called for the abolition of a ban on headscarves in all public schools, which was followed by a recent government announcement to lift the ban for children starting from grade five, which normally corresponds to the age of 10 in Turkey.
The changes have drawn a reaction, although some people had already started sending girls to school wearing headscarves anyway, even before the relevant regulation came into effect.
Eğitim-Bir-Sen had previously collected 12.3 million signatures for a petition that calls for the lifting of the headscarf ban on public workers, another campaign that yielded results. The union had said it would continue "civil disobedience" protests until the bans were lifted.
Meanwhile, the union has also called for freedom in the dress code as part of a reaction against the compulsory wearing of ties for men.
Members of one of the two other sector unions, the left-wing Eğitim-Sen, went on strike Sept. 24 in protest at the government's education policies.
The union demanded an "end to political moves in the education system and the compulsory rotations of teachers and principals," while also highlighting the need for a secular education system.
Gündoğdu's Memur-Sen, which is known for its warm stance toward the government, heads the collective bargaining teams for public workers, as it is the largest in the country.
http://www.hurriyetdailynews.com/we-dont-need-no-mixed-sex-schools-says-turkish-teachers-union.aspx?pageID=238&nID=72213&NewsCatID=341
----------
One Of The 200 Schoolgirls Kidnapped By Boko Haram Is Given Back To Her Family
Sep 27, 2014
One of 200 schoolgirls abducted by Islamist Boko Haram rebels in the north-eastern Nigerian village of Chibok was freed this week, police and a parent of some of the other missing girls said on Thursday.
Boko Haram militants took the girls from a secondary school in the village near the Cameroon border in April.
The case of the abducted school girls drew global attention, magnified by#BringBackOurGirls Twitter campaign that drew in celebrities including Michelle Obama and Angelina Jolie.
Nigerian President Goodluck Jonathan told the United Nations General Assembly on Wednesday that authorities were still working to free the girls.
Jonathan has been criticized at home and abroad for his slow response to the kidnapping in the rural northeast and for his inability to quell the violence by the Islamist militant group, whose name means 'Western education is forbidden.'
'Although it has been over three months since they were abducted, we have never relented in our efforts to set them safely free,' Jonathan told the 193-member world body.
'Together with our partners, we are working assiduously to free our daughters and reunite them with their families,' he said. 'We shall not waiver until we end this mindless war on the innocent and bring all the perpetrators to justice.'
A year-old intensive military operation against Boko Haram has so far failed to crush the rebels, whose struggle for an Islamic state in largely Muslim northern Nigeria has killed thousands since it was launched in 2009.
However, Nigeria's military on Wednesday claimed for the first time that Abubakar Shekau, the leader of Boko Haram, was dead, as it said troops had killed a lookalike who had been posing as the militant commander.
http://www.dailymail.co.uk/news/article-2769540/Bring-girls-One-200-schoolgirls-kidnapped-Islamic-fanatics-Boko-Haram-given-family.html#ixzz3EYocNpXq
----------
URL: https://www.newageislam.com/islam,-women-and-feminism/new-age-islam-news-bureau/somalia-s-shebab-stone-woman-to-death-for-polyandry/d/99295