New Age Islam News Bureau
23 Dec 2016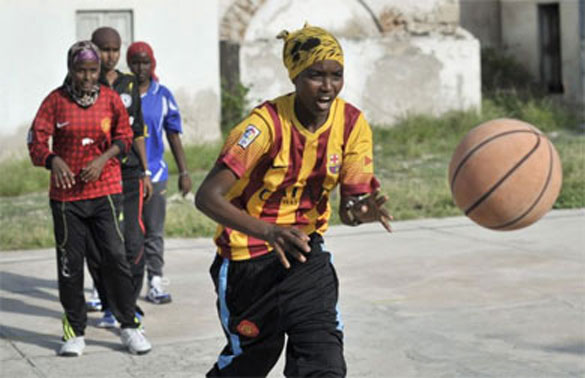 A group of influential Somali clerics have warned women against playing basketball, describing it as, "unIslamic" and a "threat to their faith."
---------
• Pakistani Girl, 14, Sold Off To Pay Debts
• Kerala Woman Jailed In Saudi Arabia over 'Banned' Drug
• Previously Declared Stateless, Dayak Girl A Malaysian Once More
• Malaysian Police Nab Woman Suspected Of Insulting Islam on Facebook
• Christmas In Nigeria: Muslim Woman Donates Food To Christian Widows In Kaduna
Compiled by New Age Islam News Bureau
URL: https://www.newageislam.com/islam,-women-and-feminism/new-age-islam-news-bureau/somali-clerics-warn-women-against-playing-basketball/d/109472
-------
Somali Clerics Warn Women against Playing Basketballll
23 DECEMBER 2016
By Mohamed Olad Hassan
A group of an influential Somali clerics have warned women against playing basketball, describing it as, "unIslamic" and a "threat to their faith."
The Somali Religious Council (SRC) issued the statement Thursday, as preparations for the national women's basketball tournament are under way in Garowe, the capital of Puntland.
"We warn that the women basketball violates the Islamic law, culture and its values, and it is a place where women can be easily corrupted," SRC chairman Sheikh Bashir Ahmed Salat told VOA Somali.
The tournament is the country's first national female basketball competition and will draw teams from four- federal member states and Mogadishu, the capital.
"We have a right to defend our Islamic values which does not allow women to wear soft sports attire and show their body and beauty as men WATCH in public," Sheikh Salat said. "It is not an attack against anyone."
He warned that such behaviors could give a chance to non-Muslims to change the minds of young Muslims.
"Women should know that they are susceptible to the enemy of Islam, and that youth in particular is the target for those who want to change your Islamic values," he said.
The SRC, an Islamic organization run by more conservative clerics, is known for issuing fatwas [religious edicts]. It preaches against the radical Islamist group al-Shabab, which has stoned women and men to death for adultery, sentenced amputees for stealing, and beheaded individuals for espionage.
Earlier this year, the SRC issued a similar warning in regards to a quota reserving 30 percent of parliamentary seats for women.
Women's sports is still a contentious issue in some Muslim countries, including Somalia.
"I play wearing my Hijab [Islamic veil] on, and this is my favorite sports and I have a right to play as long as I am not against the major values and pillars of my religion," Sahra Mohamud, one of the basketball players told VOA Somali. "We see sport as a peace-building TOOLto bring the Somali people together."
In the past, the Somali Basketball Association said it was determined to continue working on its mission to get more women to practice sports since it helps the revival of the country's peace and stability.
Since the collapse of the Somalia's central military government in 1991, Somalia sports has lacked a sports infrastructure and experienced threats from radical militants against athletes.
In 2006, the Islamic Courts Union (ICU), which controlled large swathes of the country's south and central regions, including Mogadishu, prohibited women from playing sports, especially basketball, labeling it as a "satanic act" against the principles of Islam.
But in recent years, the women's basketball has grown into a sports business in Mogadishu and different local tournaments have since been organized.
The Somali women's basketball team came to the international attention when the sky blue-clad national women's team performed well at the 2011 Arab Games with a tally of three losses and two victories.
They beat Qatar, the host nation, in a hotly-contested match that ended 67-57. Kuwait also lost to Somalia.
http://allafrica.com/stories/201612230329.html
-------
Pakistani Girl, 14, Sold Off To Pay Debts
December 23, 2016
The girl called Jeevti was just 14 when she taken from her family in the night to be married off to a man who says her family owed him $1,000.
Her mother, Ameri Kashi Kohli, is sure that her daughter paid the price for a never-ending debt.
Ameri says she and her husband borrowed roughly $500 when they first began to work on the land, but she throws up her hands and says the debt was repaid.
It's a familiar story here in southern Pakistan: Small loans balloon into impossible debts, bills multiply, payments are never deducted.
In this world, women like Ameri and her young daughter are treated as property: taken as payment for a debt, to settle disputes, or as revenge if a landowner wants to punish his worker. Sometimes parents, burdened by an unforgiving debt, even offer their daughters as payment.
The women are like trophies to the men. They choose the prettiest, the young and pliable. Sometimes they take them as second wives to look after their homes. Sometimes they use them as prostitutes to EARN MONEY. Sometimes they take them simply because they can.
"I went to the police and to the court. But no one is listening to us," says Ameri, who is Hindu. She says the land manager made her daughter convert to Islam and took the girl as his second wife. "They told us, 'Your daughter has committed to Islam and you can't get her back.'"
More than 2 million Pakistanis live as "modern slaves," according to the 2016 Global Slavery Index, which ranks Pakistan in the top three offending countries that still enslave people, some as farm workers, others at brick kilns or as household staff. Sometimes the workers are beaten or CHAINED to keep them from fleeing.
"They have no rights, and their women and girls are the most vulnerable," says Ghulam Hayder, whose Green Rural Development Organization works to free Pakistan's bonded laborers.
An estimated 1,000 young girls, most of them underage and impoverished, are taken from their homes each year, converted to Islam and married, said a report by the South Asia Partnership organization.
Hayder says, "They always take the pretty ones."
The night Jeevti disappeared, the family had slept outside, the only way to endure the brutal summer heat here in southern Sindh province. In the morning, she was gone. No one heard anything, her mother says.
The family turned to activist Veero Kohli to help free the girl.
Kohli, who isn't related to the family, was born a slave. Since fleeing bondage in 1999, she has devoted herself to challenging Pakistan's powerful landowners, liberating thousands of families from bonded labor.
Kohli's defiance incenses many men in a country dominated by a centuries-old patriarchal culture.
"I know that they would like to kill me, but I will never stop fighting to free these people,' she says.
Five months ago, she went with Ameri to the Piyaro Lundh police station to find her daughter. They said the girl went willingly, Kohli says. "I told them: 'Let me talk to her. Let her mother talk to her if she went freely.'" They refused.
Instead, they called in the man who Ameri said had taken her daughter. Hamid Brohi, came alone, without the girl. "He said, 'Anyway, she is payment for 100,000 rupees ($1,000) they owe me,'" Kohli recalls.
Now Kohli is returning to the same police station, where police officer Aqueel Ahmed thumbs through a dozen files, barely containing his anger at the activist.
Finally, he pulls out an affidavit. In it, the girl, who now goes by the name Fatima, said she had converted freely and married Brohi of her own free will. She also said she couldn't meet her mother because now she was Muslim and her family was Hindu.
Hindu activists say the girls are kept isolated until they have been forced to convert and are married - and then it's almost too late to do anything.
Under pressure, police in a machine-gun-mounted jeep finally take Kohli and a foreign reporter to visit the girl. Her mother doesn't come, too afraid, she says, to confront the police in person again.
Brohi, a sullen-looking man with a thin mustache, greets the police with an embrace. He angrily denies he took Jeevti as payment for the family's debt, despite his earlier boast to the activist that he had done just that.
Inside, Jeevti sits on a double mattress on the floor, her head wrapped in a black shawl. She wears heavy eyeshadow and exaggerated bright red LIPSTICK, like a child who has put on her mother's makeup - or one who is attempting to look older.
Although she doesn't seem afraid, her eyes dart to the door where her husband hovers. When she speaks, her words seem rehearsed.
"I married him because I wanted to," she says. "I myself asked him that as we are lovers, we should get married. So he said, 'Let's get married,' and I said yes."
She denies that she hasn't seen her mother since leaving. But she can't say when she saw her mother last - or even where she lives, now that the family has fled its old home. She is quiet when asked why her court affidavit says she refused to talk to her mother because she had converted to Islam.
She says she doesn't know what is in the court documents, although each one the police showed said Jeevti had spoken the words herself.
The next day, the visitors return - without a police escort.
Inside the compound, there are only women, and no one knows Fatima. The DOOR to the room where she sat the day before is padlocked. It is as if the compound was but a stage set for a young girl's performance.
http://www.khaleejtimes.com/international/pakistan/pakistani-girl-sold-off-to-pay-debts
-------
Kerala woman jailed in Saudi Arabia over 'banned' drug
December 23, 2016
A young woman from Kerala has landed in a jail in Saudi Arabia after she was found in possession of a huge quantity of medicine. The drug, prescribed by a Kerala-based doctor for a neurological ailment she was suffering from, is reportedly banned in Saudi Arabia.
According to her family members in Kottayam, Hissana Hussain, 26, flew to Dammam from Kochi on Tuesday with her husband Liaquath and their three-year-old son. The family earlier lived in Dubai, where Liaquath worked as an engineer. A month ago, they returned home for a break before flying to Saudi, where Liaquath got a new job.
Hussain has been suffering from neurological disorders for the past three years, said her family members. Before leaving for Saudi, she consulted a physician in Kerala. "She had purchased the prescribed medicine for the next six months. With three tablets a day, she was carrying a huge stock. She took the tablets to Saudi without the doctor's prescription,'' said Rama George, a family friend of the victim and a leader of the Lok Janashakti Party.
George said the medicine Hussain was carrying is reportedly a banned substance as per Saudi laws. Hence, officials of the Directorate of Narcotic Control took her into custody on her arrival at the airport on Tuesday evening. Later, the officials handed over their son to Liaquath and informed him of her imprisonment, said George.
Hussain's family has obtained a copy of the prescription. The issue has been taken up with the Ministry of External Affairs and the prescription dispatched to the Indian Embassy in Saudi.
http://indianexpress.com/article/india/kerala-woman-jailed-in-saudi-arabia-over-banned-drug-4440765/
-------
Previously declared stateless, Dayak girl a Malaysian once more
BY SULOK TAWIE
December 23, 2016
KUCHING, Dec 23 — A 17-year-old Dayak girl, who was forced to stop schooling after the National Registration Department declared her as non-Malaysian after finding that her mother is Indonesian, today received her MyKad from the department.
"With that, her citizenship as a Malaysian is restored," Sarawak For Sarawakians (S4S) civil society movement leader Peter John Jaban told reporters after Rika Herline anak Ji-in had received her MyKad from the NRD head office at Simpang Tiga here.
Jaban had led a group of human rights advocates from S4S and Sarawak Dayak Iban Association (Sadia) to help Rika and six other "stateless" people apply for their MyKads after alleged difficulties with the NRD.
"She will be able to continue her study next year," Jaban said, adding that the other six also received their MyKads from the department.
Rika, who was born in 1999, stopped attending her Form 4 classes last year after the NRD refused to issue her with the identity card when it learned her mother is an Indonesian national.
Her original birth certificate, which indicated that she was a Malaysian citizen, was replaced with a new one saying she was a non-Malaysian.
Like Rika, Jaban said the six — Roziana anak Akui, Heliana anak Akui, Emirozy anak Rosli, Shera anak Senga, Isabella anak Kuin and Ica anak Kuin — made repeated trips to the department to submit their applications and other supporting documents, but failed to get their identity cards approved.
Human rights lawyer Simon Siah, who was present, said the problem has always been with the administrative requirements put in place by various agencies to implement the existing laws.
"Basically, all these applicants were rejected because of paperwork, not because they were not genuine cases," he said, adding the applicants were being consistently turned away with no explanation and no possible solution.
He said the seven cases were resolved with no changes to the existing legal framework.
http://www.themalaymailonline.com/malaysia/article/previously-declared-stateless-dayak-girl-a-malaysian-once-more
-------
Malaysian Police Nab Woman Suspected Of Insulting Islam On Facebook
December 23, 2016
JOHOR BARU, Dec 23 ― The police detained a woman last night on suspicion of making a statement insulting the call of prayers (azan) and the Islamic religion via the social website, Facebook.
Johor Police Chief Datuk Seri Wan Ahmad Najmuddin Mohd said the 26-year-old woman was detained at 8pm at a house in Taman Rekamas, Simpang Renggam near Kluang after the police received a report on Tuesday (December 20).
"Acting on the report, police carried out an investigation and traced the owner of the social website account who was suspected of uploading statements that insulted the 'azan' and Islamic religion. This could cause social disharmony," he said in a statement here today.
Wan Ahmad Najmuddin said police also seized a laptop computer and a mobile phone belonging to the woman.
He said the police would apply for a remand order on the woman to assist in a further investigation under Section 298 of the Penal Code and Section 4(1) of the Sedition Act 1948.
In this regard, he said, the police advised members of the public against abusing any application in the social media to issue statements that could lead to disharmony and hurting the feelings of people of the other faiths. ― Reuters
http://www.themalaymailonline.com/malaysia/article/police-nab-woman-suspected-of-insulting-islam-on-facebook
-------
Christmas in Nigeria: Muslim woman donates food to Christian widows in Kaduna
22 December, 2016
Peace ambassador Hajiya Ramatu Tijjani has decided to donate bags of rice and other kinds of food for Christmas to the Christ Evangelical Church Ministry located in Sabon Tasha, Kaduna. The Muslim woman said she wants to help strengthen peaceful relations of different religious groups in Nigeria, The Pulse relays.
Aside from that, Tijjani said she wants to help alleviate the hardship that widows are facing. For this reason, her donations will benefit more than 50 Christian widows this Christmas season. The Muslim woman said she finds joy in helping widows and elderly individuals.
Tijjani urged other people to also extend a helping hand to the poor and the needy this Christmas. For her, the occasion provides Muslims an opportunity to show Christians that their religion promotes peace and love.
CECM general overseer Pastor Yohanna Buru thanked Tijjani for her generosity toward the Christian widows. The minister also prayed that God will reward the peace ambassador richly because of her act of kindness this Christmas season.
Meanwhile, other people in Nigeria will be celebrating Christmas in various ways. Many of them will travel to their hometowns to visit their families and celebrate the holidays with them. Others will participate in Christmas parties, caroling and gift-giving. There are also those who will practice Nigeria's unique Christmas customs and traditions, Vanguard notes.
According to top African online hotel booking portal Jumia Travel, one of the most popular practices in Nigeria during the season is the wearing of identical Christmas fabrics of all family members. Nigerians usually wear their best clothes for the occasion and often try to outdo each other during their celebrations.
Another Nigerian custom this season is the giving of Christmas rice. It is customary for Nigerians to serve rice to their guests during Christmas. This custom is one of the reasons why rice is being given as gifts prior to the occasion.
http://christiandaily.com/article/christmas-in-nigeria-muslim-woman-donates-food-to-christian-widows-in-kaduna/59662.htm
-------
URL: https://www.newageislam.com/islam,-women-and-feminism/new-age-islam-news-bureau/somali-clerics-warn-women-against-playing-basketball/d/109472
New Age Islam, Islam Online, Islamic Website, African Muslim News, Arab World News, South Asia News, Indian Muslim News, World Muslim News, Womens in Islam, Islamic Feminism, Arab Women, Womens In Arab, Islamphobia in America, Muslim Women in West, Islam Women and Feminism, Moderate Islam, Moderate Muslims, Progressive Islam, Progressive Muslims, Liberal Islam