New Age Islam News Bureau
15 Feb 2017
• Free Hairdos to Boost Confidence of Displaced Iraqi Women
• At NY Fashion Week, Hijabs Top Looks Fit For Royalty
• Muslim Convert Girl, 16, 'Plotted To Blow up Tourists Around The Eiffel Tower • After Meeting Fanatic Fiancé And Pledging Her Loyalty To ISIS Online'
• Nigar Johar Becomes the Third Female Major General in Pakistan's History
• Abandoned Wife, Baby Live Off Charity for Three Years in Dubai
Compiled by New Age Islam News Bureau
URL: https://www.newageislam.com/islam,-women-and-feminism/new-age-islam-news-bureau/sold-into-marriage--how-rohingya-girls-become-child-brides-in-malaysia/d/110088
--------
Sold into marriage: How Rohingya girls become child brides in Malaysia
February 15, 2017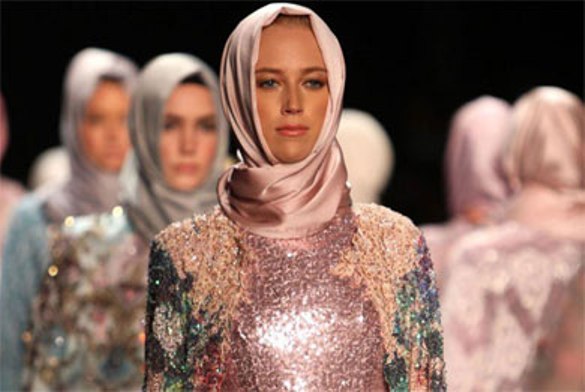 In just two seasons, Indonesian Muslim designer Anniesa Hasibuan has made the hijab her trademark and dazzled New York Fashion Week's catwalk this time around
KUALA LUMPUR, Feb 15 — The slight girl in a turquoise headscarf held back tears as she recalled what happened when she fled to Malaysia from Myanmar's violence-hit Rakhine state. Just 12-years-old at the time, she was forced to wed a man she did not know, and who was more than a decade older than her.
The teenager, who is not being named by Reuters because she is still only 13, is like hundreds of Rohingya girls escaping persecution, violence and apartheid-like conditions in Rakhine, only to be sold into marriage to Rohingya men in neighbouring Malaysia, migrant groups and community members said.
Separated from her family while escaping to Malaysia, she said she was caught by traffickers and held for weeks in a filthy and brutal jungle camp near the Thai-Malaysian border with dozens of others. Her captors told her a Rohingya man was willing to give her freedom if she agreed to marry him.
"The (trafficking) agent said I had been sold to a man and I asked, how could do they do that?... My heart was heavy and I was scared," the girl said in an interview in Kuala Lumpur.
Reuters could not independently verify certain aspects of her story but her mother confirmed she was held in the camp for weeks before being released.
The girl's plight is just one illustration of the hardships faced by many Rohingya Muslims, a minority group in Myanmar who are regarded by the nation's government as illegal migrants from Bangladesh, entitled only to limited rights.
Since 2012, violence and communal clashes have seen hundreds of Rohingya killed while tens of thousands have fled, seeking refuge in neighbouring countries such as Malaysia, Thailand, Indonesia and Bangladesh. In the most recent crackdown, security forces and police committed mass killings and gang rapes and burned villages in northern Rakhine, a U.N. investigation published earlier this month found.
Malaysia criticised
It has been common for Rohingya women escaping Myanmar to wed Rohingya men in the country they fled to, usually through marriages arranged between families, rights groups said. Some of these arranged marriages would be for underage girls.
But a growing number are becoming victims of human traffickers who sell women and girls to Rohingya men as brides.
Matthew Smith, executive director of the Southeast Asia-based migrant and refugee protection group Fortify Rights, said the group had seen a "significant" rise in the number of child brides following increased violence in Rakhine.
There are no official statistics on how many girls have been sold into marriage. In 2015, the United Nations High Commissioner for Refugees said in a report it had identified 120 Rohingya child brides in Malaysia but it was unclear how many were trafficking victims.
Malaysian Prime Minister Datuk Seri Najib Razak has spoken out strongly in the past few months against Buddhist Myanmar over its handling of the violence in Rakhine and the Rohingyas' plight.
But rights groups say Malaysia, which has not signed the U.N. refugee convention, has been complicit in the abuse of Rohingya asylum-seekers because they are treated as illegal migrants with no official access to jobs, healthcare or education. They live in poverty working illegally in restaurants or construction sites.
The Malaysian government launched a project this month that enables 300 Rohingya people to be employed, a move welcomed by rights groups.
The Malaysian government did not return requests seeking comment for this story.
Child marriages allowed
Child marriages are also tolerated in Muslim-majority Malaysia. Under Islamic law, Muslim girls under 16 can marry with permission from the Shariah court, though in the case of the Rohingya marriages in Malaysia there is no court involvement — Rohingya imams conduct them and while a marriage certificate is printed there is no indication it is a legal document under Malaysian law.
The girl who was married was taken to Kuantan, on Malaysia's east coast, where she said she quickly learned that her new husband was controlling and abusive. He confiscated her mobile phone and did not allow his family to see her. She was left alone for days in the house.
Eight months into the marriage, she reconnected with her parents and four younger siblings, and was rescued by her father, who had travelled to Kuantan to find her.
The girl's husband did not respond to calls seeking comment for this story.
She now lives with her family in a one-room shack in a small village on the outskirts of Kuala Lumpur.
While she feels safer now, she said she was afraid that she may have to return to her husband, who has refused to grant her a divorce.
Sharifah Shakirah, a refugee herself and founder of the Rohingya Women Development Network, said Rohingyas have no legal status in Malaysia, and their marriages are not recognized. This can make it harder for law enforcement to intervene in domestic abuse cases, even when they involve children.
"To ask help from lawyers and police is not easy because they (Rohingyas) don't have legal status. Even when cases of child brides are reported, the police don't take action," said Sharifah, who provides help and counseling to Rohingya women.
'Life of dignity'
According to UN statistics, some 56,000 Rohingya are living in Malaysia, although migrant groups say the number is much higher as many are undocumented. The community is mainly spread across impoverished suburbs around the capital Kuala Lumpur.
For young men in this small, marginalised community, finding a partner and having a family is a way of elevating their social status and having a normal life, according to Rohingya men interviewed by Reuters.
The lack of eligible women in Rohingya communities in Malaysia has created a demand for brides, while some families see marriage as a way to reduce their financial burdens, said Belal Hossain Shamia, 32, a Rohingya father of three in Kuala Lumpur whose sister was a child bride.
A former trafficking agent, a Rohingya man identified only as Ali, told Reuters there is a growing demand for Rohingya brides. Smuggling syndicates can get up to RM7,000 for each girl's release to their family or sale to a man.
Ali kept guard at a jungle trafficking camp near the Thai-Malaysian border. He said women and girls travelling alone or whose families were unable to pay the release fees were sold.
"There were girls there who were about 15 or 16. They have no choice..." he said.
Yasmin Zokir Ahmad, 18, recalled how her husband, a Rohingya who worked as a grass-cutter in Kuala Lumpur, paid a trafficking agent RM3,500 to marry her two years ago.
This was after a harrowing nine-month journey to Malaysia, which included a voyage by sea and a long period in a Thai jungle camp where she was often denied food or water.
"I didn't have a choice. I needed to marry him because I need support and protection, and I want to live a life of dignity," Yasmin said. Her husband declined to comment. — Reuters
http://www.themalaymailonline.com/malaysia/article/sold-into-marriage-how-rohingya-girls-become-child-brides-in-malaysia
--------
Free hairdos to boost confidence of displaced Iraqi women
Feb 15, 2017
Hasansham Camp, Iraq — Twice a month, beautician Chnoor Khezri takes her equipment to a camp near Mosul and gives displaced Iraqi women who have lost everything a proper pampering and some fresh confidence.
In a small room inside the camp, the young Iranian Kurd takes out her brushes and scissors and puts blue wax to heat up in a pot. "It's not much but I work miracles with this," she says.
More than 3,600 women have endured freezing temperatures and the most rudimentary comfort levels in this camp's tents since they fled the fighting between Iraqi forces and Daesh (the so-called IS) in Mosul.
Some of them arrived days earlier, others have been there months but nearly all had to leave almost everything behind them.
They were initially reluctant to follow a stranger in the sprawling camp and be separated from their husbands but a dozen of them eventually gave in to Khezri's efforts to bring them into her improvised beauty salon.
"I offer them a haircut, eyebrow and upper lip threading. They don't ask for anything specific really. They just want me to pamper them," said Khezri, a 31-year-old Iranian Kurd who runs a beauty parlour in Arbil, the nearby capital of Iraq's Kurdish region.
One of her "clients" that day is Mervet, a 30-year-old mother who watches attentively as Khezri's fingers knead the wax, apply it on the wincing face of another young lady and peel it off sharply.
"In Mosul, before Daesh , I used to work in a beauty salon. I find it moving to see this routine again," she says.
Azhar, 34, arrived to the Hasansham camp just days ago, after risking her life to flee the IS-held west bank of Mosul, cross the Tigris River and escape through the liberated eastern side of the city.
"For weeks now people have been lacking everything and prices have gone through the roof. The only thing you can find there now is potatoes, wheat and lentils," she said.
Recounting her experiences in Mosul put her in a state of rage but a look in the mirror put a smile back on her face.
"I never thought a haircut would make me so happy," she said.
The word got out somehow and now a queue of women giggling at the thought of removing their hijab and getting a haircut has formed outside her temporary salon.
"There is no space for women in this camp. There are plenty of hair dressers for men. There are games for the children, but nothing for us," said one of them, 23-year-old mother of two Ghada.
"Our faces are burnt by the sun, we need creams, and basic hygiene kits. We don't even have bras," said Safa, another women standing next to her.
Khezri vindicated them: "There is no shame in wanting to recover your femininity. Especially in such rough living conditions, your well-being and your dignity are at stake."
Ghada, who settled in the displacement camp six weeks earlier, came "to have a look" at the salon but she does not dare take a seat.
"Since we got here, I've been suffering from anxiety attacks. I have nightmares. I see Daesh spies everywhere," she says.
"I think I need to talk to someone… a psychologist," she whispers with an embarrassed grin.
Those who fled Mosul may have lived next to IS supporters or have relatives living in militant-controlled areas and often still feel the fear that pervaded their lives under the "caliphate".
As the sun sets on Hasansham, Khezri finally packs up her beauty tools after seven hours of non-stop work, exhausted but happy.
"Look at their faces, how they have transformed. They came here suspicious and all tightened up. They leave this place relaxed and proud for having made a moment for nobody else but themselves," she says. —
http://saudigazette.com.sa/world/mena/free-hairdos-boost-confidence-displaced-iraqi-women/
--------
At NY fashion week, hijabs top looks fit for royalty
Agence France Presse
15 February 2017
NEW YORK: In just two seasons, Indonesian Muslim designer Anniesa Hasibuan has made the hijab her trademark — and dazzled New York fashion week's catwalk this week by styling it with flowing, iridescent gowns fit for a princess.
Like in her New York show last fall — which cemented her status as a rising star — all of the models who showcased Hasibuan's autumn/winter 2017 collection sported lustrous gray hijabs that sculpted the facial features while carefully covering the hair.
Other than the hijab, the traditional head and neck covering many Muslim women wear, the 30-year-old designer's clothes evoked nothing of the "modest Muslim" style that sometimes stirs controversy and exacerbates anti-Muslim sentiment in western countries.
On the contrary, Hasibuan's collection features shimmering, on-trend pleats, silver and golden ruffles, and long trains adorned with pearls, glitter or embroidery that recalled royalty of the Middle Ages.
The models were not chosen at random — the young designer held casting calls specifically seeking first and second-generation immigrants, seeking to show that "fashion is for everybody."
"There is beauty in diversity and differences — something we should not be afraid of" she told AFP, speaking through an interpreter.
"I believe being a fashion designer can bring a lot of changes — and beautiful changes, of course."
She unveiled her second New York collection amid controversy over US President Donald Trump's recent executive order on immigration, currently blocked by a US court, that bars refugees and migrants from seven Muslim-majority nations. The decree ignited mass protests and global condemnation.
Hasibuan, however, aims to keep her work, which is primarily geared toward Muslim women, "separate" from politics.
"I'm here bringing the beautiful voice of the Muslim women, the peace and the universal values that fashion can offer," she said.
Her dream, she said, would be to dress Kate Middleton, whom the designer said is "like a queen," adding that she admires the Duchess of Cambridge for "her elegance."
Hasibuan won worldwide praise for her fall collection in New York last September, the first to feature a hijab in every look.
Since then she has opened new stores in her home country Indonesia as well as in Malaysia, Turkey and Abu Dhabi — proffering modern Islamic clothing dripping in glamor.
Chiara Sari, Indonesia's vice consul in New York, donned a white hijab atop a black, velvet top and black pants to attend the show, pulling her contemporary look together with a statement necklace.
The hijab, Sari said, is Hasibuan's "trademark, and I don't think she will lose that."
Since Trump's contentious decree Sari said she has spent significant time reassuring her fellow Indonesians in the United States, while also urging them to "avoid traveling abroad" to reduce the risk of not being able to re-enter.
For Sari, Hasibuan's growing fame is a gift. "Hopefully that will increase familiarity with Islam in general, especially now when it is getting a lot of bad press," she said.
http://www.arabnews.com/node/1054566/fashion
--------
Muslim convert girl, 16, 'plotted to blow up tourists around the Eiffel Tower after meeting fanatic fiancé and pledging her loyalty to ISIS online'
14 February 2017
A teenage girl who converted to Islam is alleged to have plotted to blow up tourists around the Eiffel Tower after meeting her fanatic fiancé and pledging her loyalty to ISIS online.
Appearing before an anti-terrorist judge in Paris today, she was identified only as Sarah Z, 16, and faces years in prison after being caught with 71g of potentially lethal explosives in her flat near Montpellier, in the South of France.
At dawn this morning the French youngster and her boyfriend - identified as Thomas S - were driven from the HQ of France's domestic intelligence services to a specially convened terrorist court in central Paris.
Armed officers set up roadblocks and secured the area, as the couple and a third suspect were presented to an instructing judge, who opened a judicial enquiry.
It follows the couple's arrests, along with two other men, last Friday in what was described as a 'bomb factory' cellar.
Sources close to the case said Sarah lived with her divorced mother, who is of Greek origin, and two younger sisters in Clapiers, a village north of Montpellier.
Last year Sarah was still at school when she 'started to take an interest in radical Islam' by 'looking up information on the internet,' said one prosecuting source.
Sarah's unidentified mother was unable to prevent her meeting Thomas online.
He was on a state security watch list.
The pair converted to Islam, and soon agreed to marry, but what Sarah did not know was that another one of her online friends was in fact working for the DGSI, France's domestic intelligence agency - the equivalent of Britain's MI5.
After she started boasting about the planned attack, the agent ordered a dawn raid on Sarah's apartment block.
It was carried out by heavily armed police special forces, who initially ended up arresting the couple alongside two other men.
The 'bomb factory' was in the cellar, where Thomas had been staying.
It included the 71 grams of the peroxide-based explosive triacetone triperoxide, or TATP.
Also known as the 'Mother of Satan', TATP figured prominently in the suicide belts used in the 2015 ISIS attacks on Paris, in which 130 people were blown up or shot dead.
Sarah had recorded a video pledging her loyalty to Isis, and in interviews said the Eiffel Tower would have been her main target.Her mother has, however, insisted she is 'completely innocent' and will 'soon be back home'.
Both Zara Z. and Thomas S. were converts to Islam, and were planning to get married before visiting the ISIS caliphate in Syria.
Then their plans were to return to France, where they would carry out the kamikaze attack on an unspecified target using suicide vests.
Bruno Le Roux, France's Interior Minister, said the raid 'foiled an imminent plan to carry out an attack on French territory.'
He said some 70 grams of the peroxide-based explosive, triacetone triperoxide, or TATP was found in the couple's flat.
Also known as the 'Mother of Satan', TATP has been used by terrorist bombers for years, and figured prominently in the suicide belts used in the 2015 Isis attacks on Paris.
Also found in the flat were potential bomb-making material including other chemicals, syringes and plastic gloves.
The four suspects had been monitored online for months, and were arrested after buying acetone, the colorless, volatile, highly flammable liquid often used as an ingredient for detonators.
The other two suspects taken into custody were aged 26 and 33, said Mr Le Roux.
He added that an address was also searched in the Ardennes region of eastern France in connection with the plot.
A police source said that all four suspects 'were living together' and planning the Paris attack.
'The girl was in online contact with a number of men she had never met, and one was an intelligence services operative,' said the source.
'She had an expressed a desire to fight in Syria, and also to attack a tourist spot in Paris. The spot had not yet been designated.'
http://www.dailymail.co.uk/news/article-4222872/Girl-plotted-blow-tourists-Eiffel-Tower.html
--------
Nigar Johar becomes the third female major general in Pakistan's history
DAWN.COM
General Nigar Johar has become the third woman officer in the history of Pakistan Army to reach the rank of major general.
Gen Johar was among the 25 brigadiers who were recently promoted to the rank of major general. She belongs to the Army Medical Corps and has progressed over the years to reach this milestone.
The major general belongs to the Panjpir village in Swabi district. She is the daughter of Col Qadir, who served in the Inter-Services Intelligence (ISI) and is the niece of retired Maj Mohammad Aamir, a former Pakistan Army officer who served in the ISI as well. Both her parents died in a car accident 30 years ago.
Swabi has produced some noticeable male generals in the past but it is the first time that a woman has reached the status of such highly ranked army officer.
Recently, a woman became the first Pakistani female to be a part of the bomb disposal unit. Her example has led 11 others women to join the squad. Similarly, Johar could prove to be a role model for women in the army.
http://www.dawn.com/news/1314629/nigar-johar-becomes-the-third-female-major-general-in-pakistans-history
--------
Abandoned wife, baby live off charity for three years in Dubai
Amira Agarib/Dubai
February 15, 2017
A number of charities and a few people helped her to survive.
After three years of poverty-stricken life in Dubai, an Asian woman and her four-year-old child, who were left by the woman's husband, managed to return to their home country, thanks to the Dubai Police.
Brigadier Dr Mohammed Murr, Director of the General Department of Human Rights at the Dubai Police, said the woman's husband left her and their one-year-old baby in 2013, without leaving any support for them. "After some family issues erupted between them, the man left the house and then the country, after switching his mobile phone off. She was living illegally without any source of income."
She was seeking support from people to survive, he said, adding that the woman was afraid to approach the authorities as she was staying in the country in violation of residency laws.
A number of charities and a few people helped her to survive. However, it was nearly impossible for her to survive merely upon others' support and debt was getting accumulated every day. Finally, she resorted to the Women and Child Protection Department and told the department about her crisis. "She was worried that she couldn't help the child attend a school. She wanted to go back to her home country," Brigadier Murr said.
He said that the department was able to coordinate with the consulate of the woman's country in Dubai and the General Directorate of Residency and Foreigners Affairs to solve her problem. "With a joint effort, necessary action was taken to return the woman and her child to their homeland," he added.
http://www.khaleejtimes.com/news/crime/abandoned-wife-baby-live-off-charity-for-three-years-in-dubai
--------
URL: https://www.newageislam.com/islam,-women-and-feminism/new-age-islam-news-bureau/sold-into-marriage--how-rohingya-girls-become-child-brides-in-malaysia/d/110088
New Age Islam, Islam Online, Islamic Website, African Muslim News, Arab World News, South Asia News, Indian Muslim News, World Muslim News, Womens in Islam, Islamic Feminism, Arab Women, Womens In Arab, Islamphobia in America, Muslim Women in West, Islam Women and Feminism, Moderate Islam, Moderate Muslims, Progressive Islam, Progressive Muslims, Liberal Islam