New Age Islam News Bureau
06 March 2021
• Formula 3 Driver Reema Juffali on the Road to Becoming an Icon for All Saudi Women
• No Proof of Life Yet of Princess Sheikha Latifa, Daughter of Dubai Ruler Sheikh Mohammed bin Rashid Al-Maktoum: UNHRC
• Book Launched To Honour 20 Inspiring Muslim Women
• Muslim Women across Prairies Gather Online For Unique Women-Only Event
• Women In Afghanistan Worry Peace Accord With Taliban Extremists Could Cost Them Hard-won Rights
• Istanbul Protesters Denounce Violence against Women
• Proportion of Women Parliamentarians Worldwide Reaches 'All-Time High'
• MoH: Women Should Avoid Pregnancy for 90 Days after Second Dose of Vaccine
Compiled by New Age Islam News Bureau
URL: https://www.newageislam.com/islam-women-feminism/slain-afghan-women-receive-honorary/d/124477
--------
Slain Afghan Women to Receive Honorary International Women of Courage Award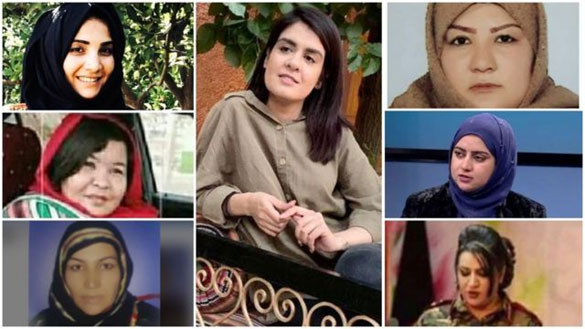 Afghan Women assassinated in 2020 for their dedication to improve lives in Afghanistan
----
06 Mar 2021
US State Department is set to give the honorary International Women of Courage Award to seven Afghan women leaders and activists.
The IWOC award will be given to them as they were assassinated in 2020 for their dedication to improve lives in Afghanistan.
US Secretary of State Antony J. Blinken will be hosting IWOC Awards' virtual ceremony on the 8th of March, to honour a group of women from around the world.
Jil Biden, First Lady of the United States, will also deliver her remark.
The First Lady of the United States, Dr. Jill Biden will deliver remarks to recognize the courageous accomplishments of these women.
The US department stated that "In addition to the individual IWOC awards that will be presented on March 8, Secretary Blinken will also present an honorary IWOC award to a group of seven Afghan women who were assassinated in 2020 while serving their communities during a pivotal moment in Afghanistan's history".
"These tragic murders underscore the alarming trend of increased targeting of women in Afghanistan and the United States condemns these acts of violence," read the statement.
The assassinated Afghan women to receive IWOC awards include, Fatema Natasha Khalil, General Sharmila Frough, Maryam Noorzad, Fatema Rajabi, Freshta, Freshta Kohistani, and Malalai Maiwand.
https://www.khaama.com/slain-afghan-women-to-receive-iwoc-honorary-awards-334433/
--------
Formula 3 Driver Reema Juffali on the Road to Becoming an Icon for All Saudi Women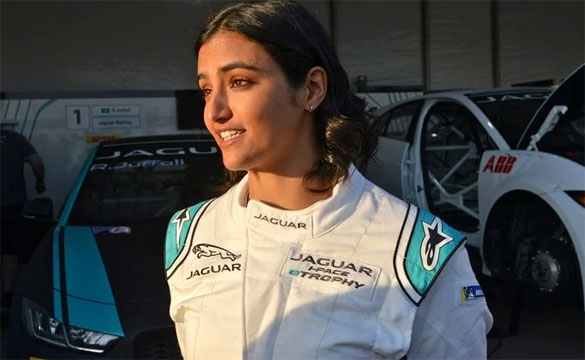 For Saudi Arabia's first-ever female Formula racer, Reema Juffali, the high-velocity, adrenaline-packed action has become a way of life. (File/AFP)
-----
March 06, 2021
RIYADH: Within moments of meeting Reema Juffali, you will get the feeling she was always meant for a career in motorsports. Watch her drive, and those feeling are immediately confirmed.
For Saudi Arabia's first-ever female Formula racer, the high-velocity, adrenaline-packed action has become a way of life.
"It's a privilege to be able to do what I'm doing, racing, and racing under the Saudi flag," the Jeddah-born motorist said. "It's a humbling experience representing my country by being the first, and alhamdulillah (praise God), I'm pursuing my passion and doing what I love."
It has been a momentous couple of weeks for Juffali.
Ahead of the Formula E double-header last weekend at Diriyah, Juffali announced that she will be making the move from Formula 4 to Douglas Motorsport in the BRDC British Formula 3 Championship this year.
"It's going to be a big step for me driving a faster car, a better car, so that's really exciting," she told Arab News. "In terms of the future, I'm open to any opportunity that comes my way. I definitely want to race at the top level of motorsports, whether it's in a Le Mans race or Formula E — it's all on the cards."
Douglas Motorsport has been taking part in the series since 2016, with 14 wins and over 60 podiums to its name. This is a major step up for Juffali, but surpassing expectations is what she does.
As a child, Juffali defied gender stereotypes and social norms in Saudi Arabia, preferring sports while other girls chose ballet. Her passion for cars came early, and she could name different car manufacturers from a young age. After moving to Boston to study, she began driving — still illegal at the time in Saudi Arabia — and she fell in love with Formula 1.
When it became legal for women to drive in the Kingdom in 2018, she would be the first one out there on the circuit.
"I got approval from the federation to get my license in the UK, and it turned out to be a very simple process," she told Arab News. "One only needed to receive a medical check-up, to understand the safety regulations and what the flags and signals meant, as well as to pass a one to two-lap test demonstrating this knowledge.
"It felt like I had just graduated from university," she added. And when the time came, she converted that license into a Saudi one to race under the Kingdom's banner.
Juffali stressed the importance of her family's support in pursuing her dreams, despite their initial concerns for her safety.
"My mother and father both really supported me and encouraged me. In a sport like this, there's quite a lot happening; you really do need a good support system," she said.
"In the beginning, my friends and family were a bit apprehensive. 'Is this safe?' they asked. And I explained that I had done my research, that I had received as much experience as I could before getting into the car and that it was my passion, my dream. I think that was important for them to hear," she added.
Whatever early doubts there may have been, Juffali pressed ahead with what she believed was her true calling — a professional career in motorsports.
"It's amazing to be able to compete in a sport where the gender barriers are still evident, but when you're on track it doesn't really matter," she said.
"And for me, at the end of the day, it's all the same: Whether I'm racing against a male or a female, I just want to get ahead of them, and I want to win."
A pivotal moment in Juffali's career was meeting Susie Wolff, former professional racing driver and current Team Principal of Venturi Racing, while attending the Abu Dhabi Grand Prix. The Scottish driver would become a mentor for the young Saudi.
"I saw it as a sign that I needed to start. I needed to go after my dream," Juffali said. "When I did, I reached out to her again and told her 'I'm racing, I did it,' and she honestly was super happy for me."
Prior to Juffali's first race, she had only trained for six weeks with her coach in England. She said it was like being "thrown into the deep end."
Juffali ignored the noise around her and focused on improving herself by getting out on the track as much as possible and putting herself in different scenarios, such as racing under different weather conditions, particularly the rain, and driving different cars.
She quickly learned from her mistakes and became the proficient driver she is today.
Juffali fondly recalled achieving her first purple, or quickest, lap.
"I was like, 'Really? Are you sure? Is it me?'," she said excitedly. It was one of the first moments she believed she was the real deal.
Juffali admitted that in the early days she would suffer from overdriving, in which a rookie driver will often depend on what they are learning rather than what they are feeling.
"I still battle with that sometimes, when a scenario appears that I haven't been in before," she said. "I do sometimes overthink and overdrive and when that happens, you make mistakes. I'm now more exposed to these scenarios and I have more experience, so I think less and I just do more. I feel more, let's say. I go with my instinct and gut rather than what I think I need to do."
Juffali said the most important aspects of racing are consistency, precision and keeping a calm head. Those qualities quickly led to success on the track.
The now 29-year-old driver was in complete disbelief after her first win at the TRD 86 Cup in Dubai.
"A high point was definitely my first win," she said. "That came as a shock to me because of the way the race was set up. It was a two-part race, and I didn't realize that I was first. I finished the race thinking 'Am I actually first?' and I kept asking people: 'Is it real? Is it happening?'"
On top of racing, Juffali sees the track as a form of therapy and encourages people to take their stresses and anxieties out on the tarmac, where one is permitted to put the pedal to the metal. "I get that all out on the track, so when I'm in the car on normal roads I'm quite relaxed," she said.
Juffali stressed the importance of adhering to traffic laws and road safety, explaining that the best way to do so was to be mindful of those around you.
"Think about each other," she said. "When you're on the road, it's not just yourself; you're putting other people in harm's way if you're driving recklessly."
For those wishing to follow in her footsteps, Juffali broke down the differences in the varying single-seater Formula categories.
"Formula 4 is the introductory level. It's the one that has the least power. It's the slowest and least aerodynamic," she said. "With Formula 3, you get more power and become more aerodynamic, which means the downforce increases, so it becomes physically harder to drive. Formula 2 is closest to Formula 1. At this level, there is more power and the cars are bigger. Formula 1 is a completely different ballgame."
The societal changes that have empowered women in the Kingdom over recent years have paved the road for Juffali to achieve her dreams. And she has a word of advice for others looking to do the same.
"I think the most important thing, and the thing that I would've liked to hear myself, is that it doesn't hurt to try, to put yourself in different situations, to experience different things, to try everything," she said. "That's how you're going to find your passion. That's how you're going to find your calling."
https://www.arabnews.com/node/1820861/sport
--------
No Proof of Life Yet of Princess Sheikha Latifa, Daughter of Dubai Ruler Sheikh Mohammed bin Rashid Al-Maktoum: UN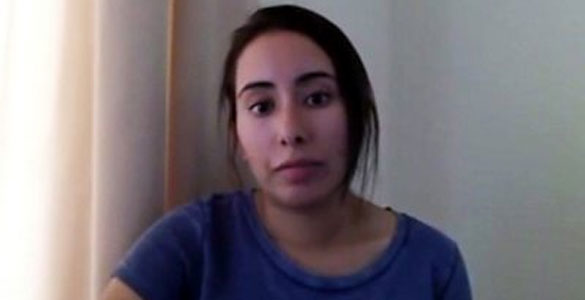 Sheikha Latifa
----
AFP MARCH 05, 2021
The UN said on Friday it was yet to see evidence from the United Arab Emirates that Dubai's Sheikha Latifa was still alive, a fortnight after seeking proof.
The United Nations Human Rights Office had asked for evidence about the daughter of Dubai ruler Sheikh Mohammed bin Rashid Al-Maktoum after the BBC broadcast a video shot by Latifa saying she was being held captive and feared for her life.
Sheikh Mohammed is the vice president and prime minister of the UAE, of which Dubai is one of the seven emirates.
His 35-year-old daughter has not been seen in public since a foiled attempt to escape from the emirate in March 2018.
The Office of the UN High Commissioner for Human Rights has spoken to the UAE's diplomatic mission in Geneva.
"We've held discussions with representatives of the UAE government here in Geneva, but I don't have any particular progress to report," OHCHR spokesman Rupert Colville told reporters on Friday.
When asked if proof of life had been received, he replied: "Not yet, no."
The BBC said the clips it broadcast were filmed roughly a year after Latifa was captured and returned to Dubai, showing her crouched in a corner of what she says is a bathroom.
The undated videos were aired as Latifa's friends voiced concern that they are no longer receiving secret messages from her, the BBC reported.
In a statement last month, Dubai's royal family insisted that Latifa was being "cared for at home".
"Her family has confirmed that her highness is being cared for at home, supported by her family and medical professionals.
"Sheikha Latifa continues to improve and we are hopeful she will return to public life at the appropriate time."
AFP
https://www.moneycontrol.com/news/world/no-proof-of-life-yet-of-dubais-princess-sheikha-latifa-un-6610261.html
-----
Book Launched To Honour 20 Inspiring Muslim Women
Cheryl Tan
Mar 6, 2021
SINGAPORE - When Ms Siti Nurhajah was 18, she sacrificed her dream of becoming a nurse to support her family of six, who were on the verge of becoming homeless.
Now 26, she has graduated with a diploma in nursing and was one of 20 successful Muslim women honoured in a commemorative book launched on Saturday (March 6) ahead of International Women's Day on Monday.
Titled Unprecedented - To The Beat Of Her Own Drum, it was conceptualised and written by a team of 50 youth volunteers from the Mendaki Club over two years.
Ms Nadia Yeo, co-founder of the club's Young Women in Leadership Dialogue, said the book celebrates the lives of 20 young Malay/Muslim women who have achieved success in various forms.
From musicians to humanitarian activists and hawkers, they exemplified traits of resilience, courage and commitment, she added.
They were selected from an open call for nominations through social media.
President Halimah Yacob, who officiated the book's launch on Saturday, contributed to its foreword.
Speaking at the event, which was held at co-working space WeWork at Funan, Madam Halimah noted that a recurring issue that has surfaced from the series of Conversations on Singapore Women's Development was the need for society to shift away from the mindset that women must be the de facto caregiver at home.
She said: "Everyone can contribute in enabling the aspirations of our young women to take flight, whether by changing such biased perceptions, supporting them in their endeavours, or even sharing household responsibilities."
When Ms Siti was hospitalised at KKH for a week at the age of 14 to remove cysts in her ovaries, she was afraid. But the nurses there changed her life.
She said: "The nurses really went out of the way to care for me, and that was very memorable."
She would later pursue nursing at the Institute of Technical Education (ITE) College East in 2013, though she withdrew later that year to start working and support her family.
Her father, who was the sole breadwinner of the family, had diabetes and hepatitis C and was too weak to continue working.
Knowing she had to step up as the oldest of four siblings, she stopped schooling to work in the food and beverage sector.
She told The Straits Times: "We had just moved into a place of our own after two years of staying in a shelter, so I wanted to make sure that we were able to pay the bills."
When her sister graduated from school and began working in 2017, Ms Siti then returned to ITE to continue her education, eventually emerging as its valedictorian in 2019.
She pursued a diploma in nursing at Nanyang Polytechnic, and will soon start working as a registered nurse at KKH.
She said: "I wanted to give back to KKH after my experience there so that I can inspire the younger nurses."
She hopes to return to ITE as a lecturer to continue sharing her story and inspire others.
Another woman featured in the book is Ms Nur Aziemah, 35, associate research fellow at the International Centre for Political Violence and Political Terrorist at the S. Rajaratnam School of International Studies.
She monitors and analyses the extremist online content to understand extremist groups such as Al-Qaeda and ISIS.
All proceeds from the book sales will be channelled to Casa Raudha, a charity which provides shelter for women and children who have been victims of domestic violence.
Members of the public can buy a book and pledge their support at giving.sg/campaigns/ywildpledgeabook.
https://www.straitstimes.com/singapore/book-launched-to-honour-20-inspiring-muslim-women
--------
Muslim Women across Prairies Gather Online For Unique Women-Only Event
Mar 06, 2021
Muslim women and women from other faiths will gather online Saturday for a special event to mark International Women's Day, which takes place on Monday.
The Ahmadiyya Muslim Women's Association is bringing together presenters from different perspectives under the banner "Women as Nation Builders."
The organization says the event is about celebrating and fostering excellence, along with challenging misconceptions about the contributions of women from different backgrounds in establishing successful societies.
"It's a very unique and extraordinary event for women, by women," said Maham Anna Malik with the Ahmadiyya Muslim Women's Association.
"Our goal is to provide a forum for women from diverse backgrounds to build connections with a shared respect and mutual understanding.
"We have Christian speakers, Indigenous speakers, Sikh speakers, Muslim speakers and other guests with women attending from across the prairies."
The virtual event takes place at 4 p.m. MST with hundreds of women expected to take part.
The list of attendees includes dignitaries, faith leaders and academics.
The program includes presentations from female faith leaders, elected officials, multimedia presentations and an interactive question and answer segment.
"We feel it's important to empower women, to provide a safe, encouraging and educating dialogue to learn the essential role of women as leaders and nation builders across faiths," said Malik.
"Despite our differences, we have so much in common."
https://www.cbc.ca/news/canada/calgary/ahmadiyya-muslim-women-s-day-1.5938679
--------
Women In Afghanistan Worry Peace Accord With Taliban Extremists Could Cost Them Hard-won Rights
6th March, 2021
Three Afghan women who worked at a media company were gunned down in Jalalabad in early March . In January, unidentified gunmen killed two female Supreme Court judges in Kabul.
These are the latest victims on a long list of assassinations and attempted assassinations of female politicians and women's rights activists. Such attacks have intensified since the government began peace negotiations with the Taliban militant group in September 2020. In the past year, 17 human rights defenders have been killed in Afghanistan.
The Taliban's rule of Afghanistan from 1996 to 2001 was the darkest time for Afghan women. Assuming an austere interpretation of Islamic Sharia and Pashtun tribal practices, the group limited women's access to education, employment and health services. Women were required to be fully veiled and have male escorts in public.
We are scholars of women's rights in Muslim majority countries, including in Afghanistan. We have been following Afghanistan's peace talks with an eye on gender, seeking to understand how Afghan women view the prospect of their government striking a power-sharing agreement with the group that oppressed them.
Seat at the table
Women are a pale presence in the on-again, off-again, U.S.-brokered Afghanistan peace process underway in Doha, Qatar. The Taliban, which still controls roughly 30% of Afghanistan's territory, has no women on its negotiating team. Only four of the Afghan government's 21 negotiators are women – even though several women play prominent roles within the national government.
The past six months of talks have demonstrated the contradictions between each side's stance on women's equality and other central issues.
The government intends to preserve Afghanistan's democratic institutions and constitution, which guarantees the rights of women and minorities as equal citizens of an Islamic republic.
The Taliban, on the other hand, is pushing for an Islamic emirate controlled by a nonelected council of religious leaders who rule based on their conservative interpretation of Islam, according to unpublished analysis by the nonprofit Women Living Under Muslim Laws , where we are board members.
Roya Rahmani , the Afghan ambassador to the United States, says having women on its team gives the Afghan government more leverage to negotiate on women's rights. That's important because our research indicates that the Taliban maintain their extremist stance on women.
"The Taliban live in their 1990s universe and they refuse to see the reality of Afghanistan and in particular the young generations today who see themselves entitled to human rights, education, and an open public sphere," Palwasha Hassan, an Afghan women's rights activist, told us in an interview in December 2020.
The Taliban claims its views on women have evolved. But in some Taliban-controlled regions of Afghanistan girls are barred from getting an education after puberty – in violation of the Afghan constitution. And while women are elected and appointed to high-level posts nationally, their political participation is restricted in Taliban-controlled regions.
There is a "gap between official Taliban statements on rights and the restrictive positions adopted by Taliban officials on the ground," according to the international nonprofit Human Rights Watch.
Women and war
Armed conflicts may be primarily fought by men, who are killed or injured, but women are war victims in a different way – and therefore have different needs when it ends. Many lose their husbands and children, and thus their income, and are disproportionately displaced by violence. Since rape is one weapon of war, women may be sexually assaulted or raped en masse.
In 2000, the United Nations adopted a resolution emphasizing that women should be included in all post-conflict reconstruction efforts.
Colombia was the first country to ensure gender equity in its peace process. In its landmark 2016 accord with the FARC insurgents, which was mediated by Sweden, women were on both the insurgent and government negotiating teams, and the final accord included a chapter outlining what assistance women in conflict zones would need to start businesses, participate in politics, thrive in rural areas and the like.
Afghanistan, the first big globally brokered peace deal to follow Colombia's, does not follow this model.
In interviews with more than 15 Afghan women's rights leaders, we heard frustration over women's exclusion from the peace talks given that women are the main victims of Afghanistan's 40-year conflict .
These women support the effort at national reconciliation. But they cited the targeted killings of women over the past year as reason for concern that the Taliban's disregard for human rights jeopardizes the longevity of any peace deal.
As one interview subject put it, "Taliban's win is a win for ISIS, Boko Haram and other extremist groups."
Targeting women
Outspoken critics of the Taliban's undemocratic vision of peace have been threatened or killed.
In August 2020, Fawzia Koofi, an Afghan government negotiator and long-time Afghan parliamentarian, was shot in the arm in an attempted assassination. The attack is an instance of the gendered violence that women often face as a way to deter them from participating in politics.
Koofi refused to be silenced. Just days after her injury, she flew to Doha to attend the peace talks.
The Afghan government has made recent missteps on women's rights, too.
In 2020, the Afghan government dissolved the State Ministry of Human Affairs, led by Dr Sima Samar, a key advocate for women's rights with nearly two decades of experience at the Afghanistan Independent Human Rights Commission.
This ministry, as the main body documenting and reporting on Afghanistan's human rights status, could have played an instrumental role in the negotiations.
After the fall of the Taliban in the 2001 U.S. invasion, women eagerly embraced every opportunity to advance professionally in diverse sectors, from politics to social services. Today women comprise around 27% of the Afghan Parliament, one of the highest rates of women's political representation in the region.
"There is no going back," Zarqa Yaftali, a women's rights activist told us. "Women intend to guide their country towards peace and stability."
https://www.republicworld.com/world-news/middle-east/women-in-afghanistan-worry-peace-accord-with-taliban-extremists-could-cost-them-hard-won-rights.html
--------
Istanbul Protesters Denounce Violence against Women
6th March, 2021
Hundreds of demonstrators gathered in central Istanbul Friday to denounce violence against women.
Hoisting banners and posters, the mostly-female crowd chanted "you will never walk alone" and "women will live equally."
The demonstration took place just days ahead of International Women's Day, which is marked globally on March 8.
Last year's International Women's Day march ended in clashes when riot police fired tear gas to disperse thousands of people in Istanbul who defied a government ban on the demonstration.
According to government figures, hundreds of women were killed across Turkey in 2020.
Turkish women have staged peaceful demonstrations calling on President Recep Tayyip Erdogan's government to remain committed to a European treaty on combatting violence against women.
Some officials from Erdogan's Islam-oriented party have spoken in favor of reviewing the agreement to adapt it to Turkey's more conservative values.
https://www.republicworld.com/world-news/uk-news/istanbul-protesters-denounce-violence-against-women.html
--------
Proportion of Women Parliamentarians Worldwide Reaches 'All-Time High'
March 06, 2021
GENEVA — The proportion of women parliamentarians worldwide reached more than 25 percent last year — a historic first but still far from gender parity, UN partner the Inter-Parliamentary Union (IPU) announced on Friday ahead of International Women's Day on March 8.
"It gives me great pleasure to announce that for the first time, women now account for more than a quarter of parliamentarians worldwide," IPU Secretary-General Martin Chungong said in launching its latest Women in Parliament report at the UN Office in Geneva. "The global average of women in parliament has now reached 25.5 percent." 
Gender parity 50 years away
 The IPU, the global organization of national parliaments, has tracked women's participation in parliament for decades, allowing it to measure progress and setbacks.  
 "While we celebrate and welcome this all-time high, we feel that progress is painstakingly, or even excruciatingly, slow," Chungong said. "At the current rate, it will take another 50 years before we can achieve gender parity in parliament. And of course, we all agree that this is not tenable, it's not acceptable."
 Following elections in 2020, the global proportion of women in parliament increased by 0.6 points when compared with the previous year.  
 The IPU chief singled out Rwanda, Cuba and the United Arab Emirates for having achieved gender parity, with women accounting for 50 percent or more parliamentary seats.
Referring to Rwanda as a role model for women's participation in government, Chungong said, "We have seen evidence that where countries have come out of conflict and have had the opportunity to re-found the foundations of society, the legal framework of society, there is a greater chance of promoting gender equality, because this is something that has been articulated at the international level and it's an opportunity for the society as a whole to sit down and say 'this is what we want in the constitution'".  
Gender quotas key
The IPU advocates for well-designed quotas as the key to progress, as evidenced by elections held in 2020. Electoral gender quotas were applied in 25 of the 57 countries that had parliamentary renewals last year. On average, parliaments with quotas elected nearly 12 percent more women to single and lower chambers, and 7.4 percent more women to upper chambers.
 "Where women are involved in lawmaking on specific issues, the outcomes are better in terms of health care, in terms of the way even parliaments are functioning, making parliaments more gender sensitive," said the IPU Secretary-General. 
Americas on top
Though progress was reported in all regions, the Americas were again on top in 2020, with women making up 32.4 percent of MPs. In Chile, Colombia and Ecuador, the percentage is higher than average.
 In Sub-Saharan Africa, Mali and Niger made significant gains in women's representation, despite security challenges. The IPU said these countries are testament to the fact that women's role in transition processes is key to their political empowerment.
 The proportion of women in parliament is lowest in the Middle East and North Africa region, with 17.8 percent on average.
 With the exception of New Zealand, the number of women MPs in the Pacific remained consistently low or entirely absent in 2020.
Pandemic postpones elections
 The "Women in Parliament" report shows that the COVID-19 pandemic also influenced elections and campaigning last year.
 "The COVID pandemic has had a negative impact on elections, in some countries those elections were postponed," Chungong said. "In others, in some 50 countries where elections took place, we saw that women faced all manners of impediments as a result of the pandemic that exacerbated existing gender imbalances in politics".
The IPU said online violence against women has become even more widespread, threatening women's participation in public life.  However, the shift to remote, technology-driven parliamentary practices may have a potentially positive long-term impact for women in parliament. — UN News
https://www.saudigazette.com.sa/article/604152/World/Europe/Proportion-of-women-parliamentarians-worldwide-reaches-all-time-high
--------
MoH: Women Should Avoid Pregnancy for 90 Days after Second Dose of Vaccine
March 04, 2021
RIYADH — The Ministry of Health has said that those who wish to become pregnant should wait for a period of not less than 90 days after taking the second dose of the coronavirus vaccine.
The ministry made this clarification in a statement on its Health 937 Twitter account while rejecting authenticity of reports being circulated in the social media that women who receive the vaccine shots must avoid pregnancy for a full year.
"All the vaccines, which are being administered against coronavirus, are safe, and give protection against severe complications and death from coronavirus," the ministry said while reaffirming that there is no evidence to show that COVID-19 would have any adverse effect on reproduction.
The ministry reiterated that pregnant women are among the segments of the society who are prevented from taking vaccination against COVID-19.
The groups that are prohibited from taking the Pfizer and AstraZeneca vaccines approved in the Kingdom also include those who have a known hypersensitivity to the two vaccines or one of their components (after the first dose), and those suffering from other severe allergies, as well as children.
https://saudigazette.com.sa/article/604109/SAUDI-ARABIA/MoH-Women-should-avoid-pregnancy-for-90-days-after-second-dose-of-vaccine
--------
URL: https://www.newageislam.com/islam-women-feminism/slain-afghan-women-receive-honorary/d/124477
New Age Islam, Islam Online, Islamic Website, African Muslim News, Arab World News, South Asia News, Indian Muslim News, World Muslim News, Women in Islam, Islamic Feminism, Arab Women, Women In Arab, Islamophobia in America, Muslim Women in West, Islam Women and Feminism