New Age Islam News Bureau
26 May 2017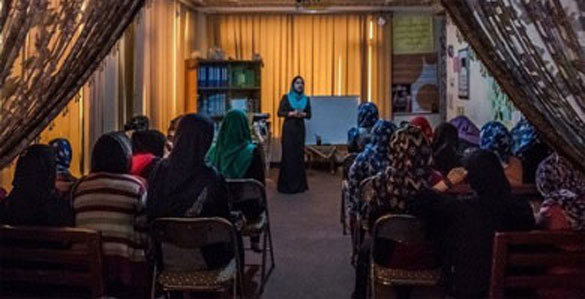 An Afghan NGO worker leads a life-skills class at a women's shelter in Kabul. PHOTO: AFP
---
• UKIP Thinks Burqa Ban Will Boost Vitamin D in Muslim Women
• UK Independence Party Reveals Bizarre Reason for Banning the Burqa
• Jewish Woman, 93, Prays With Imam at Site of Manchester Massacre
• Muslim Law Board Advisory Won't Curb Triple Talaq Cases, Say Women's Rights Groups
• Pakistan Minister Advises Women to Dress Modestly During Pilgrimage
• India Thanks Pakistan for Uzma's Return
• Daughter Physically Assaulted During an Audition in Dubai: TV Host Nadia Khan
• Sharjah Body Calls For Intensified Efforts to Support Refugee Women
Compiled by New Age Islam News Bureau
URL: https://www.newageislam.com/islam-women-feminism/sixteen-pregnant-malala-finds-refuge/d/111298
--------
Sixteen and Pregnant, Malala Finds Refuge in Hidden Afghan Women's Shelter
May 26, 2017
KABUL: Heavily pregnant at 16 after being raped by an insurgent commander, Malala was on the brink of committing suicide when she found refuge and hope in a women's shelter in Kabul.
The non-descript building, tucked away in a residential neighbourhood in the Afghan capital, is one of the few hidden sanctuaries where battered women can seek support. Managed by the charity Women for Afghan Women [WAW], the shelter has given hope to those such as Malala in a country where rape, abuse and forced marriages are commonplace.
Malala is still tormented by her past, but now wants to channel her energy to build a better future for herself, her child, and others – declaring that she wants to become a police officer in order to "defend women". But shelters are hugely controversial, often dismissed as "whore houses" in the conservative country, still one of the worst places in the world to be a woman.
Cameras monitor the entrances discreetly and curious onlookers are viewed with suspicion. "Nobody comes here," said Najia Nasim, the WAW director in Afghanistan. "Even our [male] employees do not know where the centre is. This place must remain confidential."
Such extreme caution is well founded. Most of the women here are in danger of being killed by violent husbands or vengeful relatives. Thirty shelters have been established across 13 Afghan provinces since the end of the Taliban regime in 2001, mostly by WAW with financial support from the United Nations and some European powers.
It is a rare but real achievement for women in a country that ranks a dismal 152 out of 155 nations in the global Gender Inequality Index. "Before the shelters, there was nothing for these runaway women," said Benafsha Efaf, the WAW director for Kabul. "Many families have disowned the girls for shaming their [tribes], which makes them vulnerable to violence. We are their last chance and their ultimate hope."
According to UN Women, a specialised agency of the world body, 87 percent of Afghan women experience violence in one form or another during their lives, 62 per cent of them multiple times. The traditional system sanctifies male domination, and nearly four decades of conflict have exacerbated violence within Afghan households, UN Women says.
'Women should be given equal rights'
Cultural attitudes often make women, some very young, a bargaining chip to settle a debt or acquire a new wife, notes Efaf. That was the painful fate of 15-year-old Aisha, picked up by the police in a brothel at the age of six. She was sold after her mother's death by her father, who wanted to remarry.
"I was too young to face so many problems in my life," she says, swaddled in a pink shawl. "But here everyone has a terrible past and I often say to myself: 'Aisha, you are not alone, these women are like your mother and your sisters'."
When AFP visited the shelter, it was hosting 45 women and 18 children, most referred by other Afghan institutions. "For ten years, we have tried to sensitise the police, prosecutors, ministries and even the mullahs," said Efaf. "It is the police who most often send us these women in distress."
The shelter is legally required to resettle the women, often through mediation with their families. "We try to find a solution, but if we fail we pass on the case to our lawyers, and the women stay here until the case is resolved. That can sometimes take up to four years."
Often at stake is the custody of children, who are often automatically entrusted to the fathers. Humira, who has been at the centre for six months with her three daughters aged between two and eight, fled her heroin addict husband who beat her badly.
International Women's Day: 'Women have made great achievements'
"With all this violence, I still have a headache," Humaira said. She waits for the judge's decision over the custody of her children. "He [the father] vowed to sell our three daughters to remarry," she said.
While the cases are being settled, family ties are usually broken, and the women end up staying in the shelters for between six months and five years, a time spent on regaining confidence and healing old wounds.
Many pursue an education or a vocational training, learning to value autonomy and freedom. Some emerge from there to get a job and share an apartment with other former residents of the shelter, though some are too broken to make any progress, says director and psychologist Wira Farawal.
Malala has already regained her lost confidence. Though traumatised by her past, she learned to read and bonded more with her baby, a product of rape. She has named her son Nazif, which in Persian means 'pure'.
https://tribune.com.pk/story/1419617/16-pregnant-malala-finds-refuge-hidden-afghan-womens-shelter/
--------
Ukip thinks Burqa ban will boost vitamin D in Muslim women
25 May 2017
Ukip thinks its Burqa ban will help Muslim women by boosting their vitamin D.
The party made the strange claim in its manifesto while trying to justify its public ban on face coverings.
'Clothing that hides identity, puts up barriers to communication, limits employment opportunities, hides evidence of domestic abuse, and prevents intake of essential vitamin D from sunlight is not liberating,' they wrote.
As well as the supposed health benefits, Ukip also thinks the face veil poses a security threat and is 'de-humanising'.
It added: 'If anything prevents liberty, it is the niqab, by preventing women from being perceived as individuals in their own right.
'We want to open opportunities to all women, so that they can participate fully in life and in the workplace.'
Some people may doubt whether the party actually wants to improve women's health with the Burqa ban but the NHS does advise people who are not regularly exposed to the sun to take vitamin supplements.
Vitamin D is essential for healthy bones, teeth and muscles.
http://metro.co.uk/2017/05/25/ukip-thinks-Burqa-ban-will-boost-muslim-womens-vitamin-d-6662630/
--------
UK Independence Party reveals bizarre reason for banning the burqa
26 May 2017
DUBAI: The UK Independence Party (Ukip) Thursday unveiled its general election manifesto in which they announced their desire to ban the burqa and niqab in the country.
However, a reporter for the Mirror newspaper pointed out that one of the party's reasons for proposing the ban targeting Muslim women was slightly bizarre.
According to the manifesto, "clothing that hides identity, puts up barriers to communication, limits employment opportunities, hides evidence of domestic abuse, and prevents intake of essential vitamin D from sunlight is not liberating."
Banning the burqa to ensure vitamin D intake? It's a creative approach.
Ukip also states that such barriers are barriers to integration and pose security risks, according to the manifesto.
"Ukip will ban wearing of the niqab and the burqa in public places. Face coverings such as these are barriers to integration. We will not accept these de-humanizing symbols of segregation and oppression, nor the security risks they pose.
Suggestions that UKIP is undermining liberty with this policy are absurd. There is no human right to conceal your identity. If anything prevents liberty, it is the niqab, by preventing women from being perceived as individuals in their own right. We want to open opportunities to all women, so that they can participate fully in life and in the workplace.
We stand in solidarity with women worldwide who are rebelling against the imposition of the niqab and burqa.
http://www.arabnews.com/node/1105161/offbeat
--------
Jewish woman, 93, prays with imam at site of Manchester massacre
May 25, 2017
A 93-year old Jewish woman and a Muslim imam have prayed together at a memorial to the victims of the Manchester terror attack.
Renee Black and Imam Sadiq Patel were filmed placing flowers at the memorial and engaging in silent reflection. The footage shows Ms Black sitting in a folding chair next to the memorial in Albert Square, with Imam Patel standing alongside her.
Speaking to Channel 5 News, Ms Black said: "We came to pay our respect to the people who passed away and to hope that they [the city] never have anything like this again."
The Imam said they had both felt that they "had to come.
"Renee's 93, a Jewish lady", he said. "I'm a Muslim man. But at this moment in time faith doesn't mean anything. We're in this together we'll get through this together."
Ms Black added: "We'll try to get through this together and no matter about the colour or creed or whatever you are, we're all the same people and we bleed like everybody else."
https://www.thejc.com/news/uk-news/jewish-woman-93-prays-with-imam-at-site-of-manchester-massacre-1.439099
--------
Muslim law board advisory won't curb triple talaq cases, say women's rights groups
May 25, 2017
An advisory proposed by the All India Muslim Personal Law Board (AIMPLB) will not be enough to curb cases of instantaneous divorce among members of the community, women's rights groups and religious experts have said.
During a Supreme Court hearing on the triple-talaq issue on Monday, the board submitted an affidavit stating that the advisory would be issued within a week. However, members of the Bhartiya Muslim Mahila Andolan (BMMA) said the board's advisory – which is addressed to the qazis (people who conduct the marriage) – does not take ground realities into consideration.
"The board's advisory is not binding on any qazi. Additionally, the AIMPLB does not maintain a centralised database of qazis who are supposed to abide by its guidelines. In these circumstances, how do they expect qazis to listen to them?" asked Noorjehan Safia Niaz, co-founder of the BMMA, which is spearheading the campaign to end triple talaq.
The nikahnama – or the Islamic marriage contract – usually contains the names of the bride, groom, two witnesses and meher (the obligatory gift given by the man to his bride during the ceremony). All this is read aloud separately to the man and woman before their consent is taken.
Many women's organisations, including the BMMA, say a nikahnama in this form ignores the marital rights of women within the Islamic framework.
A model nikahnama issued as a corrective measure by the All India Women Personal Law Board in 2008 had received a lukewarm response. The document included safeguards for women, including provisions to reject triple talaq and spur-of-a-moment divorces executed through phone calls or text messages.
"The model nikahnama did not find many takers because it spoke of women's rights," said Niaz.
The proposed advisory of the board contains two broad elements: First, the qazi performing the marriage will advise the groom against resorting to triple talaq and, second, he will advise the bride and groom to incorporate a condition to this effect in the nikahnama.
The board will publish the advisory on its website, and run an awareness campaign aimed at educating Muslim men on the objectionable nature of the practice.
Although the board's word is not sacrosanct, it can act as an advisory body on Islamic practices. "The AIMPLB is invoking a Supreme Court judgment that recognises the existence of the Darul Qaza (an Islamic court) as an advisory body. Technically, they are right," said Dr Hilal Ahmed, associate professor, Centre for the Study of Developing Societies.
However, even AIMPLB members are sceptical of the advisory's ability to curb triple-talaq cases. Mufi Muhammad Mukarram Ahmad said penalising or jailing perpetrators of triple talaq would have worked better. "Implementing the advisory will be difficult. Qazis do not belong to one umbrella body," he added.
A Faizur Rahman, secretary general of the Chennai-based Islamic Forum for the Promotion of Moderate Thought, called the advisory proposal a "face-saving move" by the AIMPLB. "The qazi may advise the groom to not pronounce instant divorce (talaq-e-bid'a) in haste, but such a warning will be ineffective because the board clearly says triple talaq is legally valid. Exhorting people against talaq-e-bid'a while upholding its legal validity make no sense," he said, calling for "complete invalidation" of the practice.
http://www.hindustantimes.com/india-news/muslim-law-board-advisory-won-t-curb-triple-talaq-cases-say-women-s-rights-groups/story-YVM7QKO0usK5MUlWW3rdKP.html
--------
Pakistan Minister Advises Women to Dress Modestly During Pilgrimage
May 25, 2017
ISLAMABAD: Minister for Religious Affairs and Interfaith Harmony Sardar Mohammad Yousaf has advised men 'Mehram' to make sure that women, who are going for Umrah and Hajj, to dress modestly in Saudi Arabia.
During the inauguration of a two-day training programme for pilgrims at Faisal Mosque, the minister said "Every year there are a lot of complaints about Pakistani women pilgrims not covering themselves modestly during their stay at Saudi Arabia." He further advised that "Every woman pilgrim should take two 'abayas' with her. Saudis are very strict about their women covering themselves modestly."
http://nation.com.pk/national/25-May-2017/minister-for-religious-affairs-advises-women-to-dress-modestly-during-pilgrimage
--------
India thanks Pakistan for Uzma's return
May 26, 2017
New Delhi - Indian External Affairs Minister Sushma Swaraj yesterday thanked the Pakistani establishment and judiciary for facilitating the return of Indian national Uzma Ahmed, whom she described as a "daughter of India".
The minister said she "heaved a sigh of relief" as soon as Uzma, who had alleged that she was forced to marry a Pakistani man at gunpoint during her visit there, crossed the Wagah border earlier in the day.
Political relations have their own place, Swaraj said.
"Without considering the current state of tense Indo-Pak ties, I would like to say that if Uzma is back it is with big help from Pakistan Foreign Office. Pakistan home ministry has also helped us a great deal," the minister asserted.
Swaraj had words of praise for Uzma's counsel Barrister Shahnawaz Moon and Justice Mohsin Akhtar Kiyani of the Islamabad High Court. She said while the counsel treated Uzma as his child, the judge dealt with the case on humanitarian grounds and not through the prism of India-Pakistan relations.
"The Pakistani judge was told by Tahir that this case was a matter of 'Pakistan's prestige' but he asked how is it about India and Pakistan?" the minister said.
She also thanked Uzma to trust the Indian High Commission and said it was heartening to know that an Indian when trapped in a foreign land relies on Indian missions as a "ray of hope".
Uzma had also maintained that if she was sent back from the High Commission, she will commit suicide, Swaraj said, adding that the government was even ready to keep her for 2 or 3 years at the Indian High Commission but will not send her back to the person who tortured her.
The minister also thanked officials of the Indian High Commission in Islamabad, especially Deputy High Commissioner JP Singh, who recalled his first meeting with a traumatised Uzma which made it easier for him to take a decision to give her shelter in the mission.
Swaraj said the moment Uzma said she is an Indian, all other questions became redundant about her language and her religion. "When I saw Uzma kiss the Indian ground at Wagah border, that picture speaks a thousand words itself. That gesture alone won the hearts of all Indians," the minister added.
Uzma Ahmad was reunited with her family at the Wagah border crossing near Amritsar in northern Punjab state before heading to New Delhi where she called on Sushma Swaraj.
Uzma Ahmad, who is in her early 20s, met Pakistani Tahir Ali in Malaysia, according to Indian media. She told the Islamabad high court that Ali forced her to marry him at gunpoint on May 3 when she was visiting Pakistan.
Her allegations emerged as tensions mounted between India and Pakistan over the disputed Kashmir region and the case of an Indian national, Kulbhushan Jadhav, who was sentenced to death in Pakistan on spying charges.
In 2015, a deaf and mute Indian girl returned to India after more than 10 years trapped in Pakistan.
http://nation.com.pk/national/26-May-2017/india-thanks-pakistan-for-uzma-s-return
--------
Daughter physically assaulted during an audition in Dubai: TV host Nadia Khan
May 25, 2017
Pakistani actress and TV presenter Nadia Khan has filed a police complaint against the CEO of a popular American children's talent hunt agency accusing him of assaulting her 14-year-old daughter during an audition in Dubai last weekend reported Gulf News. In an interview with Gulf News, Dubai-based Pakistani TV host said that incident has left her 14-year-old bruised and badly shaken.
Hundreds of children came with their parents for the audition and many were left disillusion-ed as the audition was disrupted after Nadia called the police at the venue and the company's 47-year-old CEO was held for questioning.
The American actor/producer whose company claims to represent some of the biggest music and television shows in the US, was later summoned to Al Barsha Police Station where a complaint was filed.
http://nation.com.pk/national/25-May-2017/daughter-physically-assaulted-during-an-audition-in-dubai-tv-host-nadia-khan
--------
Sharjah body calls for intensified efforts to support refugee women
May 25, 2017
The delegation discussed with representatives of Jordan IRC ways to enhance mutual cooperation for supporting refugee women in the region.
The Women Advancement Establishment (Nama) has called for intensification of international efforts to support refugee women professionally, economically and socially. The women empowerment organisation, which works to move the status of women beyond equality to ensuring they become fully productive members of society, made the plea during a visit by its delegation to the Syrian Refugees Empowerment Programme, a subsidiary of Jordan's International Rescue Committee (Jordan IRC) in Amman.
In alignment with the vision of Sheikha Jawaher bint Mohammed Al Qasimi, wife of His Highness the Ruler of Sharjah, Chairperson of Nama and the United Nations High Commissioner for Refugees (UNHCR) Eminent Advocate for Refugee Children, the delegation used its visit to advocate essential training, social care and job opportunities for women displaced from their homes.
The delegation comprised Reem BinKaram, director of Nama; Erum Mazher Alvie, senior advisor at Sheikha Jawaher Al Qasimi Executive Office and Member of Nama's executive committee; and Lina Hamdan, Nama project manager. Also present were Raghda Taryam and Ali Al Khayal, board members of Sharjah Chamber of Commerce and Industry (SCCI); Nabila Al Khayyal, human resources expert; and representatives of 'Jeans for Refugees,' a charity initiative that raises funds for displaced persons.
The delegation discussed with representatives of Jordan IRC ways to enhance mutual cooperation for supporting refugee women in the region. The delegation gained first-hand experience of the small enterprises managed by women under the Syrian Refugee Women's Empowerment Programme in Irbid, Ramtha and Al Mafraq, the cities in Jordan that host the largest number of Syrian refugees.
"Women are the most affected group of refugees due to their great family responsibilities. In line with the directives of Sheikha Jawaher bint Mohammed Al Qasimi, we seek to mobilise international efforts to provide all means of support and economic empowerment, especially in poor and middle-income regions affected by instability caused by conflict and natural disasters," said Reem BinKaram.
On the sidelines of its visit, the delegation handed £100,000 (Dh440,000) to IRC Jordan. The amount was collected by selling the personal overcoat of Sheikha Jawaher to SCCI through a charity auction at the Saatchi Gallery in London in October 2016.
Renowned fashion designer Johnny Dar, founder of Jeans for Refugees, said: "It is an honour to support the work of the International Rescue Committee who are helping refugees around the world, and bringing safety, power and stability back to people who have suffered the consequences disasters like war and famine. I hope the visit to Jordan inspires further collaboration and creativity in support of the refugee cause."
Raghda Taryam said: "Philanthropy and giving are deeply rooted in UAE society, thanks to the vision of our wise leadership. We are committed to following the altruistic approach laid by our leaders out of our belief that helping refugees and those in need is not just a noble deed, but a human duty. SCCI will always be part of such leading charity initiatives."
http://www.khaleejtimes.com/nation/sharjah/sharjah-body-calls-for-intensified-efforts-to-support-refugee-women
--------
URL: https://www.newageislam.com/islam-women-feminism/sixteen-pregnant-malala-finds-refuge/d/111298
New Age Islam, Islam Online, Islamic Website, African Muslim News, Arab World News, South Asia News, Indian Muslim News, World Muslim News, Women in Islam, Islamic Feminism, Arab Women, Women In Arab, Islamophobia in America, Muslim Women in West, Islam Women and Feminism