New Age Islam News Bureau
31 Jan 2013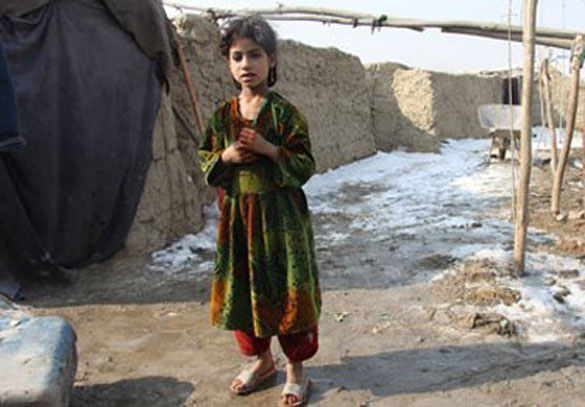 • UAE Crown Prince Sits By Roadside with 'Lost' School-Girl
• Somalia Moves to Prosecute Woman Who Accused Soldiers of Rape
• Forced Contraception of Jewish Ethopian Women Is Tip of Global Iceberg
• "No Rape in Iraqi Prisons, But Consensual Sex between Inmates and Policemen"
• Malala to Undergo Skull Reconstruction Surgery in London
• Women Underrepresented In Corporate Pakistan
• Islamophobic Women of Mali Celebrate French Liberation and End of Islamic Law
• 17-Year-Old Azizi, Afghan Singing Star Is Rising, So Are the Threats
• Violence against Women Has Taken Worst Form: Bangladesh NHRC
• Malaysian Housewife Jailed 14 Years for Baby Trafficking
• Malaysian Couple Arrested, another Victim of Baby-For-Sale Syndicate Rescued
• Indian Immigrant's Subway Death: NY Woman's Arraignment Postponed
• Afghani Actress Debuts in 'Mumbai Mirror' Bollywood Thriller
• Women in Technology in Nigeria Opens Mobile Apps Challenge for Girls
• Women Empowerment Possible Only Through Polls in Pakistan
Compiled by New Age Islam News Bureau
Photo: Six-Year-Old Naghma, the Afghan Girl Sold To Be a Child Bride
URL: https://www.newageislam.com/islam,-women-and-feminism/new-age-islam-news-bureau/six-year-old-naghma,-the-afghan-girl-sold-to-be-a-child-bride/d/10207
----------------
Six-Year-Old Naghma, the Afghan Girl Sold To Be a Child Bride
By Bilal Sarwary
29 January 2013
Taj Mohammad tries hard to hold back his tears as he describes the most painful decision of his life.
"I had to sell my six-year-old daughter Naghma to a relative to settle an old debt," Mr Mohammad says, staring blankly at the tattered tarpaulin roof of his small mud shelter.
A shy girl with a smiling face, Naghma is now engaged to a boy 10 years older than her. Mr Mohammad says his daughter may have to leave for the boy's home in Helmand's Sangin district in a year.
His wife and mother-in-law sob inconsolably as they try to protect Naghma and her seven siblings from the harsh Afghan winter outside.
"Everyone in the family is sad," says Naghma's grandmother, who was herself a child bride. "We cry. We are in pain. But what else could we do?" she asks before answering her own question.
"The relatives wanted their money back. Taj couldn't pay, so he was forced to give them Naghma."
Silence descends on the small, one-room dingy shelter, one of hundreds at the Qambar refugee camp on the outskirts of Kabul.
The long pause is broken by the hoarse cough of a child.
"To keep my family alive, I took a loan of $2,500 [about £1,600] from a distant relative," Mr Mohammad says.
Years of war and poverty forced Mr Mohammad to leave his home in the southern province of Helmand and take refuge in Qambar's mud shelters.
He says he was struggling to come to terms with the loss of his three-year-old son and an uncle, both of whom died in the cold earlier this month, when the distant relative sent a message demanding his money back.
"He wanted his money back. But I couldn't pay. No-one would lend money to me," he says.
"Then a relative suggested that I give my daughter in lieu of money."
Naghma is too young to understand the ramifications of her father's decision.
"She only cries when we talk to her about it," Mr Mohammad says.
"If I can give my relative some money, then I can delay the marriage until Naghma is 14 or 16 years old."
The legal age for marriage in Afghanistan is 16 for women and 18 for men.
Dost Mohammad, the would-be groom's father, also lives in the Qambar camp. He agrees it is illegal to buy a child bride.
"The government doesn't allow it," he says, but adds quickly: "I consulted the tribal elders and this is their decision."
Despite the fact it is illegal under Afghan law, the practice of marrying off child brides for money is widespread in many parts of Afghanistan.
No accurate figures exist for numbers of children involved, but human rights campaigners say it is not uncommon for girls as young as Naghma to be sold.
Mohammad Musa Mahmodi, who heads the Afghanistan Independent Human Rights Commission (AIHRC), expressed his concern at what he said were "traditions and economic situations that would force families to submit to the practice of selling their children".
Cases like Naghma's go on all over Afghanistan, but are rarely reported.
Before I leave, Taj Mohammad tells me: "Our eyes are dry - even the tears are not coming to free us from our pain."
http://www.bbc.co.uk/news/world-asia-21245099
----------------
UAE Crown Prince Sits By Roadside with 'Lost' School-Girl
January 31, 2013
ABU Dhabi residents and motorists were greeted with a sight they are unlikely to see again. General Sheikh Mohammed bin Zayed Al Nahyan, Crown Prince of Abu Dhabi and Deputy Supreme Commander of the UAE Armed Forces, was sitting calmly by the side of the road. However, that was just the beginning of the story.
In another incident that shows the great humility and love that the leaders of the UAE have for their people - it transpires that Sheikh Mohammed bin Zayed was driving in Abu Dhabi when he saw the girl outside a school looking around as though she was lost.
Sheikh Mohammed parked his car and went with his assistant to the girl, asking if she was lost and offering to drive to her home. The little girl replied that her father was supposed to pick her up and she was waiting for him. She then responded that she could not accept the Crown Prince of Abu Dhabi's offer to drive her home because her dad told her not to speak to strangers. Sheikh Mohammed bin Zayed's assistant then told the little girl that this was no stranger and went on to introduce the Crown Prince.
The girl answered: 'Yes, I know, but my dad said not to go with any strangers.' Sheikh Mohammed bin Zayed then smiled he decided to wait next to the girl till her father showed-up.
The picture here was taken by one of the school teachers. The story first broke on a UAE Facebook page and the plaudits and comments began to flow in. Comments left on the page included: Veera Sequeira wrote: 'So down to earth!' While Sherif Embabi added: 'Like son like father.'
http://www.nation.com.pk/pakistan-news-newspaper-daily-english-
----------------
Somalia Moves to Prosecute Woman Who Accused Soldiers of Rape
By JEFFREY GETTLEMAN
January 31, 2013
NAIROBI, Kenya — The Somali government, in a move that has outraged human rights groups, has charged a woman who said she was gang-raped by soldiers with making a false accusation and having "insulted and lowered the dignity of a National Institution," crimes that could mean many years in prison.
The woman's husband has also been jailed — essentially for backing up his wife's allegations — and so has a Somali journalist who interviewed the woman, even though he never published any information.
The Somali government said that the woman was lying for financial gain and that she later admitted that her story was "bogus."
But Somali advocacy groups criticized the government's hard line on this case, which they said would prompt many rape victims to remain silent despite years of trying to empower them to come forward.
"Women are now asking me, 'Who's going to protect us?' " said Fartuun Adan, who runs a shelter for abused women in Somalia. "They're saying, 'What are we supposed to do?' "
There is no question that rape by armed men is a serious problem in Somalia. Though Somalia has become significantly more stable, there are still thousands of young women living in squalid displaced-persons camps and loose bands of soldiers and other gunmen roaming around with heavy weapons, essentially doing as they please.
This week, a United Nations official reported more than 1,100 cases of sexual violence last year in Somalia, a figure that the United Nations considers alarming but an underestimation.
When Somalia's new president, Hassan Sheikh Mohamud, took office last year, he announced that his government was committed to cracking down on rapists and protecting vulnerable women.
But in the past few weeks, Somali government officials have aggressively pursued the woman who made the recent rape allegation, saying that her story was "simply baseless" and that a medical examiner confirmed she had not been raped.
Several people in Mogadishu, Somalia's capital, who have met the woman said she was forced by the police to recant. The woman, whose identity has been released by the Somali government but is being withheld by The New York Times, is 27 years old and has been living in a displaced-persons camp in Mogadishu with several young children. She said she was raped last August by five members of the government's security services who forced her at gunpoint into an abandoned high school and then took turns assaulting her. She was on her way to get food for the children at the time, she said.
Her prosecution appears to be linked to an article by Al Jazeera published on Jan. 6 that detailed rape allegations against government soldiers and apparently embarrassed the new government, which recently has been making the rounds with donor nations, asking for millions to help rebuild Somalia.
But Al Jazeera did not base its article on the woman's allegations. After the article appeared, police officials found out that the woman had accused government soldiers of rape and then they arrested Abdiaziz Abdinur Ibrahim, a freelance journalist who had interviewed her, even though he did not work with Al Jazeera or publish any of his information.
Mr. Ibrahim, 25, has been in jail for more than two weeks, along with the woman's husband. The three appeared in court on Tuesday, along with two others connected to the case, and more hearings are expected next week.
In the recent past, the worst culprit for rape in Somalia was the Shabab militant group, which presented itself as a morally righteous rebel force and the defender of Islam, even though it had been seizing women and girls as spoils of war, gang-raping and abusing them as part of its reign of terror. Many victims and witnesses said that Shabab militants forced families to hand over girls for arranged marriages that often lasted no more than a few weeks and were essentially sexual slavery, a cheap way to bolster their ranks' flagging morale. One teenage girl who refused to be locked into such a marriage was buried up to her neck in sand and then had her head bashed in, rock by rock.
But as the Shabab have been pushed out by African Union peacekeepers from most of the areas they used to control, government troops are now a bigger problem in terms of preying upon defenseless civilians, human rights advocates say.
Lisa Shannon, an American who co-founded Sister Somalia, an organization that helps rape victims in Somalia, recently visited Mogadishu, where she heard many allegations of government soldiers' gang-raping women.
She said the attacks were "happening in camps, happening around town, it has not slowed down at all."
She called the case against the woman who made the recent rape allegation a "huge red flag."
"It's taken a long time to get women in Somalia to speak openly about this," Ms. Shannon said on Wednesday. "Now they are all terrified."
http://www.nytimes.com/2013/01/31/world/africa/somalia-moves-to-prosecute-woman-
----------------
Forced Contraception of Jewish Ethopian Women Is Tip of Global Iceberg
A report claims Israel pressured women to reduce its poor black population. Reproductive rights need defending across the world
Lisa Hallgarten
30 January 2013
Should gynaecologists need to be told not to give women contraceptive injections without establishing fully informed consent? Of course not. But that is what has happened in Israel after it was revealed in a report by a women's rights organisation that Ethiopian women have been given injections of Depo-Provera without sufficient understanding of the purpose or side effects of the drug. Some Ethiopian women in transit camps were refused entry to the country if they refused the injection, and others wrongly believed they were being inoculated against disease. While Israeli demographers discuss the need to "preserve a clear and undisputed Jewish majority among Israel's total population", it may seem anomalous that women in the Jewish Ethiopian population are forced or coerced into using this highly effective contraceptive method.
Full report at:
http://www.guardian.co.uk/commentisfree/2013/jan/30/forced-contraception-jewish-ethopian-women
----------------
"No Rape in Iraqi Prisons, But Consensual Sex between Inmates and Policemen"
By Dirk Adriaensens and Tahrir Swift
30 January, 2013
Iraqi Member of Parliament Ali Shubbar accused Iraqi female inmates in Iraqi prisons of "sexual lust" and continued by claiming that they "expose themselves to the police".
Ali Shubbar, an MP of the Citizen Bloc, is a member of the Parliamentary Human Rights Committee . This says something about the Human Rights standards in the new "democratic" Iraq .
He further argued that "the incidents that occur in the prisons are not rape, but consensual sex between inmates and policemen".
Full report at:
http://www.countercurrents.org/swift300113.htm
----------------
Malala to Undergo Skull Reconstruction Surgery in London
January 31, 2013
LONDON: Malala Yousufzai, who was shot in the head by the Taliban for advocating girls' education in Pakistan, is to return to a specialist hospital in Britain for surgery to reconstruct her skull.
Fifteen-year-old Malala, who was shot in October and brought to Britain for treatment, was discharged from the hospital earlier this month to spend time with her family after her initial treatment phase.
Her doctors said on Wednesday she would return to hospital within the next 10 days to undergo surgery known as titanium cranioplasty to repair a missing part of her skull with a specially moulded titanium plate.
Full report at:
http://tribune.com.pk/story/500885/malala-to-undergo-skull-reconstruction-surgery/
----------------
Women underrepresented in corporate Pakistan
January 30, 2013
KARACHI: The fact that all the four speakers in a panel discussion on 'Gender diversity at workplace' held at the International Women Leaders conference on Tuesday were men was a true reflection of the underrepresentation of women in C-level jobs in corporate Pakistan.
While hundreds of young women, who looked like mid-career corporate professionals, crowded the spacious hall of a local hotel, few men except some CEOs of blue-chip companies took part in the conference, which was organised as part of the fifth Women in Business conference (Wibcon) series.
Full report at:
http://tribune.com.pk/story/500477/women-underrepresented-in-corporate-pakistan/
----------------
Islamophobic Women of Mali Celebrate French Liberation and End of Islamic Law
January 28, 2013
By Daniel Greenfield
In a truly shocking display of Islamophobia, the streets of Gao were full of Malians celebrating the defeat of Islamic Jihadists at the hands of the French. Women went out into the streets unveiled, men smoked, played drums and rode on motorbikes with unfurled flags, celebrating the return of their freedom and the end of Islamic rule.
SÉVARÉ, Mali — Residents of Gao, northern Mali's largest city, poured out of their homes to celebrate the expulsion of Islamist fighters who had held their town for months, playing the music that had been forbidden under the militants' harsh interpretation of Islamic rule and dancing in the streets.
Full report at:
http://frontpagemag.com/2013/dgreenfield/islamophobic-women-of-mali-celebrate-french-liberation-and-end-of-islamic-law/
----------
17-Year-Old Azizi, Afghan Singing Star Is Rising, So Are the Threats
January 31, 2013
KABUL (Reuters) - With a scarf loosely covering a fancy television hairstyle, Latifa Azizi raised her arms in victory after surviving another elimination round on the hit talent show, "Afghan Star".
But the victory pales into insignificance when compared with the larger battle 17-year-old Azizi is fighting - to pursue her dream of becoming a famous singer despite the censure of ultra-conservative Afghan society.
Full report at:
http://www.nation.com.pk/pakistan-news-newspaper-daily-english-
----------------
Violence against Women Has Taken Worst Form: Bangladesh NHRC
January 31, 2013
The chairman of National Human Rights Commission (NHRC) yesterday urged all to resist violence against women, which, he said, had taken its worst form now.
"The kinds of violence being perpetrated against women have made us deeply concerned. We have to fight it," Prof Mizanur Rahman told the first batch of law graduates of BGC Trust University Bangladesh in Chittagong city.
Full report at:
http://www.thedailystar.net/newDesign/news-details.php?nid=267233
----------------
Malaysian Housewife Jailed 14 Years for Baby Trafficking
January 30, 2013
SHAH ALAM, Jan 30 — A 60-year-old housewife who was earlier acquitted by the Kajang Sessions Court on three charges of trafficking in three babies, was sentenced to 14 years' jail and fined RM30,000 by the Shah Alam High Court here today.
Justice Datuk Abdul Alim Abdullah handed down the sentence on Lim Kim Wan after setting aside the session's court's decision on April 13 last year.
Full report at:
http://www.themalaysianinsider.com/malaysia/article/housewife-jailed-14-years-for-baby-trafficking/
----------------
Malaysian Couple Arrested, another Victim of Baby-For-Sale Syndicate Rescued
January 29, 2013
GEORGE TOWN, Jan 29 – Penang police rescued a three-year-old girl and arrested a married couple in an operation in Bukit Mertajam here yesterday.
Penang police chief Datuk Abdul Rahim Hanafi said the couple, in their 50s, were believed to have bought the girl from a child-for-sale syndicate, believed to have been active in the northern states since 2009.
Full report at:
http://www.themalaysianinsider.com/malaysia/article/couple-arrested-another-victim-of-baby-for-sale-syndicate-rescued/
----------------
Indian Immigrant's Subway Death: NY Woman's Arraignment Postponed
Jan 30 2013
New York: The arraignment of a 31-year-old woman, accused of pushing an Indian immigrant to his death in front of a subway train last month, has been postponed as defence attorneys seek to contest a ruling that she is mentally fit to stand trial in the case.
Erika Menendez of Queens pushed Sunando Sen, 46, in front of an oncoming subway train on December 27, telling authorities later that her hatred for "Hindus and Muslims" prompted her to push Sen off the subway platform.
Full report at:
http://www.indianexpress.com/news/indian-immigrants-subway-death-ny-womans-arraignment-postponed/1066744/
----------------
Afghani Actress Debuts in 'Mumbai Mirror' Bollywood Thriller
Jan 29, 2013
For Afghani actress Gihana Khan, the Jan. 18 release "Mumbai Mirror" is just the beginning.
The 21-year-old, half Afghan, half Spanish beauty from Sweden has already managed to get a couple of projects in her kitty.
The buzz was that Gihana had replaced Mallika Sherawat, who was initially approached for the same film.
"I am really glad to be a part of this project," she said of Ankush Bhatt's thriller in an interview with Times News Network.
Full report at:
http://indiawest.com/news/8699-afghani-actress-gihana-debuts-in-mumbai-mirror.html
----------------
Women in Technology in Nigeria Opens Mobile Apps Challenge for Girls
30 JANUARY 2013
WOMEN in Technology in Nigeria (WITIN) in line with the International Telecommunications Union's Girls in ICT project and Tech Needs Girls campaign, brings Technovation Challenge to Nigeria.
The Mobile App Challenge, opened recently for secondary school girls (ages 13-18), would see them work in teams of fives to develop mobile apps, conduct market research, write business plans, and create a "pitch" for funding.
WITIN explained that each team works with both a classroom teacher at their school and a female mentor/role model from the technology industry.
Full report at:
http://www.ngrguardiannews.com/index.php?option=com_content&view=article&id=111881:
----------------
Women Empowerment Possible Only Through Polls in Pakistan
By: Our Staff Reporter | January 31, 2013
ISLAMABAD - Representatives of various political parties urged their leadership to reserve quota for women on general election seats and finance their election campaigns who are interested in contesting the coming elections. They also recommended to the Election Commission of Pakistan that it must announce the election null and void in the constituencies where number of women voters is less than 10 per cent in the elections. Aurat Foundation, in collaboration with Parliamentarians Commission for Human Rights (PCHR), organised a National Consultation on Women's Empowerment in Political Parties' Election Manifestos, here on Wednesday. The main objective of the consultation was to hold dialogue with political parties' representatives to incorporate the Handbook recommendations into their manifestos.
Full report at:
http://www.nation.com.pk/pakistan-news-newspaper-daily-english-online/islamabad/31-Jan-2013/women-empowerment-possible-only-thru-polls
----------------
URL: https://www.newageislam.com/islam,-women-and-feminism/new-age-islam-news-bureau/six-year-old-naghma,-the-afghan-girl-sold-to-be-a-child-bride/d/10207