New Age Islam News Bureau
7 Jun 2018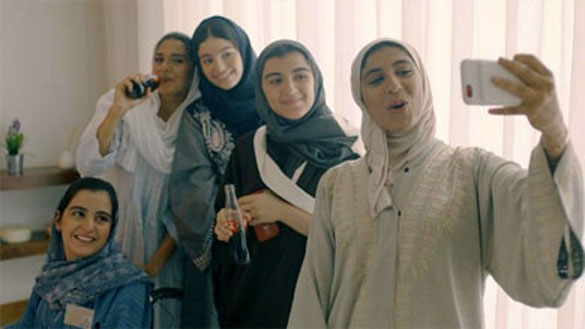 Six Saudi Arabian girls are set to become the first all-female delegation to lead a national team out at the opening game of the World Cup in Russia. (Supplied: Coca-Cola)
-----
• Pak Hindu Woman Prepares To Fight Feudal System in Upcoming Polls
• Vietnamese, Nur Alisha, Chose Islam Because Concept of Fasting Appealed To Her
• Ahed Tamimi Jailed For Slapping an Israeli Soldier Loses Bid for an Appeal
• Female Traffic Offenders in Saudi Arabia To Be Detained At Girls Care Centres
• Woman Attacked, Burqa Violently Ripped Off In Horrific Viral Clip
• Qatar Airways Boss Apologizes For Remarks On Women CEOs
• A sporting chance to reap the rewards of changing attitudes in Saudi Arabia
• 7,500 Saudi Women Work In Industries
• Saudis Celebrate Issuance of Driving Licenses to Women
Compiled by New Age Islam News Bureau
URL: https://www.newageislam.com/islam-women-feminism/six-inspiring-saudi-girls-lead/d/115477
--------
Six inspiring Saudi girls to lead Green Falcons out at opening World Cup game
June 05, 2018
RIYADH: Six Saudi Arabian girls are set to become the first all-female delegation to lead a national team out at the opening game of the World Cup in Russia as the Green Falcons take on the hosts in the opening game on June 14.
The girls have been appointed as part of the Coca-Cola Flagbearers Program.
Aged between 13 and 17, the girls have been chosen for their ambition, for going above and beyond in their chosen fields and being role models to the youth of Saudi Arabia.
One of the girls, Mariam Shalan, is a professional free-diver and she said how proud she was to be chosen as a flagbearer.
"It's an honor for me to represent Saudi Arabia at the World Cup in Russia. Personally, it's amazing to witness the change that is happening to our country, to ourselves, the youth and everyone.
"I think Saudi Arabia is on a beautiful path, a path with a lot of opportunities."


Her fellow flagbearer, Rayouf Al-Humedhi, agrees. As creator of the hijab emoji, she was inspired by the hope of showing the millions of young girls across the globe who are veiled that they have a space in the world.
And on her historic role at the World Cup, Al-Humedhi said: "(Our generation) is the image of the future, we are the image of change. I'm definitely looking forward to this experience and everything about it.
"All Saudi youth have an important role because these changes will affect them. The changes happening in Saudi Arabia are positive and I'm happy to be living through these changes which will influence my generation and the ones to come."
The program is part of Coca-Cola's continued efforts to recognize and celebrate the positive changes sweeping the region. Late last year, the brand was one of the first to acknowledge King Salman's royal decree allowing women to drive in Saudi Arabia by releasing the 'Change Has a Taste' campaign, and coincides with the company's commitment to shining a light on the talent of young Saudi women.
Coca-Cola's Middle East General Manager Murat Ozgel said: "We are delighted to support the changes that are happening in Saudi Arabia and spread the message of inclusion, diversity and support by championing these Saudi girls who are role models for the future generation of the Kingdom."
http://www.arabnews.com/node/1316131/saudi-arabia
--------
Pak Hindu woman prepares to fight feudal system in upcoming polls
Jun 6, 2018
KARACHI: Sunita Parmar Menghwar, the first Hindu woman to contest the upcoming provincial assembly elections from Tharparkar in Pakistan's southern Sindh province, has refused to bow down to political pressure and withdraw her candidature.
Sunita, a woman from Hindu Meghwar community, has been facing increasing pressure from the male-dominated feudal landlords in the impoverished Tharparkar district not to contest the elections on July 25.
But breaking barriers, Sunita insisted she wanted to challenge the status quo based on the feudal-electoral system in Tharparkar and has filed her nomination papers as an independent candidate from PS-56.
The 30-year old insisted she is contesting the elections because no political party had done anything to improve the lives and facilities for the people of Thar.
"Thari women are even ready to fight the lion now after so many disappointments," she told PTI over phone.
Sindh's southern bordering district Tharparkar has the highest number of Hindus minorities in Pakistan.
According to census 2017, the total population of Tharparkar district is 1.6 million out of which around half of the population is Hindus.
Sunita said she wanted to play a role in resolving the issues of healthcare, clean drinking water and education for the people of Thar.
In a video message, that is going viral, Sunita blamed ruling political parties in Sindh for worsening conditions of women, especially in education and health sector.
Sunita, who belongs to Islamkot Taluka in Tharparkar, has to fight the might of the three feudal lord clans including the Thakurs, Maharaj and Arbabs.
Tharparkar has a high mortality rate every year for infants due to the various problems in the Thar area.
She is confident of winning the elections as she is being supported by the Menghwar community which has significant vote bank in the area.
Sunita, a mother of three children, has also received immense support from her family and is confident she will make a difference in the lives of the people in Thar.
The vote bank in the area is dominated by the Menghwar, Bheel and Kohli Hindu communities who have a nearly 70 per cent vote bank.
In March, another Hindu woman, Krishna Kumari Kolhi, became the first-ever Hindu Dalit woman Senator in the Muslim-majority country after she was nominated by the Pakistan Peoples Party for the elections to the reserve women's seat in the Senate.
https://timesofindia.indiatimes.com/world/pakistan/pak-hindu-woman-prepares-to-fight-feudal-system-in-upcoming-polls/articleshow/64484419.cms
--------
Vietnamese, Nur Alisha, Chose Islam Because Concept of Fasting Appealed To Her
7 Jun 2018
GEORGE TOWN: The concept of fasting attracted Vietnamese Nur Alisha Nguyen Thi Phuong Lam to embrace Islam.
The 29-year-old, who works as a line leader at a factory in Bayan Lepas, said fasting, one of the five obligations that every Muslim fulfils, brought with it virtues like patience and tolerance.
"When I saw people fasting, it really opened up my heart to the religion.
"I could see the true practice of Islam through the act of fasting," she said.
"I have been in Malaysia for 10 years, but it was only last year that I decided to embrace Islam. I am so grateful that my family and friends have accepted my decision," she added.
Nur Alisha said she was slowly learning about Islam each day.
"I'm still learning how to read the Quran," she added.
Nur Alisha was among 600 guests who attended Iftar Perdana, a buka puasa event organised by Penang Hidayah Centre Foundation at Pesta Pulau Pinang in Sungai Nibong on Monday.
Earlier, Nur Alisha, together with two speakers and a moderator, held a forum to discuss fasting for those who were new to the practice.
About one-third of those who attended the event were mualaf (Muslim converts), who came with their family members and friends.
The guests enjoyed meals comprising mutton and chicken served with rice.
Organising chairman Mohd Yusni Ghazali said the annual event, which was in its ninth year in Penang, was organised nationwide at respective states.
"This is part of our efforts to raise funds for the centre. It is also a chance for people to get together and know one another.
"We are also thankful to those who collected donations for us at Ramadan bazaars," he said in his opening speech.
Mohd Yusni said 200 new Muslims were at the event.
There was also a montage presentation, mass prayers and nasyid performance.
https://www.thestar.com.my/news/nation/2018/06/07/convert-shares-her-experience-vietnamese-chose-islam-because-concept-of-fasting-appealed-to-her/
--------
Ahed Tamimi Jailed For Slapping an Israeli Soldier Loses Bid for an Appeal
6 June 2018
A Palestinian teen jailed for slapping an Israeli soldier near her home in the occupied West Bank lost an appeal on Wednesday for her early release, her supporters said.
Ahed Tamimi's case gained international attention when footage emerged of her slapping and kicking two Israeli soldiers next to her house in the West Bank in December, with the soldiers not responding to the provocation.
Tamimi was later arrested and eventually accepted a plea bargain in which she was sentenced to an eight-month prison term due to end in mid-July.
On Wednesday an Israeli parole committee rejected the 17-year-old's appeal for early release, said a spokeswoman for a group campaigning on her behalf.
There was no immediate confirmation of the decision from the Israeli side.
The video of Tamimi's confrontation with the soldiers went viral, with some Israelis saying it was an example of the army not responding to provocations, but others saying the soldiers were humiliated.
Palestinians said she repeatedly told the soldiers to leave her land, which is considered occupied under international law.
A cousin of hers had been shot in the head earlier in the day during clashes with Israeli soldiers, her lawyers have said.
Critics of Israel have contrasted her eight-month sentence with the nine months eventually served by an Israeli soldier who shot dead an injured Palestinian attacker as he lay on the ground.
https://english.alarabiya.net/en/News/middle-east/2018/06/06/Palestinian-teen-jailed-for-slapping-an-Israeli-soldier-loses-bid-for-an-appeal.html
--------
Female Traffic Offenders in Saudi Arabia To Be Detained At Girls Care Centres
June 07, 2018
JEDDAH: Women who commit traffic violations punishable with detention will be detained at the Girls Care Centers, the Saudi Cabinet decided on Tuesday during a session chaired by King Salman at Al-Safa Palace in Makkah.
The arrangement is temporary till special holding facilities are built for female traffic violators.
The king thanked Allah for enabling 7 million worshippers to perform the Umrah pilgrimage, and asked Him to accept and reward their fasting and prayers.
The king briefed the Cabinet on his meetings with Yemeni President Abed Rabbo Mansour Hadi and the chairman of Libya's Presidential Council, Fayez Al-Sarraj.
The Cabinet thanked the monarch for his keenness to develop and modernize the Kingdom according to Vision 2030 reform plan.
His order to establish a royal commission for Makkah reflects the Kingdom's interest in developing Islam's holiest sites, the Cabinet said.
It hailed his instructions to the Kingdom's governors to take care of the interests of citizens and expatriates alike. The Cabinet reviewed regional and global developments, denouncing Israeli plans to build 2,070 settlement homes in the occupied West Bank as a violation of Palestinians' human rights and UN resolutions.
The Cabinet condemned the recent terrorist attacks in the Belgian city of Liege and the Afghan capital Kabul, extending its condolences to the victims' families and both countries' governments and peoples.
It wished the injured a quick recovery, and reiterated the Kingdom's call for concerted international efforts to confront and wipe out terrorism.
The Cabinet approved a memorandum of understanding for cooperation between the Saudi and Emirati auditing bureaus.
It also approved the final accounts of the Saudi Grains Organization, Princess Noura bint Abdulrahman University and the Saudi Ports Authority for the previous financial year.
http://www.arabnews.com/node/1317136/saudi-arabia
--------
Woman Attacked, Burqa Violently Ripped Off In Horrific Viral Clip
June 7, 2018
CCTV footage of the harrowing incident exploded on social media.
A woman was viciously attacked while walking with a companion in a recent incident that took place in Yemen.
In the CCTV footage, the duo can be seen passing by a few parked cars along Algeria road in the capital Sana'a, as reported by Erem news.
A man on a motorcycle drives right up to the woman on the right, reaches out a hand, and yanks her handbag out from her elbow.
The violence of the motion drew her forward till she fell to the ground on all fours.
He also appears to have caught hold of her scarf and burqa by mistake, which were both completely pulled off, leaving her head and face bare.
Commentators on social media networks were appalled at the behavior of the thief, which doesn't reflect the sentiments of a society which respects women.
Watch the horrific video below:
https://www.khaleejtimes.com/region/video-woman-attacked-burqa-violently-ripped-off-in-horrific-viral-clip
--------
Qatar Airways Boss Apologizes For Remarks On Women CEOs
June 06, 2018
SYDNEY: The head of Qatar Airways apologized on Wednesday for saying that a woman could not do his job, while global airlines pledged to speed up efforts to break down gender imbalances in aviation.
Qatar Airways Chief Executive Akbar Al-Baker said his remarks at the closing of a global airlines gathering on Tuesday had been intended as a joke and taken out of context.
He defended his airline's record of gender diversity, saying 44 percent of its staff were female including some in senior positions.
"Quite frankly I think the press took it out of context. They ... blew it out of proportion. It was just a joke...I apologize for it," Al-Baker told a CAPA-Center for Aviation conference in Sydney.
Asked on Tuesday about female employment among Middle East airlines and why his job as CEO could not be done by a woman, Al-Baker had said: "Of course it has to be led by a man because it is a very challenging position."
He made the comments at a news conference following a meeting of airlines group International Air Transport Association (IATA), moments after being elected its chairman.
The remarks drew criticism on social media.
The issue of gender imbalance in aviation was a hot topic at the three-day annual meeting of IATA — only six of whose 280-member airlines, or 2 percent, have female chief executives.
Al-Baker later said Qatar Airways was the first carrier in the Middle East to have female pilots.
On Wednesday, the director-general of IATA noted that Al-Baker had earlier apologized for his comments.
"But the immediate reaction illustrated that expectations for change are high. And it is absolutely clear that aviation has a lot of work to do on gender balance at senior levels," Alexandre de Juniac added in a blog on IATA's website.
Al-Baker is one of the airline industry's most outspoken figures, known for provocative and often humorous criticism of rival airlines or suppliers, but he has also drawn criticism over the judgment of some of his declarations.
In 2017 he apologized after calling US flight attendants "grandmothers" during a trade row with US airlines, prompting an airline union to accuse him of sexism and age discrimination.
In 2014, Qatar Airways defended policies on pregnancy and marriage for cabin crew after coming under fire over working conditions in the conservative Gulf emirate.
Asked at Wednesday's CAPA conference whether he truly believed that only a man could do his job, Al-Baker said, "No, I don't believe that. As a matter of fact (at) Air Italy the majority shareholder has shortlisted women to be CEO and as minority shareholder we are actively encouraging that."
Sharing a podium, Willie Walsh, the head of British Airways owner IAG, said the industry had a long way to go in promoting women, starting with IATA, a quasi-international organization with two women on its 31-person board.
"This whole debate should encourage more," Walsh said.
"If you look at the board it is predominantly middle-aged white men from Europe. We have more diversity on the board now than we have had for a long time, and we have to strive to improve that situation."
Al-Baker pledged to bring more women onto IATA's board, but said there had been few applicants. Board members must be a CEO. IATA says just 3 percent of airlines have a female leader.
Delegates said seats are also divided up by region, meaning some national airlines may have to release influential board seats to favor a female candidate from their own region, but a woman in one region could not benefit from a vacancy in another.
"Bridging the gap at senior levels will not be simple," de Juniac wrote.
The gender row comes amid a deeper debate about whether airlines based on different national social models, recruitment policies and wage structures can compete on equal terms.
US and some European airlines have accused Gulf carriers of unfair competition based on subsidies and social policies, but Walsh — whose group counts Qatar Airways as a shareholder — said he believed Gulf airlines competed on an equal footing.
http://www.arabnews.com/node/1316856/business-economy
--------
A sporting chance to reap the rewards of changing attitudes in Saudi Arabia
June 07, 2018
JEDDAH: Experts discussed fresh ways to enjoy the economic benefits of the developing sports sector in Saudi Arabia, particularly to benefit the country's youth, during a workshop organized by Jeddah Chamber of commerce.
The event, Opportunities for Innovation in the Sports Economy, took place this week as part of the activities accompanying the recent Makkah Economic Forum (MEF).
The speakers included Prince Bandar Al-Saud, the founder and chairman of Crescent Technologies Saudi Arabia; Lina Al-Maeena, a pioneer of women's sports in the Kingdom and a member of the Shoura Council; and Ziad Jarrar, the founder and chief design officer at design company Taurus.
The recent growth of women's sport in Saudi Arabia, and the important role it will play in the future, is one of the areas that has generated a lot of discussion.
Al-Maeena is a pioneer in the field of women's sports, and female empowerment, in the Kingdom. She founded Jeddah United, the country's first private basketball club for women, in 2003, at a time when there was great opposition to such moves.
"There are historical decisions that took place last year concerning the sports sector for women, which is the crux of Vision 2030, such as allowing sport in girls' schools... and women to enter stadiums," said Al-Maeena. "These sports projects contribute to strengthening family bonds."
The workshop discussed a number of problems facing the country's sports sector, along with possible solutions and ideas to help overcome obstacles emerging projects might face.
A documentary was screened showing projects and opportunities for targeted investments in the sports sector and how this will boost employment opportunities for Saudi youth.
"The leadership of any country must give a strong impetus to society and everyone should be given a sense of permission to practice various sports, where they affect social and family mobility, and in the future the appropriate infrastructure will be available," said Jarrar.
Prince Bandar said: "The sports sector is accompanied by a lot of services to inspire different investors, such as sport abayas and sport fashion, food trucks and productive families. The people of Saudi Arabia are aware of the importance of these services."
The sports sector in the Kingdom is undergoing a huge transformation in a very short period of time as attitudes change, and there are opportunities for women that were unthinkable until recently. Women can now visit and work in sports stadiums, can become sports photographers or even repair bicycles. As the country's population increases, there are big opportunities for the sports sector to grow and develop.
"I have always struggled trying to spread the sport culture in the Kingdom among young men and girls," said Al-Maeena. "Every year me and my team used to have games with different teams from around the world and our goal was to convey a positive idea about Saudi, Muslim women."
Prince Bandar added: "Achievements in the market and success come through a good understanding of the shortage in the market and what the customer needs."
The workshop was hosted by the Continuing Education Center of the University of Business and Technology, a leading training and career-development center for professionals and executives in a variety of business and management fields. It provides international certified training programs for individuals and companies in Saudi Arabia and the wider Middle East.
http://www.arabnews.com/node/1317141/saudi-arabia
--------
7,500 Saudi Women Work In Industries
June 07, 2018
RIYADH – The number of Saudi women working at the Kingdom's industrial cities reached 7,500 by the end of 2017 after the Saudi Authority for Industrial Cities and Technology Zones created a suitable atmosphere for women to work.
The latest report issued by the authority showed that these Saudi women worked at 154 industries in various parts of the country with 3,022 of them working in the central regions of Riyadh (2,986), Qassim (33) and Hail (3). They work in 53 industries.
A total of 1,121 Saudi women work in 43 industries in the Eastern Province while 3,358 women work in the western sector with industries in Jeddah employing 3,234 Saudi women, Madinah 102, and Abha 22. They work in 58 industries located in the three cities.
Food industries attracted the largest number of women (4,126), representing 55 percent of the total, followed by pharmaceutical industries (692 or 9 percent) and chemical industries (531 or 7 percent), the report said.
As many as 471 women work in the electricity sector, 453 in the minerals sector, 463 in textiles, 362 in plastic industries, 233 in glass industry, and 170 or 2 percent in paper industry.
The authority emphasized its plan to establish women-only industries to create more job opportunities for Saudi women. It is also thinking of supporting nurseries to take care the workers' children. The move comes in line with the objectives of Vision 2030.
The authority has established special working zones for women following international standards as part of its efforts to accommodate more women workers in the sector. Women are provided with infrastructure facilities and services they require in these work places.
The number of Saudi female workers in industries grew from 5,480 in 2014 to 7,500 in 2017. The sector has also attracted a good number of businesswomen and investors.
http://www.saudigazette.com.sa/article/536403/SAUDI-ARABIA/7500-Saudi-women-work-in-industries
--------
Saudis Celebrate Issuance of Driving Licenses to Women
June 07, 2018
JEDDAH — Many Saudis celebrated the historic day when Saudi Arabia began issuing its first driving licenses to women on Monday.
"Ten Saudi women made history on Monday when they were issued driving licenses," said the Information Ministry's Center for International Communication (CIC).
"Expectations are that next week an additional 2,000 women will join the ranks of licensed drivers in the Kingdom."
The video of the first Saudi woman Ahlam Al-Thenayan receiving her driving license at the General Directorate of Traffic went viral on social media.
Esraa Al-Batti expressed joy on Twitter and said it was "an indescribable feeling of happiness."
Hanadi Alsunaid said she's "looking forward to drive in her own country and go to work by herself, thanking the leadership for continuously empowering women."
Wafa Mohammed Humaid enthusiastically shared her new ID calling it a historic day and is waiting for the next historic moment when women start to drive in the Kingdom.
Rema Jawdat said it was an exceptional day for her receiving her driving license and posted, "Finally, it's a dream come true."
Commenting on the number one trending news on Twitter, media personality and writer Nawal Al-Jabr told Saudi Gazette that she plans to enroll in a driving school and learn how to drive.
"The royal decree allowing women to drive aims at reinforcing the Saudi woman's status and position in society and enabling her to be an independent and productive citizen enjoying all her rights," said Al-Jabr, a full-time working manager who lives with her husband and son.
Fatima Al-Zahrani, a medical student, said, "I've been driving for almost eight years now in Canada or whenever I travel to other countries and I like the independence and the ability to explore. Although there are some benefits to having a driver especially after an overnight shift, not everyone can afford to have a driver."
Writer and analyst Dr. Abdulmajeed Al-Jallal said, "Finally, Saudi women's dreams have come true and turned into a wonderful reality during the era of King Salman. I congratulate the women and the future looks bright for them!"
In a poll of some 350 respondents about their plans for driving, around 37 percent said they are eager to join a driving school to learn driving while others said they either have an international driving license or don't wish to drive.
The Ministry of Interior has created a specific website (www.sdlp.sa) for Saudis and expats to register for the issuance and replacement of licenses.
"Dear sister, you need to register in Abshir to benefit from all services," says the portal asking users to apply online through Abhsir for the replacement or issuance of licenses.
http://saudigazette.com.sa/article/536372/SAUDI-ARABIA/Saudis-celebrate-issuance-of-driving-licenses-to-women
--------
URL: https://www.newageislam.com/islam-women-feminism/six-inspiring-saudi-girls-lead/d/115477
New Age Islam, Islam Online, Islamic Website, African Muslim News, Arab World News, South Asia News, Indian Muslim News, World Muslim News, Women in Islam, Islamic Feminism, Arab Women, Women In Arab, Islamophobia in America, Muslim Women in West, Islam Women and Feminism