New Age Islam News Bureau
26 Jul 2013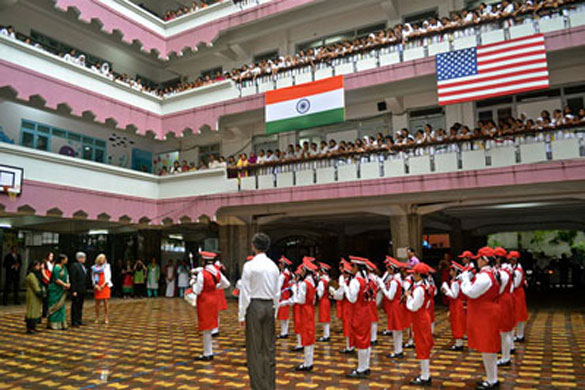 Photo: Jill Biden at the Anjuman-I-Islam school, Mumbai, July 25
------
• The Second Lady of the United States at Muslim Girls' School in Mumbai
• The Dilemma for Female Candidates in Indonesia
• Samina Hayyat Disqualified as an MPA, In Fake Degree Case
• For Insulting Islam, Pageant Contestants in Malaysia May Be Next In Line to Be Charged
• Landmark Win for the Non-Muslims in Malaysia but Will Indira Get to See Her Child?
• Regina Woman Who Converted To Islam Celebrating Ramadan
• Groundbreaking: Afghan Female Pilot Makes History
• Reflections on Engaging Women in Kapisa Province
• Robbery Gang Uses Women in Riyadh
Compiled by New Age Islam News Bureau
URL: https://newageislam.com/islam-women-feminism/single-muslim-women-break-barriers/d/12770
---------
Single Muslim Women Break Barriers as They Face Age Discrimination
Huffington Post
07/26/2013
Looking for Mr. (or Mrs.) Right is not easy for anyone. Now add in the religious and social pressures of being a Muslim woman. Four such women joined HuffPost Live's Dena Takruri to discuss the challenges they've faced and how they've broken cultural barriers.
Zeba Iqbal, a real estate professional who experienced age discrimination when looking for a partner, said, "Beyond a certain age, it can work against you. I think mainly because in my case I was over 35, and I think the cut off age -- what is acceptable -- has been increasing over time. So when I was 25, I was too old. When I was 30, I was too old. When I was 35, I was too old."
While she concedes that "things are changing" today, Iqbal continued, "I do think age discrimination is pretty significant in our communities."
Similarly, Sara Yasin, a writer, said, "As soon as you start developing breasts, there's someone who thinks you're on the market." She added that growing up hearing about "suitors" and what it means to "be a proper wife" is "one of the most frustrating experiences in the world."
In the same vein, Donna Moustapha, an Assistant District Attorney, described her traditional childhood. "It was very taboo growing up to even talk about dating," she said.
Her parents' emphasis on maintaining their Syrian cultural traditions while immersing their children in the American education system pushed Moustapha to focus on herself, rather than men. "It became a priority to focus on education and waiting for the right guy to come along who would blend in with having cultural norms but at the same time a western mentality," Moustapha continued.
http://www.huffingtonpost.com/2013/07/25/single-muslim-women_n_3644843.html
---------
The Second Lady of the United States at Muslim Girls' School in Mumbai
By Khushita Vasant
July 26, 2013
The second lady of the United States, Jill Biden, showed up at a Muslim girls' school in Mumbai Thursday morning to praise their focus on education, urging them to draw inspiration from the courage of Malala Yousafzai, the Pakistani teenager who was shot by the Taliban for her outreach on education.
"I know you just saw Malala's remarkable speech in front of the UN. And wasn't she so brave?" Ms. Biden said. "We all want the opportunity to pursue our dreams and be treated with respect, regardless of our gender. We want to be able to take care of our families… The thing that makes that all possible is education," she added.
This is Ms. Biden's maiden visit to India, where she finished up a four-day tour of India with her husband, Vice President Joe Biden. They left Thursday for Singapore after visiting New Delhi and Mumbai for a strategic visit with policymakers and business executives to discuss trade, regional security and maritime cooperation.
Their daughter, Ashley, accompanied Ms. Biden to the school. She and the Bidens' son-in-law, Howard Krein, toured India with them.
At the Anjuman-I-Islam school on Thursday, Ms. Biden, an educator herself, teaching English at a community college, first stopped by a couple of classrooms, where she chatted with students, shaking hands with each one in the room of about 60.
She then proceeded to address a hall packed with about 400 students in eleventh and twelfth grades.
"I'm very lucky because I get to travel around the world with my husband, the vice president of the United States and we were very fortunate that my daughter and I could come on this trip to India," Ms. Biden said in a speech.
She said one of her favorite things to do while travelling is to visit schools and meet young women.
"You know the world can be a tough place for young women, but you are doing exactly what needs to happen… you all are putting your education first," Ms. Biden said.
The second lady spoke about Ms. Yousafzai, the 16-year-old Pakistani student targeted by the Taliban for her activism on education.
Quoting from Ms. Yousafzai's speech on free compulsory education earlier this month at the United Nations, Ms. Biden said education is the only solution for a better world.
Ms. Yousafzai's passion is ensuring women around the world have access to educational opportunities, just like yours, Ms. Biden said.
"As Malala said, 'Let us pick up our books and our pens, they are the most powerful weapons. One child, one teacher, one book and one pen can change the world. Education is the only solution. Education first,'" Ms. Biden said.
"You know there is a tendency to think about how big the world is but as I travel around and as I hear speeches like Malala's, you realize how small the world is and how similar we all are," she said.
Zufishan Zafar, a 16-year old science student, was the emcee at the school function. Ms. Biden spontaneously gave Ms. Zafar a long hug on the dais, which drew thunderous applause from the students.
When Ms. Biden finished her speech, she stepped down to mingle with the students, drawing them, one by one, into her arms, as they stood up from their seats to greet her.
At that, a reporter whispered to a U.S. consulate press attaché, asking, "Do we also get hugs?" To which he said, "Of course not! I know you just want to ask her a question."
http://blogs.wsj.com/indiarealtime/2013/07/25/jill-biden-at-muslim-girls-school/
---------
The dilemma for female candidates in Indonesia
Akh. Muzakki, Surabaya
July 26, 2013
The 30 percent quota requirement for women was legally reaffirmed by the Constitutional Court earlier this year. This is certainly good news for women hoping to run for seats in the upcoming legislative election, as the ruling has reinforced the role of women in public policy making.
But, almost all political parties have complained about the difficulties in reaching the quota. Not only so-called Islamic political parties face these problems, but also the so-called nationalist parties (The Jakarta Post, May 14).
The General Elections Commission disqualified some of the parties from contesting in certain election districts for failing to meet the requirement, but later the Election Supervisory Body annulled this sanction.
Worse, many female candidates have less experience and less confidence in campaigning than their male counterparts. This situation has had an impact on the position of female candidates running for political office in the country.
Two key points deserve a thorough analysis in this regard. First, women and politics are still regarded as not complementary and supportive of each other. Politics is not seen as a good way for women who seek public office.
The general perception of the existing picture of politics does not support the movement of women into politics. The political performance of female members of legislative bodies recently is a trigger factor. Some of them have become mired in corruption and manipulation.
Female politicians and corruption are issues that have recently attracted public attention. Angelina Sondakh from the Democratic Party and Wa Ode Nurhayati from the National Mandate Party are just two notorious examples of female politicians who have underlined a perception about an intense connection between women politicians and corruption.
After a long trial process, the Jakarta Corruption Court sentenced Angelina to four-and-a-half years' imprisonment, with another six months pending unless she pays a Rp250 million (US$25,000) fine. She was found guilty of accepting a $4.4m bribe to facilitate construction contracts for the Youth and Sports Ministry.
Like Angelina, Nurhayati was convicted of accepting bribes. The judges found Nurhayati had rigged the Regional Infrastructure Adjustment Fund (DPID), and sentenced her to six years in prison. She was found guilty of taking bribes when awarding DPID. Additionally, she was also obliged to pay a Rp500 million fine, with a subsidiary sentence of six months in prison.
These two cases only show that corruption is not a male-dominated issue. The cases of Angelina and Nurhayati contribute to the strengthening of popular understanding that women have now become the target of the Corruption Eradication Commission (KPK).
People draw lessons from the above cases, enabling them to rethink the position of women in politics. The movement of women from the domestic domain into the public arena is basically a new, welcome phase for female participation in national affairs.
But, if women perceive that their presence in politics leads them easily into moral bankruptcy, they will stay clear of politics. They would say that politics is not their place.
This political landscape adds a factor to the difficulty in looking for female candidates (let alone good ones) to reach the 30 percent quota requirement. Politics is seen as being too risky for women to get involved in, particularly for those without a great deal of experience or confidence.
Second, the difficulty in reaching the 30 percent quota requirement for women shows that the political parties have not done enough to develop a mechanism of leadership for women. Political parties in this country remain elitist in their political orientation. This is coupled with their strategic direction more toward the mass rather than cadre politics.
The strong orientation toward mass politics has increasingly reduced the capacity to develop leadership management geared particularly toward female party members. Politics and leadership are basically two sides of the same coin, inseparable components.
If the political parties fail to secure leadership management, they will find it difficult to get well-prepared and well-performing candidates for any political contest. In their place will be individuals with either huge financial capital at their disposal or celebrities offering little more than mere popularity.
The difficulty in finding female candidates is just a logical consequence of the low-performance of political parties in developing leadership programs, especially for female members. Therefore, the 30 percent quota requirement for women tends to be viewed as good news by women, but as a political burden by political parties.
Lending female candidates support in campaign strategies is believed to be a political necessity. But, in the long run, this is not a good or smart solution.
Political parties need to have a firm, strongly-designed leadership mechanism to develop female members of political parties. In the absence of this mechanism political parties will tend to rely strongly on celebrities.
The writer, a former participant of the US State Department- supported 2013 International Visiting Leaders Program (IVLP), lectures at the State Institute of Islamic Studies (IAIN) Sunan Ampel in Surabaya.
http://www.thejakartapost.com/news/2013/07/25/the-dilemma-female-candidates-indonesia.html
---------
Samina Hayyat Disqualified as an MPA, In Fake Degree Case
July 25, 2013
ISLAMABAD: Supreme Court on Thursday declared Pakistan Muslim League-Quaid (PML-Q) member provincial assembly Samina Khawar Hayyat ineligible in fake degree case, Geo News reported.
A three-member bench of the apex court, headed by Chief Justice Iftikhar Muhammad Chaudhry was hearing the case here.
The court cancelled her notification of being elected as an MPA and said Samina Khawar could not provide the evidence of her degree to be genuine.
http://www.thenews.com.pk/article-110931-Samina-Khawar-Hayyat-disqualified-in-fake-degree-case-
---------
For Insulting Islam, Pageant Contestants in Malaysia May Be Next In Line to Be Charged
July 26, 2013
PEKAN - The four Muslim women who disputed the National Fatwa Council decision banning Muslim women from participating in beauty pageants can be charged in the Shariah Court.
Deputy President of Pahang Islamic Religious and Malay Customs Council (Muip) Datuk Seri Wan Abdul Wahid Wan Hassan said they could be charged under Sharia law if they participated in the beauty pageant.
"This is because a fatwa that has been gazetted become Sharia law and offenders can be charged under Section 165 of the Sharia Criminal Procedure Code Enactment for insulting Islam," he told reporters after presenting aid to State Secondary Religious School students here today.
Sarah Amelia Bernard, 20, Wafa de Korte, 19, Miera Sheikh, 19, and Kathrina Ridzuan, 23, not only disputed the ban but were adamant to join the Miss Malaysia beauty pageant although their names were dropped by the organiser.
http://www.malaysia-chronicle.com/index.php?option=com_k2&view=item&id=134782:for-insulting-islam-pageant-contestants-may-be-next-in-line-to-be-charged&Itemid=2#ixzz2aAoVTnyf
---------
Landmark Win for the Non-Muslims in Malaysia but Will Indira Get to See Her Child?
JULY 26, 2013
She stood against the government in court and the father of her own three children to win a landmark ruling yesterday.
Her battle was to stop him from changing their religion without her consent; a right that senior lawyers say is enshrined in the Federal Constitution, which says both parents of a minor must consent to any change.
Yesterday, she won. The High Court dismissed the three children's conversion to Islam by one parent alone.
But despite her win, all she can think of now is her third and last child, whom she has not seen since her ex-husband took away the one-year-old baby in 2008. The High Court had in 2011 ruled that the mother was to have custody of her three children.
"It has been five years and I am longing to be reunited with my daughter," M. Indira Gandhi told The Malaysian Insider. "She was a baby. I do not know if she will recognise me now."
Speaking in Tamil by phone, she managed to contain her emotions as she said in a calm and composed voice, "My lawyers have filed contempt proceedings."
Her other two children, Tevi Darsiny, 14, and Karan Dinish, 15, are with her. They will remain Hindus because of their mother's long battle in the courts.
Indira said the court ruling was a great relief to mothers like her who faced many obstacles and challenges when conversion took place.
"It is not a victory for me alone. I am glad the court has finally made a bold decision on the rights of a parent," she said.
She felt that her husband would definitely challenge the High Court ruling, but added, "I am prepared to go further."
Indira, now a kindergarten teacher, married K. Patmanathan 20 years ago, according to Hindu rites.
Then, 16 years into the marriage, on March 11, 2009, he converted to Islam and became Muhammad Ridzuan Abdullah. The next month, he converted their three children to Islam at the Bahagian Dakwah, Jabatan Agama Islam, Ipoh, Perak. The conversion was without the knowledge of his wife.
That same month, the Syariah Court granted him custody of his three children.
The couple separated and the husband took the youngest child, the one-year-old, with him.
Indira asked the High Court to quash the decision of the Syariah Court to give the father custody of the children and on July 28, 2010, she won that case despite strenuous objections from the Attorney-General. But despite her win, her husband has not returned the youngest daughter.
In the decision yesterday, Judicial Commissioner Lee Swee Seng said the conversions were not valid as they were unconstitutional because they were done without hearing from the mother or the children.
"This was unconstitutional because Articles 3, 5 and 11 of the Federal Constitution state that a mother has an equal right to raise her children to follow her own religion," he said.
He also said the conversion was unlawful as the Perak Syariah law states that children must be present to utter the affirmation of faith.
http://www.malaysia-chronicle.com/index.php?option=com_k2&view=item&id=134961:landmark-win-for-the-non-muslims-but-will-indira-get-to-see-her-child?&Itemid=2#ixzz2aAwJliUH
---------
Regina woman who converted to Islam celebrating Ramadan
JULY 26, 2013
As a practising Catholic, Lacey Tourney always felt a spiritual disconnect which led to a curiosity to explore the cultural horizons.
"I knew faith was important and I wanted to have a faith base in my life but I wasn't happy," she said.
So the Regina woman enrolled in a Middle Eastern religious studies course in 2010 at the University of Regina and began delving into the practices of Islam.
Not long after she converted to Islam.
"Going to university I met a lot of individuals that were Muslim. We would sit and talk for hours and they would tell me about their culture and way of life. I just thought: 'This all makes a lot of sense, something just clicked. Islam just seemed to mesh a lot more in what I believe in,' " said Tourney.
Since the conversion, the fourth-year arts education student has made life changes. In December, she decided to wear the hijab, which is a cloth that covers the hair, neck and chest from the public eye.
"I wanted everything to be gradual because it's a lifestyle change that (affects) your everyday actions," she said. "Being a convert, you need to find the reasoning behind everything. And the reasoning behind Muslim faith is to make your life more healthy, more fulfilling (and) to make you care more about other people and concentrate on helping them."
This time of year is significant for the Muslim community, as the tradition of Ramadan - eating little food and drinking no water - is carried out.
It will be Tourney's third year participating in the special occasion.
The 22-year-old will "break the fast" each evening at sundown and partake in a joyous gathering that takes place at friend's and family homes.
Debra Schubert, a close friend of Tourney's who also converted to Islam in 2002 said, "Lacey put on the hijab as a testimony of faith."
There are five pillars of faith in Islam, said Schubert, including testimony of faith, prayer, fasting, a pilgrimage to Mecca and charity.
Ramadan is a way of purifying the mind and spirit, while gaining compassion for those who are less fortunate, said Schubert. Each evening there is prayer, accompanied with eating small amounts of dates and drinking water.
"You're going to feel a heightened sense of emotions and awareness, you notice things about others you normally wouldn't," she said. "In other parts of the world, others do not have the luxury of eating in the evening during Ramadan. It really puts things into perspective. It's intense." "Ramadan prayer day" officially began July 9, while the Ramadan fasting began July 10.
The word Ramadan means baked Earth in Hindi. The first Ramadan was during the hottest months in the Middle East.
Tourney hopes to teach at the Regina Huda School after convocation next spring. "She's just a fun-loving person," said Schubert. "Everything in this religion is between yourself and your creator. (Lacy) is able to be herself but now she also prays and wears hijab."
http://www.leaderpost.com/life/Search+faith+leads+woman+convert+Islam/8705289/story.html
---------
Groundbreaking: Afghan female pilot makes history
July 26, 2013
"When I'm flying a mission with passengers, I'm not worried about myself," Rhmani said. "I care more about making sure they are safe." PHOTO: AFCENT.AF.MIL
KABUL: Afghan Air Force 2nd Lt. Niloofar Rhmani, Kabul Air Wing pilot, added another feather to her cap of firsts after she completed the first fixed wing combat mission flown by a female on July 18.
Per a report on the US Airforce, Rhmani was the first female to complete undergraduate pilot training, and earn the status of pilot, in May. The combat mission she flew from Kabul International Airport, Afghanistan, included transport of Ministry of Defense officials to Kandahar in support of government outreach operations.
"When I'm flying a mission with passengers, I'm not worried about myself," Rhmani said. "I care more about making sure they are safe."
Rhmani explained why she felt reaching this milestone was important to Afghan history.
"Before, there were no female Afghan pilots," she said. "I'm trying to change the old culture for my people, and stand up for my people."
Capt. Aaron Marx, 438th Air Expeditionary Advisory Group executive officer and pilot advisor, flew with Rhmani for her inaugural flight.
It's a great feeling for me," Marx said of being a part of the historical moment. "It's a great time to be a woman in the Afghan Air Force. They're making so much progress with gender integration here, and it's rewarding to see the pilots we're advising taking an active role in the operational transition."
Rhmani attributes much of her success to the support of her family.
"My family has always been very supportive of me," she said. "They have always helped me do what I wanted to do, and I'm very proud of them and the support they've given me."
Afghanistan is heading towards a military transition with the US led coalition troops handing over all security responsibilities to the Afghan troops. As part of this, the US is helping rebuild an Afghan airforce.
http://tribune.com.pk/story/581600/groundbreaking-afghan-female-pilot-makes-history/
---------
Reflections On Engaging Women In Kapisa Province
Mar 25, 2013
Naheed Vadsaria
Tajik WomenThe mission of the U.S. Army's Human Terrain System (HTS) is to fill sociocultural knowledge gaps in order to expand the knowledge base and frame of reference in which courses of action and subsequent orders are being developed. More detailed and timely awareness of cultural dimensions within a community or area may help to refine and focus the target sets of planned operations, and perhaps surface potential non-lethal approaches to problem resolution that formerly—without detailed cultural knowledge—might not have been evident.
I worked as a Social Scientist for a Human Terrain Team (HTT) in Kapisa Province, Afghanistan from June 2010 to June 2011, conducting sociocultural research for French Command Task Force LaFayette (TFLF) and its supporting United States' Provincial Reconstruction Team (PRT).
While I was working in Kapisa Province, the PRT became interested in understanding the Afghan woman's perspectives and concerns on economic development, governance, and security issues. In Afghanistan, women constitute approximately 49 percent of Afghanistan's population, but were not fully engaged by Coalition Forces (CF) in the beginning of Operation Enduring Freedom. To effectively understand Afghan women, CF decided to reach out to and cooperate, with women throughout Afghanistan when feasible. Understandably, there has been resistance among CF to interact with women due to cultural norms. In certain Afghan societies, it is taboo for foreign men to approach Afghan women and not permissible to build a platonic working relationship with women. As a result, ad hoc Female Engagement Teams (FETs) were developed and used to interact and work with local Afghan women prior to August 2011. FETs have enabled CF to comprehend the positive and negative dynamics of operations through the eyes of Afghan women.
Learning about and working with Afghan women became the focal point for the Human Terrain Team (HTT) and PRT in Kapisa Province. On a personal level, as a social scientist and as a Muslim woman raised and educated in the western world, I was extremely interested in Tajik Muslim women's societal roles, responsibilities, and obligations in Nijrab District based on Quranic Surahs and Hadiths. Tajiks are the second largest ethnic group in Afghanistan, constituting 27.0 percent to 38.1 percent of the population, but are the majority in Kapisa Province. Tajik women were also more accessible and approachable than Pashtun women, who mostly live in Southern Kapisa.
Were the Tajik women actually treated adversely by their male relatives and village elders, as so widely believed in the western world; or were the rights accorded to women in the Holy Quran actually provided for and honored by men primarily practicing the Hanafi School of Islamic Jurisprudence?
To answer these questions, my HTT collaborated with Kapisa's PRT-FET to reach out to local women. I would like to emphasize that my interaction with Tajik women was limited due to the non-permissive nature of Kapisa, Afghanistan. Security forces always accompanied HTS team members collecting observations, and such security constraints did limit the time available to interview women in the field. These security restrictions coupled with the sensitive nature of interviewing women meant that I was unable to interview a significant number of Tajik women. Therefore, my observations cannot be generalized for all Tajik women throughout Afghanistan and pertain to my personal experience only.
To learn about Tajik women's roles in Afghanistan, our HTT initiated groundwork by speaking with key female leaders, shuras, and local Afghan women to collect their attitudes and perceptions. In Afghanistan, to obtain accurate and genuine answers, it is important to build strong relationships. Conducting spontaneous surveys or semi-structured interviews of random Afghans walking the streets will generate artificial and superficial answers. It was our experience that the Afghans with which we had not established rapport previous to the interview often told interviewers what they thought the interviewer wanted to know with minimal concern for the truth. However, the greater familiarity and interaction we had with Afghans over time resulted in the conveyance of what we believed were more truthful and genuine responses from Afghans.
The following study focuses on two main issues: 1) a Tajik woman's opinions and attitudes regarding her roles and responsibilities in the household; and 2) the Qur'anic rights accorded to Muslim women regarding divorce, studied through Qur'anic Surahs (verses) and Hadiths (accounts of the Prophet Mohammad "traceable to his contemporaries or immediate descendants.") that justify and validate the actions of these women under the authority of Islam.
The team first interviewed the wife of the Chairman of the Development Committee of the Afghan Social Outreach Program (ASOP—also known as Shura Mahali). On the day of the interview, the shura Chairman's wife, wearing a blue burka, was escorted by her nephew, as it is obligatory under sharia law that women be chaperoned by a male relative in order to safeguard them. Women living in the provinces rarely travel outside their homes alone, unlike their female counterparts in urban centers such as Kabul.
As the interview began the wife lifted the heavy, blue garment that covered her face. She looked older than her stated age, a reflection of the adversity and hardships women face in provincial areas of Afghanistan. The woman appeared petite, fragile, timid, and spoke softly. The nephew's role was to passively oversee the interview and at times dictate her responses. During the interview, at times when a question was asked, the wife would look at her nephew for approval before answering the question. Despite her nephew's supervision, it appeared the wife answered most of our questions honestly.
Household Responsibilities
The wife was in charge of household management and delegated chores around the house, whether cooking, cleaning, farming, or taking care of the children. She was the major disciplinarian of her sons and daughters both in and outside the household. She also directed both the personal and professional lives of her sons and daughters, deciding whom they would marry and suggesting career paths.
We decided to also seek a male perspective on women's roles and responsibilities in the household and the issue of divorce. The authority women exercise in their households became evident during a conversation I had with one of my two male interpreters, a Tajik from Kabul. According to him, in Afghan culture sons are obligated to venerate and obey the directives of their mothers. He emphasized the bond between mothers and sons is undeniably strong, and most children revere their mothers.
An HTS Social Science Research and Analysis (SSRA) report entitled "Women in the Home and Community" supported this, indicating that: "Respondents in most regions of Afghanistan said that women have influence in the home mainly over areas of childrearing and maintaining the home, family health, and cooking. Respondents in Regional Command Capital (RC [C]) said that women also had significant influence in economic matters. In the other regions, few respondents mentioned control over economic issues as a major area of women's influence in the home. Women appear to have greater influence in the home when they are more educated."
The Holy Qur'anic Surah 31:14 Luqman, supports this and discusses the importance of children obeying and respecting their parents:
"And we have enjoined on man
(To be good) to his parents: In travail upon travail
Did his mother bear him,
And in years twain
Was his weaning: (hear The command),
'Show gratitude
To Me and to thy parents;
To Me is (thy final) Goal."
According to Islamic scholar Mawlana Abdullah Yusuf Ali, the above Surah can simply be translated into: "We must be good to mankind, beginning with our own parents."
Hadiths further support this, explaining that the obligation of a child to respect and obey his/her mother will facilitate the path to paradise:
"I know of no other deed that brings people closer to Allah than kind treatment and respect towards one's mother." [Al-Adab al-Mufrad Bukhârî 1/45]
"A man came to the Prophet and said: O Messenger of Allah! Who from amongst mankind warrants the best companionship from me? He replied: "Your mother." The man asked: Then who? So he replied: "Your mother." The man then asked: Then who? So the Prophet replied again: "Your mother." The man then asked: Then who? So he replied: "Then your father." [Sahîh Bukhârî 5971 and Sahîh Muslim 7/2]
"Paradise lies at the feet of your mother." [Musnad Ahmad, Sunan An-Nasâ'i, Sunan Ibn Mâjah]
Divorce
Another topic of conversation was the right women have to divorce their husbands through the formal and informal justice system in Nijrab District. According to the shura Chairman's wife, Tajik women often do get divorces if they feel their husbands are mistreating them in accordance with the guidance of the Holy Quran. She stated she had a close relative who successfully obtained a divorce.
The rise in divorces taking place in Nijrab District was repeated by a few shura members, particularly the Chairman of the ASOP's Security Committee, a passionate and blunt individual. He explained that a woman from his village was abused by her husband, so she divorced him, moved back with her family, and eventually relocated to Kabul to search for a new job and future.
Obtaining a divorce is a right given to women in accordance with the Holy Qur'anic Surah 4:128 Al Nisa:
"If a wife fears
Cruelty or desertion
On her husband's part,
There is no blame on them
If they arrange
An amicable settlement
Between themselves;
And such settlement is best."
Islamic scholar Mawlana Abdullah Yusuf Ali interprets this as: "…the sanctity of marriage itself is greater than any economic interests. Divorce is, all things permitted, most hateful to Allah. Therefore if a breach between husband and wife can be prevented by some economic consideration, it is better to make that concession than to imperil the future of the wife, the children, and probably the husband also."
Nonetheless, Hadith note that a woman being ill treated is not a requirement for divorce: "The wife can claim a divorce for any good reason, even though there is no ill-treatment on the part of the husband (h. 3)."
If the wife feels she wants a divorce from her husband, according to Holy Qur'anic Surah 4:35 Al Nisa, both parties can obtain a divorce through the formal or informal court justice system: "And if you fear a breach between the two, then appoint a judge from his people and a judge from her people; if they both desire agreement, Allah will effect harmony between them."
These interviews negate the "stereotypical" image of submissive Afghan women as perpetrated in the Western media. While the shura Chairman's wife appeared physically weak, she was powerful in her household. In actuality, women in Afghanistan exercise a pertinent role within households that supports the upbringing of families and addresses personal and professional needs and concerns, which in turn makes families stronger units.
Furthermore, through the support of their communities, they are able to leave marriages where they feel mistreated, reintegrate with their families, and start a new life. Islam redresses this way of life; however, in reality, divorced women may suffer adverse consequences. A recently divorced woman may be limited if she does not have the skills to earn an income. If she chooses to return home, she may become a burden to her family, and as a consequence may be quickly married off to another man. A viable development option for Coalition Forces to consider would be the creation of vocational training programs geared towards divorced and widowed women. Learning or enhancing skills in income-generating activities, including tailoring or beekeeping, can set the conditions for women to start businesses that generate revenue, subsequently assisting other women in the community as well as supporting families economically.
Are Afghan women really subordinate to their male counterparts? Women and men have their own roles in society, and in a country where Islamic Law trumps Afghan Constitutional Law, it seems as most are practicing Islam in accordance with the Quran and Hadiths. If this is the case, should the western world judge?
http://www.diplomaticourier.com/news/regions/central-asia/388-tajik-hope-reflections-on-engaging-women-in-kapisa-province
---------
Robbery Gang Uses Women in Riyadh
26 July 2013
The Criminal Investigation Department (CID) of Riyadh police has arrested a gang of 21 robbers specializing in robbing houses, using females to do the job.
The gang has confessed to committing 20 robberies involving sums of over SR2 million.
Police uncovered a pattern after receiving numerous reports about a number of houses being robbed in the northern and eastern districts of the capital.
http://www.arabnews.com/news/459215
---------
URL: https://newageislam.com/islam-women-feminism/single-muslim-women-break-barriers/d/12770