New Age Islam News Bureau
08 October 2020
• France Plans Punishment for 'Virginity Tests'
• Ensuring Education for Women Is a Shared Responsibility, Says Sheikha Jawaher Al Qasimi Of Sharjah
• Denmark Summons Iran Envoy over Reports of Pressuring Women into Illegal Divorces
• 'Unbearable' Memories Push Some Yazidi Survivors of IS to Suicide
• HRC: Saudi Arabia Deals Sternly With Those Depriving Women of Their Inheritance
• Afghan woman leader makes it to Nobel frontrunner list
Compiled by New Age Islam News Bureau
URL: https://www.newageislam.com/islam-women-feminism/singer-rihanna-apologises-using-islamic/d/123080
--------
Singer Rihanna Apologises For Using Islamic Hadith in Her Lingerie Fashion Show
October 8, 2020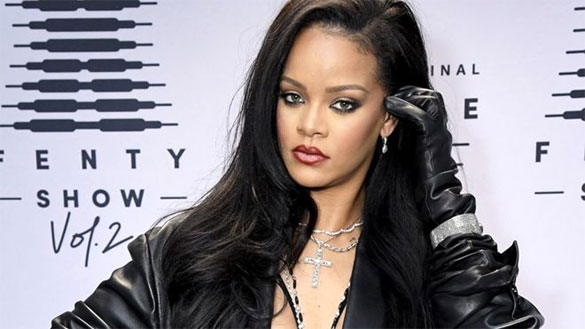 Rihanna has apologised after using a controversial song at her latest Savage X Fenty fashion show.
------
Singer Rihanna, who had been crowned as the "World's Richest Female Musician" by the Forbes magazine in 2019, with an estimated fortune of $600 million with the bulk of that coming from her Fenty beauty range, has now come under fire for her lingerie line.
The beauty mogul, who launched the second edition of her all-inclusive lingerie Savage X Fenty Volume 2 received flak for using the sampling of an Islamic text in her fashion show.
Scores of netizens called out Rihanna for using Coucou Chloe's track 'Doom', which was remixed by adding Islamic Hadith – "a collection of traditions containing sayings of the prophet Muhammad, which constitute the major source of guidance for Muslims apart from the Quran."
According to a report by TIME, the recording is attributed to Kuwaiti preacher Mishary bin Rashid Alafasy.
Rihanna apologised for the same and took accountability, stating that she will make sure nothing like this ever happens again.
In a statemen shared on the brand's social media accounts, Rihanna wrote, "I'd like to thank the Muslim community for pointing out a huge oversight that was unintentionally offensive in our Savage X Fenty show. I would more importantly like to apologize for this honest, yet careless mistake. We understand that we have hurt many of our Muslim brothers and sisters, and I'm incredibly disheartened by this."
"I do not play with any kind of disrespect toward God or any religion and therefore the use of this song in our project was completely irresponsible. Moving forward, we will make sure nothing like this ever happens again," she added.
Riri's lingerie label has been lauded for being diverse and inclusive in its approach. In an interview to i-D magazine in 2019, the "Man down" hitmaker said she hopes to see women feel their best in the garments.
"It's for women to feel their sexiest, their boldest, their most feminine, their most masculine, their most, period. I'm a curvy girl, and if I can't wear it myself, it's not going to work.
"I need to see how it looks on my hips, on my thighs, on my stomach - does it look good on me or only on a fit model? It's important," added Rihanna.
https://www.freepressjournal.in/entertainment/hollywood/incredibly-disheartened-rihanna-apologises-for-using-islamic-texts-in-her-lingerie-fashion-show
--------
France Plans Punishment for 'Virginity Tests'
08 Oct 2020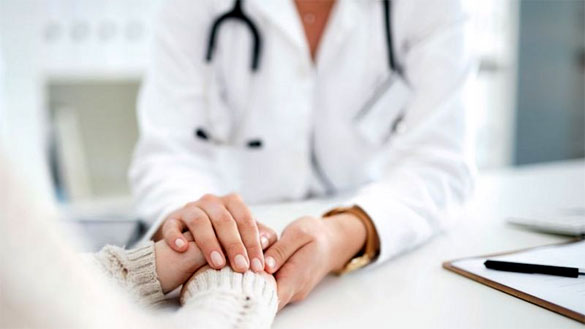 The French government plans to introduce jail terms and fines for doctors who provide controversial so-called "virginity certificates" for traditional religious marriages.
-----
The French government plans to introduce jail terms and fines for doctors who provide controversial so-called "virginity certificates" for traditional religious marriages.
It is part of draft legislation aimed at reinforcing French secular values and combating what President Emmanuel Macron calls "Islamist separatism".
But the French abortion advice group ANCIC says stopping "virginity tests" requires broader educational work.
The UN says such tests must be stopped.
The French Interior Ministry says the bill - not yet fully debated by French politicians - proposes a year in jail and fine of €15,000 (£14,000) for any medical professional who issues a "virginity certificate".
According to France 3 TV news, about 30% of French doctors say they have been asked for such certificates and most of them refuse.
The World Health Organization says the practice of inspecting the hymen visually or with fingers cannot prove whether a woman or girl has had vaginal intercourse or not. It also violates her human rights, the WHO says.
How widespread is the practice?
Gynaecologist Dr Ghada Hatem told France Inter news that "in France this doesn't affect thousands of women - I am asked by about three women maximum [for certificates] each year". Often it is girls from the Maghreb - Muslim-majority north-west Africa - who ask for them, she said.
She told France 3 TV that she provided such certificates for women and girls who feared physical violence from relatives or family dishonour.
"If they say 'my brother will beat me up, my dad will strangle me, my in-laws will ruin my family's reputation' I have no reason to disbelieve them."
"Virginity tests" have been documented in many countries by the UN, Human Rights Watch and other organisations. They are done not only on religious grounds, but sometimes in rape investigations or in recruitment to security forces.
Last year BBC Arabic reported that such tests were most common in North Africa and the Middle East, India, Afghanistan, Bangladesh and South Africa.
A UN statement in October 2018 urged governments to ban such tests, but also called for awareness campaigns to educate communities and "challenge myths related to virginity and harmful gender norms that place emphasis on control of women's and girls' sexuality and bodies".
Marlène Schiappa, French Minister Delegate in charge of Citizenship, said the bill - to be presented to parliament in December - should also include punishment for those who demand "virginity tests", such as parents or fiancés.
Muslim women can face rejection by their families and local community, and some have even been killed, for having had sex before marriage.
Many other traditional faith groups also require women and girls to be "pure" before marriage.
In a speech on Friday President Macron spoke out against radicalisation in some French Muslim communities, saying a minority of France's estimated six million Muslims were in danger of forming a "counter-society".
Ms Schiappa said the new law ought also to ban "certificates of convenience unrelated to a person's health", such as "a so-called certified chlorine allergy, generally used to keep girls away from sports activities and the swimming pool".
ANCIC, a French association providing advice on contraception and abortion, said it supported the government's stand against "virginity tests", but warned that in some cases women were in real danger and "a ban would simply deny the existence of such community practices, without making them disappear".
"We think this question must be tackled quite differently, so that women and men free themselves and reject the weight of these traditions," ANCIC said.
"There needs to be educational provision, to inform, discuss, prevent and give support."
Tackling polygamy
Under existing French law, foreigners can be refused an extension of their residency permits if they are in polygamous marriages, but Ms Schiappa said the new law would also go further, enabling polygamists to be expelled from France.
Current protections against forced marriage would also be tightened, she said. The bill would enable a third party to alert a civil servant if there were suspicions that a marriage was going ahead without both partners' consent.
The civil servant would then interview each partner and, if a forced marriage was still suspected, the matter could be passed on to prosecutors.
https://www.bbc.com/news/world-europe-54434080
--------
Ensuring Education for Women Is a Shared Responsibility, Says Sheikha Jawaher Al Qasimi Of Sharjah
October 08, 2020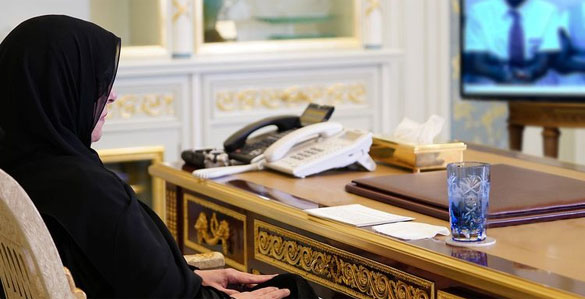 Sheikha Jawaher speaks at the virtual forum.
Image Credit: Supplied
-----
Sharjah: Sheikha Jawaher bint Mohammed Al Qasimi — wife of His Highness Dr Sheikh Sultan Bin Mohammad Al Qasimi, Member of the Supreme Council and Ruler of Sharjah — has called on the international community to make education of refugee girls a top priority during a recent virtual meeting organised by the United Nations High Commissioner for Refugees (UNHCR).
Sheikha Jawaher, who is also an Eminent Advocate for Refugee Children at UNHCR and Chairperson of The Big Heart Foundation (TBHF), addressed a private, all-women virtual panel session organised ahead of the unveiling of the overall winner of the 2020 UNHCR Nansen Refugee Award recently by UNHCR, titled 'Keeping refugee women and girls safe'. The event was organised to draw attention to the challenges facing displaced women and girls.
She said: "Educating girls and women changes the course of an entire society. Through our philanthropic and women's support organisations, we have spared no effort to continue to offer support to refugee girls and women in every way possible. Let us continue to work on initiatives that raise awareness among refugee communities about the benefits of education. Women and children affected by the exceptional circumstances of their societies account for the highest percentage of the global refugee population. We must all share the responsibility of educating women around the world. By supporting them with education, we elevate their potential to rebuilding their lives … and lay the foundations for building a just, equitable and sustainable future for all nations around the world," she underlined.
Poor education
According to a UN report, the percentage of refugee girls receiving elementary education is below 23 per cent as compared to 84 per cent globally while those receiving higher education are estimated to be around 1 per cent compared to 34 per cent worldwide. The report also revealed that a high percentage of refugees who do not receive education reside in low- and middle-income communities, which makes international support a key factor in advancing refugee education.
Meanwhile, Sheikh Jawaher also talked about TBHF's projects that have reached more than 3 million individuals in 24 countries living in poor conditions due to escalating conflicts and crisis in their home countries.
Humanitarian awards
At the same forum, Gillian Triggs, Assistant Secretary General, Assistant High Commissioner for Protection at UNHCR, announced the overall winner of the 2020 UNHCR Nansen Refugee Award. "Among the many challenges posed to women and girls during Covid-19 has been access to education. Around 1.6 billion children have not been able gained access to education from time to time over these last few months," Triggs continued, adding, "the great fear of UNHCR is that refugee children and children in families that are displaced will have dropped out and will not return to school."
https://gulfnews.com/uae/education/ensuring-education-for-women-is-a-shared-responsibility-says-sheikha-jawaher-al-qasimi-of-sharjah-1.74407447
--------
Denmark Summons Iran Envoy over Reports of Pressuring Women into Illegal Divorces
07 October 2020
Denmark on Wednesday summoned the Iranian ambassador over reports the diplomatic mission had allegedly pressured Iranian women living in the Scandinavian country to accept divorce terms drawn up by local imams.
The summons follows recent reports in Danish media about Muslim women being forced to accept divorce deals made by imams in Denmark. A contract made by one imam said that a woman, among other things, had to accept that if she remarried, she would lose the custody of her children.
"I take the rumors extremely seriously that the Iranian Embassy, unsolicited, had contacted women living here to pressure them to have their Danish divorce papers religiously validated," said Danish Foreign Minister Jeppe Kofod.
"That is also why we react as quickly and as clearly as we do," he added in the statement.
Kofod added that the Scandinavian country will "in no way accept if an embassy is involved in cases that are contrary to Danish law — and contrary to our basic democratic values in Denmark."
"The kind of religious control that we have heard about in the media does not belong in Denmark," he said.
https://english.alarabiya.net/en/News/middle-east/2020/10/07/Denmark-summons-Iran-envoy-over-reports-of-pressuring-women-into-illegal-divorces
--------
'Unbearable' Memories Push Some Yazidi Survivors of IS to Suicide
By Nisan Ahmado
October 07, 2020
Driven by "unbearable" memories, the suicide rate among members of the Yazidi religious minority is increasing more than six years after the Islamic State (IS) terror group attacked Yazidis' homes in the Sinjar district in northern Iraq, according to Yazidi activists.
Many Yazidis who fled the IS into Iraqi Kurdistan's refugee camps are now facing mental health issues. The distress is particularly acute among women who experienced sexual violence while in IS captivity.
"There are multiple factors pushing some Yazidis to commit suicide, but the main reason is the unbearable memory of what happened during the IS genocide," said Khodr al-Domali, a Yazidi researcher and coordinator of social support to Yazidi women in refugee camps.
Al-Domali said thousands of Yazidis in refugee camps are afraid to return home because armed groups are fighting over who will control their villages and towns now that IS jihadists are gone. Yazidis who have returned home can't find work or educational opportunities, and they face discrimination by surrounding communities.
"Many Yazidis continue to experience the horrors they went through as their areas remain widely destroyed and they don't find adequate help ... so they could deal with the trauma," he told VOA.
In its rampage across Iraq and Syria in August 2014, IS attacked the area in northern Iraq where about 400,000 Yazidis lived. The jihadi group killed thousands of Yazidi men, kidnapped thousands of women and girls to use as sex slaves, and reportedly kidnapped young boys for training as suicide bombers and IS fighters.
The United Nations called the IS attacks a genocidal campaign.
According to the Kidnapped Yazidis Rescue Office in Duhok, Kurdistan Region, 3,543 kidnapped Yazidis have been rescued from IS, but some 2,800 remain missing.
Mostly women
Local activists say there is no official data about the Yazidi suicide rate, and some may be unreported. They are certain, however, that the majority of suicides are Yazidi women. The local news outlet Rudaw, located in Iraqi Kurdistan, estimated that some 150 Yazidi women have committed suicide since the genocide began in 2014.
"Yazidi women took the hardest toll during the genocide," said al-Domali. "We noticed that most of the women who committed suicide were waiting for the return of their kidnapped family members or they found out that their families were found in mass graves."
He continued, "The Yazidi community is ready to adapt and work on its issues, and the answer is psychological support, financial aid and social help."
Local media reported in September that a 53-year-old Yazidi woman, Dai Shirin, had set herself on fire and died in the Khanki refugee camp in Duhok province after failing to determine the fate of her husband and six children. In August, a young Yazidi man, Nashwan Sharaf, hanged himself in Duhok's Bajid Kandala camp.
Counseling support
Lina Villa, a mental health activity manager with Doctors without Borders (MSF) who works with the Yazidi and Arab communities in Sinuni Hospital in Sinjar district, said, "We see different levels of symptoms in the communities we are serving, like depression, angry and suicidal thoughts, suicidal attempts. Some patients have intrusive thoughts, and they are having revivals of the situations they have faced, flashbacks, delusions and hallucinations — also, anxiety, stress, fear and psychosomatic like short of breath, loss of appetite and lack of sleep."
Villa told VOA that between April and August, her organization received 30 reports of people who attempted suicide. Last month, 25% of the patients expressed suicidal thoughts, she added.
A 2019 MSF report based on a mental health survey from Sinuni Hospital revealed that all the families interviewed had at least one member who suffered either moderate or severe mental illness.
Giving Yazidis a voice that will allow them to feel dignified and settled in their homeland, accompanied by social support, will help address the problem of suicide, according to Villa.
"The main thing that Yazidis have lost is a sense of security and protection," she said. "The communities we serve return to their homes and fields, they find everything has been destroyed, and they feel their ordeal continues. When a traumatic situation doesn't stop, it becomes more difficult to cope with that situation."
https://www.voanews.com/extremism-watch/unbearable-memories-push-some-yazidi-survivors-suicide
--------
HRC: Saudi Arabia Deals Sternly With Those Depriving Women of Their Inheritance
October 7, 2020
RIYADH — The Human Rights Commission (HRC) reiterated that it considers depriving women of inheritance as violence against them. Dr. Amal Al-Habdan, member of the HRC, said that denying women of their right to inherit is a crime and that the laws in the Kingdom, especially the judiciary, are addressing this issue seriously.
The commission's interventions came after receiving complaints related to unfair treatment over inheritance being meted out to some women by a section of their family members.
These women expressed apprehensions over the denial of their rights to inheritance due to their hesitance to claim their rights for fear of adversely affecting their relationship with family members.
The lack of some women's proper awareness about their rights guaranteed in the Kingdom's laws also prevents them from claiming their rights to inheritance, it was pointed out.
Dr. Amal said that the commission is currently coordinating with competent authorities to track such cases in a profound way and inform them all aspects of the issue.
"The HRC would employ all the means of justice to redress the grievances of the affected women and will ensure them all the necessary support in obtaining their rights with proper monitoring of their conditions.
"The commission would also make available of the data on these issues so as to carry out studies and closely follow them as part of addressing them at the grass root level," she said.
Dr. Amal also underlined the need for beefing up efforts to enhance awareness among members of the Saudi society, especially about the danger of such practices and their economic, social and psychological repercussions on women, their families and the community in the neighborhood.
"HRC encourages any woman who suffers harm in this regard to lodge a complaint with the relevant authorities. The commission will receive complaints from the affected women or those who have stood up to similar cases through electronic or telephone communication channels or by personally contacting one of its offices," she added.
https://saudigazette.com.sa/article/598861
--------
Afghan woman leader makes it to Nobel frontrunner list
OCTOBER 05, 2020
Fawzia Koofi is a negotiator in Doha talks with the Taliban
Afghanistan's first women Deputy Speaker in Parliament and member of the team of negotiators engaging the Taliban in talks in Doha, Fawzia Koofi has been named one of the "favourites" among nominees for this year's Nobel Peace Prize, due to be announced on October 9. Ms. Koofi, who has survived at least two assassination attempts, including one just two months ago before talks began, said the nomination itself was a "recognition" for the peace process, and would "empower" the role of Afghan women at Doha in particular.
"I think this is a recognition of all of the efforts that Afghan women have undergone in order to be included in the [reconciliation] process, to be heard," Ms. Koofi said, speaking to The Hindu from Doha, where she will participate in the next round of talks beginning Monday. And I think that the [Nobel nomination] gives me personally, much more power, along with my other three sisters (other women negotiators in the team) who are in this process of negotiation because we do have to try harder," she added.
Women's rights votary
Ms. Koofi, one of Afghanistan's most prominent politicians, was first elected to Parliament in 2005 when she was also elected the Deputy Speaker of Parliament. Her bid to stand for President was thwarted after new age rules disqualified her, but she has been a strong votary for women's rights, piloting a Bill on the eradication of violence against women, and has campaigned for the inclusion of women in the reconciliation process. Ms. Koofi, whose father and brother were killed during the Taliban regime (1996-2001), also lost her husband who was repeatedly jailed by the Taliban, and died of an illness contracted there. She has been targeted by militants a number of times, including in 2010, when she was shot at, and again on August 16 this year, just weeks before the Doha talks began, when gunmen shot at her and her daughter, and a bullet injured her right arm. She attended the talks with her hand in a sling, nevertheless.
"I do not want to be considered as just a woman, I want to be considered as representative of my country and as a politician, who have equal rights to sit across the table and discuss the future of her country. and therefore, if [the Taliban] want to really reconcile and if they want to pursue their political agendas, not through bullets, but through ballots, then they have to respect diversity and accept that we are part of the new Afghanistan."
The announcement of the winner will be made in Oslo by the Norwegian Nobel Committee on Friday. According to the committee's rules, the names of nominees are not disclosed for 50 years, and the frontrunner list is not "official". However, last week, the Norwegian Peace Council, an umbrella NGO of 20 Norwegian Peace organisations in Oslo released its list of five frontrunners for the Nobel Peace Prize, choosing Ms. Koofi as the top favourite, out of a total number of 318 candidates. The list of favourites included media freedom groups Reporters Without Borders & Committee to Protect Journalists, New Zealand PM Jacinda Arden.
"The fact that we have come up to hear in the peace process, and had our voice heard is very important, and whether we win or not, this recognition itself is a big success for women and for all of Afghanistan," she said.
https://www.thehindu.com/news/international/afghan-woman-leader-makes-it-to-nobel-frontrunner-list/article32766944.ece
--------
URL: https://www.newageislam.com/islam-women-feminism/singer-rihanna-apologises-using-islamic/d/123080
New Age Islam, Islam Online, Islamic Website, African Muslim News, Arab World News, South Asia News, Indian Muslim News, World Muslim News, Women in Islam, Islamic Feminism, Arab Women, Women In Arab, Islamophobia in America, Muslim Women in West, Islam Women and Feminism