New Age Islam News Bureau
9 Apr 2014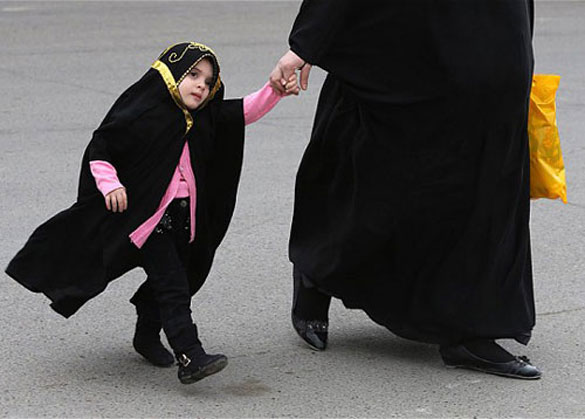 An Iraqi woman walks with her fully veiled daughter in Baghdad Photo: Getty
------------
• University Withdraws Planned Honorary Degree for Islam Critic Ayaan Hirsi Ali
• Saudi Allows School Girls to Have Sport Lessons
• Married at 15: Ancient Traditions Return To Uzbekistan
• Iraq Ready to Legalise Childhood Marriage
• First Police Woman Appointed As SHO in Karachi
• Riyadh Has Highest Number of Female Prisoners
• AKP Mayor in Bingöl Refuses To Let Women Hold Positions at Municipal Council
• Indonesia's Election Offers Dim Hope for Women's Rights
• Women's Rights Better In Post-Genocide Rwanda, More to Be Done - Advocate
• Biometrics for Expat Women 'Mandatory'
Compiled by New Age Islam News Bureau
URL: https://newageislam.com/islam-women-feminism/sheikha-latifa-al-fahad-says/d/66478
-------------
Sheikha Latifa Al-Fahad says Kuwait leadership fully behind women
April 09, 2014
KUWAIT, (KUNA) -- Chairperson of Women's Affairs Committee at the Cabinet Sheikha Latifa Fahad Al-Salem Al-Sabah affirmed Tuesday the political leadership of Kuwait has supported Kuwaiti women in all domains.
Sheikha Latifa, addressing the opening session of a forum for women leaders in South America and Arab countries in Peru, said Arab women in general and Kuwaiti females in particular have succeeded in winning many rights in recent decades thus occupying many senior positions in the government and private sectors.
Sheika Latifa, who heads the delegations of Kuwait and Arab countries to the forum, praised the political leadership of Kuwait's firm support to women to enabling them contribute to decision-making.
She said she was confident the forum in Peru, which featured participation of distinguished women from Arab and Latin American countries, would pave way for development of relations between the two regions.
Sheikha Latifa said Arab and Latin American countries have many potentials, expertise and human resources that would contribute to honoring aspirations of peoples in the two sides.
Peruvian Minister of Women and Social Development Maria Durand opened the forum earlier and called upon women leaders in Arab and Latin American countries to develop the historic relations between the two sides.
Durand said more than 400 Arab and Latin American women leaders who were full of hopes to strengthen the role of women in the economic, cultural, scientific and political domains.
For her part, Arab League Assistant Secretary General Dr. Faeqa Al-Saleh said Arab women have largely contributed to the development of health and educational services.
She said the Arab League was adopting Arab causes for the sake of addressing them.
Peruvian first lady Nadine Alarcon called on the importance of gender equality in order to create an active partnership between men and women.
She said she was confident the Peru forum would contribute to solving problems facing women in the Arab and Latin American countries.
http://www.kuna.net.kw/ArticleDetails.aspx?id=2371300&language=en
-------------
University withdraws planned honorary degree for Islam critic Ayaan Hirsi Ali
Associated Press
April 09, 2014
Brandeis University in Massachusetts announced Tuesday that it had withdrawn the planned awarding of an honorary degree to Ayaan Hirsi Ali, a staunch critic of Islam and its treatment of women, after protests from students and faculty.
The university said in a statement posted online that the decision had been made after a discussion between Ali and university President Frederick Lawrence.
"She is a compelling public figure and advocate for women's rights, and we respect and appreciate her work to protect and defend the rights of women and girls throughout the world," said the university's statement. "That said, we cannot overlook certain of her past statements that are inconsistent with Brandeis University's core values."
Ali, a member of the Dutch Parliament from 2003 to 2006, has been quoted as making comments critical of Islam. That includes a 2007 interview with Reason Magazine in which she said of the religion, "Once it's defeated, it can mutate into something peaceful. It's very difficult to even talk about peace now. They're not interested in peace. I think that we are at war with Islam. And there's no middle ground in wars."
Ali was raised in a strict Muslim family, but after surviving a civil war, genital mutilation, beatings and an arranged marriage, she renounced the faith in her 30s. She has not commented publicly on the issue of the honorary degree.
In 2007, Ali helped establish the AHA Foundation, which works to protect and defend the rights of women in the West from oppression justified by religion and culture, according to its website. The foundation also strives to protect basic rights and freedoms of women and girls. This includes control of their own bodies, access to an education and the ability to work outside the home and control their own income, the website says.
More than 85 of about 350 faculty members at Brandeis signed a letter asking for Ali to be removed from the list of honorary degree recipients. And an online petition created Monday by students at the school of 5,800 had gathered thousands of signatures from inside and outside the university as of Tuesday afternoon.
"This is a real slap in the face to Muslim students," said senior Sarah Fahmy, a member of the Muslim Student Association who created the petition said before the university withdrew the honor.
"But it's not just the Muslim community that is upset but students and faculty of all religious beliefs," she said. "A university that prides itself on social justice and equality should not hold up someone who is an outright Islamophobic."
Thomas Doherty, chairman of American studies, refused to sign the faculty letter. He said it would have been great for the university to honor "such a courageous fighter for human freedom and women's rights, who has put her life at risk for those values."
Bernard Macy, a 1979 Brandeis graduate, sent an email this week to university President Frederick Lawrence and several members of the faculty saying, "Thank you for recognizing Ayaan Hirsi Ali for defending Muslim women against Islamist honor violence."
But Ibrahim Hooper, a spokesman for the Council on American-Islamic Relations, the nation's largest Muslim advocacy group, said, "It is unconscionable that such a prestigious university would honor someone with such openly hateful views."
The organization sent a letter to university President Frederick Lawrence on Tuesday requesting that it drop plans to honor Ali.
"This makes Muslim students feel very uneasy," Joseph Lumbard, chairman of Islamic and Middle Eastern studies, said in an interview. "They feel unwelcome here."
The Associated Press contributed to this report.
http://www.foxnews.com/us/2014/04/09/brandeis-university-withdraws-planned-honorary-degree-for-islam-critic-ayaan/?intcmp=latestnews
-------------
Saudi allows school girls to have sport lessons
April 09, 2014
Saudi Arabia's appointed parliament has finally approved a draft law allowing school girls to have sport lessons but it stressed they must abide by Islamic rule.
After a "stormy" session on Tuesday, Shura council ratified the law allowing girls at schools in the conservative Gulf Kingdom to do exercise inside their school buildings, the Saudi Arabic language daily Ajel said.
"92 members of the council, representing a majority, voted in favour of the law…it permits schools to give sport lessons to girls and let them do exercise inside schools provided this is done in line with Islamic sharia (law)," the paper said.
It did not elaborate on that condition but it obviously stipulates that school girls must be dressed decently during exercise, supervised by female teachers and perform exercises that do not violate Islamic principles.
Son hits dad: Bailed out by dad
A Kuwaiti boy accused of attacking his father was released from jail on bail paid by his own father, a newspaper reported on Wednesday.
The boy had reported his father to the police, saying he beat him up for his poor performance at school, Al Watan Arabic language daily said.
When the father was summoned to the police station, he had bruises on his face showing he was attacked by his son.
"Police decided to consider the case as a mutual attack by the father and the son and decided to lock them up," the paper said.
"When the two were asked to pay bail to be released, the father paid for himself and for his son…the father had no intention to report his son but found himself in a position where he had no choice to defend himself."
http://www.emirates247.com/news/region/saudi-allows-school-girls-to-have-sport-lessons-2014-04-09-1.544915
-------------
Married at 15: Ancient traditions return to Uzbekistan
Uznews.net
April 09, 2014
The growth in the number of underage marriages is beginning to concern Uzbek authorities. The Women's Committee reports that last year about 160 marriages were annulled due to the age of the woman.
However, an increasingly number of people do not believe there is anything wrong with a early marriage.
To marry off one's daughter well is considered to be as good as having a son. Uzbek families place a lot of importance on their daughters' husbands.
In traditional religious families it is considered the right thing to do for a daughter to marry as early as possible.
Married at 15
Zulfiya became a married woman immediately after she turned 15.
She had wanted to study medicine and become a nurse. When she came home from school one day her mother told her that a matchmaker had paid the family a visit and that she would soon be a bride. Zulfiya did not expect that her parents would wish her to be married so soon.
Her daily responsibilities now include doing all of the housework, taking care of her husband, and everything else to keep her mother-in-law happy.
"Matchmakers kept coming to our house. And my parents kept pushing me into marriage. I did not have a choice," says Zulfiya.
During Soviet Union times it was customary for women to get married after they reached 20 years old. And university degrees were valued. However, even then there were cases of 15 or 16-year-old brides, however that was the exception not the norm.
In the past 10-15 years the age of matrimony in Uzbekistan has significantly dropped. And expectations about women has changed – education does not matter so much. Brides between 15-20 years are much in demand.
The reason for this drastic change is the return to the old family-centric traditions and the establishment of Islamic religious norms. However, according to current family laws the legal age of matrimony is 18 for men and 17 for women.
"Married off after the seventh grade"
Parents marrying off their daughters early rarely respect the young girl's wishes. As a result, they are often forced to forget about further education or career aspirations.
That was Hosiyathon Akbarova's fate, whose parents went so far as falsifying her age in her passport in order for her to be married at 15. She and her husband Sabirjan are going to celebrate a 45-year anniversary this spring. They have raised seven children.
"I have survived a lot. I had dreams of finishing school. In those times it was different. When I finished 7th grade, my parents married me off," Akbarova tells Uznews.net. "So I promised myself that I would not let my daughters marry until they finish their education."
Her elder daughter got married at 24, another at 25, and two others at 26.
"Early marriages are a return to the past"
Dilzoda Mutalova, the head of Andijan city civil registry office, says that it is very difficult to actually compile statistics on early matrimony. Girls younger than 17 cannot be officially married at the civil registry office.
This is when the clergy steps in and performs marriage ceremonies for underage girls. Only when the young family gives birth to a baby do they show up at the registry office.
Marfua Tohtahajaeva, a researcher of post-Soviet marriage trends and a women's rights activist, believes this return to the past is cause for concern.
Tohtahajaeva's books "Between Communist slogans and Islamic laws" and "Burdened by the past" talk about the past and future of women in the East.
"My experience with a women's organization shows that early marriages are usually unsuccessful. Violence is the norm and a woman's chance for personal growth are zero," she says.
Underage marriage is a criminal offense
On April 30, 2013 the parliament amended the country's criminal and administrative responsibility codes.
According to the Violation of Marriage Age Law act, marrying an underage individual can be subject to administrative and criminal prosecution.
The parents' or guardians' can also be criminally charged for participating in underage matchmaking and marriage.
Article 15 of the Family Law Code states that in exceptional and well-justified cases the city mayor can lower the age by one year, but only at the request of the bride and groom.
http://www.uznews.net/en/society/25832-married-at-15-ancient-traditions-return-to-uzbekistan
-------------
Iraq ready to legalise childhood marriage
April 09, 2014
Children in Iraq could be legally married before the age of nine under sweeping legislation tabled on Tuesday that introduces new religious restrictions on women's rights.
As almost its last act before elections at the end of the month, the Iraqi parliament looks likely to pass new marital rules for its majority Shia community with a draft law criticised by human rights activists as "legalised inquality"
The legislation has been approved by the governing coalition in an effort to attract support from Shia Muslims in the April 30 vote.
Current Iraqi law sets the legal age for marriage at 18 without parental approval and states girls as young as 15 can be married only with a guardian's approval. It does not allow for special provisions according to sect.
But the legislation, known as the Jaafari law, introduces rules almost identical to those of neighbouring Iran, a Shia-dominated Islamic theocracy.
Ayad Allawi, a former Iraqi prime minister, warned on Tuesday that approval of the law would lead to the abuse of women. "It allows for girls to be married from nine years of age and even younger," he said. "There are other injustices [contained in it] too."
While there is no set minimum age for marriage, the section on divorce includes rules for divorces of girls who have reached the age of 9 years.
Marital rape is condoned by a clause that states women must comply with their husband's sexual demands. Men are given guardianship rights over women and the law also establishes rules governing polygamous relationships.
Hanaa Edwar, a well-known activist and head of the charity Al-Amal ("Hope" in Arabic), has campaigned against the law as a setback for women's rights in a country that has struggled since the 2003 invasion.
"It turns women into tools for sexual enjoyment," she said. "It deletes all their rights."
Human Rights Watch, the US-based organisation, has issued a plea for the Iraqi government to abandon the legislations.
"Iraq is in conflict and undergoing a breakdown of the rule of law," Basma al-Khateeb, a women's rights activist, said in a Human Rights Watch report. "The passage of the Jaafari law sets the ground for legalised inequality."
Supporters of the draft, named after a Shiite Muslim school of jurisprudence, say it simply regulates practices already existing in day-to-day life. Officials said there has been a surge in under 18s being married off since the overthrow of Saddam Hussein in 2003.
http://www.telegraph.co.uk/news/worldnews/middleeast/iraq/10753645/Iraq-ready-to-legalise-childhood-marriage.html
-------------
First police woman appointed as SHO in Karachi
April 09, 2014
KARACHI: In a landmark appointment, a female sub-inspector in Karachi was elevated to the position of Station House Officer (SHO) on Tuesday, DawnNews reported.
Sub-inspector Ghazala Syed took charge as SHO of a police station in Karachi's Clifton area.
Syed was appointed to the post today on the directives of the Additional Inspector General.
The police employ a large majority of men in Pakistan, where women are rarely encouraged to pursue a career in police.
Women comprise less than 1 per cent of the total police force in Pakistan, according to 2012 data by the National Police Bureau.
The ratio is much lower as compared to other developing nations in the region, with Afghanistan the only other SAARC country with under 1 per cent female employment in police.
In India, women constitute approximately 6.6 per cent of the police force; 5 per cent in Nepal; 3.5 per cent in Bangladesh; and 5.3 per cent in Sri Lanka.
https://www.dawn.com/news/1098561/first-police-woman-appointed-as-sho-in-karachi
-------------
Riyadh has highest number of female prisoners
April 09, 2014
Riyadh has the highest number of Saudi female prisoners and detainees, said Abdullah Al-Harbi, spokesman for the General Directorate of Prisons (GDP).
Female Saudi prisoners account for six percent of the total number of female prisoners, up one percent, he said.
Around half of female prisoners in Riyadh and Jeddah were sent to jail for immoral conduct, according to a study.
The study also showed that the majority of prisoners went back to committing crimes after being released the first time.
There were 312 Saudi female prisoners in 2008, compared with almost 3,000 expat prisoners during the same period.
Most criminals were in the 20 to 40 age bracket.
"There haven't been many fights on our facilities," said Al-Harbi. "There were arguments and disagreements, but they were quickly resolved by wardens."
"Most riots are instigated by inmates of African descent," said Col. Ayoub Nahait, GPD spokesman. "The rumor that expat inmates are domestic workers is, however, false."
http://www.arabnews.com/news/552886
-------------
AKP mayor in Bingöl refuses to let women hold positions at municipal council
April 09, 2014
The new mayor of the eastern town of Bingöl, elected in last week's local elections from the ranks of the ruling Justice and Development Party (AKP), has refused to let women elected to the local municipal council hold positions of responsibility on religious grounds.
Mayor Yücel Barakazi's comments have been interpreted as an attempt to prevent Nurten Ertuğrul, elected after topping the AKP's list of running candidates for the municipal council, from being granted the position of deputy mayor.
According to Turkish legislation, mayors of towns that are not metropolitan municipalities choose one or several deputies, according to the population of the locality, to become members of the local municipal council. These are typically members of the same party as the candidate who topped the party's list at the elections.
Barakazi has been reported as saying that he "would not assign any women for the deputy mayor post," adding that this was acceptable on neither moral nor religious grounds, and that society "would not accept it."
Following his comments, Ertuğrul announced her immediate resignation from the municipal council, slamming the new mayor for his attitude.
"It is completely contradictory to make women work throughout the election campaign day and night - without caring about social, religious or moral rules - and then putting forward all kinds of excuses to keep them in the background. No one should impose this on us for the sake of religion," Ertuğrul said, stressing that 65 percent of women in the town, which is known for its conservative mentality, voted for the AKP.
"It is not right for a mayor who received 65 percent of women's votes to talk like this. I was elected with the support of women. Therefore, I have resigned from my municipal membership, hoping that no women with pride and dignity in the party will keep silent on this," she said.
AKP Deputy Chair Çelik critical of woman
AKP Deputy Chair and party spokesman Hüseyin Çelik criticized Ertuğrul, saying that her resignation "does not bode well for the party." Çelik also said Mayor Barakazi has told him that he has never used quotes about not assigning women attributed to him in the media.
Women comprise a quarter of the 20-seat municipal council, with three members from the AKP and two from the Peace and Democracy Party (BDP).
A former bureaucrat, Barakazi replaced his predecessor Serdar Atalay, who was not selected by the AKP at the elections.
Bingöl is one of the AKP's few fortresses in the east and southeast, where the region's major force, the BDP, wins municipalities and garners a majority of Kurdish votes.
The region traditionally has a stronger patriarchal system compared to the west of the country, but the BDP has recently adopted the counterintuitive strategy of selecting co-mayors in constituencies where it participated in the race.
http://www.hurriyetdailynews.com/akp-mayor-in-bingol-refuses-to-let-women-hold-positions-at-municipal-council-.aspx?pageID=238&nID=64712&NewsCatID=338
-------------
Indonesia's election offers dim hope for women's rights
April 09, 2014
CIANJUR, Indonesia (Thomson Reuters Foundation) - When Siti Hasanah's husband of 10 years left her for another woman, he refused to grant her a divorce.
Left with four children, Hasanah had no child support, no rights to shared assets and no documents to prove her status, which is crucial to benefit from government welfare programmes.
"I asked my husband for the papers but he just ignored me. He even mocked me, saying I should do it myself but doubting I could," Hasanah, 44, said.
At a loss, Hasanah turned to PEKKA, a grassroots organisation that had set up a mobile court for women just like her. Unless women have their Four years after her husband left, Hasanah got her divorce papers.
She now works for PEKKA in Cianjur, a mountain town in West Java a couple of hours drive from the capital Jakarta.
"I used to be just a housewife. Now I feel I can be more vocal and I'm more sensitive to women's issues," Hasanah said, sitting on the floor of the education centre she runs. "I feel empowered."
However, Hasanah and her colleagues are concerned that religious and social conservatism creeping across Indonesia will roll back the rights for which they have fought for years.
Activists say local governments have introduced more sharia-based laws controlling how women dress, behave and work - eroding women's rights over the past few years in the world's most populous Muslim country.
The central government has been slow to react at best and complicit at worst, activists say, despite the laws contravening Indonesia's constitution and the various United Nations conventions it has signed up to.
As Indonesians go to the polls on Wednesday, rights campaigners hope a new parliament and president will curb rising discrimination against women.
Enti Rostianti, another PEKKA member, said it took years for women to join the group that helps women breadwinners - often deterred by distrust in the community of PEKKA's work.
"They say we're challenging men's authority and women's role is to be subservient," said Rostianti, who became the family's breadwinner when her husband fell ill.
HEADSCARF CONTROVERSY
Since it emerged in 1998 from three decades of dictatorship under President Suharto, Indonesia has been hailed as a model of tolerance and religious freedom.
The reality is more complex.
Take for example, the wearing of a veil of headscarf. In 2005, Hasanah and others activists fought off a local bylaw in Cianjur that made it comulsory for female civil servants to wear a veil, regardless of their religion.
The law is still on the books, though not enforced, activists say.
However, it is mandatory for civil servants to wear a headscarf in at least one in five regencies in Indonesia, according to Andreas Harsono, senior researcher for Human Rights Watch in Indonesia.
He cited figures from Komnas Perempuan, the national commission on violence against women, showing that as of 2013, there were 342 bylaws that directly or indirectly discriminate women, compared with 154 recorded in 2009.
In Gorontalo, a province in northern Sulawesi, women are banned from working as office administrators to prevent office affairs and in Aceh, female civil servants are required to attend Koranic classes instead of krida, a weekly exercise, Harsono said.
Other bylaws seek to restrict the hours women can go out at night, ostensibly to prevent prostitution, and bar them from being alone with men who are not blood relatives.
Meanwhile, a bill to eliminate discrimination against women languishes in parliament.
TURNING A BLIND EYE
Some analysts say the tightening of women's freedom is an inevitable result of an ambitious programme of decentralisation Indonesia embarked on after Suharto's fall, giving local political leaders the autonomy to draft and enact laws.
"In the beginning (these laws) were proposed mainly by fundamentalist Islamists. But then the parties, even the secular ones, eventually welcome them, because they see it's a good strategy to gain votes," said Husein Muhammad, a commissioner at Komnas Perempuan.
"It's about projecting a good image. The bylaws became rampant because the state turned a blind eye."
Human Rights Watch's Harsono, however, placed the blame squarely on the shoulders of Susilo Bambang Yudhoyono, the outgoing president who has won praise as a reformist.
SBY, as he is known, systematically weakened the rights of women and religious minorities during his two terms of power by emphasising the idea of religious harmony, Harsono said.
Dewi Candraningrum, chief editor of women's magazine Jurnal Perempuan, called SBY "too ignorant and too indifferent" but also, that he was hampered by coalition politics.
"Remember that his presidency is a result of multiple parties bargaining for power — meaning he should accommodate the many wishes, faces and intolerance of parties (including those) that endorse conservative values," Candraningrum said.
REALITY OF POLITICS
Rights groups say Indonesia's government repealed more than 1,800 local regulations between 2002 and 2009 but they were related to economic activities.
None of the bylaws that discriminate against women have been revoked. Yet even if they are not enforced, like the headscarf regulation in Cianjur, they have the potential to criminalise women, activists say.
A new government may decide repealing them is too much of a political risk.
"Legally, it's easy to undo sharia-based legislation. You just need to change the law," said Jan Michiel Otto, an expert on sharia at Netherlands' Leiden University.
"But it's difficult politically. If you are accused of being un-Islamic, an apostate - it doesn't happen all the time but it could - then some fanatics could threaten to kill you.
"So instead of changing these sharia-based laws or repealing laws, you just don't enforce them. It's the same pattern you see everywhere, also in Indonesia," he said.
http://www.trust.org/item/20140408131655-oxf67
-------------
Women's rights better in post-genocide Rwanda, more to be done - advocate
April 09, 2014
NEW YORK (Thomson Reuters Foundation) – Rwanda has made progress in tackling gender inequality over the past 20 years, but women still lag behind in traditionally male-dominated fields like science and business, and violence against women remains a challenge, a campaigner said.
Fatuma Ndangiza, who previously held several positions in the Rwandan ministry of gender, said a genocide that shattered her country in 1994 also changed gender roles.
Because so many men were killed in the slaughter of minority Tutsis and moderate Hutus, women in many communities found themselves doing the work that the men had once done.
"Before the genocide it was taboo for a woman to construct a house or milk a cow (but) if men are not there, what do you do?" Ndangiza told Thomson Reuters Foundation in an interview on the sidelines of a women's rights conference in New York. "(Women) had to undertake roles that were usually carried out by men, they had to care for (their) communities."
Ndangiza, who grew up a refugee in Uganda but came home after the genocide, said 64 percent of the seats in Rwanda's parliament were now held by women - a much higher proportion than in many African and developed countries.
"But despite this we don't feel we're there, we know there are still gaps ... we're not complacent," she said.
MEN AS ALLIES
Bringing men on board was a key component in successfully advancing the rights of Rwandan women, said Ndangiza, who is now the deputy chief executive officer of the Rwanda Governance Board – a state agency that licences political parties and assesses everything from civil liberties to corruption.
"(It's important to) treat men as allies rather than seeing them as people who are responsible for our situation," she said.
"Gender imbalances are societal challenges. They're the result of attitudes that might target women but these are not problems made by men."
Cooperation between men and women has brought some important changes in legislation, such as the revision of Rwanda's inheritance law which now allows women to inherit land and property, Ndangiza said.
"Before 1994 women couldn't inherit property from their parents and this made it all very difficult for women," she said.
Despite such progress and a constitution which enshrines gender rights, challenges remain. For example, women were still under-represented in science, technology and business in general, Ndangiza said.
The country still struggles with gender-based violence. Two in five women reported being victims of physical violence at least once since the age of 15, a 2010 government survey found.
In education, there are challenges too. Although enrollment of boys and girls in primary and secondary school is roughly the same, ensuring that girls stay in school and go on to receive a higher education is difficult.
"Right now in Rwanda the focus is on empowering the girl child. Let her have the best education, prevent her from getting pregnant too early ... so she can thrive from a young age," Ndangiza said.
http://www.trust.org/item/20140408123258-12ipd/?source=hpeditorial
-------------
Biometrics for expat women 'mandatory'
April 09, 2014
The Passport Department will soon make it mandatory for expat women over 18 to record their biometric information if they want to travel, get new iqamas and final exit visas.
Women would have to register their biometric details at a local passport office, according to local media.
"This move is one phase of a plan that began years ago to record the biometrics of all expat men and women," said the report.
The department said on Tuesday it had begun recording the biometrics of expat women from March 21.
Maj. Gen. Sulaiman Al-Yahya, director general of the department, said the new measure would be implemented in phases. "The first phase is for women who apply for new iqamas and final exit visas," he said.
He said the system was optional for expat women previously. "We now want to make it mandatory to protect their rights and speed up services," he said.
http://www.arabnews.com/news/552466
-------------
URL: https://newageislam.com/islam-women-feminism/sheikha-latifa-al-fahad-says/d/66478