New Age Islam News Bureau
23 Jun 2019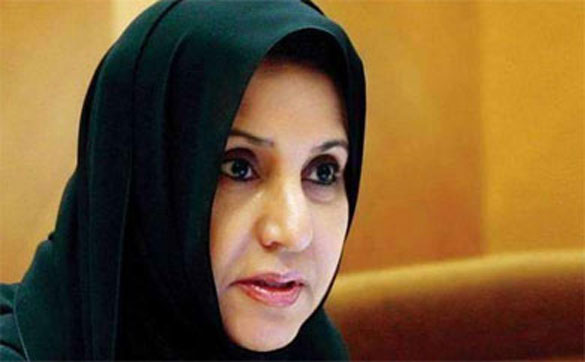 H.H. Sheikha Fatima bint Mubarak, Chairwoman of the General Women's Union, President of the Supreme Council for Motherhood and Childhood, and Supreme Chairwoman of the Family Development Foundation, has hailed the new UAE election rules issued under the Presidential Resolution No. (1) of 2019 towards raising women's representation in the Federal National Council (FNC) to 50 percent with effect from the upcoming legislative cycle
----
• Saudi Justice Ministry To Launch Women's Notary Departments
• Minister Highlights UAE Women's Strides in Cairo
• Behind The Wheel, A Year On: Saudi Women Savour New Freedom
• Dubai Women Establishment Reviews Past Projects, Future Plans
• A Social Activist Files Police Complaint Against UP Shia Waqf Board Chairman On Account Of Wife Harassment
• Saudi Writer Amina Al-Hasan Focuses On 'Reality of Women' Amid Social Change
Compiled by New Age Islam News Bureau
URL: https://www.newageislam.com/islam-women-feminism/sheikha-fatima-hails-new-election/d/118963
--------
Sheikha Fatima Hails New Election Rules To Raise Women's Parliamentary Representation Under Presidential Resolution
Umer Jamshaid
23rd June 2019
H.H. Sheikha Fatima bint Mubarak, Chairwoman of the General Women's Union, President of the Supreme Council for Motherhood and Childhood, and Supreme Chairwoman of the Family Development Foundation, has hailed the new UAE election rules issued under the Presidential Resolution No. (1) of 2019 towards raising women's representation in the Federal National Council (FNC) to 50 percent with effect from the upcoming legislative cycle
ABU DHABI, (UrduPoint / Pakistan Point News / WAM - 23rd Jun, 2019) H.H. Sheikha Fatima bint Mubarak, Chairwoman of the General Women's Union, President of the Supreme Council for Motherhood and Childhood, and Supreme Chairwoman of the Family Development Foundation, has hailed the new UAE election rules issued under the Presidential Resolution No. (1) of 2019 towards raising women's representation in the Federal National Council (FNC) to 50 percent with effect from the upcoming legislative cycle.
"The resolution re-affirms the significant support provided by the country's wise leadership to enhance women's empowerment across all fronts, with special emphasis on boosting their contribution to the UAE's political development journey in implementation of the National Strategy for Empowerment of Emirati Women, launched in 2015," said Mother of the Nation in remarks on the issuance of the new election rules.
"A significant milestone in UAE's political development journey, President His Highness Sheikh Khalifa bin Zayed Al Nahyan's resolution is aimed at advancing women's empowerment, boosting citizen engagement in public life, promoting principles of Shura and proactive participation and helping FNC connect with people's issues and concerns," H.H. Sheikha Fatima bint Mubarak added.
"The country's leadership has always been keen on empowering women across various fields, including the legal and diplomatic domains, in addition to enhancing their contribution to the country's foreign and economic representations in a way that will ultimately reflect positivel on women's contribution to serving their society, regionally and internationally," she concluded.
https://www.urdupoint.com/en/middle-east/sheikha-fatima-hails-new-election-rules-to-ra-651558.html
--------
Saudi Justice Ministry To Launch Women's Notary Departments
23 June 2019
Saudi Arabia's Ministry of Justice is seeking to recruit women notaries with the aim of facilitating judicial services for women and to expand their role in the Kingdom's governmental sector, Asharq Al-Awsat newspaper reported, citing informed sources.
The sources revealed that the Minister of Justice and Chairman of the Supreme Judicial Council, Dr. Waleed bin Mohammad al-Samaani, ordered the ministry to begin the necessary steps to launch women's notary departments in a number of cities across Saudi Arabia.
The Ministry of Justice has also began the recruitment of women as legal advisers, researchers, and legislators for the first time, and it aims to develop a women's public administration as part of the ministry's new structure.
Statistics issued by the ministry showed that during the last period, 70 women have been licensed to carry out the authentication work in the list of notaries, 155 legal licenses were issued for women last year, in addition to the employment of 240 Saudi women in different areas, including legal, technical and social.
In 2018, Saudi women began obtaining notarization licenses to work in private notary departments at the ministry of justice.
According to the ministry of justice, private notaries can issue and cancel powers of attorney (PoAs), and notarize corporate charters and property conveyances. Their private offices work in the mornings and evenings, seven days a week, using an integrated digital system.
Licensed private notaries totaled more than 13,000 in 2018, and the ministry of justice announced its plans to continue granting licenses while observing the quality of services provided.
https://english.alarabiya.net/en/features/2019/06/23/Saudi-justice-ministry-to-launch-women-s-notary-departments.html
--------
Minister highlights UAE women's strides in Cairo
June 23, 2019
Hessa Bint Essa Buhumaid, Minister of Community Development headed the UAE delegation in the ministerial meeting about Women Empowerment at the Organization of Islamic Cooperation (OIC) in Cairo, Egypt.
During the meeting, she stressed that women empowerment in their community is one of the main conditions that contributed to the achievement of sustainable development and gender equality, one of the important goals of sustainable development of 2030 plan in the United Arab Emirates. Strengthening the role of women and her leading position come through a true wise government that believes in women's entitlement to share leadership positions with men and the availability of legislations that allow women to empower leadership roles.
In her speech, she highlighted the successful experiences and initiatives of the United Arab Emirates in the empowerment of women in various fields, positions and leadership roles, beginning from the belief of the UAE wise leadership in women entitlement to occupy leadership positions without any restrictions. This was represented in the personality of the late Sheikh Zayed Bin Sultan Al Nahyan – may his soul rest in peace – and His Highness Sheikh Khalifa Bin Zayed Al Nahyan, UAE President, who strengthened women's participation in leadership positions at all fields. The Minister referred to another leading personality in the UAE i.e. Her Highness Sheikha Fatima Bint Mubarak, "Mother of the Nation", President of the General Women's Union, Supreme Chairperson of the Family Development Foundation and President of Supreme Council for Motherhood and Childhood, who strongly supported the empowerment of women and their leading and development role in the UAE.
Hessa Bint Essa Buhumaid noted the unlimited support of the "Mother of the Nation" and empowerment of women in all fields and her Highness establishment of the national strategy for the empowerment and leadership of women in the UAE 2015-2021 (empowerment, participation and leadership) to maintain the sustainability of women in all areas, to continue building the capacity of women to ensure the development of the country and enhance her leadership and responsibility to enhance the status of women in regional and international events.
She also mentioned that women in the UAE society presided in the Federal National Council, highest legislative authority in the UAE, with a participation rising till 22.5%. His Highness the UAE President also issued a decree to increase the participation of women in the Council starting of the next session to 50%, not forgetting that the percentage of women participation in the Cabinet has reached 29%, in decision making leadership positions up to 33%; government authorities management up to 15% while in the diplomatic corps up to 10%.
She added that the United Arab Emirates had created a legislative environment to provide women with excellent employment opportunities, as such, the participation of women in the public sector reached 66%, national workforce 25%, entrepreneurship 15%, and small and medium sized projects 30%. As for women's savings it amounted to Dhs50 million while the proportion of projects owned by women and their income exceeds $100,000 reaching 33%.
Hessa Bint Essa Buhumaid also mentioned the approval of the Cabinet in December 2018 in its exceptional session held at the headquarters of the General Women's Union and chaired by His Highness Sheikh Mohammed Bin Rashid Al Maktoum, Vice President, UAE Prime Minister and Ruler of Dubai, to announce new legislations, policies and national initiatives for Emirati women based on 3 pillars: legislations and policies, services, international representation, increasing the number of their representation in diplomatic corps, UAE missions and international organisations, increasing their participation in judicial work, develop the national policy on the entrepreneurship of Emirati women such as providing women with a licence for business leadership and entrepreneurship. They also included a study proposal about "Gender Policy and Gender Equality" to enhance gender equality worldwide in cooperation with the International Monetary Fund to establish the best international standards and practices, in addition, to raising the percentage of women ambassadors in the diplomatic corps and international representation, appointment of gender equality ambassadors in the United Nations.
https://www.gulftoday.ae/news/2019/06/22/minister-highlights-uae-womens-strides-in-cairo
--------
Behind The Wheel, A Year On: Saudi Women Savour New Freedom
June 23, 2019
QATIF, SAUDI ARABIA: Buckling up in a pearl-silver Lexus, Sabeeha al-Fakher takes the wheel and relegates her son to the passenger seat, a role reversal the 68-year-old Saudi widow never imagined would be possible in her lifetime.
Until June 24 last year, the act would have been considered a crime in Saudi Arabia, where hardliners have preached for decades that allowing women to drive would promote gender mixing and promiscuity.
Overturning the world's only ban on female drivers has potentially put thousands of women behind the wheel in the most visible symbol of the conservative kingdom's modernisation drive.
Among them is Fakher, a mother-of-five who never thought she would see the reform, which ushered in a newera of freedom and mobility for women.
"I still don't believe it," she said, zipping past younger drivers in her native eastern city of Qatif.
Her husband, who passed away a decade ago, secretly taught her how to drive during trips to neighbouring Bahrain in the 1990s, despite the risk of infuriating family patriarchs.
The reform has freed many Saudi women from their dependence on private chauffeurs and male relatives.
"We feel like (we were) in a cage before," said Munirah al-Sinani, a 72-year-old mother of four, driving in the nearby city of Dhahran with her husband in the passenger seat.
"Open the cage. We fly, we go wherever."
Arson attacks
The move was part of Crown Prince Mohammed bin Salman's much-trumpeted reform drive aimed at overhauling the conservative petro-state, long criticised over its treatment of women.
But as authorities detained several veteran women's rights campaigners in the weeks before the ban was lifted, it became clear that the reform drive would not include greater political freedoms.
However, with the kingdom tightening its purse strings amid low oil prices, their new-found mobility allows women to join a labour market chronically short of female workers.
Some three million women could receive licences and start driving by 2020, according to consultancy firm PwC.
Only a handful of driving schools for women have cropped up in Saudi cities, where applicants have rushed to learn to drive cars and even Harley-Davidson motorbikes -- scenes unimaginable until recently.
But in a society steeped in conservatism, many say they have endured sexism and aggression.
Social media is rife with memes of traffic pileups blamed on women drivers, along with condescending messages advising women to "avoid wearing makeup" while driving.
More alarmingly, arsonists "opposed to female drivers" torched a woman's car near the holy city of Mecca last July, Saudi media reported.
The woman had reportedly started driving to save money -- she had been spending much of her salary on hiring a driver.
Since then local media has reported at least five more arson attacks on women's cars in several cities.
Opposition from 'guardians'
Many women also face opposition from family members, in a country where women are often only as free as their "guardians" -- husbands, fathers and other male relatives -- allow.
Women need a guardian's permission to study, get married or even renew passports.
That is not the case for driving licenses, but it is unclear what legal recourse women have if guardians physically prevent them from taking the wheel.
Fakher recalled asking two conservative Qatif families: "Why are you stopping the girls?"
She was accused of "interference" and told that their fathers were hellbent on preventing their daughters from driving. The women appeared to have no say in the matter.
The crackdown on female activists that preceded the reform sparked a torrent of global criticism and cast a spotlight on the kingdom's human rights record.
The government put 11 women on trial this March amid claims that some were tortured and sexually harassed by interrogators. Saudi authorities deny the charge.
Most of the 11 were veterans of the campaign for the right to drive, including some who took part in the kingdom's first driving protest in 1990.
The women were charged with speaking to international journalists, diplomats, and human rights organisations.
Eight have since been temporarily released, but still face trial.
Observers said the crackdown aimed to send a clear signal that the state is the sole agent of change.
Still, many Saudis say decades of fearless activism played a role in ending the ban.
"They paved the way for us," said Fakher.
https://www.ndtv.com/world-news/behind-the-wheel-a-year-on-saudi-women-savour-new-freedom-2057793
--------
Dubai Women Establishment Reviews Past Projects, Future Plans
June 22, 2019
Dubai: Dubai Women Establishment (DWE) has reviewed its key projects and events, both recent and upcoming, during its second board meeting this year.
The meeting was led by Mona Al Merri, Chairperson of the Board and Managing Director of DWE. The board reviewed the most prominent achievements of DWE, Dubai Ladies Club, and The Cultural Office of Shaikha Manal Bint Mohammad Bin Rashid Al Maktoum during the first half of the year.
The meeting also discussed the key projects and events DWE is set to carry out in the future in line with its strategic plan 2017 – 2021.
The board of directors discussed the DWE's key upcoming projects and initiatives, in line with the directives of Shaikha Manal, who is president of Dubai Women Establishment and wife of Shaikh Mansour Bin Zayed Al Nahyan, Deputy Prime Minister of the UAE and Minister of Presidential Affairs.
During the meeting, held at Dubai Holding headquarters, Al Merri said the projects and unique initiatives to be carried out are a reflection of the DWE's partnership with various entities within the public and private sectors in the UAE.
Dubai Women Establishment
The board reviewed the preparations' plan for the upcoming Global Women's Forum Dubai.
The board also discussed the various projects DWE carried out in the first half of 2019. Among its efforts, DWE organised the sixth edition of its 'Leadership Skills from an Equestrian Perspective' training program, held in April in line with the Establishment's commitment to develop the skillsets of qualified female Emirati women.
The Cultural Office
The Cultural Office of Shaikha Manal Bint Mohammad Bin Rashid Al Maktoum's initiatives and achievements were also discussed, including the children's artist workshops held in various schools as part of the 'Art in Schools Initiative' under the Shaikha Manal Little Artists Programme.
Dubai Ladies Club
Dubai Ladies Club's sixth edition of the annual charitable exhibition 'Designs of Hope', launched under the patronage of Shaikha Manal, president of Dubai Ladies Club, was also reviewed during the meeting.
Proceeds of the sixth edition of the exhibition were dedicated towards Dubai Cares' 'Bookings 2030' campaign, which seeks to ensure inclusive and equitable quality education for all by the year 2030.
https://gulfnews.com/uae/dubai-women-establishment-reviews-past-projects-future-plans-1.64773276
--------
A Social Activist Files Police Complaint Against UP Shia Waqf Board Chairman On Account Of Wife Harassment
By Rasia Hashmi
Jun 22, 2019
Lucknow: A police complaint was registered against UP Shia Waqf Board chairman, Waseem Rizvi by a social activist on account of women harassment here on Tuesday.
The complainant, Farhat Naqvi, alleged that Rizvi routinely beats his wife and keeps her as a captive. She said she had been receiving information about his wife's condition over the past 2-3 months and finally decided to meet her.
"I went to the Shia Yateem Khana to meet his wife to seek her well-being but was instead confronted with 15-20 goons sent by Rizvi who abused, attacked, and threatened me. Later on the premises, he contacted me through his servant's phone and threatened to kill me", she told ANI.
Naqvi, president of Mera Haq foundation, now, also plans to register a complaint in National Commission for Women (NCW), UP state women commission, and also plans to take time from the Chief Minister to talk about the issue. "I hope that I get support from the authorities and UP Police takes action at the earliest," she added.
Waseem Rizvi, on the other hand, refuted the allegations made by Farhat Naqvi. He said, Maulana Kalbe Jawad, the shia muslim cleric, had conspired against him as he had supported a sexual assault accusation against Jawad.
"The woman (Farhat Naqvi) arrived at the Shia Yateem Khana and posed herself as a sister of Mukhtar Abbas Naqvi (Union minister for minority affairs) and chairman of UP commission for women. Upon being stopped, she and her companions assaulted and misbehaved with children of the orphanage. I will take this complaint to CM Yogi Adityanath," Rizvi said.
https://www.siasat.com/news/farhat-naqvi-files-police-complaint-against-waseem-rizvi-account-wife-harassment-1522222/
--------
Saudi Writer Amina Al-Hasan Focuses On 'Reality of Women' Amid Social Change
23/06/2019
RIYADH - After her first feature story "Sarir Yattasi'" ("An Accommodating Bed"), published in 2014 by Nova Plus, Saudi novelist and translator Amina al-Hasan translated to Arabic-American novelist Jim Shepard's "The Book of Aron."
In addition to these two publications, Hasan has written and published many articles and translated texts in blogs, websites and specialised webpages. She has participated in many cultural and literary events.
She is translating a collection of articles and letters by French philosopher Simone Weil and finished writing a short story she said she plans to publish this year.
Most of Hasan's stories revolve around women's concerns and women's struggles in conservative societies. Even in those stories with a male hero, events take place in a world that affects or is influenced by women.
"I'm interested first in the reality of women, both in my private and public environments, and in the struggles of man in modern times," Hasan said. "I sometimes like to search for imaginary and mythical worlds that make me write differently about life and people."
"I'm still at the beginning of my translation career," she said about how she selects works to translate. "I have chosen many literary articles and texts that I liked and translated and published them.
"On the whole, I like to translate literary essays that carry within their folds inspiring insights into literary works. I like also to translate cultural and intellectual books written in a literary style, such as articles and letters. I find it very enjoyable."
When asked about moving forward with translation from being an individual's occupation to becoming supported by governmental bodies or the private sector to cover costs of buying rights and of translation, she said institutions have a "great role" in helping coordination of translations, especially with rare or specialised works from various languages.
"However, from my point of view, these institutions may hamper translation work on the other hand, especially literary translation, if those institutions maintained strict controls and standards that creative work, in general, tends to bypass," she said.
Hasan stressed that translation is a fertile field and an important area that deserves the support of institutions and governments. Translation, she said, is hard and exhausting and translators need moral and scientific support, not just material support. She explained that the cultural act — story, novel, poetry, criticism and translation — was an influential part of political and social change in Saudi Arabia and because they cannot live in a society that is not part of them, Saudi women have gone through a lot of changes. This is why Saudi female writers try to express this reality in what they write.
"Creative and literary work is a vital part of the cultural formation of any country," said Hasan. "Literature deconstructs people's ideas and behaviour and the structure of societies. It injects a new consciousness in the minds of readers and must contribute to changing the course of their lives.
"When a person writes, he expresses everything he wants and what he does not want, what he has witnessed and what he imagines and wishes. He tries to paint a picture that can be translated concretely on the ground.
"When we return to Saudi novels written in the '70s and '80s of the previous century or shortly before that, we find that those novels were written either to record societal changes, their manifestations and their impact on people or to anticipate in writing the future of the society in the presence of factors of development. Therefore, I find that creative writing of all kinds flows into the river of pushing the wave of societies towards change and overcoming obstacles."
Hasan added: "Although all these changes in Saudi Arabia facilitated many things in women's lives, they cannot change the infrastructure of the society in the blink of an eye. We must go through the stage of conflict and the crisis of change and try to adapt to a whole new social phase. We, in Saudi Arabia, are several communities making up one large society. We still have some time ahead of us, which I hope will be short."
Hasan said the effects of the revivalist period of the 20th century in Saudi Arabia are still present and manifest themselves in social media. She, however, insisted that she does not wish to exclude any intellectual or social tendency but instead accepts the different, regardless of his or her choices.
"In fact, I do not see that we need the extinction of this radical stream or the other because what our society really needs is acceptance of the ideas of pluralism, difference and coexistence," she said. "There is no need for eliminating one current so that the other current can prosper. Each party has the right to live as it wishes without imposing one's opinion on the other.
"I find that the official positions of our wise government have facilitated the beginning of raising people's awareness within the community of the need to accept the different other," Hasan said.
https://thearabweekly.com/saudi-writer-amina-al-hasan-focuses-reality-women-amid-social-change
--------
URL: https://www.newageislam.com/islam-women-feminism/sheikha-fatima-hails-new-election/d/118963
New Age Islam, Islam Online, Islamic Website, African Muslim News, Arab World News, South Asia News, Indian Muslim News, World Muslim News, Women in Islam, Islamic Feminism, Arab Women, Women In Arab, Islamophobia in America, Muslim Women in West, Islam Women and Feminism