New Age Islam News Bureau
8 Jul 2016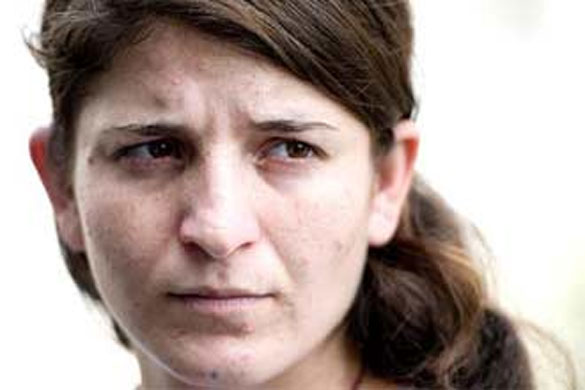 Photo: Jinan, 18, an Iraqi Yazidi, survivor of the IS jihadist group and co-writer of the book "Esclave de daesh" ("Daesh's Slave", using an Arabic acronym for the jihadist group) poses for a photo in Paris. (AFP file)
--------
• Female Jihadists Are 'The Glue' Holding the Islamic State Together
• Nearly Six Million Saudi Women 'Do Not Participate' In Workforce
• The Countries Where Muslim Women Can't Wear Veils
• Muslim Girls Fence against Islamophobia In The UK
• Law Favours Fathers in Islamic Countries
Compiled by New Age Islam News Bureau
URL: https://newageislam.com/islam,-women-and-feminism/new-age-islam-news-bureau/'she-will-be-sold-soon'--the-brutal-world-of-islamic state's-sex-slave-racket/d/107895
--------
'She will be sold soon': The brutal world of Islamic State's sex slave racket
Jul 06, 2016
The posting in Arabic is chilling. A girl for sale: "Virgin. Beautiful. 12 years old.... Her price has reached $12,500 and she will be sold soon."
The advertisement, along with others for kittens, tactical gear and weapons, appeared on an encrypted Telegram app and was shared with The Associated Press by an activist with Iraq's persecuted Yazidi community, which is trying to free an estimated 3,000 women and girls still held as sex slaves by IS extremists.
As the Islamic State group loses control of one city after another in its self-styled caliphate, it is tightening its grip on its captives, taking the Yazidis deeper into its territory and selling them as chattel on popular encrypted apps such as Telegram and WhatsApp, The Associated Press has found.
Read: Islamic State burns 19 Yazidi girls for refusing to be sex slaves: Report
The extremists are targeting smugglers who rescue captives for assassination and are deploying a slave database with captives' photos and owners' names to prevent escape through checkpoints.
Thousands of Kurdish-speaking Yazidis were taken prisoner and thousands more were massacred when IS fighters overran their northern Iraqi villages in August 2014. Since then, as the Yazidi captives have been conscripted into sexual slavery, smugglers have managed to free 2,554 women and girls. But by May, an IS crackdown reduced those numbers to just 39 in the last six weeks, according to figures provided by the Kurdistan regional government.
The AP has obtained a batch of 48 head shots of the captives, smuggled out by an escapee. The portraits appear to be the same as those used in a database to prevent the captives from slipping past checkpoints, or for barter and sale on popular apps.
Read: IS executes 250 women who refused to become sex slaves: Report
Mirza Danai, founder of the German-Iraqi aid organization Luftbrucke Irak, said the slave database documents the captives as if they were property.
"They register every slave, every person under their owner, and therefore if she escapes, every Daesh control or checkpoint, or security force - they know that this girl ... has escaped from this owner," said Danai, using a common acronym to refer to IS.
One of those girls is Lamiya Aji Bashar, who in March made her fifth attempt at escape, running to the border with IS fighters in pursuit. A land mine exploded, and two Yazidi girls who were accompanying her were killed. The bomb left Lamiya blind in her right eye, her face scarred by melted skin.
Speaking from a bed at her uncle's home in the northern Iraqi town of Baadre, the 18-year-told AP that despite being disfigured, she did not regret her perilous escape from her jailers.
"Even if I had lost both eyes, it would have been worth it," she said, "because I have survived them."
The Yazidis have been targeted by IS because they practice an ancient faith combining elements of Islam, Christianity and Zoroastrianism, and the Sunni extremists view them as infidels. The Yazidis' pre-war population in Iraq was estimated at 500,000. Their number today is unknown.
Read: 15 'rules' from Islamic State's fatwa on 'sex with female slaves'
US state department spokesperson John Kirby told the AP that the US continues "to be appalled by credible reports that Daesh is trafficking in human beings, and sex slavery in particular."
"This depravity not only speaks to the degree to which Daesh cheapens life and repudiates the Islamic faith, it also strengthens our resolve to defeat them," he said.
hindustantimes.com/world-news/islamic-state-tightens-grip-on-women-held-as-sex-slaves/story-GKRUQdsV4rffVvffCeLRdP.html
--
Female Jihadists Are 'The Glue' Holding the Islamic State Together
7 Jul 2016
In the wake of the Orlando and San Bernadino terrorist attacks, authorities are seeing a growing presence of female jihadis in the planning and execution of Islamic State plots.
According to the Independent UK, [women] "often escape detection as they play crucial but less visible 'behind the scenes' roles." The Independent also reported that "thousands of women are the 'glue holding the organisation together.'"
The wife of Omar Mateen, Noor Salman knew of his intent to commit the attacks. She allegedly helped scout target locations with Mateen to carry out his attack. She also went with him to buy the ammunition used in the attack.
The San Bernardino terrorists were a husband and wife team. The wife of Syed Farook, Tashfeen Malik, was reported to be more religious than her husband. Breitbart News reported that there is mounting evidence that she radicalized him. During the attack, she was shooting out of the back of their SUV as police were chasing them.
"'There is a 'very serious' possibility' that Malik did indeed radicalize her husband. Moreover, investigators also believe the couple had planned 'a second attack,' but were killed in a shootout with law enforcement before they carry it out," Breitbart News reported.
The role the wives have played in the latest terror attacks highlight the very important role that women are playing in terror groups around the world, especially the Islamic State.
According to a study conducted by Pedro Manrique, at the University of Miami used a specific computer system that looked at people's online profiles to identify people who fit the online profile of a terrorist. They were able to identify 24,883 men and 16,931 women who were potential terror suspects.
The study found that, "although men dominated the groups numerically, women have the most effective communications and link segments of the groups to increase cohesion."
Women have traditionally had minor roles in jihad. Islam is a patriarchal religion, and women in groups like al-Qaeda have traditionally not been considered members. Within the Islamic State, female jihadists have long been considered part of jihad but are typically expected only to bear children to populate the "caliphate." Increasingly, as this study shows, Islamic State terrorists are allowing women to participate in the planning and execution of attacks.
According to Pedro Manrique, "A crucial measure in covert networks is related to the capacity of a node (e.g. actor) to serve as a bridge for communications, a flow of resources or ideas, and brokerage."
breitbart.com/national-security/2016/07/07/women-glue-hold-terror-networks-together/
--
Nearly six million Saudi women 'do not participate' in workforce
Friday, 8 July 2016
More than 5.8 million Saudi women are not participating in the labor force, despite the fact that most of them are over 15 years old, according to the General Authority for Statistics' report for the second half of 2015, Al-Watan daily reported.
The report indicated that the number of Saudi women participating in the workforce in 2015 was 1.2 million compared to 4.4 million Saudi men. The gap is huge and should be reduced in order to achieve economic equilibrium and solve the unemployment problem, the report said.
The focus was on young men and women over 15 years old and over who were playing a participatory role in the labor force. The authority conducted a survey to measure the rate of participation in economy growth and unemployment in the second half of 2015.
Usually, it carries out the survey twice a year and it is planning to make this survey four times a year to get accurate figures about men and women participation in the workforce.
One of the Ministry of Labor and Social Development's initiatives within 2030 Vision is to reduce this gap in the labor force. The ministry will design policies targeting and developing the labor market and creating more job opportunities for both men and women equally. It will also enter into strategic partnerships with the private sector to increase women participation in the workforce and give them more chances to contribute to the development of the national economy.
The ministry recently introduced training programs of cell phone maintenance for women to encourage women to venture into the telecommunications sector and work as cell phone technicians.
english.alarabiya.net/en/business/economy/2016/07/08/Nearly-six-million-Saudi-women-do-not-participate-in-workforce-.html
--
The countries where Muslim women can't wear veils
Friday, 8 July 2016
For the first time in Switzerland's history, the country has enforced a ban on the full-face veil - which means women wearing a burka (full body covering with mesh over the eyes) or niqab (full body covering with a slit for the eyes) could face fines of almost 10,000 euros.
But it is not the only country to introduce such a controversial law. Here's where Muslim women stand on wearing the veil across the world...
France
France was the first European country to ban the burqa in public. It started in 2004, with a clampdown on students in state-run schools displaying any form of religious symbol. But in April 2011, the government went further by bringing in a total public ban on full-face veils. President Nicolas Sarkozy saying they were "not welcome" in France.
Women can be subjected to 150 euro fines and instructions in citizenship for breaking the ban. Anyone who forces a woman to cover her face risks a 30,000 euro fine.
Belgium
Belgium followed closely in France's footsteps by introducing its own ban on full-face veils in 2011. It outlaws any clothing that obscures people's faces in public places.
A woman caught wearing a veil can be jailed for up to seven days or forced to pay a 1378 euro fine. The government passed the law almost unanimously.
The Netherlands
Last year the Netherlands approved a partial ban on the full veil, meaning women cannot have their faces covered in schools, hospital and on public transport.
It doesn't completely outlaw the veil in public, but forbids it in "specific situations where it is essential for people to be seen" or for security reasons.
Italy
Italy does not have a national ban on the full-face veil, but in 2010, the town of Novara imposed restrictions – though there is currently no established fines system. In some parts of Italy, local authorities have banned 'burkinis' or full Islamic swimming costumes.
Spain
Several parts of Catalonia in Spain have laws against burkas and niqabs. In 2013, Spain's Supreme Court overturned the ban in some parts, ruling that it "limits religious freedom". But other areas have carried on - thanks to a 2014 ECHR (European Court of Human Rights) ruling that banning the veil does not breach human rights.
Chad
Women have been banned from wearing a full veil in Chad since two suicide bomb attacks in June 2015. The government banned it two days later. The prime minister Kalzeube Pahimi Deubet called it 'camouflage' and said all burqas seen on sale would be burnt. People could be arrested and sentenced to jail time for wearing them.
Cameroon
Cameroon followed suit a month after Chad by banning burkas following suicide bombings by people wearing veils. The ban is now active in five of the country's provinces.
Niger
The veil is banned in Diffa, a region that has been hit by Boko Haram, and the president suggested the hijab – or headscarf – could also be banned.
Congo-Brazzaville
The veil has been banned here since 2015 in public places to "prevent any attack of terrorism."
Turkey
Turkey has a predominantly Muslim population, but until 2013, there were rules banning women from wearing headscarves in the country's state institutions. Women can now wear theveil every where bar in the judiciary, military and police.
Switzerland
The the latest country to pass a ban on the full-face veil, though it only stands in the region of Tessin. The law came into force on July 1, 2016 and anyone caught wearing a veil can be fined up to 9,200 euros.
telegraph.co.uk/women/life/burka-bans-the-countries-where-muslim-women-cant-wear-veils/
--
Muslim girls fence against Islamophobia in the UK
Thu Jul 7, 2016.
London, United Kingdom – Under the bright lights of a northeast London school sports hall, a group of Muslim girls sit on wooden benches, awaiting the start of a class.
This would normally be a mandatory physical education session of netball or athletics, but today is different: the students will be learning fencing.
The girls look curiously at the protective masks and plastic replica swords carefully lined up on the ground.
Then the former Olympic fencer and instructor Linda Strachan blows her whistle and signals for the girls to assemble in front of the equipment.
"En garde," she shouts. The girls quickly grab their swords from the floor and get into attack position, ready to lunge forward. "I want you all to make sure you have a firm grip of your swords, and remember to ensure that when you step in front, your arms are at a stretch," Strachan tells them.
Once the beginners are talked through some basic moves, they are divided into pairs and attempt to perform the techniques they have learned on their partners.
"When I fence, I take a step forward to lunge at my opponent," 13-year-old Seher Chohan explains. "I also think that it is what you do in life. You step forward to get what you want."
Her classmate Sarah Saeed agrees. "I like fencing because it is different from all the other sports," she says. "It is more about your posture and how you look. It isn't as violent as all the other sports because it's more to do with your mind than your own physical strength. That's one thing I liked about it when we started off the lessons."
Challenging misperceptions
Chohan and Saeed belong to the more experienced group of fencers who have been practising their skills for a few months and now help out as mentors in the additional series of workshops, as part of the 'Muslim Girls Fence' project launched by the community-based NGO, Maslaha.
In collaboration with British Fencing and Sports England, the project has been successful in challenging the stereotypes of young Muslim women while at the same time changing perceptions of the activity, which is traditionally seen as a white-dominated, elite sport.
"A lot of people we have spoken to thought of fencing as an elite sport, mostly the forte of white men," says Maslaha's project manager, Latifa Akay.
"In simple terms, we are aiming to challenge misperceptions and raise aspirations among young Muslim women, in the light of the complex discrimination experienced by this group on the basis of both faith and gender."
READ MORE: Islamophobia surges amid a 'politics of fear'
During March, after the initial pilot scheme ended, Maslaha featured portraits of the girls in a special exhibition at the Southbank Centre for the Women of the World Festival in London.
The organisation also wanted to reach out to other young girls in schools across England, so the project expanded with more Muslim girls participating in taster sessions.
"It's refreshing when we do fencing because people don't expect it," Chohan says. "If Muslim girls are doing it, it shows that we can do anything because it's at the top of the list of things you wouldn't think a Muslim girl could do. Raising awareness about the issue and how many people have supported it really boosts your hope that the stereotypes will change. It's not going to be a picture-perfect world, but we can always aim to make it a better place and less oppressive and less judgemental."
'Islamophobia is pervasive and relentless'
Both girls say they were inspired by American sabre fencer Ibtihaj Muhammad, who became the first hijab-wearing Muslim woman to qualify for the United States Olympic team.
She had to overcome many hurdles, some of which the girls participating in the fencing workshops can relate to. Islamophobic abuse and attacks in the UK rose by 326 percent last year and in the majority of these incidents, Muslim women were the main targets, according to a report by monitoring organisation Tell MAMA (Measuring Anti-Muslim Attacks).
Some Muslim women and girls feel their confidence and self-esteem have been affected as a result.
"Islamophobia is pervasive and relentless," Akay explains. "In the face of new challenges we need to come up with new and radical responses that can make people think again, educate and give a platform to voices that are being silenced and ignored. Muslim women and girls are frequently spoken about as opposed to being spoken to. Challenging this means supporting groups and individuals who aren't being heard, building community resilience and, through this, educating and challenging discriminatory attitudes and practices on both a local and a policy level."
READ MORE: Bake-offs, hijabs and attacks against Muslim women
Both Chohan and Saeed say they have experienced or witnessed Islamophobia. They recall one friend being verbally abused for wearing a headscarf.
"A nun is allowed to wear a headdress and not be called oppressed because she is devoting her life to Christianity, but as soon as a Muslim woman wears a headscarf, suddenly it's called oppression and racists say these women are being forced to do things, but people forget it's their own choice," Saeed says. "We are free to do what we want. We are not forced to cover our hair. It's my choice. People need to learn to zoom out of what social media zooms into, see the bigger picture, open their eyes and look at what's actually happening, not just what the right-wing media shows you."
Both teenagers laugh and joke as they help each other into their protective vests, in preparation for the next group of girls who will be participating in the workshop. Raising their swords and getting into position, they are keen to show off their skills.
Maslaha organisers aim eventually to arrange fencing classes throughout the UK.
"A lot of the girls spoke about how fencing made them feel more confident, how it had been uplifting to be part of a journey and be immersed in a new activity," Akay says. "While some of the girls got a lot from the fencing and are keen to continue in the sport, others really enjoyed the opportunity to discuss their identities as Muslim girls, think about tackling stereotypes and have the opportunity to articulate this on their own terms to national and international audiences."
Before starting the next class, Chohan removes her helmet. "One last thing I wanted to say," she smiles. "I'm going to keep fencing and I'm going to make a difference."
mo4ch.com/muslim-girls-fence-against-islamophobia-in-the-uk/
--
Law favours fathers in Islamic countries
Thu Jul 7, 2016.
BRISBANE woman Sally Faulkner, custodial parent and mother of two children to a Lebanese Muslim husband who illegally took the children to Lebanon, is to be charged by the Lebanese court system, with attempting to kidnap them off the streets of Lebanon with the 60 Minutes, 9 News team.
He gets no repercussions either here or abroad. He dictates the terms.
The system in Australia has no standing in Lebanon, where the rights of men over the rights of women in custody cases, are written into a religion which discriminates, regardless of Australian law.
Muslim men are empowered by a religion which controls the state.
Religion and state are inseparable. In Australia, custody of small children is at the discretion of family law courts.
In her case, she was awarded custody. It is similar to the Malaysian ruling in the custody case of the two Gillespie children, who were never returned to their mother, but kidnapped by their Muslim father from Australia.
This is a religion which denies women and children protection from a cruel and barbaric ancient culture.
It ensures the rights of men are always pre-eminent. It sanctions the denigration of women by men.
It has the blessing of imams and cultural icons, allowing the vulnerable to be at the mercy and under the control of men, without rights or protection.
It condones Sharia Law and allows men the freedom to roam, in western clothing, while denying women the right to live without coverings and outside home without a male.
There is no moderate Islam religion.
Sharia Law is the universal ideal which Islam promotes across the globe.
Nations and terror groups under Islamic leadership enforce it, some pedantically, as we see with ISIS. No amount of negotiation by reasonable western foreign ministers, will bring those children home to their mother here.
qt.com.au/news/letter-law-favours-fathers-in-islamic-countries/3058171/
URL: https://newageislam.com/islam,-women-and-feminism/new-age-islam-news-bureau/'she-will-be-sold-soon'--the-brutal-world-of-islamic state's-sex-slave-racket/d/107895
New Age Islam, Islam Online, Islamic Website, African Muslim News, Arab World News, South Asia News, Indian Muslim News, World Muslim News, Womens in Islam, Islamic Feminism, Arab Women, Womens In Arab, Islamphobia in America, Muslim Women in West, Islam Women and Feminism