New Age Islam News Bureau
4 Jul 2015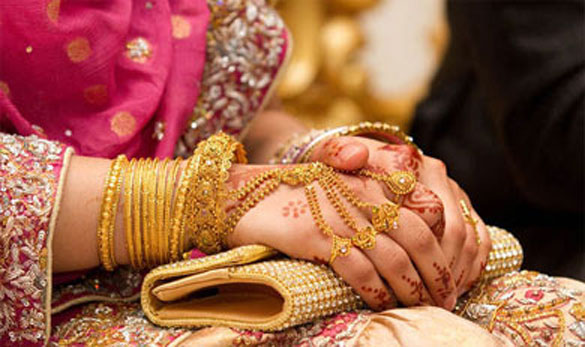 Sharia marriages leave women exposed to abuse and cheating husbands
----------
• Women Will Follow Dress Code in Imambaras: Indian Shia Cleric
• Acid Sprayed On Faces of Three Schoolgirls in Herat
• Tension in Panchmahals after Muslim Youth, Hindu Girl 'Elope' in Gujarat
• Aseefa Zardari Visits Home of Abandoned Children
• Another Girl Sprinkled With Acid in Pakistan
• A Saudi Woman and Her Three Children Join ISIS
• 40pc Girls in Bangladesh Skip Schools during Menstruation
• Malnutrition Brings Noma Disease to Poor Niger Kids
Compiled by New Age Islam News Bureau
URL: https://www.newageislam.com/islam,-women-and-feminism/new-age-islam-news-bureau/sharia-weddings-in-uk-leave-muslim-women-exposed-to-abuse-and-cheating-husbands/d/103767
----------
Sharia Weddings in UK Leave Muslim Women Exposed To Abuse and Cheating Husbands
Jul 3, 2015
The massive figure highlights a worrying trend of young British Muslim couples opting for such arrangements - which are NOT recognised under British law - and leave men with the polygamous option of having up to four 'wives'.
Sham ceremonies which are not legally recognized can leave vulnerable women oppressed, with no rights to a fair share of assets if the relationship ends. Under the strictures of Sharia law many others are forced by their communities to return to abusive and sometimes violent husbands.
A leading lawyer dealing with Sharia cases said a "huge rise" in such ceremonies among the 2.7million-strong British Muslim population was behind the growth of "secret polygamy."
Aina Khan told The Times: "Probably a quarter of all couples I see involve polygamy issues.
"There has been a huge rise in recent years because people can have a secret Nikah [Islamic marriage] and no one will know about it."
She estimated that were "potentially 100,000 Muslims" without legal recognition.
Couples hoping to find a way around no sex before marriage or have a fear of British family courts, which presume assets should be split equally in the event of a divorce, often turn to Sharia marriage.
A growth of parallel marriage could also be driven by Muslims aged below 30, who were becoming more religious, she said.
The stark figures come amid fears that parts of the British Muslim community are being targeted by Islamic State (ISIS) recruiters who promote a strict adherence to Sharia law.
Ms May said there was evidence to suggest divorced wives had been left "in penury" or forced to suffer "abusive relationships".
But Amra Bone, Britain's first Islamic judge on a Sharia Council, denied its courts discriminated against women.
And instead claimed Sharia council's were there to help women out of "failed marriages".
Mrs Bone said: "We apply Sharia principles within the law of the land. We are a voluntary body and can't make orders - we just advise.
"People don't want us to be judgmental."
She also denied that Muslim men 'marry' up to four wives.
Mrs Bone added: "Most men will tell you, 'I cant look after one wife, never mind more than one'.
"But we cannot - and the Government cannot - ask Muslims not to have more than one wife. People have a right to decide for themselves."
http://www.express.co.uk/news/uk/588637/Sharia-marriage-law-Muslim-men-women-cheating-husbands
----------
Women Will Follow Dress Code in Imambaras: Indian Shia Cleric
TNN | Jul 4, 2015
LUCKNOW: Shia cleric Maulana Kalbe Jawad on Friday said the district administration had assured him that women tourists would follow a strict dress code when visiting the Imambaras. The district administration, however, maintained strict silence over the issue.
After Friday prayers at Asafi Masjid in Bada Imambara, Jawad informed the gathering of his meeting with the district administration on Thursday. He said he had received a letter from the administration stating that the memorandum of their demand for a CBI investigation into alleged corruption in the Shia Waqf Board, had been forwarded to the state government. The letter, according to Jawad, also assured him that tourists would adhere to the community's demands of maintaining religious sanctity of the Nawabi monuments.
"The administration has also verbally assured us that women tourists will be made to wear a headscarf and follow strict dress code inside the shrines. There should not be half-naked women in the Imambara complex. This goes against our Shari'a," said Jawad.
He added that young members of the Shia community, under the banner of various Anjumans, would soon be educating tourists at religious monuments about their religious demands and sentiments.
Jawad said the administration had also agreed to put up boards asking tourists to follow decorum within the religious monuments. CCTV cameras will also be installed at several places for this purpose.
The administration agreed to discussing the CBI probe but remained tight-lipped on the issue of implementing a dress code for tourists. "CCTV cameras will be put up to check any nuisance or uncalled for activities. Boards asking tourists not to indulge in activities that undermine the religious and cultural sanctity of the imambaras will also be displayed. I cannot specifically comment on the dress code issue and neither can that be specifically mentioned on the boards," said Srihari Pratap Shahi, ADM west.
As of now, guides at Imambaras have been handing out loose cotton stoles and asking women tourists to cover their heads before they enter the main halls.
http://timesofindia.indiatimes.com/city/lucknow/Women-will-follow-dress-code-in-imambaras-Jawad/articleshow/47931637.cms
----------
Acid Sprayed On Faces Of Three Schoolgirls In Herat
By ZABIHULLAH MOOSAKHAIL - Sat Jul 04 2015
Unidentified miscreants have sprayed acid on faces of three schoolgirls in western Herat province.
General Abdul Majid Rozi the police commander of Herat province said that the incident took place near a high school in Herat city this morning.
He said that the attackers were riding on a motorcycle and escaped the scene after spraying acid on the faces of these schoolgirls.
Rozi added that an investigation has been inetiated into the incident.
Aziz Rahman the acting director of the directorate of education in Herat province says that the girls were heading towards their school when they came under the attack of unidentified men.
The victims have been taken to Herat Regional Hospital for treatment.
http://www.khaama.com/acid-sprayed-on-faces-of-three-school-girls-in-herat-3599
----
Tension In Panchmahals After Muslim Youth, Hindu Girl 'Elope' in Gujarat
July 4, 2015
Goghamba taluka of the Panchmahals district in Vadodara was tense Friday. The local traders downed shutters after protests over an alleged case of "love jihad" following a reported elopement of Mohammad Shahid Hussain Shaikh (20), with an 18-year-old girl from the Ghot Faliya in the locality. In the complaint filed by the girl's father accusing the man of abduction, the girl too is named an accused for theft of Rs 45,000 and family gold worth Rs 38,000.
Local traders, accompanied by residents and former BJP MLA Fatehsinh Chauhan took out a protest rally carrying banners saying, "Those eyeing Hindu sisters and daughters, stop or else…" and handed over a memorandum to the police. According to the police, the tension began on Thursday evening, hours after two allegedly eloped. The girl's father, a local barber approached the police and filed a case of abduction with the police. Locals urged the police to locate the couple, failing which, they would take to the streets.
On Friday, as the couple remained untraceable, the local traders joined by Chavan downed shutters demanding action. When contacted, the girl's father said, "It is completely untrue that my daughter is in love with that boy (Shahid). He has enticed and brainwashed her to elope with him. The two of them entered the house on Thursday and robbed the gold and money before he took her away on his motorcycle. I want her back to show her the real face of this man. Even he forcibly marries her, it would be an illegal marriage as both are not of marriageable age." The complainant said he had warned his daughter to break ties with Shahid as he was "not a suitable boy".
PSI SS Variya said, "We are not probing any love jihad case but the complaint of abduction of the girl as alleged by her father. Only when we record the statement of the girl will we be able to tell if she was forced to commit theft before being kidnapped."
http://indianexpress.com/article/cities/ahmedabad/tension-in-panchmahals-after-muslim-youth-hindu-girl-elope/
----------
Aseefa Zardari Visits Home of Abandoned Children
July 4, 2015
KARACHI: Aseefa Bhutto Zardari, youngest daughter of former prime minister Benazir Bhutto and Pakistan Peoples Party co-chairman Asif Ali Zardari, on Friday paid a visit to SOS Children's Village — home of abandoned, destitute and orphan children — which is run by a non-governmental and development organisation, said a statement.
"During her visit to the SOS Children's Village in Malir, Aseefa Bhutto announced that all needs of the children living in the village will be provided from her own pocket," said the statement issued by Bilawal House.
"Aseefa Bhutto Zardari mingled with the children and shared her feelings with them and distributed gifts among them. She also inquired from the management of SOS Children's Village about their requirements."
http://www.dawn.com/news/1192210/aseefa-visits-home-of-abandoned-children
----------
Another Girl Sprinkled With Acid in Pakistan
July 04, 2015
SIALKOT
Some unknown persons threw acid on a married woman over an old enmity in village Jethikey, Sambrial Tehsil on Friday.
Sharjeela Kausar, wife of Arshad Mehmood, was going to a shop to buy some daily used commodities, when some accused riding on a motorcycle threw acid on her face and other body parts and fled away. She received burn wounds and was admitted to Sambrial THQ Hospital in critical condition. The grieved family said that the reason behind the incident might be an old enmity as the acid-throwers might be belonging to their rival group. Sambrial police have started investigation with no arrest or clue.
It was the second incident of acid throwing occurred in Sialkot district during the last week. Sambrial based Awais Aslam had thrown acid on the face of village Ballaanwala-Sambrial based girl Mah Noor Ishtiaq upon her refusal to marry him. He threw acid on her face when she was coming out of a private college on Maha raja Road Sialkot after attending the class.
The condition of the victim was stated to be very critical at Mayo Hospital Lahore. Police have started investigation with no arrest, despite the passage of a week to the nasty incident. The victim and her grieved family have urged Punjab Chief Minister Shahbaz Sharif to ensure early arrest of the accused besides providing justice to them.
http://nation.com.pk/national/04-Jul-2015/another-girl-sprinkled-with-acid
----------
A Saudi woman and her three children join ISIS
July 4, 2015
ERBIL, Kurdistan Region- A divorced woman with her three children flew through the Turkish International Airport and joined the Islamic State (ISIS) in Syria, reported by Hayat newspaper on Thursday 2nd of July.
The name of the woman was not revealed, but the report indicated that she was 40 years old and worked as a teacher in one of the villages in Sajir province, northeastern of Riyad, according to Hayat newspaper.
Her story of joining ISIS fighters began when she visited Mecca with her parents and her three children at the beginning of the holy month of Ramadan to carry out Hajj. She left the hotel with her three children and told her mother that she would be back soon. That was the last time she was seen by her family. She later sent her mother a message saying she and other women were heading towards the lands of the Islamic Caliphate.
According to the security sources and Hayat Newspaper, the security forces attempted to arrest her and her three children, whose ages are between 6 to12, but they were able to escape towards Turkey.
The sources added, the woman used to talk about Jihad and supported the idea of suicide attack.
http://rudaw.net/english/middleeast/04072015
----------
DB impersonators, female con artists arrested
Kamrul Hasan
july 4, 2015
RAB forces have arrested four DB police impersonators and two of their female associates from the capital in connection with a blackmailing racket allegedly being run by the gang.
The police had intelligence that the group used its two female members to seduce other men before abducting the targets or blackmailing them with sensitive photos – all while posing as Detective Branch officials.
Based on the information, a team led by RAB 1 SP (city and transport) Mohammad Sumon Jahid Lovel arrested two of the men – gang leader Md Khairul Alom Prokash alias Rabiul, 42, and Md Pannu Miah, 35 – from Majibor Market of West Faidabad area in Dakkhinkhan on Thursday night.
The two arrestees later disclosed information that led to the arrests of the other four: Md Saiful Islam Niloy, 25, Md Khairul Islam Monir, 32, Shamima Akhter Trishna, 27, and Umme Tasnin, 19. They were held from near the Uttara Girls High School in Uttara 6.
From their possession, the RAB team recovered one handcuff, three police ID cards, nine mobile phones, a camera used for blackmailing victims, and Tk22,450 in blackmail money that was extracted from the victims.
Among the arrestees, Niloy and Tasnin, as well as Trishna and Monir are married. Trishna was reportedly forced into the marriage after being brought to Dhaka by Pannu under false promises of a job.
The gang selected their targets by collecting phone numbers of different men from tea stalls, or public transports or from their offices. Later Trishna or Tasnin used to call the numbers and establish a relationship with them.
The two women eventually seduced the men into having intimate relations with them, while secretly photos were taken of those encounters so that the targets could be blackmailed later. In some cases, the victims were held captive by the gang members.
The arrestees also allegedly posed themselves as police officials to extort several people in Dhaka.
RAB 1 Commanding Officer Tuhin Mohammad Masud said they will be handed over to Uttara East police station for further action.
http://www.dhakatribune.com/crime/2015/jul/04/db-impersonators-female-con-artists-arrested
----------
40pc Girls in Bangladesh Skip Schools during Menstruation
July 04, 2015
Over 40 percent girls skip school for three days each month on average during menstruation due to poor toilet facilities, according to a icddr,b study.
It also found that menstrual hygiene is a serious challenge for girls in Bangladesh due to lack of general education on the issue.
Researchers from icddr,b's Centre for Communicable Diseases in association with the Policy Support Unit of Local Government Division conducted the study with support from WaterAid Bangladesh.
The survey also found that up to 45 percent of school toilets are currently locked, accelerating hygiene problems during menstruation, according to an icddr,b web post.
Acknowledging and endorsing good menstrual hygiene practices for girls, the government has already released an official statement recommending better school toilets.
The statement urges relevant officials, school committees and teachers to work together and build separate toilet facilities for female students, improve toilet facilities to include soap, water and waste bin. It also mentions appointing teachers to educate female students on menstruation.
Mahbub Ul Alam, a research investigator at icddr,b, said the government's commitment and recommendations were significant because it signalled a shift in the perception of menstrual hygiene.
The statement, which has been distributed to all district and sub-district level education officers, could prompt teachers, even in resource-poor and conservative settings, to unlock currently unused toilets in order to provide separate facilities for girls.
"Most menstrual hygiene management issues are also related to perception as girls do not want to dry their menstrual clothes in the open, or clean and store them properly because they think it is shameful. There is a clear relationship between school absences, lack of facilities and perception," said Alam.
The survey was led by Dr Leanne Unicomb, former head of icddr,b's Water, Sanitation and Hygiene Research group; and Dr Steve Luby, a professor of medicine and director of research, Stanford University.
http://www.thedailystar.net/city/40pc-girls-skip-schools-during-menstruation-107320
----------
Malnutrition brings Noma disease to poor Niger kids
Jul 4, 2015
Severe malnutrition in Niger continues paving the way for Noma disease to claim more victims among poverty-stricken children, most of whom feel socially outcast as they see the polymicrobial infection eating away their faces.
Noma, which thrives on malnutrition, is a ravaging gangrenous infection affecting the face. The victims are mainly children under the age of 6 who suffer from hunger and poverty.
"The problem is that this is a very fast-acting disease," said nurse Fati Badamasi, with the Switzeland-based charity group Sentinelles operating in Niger, adding, "The necrosis takes hold in 72 hours. If the patient comes to us with a blackish patch (on the face) it's already too late."
Sentinelles highlights the case of Mourdja, a girl who had her face ravaged by the infection, which began by making her inflamed gums bleed. Just three days later, rapid tissue damage stole her beauty -- along with her childhood.
"Noma is caused by malnutrition and a lack of hygiene. It is a disease born of poverty. Well, in Niger there is plenty of poverty," Badamasi added.
Ali Adah, who oversees the Sentinelles' work in Niger, said noma "smells of decay, like a corpse."
"When I come to the office and we have a new case, I smell it straight away," he said.
A child with Noma disease cries in May 26, 2015 in the health center of the NGO Sentinelles in Zinder, southern Niger. AFP photo
Niger is prone to food crises. The country holds the lowest place on the comprehensive Human Development Index drawn up each year by the United Nations Development Program (UNDP).
According to the UN, malnutrition in Niger is largely caused by the absence of essential nutrients for children, weakening the immune system against ordinary childhood illnesses.
Between 4,000 and 6,000 infants die of malnutrition each year in the country, the UN announced earlier this year.
Many African and South American nations are grappling with a significant number of infection cases, but Niger accounts for a large part of the 140,000 to 180,000 victims every year worldwide, according to the UN World Health Organization.
http://www.presstv.in/Detail/2015/07/04/418683/Swiss-NGO-Sentinelles-Noma-malnutrition-disease-Niger
----------
URL: https://www.newageislam.com/islam,-women-and-feminism/new-age-islam-news-bureau/sharia-weddings-in-uk-leave-muslim-women-exposed-to-abuse-and-cheating-husbands/d/103767