New Age Islam News Bureau
4 Jul 2012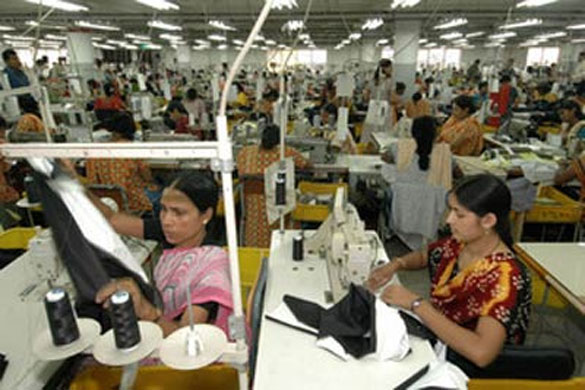 • Bangladeshi Women Flourish, With Girls' Education a Top Priority
• Peer Pressure Compels Teens, Women in Pakistan for Cosmetic Surgery
• Sexual Safety Remains Elusive In Cairo for Women Journalists
• Burqa Robber in Violent Jewel Heist
• Still Fighting From Behind Bars for Helping an Imprisoned Muslim Cleric as a Defence Attorney
• 4 women killed in grenade attack in Khyber Agency
• Woman NGO Worker Shot Dead In Restive Khyber Tribal Region
• Women to Bring Peace and Security to the Middle East North Africa Region
• Turkey's Islamic Govt Passes Law to Reduce Caesareans, Plans To Curb Abortions
• Egyptian Women Worry about Rights under New Islamist President
• Teen French Call Girl to a Recognised Figure in the Fashion Industry
• Iranian-Born Israeli Music Icon Records Farsi Album in Outreach to Enemy Iran
• Love-Struck Runaway Girl Traced To Fujairah Hotel
Compiled by New Age Islam News Bureau
Photo: Bangladeshi Women Flourish, With Girls' Education a Top Priority
URL: https://newageislam.com/islam-women-feminism/sharia-friendly-swimwear-hits-indonesia/d/7819
----------
Sharia-Friendly Swimwear Hits Indonesia's Mainstream
By Yamko Rambe
May 23, 2012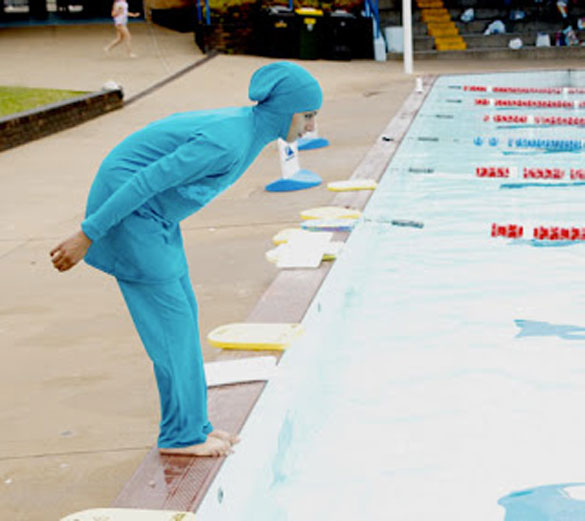 In Indonesia, halal swimwear helps Muslim women venture into the water while professing their commitment to Islamic traditions. Increasingly, the modest attire has grabbed the attention of non-Muslim women.
Despite being a Muslim-majority country, Indonesia has no women-only swimming pools where a hijab-wearing Muslima can cool off or exercise. The situation has created an opportunity for local designers to produce swimwear specifically for Muslim women.
Dian Yasmina Fajri was once fished out of a public swimming pool by the lifeguard who considered her swimwear inappropriate. Failing to find suitable swimwear that complies with her commitment to wearing a hijab, Fajri began designing one for personal use.
"I enjoy swimming, but I couldn't find (appropriate) swimwear. Wearing other things than swimwear is forbidden in public pools, so finally I designed a new kind of Muslim swimwear which covers the entire body except the face and hands. This design balances between modesty, safety and comfort. This design also corresponds to Islamic guidelines," she told Khabar Southeast Asia.
Islam encourages believers to maintain health and physical fitness through athletic activities. However, under Sharia, Muslims are required to cover up their awrats -- parts of the body considered intimate that can only be shown to one's spouse or relatives/friends of the same sex.
"Many were interested with the swimwear I was wearing. Since then I received orders from individuals who wish to use similar swimwear. In 2004, I received 30 orders per month," Fajri said.
She named her swimwear line after one of her children, Kanz, which means treasure in Arabic.
The origin of halal swimwear is uncertain, but in Indonesia, it's been à la mode since 2004. Many shop owners and entrepreneurs consider it a new fashion.
In Tanah Abang – a Jakarta district which hosts Southeast Asia's largest textile market – individual buyers and resellers flock to purchase all fashion-related items imaginable, from sewing supplies and fabrics to ready–to-wear clothing in bulk.
"At present, demand for my swimwear has reached 300 to 400 pieces per month. My resellers in Tanah Abang have also begun to produce swimwear themselves to cover the increased demand," Dian said.
Muslim swimwear is popular not only among Indonesian Muslims, but also non-Muslims and foreigners. And modesty is not its only virtue.
Irmalia Septiana, a student at the State Islamic University of Jakarta, said that halal swimwear provides freedom of movement and sun protection as well.
"Muslima swimwear is the solution for me to do my activities freely. As a Muslim, I duly cover my awrats; covering them is a part of my identity as a Muslim. I began wearing the Muslim swimwear in the first semester of my freshman year. At first, I felt that the main benefit of the long sleeves swimwear was to cover nearly my entire body from the sun and protect me from getting uneven sunburn," Septiana said.
Fajri said the clientele for her swimwear is diverse, and that she increasingly takes orders from non-Muslims.
"Before, my clients are those who committed to wearing hijabs, but now there are also integral swimwear orders from non-Muslims. I have clients who are Balinese, Hindu and Chinese Indonesians, those who love to swim but don't want to get sun-baked," said Fajri who now accepts orders from social networks such as Facebook. "I dream that one day the Miss Universe pageant contestant from Indonesia, who usually suffers public taunting, would wear Kanz integral swimwear instead of a bikini," she said.
Meanwhile, there are signs that Muslim swimwear is going international. In 2007, the Ahiida label, founded by Lebanese-Australian Aheda Zanetti, coined and patented the word "Burqini", a portmanteau of burqa and bikini to define the full-coverage swimwear they produce.
Carmen Pai Daschke, an American Muslim, recalls wearing leggings and a big prayer dress over a T-shirt to swim when she taught English in Morocco – an outfit allowed in Moroccan public pools, though not in Indonesian ones.
Exercise is important for Islamic women, Carmen, a professor of religion in the US city of Atlanta, told Khabar via Facebook.
"In Islam, we (women) are told that we must learn to swim, ride a horse, and use a bow and arrow. So for me, swimming is important," she told Khabar.
http://khabarsoutheastasia.com/en_GB/articles/apwi/articles/features/2012/05/23/feature
----------
Bangladeshi Women Flourish, With Girls' Education a Top Priority
By Shahriar Sharif
July 04, 2012
From Himalayan heights to the garment factory floor, women forge trailblazing paths for the nation and the region.
Two months ago, Nishat Majumdar and Wasfia Nazreen weren't well known in their native Bangladesh.
Then, in May, a week apart, the two became the first Bangladeshi women to climb Nepal's Mount Everest.
Now, both are household names, the latest in a succession of extraordinary women in this conservative majority-Muslim country. Prime Minister Sheikh Hasina held a June 21st reception for them, proudly declaring they have demonstrated what Bangladeshi women are capable of.
"Their courage and determination will inspire the future generations and they will be confident enough to tackle every hurdle in the nation's march forward," Hasina said. "Our women will continue to soar higher and higher."
They have, indeed. In the 41 years since Bangladesh became independent, women have made remarkable progress in the social, economic and political fields – laudable feats for a conservative Muslim-majority country where traditionally women are encouraged to stay home.
For the past 20 years, Bangladesh has been led by two women who alternated in the post of Prime Minister – Khaleda Zia of the Bangladesh Nationalist Party (BNP) and Hasina of the Bangladesh Awami League (AL) – except for late 2006 to late 2008, when a caretaker government was in place. As heads of the nation's two largest parties, both dominate the political scene.
At present, the cabinet has five women holding important portfolios in foreign affairs and the home and agriculture ministries. The women of Bangladesh are notably present among the civil service, police, judiciary and corporate sectors.
"This is a clear example of waning influence of religious fundamentalism in the country and the growing strength of women," women's rights activist Rasheda K Chowdhury told Khabar South Asia. She also heads the Campaign for Popular Education, a common platform of education-related non-governmental organisations (NGOs).
Chowdhury attributes the growing empowerment of women to a national emphasis on girls' education. For 30 years Bangladesh has invested heavily in this area, making education free for girls up to Grade 10 and providing them with generous stipends.
One other area where women dominate is in the country's largest manufacturing industry – the garment sector – where they account for 90% of the workforce, bringing in 80% of Bangladesh's total export earnings of $23 billion.
These days, in Bangladeshi streets, bazaars and shopping malls, burkha-clad women are not seen very often. Every morning and evening, a vast army of young women can be seen walking back and forth to the garment factories unescorted by male relatives –a sight unthinkable even just 30 years ago.
The world famous microfinance institution, the Grameen Bank, is another shining example of women's advancement. Grameen, where women account for 90% of borrowers, is a role model for many countries of how women can be empowered through small loans.
Taslima Begum, a Grameen borrower and board member, represented the Bank and received the Nobel Peace prize in 2006 in Oslo along with its founder Muhammad Yunus, catapulting the obscure Bangladeshi woman to the global stage.
Further boosting female advancement is the phenomenal growth of women teachers in primary schools, especially in rural areas.
"Women now make up nearly 60% of primary teachers in the country," said Abdul Awal, former secretary of the Ministry of Primary and Mass Education.
Their numbers are also increasing at the secondary level, where they currently hold 30% of positions. According to Awal, some recent government measures, like reserving a quota for them, will see the number of women teachers rise in coming years.
"Bangladesh is clearly ahead of other countries in the region, especially India, Pakistan and Nepal, in women empowerment," said Salma Ali, president of Bangladesh Women Lawyers Association.
Her observation found traction in research done by Amartya Sen, the Nobel-prize-winning Indian economist.
At a January seminar in Dhaka, Sen said Bangladesh today commands global respect as a success story of brightening socio-economic indicators, compared to other South Asian nations.
The education and empowerment of women, especially their participation in the garment sector and microcredit based self-employment projects, have impacted enormously the lives of millions in Bangladesh. Children have been the greatest beneficiary of the mother's income, he told the seminar.
Shirin Sharmin Chowdhury, state Minister for Women Affairs, told Khabar considerable progress has been made, but more must be done.
"Think of the situation just 25 years ago when female workforce participation amounted only to telephone operators or personal assistants," she said. "But we need to do more and that's a priority of our government."
http://khabarsoutheastasia.com/en_GB/articles/apwi/articles/features/2012/07/04/feature
----------
Peer Pressure Compels Teens, Women in Pakistan for Cosmetic Surgery
4 July 2012
ISLAMABAD: The demand for cosmetic surgeries is so high in the country, including the twin cities of Rawalpindi and Islamabad, that the business is thriving and surgeons are getting inquiries not just from metros but from small cities as well. This blooming trend, especially among 13- to 19-year-olds, is so common that one noted reconstructive and cosmetic specialist says plastic surgery for teens "is becoming mainstream".
Cosmetic laser skin care specialist Dr Ikramullah Khan told APP that people are going for cosmetic surgery not just to improve their looks, but also to help enhance their self esteem. "Many teenagers as well as women inquire about cosmetic surgery and out of them most want a nose job, liposuction or scar removal treatments. The trend has increased over the past few years because of peer pressure and also an inherent desire to look good."
Citing the reason behind this trend, the cosmetic surgeon said, "It is in their teen years that young boys and girls start noticing themselves and the process of comparison among the peer group starts. It is hard to find teens who are completely content with their faces and physique."
The surgeon explained, "Recent statistics indicate a rise in the overall number of cosmetic surgeries. While the proportion of teenagers (those 18 and younger) opting for cosmetic surgery reportedly remains low, there has been an increase in inquiries from teens about 20-30 per month and actual procedures done is one-three per month. Today's teens are far more familiar with cosmetic surgery than any previous generation. They have money, exposure and want to stand out from the crowd." Sometimes cosmetic surgery is not just for vanity, but a necessity. But teenage plastic surgery has to be on the right individual for the right reason. Also one should understand the fact that the end result might not live up to expectations. Leading psychiatrists believe that teenagers who opt for cosmetic surgery want to look "cool" and "trendy".
http://www.dailytimes.com.pk/default.asp?page=2012\07\04\story_4-7-2012_pg11_5
----------
Sexual Safety Remains Elusive In Cairo For Women Journalists
2012/06/30/
(WNN) Cairo, EGYPT: As new policy by Egypt's Supreme Administrative Court of the State Council, headed by Judge Ali Fikri, overturned Justice Minister Mohamed al-Guindy's recent decision to give Egypt's military the power of impunity to arrest civilians, activists are celebrating. But the newly elected President Mohamed Morsi has inherited another problem, extreme violence against women that continues to exist on the streets of Cairo.
"I have been forced to leave Cairo," said British journalist Natasha Smith on Tuesday (June 26) after her recent ordeal in Cairo's Tahrir Square in what she describes as "increasing force and aggression." Attacked by a large mob of men who grabbed her sexually in what Smith said was "an insatiable appetite to hurt me," the journalist was torn away from her male colleagues as she was swept through the crowd and into the hands of unknown men.
This has come after a score of women journalists and over 40 Egyptian women activists and protesters have been attacked in varying degrees of intensity on Tahrir Square. It has come after numerous women of Egypt have complained for over a decade about the fierce and rising level of sexual harassment that exists against women on the streets Cairo.
"…please God. Please make it stop," said Smith to herself as she went through her ordeal. A key element to this kind of sexual violence includes fear, intimidation and humiliation of the victim. Women in Cairo have a documented history of reporting acts of harassment that have included verbal abuse, acts of intimidation, the striping away of clothing by an assailant, physical injury and sexual penetration.
"A 2008 survey of more than a thousand women in Cairo, Giza, and Qalubiya by the Egyptian Center for Women's Rights found that 83 percent of Egyptian respondents have experienced sexual harassment in their lifetime; 46 percent reported sexual harassment on a daily basis," said an authoritative 2009 USAID report on violence against women in Egypt. The UNDP – United Nations Development Programme has also outlined in 2010 that "98.9% of the female respondents said that they had been subjected to verbal harassment" as "4.57% of the female respondents said that they had been touched or forced to touch others in sensitive areas."
"This is a consistent trend and it has to stop. Arab women, western women – there are so many sufferers," outlines Natasha Smith who reminds everyone that the attacks are not just based on violence against women from 'the West.' Sexual harassment and violence in Egypt does not follow a set pattern for its victims. Both Egyptian women wearing full traditional Islamic dress as well as women from Europe or America have suffered under the violence.
But where is the Egyptian police in follow-ups to these reports? Many women have not reported the violence due to fears that the police would not react in their favor. In 2005 only 2.4 percent of Egyptian women and 7.5 percent of foreign women reported sexual harassment crimes to the police.
Reports on sexual harassment have been repeatedly exposed to authorities with little to no follow up. In 2004 the ECWR – Egyptian Center for Women's Rights launched the "Making Our Streets Safer Campaign" after Egyptian as well as foreign women reported increasing incidents to the ECWR of sexual violence as harassment on the streets and in public places throughout Cairo. At the time many women "did no longer feel safe when alone in public. For a lot of them, verbal offenses, insults or unwanted touching have become a daily burden," outlined the ECWR.
The idea of crowds giving women a measure of safety was a lesson that journalist Natasha Smith, as well as Lara Logan of CBS and Mona Eltahawy of CNN, as well as one Christian Coptic protester Ms. Ehab Hanna Ashaya, who's experience ended up on Youtube, found out quickly is not the case in Cairo. They also quickly found out the police in Cairo can sometimes actually add to the harassment instead of coming to the aid of a victim.
Mona Eltahawy's experience with military police after her attack described continuing harassment and injury. "I read news reports about a journalist whose arms were broken by Egyptian police, but I don't connect them to the splints around my arms that allow only one-finger typing on a touchpad, nor with the titanium plate that will remain in my left arm for a year, to help a displaced fracture align and fuse," said Eltahawy in an exclusive report on The Guardian News only one week before January 1, 2012.
"Even as the officer offered hollow protection, the men who had brought me in still went at my breasts," described Eltahawy about her experience with Cairo's police security forces.
But the warning about safety for women had come much earlier.
A 2005 ECWR study interviewed 2,020 participants; making up an equal force of 1,010 men and 1,010 women, including 109 foreign women. "The results we obtained after analyzing the first 100 complaints were shocking, being completely contrary to the social perception of Sexual Harassment," detailed the ECWR. "Having been taught to stay in crowded places whenever possible and to be careful whenever alone in public, considering crowds as being protective, the study taught us the contrary: most forms of Sexual Harassment occur in very crowded places in front of schools or universities, in the workplace, at bus stations or on public transport. We were also brought up, being taught to avoid delays and to return home before dark. However, the results of the study show, that Sexual Harassment occurs increasingly during daytime, reaching its peaks at seven o clock a.m. and two o clock p.m. in front of schools and when going to or returning from work," continued the 2005 study.
Trying to report crimes of violence against women on the streets of Cairo does not come with an easy solution. "…some [police] let the harasser escape while others caught him and filed a report against him. We also found that some police officers mock these women or harass them as well," outlined the ECWR.
"Laws protecting women are already in place," said President Mohamed Morsi recently two weeks before the election in a June press conference that brought up questions by the audience about underage marriage, female genital mutilation in Egypt and other topics. "I am not going to make any modifications in terms of the issues just raised: the legal age for marriage, khula [divorce laws for women in Egypt and], female genital mutilation," stressed Morsi.
In spite of her injuries, sexual assault, harassment and the illicit danger she felt she had been placed in while trying to get her story about the post election celebration in Tahrir Square on June 24, 2012, journalist Natasha Smith is not giving up on Cairo easily.
"I am determined to return to this wonderful country and city that I love, and meet its people once again," she says. "I am determined to challenge the stereotypes and preconceptions that people have of Arab women back in the UK and the US. I have so much to say, and I will say it, in time."
"My body, and mind, belong to me. That's the gem at the heart of the revolution," said Eltahawy when she returned home after her experience on Tahrir Square last November.
http://womennewsnetwork.net/2012/06/30/safety-cairo-women-harassment/
----------
Burqa Robber in Violent Jewel Heist
By JACK LOSH
03rd July 2012
THESE dramatic pictures show an armed robber raiding a jewellery store – after posing as a burqa-clad Muslim mother with a child's pram.
The disguised bandit fools passers-by as he shuffles up the street in Islamic garb before pressing the doorbell and using the pram to block the door.
He then unmasks himself and pulls out an axe from his burqa, using it to smash up glass cabinets storing the jewellery hoard.
Three accomplices burst in after him – one clutching a sledgehammer and the other a SWORD.
Staff reel in terror as the gang runs rampant inside the upmarket shop – even after the manager triggers the in-store booby trap device filling the shop floor with dry ice.
The gang fled while the burqa-wearing robber continued looting gems and smashing the front window of the store.
They all then flee Choice Jewellers in Manchester in a black Audi-type car following the riad at 11.35am on Sunday.
The shocking footage was released by Greater Manchester Police today as detectives appealed for help to find the robbers.
Det Con Ian Wrench said: "The men who carried out this frightening robbery need to be caught so I would ask anyone who saw the men either going in or out of the shop to please call us.
"I would ask that anyone with information, no matter how trivial it might seem, call us as it could be vital to finding these men."
http://www.thesun.co.uk/sol/homepage/news/4408173/Burqa-robber-in-violent-jewel-heist.html
----------
Still Fighting From Behind Bars for Helping an Imprisoned Muslim Cleric as a Defence Attorney
July 4, 2012
A federal appeals court upheld the harsher sentence imposed on lawyer and civil liberties champion Lynne Stewart after she was convicted on bogus charges that she "supported terrorism" while serving as attorney for an imprisoned Muslim cleric.
Stewart, who worked for decades as a defence attorney for clients targeted by aggressive prosecutors, was targeted her in the Bush administration's "war on terror." In 2005, she was convicted for allegedly helping her client, Sheikh Omar Abdel-Rahman, communicate with an Islamic organization at a time when he was barred from contact with anyone but his attorneys. Her "crime"? Issuing a press release on behalf of her client.
Stewart was originally sentenced to 28 months in prison by U.S. District Judge John Koeltl. But federal prosecutors demanded a lengthier sentence on the grounds that her actions were a supposed danger to "national security." After an appeals court sent the case back to Koeltl, Stewart was given a 10-year-sentence--a potentially life-threatening one given her battle with breast cancer. That was the sentence upheld in late June.
Despite being behind bars since 2009 and suffering health problems, Stewart has continued to work for the oppressed and vulnerable in society. Here, she explains why she continues to fight for justice from prison.
Full report at:
http://socialistworker.org/2012/07/04/still-fighting-from-behind-bars
----------
4 women killed in grenade attack in Khyber Agency
4 July 2012
KHYBER AGENCY: As many as four women were killed and four others injured, including women and children, in a grenade attack at a home in Khyber Agency on Tuesday.
According to details, unidentified persons hurled a hand grenade at a home in Malik Din Khel, a remote area of Khyber Agency, killing four women and injuring four others, including women and children. The injured women and children were shifted to hospital. Tribal officials and Khasadar Force reached the spot after the attack, however, no arrest could be made until last reports. Sources said that the attack was a result of tribal enmity.
http://www.dailytimes.com.pk/default.asp?page=2012\07\04\story_4-7-2012_pg7_25
----------
Woman NGO Worker Shot Dead In Restive Khyber Tribal Region
July 04, 2012
A woman working for an NGO was on Wednesday shot dead by unidentified gunmen in northwest Pakistan's restive Khyber tribal region, officials said. Farida Afridi, who worked for the NGO Sawaira, was on her way to work when the motorcycle-borne gunmen fired at her in Jamrud sub-district of
Khyber tribal agency.
She was killed instantly, the officials of the local political administration said.
Sawaira is based in Hayatabad area of Peshawar, the capital of Khyber-Pakhtunkhwa province, and works for the rights of women.
No group claimed responsibility for the attack.
The Taliban and Islamic clerics have threatened NGOs in several parts of northwest Pakistan and the tribal belt bordering Afghanistan.
http://www.hindustantimes.com/world-news/Pakistan/Woman-NGO-worker-shot-dead-in-Pak/Article1-883179.aspx
-------
Women to Bring Peace and Security to the Middle East North Africa Region
4 July 2012
(WNN) Geneva, SWITZERLAND: At the MENA 1325 conference, hosted by WILPF – Women's League for Peace and Freedom in Geneva, Switzerland, women came together to share, talk and solve global challenges facing all women in the MENA – Middle East North Africa region. They came up with the following joint statement from the conference:
We, women human rights defenders from Egypt, Iraq, Jordan, Lebanon, Libya, Morocco, Palestine, Tunisia and Yemen, met this week, June 20-22, in Geneva after a process of 8 national consultations. We reaffirm our commitment for women's equal rights throughout the Arab world to promote peace and security, and that UN Security Council Resolution 1325 be implemented in our region today.
We, women of Middle East North Africa (MENA) region, stand at the front line of peaceful protests in our countries and demand for peace, dignity and human rights.
Violence in all its forms, including gender based violence, threatens women's safety and security now more than ever.
Full report at:
http://womennewsnetwork.net/2012/07/04/women-commit-peace-mena-region/
----------
Turkey's Islamic Govt Passes Law to Reduce Caesareans, Plans To Curb Abortions
July 04, 2012
ANKARA, Turkey — Turkey's parliament has passed legislation to keep doctors from performing unnecessary cesarean births after the government claimed some doctors were seeking to earn more money by pushing women into unnecessary surgery with potentially serious consequences.
Parliament on Wednesday passed an amendment that allows C-sections "in case of medical emergencies." The measure needs approval of President Abdullah Gul to become law.
In May, Prime Minister Recep Tayyip Erdogan spoke out against cesarean births and likened abortion to "murder." His Islamic-rooted government says it is also working on bill to curb abortions despite an outcry from critics who say their plan amounts to a virtual ban.
The Parliament also banned smoking water pipes for those under 18 years old and restricted tobacco ads.
http://www.greenfieldreporter.com/view/story/84d369fab16b4504ae238daa2c46ed6d/EU--Turkey-Cesareans
----------
Egyptian women worry about rights under new Islamist president
July 3, 2012
CAIRO — As fireworks lit the sky after Egypt elected its first Islamist president last month, Nadeen Gamil, who had endured years of sexual harassment, knew that the battle for women's rights had taken an ominous turn.
While thousands celebrated in Tahrir Square, the epicenter of Egypt's revolution, women were intimidated and rhetoric intensified that President Mohamed Morsi's victory would herald an increase in piousness and hijabs: "Tomorrow, Morsi will cover you all up, your days are over."
Gamil said she "felt torn between my happiness for the people and my personal cause." The 21-year-old university student and advocate for the Women for Egypt campaign added: "A couple of months ago in Tahrir, men mocked me after I struck a man who groped me from behind. I slapped him in the face but he didn't even look me in the eye."
As women of the revolution battle the patriarchal and rigid politics of Egypt's military and rising Islamists, they are also pushing for a social reawakening and an acceptance of women's freedoms. Women make up at least 52% of Egyptian society and 33% of them are considered the sole breadwinners in their households. However, the state, even after the Arab Spring uprising, has largely failed to protect them from sexual assault and domestic violence.
Full report at:
http://latimesblogs.latimes.com/world_now/2012/07/cairo-as-fireworks-lit-the-sky-after-
----------
Teen French Call Girl to a Recognised Figure in the Fashion Industry
Jul 03 2012
JUST two years ago Zahia Dehar was a teenaged prostitute embroiled in a scandal involving three French footballers who were alleged to have illegally paid the underage girl for sex.
Fast forward to 2012, and Zahia has entirely transformed her fortunes.
Trading on her notoriety as a sex symbol, Zahia reinvented herself as a lingerie designer, showing her first collection on the Paris catwalks in January earlier this year.
Her status as a recognised figure in the fashion industry was cemented as the blonde former courtesan showcased her second collection of lingerie at Paris Couture Week.
Zahia, who modelled some of her designs herself at the show, appeared as a stylised Barbie doll to open the event before a stream of models took to the runway wearing a succession of ever more risque lingerie.
Zahia, now 20, was just 16 when she met French footballer Franck Ribery, 28. She was 17 when his fellow footballing peers Karim Benzema, 23, and Sidney Govou, 31, were accused of paying the underage vice girl thousands of pounds for sex.
Prostitution is legal in France where the accused men lived, but women selling sexual services must be 18 years old or over.
Soon after the allegations came to light, Zahia became a lingerie model, appearing on the cover of V magazine and in Vanity Fair Italy , among other publications before turning her hand to couture lingerie and becoming a big name in the industry.
Till about two years ago, Zahia was a teenaged prostitute embroiled in a sex scandal involving three French footballers
Mail Today
----------
Iranian-Born Israeli Music Icon Records Farsi Album In Outreach To Enemy Iran
Jul 03 2012
HERZLIYA, Israel (AP) — She's Israel's top diva, the Jewish state's beloved national singer.
So when Rita released an album entirely in the language of her country's arch-enemy Iran, naturally more than a few eyebrows were raised.
"Even my friends, when I told them I was going to do a whole record in Persian, said 'Whoa, you are going to sing in the language of (Mahmoud) Ahmadinejad,'" she said, referring to the Iranian president who has called the Holocaust a myth and threatened to wipe Israel off the map. "I'm combining Hebrew and Persian so much together and I am showing that it is possible."
The album, "My Joys," went gold in Israel within three weeks. More significantly, though, it seems to have generated a following in the underground music circuit in Iran at a time when tensions are high between the two countries over Iran's suspect nuclear program.
To Rita, the album is less a political statement and more a return to her own roots.
Rita Jahan-Foruz was born in Tehran, Iran, 50 years ago. In 1970, at the age of eight, she migrated with her family to Israel, where she grew up listening to her mother sing melodies in her native Farsi.
Full report at:
http://www.nytimes.com/aponline/2012/07/03/world/middleeast/ap-ml-israel-iranian-
----------
Love-Struck Runaway Girl Traced To Fujairah Hotel
Afkar Abdullah / 4 July 2012
All's fair in love and war, the old saying goes. A love-smitten 14-year-old Arab girl allegedly ran away from her home in Kalba and checked herself in at a Fujairah hotel to teach her family a lesson for rejecting her boyfriend's proposal to marry her.
From the hotel, she called her 18-year-old boyfriend whom she met on Facebook eight months back.
However, the boy showed remarkable maturity and advised her to return home without delay. The Sharjah Police received a complaint from the girl's parents on June 30 that their daughter had been kidnapped by unknown persons.
After intensified search, the police traced the girl to a hotel in Fujairah in 24 hours. With assistance from the Fujairah Police, the girl was sent to the Eastern Region Police.
She told the police that she left her family house on her own will and no one had kidnapped her. She told her family that she was going to a ladies salon.
Full report at: http://www.khaleejtimes.com/nation/inside.asp?xfile=/data/courtroundup/2012/July/courtroundup_July9.xml&section=courtroundup
----------
URL: https://newageislam.com/islam-women-feminism/sharia-friendly-swimwear-hits-indonesia/d/7819