New Age Islam News Bureau
8 Jul 2014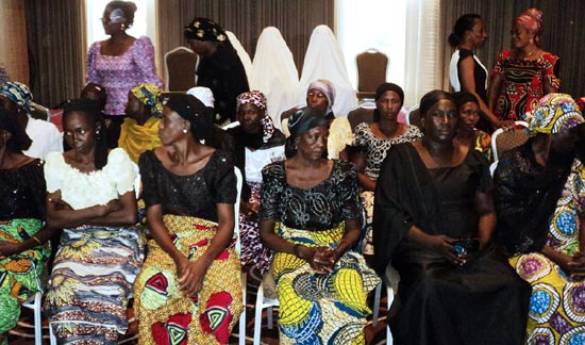 Mothers of some of the abducted schoolgirls, as three of the schoolgirls who escaped sit in the background covered in white sheets, during a forum organised by NGOs in Lagos
------
• Nigerian Mother Fasts as Hope for Abducted Girls Fades
• 63 Girls and Women Escape Islamic Extremists in Nigeria; Chibok Girls Still Captive
• Iranian Women Fight for the Right to Attend Sports Events in Their Country
• Saudi Airlines Employs 140 Saudi Women
• Philippines to Blacklist Saudis Who Harass House Workers
• 25% Marriages between Saudi Men and Expat Women End In Divorce
• Fatal Violence against Women on the Rise in Turkey
• Donations Needed To Help Syrian Women Refugees
• UN: Lone Woman Heads 1 In 4 Syria Refugee Families
• Iranians Move to Turkey to Press LGBT Liberation
• City Of Edmonton Sued For Right to Place Honour Killings Ads on City Buses
Compiled by New Age Islam News Bureau
URL: https://newageislam.com/islam-women-feminism/sharia-court-pune-solves-muslim/d/97977
------------
Sharia Court in Pune Solves Muslim Women Issues with Great Care
08 July, 2014
Pune: The Supreme Court's remarks on Sharia courts not being a legal body and their orders having no legal relevance besides the apex court's disapproval of such courts issuing Fatwas against persons who are not before it has not gone down well with city Muslims.
Pune is one of the few cities where a special Sharia court, for women and run by women exists, which came into existence a few months ago in response to the needs of Muslim women for legal representation and arbitration.
Saeeda Jamadar, president of the first all woman Sharia court, the court had not taken into account the suffering of the Muslim women into consideration before delivering its verdict.
"Why don't the courts give their verdict on Muslim women's issues and maintain that they fall under the Muslim personal law and hence need to be looked at in a special light? That's because we do have a Muslim personal law and the Shariat courts are established on the principles of Islamic jurisprudence and hence the most perfect medium of justice delivery mechanism. The Supreme Court's statement nearly amounts to an interference with the Islamic law and needs to be reconsidered. We will appeal to the central government to look into the issue in detail and consider it favourably according to the requirements of Shariat," she added.
According to Jamadar, around 10 women approach the Pune Shariat court on a daily basis and the response has been encouraging with more and more people flocking to the Shariat court seeking justice.
Prominent Islamic scholar Maulana S A Kazmi said, "I won't comment on the Supreme Court order but would like to state the importance of Fatwas and Shariat in Islamic law. Indian Constitution has given us the right to act and work according to our Muslim personal law. The Muslims have special regard place for Fatwas and their importance in justice delivery in society has been accepted by the government too ," he added.
Another well-known cleric Quari Idrees said that role of Fatwas and Shariat has always played a key role in an Islamic society and Muslims and India too is not an exception. "Fatwas are issued by the highest body of Ulema and not by any layperson while Shariat is a way of life for Muslims. Decisions taken by Shariat courts are in according with Muslim personal law which are not only approved by Indian constitution but according to tenets of Islam. The Shariat courts are accepted by all Muslims without any question as the decision is rational and scientific in nature. Any true believing Muslim who follows Islam, will believe in Shariat and to say that it has no legal standing for a believer is not imaginable," he added.
Meanwhile a practising Muslim lawyer requesting anonymity said that if one followed the apex court ruling, it said that two parties can approach the Shariat court consensually for arbitration. "It is not unlawful to do so but as far as it's legal standing goes and other finer points, we will have to read the judgement before commenting," he said.
http://www.dnaindia.com/pune/report-sharia-court-in-pune-solves-muslim-women-issues-with-great-care-2000482
------------
Nigerian Mother Fasts as Hope for Abducted Girls Fades
08 July, 2014
As the weeks stretch into months since her 18-year-old daughter Hauwa was kidnapped with 275 other schoolgirls by Islamist militants in the Nigerian town of Chibok, Rahila Musa Bitrus fasts and prays for her safe return.
"I haven't given up, but it's obvious that the government needs to step up their rescue operation so that our girls can be returned to us," Bitrus, 41, said by phone from Chibok. "It's so painful and sad."
Hope for the secondary schoolgirls' freedom is fading. While Nigeria's military said in May it knows where they are and last month arrested a Boko Haram cell leader involved in their abduction, the U.S., which is aiding the rescue effort with surveillance aircraft, said their location remains unknown.
Boko Haram, the Islamist group that abducted the girls, regularly attacks the Chibok area in the northeastern state of Borno. Last month, it killed 30 people in attacks on churches and has shown no sign of tempering its five-year campaign to impose Islamic law on Africa's biggest oil producer.
"The more time passes, the less hopeful the situation appears," said Manji Cheto, vice president at corporate advisory company Teneo Intelligence in London. "Hostage negotiations in the region have never been easy, especially in cases where the demand from the kidnappers is not simply for monetary gains."
The U.S., which rushed advisers and drones to aid the rescue effort after the Twitter hashtag #BringBackOurGirls used by U.S. First Lady Michelle Obama went viral, has reduced surveillance flights. Department of Defense Press Secretary Rear Admiral John Kirby said June 27 that other countries were taking on a bigger share of the search efforts.
Location Unknown
"We don't have any better idea today than we did before about where these girls are," Kirby said.
The world may be losing interest in their fate, their attention grabbed by new crises such as the advance of Islamist militants in Iraq and the crisis between Russia and Ukraine, Sebastian Spio-Garbrah, the New York-based managing director at risk consultancy DaMina Advisors LLP, said in e-mailed comments.
"With ISIS and Ukraine on the global agenda, the Chibok girls like the Malaysian plane may be soon forgotten," he said.
The abduction drew international condemnation that intensified after Abubakar Shekau, the leader of Boko Haram, threatened in video messages to sell the schoolgirls in "markets," marry them off and hold them until the Nigerian government freed imprisoned members of his group.
Necessary' Silence
President Goodluck Jonathan's administration has faced domestic and international criticism over its handling of the April 14 kidnapping. Former President Olusegun Obasanjo said Jonathan, who waited almost three weeks before speaking publicly about the abductions, didn't act fast enough to free them and that the girls may never be returned.
"My silence has been necessary to avoid compromising the details of our investigation," Jonathan wrote in a June 26 op-ed column in the Washington Post. "My government and our security and intelligence services have spared no resources, have not stopped and will not stop until the girls are returned home and the thugs who took them are brought to justice."
While Nigeria spends $6 billion on defense each year, the military has struggled to battle the insurgents, who have the advantage of being able to hide in their strongholds in rough terrain along Nigeria's porous borders with Cameron, Chad and Niger.
Institutional Challenges
"The army despite its multibillion dollar annual budget has serious institutional, capacity and logistical challenges," Spio-Garbrah of DaMina said.
So far, the near daily bombings and attacks are taking place hundreds of miles away from the southern business offices of Lagos or the coastal oil wells that finance the Nigerian state.
The violence is focused in the mainly Muslim north of Nigeria, a country of about 170 million people, with its south dominated by Christians. Jonathan has said Boko Haram, whose name means "western education is a sin" in the local Hausa language, is part of al-Qaeda and poses a threat to countries throughout the region.
"Kidnapping is proving a highly successful tactic for Boko Haram," John Campbell, a former U.S. Ambassador to Nigeria, said in a June 24 posting on the New York-based Council on Foreign Relations website, where he is a senior fellow. "Episodes generate local and international media attention, discredit the Abuja government, and may generate ransom payments."
Cell Leader
The suspected Boko Haram cell leader the military says it arrested is a businessman who deals in tricycles and used his membership of a youth vigilante group as cover, Chris Olukolade, a military spokesman, said in a statement on June 30. The man also may have spearheaded the murder of the Emir of Gwoza and coordinated "several deadly attacks" in the Borno state capital, Maiduguri, since 2011, he said.
"Despite continued reassurances, public perception remains that security responses are inadequate," said Teneo's Cheto. "Foreign support is unlikely to significantly reduce security risks for now. Assistance from foreign governments remains limited to logistical, intelligence gathering, and training support."
As the parents of the girls continue their wait, there is debate among them whether they'll let their daughters resume their studies in Chibok if they're freed. Bitrus said she's determined Hauwa will finish her education.
"Some parents said they won't allow their daughters to go back to school if and when they return," she said. "But as for me, if the government secures the safe return of my daughter, she will certainly go back to school."
http://www.bloomberg.com/news/2014-07-07/nigerian-mother-fasts-as-rescue-hope-for-abducted-girls-fades.html
------------
63 girls and women escape Islamic extremists in Nigeria; Chibok girls still captive
08 July, 2014
MAIDUGURI, Nigeria - More than 60 Nigerian girls and women abducted two weeks ago by Islamic extremists have managed to escape, officials said Monday, though more than 200 girls kidnapped in April still remain missing.
Nigerian security forces and federal officials have denied reports of a mass abduction June 22 from three villages in the northeastern state of Borno. But Chibok government chairman Pogu Bitrus said Monday he had verified that about 60 women and girls escaped last week by sending a representative to meet with some of the escapees and their families at a hospital in Lassa.
Civil patrol leader Abbas Gava in Maiduguri, capital of Borno state, said he was told 63 women and girls escaped Friday while their captors were engaged in a major attack on a military barracks and police headquarters in the town of Damboa.
The Associated Press had originally quoted witnesses and a local official saying that 90 people including about 30 boys had been kidnapped from the three villages on June 22. But Bitrus said those who escaped said no males were abducted with them.
Boko Haram extremists have been waging an insurgency for five years in northern Nigeria, demanding the establishment of an Islamic state. More than 2,000 people have died so far this year in the Islamic uprising, compared to an estimated 3,600 total deaths in the previous four years.
The group drew international condemnation for the April 15 abductions of more than 200 schoolgirls from a school in Chibok in the northern state of Borno. First reports put the number at more than 300, but a presidential committee said last month that there were 395 students at the school — 119 who escaped during the siege of the school and 57 who escaped in the first couple of days of their abduction, leaving 219 unaccounted for.
Boko Haram is demanding the release of detained fighters in exchange for the Chibok girls but Nigerian President Goodluck Jonathan reportedly has refused to consider a prisoner swap.
On Monday, government spokesman Mike Omeri told reporters the government still does not know anything about the latest mass abduction and escapes. He also said investigators were progressing in the April Chibok kidnappings case.
"We are moving closer to finding them, at least we have identified a number of leads," he told reporters.
That statement could not immediately be reconciled with one made weeks ago by Nigeria's top-ranking soldier, Air Marshal Alex Badeh, who said the government knew where the girls are being held but feared that any military campaign to rescue them could endanger their lives.
Bitrus said attacks have increased around Chibok and that Boko Haram has taken over some villages and is threatening to capture others. A local group, the Kibaku Area Development Association, says 19 villages have been attacked since the April 15 abductions, with more than 229 people killed and about 100 seriously wounded.
The vast majority of the cases have had advance warning of the attacks — as happened in the Chibok kidnappings — yet the military had taken no action, the association said.
"Security and defence is mainly provided by the local vigilante and the police while the soldiers in Chibok sit by and watch villagers being helplessly massacred in their homes, farms and in places of worship," the association said, demanding help from the United Nations.
Nigeria's military has reported some successes in recent days. Soldiers killed at least 50 insurgents and lost five troops and their commander when they repulsed an attack by hundreds of Boko Haram fighters on a military base in Damboa, the Defence Ministry said Sunday.
It is impossible to verify reports from an area were Boko Haram is carrying out near-daily attacks.
https://ca.news.yahoo.com/officials-63-girls-women-escape-islamic-extremists-nigeria-094728174.html
------------
Iranian women fight for the right to attend sports events in their country
08 July, 2014
There's nothing quite like watching sports at the stadium or ballpark — with the crowd, the green grass, the charged atmosphere of competition. But if you're a woman living in Iran, you don't get to experience any of that.
That's been the case since the 1979 Islamic Revolution. Female sports fans aren't allowed to cheer for their teams inside stadiums — they can only watch on TV.
The topic has gotten a lot of attention recently thanks to the exceptional performance of the Iranian volleyball team. In World League volleyball matches, Iran's team beat the powerhouse Italian and Brazilian teams.
Keep in mind that volleyball — or even soccer — isn't Iran's strongest suit. Wrestling? Yes. Volleyball? Not so much. So you can imagine how excited Iranians are to see these teams do so well at an international level.
But a big part of their fan base is forced to watch from behind closed doors. It's not illegal for women to attend sporting events, says Leila Mouri, an Iranian women's rights activist now living in New York, just forbidden.
"The reality is there is no legal issue," she says. "There is no legal ban. There is even no religious fatwa or any religious order against women attending sports stadiums."
Women have long opposed this unwritten ban. But in 2006, they organized, forming a group called "Roosari Sefidha" or "Women in White Scarves."
"They started this campaign specifically about the right to attend sports stadiums," Mouri says. "They used to wear white scarves and they wrote their slogans on that white scarf." Mouri was a member of the group herself.
Using the scarves was a clever tactic. The idea was that if women wore their slogans on their head coverings, which they're required to wear in public, the morality police wouldn't be able to remove them.
Mouri remembers one of the sit-ins she joined. "We rented a bus and went in front of the stadium and I remember we had a very small TV with us," she says. "Symbolically, we sat in front of the Azadi stadium on the ground and pretended that we are watching the match."
Then they asked to go into the stadium. "They didn't let us in," Mouri remembers. "They attacked us and finally they pushed us back and made us get into the bus and return."
For many women in Iran, says Mouri, getting to go to stadiums is about entertainment. It's fun to watch live sports. But it's also about basic human rights.
Stadiums are public spaces, she insists, and women should be allowed in there, just like men.
Some Iranian men agree. Filmmaker Jafar Panahi famously made a movie called "Offside" about a group of avid female soccer fans who want to get into a stadium to watch a match. They even dress up as boys.
"Watching soccer in a stadium isn't a crime," one of the girls says in the film as she pleads with the stadium security guards. But the guard isn't buying it. "I don't make the rules," he yells back.
As if being excluded from stadiums isn't bad enough, the authorities have a double standard when it comes to foreign women. If you're a woman from another country and your team is playing in Iran, you can get into a stadium.
"As an Iranian, I think it's really humiliating that you are not allowed [in stadiums] and you don't have the same right in your own country as a foreign person has," Mouri says.
Two weeks ago, Iranian media reported that a group of Iranian women managed to sneak into a volleyball game between Brazil and Iran by wearing Brazil's jerseys. They all had big smiles on their faces in the pictures.
So, what is the official explanation for the ban? There isn't any.
One argument goes something like this: emotions in stadiums tend to run high. That leads to foul language, which is disrespectful to women.
But activists such as Mouri think it's more about limiting the mingling of the sexes, or perhaps the government's fear of mass gatherings.
The Iranian volleyball team could surely use the loud and ferocious cheers of its female supporters at the national stadium in Tehran. In one final irony, the name of Tehran's stadium is "Azadi" — which means "Freedom" in Persian.
http://www.pri.org/stories/2014-07-07/iranian-women-fight-right-attend-sports-events-their-country
------------
Saudi Airlines Employs 140 Saudi Women
08 July, 2014
JEDDAH — Saudi Arabian Airlines has employed 140 young women in different sectors, according to Muhammad Al-Bakri, assistant executive director of financial affairs. All young women are highly professional and have received advanced training in their fields. Ninety of them have been hired in the information technology sector while the remaining 50 are in finance. Saudia is planning to hire 60 more women in these two sectors this year.
http://www.saudigazette.com.sa/index.cfm?method=home.regcon&contentid=20140708210846
------------
Philippines to blacklist Saudis who harass house workers
08 July, 2014
RIYADH — The Philippines' Labor Ministry has prepared a comprehensive blacklist containing the names of the Saudi employers who have abused or sexually harassed their Filipino housemaids to prevent them from recruiting in the future.
Quoting a source at the Philippine Embassy in Riyadh, Makkah daily reported on Monday that the recruitment application of any Saudi who has a history of maltreating Filipino housemaids would never be accepted.
The source, who opted not to be named, said a surefire reason for inclusion on the blacklist is physical abuse and sexual harassment against their housemaids.
He explained some Saudis were blacklisted because of their personal accounts on the social media.
"A young Saudi man put a video clip on his account showing his mother pouring hot water on the back of a Filipino housemaid," the source said.
He said the bulk of the data on blacklist was compiled from Filipino maids' complaints to the ministry against their Saudi employers.
Meanwhile, the Philippines' Labor Attaché in the Eastern Province Alexander Padaen said Saudi employers have no right to force Filipino maids to wear hijabs (headscarf) or niqabs (veil covering the whole face) while she is inside their home.
"Any housemaid who is forced to do so can complain to the labor attachés of the Philippines in Riyadh or Dammam," he said.
Padaen, however, said a housemaid should wear the headscarf while going out with the family because this is a Saudi tradition.
He noted a rising demand for housemaids from the Philippines and said the embassy is receiving an annual average of 40,000 requests for recruitment of housemaids from his country.
Padaen denied there were any delays in the processing of recruitment from his country and said the maximum time for importing housemaids should not exceed three months.
The chairman of the national recruitment committee at the Saudi Council of Chambers, Saeed Al-Baddah, however, said recruitment of housemaids from the Philippines may take as long as 10 months.
http://www.saudigazette.com.sa/index.cfm?method=home.regcon&contentid=20140708210851
------------
25% marriages between Saudi men and expat women end in divorce
08 July, 2014
DAMMAM — Nearly 25 percent of marriages between Saudi men and expatriate women ended in divorce last year, Alsharq newspaper said in a recent report.
In 2013, 2,488 Saudi men married expatriate women and 612 of these marriages ended in divorce. Syrians topped the list of foreign women who married Saudis, followed by Moroccans and Palestinians.
Meanwhile, 1,925 marriages took place between Saudi women and expatriate men and only 190, or nearly 10 percent, ended in divorce. The top nationality of foreign men married to Saudi women was Yemeni, followed by Syrians and Qataris, the report said.
According to Deputy Head of Sociology and Social Services Department at Imam Muhammad Bin Saud University Abdulmajeed Niyazi, noninterference by other family members in the lives of the couple and cultural acceptance on the part of expatriate husbands contributed to the success of marriages between Saudi women and expatriate men.
In order to marry an expatriate man, a Saudi woman must be at least 25 years old. However, if she is related to the man, 21 is the minimum age. If she is a divorcee, she should attach her divorce certificate, a photocopy of her father's family card or a copy of her civil registration and a photocopy of her civil status card to her application. Also, she must attach a photocopy of a valid residence permit (iqama) of the man seeking her hand in marriage and a letter showing he is employed in the Kingdom.
A Saudi man wanting to marry an expatriate woman must fulfill the conditions laid down by the Ministry of Interior and this includes a minimum age of 30. If he is related to the woman, 25 is the minimum age.
Applications by Saudi men who already have a wife are rejected unless the applicant is divorced or his wife has died or she has a disability or disease preventing her from fulfilling her marital obligations.
In case of divorce, a photocopy of the divorce certificate must be presented and six months must have passed since the divorce.
The fiancé must prove that he is employed and, if the fiancée resides in the Kingdom, a photocopy of her valid iqama should be produced.
http://www.saudigazette.com.sa/index.cfm?method=home.regcon&contentid=20140708210861
------------
Fatal Violence against Women on the Rise in Turkey
08 July, 2014
ANKARA – Many acts of violence against women end in the woman's death, experts say. More than a hundred women in Turkey died as a result of domestic violence in the first six months of 2014, according to nongovernmental organizations. The number of victims has risen in the last three years. In 2011, 121 women died as a result of domestic violence. In 2012, the number increased to 140, and in 2013, it increased again to 229, according to Anıt Sayaç, an online site that keeps records to commemorate women who have lost their lives to domestic violence.
Even those who survived are marked for life. "Women who are abused never completely recover," said Pınar Çetinkaya, a social service expert and a volunteer at the Foundation for Women's Solidarity, a nongovernmental organization in Ankara. She said different factors may trigger their traumatic experience - even simply hearing a man's voice on the phone. "We are receiving repetitive calls from men who are abusive to their wives or girlfriends, asking about their whereabouts once they leave home," she said. It is very hard for women to end the violence perpetrated against them, said Fatma Bostan Ünsal, a faculty member at Muş University and board member at Capital City Women's Platform, an organization devoted to resolving women's issues. "To end violence against women, one must get to the bottom of the problem," Unsal said. "The issue is the power relation, where men see women as more inferior and less powerful compared to them, both in society, and in family interactions," she said. "The family must become an institution for both parties to have mutual respect, contentment, and reciprocity in order to reorganize those power relations," she said.
During the first half of 2014, 114 women were killed in Turkey - 21 had filed criminal complaints against their attackers - according to Umut Foundation, another nongovernmental organization that monitors violence against women. Those numbers are compiled by comprehensive media searches, according to Anıt Sayaç, the online record keeper, and the Umut Foundation. State institutions such as the Ministry of Justice and the Ministry of Family and Social Policy do not compile official data concerning violence against women.
Different data from various countries compiled by the U.N. Entity for Gender Equality and the Empowerment of Women, the violence against women prevalence data suggest that rates vary significantly between countries. In Turkey, 39.3 percent of women experience physical violence, while 15.3 percent are abused sexually by their intimate partners in their lifetime, according to a country survey prepared by and published on December 2012.
In India, these figures are 35.1 percent and 10 percent respectively, while in Italy the figures are around 12.2 percent and 6.1 percent respectively. "We are giving free legal and psychological consultation services and helping women in need settle in shelters," Çetinkaya said. The state should provide more human resources, and help assure continued funding for nongovernmental services, she said. The increasing number of victims might be the result of the more frequent coverage of such attacks by news organizations, showing greater societal recognition of the seriousness of such crimes, said Çetinkaya.
The European Union and Turkey are cooperating to fight violence against women with a joint project aimed at strengthening the nongovernmental institutions that promote the human rights of women. The joint project, called "Strengthening the Mechanism of Combatting Violence through Local Cooperations" aims to reduce the number of victims of domestic violence in three major provinces in Turkey: Ankara, Adana and İzmir.
It started Feb. 1 and will continue until April 30, 2015.
The EU has contributed about 138,000 euros. Coordinated by the Foundation for Women's Solidarity, the project is working in three areas: workshops and training, coordinating cooperation between women organizations in three cities, and organizing activities to raise awareness of the problem. "We will make house visits for an eightmonth period, with a minimum number of 20 women in a household in three cities," said Pınar Çetinkaya. "This is a hard topic for victimized women to talk about," she said. "These women mostly have difficulties in leaving their homes, so we decided to go to them. We will talk about their issues and discuss with them on what they can do in case they are subjected to violence - not only physical, but also psychological, sexual, economic and cultural violence."
The project will provide free legal and psychological consultation services for 10 months to women in need. At least a thousand women are expected to directly benefit from the project in its first eight months. After the project has concluded, many more will have access to various services with more effective NGO's working for women in need, organizers said.
http://www.dailysabah.com/nation/2014/07/04/fatal-violence-against-women-on-the-rise-in-turkey
------------
Donations needed to help Syrian women refugees
08 July, 2014
DUBAI // UAE residents have been urged to step out of the "bubble" of their daily lives and do more to aid Syrian women refugees who face a daily battle to survive and keep their families together.
The Sharjah-based Big Heart Campaign said help was urgently needed to support women who had escaped the conflict in their home country after a UN report found many were struggling "to put food on the table".
Amna Al Mazmi, marketing coordinator of the Big Heart Campaign, said: "These women, when they left their country, were stripped of everything except the clothes on their backs.
"Women make up half of the community and they are taking care of millions of refugees. They are the caregivers and if you help the women, you are helping the whole family.
"The numbers are huge and the UN or the Big Heart cannot do everything alone. We need every single individual to contribute and ease their suffering."
The United Nations High Commissioner for Refugees (UNHCR) report Woman Alone: The fight for survival by Syria's refugee women, is based on the personal accounts of 135 women taken over three months this year.
The report found that more than 145,000 Syrian refugee families in Egypt, Lebanon, Iraq and Jordan – or one in four households – were headed by women. Many of them were fighting for survival, and living under the threat of violence or exploitation, while their children faced mounting trauma and distress.
"Where they are living now, they need food, shelter, clean water and other basic amenities. These camps have become communities and they have been living here for more than two years," said Ms Al Mazmi, adding people should be generous not just during Ramadan but donate regularly.
"The youth here are ignoring this and living in a bubble. This has to stop. We have to not give donations just once but every other month, even if it is Dh1, Dh100 or Dh1,000. Give whatever you can and spread the message of their suffering to others."
The Big Heart campaign was launched by Sheikha Jawaher bint Mohammed Al Qasimi, the wife of the Ruler of Sharjah and UNHCR advocate for refugee children. The initiative has three phases including medical intervention for 265,000 Syrian refugees and giving more than 400,000 people food and cash aid.
In the second phase, funds were raised to provide shelters, blankets and clothing during the winter months. The third phase, which is continuing, raises money to educate more than 1.2 million children.
Ms Al Mazmi said looking after the needs of children meant focusing on women as well.
Of the women interviewed by the UN, 60 per cent said they felt insecure, while one in three was too scared or overwhelmed even to leave their homes. Many also complained of regular harassment.
More than 2.8 million people have fled Syria, and millions have been internally displaced.
Since the beginning of this year, more than 100,000 have registered in neighbouring countries each month and the total number of Syrian refugees is expected to reach 3.6 million by the end of the year.
pkannan@thenational.ae
http://www.thenational.ae/uae/donations-needed-to-help-syrian-women-refugees#ixzz36oezMLwV
------------
UN: Lone woman heads 1 in 4 Syria refugee families
08 July, 2014
GENEVA: More than 145,000 Syrian refugee families in Egypt, Lebanon, Iraq and Jordan are headed by women who are the sole caregivers and face daily threats of violence while often lacking the means to put food on the table, the United Nations said Tuesday in a report meant to galvanize more support for those suffering from Syria's civil war.
The women's struggles as the lone breadwinner for one of every four refugee family households in those nations often includes coping with the threat of violence or exploitation and grappling with their children's mounting trauma and distress, according to the Office of the U.N. High Commissioner for Refugees, known as UNHCR.
"Syrian refugee women are the glue holding together a broken society. Their strength is extraordinary, but they are struggling alone," UNHCR special envoy Angelina Jolie said in a statement.
The Geneva-based agency's report is based on the accounts of 135 women interviewed over three months earlier this year. All had taken sole responsibility for their families after their men were killed, captured or otherwise separated.
The biggest difficulty the women said they face is their inability to pay rent, provide food and other necessities. A third of the women said their families aren't getting enough to eat.
Many said they have exhausted their savings, even sold off their wedding rings. Eighty percent of the women lacked paid work. Only a fifth of those were interviewed said they have any kind of support from other adult relatives.
Some rely on the kindness of landlords who let them stay for free and some women send their children to find work.
U.N. aid agencies including UNHCR provide cash to a quarter of the women - and two-thirds of those who receive that cash said they are completely dependent on it.
http://www.dailystar.com.lb/News/Middle-East/2014/Jul-08/263063-un-lone-woman-heads-1-in-4-syria-refugee-families.ashx#ixzz36oiQRv1k
----------
Iranians Move to Turkey to Press LGBT Liberation
08 July, 2014
ISTANBUL (WOMENSENEWS)--Some Iranians pushing to end the persecution of lesbian, gay, bisexual and transgender rights came to Turkey to speak out.
"We want to show that homosexuals and transsexuals from Iran are existing and fighting for our rights," said Iranian lesbian activist and researcher Shadi Amin. "They (the government) try to keep us silent but we want to be the voices of the voiceless in Iran."
Under Iranian law, same-sex intercourse between two males is punishable by death. Thousands of homosexuals are believed to have been executed since the Islamic revolution in 1979, according to Human Right Watch.
Kemal Aysu, a steering committee member of Transgender Europe, said LGBT people in Iran face serious human rights violations by both state and non-state actors in their everyday lives.
"Trans persons are required to go through sex reassignment surgeries by the state, which results in further stigmatization and discrimination of trans people who do not want to go through this surgery as well as LGBs in the country," said Aysu, who is transgender and has been a trans and sex workers' rights defender for more than seven years in Turkey.
Amin, who spoke to Women's eNews during last week's pride march here, said she was pressing the concerns of the Iranian LGBT community while in Turkey because that is the closest place to Iran where she can do so. "We want to show Iran that there is no difference if you are Muslim or not, you can accept and respect the differences between people," Amin said.
In many ways, Turkey represents a beacon of tolerance for LGBT rights in the Muslim world. Unlike Iran, where LGBT Iranians are subject to a wide range of abusive and discriminatory practices, such as custodial rape, arrests at social functions, expulsion from educational institutions and denial of employment opportunities, Turkey decriminalized same-sex consensual sex between adults in 1858, more than a century before Germany and the United Kingdom.
Between January 2010 and July 2013, 537 LGBTI ("I" referring to intersex people) refugee applicants arrived in Turkey, including 471 from Iran, according to the U.N.'s refugee agency. In 2003, Turkey became the first Muslim-majority nation to host a pride parade.
Much to Criticize
Nonetheless, the 12th annual gay pride march on June 29, left demonstrators with plenty to criticize about Turkey's shortcomings in recognizing and accepting LGBT individuals.
Mehtap Doğan, a spokesperson of the Istanbul pride parade, told Women's eNews that the national constitution does not offer protection against discrimination on grounds of gender identity or sexual orientation. "The discrimination goes unpunished and is considered rightful," said Doğan, who pointed to the lack of protective laws for LGBT individuals.
"We will not stop fighting to receive all of our rights, " Doğan said. "We are making many great progresses within the society, but the government maintains its traditional, homophobic structure."
While same-sex relationships have never been illegal in Turkey, they are far from enjoying mainstream acceptance. LGBT individuals go without any protection from routine discrimination in accommodation, employment, health and education.
Seventy-eight percent of Turks said "homosexuality should not be accepted by society," found a 2013 Pew Research Center survey. In March 2010, the minister for women and family issues, Selma Aliye Kavaf, called homosexuality a "biological disorder" and a "sickness."
Mindful of all these issues, a mixed crowd of Turks and foreigners marched along Istiklal Avenue here under heavy police to celebrate unity but also voice objections and demands.
"We are here to protest hate crimes and 'honor' killings in Turkey," said Sehlem Sebik, a Ph.D. student at Istanbul Bilgi University. Turkish rights groups reported 24 killings of gay and transsexual individuals between 2010 and 2012. Hate crimes against LGBT people are higher in Turkey than in any other member of the Council of Europe, according to the Council of Europe.
While Turkey is notably freer than it was a decade ago, according to a report by Human Rights Watch, many LGBT people in Turkey still lead lives of fear and stigma.
"We deserve to be treated equally," said tourist Yao-Yu Chang, from Taiwan. Armed with a rainbow flag, Chang had come with his partner Oscar Huang to voice their support of gay rights. "So far, we cannot get married and we don't have some other rights as heterosexual people have," said Chang. "I think it is important to try earning our rights."
In Taiwan, discrimination against sexual orientation in education has been banned since 2003 through the Gender Equity Education Right.
Sending AKP a Message
Didem Kosedagi, of Istanbul, joined the march to help send a message to the Justice and Development Party (known by its Turkish initials, AK), led by Prime Minister Recip Tayyip Erdoğan.
Erdoğan has a socially conservative ethos and since he came to power in 2003 his government has enacted a wide series of human rights reforms. In March 2012, Turkey passed a law addressing the problem of violence against women and the country banned sexual discrimination under constitutional amendments in May 2004. However, the governing Islamist-rooted AKP continues to turn a blind eye to laws that protect LGBT people from discrimination.
"The AKP government is not replying to any of the demands of homosexuals and therefore they are on the streets to show everyone that they exist," said Kosedagi. "I am here to support their fight."
The pride march began at 5 p.m. in Taksim Square, the heart of Istanbul, and capped off a week of workshops, panels, exhibitions, film screenings and parties.
Organizers with the Istanbul LGBTI Pride Week Committee estimated that the turnout may have been larger than last year's estimated 100,000. That high-water mark was reached as antigovernment sympathies aligned with protests over national demonstrations spilled into the pride march. The demonstrations were triggered whenErdoğan tried to build a mall in Gezi Park just weeks before last year's pride parade.
This year's slogans, however, were once again focused on LGBT rights rather than national politics, Erkut Emcioglu, managing editor of the Turkish Policy Quarterly, told Women's eNews in an email interview.
"Last year's Gezi 'martyrs' were remembered and their pictures were in the hands of many," said Emcioglu, referring to the eight people killed in the Gezi Park protests.
This year, activists chanted "Don't be silent, shout: Homosexuals exist!" Some displayed posters calling for an end to homophobia in the Muslim country. "We are not turning back," "Who cares about 'General morality!'" and "Generally un-moral" were among the most popular slogans.
Pride parade spokesperson Doğan called for an end of the systematic violence towards LGBT and transsexual people by police and military. Turkey is the only member of the North Atlantic Treaty Organization, according to Kaos GL, an Ankara-based gay rights organization, whose army considers homosexuality a psychological disorder. Gays are exempted from the service military, which needs to be completed by all Turkish men, on this basis.
Léa Bouchoucha is a M.A. candidate in journalism at New York University and a recipient of the Turkish Cultural Foundation fellowship.
http://womensenews.org/story/lesbian-and-transgender/140703/iranians-move-turkey-press-lgbt-liberation#.U7r3v5RdU4U
------------
City of Edmonton sued for right to place honour killings ads on city buses
08 July, 2014
An American group whose ads were pulled by the City of Edmonton is suing, citing freedom of expression.
The American Freedom Defense Initiative was fined, but refunded money paid for controversial ads that read "Is your family threatening you? Is there a Fatwa on Your Head?" and "Muslim Girls Honor Killed by Their Families."
"The City of Edmonton has silenced the voice of a non-profit group that wants to assist Canadian women and girls, protect them from honour killings, and promote gender equality," stated lawyer John Carpay, president of the Justice Centre for Constitutional Freedoms.
Five complaints were made about the ad in the six days it was up on city buses in October 2013. Each complaint means a $500 fine.
Coun. Amarjeet Sohi told the city officials to take down the ads, saying they do a disservice to organizations like the Indo-Canadian Women's Association, which has been working to raise awareness about honour killings for years.
The court case will be heard at the Alberta Court of Queen's Bench on Feb. 20, 2015.
http://www.edmontonsun.com/2014/07/07/city-of-edmonton-sued-for-right-to-place-honour-killings-ads-on-city-buses
------------
URL: https://newageislam.com/islam-women-feminism/sharia-court-pune-solves-muslim/d/97977