New Age Islam News Bureau
26 November 2021
Sabah Shorbaji, a 39-Year-Old Palestinian Mother Recalls Emotional Abuse in Israeli Jail
Afghan Women Speak Up Against New Taliban Media Guidelines
Conference Yields 11 Recommendations to Support and Empower Saudi Women
Strengthen Cooperation to Protect Women, OIC Appeals to Member States
Violence against Women Increases Due To COVID-19: UN Women Report
Compiled by New Age Islam News Bureau
URL: https://www.newageislam.com/islam-women-feminism/sharbat-gula-afghan-asylum-italy/d/125843
-----
Sharbat Gula, the Afghan 'Green-Eyed' Girl Given Asylum by Italy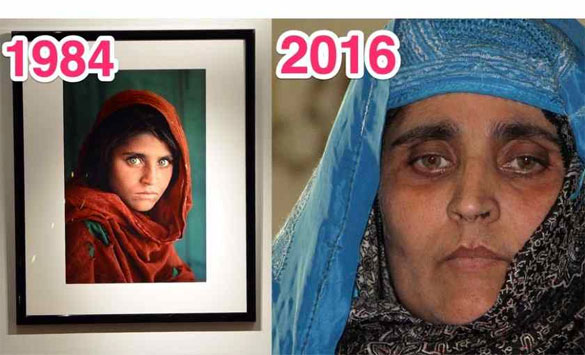 Sharbat Gul, the Blue-eyed Afghan Girl
------
25 Nov 2021
Sharbat Gula, the Afghan 'green-eyed' girl whose photo went viral after being printed on the cover of the National Geographic magazine in 1984, has now been given asylum by Italy, the Italian government announced on Thursday.
The office of Premier Mario Draghi said Italy organized the evacuation of Sharbat Gula after she asked to be helped to leave the country. The Italian government will now help to get her integrated into life in Italy, the statement said.
Sharbat Gula and her family members have been taken to Italy as part of Afghanistan's emergency humanitarian program by the western countries.
She got international fame after her photo taken by Steve McCurry was published on the cover page of a National Geographic magazine in 1984. The photographer found her again in 2002.
Sharbat Gula used to live in a refugee camp in Pakistan for years and was forcefully deported to Kabul in 2017 after she was accused of holding a fake Pakistani identity card. The Afghan government welcomed her warm providing her with a free government apartment.
Thousands of notable Afghan women, officials, journalists, and rights activists have been evacuated to Europe, England, Canada, and the United States following the fall of Kabul in the hands of the Taliban on August 15, 2021.
Source: Khaama.com
https://www.khaama.com/italy-gives-asylum-to-national-geographics-famous-green-eyed-afghan-girl-98799/
--------
Sabah Shorbaji, A 39-Year-Old Palestinian Mother Recalls Emotional Abuse In Israeli Jail
Salam Abu Sharar
25.11.2021
JERUSALEM
Sabah Shorbaji, a 39-year-old Palestinian mother, is trying to make up to her children for the time she lost when she was in an Israeli prison.
At the crack of dawn on June 16, 2016, tens of Israeli soldiers stormed her house in the town of Ezaria, East Jerusalem and arrested her arbitrarily.
"They separated me from my children aggressively. This was the first time I had left them," she told Anadolu Agency.
A few hours later, she found herself in the Ofer Prison in the West Bank where she was exposed to several hours of interrogation. By sunset, she was transferred to the Hasharon Prison, another detention facility.
Shorbaji is among dozens of women who are rounded up by Israeli forces every year over trumped up charges.
According to the Palestinian Prisoners Society, there are 37 women in Israeli jails; eight of them are mothers.
She recalls that other inmates invited her to join the iftar (fast breaking) meal as it was the Muslim month of Ramadan.
"I cried the whole time thinking about my children, if they had had their food," she said.
For more than four months, she was neither allowed to call her children, nor accept any visits.
This was a clear violation of rules.
According to the International Committee of the Red Cross, visit permits for the inmate's families should be issued at least three months after the date of detention.
After three months, she received a photo of her children as the prison service allows five photos every two months.
"I looked at their photos for hours, trying to read their eyes, hoping to hug them one day," the mother of four said.
In early October of that year, her children were allowed a visit.
She spent four months in prison on administrative detention.
At the end of this period, her children waited for her at a checkpoint, north of the West Bank, but in vain. She was not released.
Israeli authorities extended her detention for another four months.
"It was a shock for us, I was counting days to my freedom," she said.
He detention was extended four more times.
Her children were allowed two monthly visits where they met with a glass panel separating them.
According to the rules of the Israeli Prison Service, children under the age of 6 have the right to an open visit with their detained parents for 10 minutes every month.
It was particularly difficult for her when her children saw her in leg cuffs.
"There were so many questions in their eyes. My heart burns every time I think of this."
She was finally released in 2017 and is now studying law at university with her daughter.
Source: aa.com
https://www.aa.com.tr/en/middle-east/palestinian-mother-recalls-emotional-abuse-in-israeli-jail/2430230
--------
Afghan Women Speak Up Against New Taliban Media Guidelines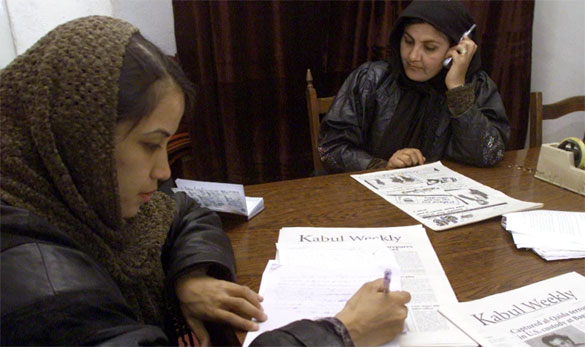 Women journalists work in the newsroom of the Kabul Weekly in the early 2000s [File: Ahmad Masood/Reuters]
-----
By Farah Najjar
25 Nov 2021
Afghan journalists and activists have expressed concern over a new "religious guideline" issued by Taliban rulers, saying the move is yet another form of control over women.
The Taliban, which took over Afghanistan roughly 100 days ago, on Sunday urged female journalists to follow a dress code and called on TV stations to stop showing soap operas featuring women, sparking fears over women's rights and media freedom.
Akif Muhajir, spokesman for the Ministry for the Promotion of Virtue and Prevention of Vice, said "these are not rules but a religious guideline".
However, activists fear it could be misused to harass female journalists, many of whom have already fled the country in the wake of the Taliban's takeover on August 15.
The Taliban has been accused of backing down on its pledge to protect women's rights and media freedom. The latest move, which called on women to wear the hijab while presenting their reports, does not specify which type of covering to use.
Such restrictions, as well as tightening control on news reporting, has been done to preserve "national interest", according to the group.
'Muzzle the media'
Zahra Nabi, a broadcast journalist who co-founded a women's television channel, said she felt cornered when the Taliban resumed power, and chose to go off-air the very same day.
"All the media is under their [Taliban] control," Nabi, who established Baano TV in 2017, told Al Jazeera.
The network that was once run by 50 women was a symbol of how far Afghan women have come since the Taliban's first stint in power in the 1990s.
With most of the network's crew members now gone, Nabi has remained adamant about doing her job, and like many other established journalists in Afghanistan, she has had to work under the radar.
"We work in a very tough environment, and are even collecting reports under the burqa," Nabi said, referring to an outer garment worn to cover the entire body and face used by some Muslim women.
"It is really hard for female journalists," she said, citing a recent example where she had to enter the city of Kunduz as a humanitarian worker, and not as a journalist.
"I'm not showing myself as a journalist. I had to arrange with local women a safe office space to work in," Nabi said.
Now that Baano TV is off-air, the 34-year-old said she is trying to find other ways to showcase her reports, perhaps through social media platforms, or via broadcasters outside the country.
Commenting on the move, Human Rights Watch (HRW) said on Monday that the new strict guidelines will especially harm women.
"The Taliban's new media regulations and threats against journalists reflect broader efforts to silence all criticism of Taliban rule," said Patricia Gossman, an associate Asia director at HRW.
"The disappearance of any space for dissent and worsening restrictions for women in the media and arts is devastating."
Sonia Ahmadyar, a journalist who lost her job in August, said the Taliban has been moving to slowly "muzzle the media".
Day by day, the Taliban has been placing restrictions on women "to not let them be active," Ahmadyar told Al Jazeera.
Women "really feel discouraged to appear on TV," she said, adding that the group has taken away their "freedom" as well as their financial autonomy.
The 35-year-old called on the Taliban to allow women journalists to resume working "without being harassed" as soon as possible.
"It is their most basic right, because it is essential for their livelihood, and because their absence from the media landscape would have the effect of silencing all Afghan women," she said.
'Obliged to obey'
Previously, the Taliban stipulated that private media would be able to operate freely as long as they did not go against Islamic values. Within days of coming to power, the group had said that the government will be guided by Islamic law.
But journalists and human rights activists have criticised the guidelines as vague, saying they are subject to interpretation.
It remains unclear whether going on air without the hijab or airing foreign dramas featuring women, would attract legal scrutiny.
When asked if avoiding the guidelines would be punishable by law, Muhajir from the Ministry for the Promotion of Virtue and Prevention of Vice, told Al Jazeera citizens are "obliged to obey the guidance", without elaborating.
According to Heather Barr, co-director of the Women's Rights division of HRW, the Taliban's directive is just the latest step by the group to "erase women from public life".
The move comes after the group excluded women from senior roles in government, abolished the women's ministry, women's sports, and the system set up to respond to gender-based violence, she said.
Almost immediately after assuming power, the Taliban also instructed high school girls to stay home and not attend school. However, girls in parts of the country have now been allowed to resume classes.
Even though the vast majority of Afghan women cover their heads, some did not. But whether they did or not – "it was important that it was their choice," Barr said.
Shaqaiq Hakimi, a young Afghan activist, agreed.
"God gave us … the right to decide. So it shouldn't be something by force, but their [women's] own decision," she told Al Jazeera.
Since the guidelines do not specify the type of head covering women are expected to wear, Taliban officials will feel "empowered to determine what is and isn't acceptable hijab," Barr said, leaving women vulnerable to being stopped and harassed on the streets.
The consequences of such policing will force professional women to constantly wonder if their hijab is up to the Taliban's standard.
This will have a "deeply chilling" effect on their ability to do their jobs, according to Barr.
But women like Nabi said the restrictions will not deter her from doing her job.
"We are working, we will not stop, and we will continue what we are doing," she said. "That's our plan."
Hakimi echoed Nabi's sentiment, saying if women stop fighting for their rights, "no one will give them to us".
Source: Al-Jazeera
https://www.aljazeera.com/news/2021/11/25/afghan-women-speak-up-against-new-taliban-media-guidelines
--------
Conference Yields 11 Recommendations To Support And Empower Saudi Women
November 25, 2021
RIYADH — The Conference of Women Empowerment and Their Development Role in the Reign of King Salman, organized by the Imam Mohammad bin Saud Islamic University (IMSIU) over two days, yielded 11 recommendations to support, empower and stimulate the participation of national women forces in various current courses of the economic development.
IMSIU Rector Dr. Ahmad bin Salem Al-Ameri, during the closing session, noted that the conference and participants highly appreciated the achievements realized in women empowerment in the reign of Custodian of the Two Holy Mosques King Salman, including developing laws and regulations that empower women, such as judicial bylaws, regulations and circular, the labor bylaw, judicial decisions that enhanced women rights, and the policies that enhance the women development role.
He referred to the increase in the percentage of employing women in various fields, such as the diplomatic, judicial, military and energy sectors, which played a role in realizing targets of the Saudi Vision 2030 in less than half of the period, increasing women participation in economic development, and increasing the percentage of women empowerment in leading posts in the public and private sectors, which all contributed to classifying the Kingdom of Saudi Arabia as the most developed and reformed country among 190 countries in the 2020 Women, Business and the Law Report issued by the World Bank Group.
The recommendations included modernizing the social discourse that enhances women's status in media and cultural programs and improving the unreal stereotypical image of the Saudi woman through calling international media institutions to check on Saudi women empowerment indicators from credible resources.
The recommendations also highlighted the importance of rehabilitating and investing in the national women competencies to participate in international events in order to change the stereotypical image of the Saudi woman, raising the media awareness and increasing social programs that contribute to preserving indigenous values and heritage of the Saudi women, which enhance moderation according to the teachings of the Islamic Shariah.
They also included establishing a media platform showcasing updated information and statistics on the Saudi achievements in whatever is related to women and publishing them in several languages and utilizing digital media to promote the pivotal role of the Saudi woman in the comprehensive development process.
The recommendations also stressed the importance of developing women's academic leadership in a way that realizes efficiency and sustainability and launching educational programs for Saudi women in higher education institutions to meet the needs of the future labor market.
They also urged media colleges and departments in Saudi universities to develop qualitative programs to rehabilitate distinguished women competencies to highlight the true image of the Saudi women, improve the empowering system for women in the field of establishing small and medium enterprises and entrepreneurial businesses, in addition to conducting more specialized research on women empowerment and enhancing their development role. — SPA
Source: Saudi Gazetter
https://saudigazette.com.sa/article/613980
--------
Strengthen Cooperation to Protect Women, OIC Appeals To Member States
November 25, 2021
JEDDAH — Secretary-General of the Organization of Islamic Cooperation (OIC) Hissein Ibrahim Taha has appealed to all OIC member states on the necessity of strengthening cooperation and joint action to take necessary measures to protect women. These should include enacting strict laws and taking necessary security measures to guarantee the safety of women and girls, and promoting the work of national institutions in the Muslim world active in this field.
In a speech on the occasion of the international community's commemoration of the International Day for the Elimination of Violence against Women, the secretary-general stressed that this occasion carries special significance because it provides governments, international organizations and relevant civil society institutions the opportunity to assess progress made in the efforts to eradicate violence against women, and outline measures necessary to move forward in addressing this matter with greater commitment and determination.
The occasion is also an opportunity for OIC member states to renew their determination and cooperation to continue efforts to eliminate violence against women, including domestic violence, which was on the rise across the world because of the outbreak, spread and repercussions of Covid-19 pandemic early 2020.
Because of the pandemic, countries around the world had to take stringent precautionary measures, including lockdowns and long home quarantine periods, which negatively affected economic situations around the world and family incomes. This led to increased tension, psychological pressure and growing domestic violence, to such an extent that the phenomenon has been referred to internationally as "the hidden pandemic growing with Covid-19 pandemic."
Taha added that the issue of violence against women is a particular source of concern for the OIC. This is why the Organization continues to do its utmost to advance women and protect them from all forms of violence by coordinating with member states, relevant OIC organs and institutions, and parties in the international community.
In this context, the OIC Plan of Action for the Advancement of Women (OPAAW), the Ten-Year Program of Action (POA-2025) and relevant resolutions adopted by the summit and ministerial conferences on women provide guidelines on ways and means of addressing these challenges facing women, including eliminating all forms of violence against them.
The most recent was the eighth session of the OIC ministerial conference on women, held in Cairo, Arab Republic of Egypt, from 6 to 8 July 2021 under the theme: "Preserving the Achievement of Gender Equality and Women's Empowerment in Light of the COVID-19 Pandemic and Beyond."
The session adopted important resolutions on women protection and empowerment, mainstreaming gender equality in anti-covid-19 pandemic strategies and policies and promoting economic and social empowerment for women in member states.
Furthermore, the take-off of the OIC Women Development Organization (WDO) as a specialized institution of the OIC will contribute effectively to studying and dealing with the issue of violence against women and setting out ways to eliminate it in the OIC.
On this occasion, the secretary-general has called on OIC member states that are yet to ratify the WDO statute to accelerate their ratification and accession procedures, so that the Organization can play the role expected of it in promoting and empowering women and in advancing their status in the Muslim world. — SPA
Source: Saudi Gazetter
https://www.saudigazette.com.sa/article/613976
--------
Violence Against Women Increases Due To COVID-19: UN Women Report
November 25, 2021
UNITED NATIONS — A new report of UN Women has highlighted the impact of COVID-19 on women's safety at home and in public spaces.
Almost half of women reported that they or a woman they knew experienced a form of violence since the start of the COVID-19 pandemic, according to the report, "Measuring the shadow pandemic: Violence against women during COVID-19," which is based on survey data from 13 countries.
About a quarter of women were feeling less safe at home while existing conflict increased within households since the pandemic started, according to the report, released on the eve of the International Day for the Elimination of Violence Against Women, which falls on Nov. 25.
When women were asked why they felt unsafe at home, they cited physical abuse as one of the reasons (21 percent). Some women specifically reported that they were hurt by other family members (21 percent) or that other women in the household were being hurt (19 percent).
Outside their homes, women were also feeling more exposed to violence, with 40 percent of respondents saying they felt less safe walking around alone at night since the onset of COVID-19. About 3 in 5 women also thought that sexual harassment in public spaces worsened during COVID-19.
Socio-economic stress factors such as financial pressure, unemployment, food insecurity and tense family relations stood out as having a significant impact not only on experiences of safety (or violence), but also on women's well-being overall.
"Violence against women is an existing global crisis that thrives on other crises. Conflict, climate-related natural disasters, food insecurity and human rights violations all contribute to women and girls living with a sense of danger, even in their own homes, neighborhoods, or communities," said UN Women Executive Director Sima Bahous in a press release.
"The COVID-19 pandemic, which necessitated isolation and social distancing, enabled a second, shadow pandemic of violence against women and girls, where they often found themselves in lockdown with their abusers. Our new data underlines the urgency of concerted efforts to end this." – Agencies
Source: Saudi Gazette
https://www.saudigazette.com.sa/article/613990/World/Violence-against-women-increases-due-to-COVID-19-UN-Women-report
------
URL: https://www.newageislam.com/islam-women-feminism/sharbat-gula-afghan-asylum-italy/d/125843
New Age Islam, Islam Online, Islamic Website, African Muslim News, Arab World News, South Asia News, Indian Muslim News, World Muslim News, Women in Islam, Islamic Feminism, Arab Women, Women In Arab, Islamophobia in America, Muslim Women in West, Islam Women and Feminism