New Age Islam News Bureau
6 Nov 2015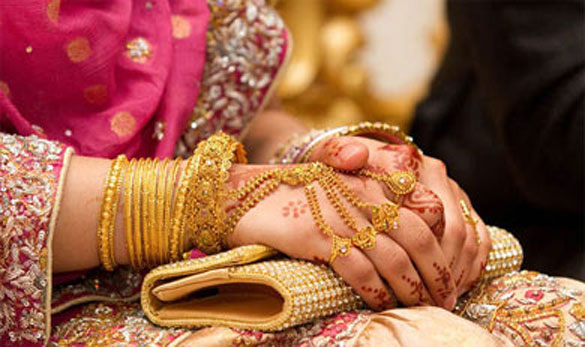 Sharia marriages leave women exposed to abuse and cheating husbands GETTY STOCK
---------
• Muslim Woman Attacked In A US Restaurant for Speaking Swahili
• 'Emma Watson Made Me A Feminist', Malala Yousafzai Says
• Indian Women Cops Being Trained In Disposing IEDs to Combat Maoists
• Harrowing Facts Emerging Regarding the Afghan Girl Stoned To Death
• Afghan Woman Receives 'Best Actress' Award in Asian World Film Festival
• Blogger Tareq's Wife Pleads For Help
• 'White Girls Only': The Racist Reality Of Student Night Life In Britain
Compiled By New Age Islam News Bureau
URL: https://www.newageislam.com/islam,-women-and-feminism/new-age-islam-news-bureau/sham-sharia-weddings-leave-british-muslim-women-exposed-to-abuse-and-cheating-husbands/d/105193
---------
Sham Sharia Weddings Leave British Muslim Women Exposed To Abuse and Cheating Husbands
By REBECCA PERRING
Jul 3, 2015
ESTIMATED 100,000 British Muslim women are being duped into sham Sharia marriage - leaving them exposed to abusive and cheating husbands.
The massive figure highlights a worrying trend of young British Muslim couples opting for such arrangements - which are NOT recognised under British law - and leave men with the polygamous option of having up to four 'wives'.
Sham ceremonies which are not legally recognized can leave vulnerable women oppressed, with no rights to a fair share of assets if the relationship ends. Under the strictures of Sharia law many others are forced by their communities to return to abusive and sometimes violent husbands.
A leading lawyer dealing with Sharia cases said a "huge rise" in such ceremonies among the 2.7million-strong British Muslim population was behind the growth of "secret polygamy."
Aina Khan told The Times: "Probably a quarter of all couples I see involve polygamy issues.
"There has been a huge rise in recent years because people can have a secret Nikah [Islamic marriage] and no one will know about it."
She estimated that were "potentially 100,000 Muslims" without legal recognition.
Couples hoping to find a way around no sex before marriage or have a fear of British family courts, which presume assets should be split equally in the event of a divorce, often turn to Sharia marriage.
A growth of parallel marriage could also be driven by Muslims aged below 30, who were becoming more religious, she said.
The stark figures come amid fears that parts of the British Muslim community are being targeted by Islamic State (ISIS) recruiters who promote a strict adherence to Sharia law.
This week it emerged that a family of 12 from Luton had travelled to Syria to join the ISIS terror group.
In March, Home Secretary Theresa May ordered a review into Sharia Councils, saying: "We know enough to know we have a problem but not to know the full extent."
Ms May said there was evidence to suggest divorced wives had been left "in penury" or forced to suffer "abusive relationships".
But Amra Bone, Britain's first Islamic judge on a Sharia Council, denied its courts discriminated against women.
And instead claimed Sharia council's were there to help women out of "failed marriages".
Mrs Bone said: "We apply Sharia principles within the law of the land. We are a voluntary body and can't make orders - we just advise.
"People don't want us to be judgmental."
She also denied that Muslim men 'marry' up to four wives.
Mrs Bone added: "Most men will tell you, 'I cant look after one wife, never mind more than one'.
"But we cannot - and the Government cannot - ask Muslims not to have more than one wife. People have a right to decide for themselves."
http://www.express.co.uk/news/uk/588637/Sharia-marriage-law-Muslim-men-women-cheating-husbands
---------
Muslim Woman Attacked In A US Restaurant for Speaking Swahili
November 5, 2015
A woman who grew up in Kenya was attacked by an American woman at an Applebee's restaurant in Minnesota for not speaking "American".
Mishy Ojama who is originally from Somalia but spent most of her time in Kenya before immigrating to the US was attacked after a woman identified as Jodie Marie Burchard-Risch, 43, and her husband became upset after hearing the victim speaking in speaking in a Swahili, a language commonly used in Kenya and it's East African neighbors.
Burchard-Risch woman started yelling and insulting Mishy who had gone to the restaurant accompanied by her husband and her friends and their children.
Jodie Burchard-Risch, 43, of Ramsey, was charged Monday in Anoka County District Court with third-degree assault.
Jodie Burchard-Risch, 43, of Ramsey, was charged Monday in Anoka County District Court with third-degree assault.
Upon becoming aware of the commotion, a restaurant manager stepped in and tried to get Burchard-Risch to leave.
Charges filed in a MN court state that she refused and continued to yell at the victim and threw her drink at the woman. Then she "smashed" her beer mug across the Mishy's face in a "round house punch" motion and fled the scene, according to the complaint.
One of the restaurant's managers followed Burchard-Risch out of the restaurant until she was arrested by responding officers.
She was charged with third-degree assault.
Police met with Mishy inside the restaurant and noticed a deep cut across her nose, a cut on her right eyebrow and a large, deep cut on her lower lip.
Mishy also known as Asma suffered trauma all over her face due to this attack. Her injuries required 15 stitches all over her face with busted lips, cut on top of her eye brow and cuts all over her face.
Asma is currently going through care dealing with her injuries.
Family and friends are raising money to cater to Asma's medical expenses.
http://www.jambonewspot.com/woman-who-grew-up-in-kenya-attacked-in-a-us-restaurant-for-speaking-swahili/
--------
'Emma Watson Made Me A Feminist', Malala Yousafzai Says
Jen Mills for Metro.co.ukThursday 5 Nov 2015
Nobel prizewinner Malala Yousafzai doesn't need any lessons in women's rights, but she says a speech by Emma Watson made her think again about describing herself as a feminist.
Before listening to a speech Emma gave to world leaders at the UN, she thought 'feminist' was a 'tricky word' and could have negative connections.
But after hearing the Harry Potter actress call on men to speak up for women's rights too at the launch of her He for She campaign, 18-year-old Malala said she changed her mind.
'When I heard [the word feminism] the first time I heard some negative responses and some positive ones. I hesitated in saying am I feminist or not?
'Then after hearing your speech I decided there's no way and there's nothing wrong by calling yourself a feminist. So I'm a feminist and we all should be a feminist because feminism is another word for equality.'
Men 'have to step forward' to promote equality of the sexes, she said.
She met Emma Watson, 25, at the premiere of a documentary film about her called He Named Me Malala which looks at her life speaking out on education for girls since she was just 12.
Originally from the Swat Valley in Pakistan, she had to leave home and come for treatment in the UK after being shot her in the head in October 2012 because she dared to speak out against the Taliban and its ban on female education.
Ms Yousafzai said her father Ziauddin had been an 'example to all men' and called himself a feminist.
Emma posted a video of the interview on her Facebook page and said she found Ms Yousafzai's admission 'moving'.
She said: 'Perhaps the most moving moment of today for me was when Malala addressed the issue of feminism. To give you some background, I had initially planned to ask Malala whether or not she was a feminist but then researched to see whether she had used this word to describe herself.
'Having seen that she hadn't, I decided to take the question out before the day of our interview. To my utter shock Malala put the question back into one of her own answers and identified herself. Maybe feminist isn't the easiest word to use… but she did it amyway.
'I've spoken before on what a controversial word feminism is currently. More recently, I am learning what a factionalised movement it is too. We are all moving towards the same goal.
Let's not make it scary to say you're a feminist. I want to make it a welcoming and inclusive movement. Let's join our hands and move together so we can make real change. Malala and I are pretty serious about it but we need you.'
Ms Yousafzai has been living in Birmingham with her family since the assassination attempt. She is studying for A-levels in history, economics, maths and religious studies and plans could include going to Oxford or Stanford University in California.
http://metro.co.uk/2015/11/05/emma-watson-made-me-a-feminist-malala-yousafzai-says-5481423/
--------
Indian Women Cops Being Trained In Disposing IEDs to Combat Maoists
Nov 06, 2015
In a bid to ensure significant participation of women police personnel in anti-Maoist operations in the future, they are being imparted cutting-edge training in disposing IEDs along with jungle warfare tactics in insurgency-riddled Chhattisgarh. The state's women troopers are being trained in diffusing Improvised Explosive Devices (IEDs) at the government's Counter Terrorism and Jungle Warfare College (CTJWC), located at Kanker district in north Bastar region, about 150 kms from Raipur.
"Right from the constable rank troopers to additional superintendent of police, women personnel are showing special interest in training of destroying and diffusing IEDs planted in different patterns, as part of their 45-day rigorous jungle warfare training course at the college, platoon commander Narendra Singh, an instructor at CTJWC, told PTI. An ex-Army man, Singh has vast experience in counter-IED operations in the country as well as abroad.
He said unfortunately hundreds of security force troopers have so far been killed in landmine explosions and injured in pressure IED blasts triggered by Maoists in sprawling Bastar region (comprising seven districts and spread across 40,000 sq kms). The devices sometimes remain hidden for years before the ultras use them to ambush security forces on national highways, important state roads and near security force camps. Even landmine detection vehicles have also been blown up by insurgents in the past, he said.
"Therefore, to minimise the loss of lives of security personnel, the bomb disposal training is very much crucial for the forces," Singh said. "Although bomb disposal training is being provided since 2006 to both men and women personnel, women troopers took least interest in sharpening their counter-IED skills. But, since past one year they themselves are coming to me and seeking additional training to diffuse and destroy bombs," he said.
http://www.hindustantimes.com/india/women-cops-being-trained-in-disposing-ieds-to-combat-maoists/story-6iE46Lr5GxVsZ0JDq01fPO.html
---------
Harrowing facts emerging regarding the Afghan girl stoned to death
Nov 06 2015
Harrowing details are emerging regarding the Afghan girl who was stoned to death in western Ghor province of Afghanistan.
According to the local officials, preliminary investigation reveal that the 19-year-old Rukhshana was stoned to death based on a Fatwa issued by a local anti-government militant commander who had repeatedly proposed her to marry with his younger brother.
But Rukhshana rejected the bid by Mullah Yousuf which apparently angered him and his younger brother and they ultimately released a Fatwa to stone her to death last week.
According to reports, the Afghan security institutions have identified at least 20 people who were involved in brutal murder of Rukhshana.
The incident took place in Firoz Koh, the provincial capital of western Ghor province of Afghanistan earlier this week.
Local security officials had earlier said that the girl was convicted of eloping and was stoned to death after they were captured by the Taliban militants.
An outrage was sparked both in Afghanistan and internationally after the horrific video of her execution went viral in social media.
The lawmakers in the Lower House of the Parliament – Wolesi Jirga also called on government to take immediate steps to investigate the brutal execution and detain those involved behind the incident.
They also urged the Ministry of Hajj and Religious Affairs of the country to spread awareness through the local Mullahs regarding the forced marriages which is considered as the main motive behind the growing violence against women.
http://www.khaama.com/harrowing-facts-emerging-regarding-the-afghan-girl-stoned-to-death-1677
---------
Afghan Woman Receives 'Best Actress' Award in Asian World Film Festival
Nov 05 2015
The Asian World Film Festival (AWFF) awarded the 'Best Actress' award to Afghan film actress Malalai Zikria for her role in Utopia film.
Foreign language films from 50 countries featured in the festival which ran from October 26 to November 2 in Los Angeles.
The Best Actor award was given to to He Bing from the Chinese film "12 Citizens" (China). 'Moira' a drama from the Republic of Georgia took Best Picture at the first annual Asian World Film Festival, while Iraq's 'Memories on Stone' took the Jury Award.
Many of the films featured in the festival were official submissions for this year's Oscar race, including the 'Utopia' film which is among 81 countries nominated for thee award.
The Academy Awards is scheduled to be held on February 28 in Los Angeles and will televised live in more than 225 countries around the globe.
'Utopia' is about an Afghan woman who travels to Britain for artificial insemination, while Vietnam's "Jackpot" is about a lottery ticket vendor's moral dilemma.
Produced by Malalai Zikria who is also playing the lead role, the 95-minute movie has been filmed in Afghanistan, India and Scotland.
http://www.khaama.com/afghan-woman-receives-best-actress-award-in-asian-world-film-festival-1675
---------
Blogger Tareq's wife pleads for help
November 06, 2015
Wife of blogger Tareq Rahim says she fears for the life of her husband after he was seriously injured last week in the latest attack by religious extremists on secular bloggers and writers in Bangladesh.
Monika Mistry, a Canadian woman, said her husband, Tareq, was hacked multiple times in the head, hands and torso and was shot in the stomach. His condition has improved but he remains in critical condition, with a bullet still inside his body. Mistry's afraid he could be attacked again, reports Global News Canada.
Rahim, she said, was meeting with writer friends Saturday afternoon in the office of Shuddhoswar publishing house, in Dhaka, when unknown assailants stormed in and began hacking them with machetes and cleavers. "They didn't even talk. They just started stabbing them," she said.
Mistry said it's hard for her to even look at photos of her husband's wounds, but she agreed to share the images with Global News Canada.
Shuddhoswar owner Ahmedur Rashid Tutul and writer Ranadipam Basu were also injured in the attack.
Mistry had spoken with her husband just four hours before a friend in London, England called her in the middle of the night to let her know about the attack.
She said she feels powerless to be on the other side of the world while her husband is fighting for his life. Mistry, a Bangladeshi who went to Canada in 2006 and now lives in Montreal with her daughter from a previous marriage, said she can't afford to go back to Bangladesh to be with Rahim.
"I can't be there. I can't see him, I can't touch him, I can't hear from him," the 37-year-old woman said, struggling to keep her composure.
Mistry said she wants her 32-year-old husband to be in Canada, where interfaith marriage is more accepted; she's from a Hindu family, he's from a Muslim one, reports Global News Canada.
This attack and another one just hours later are the most recent in a series of violent assaults since February when Bangladeshi-American writer and blogger Avijit Roy was murdered.
Roy was hacked to death while walking with wife outside a book fair on the Dhaka University campus. His wife, Rafida Bonya Ahmed also suffered wounds and reportedly lost a thumb in the attack.
In a separate attack on Saturday, just hours after Rahim was seriously wounded, 43-year-old Faisal Arefin Dipan was killed in the office of his Jagriti Prokashoni publishing house.
Both Jagriti Prokashoni and Shuddhoswar publishing houses had published Roy's works.
More attacks to come?
Mistry fears Rahim's life will continue to be at risk because he survived the attack and the assailants are waiting to finish the job.
"These killers, they're on the street. You don't know, maybe they're walking around the hospitals because they couldn't fulfill their mission. They wanted these people dead, but they're not dead," she said.
There aren't a lot of options for the government to step in to help Rahim because he's still in Bangladesh, according to Halifax Refugee Clinic executive director Julie Chamagne.
She said what likely needs to happen is for a letter to be written to the minister of citizenship, refugees and immigration (Markham-Thornhill MP John McCallum) to expedite the processing of Mistry's application for her husband to be granted residency, or for him to request a temporary resident permit while applying to live here permanently.
The Centre for Inquiry (CFI) Canada, a non-profit education organisation, is leading calls for the newly elected Trudeau government to intervene in the case, reports Global News Canada.
"CFI Canada is making an appeal to the Canadian government, and certainly Justin Trudeau, to ask for some compassionate support for someone who would have likely been coming to Canada if they hadn't been attacked by terrorists before getting a chance to do that," said Executive Director Eric Adriaans.
Mistry just hopes anyone who has the power will do what they can to help ensure her husband's to safety.
"This is the most difficult thing that one can go through," she said.
http://www.thedailystar.net/country/blogger-tareq%E2%80%99s-wife-pleads-help-168340
---------
'White Girls Only': The Racist Reality Of Student Night Life In Britain
By Radhika Sanghani
05 Nov 2015
"We're only looking for white girls."
This is what a group of black and Hispanic girls were reportedly told when they tried to enter a Halloween party at Yale University. The party was organised by fraternity Sigma Alpha Epsilon (SAE) and student Sofia Petrol-Gouin said she witnessed the exchange.
She told the Washington Post that a male member of SAE turned the group of girls away, before allowing a group of white girls in.
She claims he then said: "Yeah, that's what we're looking for."
The story sparked a number of female students to speak out on social media, saying they'd experienced similar behaviour from the SAE fraternity. Neema Githere wrote a post where she claimed she'd been told last year "that admittance was on a 'White Girls Only' basis."
These apparent examples of racism may be horrific - but they are not exclusive to this Yale fraternity. Here in the UK, black and minority ethnic (BME) people have complained about being turned away from a number of bars and clubs that seem to operate 'white only' policies.
Recently, four black women accused Soho nightclub DSTRKT of turning them away because of their skin colour and appearance. They said they were told they "weren't good looking enough", and that a promoter told them one of the girls was "too dark" and the other was "overweight."
DSTRKT denied the incident and said the women were denied entry because they didn't have a reservation. But it still sparked a protest, where a number of black and minority ethnic women who had experienced this kind of racism before came together.
Their point was that racism on nights out is not new – that people with darker skin will get turned away from certain clubs. And regardless of whether they're explicitly told why or not, they know the real reason is because of their colour.
Malia Bouattia, 'black students' officer for the NUS, explains: "It happens a lot. Black women have to be 'attractive enough' to be deemed an addition to the clubbing environment. Sometimes they're quite blunt to your face like, 'you're not getting in here.'
"You'll hear it particularly from men of Afro-Caribbean descent. They have to plan who they go out with and ensure there's enough white women around them, so people guarding the doors don't see them as an aggressive threat."
She thinks it's worse for men - and Piers Telemacque, NUS vice president for society and citizenship, agrees.
"As a black guy going out, I've had a lot of the standard stuff. Clubs say 'you can't come in' but then let in other people - and it's clear it's just black people who aren't allowed. They're happy to be known as a place that plays black music but not a place that has black people.
"Every city I've been to - from Liverpool to Leeds to Sheffield - it's either happened to me, or I have seen it happening. I'm not defending bouncers but the majority of the time it's not their view, it's that of the club managers who are telling them to have quotas of black people."
He recounts a story where he and two male friends were turned away from a Leeds club after queuing for an hour, because they "weren't taking groups of lads."
A few weeks later they bumped into the bouncer at a party and he apologised, saying: "I couldn't let you in because our manager was on the CCTV picking out groups of black lads and telling us not to let them in."
Telemacque says the problem with this behaviour isn't just the pure discrimination, its that it can be a self-perpetuating problem.
"Clubs think young white people find black people intimidating, when it isn't the case. But when black people are turned away, they can get frustrated for not being given a legitimate reason. So they can get into arguments with the bouncers, and then white people in the queue think, 'oh this is why they don't let black people in'."
He thinks it's slightly different for women: "They still suffer the same prejudice but it's a lot easier for a bouncer to say to lads 'you're a big group', or 'you've got trainers on'. It's harder to think of excuses to turn women away, but if they could do it easily, they definitely would."
But black and minority ethnic women are often subjected to other kinds of racism. Bouattia explains:"I've heard of many incidents of black women being aggressively handled by bouncers and people in the clubs. They'll be sexually harassed and they'll feel there's a sense of entitlement. They can be quite fetishised."
Muslim women face other issues. "If a woman is in a headscarf people think 'sorry love, this isn't the place for you'," says Bouattia. "The discrimination comes from Islamophobia - that a Muslim woman 'shouldn't' be coming to a concert or a gig."
Tamanna Miah, 22, is a British Muslim who's currently studying at the University of Canterbury and campaigning against bullying with charity Fixers. She says she often experiences discrimination on nights out, especially when people know she is a Muslim who doesn't drink:
"People look at you like, 'why are you here?' You get the feeling that going out is only a white people thing. You're more prone to being asked for ID and questioned. They look you up and down.
"When I do go out with my friends, white people shout abuse at us. They say things like 'go back home where you belong' and 'you're a terrorist'. Sometimes they follow us. I feel quite vulnerable walking home."
This tends to happen at public nightclubs or bars, but Miah says she has also experienced different kinds of discrimination at university social events. "At freshers' week there's a real focus on alcohol and if you don't fit in, you're left on your own.
"I do feel like I'm not welcome at some events. If you join sports clubs, you're automatically expected to be drinking, dressing up and going out. But I personally think there's more to life than drinking and going out."
Bouattia and Telemacque urge students to report any examples of racism, whether to their student union or the local authorities.
"Racism is illegal but because black people often see it as something that happens day-in-day-out they don't question it or report it," says Telemacque.
"People need to start challenging it and reporting it to the local authorities. That's the only way this will ever change."
http://www.telegraph.co.uk/women/womens-life/11975283/British-student-university-nightlife-Racism-in-clubs-and-bars.html
---------
URL: https://www.newageislam.com/islam,-women-and-feminism/new-age-islam-news-bureau/sham-sharia-weddings-leave-british-muslim-women-exposed-to-abuse-and-cheating-husbands/d/105193