New Age Islam News Bureau
16 March 2022
• Forty-seven Percent of Egypt National Training Academy's Employees Are Women: Director Rasha Ragheb
• Arab Fashion Week Women's Returns with International Line-up
• Have Fun with It: Golf Stars Encourage Saudi Females to Try Out the Sport
• Afghan Women Protest against Activist 'Fatima Gailani'
• 'Younger Women Entrepreneurs Can Benefit From Role Models, Networking'
Compiled by New Age Islam News Bureau
URL: https://www.newageislam.com/islam-women-feminism/shaista-ambar-law-board-hijab/d/126585
--------
Shaista Ambar, Muslim Women Law Board Chief Welcomes HC's Order on Hijab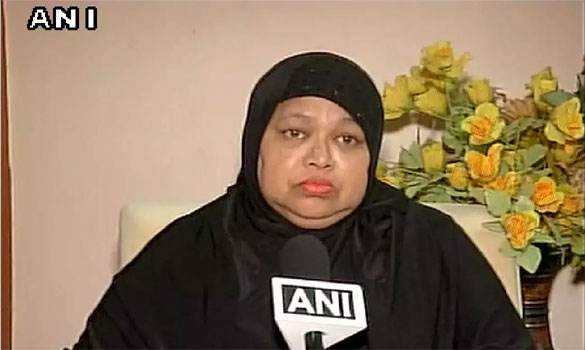 All India Muslim Personal Law Board (AIMWPLB) president Shaista Amber
-----
Mar 15, 2022
LUCKNOW: All India Muslim Women Personal Law Board (AIMWPLB) president Shaista Ambar has welcomed the Karnataka high court order on hijab ban in educational institutions. The social worker said that the judiciary and constitution are above all in the country and their order should be respected and upheld.
"The country's judicial system and constitution are primary. If schools have a dress code laid out in the rules, it should be followed. Education should be prioritized as it is also a mark of faith in Islam," said Ambar, who is a women's rights crusader.
She, however, expressed concern over parts of the problem. "If colleges and universities are also bringing in a certain uniform, this sudden change in education institutions is beyond our understanding. People should be allowed to exercise their right to choice under Article 21 and wear whatever they chose to wear. But if there is a rule in our educational institutions, we need to abide by it," she added.
Ambar also said that hijab in Islam does not mean covering the face but is a civilised and modest manner of covering the head and body. "Hijab is not forced but education is a priority based on which we can help both ourselves and our country to reach great heights," she added.
Source: Times Of India
https://timesofindia.indiatimes.com/city/lucknow/muslim-women-law-board-chief-welcomes-karnataka-hcs-order-on-hijab/articleshow/90232526.cms
--------
Forty-seven Percent of Egypt National Training Academy's Employees Are Women: Director Rasha Ragheb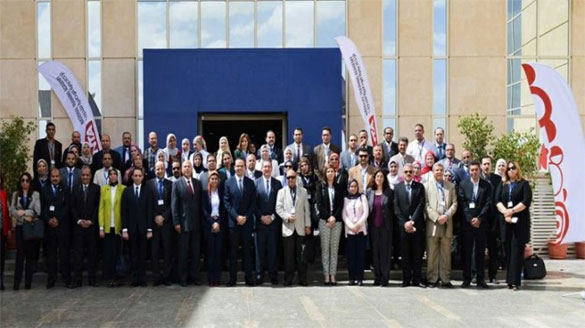 Photo: Daily News Egypt
-----
Sarah El-Sheikh
March 16, 2022
Executive Director of the National Training Academy (NTA) Rasha Ragheb said that the academy is not just a place for training but rather a place that provides transformative multidisciplinary knowledge.
She believes that the NTA will have an effective role in achieving the UN's sustainable development goals, including women's empowerment, noting that 47% of the academy's employees are women.
She also affirmed the academy's constant keenness to achieve fair representation among graduates and trainees. As the percentage of women makes up nearly 52% of the total number of graduates and trainees of the academy.
"We decided a year and a half ago that all the training portfolios used in the academy would be products of Badara, an Egyptian girl from the New Valley who presented a wonderful project to revive heritage and handicrafts in the oases then moved her project to Giza and from there to Upper Egypt to emphasise the project's impact And the role it plays, as more than 800 women breadwinners are part of the project," said Ragheb.
This came during the 'Ringing the Bells of Gender Equality' event that was held on Tuesday by the Egyptian Exchange (EGX) in cooperation with the International Finance Corporation (IFC) and a number of development partners, including the World Federation of Exchanges, United Nations Women, and Global Compact Egypt.
The EGX has been keen to participate in the world's celebrations of International Women's Day and encourage the private sector to expand economic opportunities for women in Egypt for eight years now.
Source: Daily News Egypt
https://dailynewsegypt.com/2022/03/15/776133/
--------
Arab Fashion Week Women's Returns with International Line-up
March 14, 2022
DUBAI: The Spring 2022 ready-to-wear womenswear shows finally came to a triumphant end last week, but fashion lovers did not have to wait long for the announcement of yet another fashion week. On Monday, the Arab Fashion Council and Dubai Design District announced that they have teamed up to bring back Arab Fashion Week Women's (AFW), which is set to take place from March 24-28.
The five-day event, which is taking place in both a physical and online format, will feature more than 20 runway shows from regional and international designers, including Saudi label Death by Dolls, Filipino couturier Michael Cinco, Beirut-based brand Emergency Room, Palestinian couturier Ihab Jiryis and Polish label Poca Poca, among others. Designers will present their Fall 2022 ready-to-wear collections.
Weinsanto, in collaboration with the Federation de la Haute Couture et de la Mode (the governing body of the French fashion industry and Paris Fashion Week), will also be presenting during AFW.
The shows will take place in Dubai's creative hub, d3, and in partnership with Meta (formerly Facebook), the shows will be broadcast live on social media platforms Instagram and Facebook.
Khadija Al-Bastaki, executive director of d3, said in a statement: "Arab Fashion Week is fast becoming a landmark event for creatives, brands and enthusiasts the world over, and every season reinforces Dubai's position on the global fashion stage. We are confident this year will deliver on the promise of innovative and inspiring runway shows and our district's commitment to rethink the regular through digital explorations, immersive activations, pop-ups and more."
The public can also view the shows on large screens that will be dotted around d3.
Mohammed Aqra, chief strategy officer of the Arab Fashion Council, said: "Our mission remains to reinforce our commitment to empower and support designers operating in the Middle East and North Africa to adopt an innovative approach in their growth journey. Together with d3, we continue to champion Dubai's role as the capital of the fashion industry in the region."
Source: Arab News
https://www.arabnews.com/node/2042356/lifestyle
--------
Have fun with it: Golf stars encourage Saudi females to try out the sport
NADA HAMEED
March 15, 2022
JEDDAH: Some of the biggest names in women's golf on Tuesday shared their experiences of the sport ahead of this week's Aramco Saudi Ladies International, encouraging women and girls in the Kingdom to give it a go.
English Major winner Georgia Hall and three-time Major winner Anna Nordqvist are among those competing in the tournament, as well as three Moroccan professional players.
At a pre-tournament press conference, Hall advised Saudi women and girls to start playing golf and to have fun with it. After that, she said, they might consider taking up the sport and think of it differently.
"I started when I was seven years old and I just really enjoy trying to make contact with the golf ball and try and hit it as hard as I could," she told Arab News. "That's the advice I would give to start off, just you know, have a lot of fun with it.
"Golf can be a lot of fun as well, especially if you're going with friends and you can make loads of little different games up. So, I think number one is just to have fun and see where you are with it. Because everyone's different, wants to take up the game. Some find it easier than others. But yeah, I think, just have fun."
The four-day tournament starts Thursday and runs until Sunday at Royal Greens Golf & Country Club in King Abdullah Economic City, near Jeddah.
On Friday there will be a ladies' day, a first for the tournament, with a free golf lesson and other activities on offer.
Nordqvist told Arab News: "I think it's a fantastic opportunity just to obviously watch women's golf. There are so many talents coming. There are so many good girls and they're so shiny now. It's a cool experience. And I think a lot of people might never be to a golf tournament in person and I think it'll be quite a different experience."
The debut Aramco Saudi Ladies International, back in 2020, was a landmark moment for women's sport in the Kingdom as it was the first professional, international women's sporting event to be held in Saudi Arabia.
This year's tournament includes the participation of three Arab golfers including Maha Haddioui, the first Arab woman to play on the Ladies European Tour.
She said that nobody could say anything about golf until they had tried it. "It's really important to get everybody to try and come and watch. You won't be interested in golf if you don't try it. I tried curling a week ago, and it's a sport I had no interest in."
She also spoke about being a minority in the golfing world, specifically as an Arab woman.
"I never felt any difference because I was a woman that wasn't given a chance back home to pursue a career in golf or anything. The only problem I had at the time was that I was really the only one. So it was, you know, I couldn't go and play the world championships as an amateur, because I wouldn't go on my own at any team events.
"But other than that, I was given the same chance as the men. People would think because I am from an Arab country maybe I wasn't given a chance. But yes, I was given the same chance as men in the game. There's quite a decent growing women's section in the UAE. There are some good players in Tunisia as well. I know one of them, actually, (she) was here in Royal Greens last year."
Morocco's Ines Laklalech, 24, played as an amateur at the Aramco Saudi Ladies International in 2020 and will be playing as a professional for the first time in this tournament.
She said she never felt any gender inequality when playing golf in her home country. She played in male teams as there were not enough female players to form a team.
"As a girl playing golf in my country, I am not having obstacles playing the game. Although I was one of the only girls in my golf club, where most of the time I played with the boys with the guys, there was no category, like a woman or girl category because there were not enough girls. And I think it's a good thing. It has opened my mind to many things."
Fellow Moroccan Lina Belmati will also be playing as a first-time professional in the tournament. She said: "I am so glad for playing in this tournament and I hope I can make the Arab world proud."
An awards ceremony will be held on the tournament's final day, March 20, to announce the winner.
The first tournament had a positive impact on the Kingdom, with more than 1,000 Saudi women and girls signing up to learn how to play golf over the course of the event as part of Golf Saudi's Ladies First Club free coaching initiative.
Source: Arab News
https://www.arabnews.com/node/2043161/sport
--------
Afghan women protest against activist 'Fatima Gailani'
16 March, 2022
Kabul [Afghanistan], March 16 (ANI): Dozens of women protesters held anti-Taliban demonstrations in Afghanistan on Monday as they distanced themselves from prominent women's rights activist Fatima Gailani, stating that she does not represent them.
Fatima Gailani is the daughter of the late Ahmed Gailani, leader of one of the mujahideen resistance groups that fought the Soviet invasion in 1979. Fatima Gailani is also a member of the negotiating team for women's rights in Afghanistan.
"Fatima Gailani is not our representative, do not recognize the Taliban," one of the female protesters was quoted as saying by Aamaj News.
Since seizing power in August year, the Taliban have rolled back women's rights in virtually every area, including crushing women's freedom of movement.
Media reports say the vast majority of girls' secondary schools are closed. "Universities recently reopened, with new gender segregation rules. But many women are unable to return, in part because the career they studied for is off limits now as the Taliban banned women from most jobs," the Human Rights Watch (HRW) said in a press statement.
With the new rules in place, women and girls are blocked from accessing health care as some healthcare facilities require them to bring a mahram, the rights group said.
This protest came a few days after UN High Commissioner for Human Rights Michelle Bachelet last week underlined the need to empower women in Afghanistan, saying that they are "not passive bystanders" and should contribute to the future of their country.
Delivering a statement on Women's Rights in Afghanistan, Bachelet said women of this country are often portrayed in the international fora and media as victims. "In fact, Afghan women have – in the face of war, extreme poverty and unspeakable violence and discrimination – been working tirelessly to protect and provide for their families and communities," she said.
The UN rights chief stated how Afghan women have been attacked for speaking up and excluded from positions of power and decision-making. "They are not passive bystanders," Bachelet said.
For this Afghanistan to find peace and progress, Bachelet argued that Afghan women should be active agents for change and be given the space to lead peacebuilding, humanitarian, and development processes. (ANI)
Source: The Print
https://theprint.in/world/afghan-women-protest-against-activist-fatima-gailani/875490/
--------
'Younger women entrepreneurs can benefit from role models, networking'
March 16, 2022
The Consulate General of Turkey in Karachi, in collaboration with the New World Concepts, organised an outdoor celebration of International Women's Day Month titled 'Breaking Barriers: Women Entrepreneurs of Pakistan and Turkey' at the Consulate's premises on Tuesday.
The event was organised with the support of Turkish companies operating in Pakistan -- HITIT and Arcelik Dawlance, said a press release. "There is an urgent need for business and industry to be more gender inclusive and create more opportunities for women SMEs. We continue to raise awareness and promote the role of women entrepreneurs to meet the challenges Pakistan faces," said Yasmin Hyder, CEO New World Concepts and president of the Pakistan Women Entrepreneurs Network.
Mr Cemal Sangu, consul general of Turkey in Karachi, welcomed the guests and emphasised the need for women economic empowerment. He expressed his pleasure at hosting the celebration of women entrepreneurs of Pakistan and Turkey.
The new Consulate General of Turkey in Karachi, inaugurated last year, is the largest Turkish consulate in the world, signifying the depth of bilateral relations between both countries. Keynote speaker Professor Dr Aytul Ercil, a senior businesswoman and board member of KAGIDER, (Turkish Women Entrepreneurs Association), flew in from Istanbul for the event. She emphasised the importance of business networking and role models for younger women entrepreneurs as a source of inspiration.
She also shared the successful growth of KAGIDER and its efforts at the socio-economic development of Turkey. Naila Naqvi, a leading woman entrepreneur, shared her journey and both personal and professional challenges faced in achieving her goals.
Sarwat Gilani, brand ambassador for the Special Olympics Pakistan, announced the next Special Olympics World Games in Berlin, Germany, in June 2023. Girl athlete leaders also spoke about their stories of inclusion and their excitement to represent Pakistan at the next world games.
Source: The News Pakistan
https://www.thenews.com.pk/print/941826-younger-women-entrepreneurs-can-benefit-from-role-models-networking
--------
URL: https://www.newageislam.com/islam-women-feminism/shaista-ambar-law-board-hijab/d/126585
New Age Islam Islam Online, Islamic Website, African Muslim News, Arab World News, South Asia News, Indian Muslim News, World Muslim News, Women in Islam, Islamic Feminism, Arab Women, Women In Arab, Islamophobia in America, Muslim Women in West, Islam Women and Feminism