New Age Islam News Bureau
08 September 2020
• More Than 150 Female Journalists Condemn 'Vile Abuse' In Pakistan
• Jamaat-e-Islami Chief for Election Ban on Those Opposing Women's Inheritance Right
• Art Museums Have Realized There Is Much to Learn from Contemporary Muslim Women's Fashion
• Aligarh Muslim University Organised Workshop On 21st Century Female Leader
• 27 Stranded Nigerian Girls Evacuated from Lebanon
• Daesh Women Crowdfund Smuggler Fees to Escape SDF Detention
• Pakistan Prepares to Free Female Prisoners Amid Calls for Jail Reforms
• Quranic Courses for Women to Be Held in Iraq
• Nationwide Literacy Campaign Draws Women To Classes In Turkey
Compiled by New Age Islam News Bureau
URL: https://www.newageislam.com/islam-women-feminism/shaheena-shaheen-pakistans-female-journalist/d/122816
--------
Shaheena Shaheen Pakistan's Female Journalist in Balochistan Shot Dead as Part of Alleged Honour Killing
September 07, 2020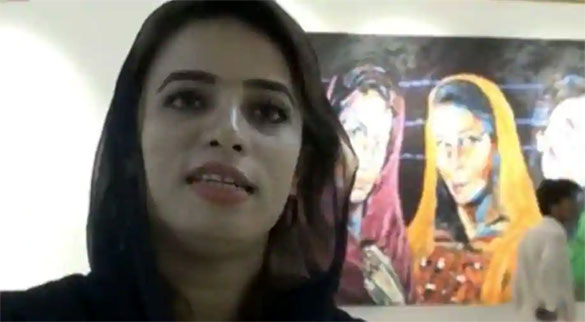 Shaheena Shaheen Photograph:( Facebook )
-----
Falah Gulzar
Shaheena Shaheen was a young female journalist working against the odds in the highly conservative province of Balochistan in Pakistan. On the evening of September 5, "unknown" men shot her dead, and the incident has caused an uproar online. From fellow media professionals to female rights activists, netizens are demanding justice, while police are on the hunt for her husband.
The incident occurred in the Turbat area of Balochistan's Kech district, according to Pakistani media reports.
Shaheen, aged around 25 years, was a local anchorperson at state-owned broadcaster Pakistan Television Corporation (PTV) and editor of a local magazine. She was also a student of fine arts at the University Of Balochistan, local media outlets reported.
Sharing pictures of Shaheen at an art gallery and at work, Twitter user @Alhaan_ posted: "Shaheena Shaheen Baloch a journalist, an artist, always struggling for women's rights and empowerment unfortunately shot dead in Turbat Balochistan."
Police said unidentified suspects opened fire on Shaheen at her residence in Turbat. The killers reportedly escaped unhurt from the scene.
She was shifted to District Headquarters (DHQ) Hospital Turbat where she succumbed to her injuries. She received three bullet wounds, a police official, Allah Bakhsh, told a local newspaper.
"The killing was the result of domestic violence," Kech Superintendent of Police Najeebullah Pandrani was quoted as saying, adding that police were investigating the murder.
He said no arrests had been made so far. However, Shaheen's family lodged a first information report (FIR) against her husband, whom she married five months ago.
According to some reports, one of the men who attacked her was her husband. Media reports suggest the incident can be a case of honour killing. Reportedly, Shaheen's husband had asked her to stop working and disapproved of the fame she was receiving due to her job.
Condemning the incident and demanding justice, tweep @BanariMengal wrote: "As per some reports Shaheena Shaheen Baloch's murder is an act of 'honour killing'. Men only see honour when a woman is assertive, independent and hurts their fragile egos. Shaheena's case should be investigated, and if this is a case of 'honour killing' no one should stay silent."
In another post, @BanariMengal wrote: "Deeply saddened to hear that Journalist Shaheena Shaheen Baloch has been killed in Turbat. Another day, another brutal murder. We are tired of using hashtags. There is no justice - never will be. Balochistan is not safe for anyone nor does anyone care."
Shaheen's body was shifted to her residence for burial, according to police, local media reported.
Balochistan government spokesman Liaquat Shahwani and Finance Minister Mir Zahoor Ahmed Buledi separately condemned the murder. They said the culprits in the case will be brought to book, as per Pakistani news outlets.
According to latest reports, police are still on the search for Shaheen's husband.
https://gulfnews.com/world/asia/pakistan/pakistan-female-journalist-in-balochistan-shot-dead-as-part-of-alleged-honour-killing-police-on-the-hunt-for-husband-1.1599490023748
--------
More Than 150 Female Journalists Condemn 'Vile Abuse' In Pakistan
Zahid Hussain Khan
September 08, 2020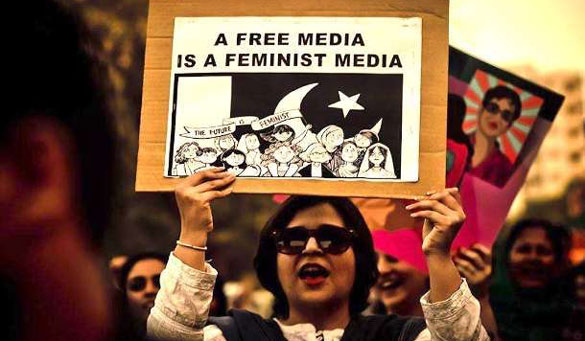 Female journalists in Pakistan say they are the victims of abuse. (Photo: Bismah Mughal)
-----
More than 150 female journalists in Pakistan have signed a petition raising the alarm about "vile and vicious attacks" by people affiliated to the government, political parties and their social media wings.
The petition, initially signed by 15 women on Aug. 12, got major endorsement from scores of other female colleagues, their male counterparts and press bodies on Sept. 7.
The fresh statement noted that vile and vicious attacks were "increasingly impacting our work, mental well-being and security."
"We endorse what our fellow colleagues have put on record on 12/08/2020 and widen the scope to reflect the magnitude and degree of trauma being experienced by women in media," it said.
"The kind of trolling and unfettered vulgarity being experienced subverts every norm of decency with no law enforcement agency, government or any political party taking notice or action of what is clearly transgressing all limits of decency and subverting every ethical standard."
The statement lamented that unfounded accusations of peddling fake news are hurled at journalists by government officials and politicians from all parties. They are also accused of serving political agendas and being on the payroll of political parties.
"Such accusations then trigger abusive campaigns targeting journalists. In some instances, our pictures and videos are also used and our social media timelines are then barraged with gender-based slurs, threats of sexual and physical violence. So vicious is the campaign against women that even the women/female members of our male colleagues' families are not spared. Their photographs and videos are doctored, distorted and leaked on social media," the statement said.
"We women journalists now often find it difficult to remain active and engage freely on digital platforms. Out of fear of being hounded and harassed, and our dignity being violated through vile abuse, many of us self-censor. Hence, we refrain from sharing information, giving opinion or actively engaging online."
The journalists called upon the government and all political parties to immediately draw up and adopt a code of conduct for social media teams of political parties, public bodies and other public institutions.
They urged the government to investigate and identify networks which have been prominently engaged in launching and running coordinated attacks, hashtag campaigns and abusive campaigns against women in the media.
They called for action against those officials found to be directly or indirectly engaged in the discrediting and harassing of media women.
The journalists, however, urged the government not to use this statement as an excuse to introduce further regulations and curbs on social media.
On Aug. 19, the Paris-based Reporters Without Borders (RSF) called on Pakistani authorities to ensure that online threats and hate messages are stopped.
"We regard the highest levels of the Pakistani government as either responsible or complicit in these recent cyber-harassment campaigns against certain women journalists who don't toe the official line," said Daniel Bastard, the head of RSF's Asia-Pacific desk.
"This tactic, which clearly aims to intimidate all government critics, is a flagrant violation of article 19A of the Islamic Republic of Pakistan's constitution. We call on Prime Minister Imran Khan to ensure that this unacceptable use of hate speech is brought to a stop."
Pakistan is ranked 145th out of 180 countries in RSF's 2020 World Press Freedom Index.
https://www.ucanews.com/news/female-journalists-condemn-vile-abuse-in-pakistan/89447#
--------
Jamaat-e-Islami Chief for Election Ban on Those Opposing Women's Inheritance Right
MANSOOR ALI
September 08, 2020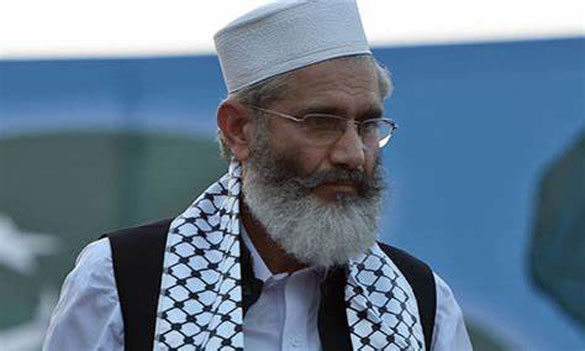 Jamaat-e-Islami (JI) Chief Senator Siraj-ul-Haq
-----
ISLAMABAD - Jamaat-e-Islami (JI) Chief Senator Siraj-ul-Haq on Monday said that those who deny right of inheritance to women must not be allowed to contest elections.
Addressing a Hijab Conference, Siraj-ul-Haq said they were not forcing women in the society to wear Hijab but their responsibility was to convince them for doing so.
Talking about violence against women and children in Pakistan, he said that despite the presence of Justice System, legislative institutions and many other institutions violence was increasing with every passing day.
While criticising the role of government in minimising violence against children, especially women, Senator Siraj-ul-Haq said that coping with violence against women was nothing more than a hard challenge for the government. "The government is yet to play its due role," he said.
He claimed that other political parties influence women elected on the reserved seats, but JI was the only party which allowed women leadership to make their decisions on their own.
Talking about the women education, he said they had always raised their voice for the women education and would fight for giving equal rights to the women in the society as per the directive of Islam.
He elaborated that his party had strong stance regarding rights of women in the society as per the directives of Islam; adding that the government should provide equal chances to both men and women and there should be no discrimination among them, otherwise Pakistan will never achieve its goals of becoming a developed country.
https://nation.com.pk/08-Sep-2020/ji-chief-for-election-ban-on-those-opposing-women-s-inheritance-right
--------
Art Museums Have Realized There Is Much to Learn from Contemporary Muslim Women's Fashion
September 7, 2020
Major art museums have realized there is much to learn from clothing that is both religiously coded and fashion forward.
In 2018, the Metropolitan Museum of Art hosted a fashion exhibition inspired by the Catholic faith titled "Heavenly Bodies: Fashion and Catholic Imagination." With more than 1.6 million visitors, it was the most popular exhibit in the Met's history.
That same year the de Young Museum of San Francisco had the first major exhibit devoted to the Islamic fashion scene. "Contemporary Muslim Fashions" displayed 80 swoon-worthy ensembles – glamorous gowns, edgy streetwear, conceptual couture – loosely organized by region and emphasizing distinct textile traditions. This exhibit wa a bold statement of cultural appreciation during a time of heightened anti-Muslim rhetoric.
In studying how Muslim women dress for over a decade, I realized a deeper understanding of Muslim women's clothing can challenge popular stereotypes about Islam. Here are three takeaways.
1. Modesty is not one thing
While there are scattered references to modest dress in the sacred written sources of Islam, these religious texts do not spend a lot of time discussing the ethics of Muslim attire. And once I started to pay attention to how Muslims dress, I quickly realized that modesty does not look the same everywhere.
I traveled to Iran, Indonesia and Turkey for my research on Muslim women's clothing. The Iranian penal code requires women to wear proper Islamic clothing in public, although what that entails is never defined. The morality police harass and arrest women who they think expose too much hair or skin. Yet even under these conditions of intense regulation and scrutiny, women wear a remarkable range of styles – from edgy ripped jeans and graphic tees to bohemian loose flowy separates.
Indonesia is the most populous Muslim nation in the world, but Indonesian women did not wear head coverings or modest clothing until about 30 years ago. Today local styles integrate crystal and sequin embellishments. Popular fabric choices include everything from pastel chiffon to bright batik, which is promoted as the national textile.
When it comes to Turkey, for much of the last century authorities discouraged Muslim women from wearing pious fashion, claiming these styles were "unmodern" because they were not secular. That changed with the rise of the Islamic middle class, when Muslim women began to demand an education, to work outside the home and to wear modest clothing and a headscarf as they did so. Today local styles tend to be tailored closely to the body, with high necklines and low hemlines and complete coverage of the hair.
A stunning range of Muslim fashions are found here in the United States as well, reflecting the diversity of its approximately 3.45 million Muslims. Fifty-eight percent of Muslim adults in the U.S. are immigrants, coming from some 75 countries. And U.S.-born Muslims are diverse as well. For instance, more than half of Muslims whose families have been in the U.S. for at least three generations are black.
This diversity provides the opportunity for hybrid identities, which are displayed through clothing styles.
2. Muslim women don't need saving
Many non-Muslims see Muslim women's clothing and headscarves as a sign of oppression. It is true that a Muslim woman's clothing choices are shaped by her community's ideas about what it means to be a good Muslim. But this situation is not unlike that for non-Muslim women, who likewise have to negotiate expectations concerning their behavior.
In my book, I introduce readers to a number of women who use their clothing to express their identity and assert their independence. Tari is an Indonesian college student who covers her head at her parents' objections. Her parents worry that a headscarf will make it harder for Tari to get a job after graduation. But for Tari, whose friends all cover their hair, her clothing is the primary way she communicates her personal style and her Muslim identity.
Nur, who majored in communications at Istanbul Commerce University, dresses modestly but is highly critical of the pressure she sees the apparel industry putting on Muslim women to buy brand-name clothing. For her, Muslim style does not have to come with a high price tag.
Leila works for the Iranian government and considers her off-duty clothing choices a form of civil disobedience. Monday through Friday she wears dark colors and long baggy overcoats. But on the weekends she pushes the limits of acceptability with tight-fitting outfits and heavy makeup – sartorial choices that might get her in trouble with the morality police. She accepts the legal obligation to wear Islamic clothing in public, but asserts her right to decide what that entails.
Designers have also used clothing to protest issues affecting their communities. The de Young exhibit, for example, includes a scarf by designer Céline Semaan to protest against Trump's travel ban. The scarf features a NASA satellite image of several of the countries whose citizens are denied entry to the U.S , overlaid with the word "Banned."
3. Muslims contribute to mainstream society
A 2017 Pew survey showed that 50 percent of Americans say Islam is not a part of mainstream society. But as Muslim models and Muslim designers are increasingly recognized by the fashion world, the misperception of Muslims as outsiders has the potential to change.
Muslim models are spokespersons for top cosmetic brands, walk the catwalk for high end designers and are featured in print ads for major labels.
Today clothing inspired by Islamic aesthetics is marketed to all consumers, not just Muslim ones. Take the most recent collection of British Muslim designer Hana Tajima for Uniqlo. In its promotional materials, the global casual wear retailer described the garments as "culturally sensitive and extremely versatile," clothing for cosmopolitan women of all backgrounds.
To be hip today is to dress in culturally inclusive ways, and this includes modest styles created by Muslim designers and popularized by Muslim consumers. Fashion makes it clear that Muslims are not only part of mainstream society, they are contributors to it.
This article is republished from The Conversation, a nonprofit news site dedicated to sharing ideas from academic experts.
https://news.yahoo.com/three-things-learn-contemporary-muslim-150802388.html
--------
Aligarh Muslim University Organised Workshop On 21st Century Female Leader
September 7, 2020
Aligarh: Experts nurtured, encouraged and catalyzed the potential of female students to transform themselves and their country through leadership and economic participation during the Online Workshop on '21st Century Female Leader: How to be Present in the Moment' organised by the Advanced Centre for Women's Studies, Aligarh Muslim University (AMU) in collaboration with LedBy Foundation SICI Harvard Kennedy (Harvard Kennedy School Social Innovation and Change Initiative).
Conducting the workshop, the resource person, Dr Ruha Shadab (Founder and CEO of LedBy Foundation) exhorted girl students to become role models for their subordinates and inspire their teams with leadership skills.
Dr Ruha with Shabeena Shaikh and Paran Amitava of the LedBy Foundation urged female students to understand the necessity of women leading from the front.
"There has been a gradual rise in the number of women in senior leadership and female leaders from across generations are working together to find new solutions to the world's biggest problems", she added.
The Chief Guest, Dr Hameeda Tariq, a renowned paediatrician pointed out that women are proving their capabilities in all sectors and men should consider women as allies and not threats.
Elaborating the role of women leaders such as New Zealand Prime Minister, Jacinda Ardern and German Chancellor Angela Merkel in slowing the spread of the Covid19 pandemic in their respective countries, Dr Hameeda said that these women leaders took the necessary steps to successfully decrease the rate of infections at a time when most of the world was struggling to contain the crisis.
She emphasised that these women leaders came to the helm of affairs in their countries because of equal opportunities and the way they were socialised in a surrounding where work of women is celebrated and appreciated.
Prof Azra Musavi, Director, Advanced Centre for Women's Studies asserted that these workshops are necessary for inspiring and encouraging women students.
She pointed out that AMU faculty members such as, Prof Zakia Siddiqui, (Founder Director, Advanced Centre for Women's Studies) and Prof Shireen Moosvi (Former Director) have set examples of good leadership skills by establishing the Centre.
Dr Juhi Gupta introduced the guests to female participants of the workshop, while Suheba extended the vote of thanks.
https://indiaeducationdiary.in/aligarh-muslim-university-organised-workshop-on-21st-century-female-leader/
--------
27 stranded Nigerian girls evacuated from Lebanon
07.09.2020
Some 27 Nigerian girls, who were stranded in Lebanon, returned to their country on Sunday, local media reported Monday.
The evacuation of the stranded girls, who arrived at the Nnamdi Azikiwe International Airport in Abuja, came as a result of joint effort by the Nigeria's federal government, the Lebanese government and its community in Nigeria, according to The Punch news website.
"I am here on behalf of the Federal Ministry of Foreign Affairs who facilitated this return, together with the Ministry of Aviation, Embassy of Nigeria in Beirut, the Lebanese Embassy in Nigeria and the Lebanese community in Nigeria," the Punch quoted Ferdinand Nwonye, the Nigerian Foreign Ministry spokesman, as stating the returnees.
"It is unfortunate the situation you passed through; which is why the ministries concerned made sure you are here today and we are telling you that you are now home today and nothing will happen to you," he said.
Nwonye told reporters that the stranded Nigerians were evacuated in line with the Nigerian federal government's guidelines on COVID-19 evacuations, according to The Punch.
The 27 evacuated girls tested negative for the virus before heading to their homeland and would be allowed to return to their homes following 14 days of self-isolation, he explained.
The returnees said they have suffered many challenges in Lebanon with many of them being owed seven to eight months salaries by their employers, according to The Interview.
On Aug. 17, local media reported 71 young Nigerian girls trafficked to Lebanon were brought back to Abuja after they appeared in a video in which they were crying for help to be rescued.
https://www.aa.com.tr/en/africa/27-stranded-nigerian-girls-evacuated-from-lebanon/1965431
--------
Daesh women crowdfund smuggler fees to escape SDF detention
September 07, 2020
LONDON: British and other European female Daesh recruits are being smuggled out of detention camps in Syria, with some going on to raise funds online for others to do the same, according to Daesh social media networks.
Numerous Europeans have escaped Kurdish detention in Al-Hol camp in northeast Syria, and at least one British Daesh bride is now fundraising online to procure smugglers to free other detained women.
A recent video filmed in Idlib — the last rebel-held stronghold in Syria — and published on Telegram and Facebook showed the British woman, identified as Maryam Al-Britaniya, urging followers to donate money to help others escape.
"Being sent out from the Islamic State (Daesh) to the camps was by far one of the worst moments of my life," she said, before describing conditions for other women who remain in the Syrian Democratic Forces (SDF) camp.
"It's obligatory on you to free them. Help them and donate every month to help smuggle them out."
Other posts online in English, French, German, Russian and other European languages have been crowdfunding cash to allegedly help smuggle women and their families out of Al-Hol.
"This sister has to have the money by Friday, €1000 ($1,182) is still missing," one post in German said.
Another, in French, read: "Only €3000 more is needed to free two of your sisters. Add this good deed to your balance, it may gain you entry into paradise."
Smugglers charge roughly £12,000 ($15,785) to break families out of Al-Hol, and this money is usually paid via PayPal or Bitcoin.
It is not clear how many Daesh members have managed to escape, but footage of numerous failed attempts has been shared by the SDF, including that of British twins from Manchester, Zahra and Salma Halane.
Since Kurdish and Arab forces, under the SDF banner and backed by the US, defeated Daesh in Syria, they have been left guarding prisons full of thousands of fighters and their families.
Roughly 10,000 male fighters and around 70,000 women and children are detained in Al-Hol, including many Europeans, several dozen British women and up to 60 British children.
The SDF and the US have repeatedly urged European governments to repatriate their citizens, but those calls have gone largely unanswered.
Raffaello Pantucci, senior associate fellow at London's Royal United Services Institute, said this makes Western security forces' lives easier in the short term, but it is not a sustainable long-term strategy.
"The worrisome thing is, the longer we leave them stuck in this limbo, and with kids in tow, frankly the more radical they're going to get and the greater the threat they might pose," he added. "Bring them home and get them in court," or "God knows where else they might show up."
https://www.arabnews.com/node/1730936/middle-east
--------
Pakistan Prepares to Free Female Prisoners Amid Calls for Jail Reforms
By Ayaz Gul
September 07, 2020
ISLAMABAD - Pakistan's Prime Minister Imran Khan recently directed authorities to release hundreds of female prisoners who are awaiting trial for minor offenses or who have served most of their prison terms.
Rights advocates have hailed the move, hoping it will help ease the plight of the country's female prison population.
Khan's directive last week stemmed from a new, official study that found women's jails are rife with poor conditions and that authorities often ignore laws meant to protect female inmates.
The report by the federal Human Rights Ministry said that of the 1,121 women in prison as of mid-2020, nearly 67% had not been convicted of any offense and were detained while awaiting conclusion of their trial.
The government has pledged to pay the financial penalties outstanding against female prisoners whose remaining sentences are less than three years so they could be released immediately.
Khan has also asked for "immediate reports on foreign women prisoners and women on death row for humanitarian consideration" and possible release.
"Inmates of jails in Pakistan do not often have a reason to collectively rejoice, but a humane decision by the federal government will have many female prisoners doing precisely that," the English-language daily DAWN wrote in its editorial on Khan's announcement.
Need for reform
On Monday, Human Rights Watch (HRW), responding to the official actions, noted that the ministry's report had highlighted "the massive scale of mistreatment" of women prisoners in Pakistan and the need for broad and sustained prison reform.
"While an important step, this report can only bring change if Pakistani authorities follow its recommendations and end widespread abuse," said Brad Adams, Asia director at the global organization.
The official report has found that 134 women had children with them in prison, some as old as 9 and 10, despite the legal limit of 5 years.
"A critical lack of funding in the prison health care system has meant that mothers whose children are with them in prison often lack essential health care, leaving both the women and the children at risk of contracting infections," HRW said.
The outbreak of the coronavirus in Pakistan prompted the Supreme Court in April to warn authorities that inmates in the country's overcrowded prisons could become victims of the pandemic.
The court ordered Khan's government to reduce prison congestion by freeing prisoners suffering from a mental or physical illness, inmates 55 years or older, male prisoners without any past convictions who are awaiting trial, as well as women and juvenile inmates.
Overcrowding
Pakistan's overall prison population officially stands at more than 73,000 inmates, with most of them living in cramped conditions. Government estimates put the total capacity of prisons across the country at nearly 58,000.
Most of the detainees are said to be awaiting trial and have not been convicted. Critics say court cases in Pakistan can take years, if not decades, to conclude, even ordinary disputes, because of a shortage of judges and lawyers, and rampant corruption, particularly in the lower judiciary.
A government study released earlier this year had also highlighted widespread problems in Pakistani prisons. It found that almost 2,400 prisoners at the time suffered from chronic contagious diseases such as HIV, hepatitis and tuberculosis.
"The Human Rights Ministry report is an opportunity for the Pakistan government to take meaningful steps to improve the treatment of women in prisons in the country and start a much-needed process of systemic, large-scale prison reform," Adams said.
https://www.voanews.com/south-central-asia/pakistan-prepares-free-female-prisoners-amid-calls-jail-reforms
--------
Quranic Courses for Women to Be Held in Iraq
September 07, 2020
According to Al-Kafeel website, Minar Javad Al-Jabouri, head of the institute, said that the center will organize the courses in the holy city of Najaf and some other parts of the country.
The Quranic educational programs will be held online this year due to the coronavirus restrictions.
Quran recitation, memorization and Tajweed principles are among the themes of the courses.
https://iqna.ir/en/news/3472483/quranic-courses-for-women-to-be-held-in-iraq
--------
Nationwide Literacy Campaign Draws Women To Classes In Turkey
SEP 07, 2020
Aliteracy campaign launched by President Recep Tayyip Erdoğan and First Lady Emine Erdoğan in 2018 has so far reached nearly 1.05 million people, a majority of them women.
Around 85% of those applying for literacy classes across Turkey were women, the latest figures show. Interest in classes was highest in Istanbul, the southeastern province of Diyarbakır and the southern province of Gaziantep.
Yusuf Büyük, head of the Education Ministry's Lifelong Learning Department which supervises the campaign, says almost half of applicants are aged between 23 and 44.
Public schools and lifelong learning centers have drawn people from all walks of life and of all ages to learn to read and write. Some 94,000 courses were introduced as part of the literacy campaign.
Büyük says more than 800 million people in the world are illiterate and they face challenges every day, from the inability to fill in job applications to "not being able to read bedtime stories to their children. Literacy allows them access to information as vital as protecting their health and boosting their income," he added. He says women make up the majority of illiterate people in the world.
"Despite the progress made, the number of women knowing how to read and write is still below men in one in every five countries in the world," he pointed out.
In Turkey, literacy among people aged 15 and over is 95.9% according to 2019 figures. Although access to education has increased, girls in rural areas, where every family member works to earn a living for the family at an early age, are often forced to quit education by their parents. Coupled with an ultraconservative patriarchal mindset, girls are often convinced or forced to drop out of school after completing mandatory primary education.
Büyük says they increased the number of literacy classes both at lifelong learning centers and schools, as well as in correctional facilities, adding that they also initiated literacy classes for citizens confined to hospitals. "More than 855,000 citizens learned how to read and write for the first time while others improved their literacy level in 113,828 courses," Büyük said.
He said they managed to reach out to about 30% of the country's illiterate population. Turkey recently introduced distance learning courses for literacy via an online portal of the ministry which offers video lessons for students.
https://www.dailysabah.com/turkey/education/nationwide-literacy-campaign-draws-women-to-classes-in-turkey
--------
URL: https://www.newageislam.com/islam-women-feminism/shaheena-shaheen-pakistans-female-journalist/d/122816
New Age Islam, Islam Online, Islamic Website, African Muslim News, Arab World News, South Asia News, Indian Muslim News, World Muslim News, Women in Islam, Islamic Feminism, Arab Women, Women In Arab, Islamophobia in America, Muslim Women in West, Islam Women and Feminism