New Age Islam News Bureau
9 Jan 2020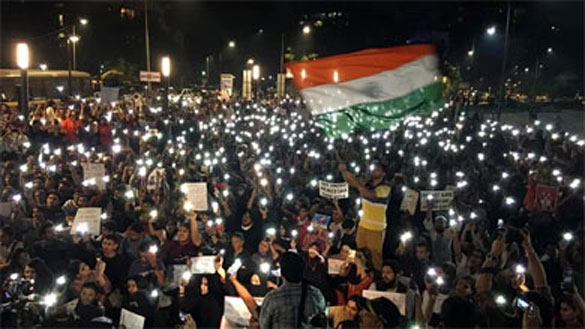 Protesters carrying the Triclour display placards and raise slogans during a rally against CAA, NRC and NPR, in Mumbai on Wednesday, 8 January.(Photo: The Quint)
------
• Shaheen Bagh Protest Against CAA, NRC Continues For 25th Day amid Rain and Cold Weather; Two Protesters Persist With Hunger Strike
• Protest by Muslim Women against CAA, NPR, NRC, Started an Indefinite Sit-In Demonstration in Kolkata
• As India Rises In Dissent, Bollywood Reveals Its Real Heroes: The Women
• Delhi Women Say Heckled, Evicted From Rented House For Protesting Caa
• How Eskai Is Changing The Way Women Shop In Egypt
• Saudi Women Lead the Way as Cycling Breaks Down Barriers
• India: Woman Inflicts 101 Cuts on Sister-In-Law In Horrific Exorcism Ritual
• Ilhan Omar: 'War Destroys Lives, Takes Away Futures'
• Lisa Smith: IS-Accused Bailed As Prosecutors Prepare Evidence
• Wanted: 20,000 Saudi Taxi Drivers, Women Are Welcome
• Old video from Rajasthan falsely shared as Hindu women assaulted by Muslims in Pakistan
• French Secularism Is Giving Far-Right Mps Licence To Target Muslim Women Yet Again
Compiled By New Age Islam News Bureau
URL: https://www.newageislam.com/islam-women-feminism/shaheen-bagh-protest-caa-nrc/d/120749
------
Shaheen Bagh Protest Against CAA, NRC Continues For 25th Day amid Rain and Cold Weather; Two Protesters Persist With Hunger Strike
India Press Trust of India Jan 08, 2020
• Zainul Abidin, around 45, in December had launched his hunger strike to protest against the CAA and proposed pan-India NRC
• He was joined by Mehrunissa, around 40, over a week ago
• Besides them, a trio of elderly women, now famously known as the 'Dabang Dadis' of Shaheen Bagh, stayed put at the protest venue
New Delhi: Braving the rain and cold weather, anti-CAA protesters continued their agitation at Delhi's Shaheen Bagh for the 25th consecutive day on Wednesday, as two of them, who are on a liquid diet, remained at the centre stage demanding the withdrawal of the contentious legislation.
Zainul Abidin, around 45, in December had launched his hunger strike to protest against the Citizenship Amendment Act (CAA) and proposed pan-India National Register of Citizens (NRC). He was joined by Mehrunissa, around 40, over a week ago.
Besides them, a trio of elderly women, now famously known as the "Dabang Dadis" of Shaheen Bagh, stayed put at the protest venue which has come up on the Sarita Vihar-Kalindi Kunj road in South East Delhi since 15 December.
"There's no going back on this protest till the CAA is repealed and the government assures of dropping the NRC proposal. The people's spirit is unfazed by slight rains and it is continuing as it is," Shaheen Bagh resident Syed Taseer Ahmed told PTI.
Since Wednesday morning, hundreds of people remained at the venue notwithstanding the drizzle, even as shops remained closed along the road, which has been blocked for 25 days.
The road is a key link between Noida and Delhi and has been closed by the Noida Traffic Police in view of the ongoing protests.
"Now as the night draws in, more people will join the protest and the crowd size would swell up manifold," Taseer said.
A major part of the crowd at the protest is formed between 8 pm and 12 pm, when the regular protesters are joined by working professionals and businessmen who return from work in the evening, he added.
Thousands of people, including women and children, are protesting at Shaheen Bagh and nearby Jamia Millia Islamia to oppose the CAA and the NRC.
Besides Delhi, protests have unfolded in several parts of the country over the contentious law and have led to clashes at several places, including Uttar Pradesh, where more than 20 people have died.
According to the amended law, members of Hindu, Sikh, Buddhist, Jain, Parsi and Christian communities who have come from Pakistan, Bangladesh and Afghanistan till December 31, 2014 and facing religious persecution there will not be treated as illegal immigrants but given Indian citizenship. The law excludes Muslims.
https://www.firstpost.com/india/shaheen-bagh-protest-against-caa-nrc-continues-for-25th-day-amid-rain-and-cold-weather-two-protesters-persist-with-hunger-strike-7880171.html
------
Protest By Muslim Women Against CAA, NPR, NRC Started An Indefinite Sit-In Demonstration in Kolkata
8 January 2020
Kolkata, Jan 8 (PTI) A group of Muslim women have started an indefinite sit-in demonstration at the Park Circus Maidan here to protest against the CAA, NPR and the proposed nationwide NRC.
Initially started by around 20-30 women on January 7, the protest gained momentum on Wednesday as the numbers swelled with many more women joining to express solidarity, Nazma, one of the protesters said on Wednesday.
'We will be sitting at the spot till the government repeals Citizenship Amendment Act (CAA) and call off the National Population Register (NPR) and the proposed National Register of Citizens (NRC). We also condemn the attack on students of Jamia Milia Islamia University and Jawaharlal Nehru University and arrest of the guilty,' she said.
Asked if the movement is on the lines of the protest by women of Shaheen Bagh in New Delhi against CAA, Nazma said 'We think there will be more Shaheen Baghs all around the country if the act is not repealed, if attacks at educational institutions are not stopped.
Zeeshan Ali, a young man present at the site, said: 'We are here to express support to our sisters.' PTI SUS RG RG
https://in.news.yahoo.com/protest-muslim-women-against-caa-151531279.html
------
As India rises in dissent, Bollywood reveals its real heroes: the women
By Ananya Bhattacharya
January 8, 2020
Indian women are emerging as the torchbearers of defiance—and Bollywood isn't far behind.
Of late, a bunch of leading actors from the Hindi film industry has been conspicuous at mass protests, both on the internet and off it, against state policies in India. A few, in particular, have been more vocal than others.
For instance, after violence broke out at Jamia Millia Islamia in New Delhi last month, Swara Bhasker, a vociferous critic of the Narendra Modi government, tweeted her horror.
The Anaarkali of Aarah actor, even with a history of losing work and endorsements for her stance, has tirelessly worked with protesters in her own way. Before you are deceived into dubbing it hashtag activism, on New Year's Day she attended protests in Delhi against a new citizenship law perceived to be unjust to Muslims.
There are others, too.
When students and teachers of Delhi's Jawaharlal Nehru University were attacked last weekend, Sonam K Ahuja, star of movies such as Aisha and Neerja, wrote on Twitter, "Shocking disgusting and cowardly. Have the balls to at least show your face when you want to attack innocents."
Many of them, like Richa Chadha, Taapsee Pannu, and Dia Mirza, have showed up protest events too.
Interestingly, now even the more diplomatic A-listers have begun to talk.
Alia Bhatt, among the top five Indian celebrities in terms of earnings from brand endorsements, usually stays off all things political. Following the Jamia violence, though, she shared two Instagram stories—one with the preamble to the constitution, and one plain text saying, "Learn from the students."
Perhaps the most impressive feat of them all took place yesterday (Jan. 7) evening: Deepika Padukone, India's highest-paid female star, was spotted with agitating students at JNU. In the capital to promote her upcoming film Chhapaak, she faced instant criticism for her move. Some dubbed her presence at JNU a marketing gimmick, others condemned her stance outright. Yet, for the most part, she was lauded. In spite of her not saying a word at the event, she may have tilted the scales in favour of the protesters by her mere presence.
"It's so bad, even Bollywood is here!" Bhasker wrote in a series of Instagram stories hailing Padukone.
On the face of it, tinsel town's women seem braver than their male counterparts off-screen.
Holding out for a hero
Right after Jamia and the Aligarh Muslim University (AMU) attacks, actor Sayani Gupta took to Twitter to call upon some of the industry's most bankable leading men and moviemakers, including famed director-producer Karan Johar to speak up.
It isn't clear if her message worked, but actors Rajkummar Rao and Ayushmann Khurrana expressed their anguish over the stirring events.
Hrithik Roshan, another movie heartthrob, tweeted his concern "as a parent and citizen of India." Delhi boy Siddharth Malhotra expressed his disdain about the state of affairs. Vicky Kaushal labelled the incidents "both saddening and concerning." Vikrant Massey, Padukone's Chhapaak co-star, tweeted, "We will fight again to regain the lost sanity of this proud country 🇮🇳." Following the JNU attack, Riteish Deshmukh tweeted "such violence cannot and should not be tolerated."
Yet somehow, such chatter didn't seem to muster enough power—at least not as much as the women's voices. Firstly, some of the biggest male influencers haven't spoken out yet. Padukone's husband, Ranveer Singh, has been mum. Some of the biggest male stars—Amitabh Bachchan, Shah Rukh Khan, Salman Khan, Aamir Khan—haven't said a word.
Physical presence at protest events is still a far cry for them.
Lesser-known Mohammed Zeeshan Ayyub, seen in standout roles in Raanjhana and Article 15, has done well on this front; actor-director Farhan Akhtar, too. Unfortunately, Ayyub's reach is tiny with 80,100 followers on Twitter and 52,500 on Instagram. By comparison, Shah Rukh has nearly 40 million and 20 million respectively.
Critics argue that as mega-influencers, movie stars have some responsibility to participate in public debate. Filmmaker Anurag Kashyap, ever vocal on issues, alongside other directors like Anubhav Sinha and Vishal Bharadwaj, said, "It makes me angry to see voices that can actually make a difference stay quiet."
However, to be fair, Bollywood celebrities have had a history of being targeted—both personally and professionally—for taking political stands.
That perhaps makes for the most accurate argument on behalf of the silent lot: "Damned if you do, damned if you don't."
https://qz.com/india/1781414/deepika-padukone-swara-bhasker-bollywood-heroes-as-india-protests/
------
Delhi Women Say Heckled, Evicted From Rented House For Protesting CAA
January 08, 2020
New Delhi: Protesting the Citizenship Amendment Act (CAA) during BJP chief Amit Shah's door-to-door campaign in Delhi's Lajpat Nagar area on Sunday led to the eviction of two women lawyers from their rented apartment. The women say after they hung an anti-CAA banner from their balcony during the BJP chief's campaign - organised to drum up support for the contentious law - a mob came up and asked them to step out. "At that point, the banner was not up. So all they could have done after entering our home is harm us," Surya Rajappan, one of the two women, told NDTV.
"As soon as people noticed our banner, they started shouting at us, and the landlord and his family were part of the protest, so they were also shouting at us. They said- 'take this banner off and get out of our house right away'. After we pulled down the banner, some people came up to our house, they - our landlord was part of the mob- were banging our doors and kept saying 'get out'," she said.
Ms Rajappan says she was not served a formal eviction notice by the landlord. She also alleges that misogynistic remarks questioning her character were made.
"We haven't received a formal notice, but at that point, they had screamed it out from the road, and after an hour later when my dad was there, they told him he should take away his daughter right away. Obviously, misogynistic comments were made, questioning our character and our upbringing. Since I am a woman, my character had to be questioned," she said.
They have vacated the house.
"There was space for both the both of us. We are a democracy. It is not that only anti-CAA protests are happening at Jantar Mantar. There are pro-CAA people who tried to disrupt things. The difference between there and here is that the protesters didn't turn against those people. Here it was frightening for us as the protesters turned against us and our landlord turned against us," she added.
She said it must be realised that the country is a democracy, and the Constitutional right of dissent cannot be challenged.
The Citizenship Amendment Act, for the first time, makes religion the test of citizenship in India. The government says it will help minorities from three Muslim-dominated countries to get citizenship if they fled to India because of religious persecution before 2015. Critics say it is designed to discriminate against Muslims and violates the secular principles of the constitution.
Violent protests had broken out last month after the bill was passed in both the houses of parliament. The ruling BJP had alleged that the Opposition was misleading people on the law.
https://www.ndtv.com/india-news/delhi-women-say-heckled-evicted-from-rented-house-for-protesting-caa-2160911
------
How Eskai is changing the way women shop in Egypt
HAMS SALEH
January 08, 2020
DUBAI: Eskai — it's not just another online shopping website; it's an online platform for buying, selling and renting pre-owned, as well as brand new, items that offers online shoppers in Egypt the chance to own something special.
"We have four services: Buying services, renting services, exchanging services and also fashion advising," Eskai's founder Samar Salim told Arab News.
Salim, who is also a fashion influencer with a stellar 238,000 followers on Instagram, added: "When I became someone who influences people, I wanted to think about it differently. I wanted to create something to make it easier for people to consume less of the items in the fashion industry. I wanted to make a cause."
On the website, Eskai.com, which was launched at the end of 2019, individuals and brands can display their items for rent or for sale.
"They fill an application online that is about the clients' details — what the item is, the size, the brand, when was the last time it was used and the production date," Salim explained.
Once the item is sold, clients collect their money in cash form from the Eskai headquarters or through a bank transfer "if the amount exceeds 1000 Egyptian pounds (around $62)."
Whether they be dresses, jeans, tops, accessories, scarves, or even wedding dresses, Eskai allows customers to rent anything for up five days or buy it outright.
"People who are willing to display their items on our website fill out a form and send me the items. I pick these pieces in the office. I check every single piece, the quality, the material and the color," Salim said.
After taking photos of the items in Eskai's studio, Salim and her team send the clothes for dry cleaning before they are displayed on the website.
The hijab-wearing influencer is also motivational speaker who is known for her motivational speeches.
In a Ted Talk Salim gave in Cairo in 2019, the social media star spoke about incidents she has encountered because of her hijab.
"It was then that I decided to take a step forward. I decided to mix what I love (fashion) with what I wanted to change (the stereotypes)," she said.
https://www.arabnews.com/node/1609961/lifestyle
------
Saudi women lead the way as cycling breaks down barriers
ASEEL BASHRAHEEL
January 09, 2020
JEDDAH: Cycling is one of Saudi Arabia's fastest-growing sports — and it's the Kingdom's women who are leading the way.
More than 1,000 women recently took part in the country's first major women's cycling event, a three-race series held in Jeddah, Riyadh and Alkhobar.
The turnout for the competition drew praise from the Saudi Sports for All Federation (SFA), which organized the event, with Shaima Saleh Al-Husseini, SFA managing director, describing the series as "truly a historic occurrence for health and wellness in Saudi Arabia."
In the final race of the series, held at the Corniche in Alkhobar, Nadia Skoukdi claimed first place, followed by Floria Martias and Nasima Siddikui.
More than 800 women took part in the first race, held at Princess Nourah University in Riyadh, where Skoukdi and Martias were joined by Ahlam Al-Zaid on the finalists' podium.
Jeddah's race welcomed more than 200 women to Al-Joharah Stadium, with Martias placing first, and Arwa Al-Amoudi and Samar Rahbeini as runners-up.
Cycling as a sport is growing in popularity across the Kingdom, according to the SFA, which says that about 1.1 percent of the population cycles on a weekly basis. At least 30 percent of cyclists are women, the federation believes.
The Kingdom's Vision 2030 plan hopes to boost weekly levels of physical activity to 40 percent in the next decade.
Al-Husseini said that the SFA considers physical activity its "mandate," which translates to more public competitions and events such as the women's cycling series.
"We will continue to stage activities under the Quality of Life program, and work hard toward our goal to get people involved in sports and activities of all types," she added.
https://www.arabnews.com/node/1610361/saudi-arabia
------
India: Woman inflicts 101 cuts on sister-in-law in horrific exorcism ritual
January 09, 2020
Bareilly, Uttar Pradesh: In a bizarre development, a woman has been arrested for inflicting 101 cuts on her sister-in-law in Uttar Pradesh's Bareilly district, the police said on Thursday.
The woman was practicing exorcism to cure her father who had been ailing for some time.
The woman, Moni, was helped by her husband Mooli and brother Raju in the act, which happened on Tuesday.
The sister-in-law Renu who suffered the cuts, was given 300 stitches on her face and other parts of the body by the doctors.
Renu has been admitted to the Intensive Care Unit (ICU) where her condition is said to be serious.
Moni, 30, has been sent to jail while Mooli and Raju are absconding.
Baradari police station officer inspector Naresh Tyagi said that a complaint had been filed by Renu's brother under section 307 (attempt to murder) of IPC.
"We will record Renu's statements in a day or two once she is stable and in a condition to talk to us. We have sent Moni to jail," the inspector said.
Renu, a resident of Ganghora village in Bareilly, was married to Sanjeev around eight years ago.
Her father-in-law, Jagdish, fell ill a few months ago.
"Accused Moni, who practices exorcism, decided to cure her father by initiating the act. Going by superstitious beliefs, they inflicted as many as 101 cuts on Renu's face and body. It cannot be ruled out that they wanted to sacrifice her to complete the act," police inspector said.
On Tuesday night, the accused had locked Renu's husband and mother-in-law in another room when they tried to stop them from making her a scapegoat.
When the accused trio started inflicting cuts on Renu, she struggled to get out of their clutches and somehow managed to escape from the house.
She had run a short distance when she collapsed and became unconscious. A police constable on patrol reportedly spotted her and she was taken to a district hospital. Once regaining her consciousness, she narrated her ordeal to the police who then informed her parents.
https://gulfnews.com/world/asia/india/india-woman-inflicts-101-cuts-on-sister-in-law-in-horrific-exorcism-ritual-1.1578547461889
------
Ilhan Omar: 'War destroys lives, takes away futures'
Thursday, 09 January 2020
Muslim US Congresswoman Ilhan Omar says "war destroys lives" and "it takes away futures and it destroys generations," as US President Donald Trump's aggressive actions against Iran have increased concerns of spiraling out of control into a new full-fledged war in the Middle East.
Tensions between the US and Iran escalated after Trump ordered the assassination of a top Iranian commander who had played a leading role in the Middle East in the fight against Daesh terrorists.
Fears of a new war in the Middle East emerged following the assassination of General Soleimani, the commander of the Quds Force of Iran's Islamic Revolution Guards Corps (IRGC), and Abu Mahdi al-Muhandis, the second-in-command of Iraq's Popular Mobilization Units (PMU) last week.
On Saturday, Trump said that his military would hit "very important" targets, including cultural heritage sites, if the Iranians want to take a retaliatory action against the assassination of Lieutenant General Soleimani.
Early on Wednesday, Iran responded to the assassination of Soleimani, the Middle East's most prominent anti-terror commander, striking the American airbase of Ain al-Assad in Anbar province in western Iraq and another in Erbil, the capital of Iraq's semi-autonomous Kurdistan region.
Trump has said he authorized the assassination of the Iranian commander of the Quds Force in Iraq "to stop a war," but his Democratic presidential contenders have said that his action has put the United States on a warpath.
According to CNN, the US assassination of General Soleimani has brought America to the "brink of its first hot war" with Iran since the Islamic Revolution in 1979.
In a message on Wednesday, Omar, a Minnesota Democrat, said, "We caution against war because of our allegiance to this country and our oath to protect it. Sending teenagers to die or return with lifelong wounds seen and unseen what it is to carry out our oath."
"Risking a regional or even global war is not what it means to carry out our oath to protect the American people," she added.
"I always say war does not have a reset button," she said.
"War is never the answer to saving more lives. War destroys lives. It takes away futures and it destroys generations. I know this. I learned that lesson at the young age of 8 and many of the people in Iraq and Afghanistan and around the world also know this lesson," the lawmaker said.
"The world is asking us to act differently this time and it's our duty and make sure that we do," she concluded.
US House of Representatives Speaker Nancy Pelosi has said the House will vote Thursday on a resolution to curb Trump's power to take military action against Iran.
Pelosi said the Trump administration's actions "endangered our servicemembers, diplomats and others by risking a serious escalation of tensions with Iran."
She added that some members of Congress have "serious, urgent concerns" about Trump's strategy.
SHARE THIS ARTICLE
https://www.presstv.com/Detail/2020/01/09/615701/Muslim-Congresswoman-cautions-Trump-against-war
------
Lisa Smith: IS-accused bailed as prosecutors prepare evidence
8 January 2020
A former Irish soldier alleged to have been a member of the Islamic State group has been remanded on bail to allow the prosecution to prepare evidence.
Lawyers for Lisa Smith, from Dundalk, County Louth, say she will deny being a member of a terrorist organisation.
The charge carries a maximum sentence of eight years in prison.
Ms Smith, 38, returned to Ireland last year after spending a number of years in IS-controlled territory in Syria.
She has been on bail since after Christmas and must sign on at a garda station twice daily.
As part of her bail conditions she must also stay indoors between 20:00 local time and 07:00, and not access the internet or social media.
Wearing a grey coat and a black hijab, but with her face visible, Ms Smith was in Dublin District Court for the hearing.
Prosecuting lawyers said they needed eight weeks to obtain information from outside the state for the book of evidence.
Ms Smith's lawyers requested the judge to ask the Director of Public Prosecutions (DPP) to make sure any evidence gathered met the necessary threshold for proceeding with the case.
He replied that was a matter for the DPP.
She was remanded on bail until 4 March.
https://www.bbc.com/news/world-europe-51039215
------
Wanted: 20,000 Saudi Taxi Drivers, Women Are Welcome
TAREQ AL-THAQAFI
January 09, 2020
MAKKAH: Saudi transport chiefs have launched a campaign to recruit 20,000 Saudi drivers to replace expatriates working for Uber, Careem and the Kingdom's other taxi-app services.
The number of Saudis driving taxis had risen from 100,000 to more than 600,000 since 2016, and the sector was now ready for Saudisation, Majed Al-Zahrani of the Public Transport Authority (PTA) told Arab News.
The job had become particularly popular among women since the ban on them driving in the Kingdom was lifted in June 2018, Al-Zahrani said. "The number of female Saudi drivers working at these applications has reached 2,000, and the number is rising because of the good income and the safe work environment," he said.
The PTA and the Ministry of Labor and Social Development will work together to ensure the implementation of the Saudisation regulations. Any driver found to be working illegally faces a fine of SR5, 000 ($1,333).
The surge in the number of women driving taxis came as no surprise to Kariman Khaled Al-Ghamdi, who drives for Careem. "Saudi families constantly request women drivers," she told Arab News.
Al-Ghamdi worked in human resources at a telecommunications company, retired at 46, and sought another job to boost her income. With driver's licenses from the US and Kuwait as well as Saudi Arabia, and having lived abroad, she knew she was ideally suited to the work.
Jamilah Al-Mahmoudi, from Makkah, joined Uber seven months ago, and has never looked back.
"I got rid of the financial burden of hiring a driver, and now I drive pilgrims and visitors inside Makkah, which I enjoy," she said.
https://www.arabnews.com/node/1610281/saudi-arabia
------
Old video from Rajasthan falsely shared as Hindu women assaulted by Muslims in Pakistan
8th January 2020
Jignesh Patel
A video, where two men can be seen attempting to take a girl hostage while an elderly woman tries to stop the duo, was shared by Renee Lynn, the author of 'India Stripped: Voice of India', on January 7, 2019. In the video, both the women are beaten and pushed around by the men. Tweeting the video, Lynn claimed, "This video is horrifying what's happening in Pakistan today. These Muslims beat the hell out of this young Hindu girl & her mother & was forcefully taken away." It has amassed over 4,600 retweets so far.
Swarajya columnist Shefali Vaidya quote-tweeted Lynn and opined, "Skin crawling. And privileged Indian elite like @BDUTT @FarOutAkhtar and @Ram_Guha oppose #CAA coz they want Hindu women from Pakistan to continue to suffer in silence because they are Hindu, poor and lack a voice."
A few more individuals on Facebook shared the video with the same narrative.
Fact-check
Alt News had earlier debunked the same video in December 2019 when it was shared with the claim that poor women were lifted in public eye and raped by men in Rajasthan. The video is at least two years old and is from Rajasthan's Jodhpur district.
One of the men in the video is the husband of the girl they try to abduct. The elderly woman is the mother of the girl. According to a September 27, 2017 report in Dainik Bhaskar, the husband's name is Shaukat who was married to Nemat and Aamad Khan's daughter. "As per the police, Aamad Khan, a resident of Kalu Khan ki Dhani village, had married his daughter to Shaukat at a very young age several years back. Shaukat had asked his in-laws several times to send his wife. However, Shaukat's mother-in-law Nemat insisted on doing the 'Gauna' when her daughter turns 18. -translated)", states the report. Shaukat, along with an accomplice Ilyas, came with a tractor and forcefully took his minor wife after beating his resistant mother-in-law.
Child marriage in India is illegal yet prevalent in various parts of the country. Some communities marry their girls at a very young age however the bride stays at her father's house till the time she attains adulthood. The girl starts living with her husband after a post-marriage ceremony called "Gauna".
According to the local police, these men were arrested and charged with "several sections of kidnapping, wrongful restraint and using criminal force on a woman with an intent to outrage her modesty". However, they were later released on bail while the minor girl was living in the same village with her mother.
In conclusion, a two-year-old video from Rajasthan of a man beating his mother-in-law for not allowing him to take his minor wife home is being shared with the false narrative that a Hindu girl and her mother was beaten-up by Muslim men in Pakistan.
https://www.altnews.in/video-game-footage-viral-as-us-forces-taking-down-iranian-major-general-qasem-soleimani/
------
French secularism is giving far-right MPs licence to target Muslim women yet again
Nuns, for example, wear similar clothing and cover their hair; they are respected, and rightly so. Why the double standards for a Muslim woman?
https://www.news60.eu/french-secularism-is-giving-far-right-mps-licence-to-target-muslim-women-yet-again
------
URL: https://www.newageislam.com/islam-women-feminism/shaheen-bagh-protest-caa-nrc/d/120749
New Age Islam, Islam Online, Islamic Website, African Muslim News, Arab World News, South Asia News, Indian Muslim News, World Muslim News, Women in Islam, Islamic Feminism, Arab Women, Women In Arab, Islamophobia in America, Muslim Women in West, Islam Women and Feminism